• PATPONG I • .


MAP


The
King's Castle I
was undergoing fevered minor renovations when we passed by last night, nevertheless, the foreman, referring me to their hand-printed holiday schedule posted at the door, said he would have no problem finishing in time for a 2 August reopening.
• PATPONG I •
• PATPONG II • .


MAP


The
Side Walk Cafe Bar
opened almost early enough to make into our last month's issue - it's
British
owner exuding all the optimism of someone never having owned a bar before. The hostesses in their silver lamι bib-tops were attractive, indeed. They opened in the old
Blue Sky Bar
digs, which had been under wraps for a little more than a month while renovations proceeded. Welcome to the wargames.
• PATPONG II •
• NANA PLAZA • .


MAP


The only soldier standing at
Nana Plaza
last night (31 July) -in spite of the Government-enforced extra night off- was
Woodstock Rock & Roll Pub & Restaurant
. Last night they were leaning heavily on the "Restaurant" part. Business as usual,
sans
booze, at least in any flagrant way.
Rock'n'Roll Immortalized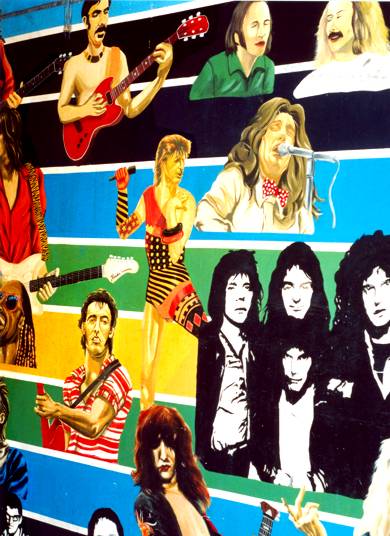 This month's prize for '
Best Door Art
' goes to
Woodstock
- but this is more than just "door art", the above photo shows only a small section of a 20 meter mural celebrating
Rock'n'Roll
. For the benefit of those youngsters raised on
Techno
and
Rap
,
Rock'n'Roll
is what came before. It was called, "
music
" - back in the days when the recording industry produced such.
• NANA PLAZA • August 2004
• NANA PLAZA •


Decks of Deks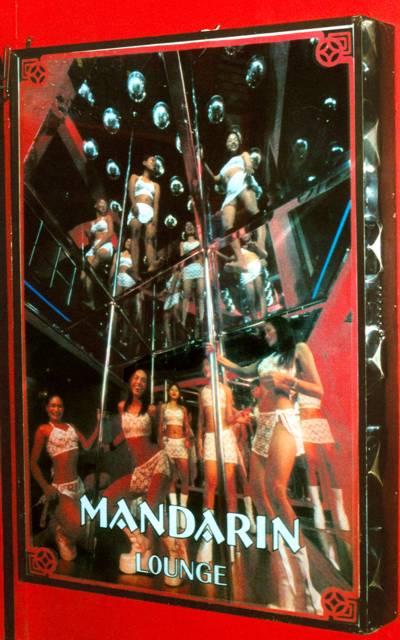 Residents and return visitors had for years remained convinced they had seen just about everything
Bangkok's
Night Entertainment Industry
had to offer at least once. Nevertheless, in January of 2001 the
Baccara
on
Soi Cowboy
brought something new to town -
Bangkok's
first double-decker Plexiglass floor A-Go-Go stage. Several other bars have followed suit, however, it took the
Mandarin Lounge
in
Nana Plaza
to perfect it - customers on the 2nd and 3rd floors have a clear view of both levels of A-Go-Go dancers through the supersized Plexiglass upper deck.
• NANA PLAZA •
• NANA PLAZA •
• SOI COWBOY • .


MAP


Thonglor's Finest
have been dispensing a little extra-judicial street justice once again, this time at the expense (quite literally) of the
Midnite Bar
. It seems their A-Go-Go dancers were exposing body parts only allowed to be viewed in the
National Museum
, the
National Geographic
and the
Fashion Channel
. Our stringer, the
Duke of Yenakat
advises that they were warned five days in advance that they would be closed down on 2 July because of such conduct, but they chose instead to ignore this, and continued to outrage the national modesty right up until the last minute. Taken in it's most serious light, conduct such as this could only be considered downright
naughty
.
Nevertheless, as this is not the
Midnite Bar's
first falling from grace - they could have drawn the full 90 day banishment to the tiger cages, where they would have been encouraged to contemplate the severity of their sins. As it was, they drew another 30-day shut-down. Nevertheless, their time has been well spent in making minor renovations - mostly consisting of black paint, by the look of things - and they say all works will be completed several days before the official reopening on 2 August (tomorrow).
But when push comes to shove,
to "show"
, or
not to "show"
is a purely financial decision, and as with any financial decision, there are always risks. And there are always those who will risk more to make more.
Bangkok's
A-Go-Go bar owners are all big boys and girls - each is well aware that "
showing
" brings the
cash monkeys
, and getting caught brings
consequences
. Unfortunately, as long as the current
Autocratic Regime
remains, the risks and the consequences are higher than they have ever been - as has recently been made abundantly clear by the Authorities' real need to make regular, public examples of
Expat Night Entertainment Venues
.
• SOI COWBOY •

The second bar to be publicly pilloried by
Men-In-Tan
from the Thonglor
Soh-Noh
was
Sheba's
, which also landed themselves a 30-day sentence. Signs on the doors indicating the staff dancers are now to be found at other venues.
• SOI COWBOY •

Likewise, the
Men in Too-Tight Uniforms
stung the
New Agogo Duck
(most of us call it '
Shark
') with identical arbitrary justice. And likewise, their dancers are temporarily located at another bar for the remainder of the 30-day wrist-slap.
• SOI COWBOY •


Breakfast at the Oasis
Shunning the cool interior and the tables and chairs, the three young women sit outside on the bare porch tiles - now warmed by the late morning sun. A few plastic bags and two melamine bowls hold the morning's breakfast, the
khao neaw
, the
laap pla duk
, the
kaeng som khai ban
, a whole
pla khem thot
with another
pla som thot
right beside it; the freshly prepared
phak tom
. -A finger-food banquet fit for any a
Lao Princess,
delivered moments ago by push-cart vendors plying the soi. They share a can of
Coke
and a plastic bottle of water.
Bee
is still in her sleeveless soi pyjamas and
Keng
is in shorts and a too-large
Harley-Davidson
tee-shirt. Only
Aye
is in slacks and maroon knit tank-top, her new shoes carefully set aside with the others' flip-flops.
Aye
no longer lives above the bar with the other two - she has landed a
Farang
and she now stays with him, not 200 meters from
Soi Cowboy
.
Aye
and the other two eat and talk of the previous night's goings-on; of who is now in
Phu Khet
with a customer; of who has gone to work in
Pattaya
. None of the three is from the same village, but they have become close friends since coming to dance at
Our Place
. They only occasionally mention their families, who for the most part, want them to send more money for this or that. They speak almost entirely in
Isaan
- oblivious to my presence, certain I cannot understand that Northeastern dialect.
Aye
is bored, she says, and although she "likes" her new English boyfriend, there is really nothing to do all day - and little to do at night. He is too young, she explains confidentially to her friends.
The two,
Bee
and
Keng
plan an early afternoon trip to
Mah Boon Krong
, asking
Aye
to accompany them. There they will go shopping and maybe even take in the latest
nang pee
at the new upstairs cinema. Together they will beat the boredom that stalks them each day until opening time.
They ask me if I would like some
laap
? Some
Coke
? I decline, saying I must be on my way. The three return to their own world, their own food, their own language, their own microcosmic
Isaan
oasis - their home away from home for the foreseeable future.
• SOI COWBOY • July 2004
• SOI COWBOY •

Since their new sign went up, they are now
Joy Nguyn Bar
, instead of just plain old
Joy Bar
. The new sign is looking good, and is in keeping with the
Soi's
current megawattage trend - read, 'super bright'.
• SOI COWBOY •
• COWBOY ANNEX • .


MAP


The
Latifah Bar
, the first Arab bar to open in an
Expat Night Entertainment Area
has answered
Darwin's
harsh call - survival is for the fit, after all. After struggling valiantly for two months, it now lies in an unmarked grave deep within the archives, not really having even made a dent in the collective memory. .
• COWBOY ANNEX •

Gone but not gone is the
Richiy Bar
, which it seems was just temporarily leasing it's real estate to the now defunct
Latifah Bar
. Welcome back to the night games.
• COWBOY ANNEX •

Also popping up, most unexpectedly, out of it's coffin is the
Oh ! Yes
bar, which had apparently thrown in it's hand last month. The beat goes on. .
• COWBOY ANNEX •

As anticipated,
Spanky's Bar 1
has called it an evening - with virtually no customers even able to find their way back to that obscure corner, there was no financial reason to stick around. They still have
Spanky'Bar 3
and (as mentioned last month) their new venue,
Mike's Place
on
Patpong II
to keep them fully occupied.
• COWBOY ANNEX •

The
O.S. Salon
, which was functionally a bar beer last month, has gone back to being a beauty salon. Their staff have returned to the above mentioned
Oh ! Yes
bar - so this isn't really 'good-bye' so much as it is some quiet, incomprehensible game of musical chairs
...
• COWBOY ANNEX •
• SOI DEAD ARTISTS (Soi 33) • .


MAP


The Upstairs Club
, while being a very well-appointed lounge, just couldn't draw a crowd - even on a weekend. They have called it a night - their staff and management moving a couple of doors down to the
Oliver reed's club
, which is doing much better these days.
• SOI DEAD ARTISTS (Soi 33) •

Dali Pool
, taking over
The Upstairs Club's
facilities, has a bright, not easily missed sign, beckoning one and all upstairs for pool and beer. '
Pool Bar
', of course, being the
modus operandi
. Welcome to the briar patch.
• SOI DEAD ARTISTS (Soi 33) •

Forget what you heard, the new
Jina 33 Club
is not a Japanese bar, but rather an '
International Karaoke
' - even we
Gaijin
are welcome. They had their staff orientation night on 29 July, when we walked in thinking they were open. However, they had a proper 'soft opening' the following night. They are located on the
Sub-Soi 33/2
, next door to
Mojo's
. We welcome them to these neon sois.
• SOI DEAD ARTISTS (Soi 33) •

Call it


. The
Casablanca Karaoke
has a sign above the door which reads just that. However the newer sign overhanging the sidewalk spells it '
Casablanka
' with a '
K
'. - Which (?) is the 'legal' name, we wonder, as there are other "
Casablanca's
" in this
City Of Angels
...
• SOI DEAD ARTISTS (Soi 33) •

The
Mariι
Japanese karaoke has bid it's final "
sayonara
" - even the sign has been torn down and hauled away. (Second floor,
Peep Inn Park
.)
• SOI DEAD ARTISTS (Soi 33) •
• EASY SQUARE • .


MAP


With the
Ocean's Bar's
roller-shutters down and padlocked to the concrete deck, only cold steel greets the passing denizens of the night. One rumor was that it was going to reopen again by the following weekend, but until that happens, we have scrubbed it from the rolls.
• EASY SQUARE •

The
4 U Bar
has shrunk from it's original five
loc
to three. It was rumored that the remaining two
loc
were up for grabs as a sub-lease, but don't hang your hat on that one - seeing is believing.
• EASY SQUARE •

The
Easy Square Muay Thai Arena
looked like it was hit by a K
ansas
tornado. As we arrived late, we asked security personnel whether or not we had missed all the action. He advised that there hadn't been any boxing for several days. He explained,
"No boxers, no people.
" It looks as though
Easy Square's
second
muay Thai
boxing arena has also bitten the dust. We don't normally say 'we told you so', but, "
We told you so.
"
Muay Thai
in
Expat Night Entertainment Areas
has never succeeded - they all fail sooner than later - and sooner is
better
than later, considering the sleaze that accompanies this activity. (-We're not referring to boxers, of course, but rather the gamblers and the 'would-be' boxers, etc.)
• EASY SQUARE •

The
Thai Boxing Bar
, which was immediately adjacent to the
Easy Square Muay Thai Arena
has likewise turned to vapor - gone without a trace. They were - as previously mentioned in these pages - part of the
4 U Bar
hoon
, which is going through a major contraction at this time.
• EASY SQUARE •

For the record, were it not for
four bars
currently under construction at
Easy Square
, we at
MIDNITE HOUR
would have little choice but to consider this group of
Night Venues
no longer qualified as a self-sustaining
Night Entertainment Area
. We will continue to monitor
Easy Square
, along with the other major areas, and keep you advised.
• EASY SQUARE •
• " SOI KATOEY " • .


MAP


Separating the
Night Venues
that qualify as "
pub - restaurants
" and those claiming only "
bar
" status was quite easy last night, due to the extra one-day close-down for the
Khao Phansa
Buddhist holiday. Remaining open, but serving in subdued light, -also
sans
grog- were
Pharaoh's Music Bar Karaoke
, the
Sphinx Restaurant & Pub
, the
Telephone Pub & Restaurant
, the
Roxy Bar & Club
, and
The Balcony
. With all that activity, it was almost business as usual.
• SOI KATOEY •
• QUEEN'S PARK PLAZA•

MAP


The
Morenice
(
More Nice
) has sold out, lock, stock and chrome barstool to the brand new
Nuna's Bar
. The smiling staff welcoming one and all passers-by. Bar beer remains the prime agendum. Welcome to the night-circus.
• QUEEN'S PARK PLAZA •

Last month we noted the closing of
Sweethearts
, and that
Paddy's Irish Bar
had taken over the reins. Well, what goes around, comes around - this month,
Paddy's
is nowhere to be found, and
Sweethearts
has reappeared - rocking and rolling full-tilt like they had never left. The only change we noted were a couple of brand-new red, white and blue signs. Welcome back to the sharkpool.
• QUEEN'S PARK PLAZA •

The
Sugar Shak
- the large Pool Bar in the back of the compound - is getting ready to pull up stakes and move to
Phu Khet
. A handwritten sign out front advertises '
For Sale
'. Any one interested should inquire within - as they remain open for the present.
• QUEEN'S PARK PLAZA •

The
Banana Bar
, closed last December for a month, is closed again. We will be keeping an eye open - who knows, they may pop back up out of their coffin again. We will advise next month - either they resurrect, or they are history.
• QUEEN'S PARK PLAZA •

Apropos temporary closures, our fears were unfounded last month when we passed by the
Happiness
and saw only dark shadows through the tinted windows. Things are once again back full-throttle.
• QUEEN'S PARK PLAZA •
• WASHINGTON SQUARE • .


MAP


We mentioned we would keep an eye on the
Crystal Bar
-which closed in June- as they had a history of temporary closures. We thought they might spring back to life yet again, but it just didn't happen - old leaves and windblown scraps of paper litter their steps and porch. Although it is not beyond the realm of possibility that they will give it another try, they are -for the historical record- officially
MIA
.
• WASHINGTON SQUARE •
• TOBACCO ROAD • .


MAP


The
Friend's Bar
finally got that new neon shingle nailed up, but it now reads
Dog / V Bar Pool
. They get an "A" for originality, an "F" for marketing sense. But it's the same gentle folk behind and in front of the bar. We wish them constancy.
• TOBACCO ROAD •

It looks like the
Noi Pool Bar
has put it's last chit in the cup. Only darkness shines out from within. They opened only last April - with the highest of expectations. Too bad - reality always seems to hold higher cards than expectations.
• TOBACCO ROAD •
• THERMΖ & "13 NIGHT MARKET" • .


MAP


This week, the
Thermae Bar & Coffee Shop
has been feeling the long arm of the law - as it gropes under their table. The
Men In Too-Tight Uniforms
have been coming in just before 01:00 hrs and telling the management to "
wrap it up and go home - don't hurry, but don't take longer than 15 minutes
." Up until last week they were allowed to stay open until 02:00 hrs.
• THERMAE & 13 NIGHT MARKET •

A new bar beer, the
You & I
, has opened in the
Night Market
side. If they ever make any money they are going to buy a sign
...
We wish them luck as they cast their dice against the pitted wall of chance.
• THERMAE & 13 NIGHT MARKET •