• PATPONG I • .


MAP


On hearing, and not believing for a moment that
Patpong 1
was mending it's bad habits, and had gone back to offering undiluted
Night Entertainment,
we decided nonetheless to give it the acid test. We chose
King's Castle II
, which has had one of the worst reputations for mercenary hostesses, aggressive street louts, high prices and rumored to have short-change scams operating from time to time. We are pleased to say we found none of the above. The bar was packed to the ceiling, both with A-Go-Go dancers and customers. Our soft drinks were 80 baht (not happy hour), and the hostesses/A-Go-Go girls that joined us did
not
ask for drinks -ever- and we were not hassled or hustled in any other way - even our (correct) change came promptly. A very positive sign indeed, and although our visit represents only a single data point, it would indicate that
Patpong
is listening to it's myriad critics of the last seven years. And although we will be taking other samplings before we come forward with any positive recommendations, for now, keep on keeping on.
• PATPONG I •
• PATPONG II • .


MAP


As mentioned in our earlier issues,
Club Electric Blue
's confrontation with
Bang Rak's Finest
(and their extended exorcism of the ghost of the
Rififi
) left them out of action for a full two-month count. And in the process, they lost their right to call themselves a "
Club
" - which apparently violated someone's registered name and/or copyright. They have reopened - on schedule - this 12 June, and the beat continues as if it had never stopped. We welcome them back to the sharkpool, this time as just plain
Electric Blue
.
• PATPONG II •

We could hardly believe our eyes as we passed the
Foodland
and looked down the normally dark corridor going to the car park. Above a familiar old doorway we saw brand-new neon advertising the reopening of
Mike's Place
. Residents and return visitors may well remember the
Mike's Place
of the '80's, where every Friday and Saturday night was SRO. We regretted it's passing into history in June of 1996, when it's German owner finally gave up the fight (he also owned the
Butterfly
on
PP-I
until he sold to the
King's Group
who renamed it
Camelot Castle
).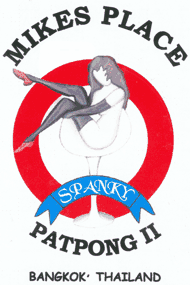 On entering, we were more than a little disappointed that the rock'n'roll videoteque and A-Go-Go of old had been replaced by a
Pool Bar
, but once we got over it, an interesting story unfolded. While the big sign outside read only '
Mike's Place
', the business cards had the added word "
Spanky
". There are two "
Spanky
" groups going at the present time - one in
Nana Plaza
and the other in
Cowboy Annex
- was this new bar somehow related to one or the other of these? We spoke with the owner,
Lek
, who alluded that she was in fact
Spanky
of
Cowboy Annex
, and that yes, this was her newest bar. (Two of her three
Spanky's
are still up and running in the
Annex
.) Her only complaint, now that she has moved 'uptown' is that the rents are outrageously high (
70,000
baht/mo.). We wish her well as she casts her lot with the uptown big dogs.
• PATPONG II •

Closed and hidden from view is the indoor-outdoor
Blue Sky
bar beer - lounge, as renovation works proceed at a frenzied pace. We look for them to open, perhaps with a new name, by the end of the month.
• PATPONG II •
• NANA PLAZA • .


MAP


We noticed the
Lollipop
has removed it's wall-to-wall neon sign from the marquee out front. Is there a name change in the wind, or is this just another unneeded renovation project to keep someone's uncle-brother in new shoes?
• NANA PLAZA •

A flurry of activity on the 2nd, 3rd and 4th floors of the old
Vixen's / Rock Hard
would lead one to believe they are planning to open sometime in the near future. Inasmuch as we have seen all this before, not once, but twice, we'll believe it when we see it. Rumor has it that this will be another
"Mandarin"
bar?
• NANA PLAZA •
• SOI COWBOY • .


MAP


Gone but not gone, the
Cowboy One
have completed renovations (albeit two weeks late) and reopened in a bright eruption of color. Which, by the way, seems to be the trend these days - between them, the
Spice Girls Pink Cadillac
and the
Cowboy Two
, they have enough neon pumping to light the
National Stadium
. A-Go-Go remains the format, and the last we looked, there was a whole lotta' shakin' goin' on - welcome back to the fray.
• SOI COWBOY •


" The 'Boy "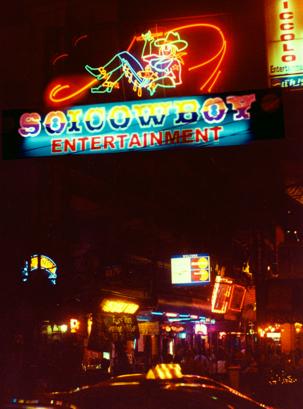 Many visitors' first view of
Soi Cowboy
is the
Neon Cowgirl
cracking her whip above the taxis crowding around the
Soi Asoke
entrance.
• SOI COWBOY •

The
After Skool
now seems to want to be called
Sunshine
again, and has some new neon up to show for it. Since the name-game crackdown of December 2002 they have been showing both names to their public, emphasizing one, then the other. This latest
'Sunshine'
sign (the legally registered name) was most certainly inspired by a visitation from
Thonglor's Finest
, nevertheless, it is a definite improvement over the old neon. One would almost suggest that they leave it that way, and stop trying to 'sneak' back to the '
After Skool
' moniker. Shake it, don't break it, guys - unless you enjoy tweaking the tiger's tail, leave well enough alone - it's either that, or spring for the 50 thou for a formal name-change.
• SOI COWBOY •

A Garden of Eden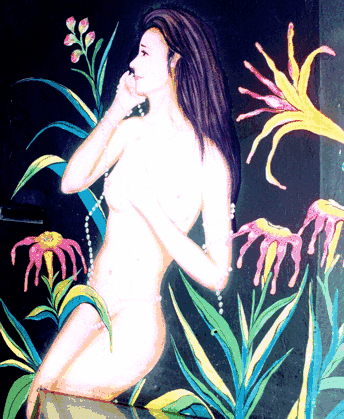 The
MIDNITE HOUR
door prize (for best 'door art') for this month goes to the
Toi Bar
on
Soi Cowboy
.
• SOI COWBOY •
• COWBOY ANNEX • .


MAP


The
Oh !Yes
Pool Bar has failed to answer the bell for the nest round. When we passed by a couple of nights ago, it looked darker than a poisoned well - their staff having moved next door to the new beauty parlor (see our next item below).
• COWBOY ANNEX •

Last month we mentioned that
The Richiy Bar Pool
had not reopened, and that in its place an "office-like" structure was nearing completion. The "office-like structure turned out to be the
O.S. Salon
- a beauty parlor for women. And by day, it serves that purpose, however, after the sun goes down, the chrome barstools come out to the front porch area, and it transforms into a bar beer. Welcome back to the maelstrom.
• COWBOY ANNEX •

The
Latifah Bar
has ditched the loud Arab music for (slightly quieter) rock'n'roll, and has hired some dek pool-sharks, and has actually picked up a few customers because of it.
• COWBOY ANNEX •
• SOI DEAD ARTISTS (Soi 33) • .


MAP


Running behind schedule, the macro-karaoke abuilding next door to
Mojo's
did not open today, 01 July, -as promised- but the construction crews, still piling on the overtime each night, can pretty much guarantee they will meet their new 15 July deadline.
• SOI DEAD ARTISTS •
• TOBACCO ROAD • .


MAP


Last time we looked (yesterday) the
Hello Bar
had pulled up stakes to move to higher ground - wherever that might be. Only the cold steel of it's roller-shutter greets the passing night-creatures.
• TOBACCO RD (Soi 0) •
• EASY SQUARE • .


MAP


Reopening in the old
Friend Ship
digs is the brand-new
Louis
bar beer/Pool Bar. A few nights ago they claimed we were their first paying customers. Their front bar and other items still under construction, they look set to take some of the overflow from the boxing crowd. Welcome them to the dogfight.
• EASY SQUARE •

The new
Thai Boxing Bar
has, not surprisingly, moved in cheek and jowl with the
Easy Square Muay Thai Arena
. They have a couple, three pool tables and a lively staff of pool sharks. The
Thai Boxing Bar
is owned by the same
hoon
that put their heads and pocketbooks together to form the
4 U Bar
just across the driveway. Welcome to the punch-up.
• EASY SQUARE •

Another mini-building boom is underway in the center section, next to
The Basement
. Two large bars and one medium-sized bar are about 75 percent complete as we go to press. The
Japanese
bar will be the first totally indoor (i.e., air conditioned)
Night Venue
at the
Square
. The other large bar next to it will be
Portuguese
, and the construction crews say it is so big, they will be having bullfights within (it's big, but not that big). We have no info on the third bar at this juncture other than it already has a lessee. We should be laying down historical markers on these three
Night Venues
on or before the first of July. Also, another strip of foundations connecting the center section with the rear section is being poured, which will provide for even more bar beer type
Night Venues
- and we have heard through sources on the ground there that these new areas have already been spoken for.
• EASY SQUARE •
• QUEEN'S PARK PLAZA•

MAP


We're keeping an eye on the
Happiness
, an indoor Pool Bar of long standing located on the back row. It was closed the other night when we were surveying, but friends and neighbors on the ground there said they were just taking an employees' day at the beach.
• QUEEN'S PARK PLAZA •

The Corner
, renovations now complete, is about four times it's original size and has been done up like a proper pub. It has transformed from a hole-in-the-wall to a comfortable place to have a pint or two. Welcome back to the rough-and-tumble.
• QUEEN'S PARK PLAZA •

Now you see them, now you don't - the
Sweethearts
bar beer originally thought to have gone out of business this June has only changed it's name to
Paddy's Irish Bar
. All else remains the same - keep on rocking.
• QUEEN'S PARK PLAZA •
• THERMΖ & "13 NIGHT MARKET" • .


MAP


The
Mic Chokdee-Bar
have reopened this month as quietly and as quickly as they closed down last month. Welcome back to party-town.
• THERMAE & 13 NIGHT MARKET •

The New Ther Maι Coffee Shop
(yes, that's what it was called) has had an official name change to
Thermae Bar & Coffee House
. And only very few noticed. Or cared
...
...
But what went entirely unnoticed was they got back their original Thai spelling for "
Thermae
", and with it, bragging rights going back to
1965
-
historians take note
.
• THERMAE & 13 NIGHT MARKET •
• WASHINGTON SQUARE • .


MAP


The
Crystal Bar
has died on the vine yet again (it's most recent resurrection being last July). But since it has a habit of doing this and then popping back up out of it's coffin, we won't write it off just yet.
• WASHINGTON SQUARE •
• The No-News-Is Good-News Dept.•



--- Datzit Fernow

Copyright
© 2004, BANGKOK EYES / bangkokeyes.com