• PATPONG I • .


MAP


Lipstick Pub
has just thrown open the doors and rolled out the red carpet. They occupy the old upstairs
Lipstick
digs (closed since December 2002). But don't expect the old crew to greet you on your trek up the stairway. Still legally the
Lipstick
, the English language sign at street level tells the tale. This is a pub you would go to if you were a man looking to meet a boy or vice-versa. Welcome to the fracas.
• PATPONG I •

Not that anyone will notice, but the
SuperStar
is now legally the "
SuperStar
" and not
P.P. Super
as it has been, legally, up until just recently - and so says their Thai language sign. So next time
Bang Rak's Finest
come a-gangbusting for those miscreant
name-gamers
, the
SuperStar
won't have to tape a temporary sign over their neon...
• PATPONG I •
• PATPONG II • .


MAP


As mentioned in earlier issues of
MIDNITE HOUR
,
Electric Blue
were closed down two months ago when they tried to play the
name-game
and open as
CLUB Electric Blue
. According to sources on the ground here, they were going to reopen on 5 May, then again on 25 May. We decided to put an end to the hearsay, so we stuck our heads in the door and spoke to someone who (should) know. They will be "
on again
" starting 12 June, says the manageress. Provided the evil ghost of the
Rififi
doesn't meddle yet again, we should see the A-Go-Go return full-tilt.
• PATPONG II •

They opened in December of 2003 as the
Topless 2 Pool Bar
, but even before they could get their permanent sign up, they switched to
Tavern 3 Saloon
. By February of this year, having been caught-out by
The Authorities
for playing the
name-game
, they changed yet again to
Top Light 1
- the
legal
name. But we could see that something was in the wind, as all the
Top Light 1
signs were felt pen on cardboard and unceremoniously taped over the old sign. Last month (May) they pulled down the cardboard signs and became
Tavern 3 Saloon
once again. We welcome you back to the ratpack, whoever you really are
...
• PATPONG II •

The
"Thai Traditional Massage"
has decided to pull the plug. Located on the 4th floor of the
Cosmo's
stairwell, there was just not enough business to keep them going. Their digs now being used as the
Bua Luang
group offices.
• PATPONG II •
• NANA PLAZA • .


MAP


Back in the game on 8 May, fire damage now repaired, the
Playskool A-Go-Go
looks better than ever. And that includes the outside bar beer area, which got a sprucing up as well. By the way, if the girls there ask you for a tip, don't tell them not to play with matches - we've used that line already.
• NANA PLAZA •

Cascade
, on the 3rd floor was caught-out by
Lumpini's Finest
for not having their legal (Thai) sign up. The problem was immediately corrected by - are you ready for this? - writing the Thai name on a piece of paper and taping it over their neon. As
Farang
customers now couldn't see that it was in fact the
Cascade
, they wrote the word "
Cascade
" in English on another piece of paper, and taped it up over the remaining part of the neon sign. I'm sure this is logical, it's just not
our
logic. Hey, shake it, don't break it, guys, you know how
The Authorities
are on this
name-game
issue We know it now means paying the 50 thou for the new name, but it's still better than being shut down for a month or two, and
then
paying the 50 thou.
• NANA PLAZA •

As sign problems seem to be haunting the entire civilized world as we know it, we thought we might mention that
Lucky Lukes
is not now really called
"Lucky Ukes"
. There is a simple explanation -- their sign fell apart. They will be repairing it just as soon as
the curse of the signs
lifts from the
Bangkok Night Scene
.
• NANA PLAZA •
• SOI COWBOY • .


MAP


Would you like to "
Boom now
"? Well, so would we, and this is exactly what the brand new
@ Corner
bar beer offered up on their timely opening on 13 May. Their hand-out leaflets, reminiscent of grammar found on menus of old nevertheless conveyed the message. We mentioned to our wag historian,
Boge Hartman
, that this bar would be opening up in one of the last areas not yet containing a
Nightspot
on
Soi Cowboy
. And he said, "Whoa, not so fast there, son
...
"
(...cont'd below)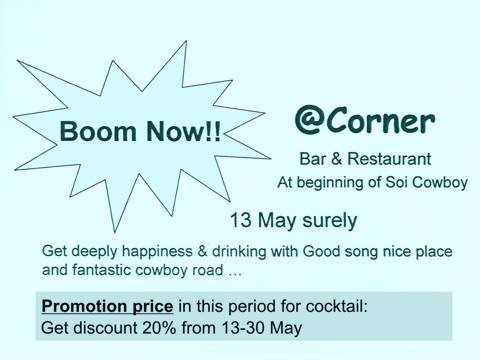 ...
and started tunnelling through the labyrinthine mountains of paper on and around his desk. It seems that according to the
Zootramp Publications
database, there was a bar there as early as 1975, mostly -but not exclusively- for Thai clientele called
Chitra
. This was not the
Chitra's Bar
in the late '70's, says
Hartman
, in fact this original
Chitra
preceded
Cowboy's
opening of the
Cowboy Bar
by more than two years - back when the soi was still called
Soi Gold Label
. Be that as it may, we wish the
@ Corner
luck in these precarious times.
• SOI COWBOY •

The
Spice Girls
opened as scheduled on 4 May, covered in balloons, streamers and party treats. The mirrored walls give the impression of a much larger bar. Upstairs has a single pool table and an 'overflow' bar. A-Go-Go is the prime agendum. Nevertheless, we couldn't help wonder how they would fare the next time the
Crackdown Squads
start checking for legal, registered names - isn't
Spice Girls
taken? Nevertheless, we wish them prosperity as they cast their fate to the rain swept nightwinds.
• SOI COWBOY •

Cowboy One A-Go-Go
mysteriously closed (
vibrato
organ music here) - only later did we find out they were doing a quick renovation, to include a big, brand new neon sign, just like their sister bar,
Cowboy Two
. They plan to reopen on 3 June - the day after tomorrow.
• SOI COWBOY •

The
New Crazy Cats
have some door art worthy of mention - and the reason we mention it now is the door is as ancient as the art - and will surely fall to the ravages of Time in the not-too-distant future. The door and it's "
hippy art
" are probably the last their kind on the
Bangkok
Night Entertainment Scene
. Have a look before it goes the way of the dodo.

If, as they say, good fences make good neighbors, then good doors make better ones. The
New Crazy Cats'
door is probably more properly a
'Sign Of The Times'
from the previous 'flower-power' generation. Having survived a name change, the door remains virtually unseen at night as they keep it open inward - thereby unnoticed by passers-by and customers alike.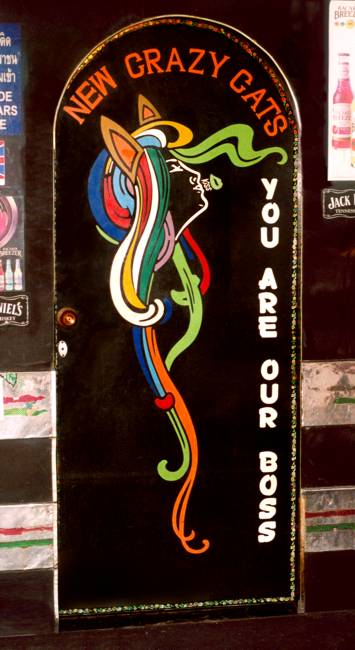 • SOI COWBOY •

The
Apache
have recently sat out two weeks of arbitrary penalty time courtesy of the local arbiters of nighttime street-justice (
Thonglor's Finest
). All that behind them now, they have hit the soi running, and have once again pumped up the volume on the rock-n-roll like there was no tomorrow. Welcome back to the sharkpool.
• SOI COWBOY •




Elvis live at the Country Road !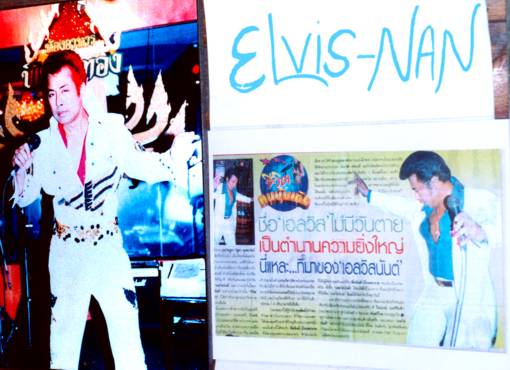 Well, OK, this doesn't quite count as an
Elvis
sighting, or even an
Elvisoot*
sighting, but
Elvis Nan
now performs at
Soi Cowboy's
Country Road
entertainment complex. That "
the
King's
" popularity has lasted in this far-flung corner of the world for almost half a century is as curious as it is noteworthy. Perhaps this would be more a "
Sign Of All Times
".
*
Elvisoot - a popular local Elvis Presley imitator from the 70's & 80's
• SOI COWBOY •
• COWBOY ANNEX • .


MAP


From the
We-Knew-This-Was-Going-To-Happen Department
. The first Arab bar to open in Bangkok in an
Expat Night Entertainment Area
is the
Latifah Bar
. It opened on the newly re-floored digs of the now-defunct
Richiy Bar
. Last Friday night, the owner was there alone, playing extremely loud Arabic music
ΰ la
the Pattaya Arab bar scene, and having himself a not-so-quiet game of pool. We wonder if he saw any correlation between the volume of the music and the volume of business he was doing. Bar beer - Pool Bar is the format. We nevertheless
(think we)
wish them luck, and
(think we)
welcome them to the nightscene.
• COWBOY ANNEX •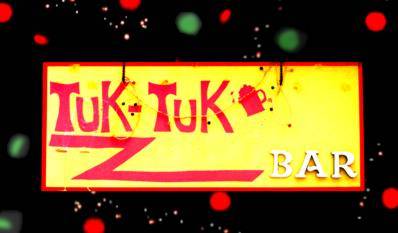 The open-sided
Tuk-Tuk Bar
in the
4-Pak
will close its doors, figuratively, tonight at midnight after a little more than a month in operation. Dozens of joss-sticks, alight at the four corners are pouring forth, mingling their aromatic smokes.
Tuk
is busily engaged in lighting even more
tup
for another small altar which she only a moment ago placed on the bare earth in front of her bar. As she places the tiny cups of tea and the bananas next to the miniature Deities and animals on the several altars, she will
wai
the proper count once again. She speaks to me through the thick
mai jan
-scented haze, saying she hopes she will be luckier at her next place, but that she hasn't yet been able to find anywhere she can afford. (Certainly the local divinities wouldn't ignore elaborate offerings such as these, would they?) Only a Pollyannaish optimism would have allowed her to open in this derelict, soon to be demolished bar area in the first place - the
Darwinian
nature of this shark-eat-shark nightworld doesn't provide for entrepreneurial innocents like
Tuk
. Greener pastures,
Khun Tuk
- anywhere would be greener than right here.
• COWBOY ANNEX •

The
C.J.
bar beer now calls itself the
Friendly Bar
. Their new sign, almost too small to notice, has been nailed up out in front to advertise the fact.
Status-quo-ante
. Rock on while the rockin's good, gang.
• COWBOY ANNEX •

Gone but not gone, the
Fantacy
(sic) has relocated from the
4-Pak
out back, and is trying their luck once again, after a one-month hiatus. These new digs, not much bigger than their sign, are easy to miss but they make up for their lack of size by their enthusiasm. Keep on keeping on.
• COWBOY ANNEX •

The
Richiy Bar Pool
, (which was, of course, owned by
Richiy
) is no more. The ongoing renovations we noted last month were for an office-like structure, now almost completed.
• COWBOY ANNEX •

Spanky's Bar 3
, after threatening to do so for the last couple of months, has finally put up a sign saying who they are, so now you will know it's not part of the
Monza Bar
next door
...
• COWBOY ANNEX •
• SOI DEAD ARTISTS (Soi 33) • .


MAP


The
Timbevati Boutique Lodge & Steak House
is the latest
entertainment facility
to pop up, virtually overnight, on
Soi 33
. We showed up quite by accident on opening night last week and were given the
Cook's Tour
. Almost out of sight from passing foot traffic, one needs to turn down and walk back from the
Oliver reed's Club
. You
will
be surprised - this is a huge facility - in
African
motif (although the customers that night were all
European
). Although it is mostly 'restaurant', they have a bar, and more under development. On top of all this, they have 20 rooms for rent at the rear, along with a large swimming pool, which was still filling when we visited. Taking my not-too-serious question very seriously, my lovely guide wasn't sure if restaurant guests were going to be allowed to swim or not - which would be an interesting turn of events, if that were the case.
• SOI DEAD ARTISTS •

While we are on the subject of very large
Night Entertainment Facilities
, double shifts are hard at work bringing the two super-sized units next door to
Mojo's
to completion before the end of the month (June). They are telling us the two units will be combined to become a very elaborate karaoke lounge - orientation Oriental. If they have a name picked out for it they were very inscrutably not telling
...
• SOI DEAD ARTISTS •

For those of you who have
Statistical Historian
genes in your makeup, here is an interesting
factoid
concerning
Soi Dead Artists (Soi 33)
for your consumption. Since reaching
"critical mass"
in November of 1999, this
Night Entertainment Area
has
tripled
in size. It has gone from 17
Night Entertainment Venues
to this month's total of 51 - all in less than 5 years. And it's still growing.
• SOI DEAD ARTISTS •
• TOBACCO ROAD • .


MAP


The
Kiss Me
, one of the older names on the soi, resides in abiding darkness yet again. Having reopened only last October (2003), it must have figured it couldn't hold out to the next high season. Let's just say '
hasta luego
' on this one, as they seem to be able to keep popping up out of their coffin and starting all over again.
• TOBACCO RD (Soi 0) •

Despite the fact that their brand-new neon sign reads, "
Jack Daniels No. 7
", they are still the
Friend's Bar
. They have decided to spring for some new neon, so they took their old sign down for an overhaul. Its replacement should be hung out to glow before the end of the month.
• TOBACCO RD (Soi 0) •
• " SOI KATOEY " • .


MAP


Opening to the public in early May as promised, the
Xantrix
is a shiny new multi-storey lounge. We misreported their name as "
Xantrax
" last month, because their etched glass sign had not yet been back lit - for which we offer apologies. They wasted no time in keeping it unanimous on this soi re: the outside tables - as with virtually all the other
Night Entertainment Venues
, customers have the option of sitting inside and watching the crowd, or sitting outside and being part of it.
• SOI KATOEY •

Tapas Room Club
had all the flowers and bunting out curb-side for their
10th Anniversary
party last weekend. We don't want to rain on their parade, but the
Zootramp Publications
database shows them, then as
Tapas Cafe
, opening in the old
Genesys
digs in April of 1995. What do you reckon, a belated
Y2K
problem?
• SOI KATOEY •
• EASY SQUARE • .


MAP


The nameless bar we noted here last month that was celebrating their grand opening with a wild Mekhong & Coke party now has a name. And we expect the sign will follow soon. Barring further changes between now and the end of the month, they will be called
The Basement Bar
. They are, by the way, the sister bar (literally) to the
Sport Bar
in
13 Night Market
.
• EASY SQUARE •

The newest kid on the block is the
Mook Bar
.
Modus operandi
- bar beer. They have opened with an enthusiasm possessed only by those who have never owned a bar before. We hope their enthusiasm is rewarded -
Easy Square
, while becoming better known, hasn't really caught fire yet.
• EASY SQUARE •
• QUEEN'S PARK PLAZA•

MAP


Reopening only a couple of days later than they had hoped, the
No ! Bra
bar beer is up and running full-tilt once again. Their revamped street-side counter bar seems to be attracting it's usual custom - and then some. Welcome back to the nightwars.
• QUEEN'S PARK PLAZA •

Since 'death by signs' seems to be our fate this month, we should briefly mention that both the
Sweetheart
and the
Smile Bar
have hung out brand-new, bigger, brighter, better shingles. All else, including the friendly service remains unchanged.
• QUEEN'S PARK PLAZA •

Way in the back,
The Corner
is in a state of controlled annihilation - construction workers running back and forth in the middle of the night rushing to completion a rather ambitious expansion project - which they say should be completed by month's end. They can't be sure, but they think there will be a name change in the cards.
• QUEEN'S PARK PLAZA •
• " 13 NIGHT MARKET " • .


MAP


The
Grim Reaper
has already pulled the black shroud over the almost-new
Mic Chokedee-Bar
, which opened this March. Only shadows danced on their roller-shuttered entrances.
• 13 NIGHT MARKET •
• The No-News-Is Good-News Dept.•
• WASHINGTON SQUARE • .


MAP