MIDNITE HOUR
presents the
NEWS
on the
Bangkok Night Scene
; - the
'history-in-the-making'
for all major
Night Entertainment Areas
- for the month ending
1 SEPTEMBER, 2004
:
• PATPONG II • .


MAP


In response to questions from newcomers and even from some long-time residents (Where is
The Ramp
; what is it?)
MIDNITE HOUR
replies: Almost invisible to the nightcrawler crowd is
Patpong II'
s "
The Ramp
". It is accessible from two separate stairways, one across from
Cleopatra,
the other across from
Executive Lounge
. Once on
The Ramp
, a string of thirteen
Night Entertainment Venues
presents itself. The scene is more slanted to Thai Karaoke revellers, however it has its fair share of
Farang
patrons. This month, one of the old timers,
The Matador
, is closed for renovations. A sign on the door says they will be reopening on 3 September.
• PATPONG II •
• NANA PLAZA • .


MAP


The New Rainbow Bar A-Go-Go
, which also sported a second after-the-fact sign reading
Rainbow I
, is now showing neon which reads simply,
Rainbow
. It looks to be a crudely fashioned modification of the
Rainbow I
sign. This all may mean a name-game crackdown by the authorities, but we suspect they have a new neon shingle in the works which will be nailed up in the near future.
• NANA PLAZA •

Not gone but gone is the
Angel Witch Beer Bar
. While physically open, it is being used as a storeroom and its barstools are being used by the
Angel Witch
A-Go-Go staff to rest between sets and to beckon to us passing nightcrawlers. As a separate
Night Venue
, it has been deleted from the roll call.
• NANA PLAZA •

Carnival
on the third floor is undergoing yet another unneeded exterior face-lift. It's obvious to most that the
Crown Group
are once again conveniently keeping someone's uncle-brother gainfully employed. We begin to understand
why
the group were the first in the
NEP
to introduce 500 baht, then 600 baht barfines
...
• NANA PLAZA •

If you're at
Nana
after midnight and notice that
Temptations
is locked up and all the chrome barstools are upside down on the outside bar, worry not - they are now opting for a midnight closing.
• NANA PLAZA •
• SOI COWBOY • .


MAP


Apache Squaws Sitting Pretty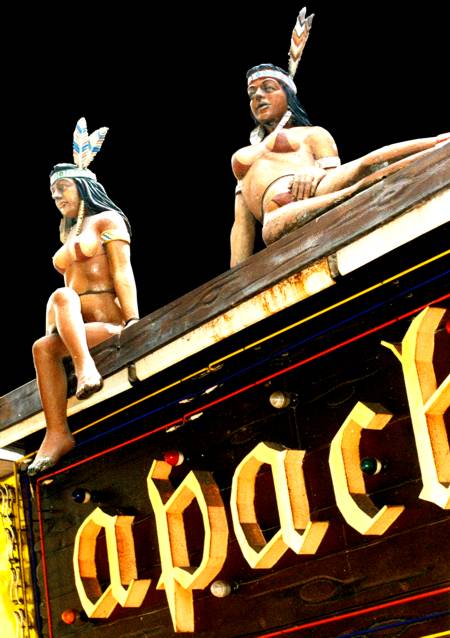 This month's prize for "
Best Door Art
" goes to the
Apache
on
Soi Cowboy
- in this case it's "above the door art", so you might miss it if you are not careful.
• SOI COWBOY • September 2004
• SOI COWBOY •

Midnite Bar
is once again out of the
Penalty Box
, and they are back to rocking and rolling 'till the break of dawn, or 01:00 - whichever comes first. When we looked in on them at the weekend, that's not all they were back to - shake it don't break it, gang, you know better than most that
His Autocratic Benevolence
and his minions in
Too-Tight-Uniforms
have an ongoing agenda to make high-profile examples of Expat-oriented bars.
• SOI COWBOY •

The New A-Go-Go Duck
(the
Shark
to us commoners) is also out on probation, and they too have reverted to craven
Rock 'N Roll
and dirty-dancing on stage. I guess we'll have to let the good times roll, then.
• SOI COWBOY •

Sheba's
has also paid their dues to society, and not to be outdone, have hit the
Soi
running. They are back full-tilt - like they'd never gone.
Rock 'N Roll
and
A-Go-Go
remain the
modus operandi
. Welcome back to the neon circus.
• SOI COWBOY •

For sins real, or imagined,
Cowboy 2
are the latest to fall victim to the ongoing wave of arbitrary extra-judicial street justice at the hands of
Bangkok's
Men In Tan
. But they are not wasting any time - their ongoing renovations, they say, will be completed well in advance of their reopening on 10 September (or is it 12 September - they are not really sure). In the meantime, they still use the premises for the
Cowboy 1
changing rooms - in case you are wondering why dozens of bikini-clad dancers are streaming into the darkened construction works at 01:00 am in the morning
...
• SOI COWBOY •

My-Computer-Made-Me-Do-It Department
The correct spelling for
Joy Ngwen
bar is as shown here, not as otherwise indicated last month by my error-prone word processor
...
• SOI COWBOY •


MIDNIGHT MUNCHIES
When the number of customers walking the
Soi
thins out, usually about a half-hour before closing time, a few push-cart food vendors wend their way into
Soi Cowboy
. As as it is likely there will be one or two push-cart vendors on the Soi at any given time, this influx of a few additional carts is all but imperceptible. But the moment the bars start switching off their neon, what was a trickle becomes a torrent. By the time the balloon goes up and the bars are all officially closed, there are no less than 40 food carts in the
Soi
, each seeking their pre-arranged spot. Once in place, they 'deploy' like so many Martian lander vehicles - with panels folding out, trays of fresh food appearing, smoking hibachi grills with orange-glowing charcoal pop up alongside their neighbors' small LP gas cookers, small battery-powered lights switch on, and chopping blocks materialize. Where moments ago we saw a migratory herd of sheet metal boxes-on-wheels, we now see a string of fully outfitted mini-kitchens.
Simultaneously,
Soi Cowboy's
thirty-seven bars disgorge staff and customers alike onto the
Soi
in what looks like a slow-rolling stampede. The
Soi
, now in semi-darkness, is awash with people; vendors and their carts are quickly surrounded by bar girls and their customers,
katoey
move in from the periphery fishing for drunks or anyone at all, and last but not least,
Bangkok's Finest
weave through the crowd, riding pillion on their motorcycles checking for late closers.
The feeding frenzy is about to begin - there is no lack of variety, however the bias is definitely toward
Isan
dishes. Strings of round-link
Isan
sausage and
luke-chin
kebabs, each with their own small plastic bag of spicy sauce. A steam-tray with ears of fresh corn and peanuts. Boiled chicken feet - pale yellow and claw-like, pointing skyward. Beside them on another tray are whole yellow squid pre-boiled and grotesquely shaped. A
mamasan
, having de-poled her two heavy baskets is cooking small birds' eggs in a
kanom-krok
pan - their tiny orange yolks staring upward by the dozen at nothing or no one. A bicycle with a rack of dried squid on the back - the squid already pre-pressed into brown cardboard-like caricatures are ready for re-toasting.
Khai ping
on sticks, like so many pale ovoid Popsicles - sometimes two eggs to a stick. An abundance of fruit, side orders of vegetables and take-away bags of virtually any
laap
, complete with tiny bags of chopped garlic and half a dozen flavors of
nam chim
to choose from. Several species of deep-fried fresh water fish, no longer hot, beside five-baht bags of the ever-present
khao nhieo
.
Thirty minutes later, almost to the minute, the few remaining couples wander out of the
Soi
and into waiting taxis. The Martian landers retract their apparatus, bags of trash are disposed of and the dozens of sheet metal boxes-on-wheels,
Bangkok's
ubiquitous and irreplaceable
rot khen,
move out to reposition themselves for late night trade at other locations. This is the end of another night at
Soi Cowboy
. An hour ago it was a near-blinding neon extravaganza - now shrouded in darkness, it is, to anyone happening by, indistinguishable from any other lane or avenue.
• SOI COWBOY • August 2004
• SOI COWBOY •
• COWBOY ANNEX • .


MAP


It's
adios
all over again for the
Oh ! Yes
pool bar. For the second time in 3 months, they have hit themselves in the backside with their own door - so to speak. This time it looks like it's for keeps, though, as everything from chrome barstools to pool table to neon have disappeared in the night. With it's passing, the
Asoke Corner
half of
Cowboy Annex
is now completely vacated, leaving the front
Asoke Plaza
section intact. History buffs note: This area was originally called
Asoke Corner Dream Place
.
• COWBOY ANNEX •

The inscrutable game of musical chairs continues at the
Richiy Bar
. In the last five months, it has gone from
Richiy Bar
to
Latifah Bar
to
Richiy Bar
and now to
Ann Bar Beer
. Welcome to the vicissitudes.
• COWBOY ANNEX •

Lemon
bar beer hasn't fallen off a cliff - they are still there - they are, however, in the process of getting new neon. All should be up and shining by this time next month.
• COWBOY ANNEX •
• SOI DEAD ARTISTS (Soi 33) • .


MAP


Located at the rear of the
Timbevati Lounge & Steak House
(which now sports the
Shabeen Sports Bar
) is yet another new
Night Entertainment Venue
. On the night of our visit, they were having the grand opening of the
Sahara "Sports" Bar
. Located all the way through to the back, they (the
Sahara
) are an indoor/outdoor venue, conveniently located next to the swimming pool. They have placed some tables at the edge of the swimming pool deck, giving it the
lanai
effect. Inside is a separate lounge area, pool table area complete with hostess pool sharks, and bar area. It's always hard to judge from opening nights, but there was a healthy crowd there by the time I left, and as I walked out, I was passing even more people streaming in to look for seats. Very comfortable - not everyone's cup of tea, but a great place to meet if you intend to carry on a conversation without shouting over the music. Welcome to the night-circus.
• SOI DEAD ARTISTS (Soi 33) •

Located in the same complex is the brand-new
Ton Tong Cocktail Bar
(part of the
Ton Tong Thai Restaurant
). Although it looked promising, it remains to be seen whether this will qualify as a separate
Night Entertainment Venue
, or whether it will just remain an adjunct to the restaurant, where restaurant customers might sit for a drink. We'll look in on them again, and see if it provides separate entertainment - and will get back to you. In the meantime, we (tentatively) welcome them to the sharkpool.
• SOI DEAD ARTISTS (Soi 33) •

The
Sanjusan Bangkang Japanese Karaoke
has hung out some new neon which simplifies things greatly - they now call themselves
33 Bangkang
. They are located at the back of
33 Complex
. Orientation: Oriental.
• SOI DEAD ARTISTS (Soi 33) •

The
Bar Za Bar / Shoku Sai
was closed when we paid them a visit last Saturday. They have a history of unexplained closures (Aug-Oct 2002, Feb 2003, and again from Sept-Nov 2003). We'll take another look to make sure they are not once again playing 'possum and will keep you advised.
• SOI DEAD ARTISTS (Soi 33) •
• EASY SQUARE • .


MAP


Let's start with the good news first. The
Hang Out
bar beer have pushed their roller-shutters to the ceiling and rolled out the red carpet. Cozier than most, they have a bar and a lounge area - with no pool table. (They say they may bring in a pool table in the near future, however, as business is deathly quiet these days
...
) The owners, obviously first timers, have more than enough enthusiasm and personality, as well as an eye for pleasing decor. And while we wish them well, it remains to be seen whether
Fate's
tumbling dice bring them sevens or nines.
• EASY SQUARE •

The
Tawan Thong Karaoke Club
have changed their Thai sign out for one in English - this time reading only, "
Karaoke Club
". Keep on keeping on.
• EASY SQUARE •

And now to the bad news The
Louis
, which opened only in June, is no more. They've pulled the plug, packed out the pool table and parted company for parts unknown.
• EASY SQUARE •

Due to lack of business, two bar beers,
Cheers Bar
and
Mem & Mem Bar Beer
are only opening when they think there is a chance of customers being in the neighborhood. That ain't the way to get her done, Hoss - but we understand your pessimism - see below
...
• EASY SQUARE •

Of the three bars
MIDNITE HOUR
mentioned last month as 'under construction', only the above mentioned
Hang Out
has come on line. The other two, a Japanese lounge and a Portugese
cantina
, both very large by
Easy Square
standards, are on a 'construction hold'. And the reason? It seems the people that introduced themselves to me many months ago as the
jao khong
,
Khun Cai
and her husband, were not in fact the actual land owners, but the primary lease-holders. But it now seems that the real owners are talking about building a condominium on the
Easy Square
land. (You may remember from our earlier write-up that the property was previously deep-piled for just such a mega-project, but that
Khun Cai
and her husband were giving assurances - as owners - that the project wouldn't go ahead.) The undercurrent has turned to undertorrent, and now all the leases are being "
reviewed
". Does any of this sound at all familiar to any of you
Bangkok
residents? Like what happened at
Clinton Plaza
? Like what was happening at
Sukhumvit Square
before
Chuwit
and
Mafia
elements took matters into their own hands? If history is a teacher, and if
Bangkok
is
Bangkok
, these situations never favor the bar beer owners - we shouldn't be surprised to see an early demise to
Easy Square
, making it the shortest-lived
Night Entertainment Area
in
Bangkok's
history. We'll be staying close to this one and will be keeping you advised.
• EASY SQUARE •
• " SOI KATOEY " • .


MAP


When we stuck our heads into
Noriega's
last weekend they were having a '
Salsa Night
' "
What
?" you say. Yes, we said, '
Salsa Night
'. (And
this
from
SuperStar Frank
- former
Prince of Patpong A-Go-Go
!) But guess what? It was working.
Noriega's
had a large crowd who were very much into watching a professional duo perform some very intricate
Latino
dance steps. Not everyone's idea of a good time, but add to that
Frank's
(limited but tasty)
Mexican
menu, and a good sound system, and apparently you can attract a very reasonable crowd. Who would'a thought?
• SOI KATOEY •
• QUEEN'S PARK PLAZA•

MAP


The
Luna Club
, which only opened in January of this year -(in the old
Monkey's But?
digs)- was looking darker than a poisoned well when we passed by yesterday. They stuffed their last chit in the cup sometime this last August.
• QUEEN'S PARK PLAZA •

We mentioned last month that we would be keeping an eye on
Banana Bar
, because although closed, they had a habit of popping back up out of their coffin. In this case, it just didn't come to pass. For the historical record, they winked out last month.
• QUEEN'S PARK PLAZA •
• TOBACCO ROAD • .


MAP


Much to our surprise,
Noi Pool Bar
did
resurrect this month - Christmas lights aglow, and the pool table getting full attention by patrons and staff alike. Welcome back to the briar patch.
• TOBACCO ROAD •
• THERMΖ & "13 NIGHT MARKET" • .


MAP


Talking to the owners of
Bar Chemo 04
and
Sports Bar
(who by the way, now call themselves
'The' Sports Bar
) this week, they say they will be pioneering the move to
Sukhumvit Entertainment Plaza (Soi 1)
in November. Slowed construction will delay their relocation by one month. They are still talking of converting all or most of the 3rd floor of the
Soi 1
structure to a
Thermae
-style late-nite coffee shop - so the rumor isn't dead yet
...
(See our feature story on
Soi 1
, last month.)
• THERMAE & 13 NIGHT MARKET •
• OTHER NIGHT VENUES OF NOTE •
• The No-News-Is Good-News Dept.•
• PATPONG I • .


MAP

• WASHINGTON SQUARE • .


MAP