• PATPONG I • .


MAP


The
Madrid
, the
Pong's
longest surviving
Night Entertainment Venue
(1969) has an eager and deep-pocketed suitor knocking on it's door. The object, on acquiring the
Madrid
(and the upstairs
Madrid Apartments
), would be another
disco
. But all you old rummies that hang out there mornings and afternoons playing "
Old Asia Hand
" need not worry - at least for the near term -
Khun J.
intends to "keep it in the family", and has told the would-be buyers to take a hike.
Status quo ante
.
• PATPONG I •

Appropos last month's comments re the
Twilo Live's
influence in keeping street vendors away from both the side and the front of their establishment, it seems that they conveniently park vehicles in
Soi Superstar
(at the side) day and night, as a sort-of
'proof-of-claim'
. Nevertheless, the rest of
Patpong 1
may be following suit later this month - see our
Rumor Of The Month
this month, just above.
• PATPONG I •
• PATPONG II • .


MAP


Gone, but not gone,
King's Lounge
reopened mid-March - with an all new format (-it has dropped the '
A-Go-Go
' from the name). Gone are the
cabaret shows
and the
A-Go-Go
. Gone is the sub-zero air conditioning, and gone is the need to send your bill downstairs to
King's Corner
for payment. All this has been replaced with live music and song, and hostesses in long evening gowns. Soda is one-hundred baht all night long. While indeed pleasant enough,
MIDNITE HOUR
remains unconvinced that they have a winning combination - we wouldn't be really taking long odds if we said we expect it will not last for 6 months We hope we are wrong, and welcome them back home. (Second floor,
Soi Bookstore,
above
King's Corner
.)
• PATPONG II •

Both the
Bua Luang Target
, and the upstairs
IT Room
closed down for renovations this last month (March). The
Bua Luang Target
is back, full-throttle, but the renovations on the
IT Room
won't be finished until the 4th of April, at the earliest.
Pool Bar
remains the
modus operandi
for both
Nightspots
.
• PATPONG II •
• NANA PLAZA • .


MAP


Big Dogs
, the open-sided day & night bar beer at the entrance to the
Plaza
didn't even miss a beat as it changed hands. We at
MIDNITE HOUR
, however did go into temporary cardiac arrest when we heard that $750,000 changed hands in the deal. No, there are no typos, and yes, that's US dollars...
• NANA PLAZA •

The
Morning 2 Night
, as earlier rumored, will have it's current lease expire in the very near future. One embellishment to the rumor has it that they are having their rent raised from
100,000 baht/mo
to
300,000 baht/mo
, so they are not going to renew, and will move over to their new
Morning Night 2
in
Sukhumvit 1 Plaza
, lock, stock, and barrel. But our "
person-in-the-know
" at the
Plaza
says that this is probably not the case - in that they gross over a million baht a month at
Nana
, the rumored increase in rent only represents a bump in the road. The more likely scenario, says he, is that the owner wants it back so
he
can make the cool million
+
every month. Hey, if you were the owner, what would
you
do.....?
• NANA PLAZA •

Opening only last October,
Pussy Cat's Bar
has been shut down for sign and licence 'inconsistencies'. While they were shut down, we noted that they had their
rap samak duan
signs taped to the front - usually indicating an impending reopening. And that is exactly what happened - just as we were getting ready to write them off entirely, they opened on 31 March, but with a different name. They are now called, in both
Thai
and
English
the
Farang Connection
. If that name sounds familiar, it should -the original
Farang Connection
closed in April of 2001, selling out to the
Angel Witch
. But apparently the licenses in that name were 'kept alive', and are now finally being reused. The owner apologized for no A-Go-Go, and said he would have his chrome poles back next week, as well as the girls' bikinis (they were dancing in skirts and shirts last night). Another way of saying his dancing license would be reinstated next week. Shake it, don't break it, guys, you know how Bangkok's
Men In Too-Tight Uniforms
can get, even for the smallest infraction...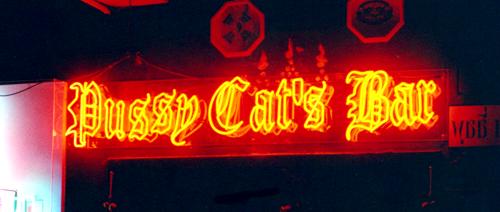 • NANA PLAZA • April 2005
• NANA PLAZA •

The
woodstock
Pool Bar & restaurant did in fact consummate it's sale to
Rainbow Group
(
MIDNITE HOUR
's first
Rumor Of The Month
to come true). They also very quietly bought the next door bar (
Rosemary Bar
), so they could combine the premises into a very large bar - a tried-and-true procedure in these parts. The deeper story was that they would be able to use the small bar's A-Go-Go license for the combined premises. This of course, begs the question, what happened to
woodstock's
original A-Go-Go license? It wasn't that many years ago that the
woodstock
was one of the big draws at the
Plaza
: -the best sound system, -the best Rock'n'Roll, the best A-Go-Go dancers. Whatever happened to all that, we wonder?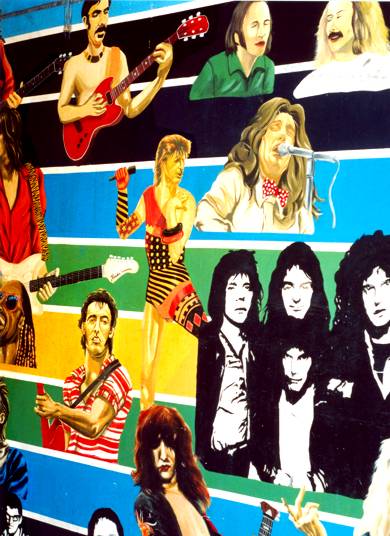 The woodstock mural, a 30 meter long ode to Rock'n'Roll has, with the exception of one small segment, met with the wrecker's sledge hammer.
• NANA PLAZA • April 2005
We've also heard two stories, the first that all the above was brought about by
23 million baht
changing hands, the second story was that it took
28 million
. In either case, it is quite a sobering reality-check to see what the bigger bars are selling for these days. Renovations already proceeding at a furious pace, the wall between the two bars has been torn down and both bars stripped, as construction crews start from scratch on what is tentatively named
Rainbow 4
. They are aiming for a
1 May
opening....well,
maybe.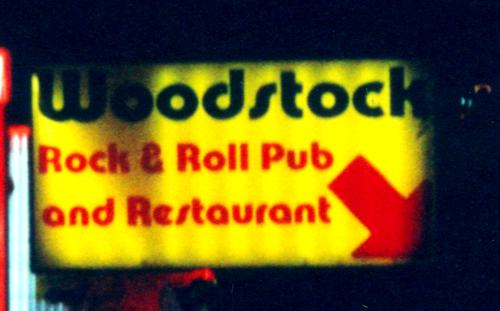 The woodstock as we knew it is no more. However it's previous owner has retained the name to use for a new venue somewhere in the Sukhumvit area.
• NANA PLAZA • April 2005
• NANA PLAZA •

The above mentioned single-shophouse
Rosemary Bar
deserves special mention. Back in 1982, before
Nana Plaza
was
Nana Entertainment Plaza
, and there was only a small bar beer in the driveway (
Luck Lukes
), three bars from
Sukhumvit Soi 16
closed down due to road construction and moved in. These three were the
Three Roses Bar
, the
Rainbow Bar
, and the
Rosemary Bar
(-which combined the
Rosemary 1 & 2
bars). These three seminal bars set the tone for what was to follow in the coming decades. Yet it was only in January 2002, after a run of 20 years (and a couple, three owners) when the
Three Roses
closed it's doors for the last time -- selling out to
Spanky's
, which opened in March of that year. Now that
Rosemary Bar
has been bought by the
Rainbow Group
, that leaves only the
Rainbow Bar
as the remaining seminal bar.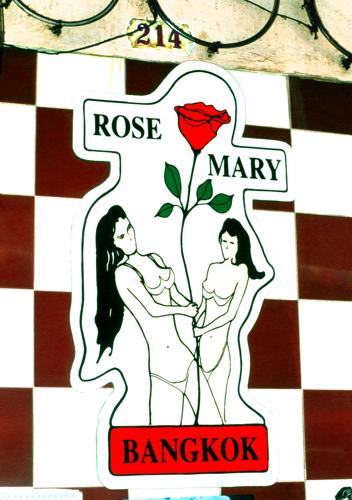 The Rosemary Bar, shown here as "Rose Mary", was one of three original bars to start Nana Plaza some 23 years ago. Before moving to Nana Plaza, it operated as Rosemary 1 and Rosemary 2 bars at the top of Soi 16 Sukhumvit, both of which were popular A-Go-Go bars in the 1970's.
• NANA PLAZA • April 2005
In contrast, the
Rainbow Bar
has grown since 1982 from a single shophouse to a double shophouse A-Go-Go, and in August 1997 took over the
XXX Tacy
(also known as the
XTC
), renaming itself the
Rainbow II
. In November 2001 it took over part of the
Nana Guest House
short-time hotel and opened yet another venue, the
Rainbow III
. Alas, the
Rosemary Bar
's fate wasn't so auspicious -after a run of 23 years, it finally stuck that last chit in that last cup.

We at
MIDNITE HOUR
would like to wish them a final
'adios'
-- and hope they find things more to their liking a little further on down the road a piece.
• NANA PLAZA •

While we are on the subject of
Lucky Luke's
, it also has a new owner (yes, the individual it was rumored to be), and if the other night was any indication, business is looking good, indeed. It's new owner confirms that not only do they not have any affiliation with the
New Lucky Luke's
on
Tobacco Road (Soi Zero)
, he didn't even know of it's existence.... Hopefully, that will settle the outstanding discussion on this one.
• NANA PLAZA •

Now back in action, last month the
Hog's Breath Saloon
was arbitrarily singled out by
Lumpini's
Men In Tan
for a 30-day 'holiday' (an alleged previous month's display of various shades of pink on the dance floor).

The Powers-That-Be
just don't seem to understand that this egregious dispensation of street-justice is an affront to
Rule Of Law
, and an order of magnitude greater than any of the perceived 'sins' they are 'cracking down' on.

These arbitrary closures do not require that the
Men In Too-Tight Uniforms
provide any evidence, nor are the alleged violators offered the opportunity of appeal, and until this changes, these
Rambo cops
will continue to take the law into their own hands...
• NANA PLAZA •
• SOI COWBOY • .


MAP


The single-shophouse
New Crazy Cats
wheezed it's last this last March, succumbing to the inevitable competitive pressures from the 'big bars', and a lucrative offer from the owners of
Spice Girls
, and, perhaps even a little '
bar fatigue
' on the part of the owner after all these years. Some may remember that
Crazy Cats
was helmed for a while by
Mukda
of the "
Shake-It-Don't-Break-It School of A-Go-Go Dancing
" fame - which is an irony in itself - nowadays, you wish there were a way to get some of these up-country shufflers to shake it like they
were
going to break it. Ah, well.....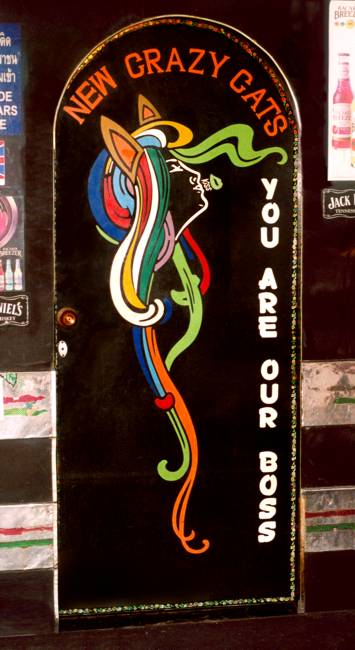 The New Crazy Cats won our Best Door Art citation for the month of June 2004 - we wonder if they took this door with them as a souvenir... • SOI COWBOY •
The
New Crazy Cats
, if you count it's tenure as just plain
Crazy Cats
, opened originally in the late '80's, and shared equally in
Cowboy's
'
small bar
' heyday along with the
Ding Dong
and others. Renovations are already furiously under way, and it will reopen with a brand-new name,
Naughty Girls
, on or about
30 April
, if our man on the ground there has his stuff together.
• SOI COWBOY •

And now the other shoe drops: - the
Naughty Girls-to-be
also will be absorbing the next door neighbor, the
Five Star II
, becoming the
Soi's
next two-shophouse-wide bar. The
Five Star II
intends to keep on operating, however, even when they tear down the wall between them and the former
New Crazy Cats
- this we gotta see...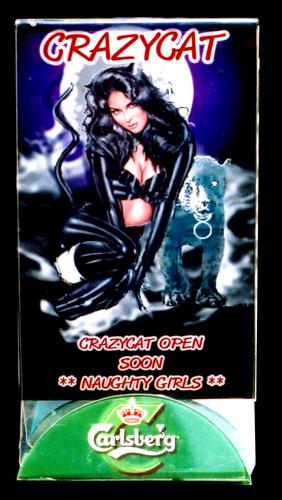 This bar-top ad now populates the
Five Star II
main bar and side tables - in anticipation of next month's transmogrification into the
Naughty Girls
.
• SOI COWBOY •
So, it remains to be seen when the actual closing date for the
Five Star II
will be. This begs, very quietly, a question - as both bars had
A-Go-Go
licenses, and as they will be consolidated into a single bar (the new
Naughty Girls
), will this leave an
A-Go-Go
license up for grabs for another nearby location...?
• SOI COWBOY •


"Hey you, get offa' my cloud."
This sign fits right in with the current trend on Soi Cowboy (the one where Night Venue owners are expanding their front sidewalks, encroaching out into the soi). The sign reads, "Please do not sell goods in front of the shop, or sit blocking the front of the shop."


APRIL 2004
• SOI COWBOY •


"You'd hafta be crazy..."
The Dollhouse, having seen that the term "Happy Hour" can mean anything to anybody, have opted for a "Crazy Hour" instead. It looks like the price war is most definitely on - spend more for petrol, spend less for suds. Thirty baht? You'd have to be crazy!


APRIL 2004
• SOI COWBOY •
• THERMΖ & "13 NIGHT MARKET" • .


MAP


While the official closing date of the
13 Night Market
was
28 February 2005
, the
B.B. Bar
bar beer very quietly stayed open on
1 March,
and as a goodwill gesture, was giving free beer to it's regular customers, and those who came to say goodbye, and even those, like myself, that came to gawk. In that
MIDNITE HOUR
is primarily an historical website, it is our 'duty' to make a footnote of this in this issue. So here's to the
B.B. Bar
, the last soldier standing, and may we wish you greener pastures. As noted last month, the
13 Night Market
was built, literally, on the ruins of the original
Thermae Coffee Shop
; the grounds being absorbed by the adjacent hotel-under-construction as we speak. We also take advantage of this opportunity to publish a last, unusual photo of this now extinct
Night Entertainment Area
.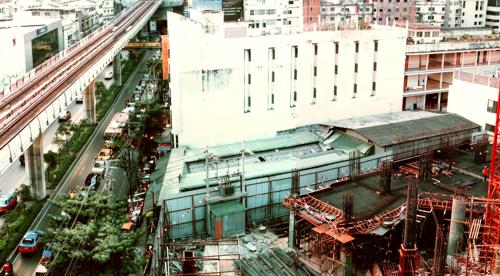 The 13 Night Market, home to fifteen Night Entertainment Venues for the last two years lies empty awaiting the wrecking ball. It is the low-lying greenish structure in front of the white building (Miami Hotel) in the center of the photo, and just behind the new construction works (Sofitel), which will soon devour it. This is probably the only photo showing the area of the original Thermae Massage Parlor, Coffee Shop and Barber Shop, on which the 13 Night Market stands.
• 13 NIGHT MARKET •
• 13 NIGHT MARKET •
• SOI DEAD ARTISTS (Soi 33) • .


MAP


The
Venus Club
opened a few days ago, where last month stood the
You And Me Club
. Cocktail lounge remains the
prime agendum
- tilted slightly toward the average Japanese customer... We welcome them to the wolfpack.
"... too sexy for my shoes..."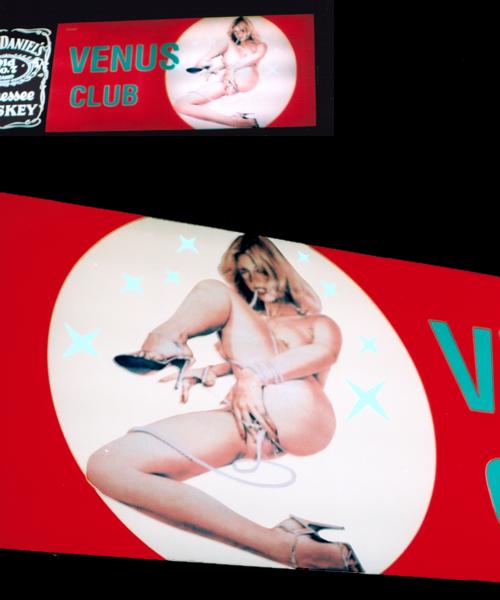 SOI

DEAD

ARTISTS APRIL 2005

This is the first time a brand-new
Night Entertainment Venue
has captured the
MIDNITE HOUR
nod for the
Door Art Of The Month
award. This airbrush is certainly most reminiscent of the old
Vargas
masterpieces that used to adorn the pages of
Playboy Magazine
.
• SOI DEAD ARTISTS • April 2005
• SOI DEAD ARTISTS •

Opening right about
...now !
is the
Karaoke Sakura 33
, just upstairs from the
Oliver reeDs cluB
. If the name wasn't enough to give you the hint,
orientation: Oriental
, although the comely lasses below say
gaijin
also are welcome. Welcome to the night circus, orientation be damned.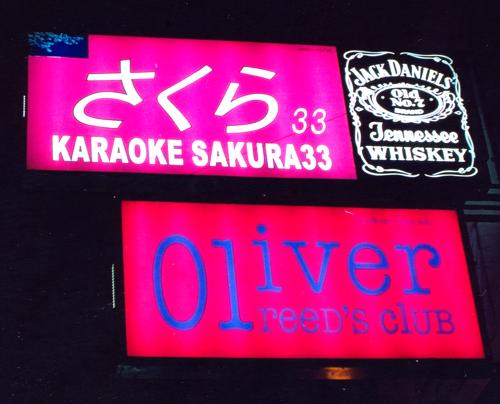 Another fine sign sponsored by Jack Daniels - those people DO know how to advertise...
• SOI DEAD ARTISTS • April 2005
• SOI DEAD ARTISTS •

The venue furiously abuilding last month between the
Monet Club
and the
Santana Club
was a restaurant (
Akado Restaurant
), and not a
Night Entertainment Venue
,
per se
. And while we will not be carrying them on our rolls, we wish them prosperous night-adventures, just the same.
• SOI DEAD ARTISTS •
• " SOI KATOEY " • .


MAP


There is a quiet expansion project underway in the
Soi
, and virtually all the downstairs bars are contributing. Previously, each evening at opening time, the various
Night Venues
would bring some tables and chairs (and cushions) out onto the sidewalk and set up in front of their establishments (...and in the case of
The Balcony
, in front of
Helene's
and the old
Rome Club
). Recently, however, the nightly expansion continues out onto the roadway, so that the bars have tables on the sidewalk
and
out into the soi. It seems that more tables translates into more income, plain and simple.
Tapas
, the
Xantrix
, the
Cafι 4
, and
Bobby's Arms
, and
Noreiga's,
as well as
Pharaoh's
, the
Roxy
, the
Balcony
, and
Speed
now have waiters stationed full time
outside
, ready to serve those tables on the sidewalks and in the soi. When the
Soi
is crowded on the weekends, navigation from one end to the other can get a little less than convenient. Being a dead-end, privately owned soi, the nightly encroachments will probably not be disturbed.
• SOI KATOEY •

Historians note: the
Cafι 4
has at last nailed their 'final' neon shingle up -- and it reads, "
Cafι 4 Bangkok
". So be it. All else remains unchanged.
• SOI KATOEY •
• QUEEN'S PARK PLAZA•

MAP


As if following the
Soi Katoey
bars' leader, the
Hideaway Pub
now has some outside tables next to their large front window. We hope it works as well for them, but when we passed by on the weekend, the empty tables out front made the place seem only that much more forlorn (although, in fairness, they had a few customers inside). Keep on keeping on...
• QUEEN'S PARK PLAZA •
• WASHINGTON SQUARE •

MAP


Sometime after the end of last month, after we noted that
The Prince Of Wales P & G
had already closed in February, they posted a sign saying
"Closed 4 March - 28 March"
. We don't pretend to understand the gentle misdirection, the minor deception, but we are pleased to see this old-timer back in action. It's sprucing up did wonders - and opening night (as advertised - on the 28th), with rose petals on the floor, was a pleasant touch. Their great Thai food menu, however, remains in place. Welcome back to the slugfest.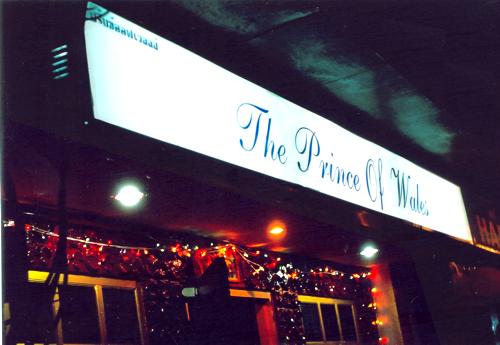 • WASHINGTON SQUARE • April 2005
• WASHINGTON SQUARE •
• SUKHUMVIT 1 PLAZA •

MAP


Josephine's Beergarden
opened only hours after we went to press on 1 March. Visitors ascending the stairs or taking the elevator to the rooftop are greeted by a large open-air seafood restaurant, cooled by micro-fogging fans which fill the evening air with a refreshing mist. At the far front of the rooftop area, overlooking
Sukhumvit Road
, is a long-bar, and to one side is a glassed in
Pool Room
with two smallish pool tables. Certainly an interesting layout - one of those
Night Venues
that just might capture the imagination of
Bangkok's
nightcrawlers. Although it wasn't too well populated the night we were there, at least a few had found their way to the top...
• SUKHUMVIT 1 PLAZA •

The third floor of the
Sukhumvit 1 Plaza
building, once rumored to become the next late-nite "
Thermae-Style" coffee shop
is going to be no such thing. The entire third floor, having been divided up into individual rooms with baths looks suspiciously like a
short time hotel
- that is to say, they look suspiciously like what we have
heard
short-time hotels look like...
• SUKHUMVIT 1 PLAZA •

The second floor has blossomed with three new bar beers this last month, with two more abuilding.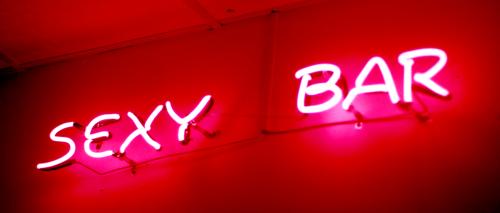 • SUKHUMVIT 1 PLAZA • April 2005
The
Sexy Bar
is the first of these, staffed with what we thought were some familiar faces. And we were correct, but we were thrown off the trail -- this new
Sexy Bar
has no connection to the
Sexy Bar
that closed down a month ago in
13 Night Market
. Instead, this is the reincarnation of the
Bar Bie Bar (Barbie)
from
Asoke Corner
. (Some of you will recall that
Bar Bie
was the seminal bar at
Asoke Corner
some 5 years prior.) Good to see that old entrepreneurial zeal. They still have a lot of interior work to do, but the place looks clean and bright (perhaps too bright?) Welcome back to the briar-patch.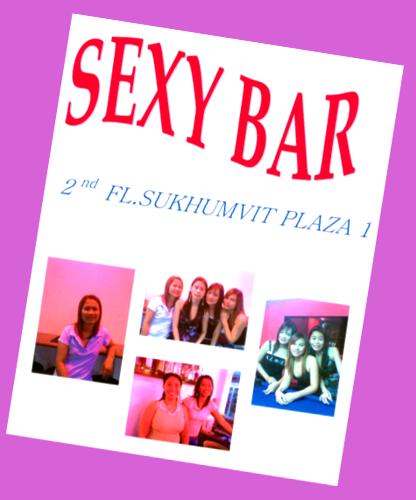 • SUKHUMVIT 1 PLAZA • April 2005
• SUKHUMVIT 1 PLAZA •

Smile Bar
, located in the next
loc
over, also had a couple of familiar faces behind the bar. You guessed correctly if you guessed '
Smile Bar
from
Asoke Corner
'. They, too, have moved over, and are giving it another try. (Many of you may remember them as the
Chid
bar - which was their name up until quite recently.) Good to see they've popped back up out of their coffin. Let the good times roll.
• SUKHUMVIT 1 PLAZA •

The new kid on the block, tucked waaaay back in the back is the
Junk Bar
. This bar is very well appointed, and very comfortable, if a little small - but their problem is they are
almost invisible
- when we visited, we were
looking
for new
Night Venues
, and we almost didn't see it as we started back down the stairs. You got good neon, guys, but you need to hang it out a little. Welcome to partytown.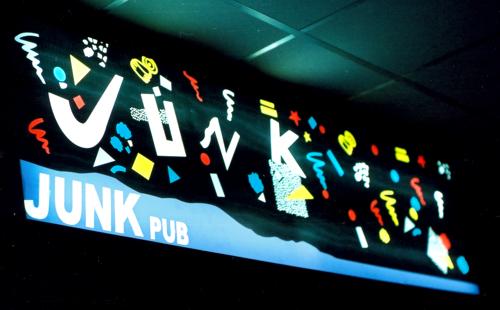 • SUKHUMVIT 1 PLAZA • April 2005
• SUKHUMVIT 1 PLAZA •

Downstairs, the seminal
The Sports Bar 2
which recently changed to
Beaver's
has hung a small sign off their big
Beaver's
sign which reads, "
Sports Bar
". We thought it was the Metropolis'
Sign Gestapos
at work again, but this time we were wrong - the owner, now having moved full-time over from the closed
Sports Bar
at
13 Night Market
, was fearful that some of her regulars might not get it right when they came to visit her at her new digs.
• SUKHUMVIT 1 PLAZA •

The rumor that three of the staff of the
Chemo 01
bar beer had died in an auto accident is, unfortunately, not a rumor. Travelling upcountry to vote, the van they were in was involved in a single-vehicle accident. The driver, at least as drunk as the eleven passengers, passed out and swerved off the road at high speed, hitting something and rolling the van several times. The driver and the three girls in front were killed outright, and the other 8 passengers, while injured seriously, recovered in the hospital, and were able to recount the infinite joys and benefits of drinking while driving.
Khun A
, after assisting with the gruesome details, came back to
Bangkok
to remove her property from her already closed down
Chemo 04
at
13 Night Market
, and reopened the
Chemo 01
on 1 March. Keep on Rockin'.
• SUKHUMVIT 1 PLAZA •
• TOBACCO ROAD • .


MAP


The
Honey Bar
, new last month, has some new neon - slightly larger, and ever-so-slightly more sophisticated than last month's
Magic-Marker-on-cardboard
one. This new sign says, "
Honey Bar Happy Joint
". Some of you will recall that they took over the old
Linda Bar Happy Joint
digs - indicating that our local
sign gestapos
have been out enforcing '
sign correctness
' yet again. (What would these
sign cops
do if they were given
real
jobs? The mind boggles.)
• TOBACCO ROAD (SOI ZERO) •
• OTHER NIGHT VENUES OF NOTE •
• EASY SQUARE • .


MAP


While it has been several months since
Easy Square
has qualified as a
Night Entertainment Area
, we have been tracking those remaining bars that have yet to close - solely for the purpose of making a comprehensive historical record. Officially, at least, as of 31 March, it's lights out for the two remaining
Night Venues
in
Easy Square
, the
Happy Karaoke
, and the
Hang Out
bar. We have no idea how they lasted this long -- what with the entire compound reduced to rubble, and residing in abiding darkness. Neither bar has any immediate plans to move elsewhere, with costs being proportionately higher in other locations.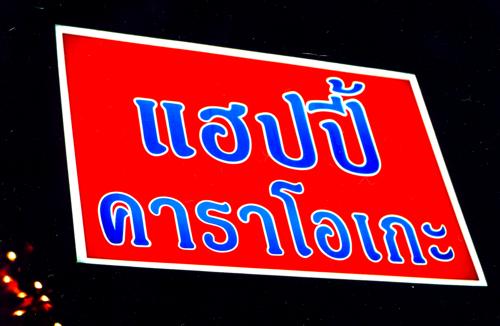 • EASY SQUARE • April 2005
This being the final curtain call for both the two bars, and for
Easy Square
itself, the
MIDNITE HOUR
has made a note for the historical record, and our final
Thumbnail History
will follow at a near-future date - once we are reasonably sure neither of the two bars above pries their way out of their crypt and attempts to reopen. (This remains a distinct possibility, by the way, as the
Hang Out
has yet to receive it's deposit back, and just may, out of spite, remain open for the remainder of it's one year contract, or the arrival of the bulldozers, whichever comes first...)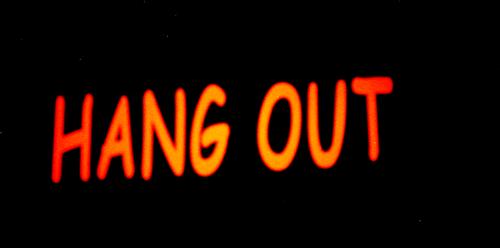 • EASY SQUARE • April 2005
• EASY SQUARE •
• The No-News-Is- Good-News Department •
(No news)