---
Since the
Benevolent Autocracy
came to (elected) power it has, through an assortment of spurious regulations and even more spurious enforcements, shown that it knows nothing about the tourism industry, the
Night Entertainment Industry
, human nature, or common sense. Since it's early days, and the appointment of
Purachai
to 'clean up' what they
perceived
to be a besmirched national image, and restore it's
perceived
loss of self-respect world-wide, the current regime has enacted, enforced, forgot to enforce, re-enforced, and enacted further regulations and 'laws'. Said rules & regulations, aimed at stomping out "
social evils
" have, at best, provided a face-saving form-over-substance "
Band-Aid
" - thereby providing the
Benevolent Autocracy
the means to turn back and say, "See? We've done something!"
They have 'done something', all right, but all of it to the detriment of the nation. For starters, they have limited the number and types of
Night Entertainment Establishments
allowed to operate in
Bangkok
-
Night Entertainment
, in their eyes, being the nation's biggest "
social evil
". We'll come back to this point in a moment.
At this juncture '
law enforcement
' becomes relevant. Midway through the
Benevolent Autocrat's
first term, a massive, illegal storm-trooper style midnight raid by
Mafia
-types linked closely and inextricably to one of the current members of the Government,
Chuwit Kamolwisit
went down in the center of the city. This
Mafia
blitzkrieg which crushed a large commercial tourist area containing over a hundred retail outlets (including sixty bars) was accomplished with the aid of bulldozers and a swarm of uniformed 'construction workers'
<

link>
. This all happened under the noses of the local
Men In Too-Tight Uniforms
- as they looked the other way. There was huge fallout from this most egregious, outrageous and lawless act, part of which was that the
Benevolent Autocrat
came around to say he would clean up the corruption in the Police Department within one year. A few days later he changed the clean-up estimate to 5 years. To date he has transferred two local district police chiefs to other assignments - and that's it.
Not surprisingly, enforcement of all the
Benevolent Autocracy
's new regulations (along with all of the old regulations) was, and is, in the hands of
Bangkok's Finest
, which. to this day has not been 'cleaned up' -at all- despite the promises. Continuing to dispense it's own brand of street justice,
Bangkok's Finest
bribe new businesses for 30,000 baht for playing 'copyrighted' music, even though they are just playing music from the radio. They continue to bribe curbside push-cart 'bars' for 500 baht a shot for 'permission' to set up at night on the public sidewalk (they operate, and are the sole beneficiaries of all 'leasing' of all sidewalk stalls on Bangkok's public thoroughfares). But more worrisome than this; even though they have obtained no prior evidence of drug use, they continue to randomly raid
Nitespots
and
Night Entertainment Areas
and illegally detain all occupants while they perform mandatory urine testing on both locals and foreign nationals based solely on the assumption of guilt-until-proven-innocent. 'Due Process' is unheard of. They continue to dictate actual closing times of
Night Entertainment Venues
(regardless of regulated times), and the regulatory influence here is just plain money; you pay, you stay open late. They continue to close down A-Go-Go bars for a month or two months at a time, without so much as one line, one letter of a court order, or even a citation - nor, of course, is there any possibility of legal appeal.
Night Entertainment Venue
owners have confided in us that there are certain areas within the city that are better and easier to operate a bar because some jurisdictions of our
Men In Tan
are easier to buy off than others (we'll not mention names, here). These are just some examples; the combinations and permutations of street-justice, dispensed entirely indiscriminately and arbitrarily by the
Men In Tan
are virtually unlimited.
All of the above is common knowledge among the locals and resident
Expats
, most of the locals taking it for granted as a way of life on these
Neon Sois
. But the grand irony is that the
Benevolent Autocracy
's transparent pretense at a "crackdown" on these "
social evils
" to make the city a more 'moral' place has only increased the opportunities for institutional corruption to flourish - to
Bangkok's Finest
it is a linear extrapolation - the more regulations, the more 'violators' of those regulations. The salt in the wound here is that the
Benevolent Autocrat
himself is a former member of
Bangkok's Finest
, and he knows exactly,
exactly
, how the system works.
But the repercussions of the years-long crackdown on the
Night Entertainment Industry
are also producing another most undesirable backlash. We mentioned above that the
Benevolent Autocracy
has limited the types and number of
Night Entertainment Venues
, which in their view, would limit the number of people seeking nightlife in
Bangkok
, which, in turn, would make this a more moral, safer and better town. The
Benevolent Autocracy
used this same regrettably embarrassing logic when they limited the hours that gasoline could be sold in petrol stations - in the fervent belief that this would somehow limit the nation's need for fuel. Slow to learn, they are now drafting a law for passage which, among it's several ridiculous provisions, would prohibit sale of alcoholic beverages on Sundays, because they are, unbeknownst to
Thai
citizenry, and quite unilaterally, proclaiming Sunday to be a "family day".

In The Heat Of The Night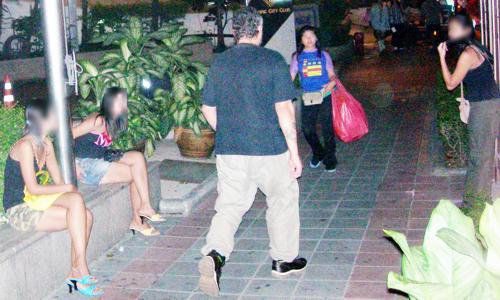 This tourist walks the gauntlet of street hawkers and hookers - an increasingly common scene in
Bangkok
, starting in the afternoons and lasting until long after-hours.
(Faces altered, then blurred for discretionary purposes.)
But their plan to limit the types and numbers of
Night Entertainment Venues
(through non-issuance of licenses), instead of following free market forces and sensible zoning, has backfired - blown back in their faces - in the worst of possible ways. Return visitors and house guests over the last three years have noticed an ever-increasing number of street-walkers (prostitutes). The increase has been too slow, perhaps, to be noticed by long term residents, ourselves included. Add to this, they say, is the increased aggressiveness of these
Ladies-of-the-Night
. Once pointed out to us, we had to concur, and at the same time note that this relative 'explosion' of night-hustler activity is something entirely recent on the
Bangkok
scene - we've seen nothing like it over the last almost-forty years.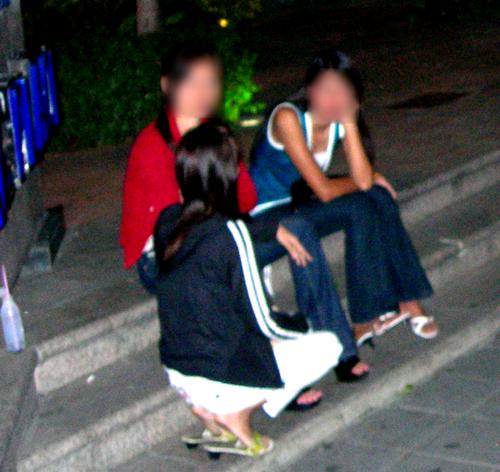 Gaggles of Ladies-Of-The-Night await at virtually every unlit stretch of Sukhumvit Road's Tourist Belt.


(Faces altered, then blurred for discretionary purposes.)
While it is not the position of
MIDNITE HOUR
to condone or condemn what two people consent to by way of verbal contract, it is definitely within our purview to comment on the increased dangers in the
Night Entertainment
arena - both to punters and hookers alike. The biggest danger of all, of course, is the slow-motion run-away of
HIV
. In earlier days, when
Night Entertainment Venues
grew to meet tourist market demands, virtually all the sex-workers were in a controlled environment - with regular medical checks. Also, the sex workers' safety was more easily insured, in that the men they accompanied were at least seen at the
Nitespot
- not entirely unknown quantities. This also greatly increased the chance that condoms would be used (
see our "Bangkok's Bareback Riders" <

link>
). All this, of course, is out the window, now that the sex workers are taking up positions curbside instead of bar-side in legal, controlled establishments. This increased curbside activity on the part of
Bangkok's
freelancers is easily noticeable by other tourists; the visiting husbands, wives and daughters that traverse these pathways during the days and evenings of their visits to Thailand - thereby making a public display of the very thing the
Benevolent Autocracy
was trying to make disappear.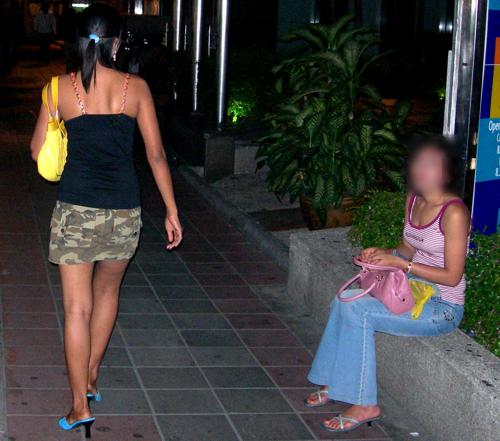 Although these 'night workers' are the real deal, often the "lady" approaching you is a transgenderite, and as often as not, 'she' will attempt to distract you with one hand on your genitals, the other on your wallet - especially along the quieter stretches of road. Be advised.

(Faces altered, then blurred for discretionary purposes.)
This is the ultimate and most dangerous of ironies: - where the clowns in power are scrambling to save face, scrambling to be
seen
to be doing "good" against self-created '
social evils
'. But they are, in fact, giving the outside world ever more visible reasons to claim that
Bangkok
is truly the "
Sin City
" of earlier reputations.
---
The MIDNITE HOUR Graffiti Page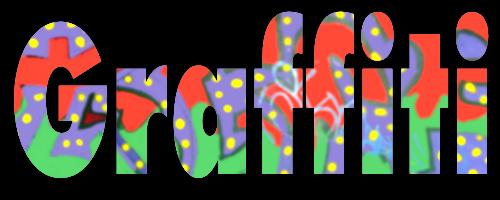 If only advertising agencies could capture the imagination of the passer-by the way the
graffiti 'writer'
has... Perhaps it is the hint of the illicit that gives
graffiti
it's element of fascination. And while there has been a relatively recent taming down of the
graffiti
ethos
(for example, it is no longer expected that the
writer
'rack'
-steal off the rack- his spraypaint and markers), the interest, both in terms of the new recruits to the art form and the viewers themselves has not flagged. Needless to say, this mostly urban phenomenon has made it to
Bangkok
, big-time.
September was our 'kick-off' column on
Bangkok's graffiti
, so if you missed it, please feel free to visit our
Archives.
That issue also had a thumbnail history of
graffiti
which might interest you. If you would like to cut to the chase and just read
MIDNITE HOUR
's thumbnail
'A Brief History Of Graffiti'
,
click here... <

link>
.
Let's continue on with our
fourth
monthly installment then....
Graffiti #022
Alien Tongue
8 ft. high x 18 ft.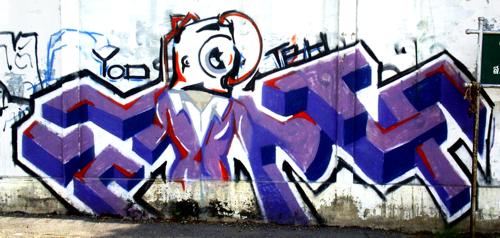 Graffiti #023
Benzabomber
8 ft. high x 16 ft.
Graffiti #024
Big Two-Zero
8 ft. high x 22 ft.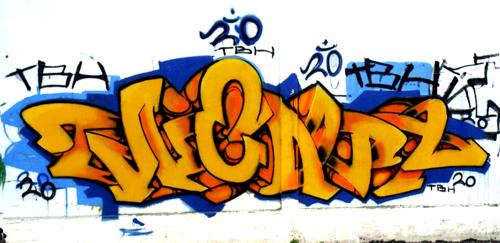 Graffiti #025
Oracle-caste
10 ft. high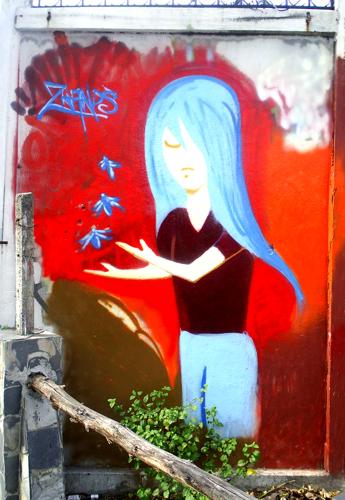 Graffiti #026
Pointacross Part 1
10 ft. high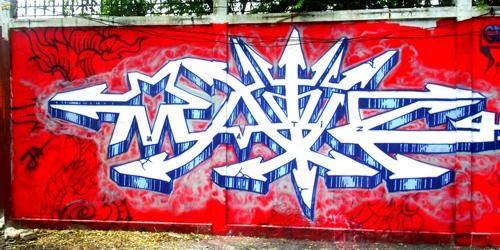 Graffiti #027
Pointacross Part 2
10 ft high.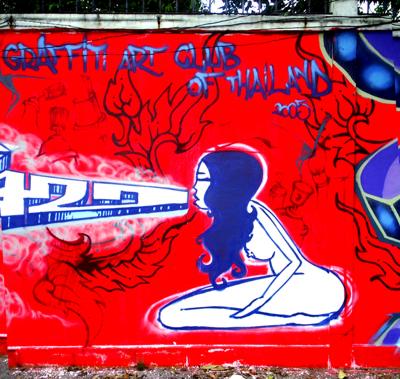 Graffiti #028
Panorma Leftmost
10 ft. high x 125 ft long (left side)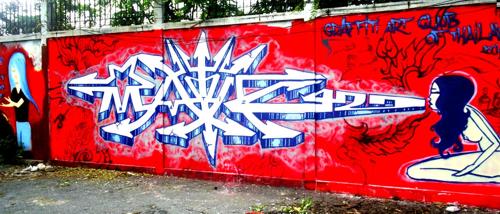 The MIDNITE HOUR Graffiti Page is prepared by Staff Contributor "Boge" Hartman.

(The above photo is not a graffiti per-se, although there are those who have insinuated....)
---
---
---



--- Datzit Fernow

William R. Morledge
---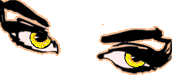 Copyright © Bangkok Eyes / bangkokeyes.com : 2002-2005