July's

Follies

begin here
MIDNITE HOUR
presents the
NEWS
on the
Bangkok Night Scene
; - the
'history-in-the-making'
for all major
Night Entertainment Areas
- for the month ending
1 July, 2005
:

PATPONG

I



MAP



Funky Dojo
(where
do
they come up with these names?) is the newest addition to the
Twilo
complex abuilding between the
Patpongs
these many months. We don't know whether to call
Funky Dojo
a
Patpong I
bar or a
Patpong II
bar, in that it sits half way between the two on
Soi SuperStar
. If you are in the mood for something a little less raucous than the live band at the
Twilo Live
, this might be the place.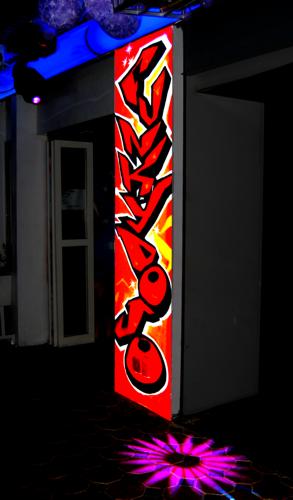 If you look carefully, you can just make out the name of the bar on this sign. Also check out the fantastical laser stars dancing on the sidewalks.

PATPONG I


Popping back out of their crypt yet again, the
Pussy Collection
has thrown open it's doors and tossed the welcome mat back out on the sidewalk. We never found out why they closed, but in that it was for exactly 30 days, might it have been a wrist-slap by the powers-that-be? What matters is they are back full-tilt. Welcome them back to the wargames.

PATPONG I


PATPONG

II



MAP



What we thought was another
lounge bar
abuilding at the
Patpong II
end of the
Twilo
complex was in fact a restaurant. The
Sala Sawan Thai Restaurant
, already open, is putting the finishing touches on the interior and exterior decorations. Below, the awning is being prepared for hoisting into place above the windows. Although not a
Night Entertainment Venue,
per se
, we nevertheless welcome them to these neon sois.

PATPONG I I


Officially
MIA
this month is the
Side Walk Cafe Bar
. -And they wasted no time in gutting the interior - we suspect renovations for it's turtle are about to commence. The solid
Rock & Roll
music that emanated from within the
Side Walk Cafe Bar
will be missed - even by those who only occasionally walked past. They took over from the
Blue Sky Bar
last July - almost exactly a year ago today. Ashes to ashes - so be it, then...

PATPONG I I


NANA

PLAZA



MAP



The
Rainbow Bar
(
Rainbow I)
completed renovations and reopened -as promised on 3 June- amid fanfare and party balloons. Despite the new
Rainbow 4
(upstairs) supposedly being the
Rainbow Group's
flagship, the newly refurbished original seems to be doing a land office business - just as before. Welcome back to the piranha pool.

NANA PLAZA


NANA

PLAZA


SOI

COWBOY



MAP



Their collective modestys having been outraged yet again,
Bankok's
Men In Too-Tight Uniforms
swooped down on the
Deja Vu
this last June. Open less than a month,
Deja Vu
has been summarily accused, tried and tied to the whipping post for showing several shades of pink more than the law will allow.
The consensus among those on the ground in
Soi Cowboy
is that
Deja Vu
's one-month spell in the
Penalty Box
has less to do with any real infraction than it does with showing the new owners who is boss. Great shades of
Electric Blue
all over again...! (All things considered,
Deja Vu
's minimalist chrome-pole 'showings' pale in comparison with one of their sister-bars on this very
Soi.
) Shake it, don't break it, gang - you should know better than most that the only way these oatmeal-brained
apparatchiks
can demonstrate their dedication to the cause (of legislating virtue) is by making regular high-profile examples of whomever.

SOI COWBOY


SOI

DEAD

ARTISTS

(Soi 33)



MAP



Up on the second floor of the
Peep Inn
complex a new
Night Entertainment Venue
has opened it's doors in a most inscrutable fashion - their neon is only in
Japanese
- no
Thai
, no
English
. '
Orientation; Oriental'
in this case sounds a little redundant. We will be keeping an eyeball pealed, and if they further identify themselves to the outside world, we will advise. Welcome to the trail of tears.

SOI

DEAD

ARTISTS


Last month the
Patou Massage
was rushing to open before 1 June, and just barely missed by a couple of days. They have now opened with a vengeance, their neon appealing to the
English
speaking and the
Japanese
for business. Ostensibly, they are a traditional Thai massage, however they are as ambiguous as their neighbors on either side. Welcome to the briar patch.

SOI

DEAD

ARTISTS


Papa's
, which has been closed since last November, has given up the dream. For the last eight months, they have been putting out bigger and bigger
"Under Renovation"
signs, fooling no one but themselves. The
Christie's Club Group
now officially drops back to four bars on
Soi 33
: - in addition to
Christie's
, there is the
Napoleon
, the
Santana
and the
Brick
: - a source within says the real problem is they just plainly couldn't recruit enough hostesses to make a go of it. -Another way of saying too many clubs is a conflict of interest. We wouldn't be surprised if they were looking for a buyer right about now...

SOI

DEAD

ARTISTS


SOI

KATOEY



MAP



Struggling to keep up with the competition these last couple of years, the
Cool Spot Pub
has finally found a way out from under it all - they have sold out lock, stock and chrome barstool to the
Bar Bar
. The
Cool Spot Pub
was one of the early bars to start up on
Soi Katoey
- we hope they find things more to their liking a little further on down the road a piece. Meanwhile
Bar Bar's
hammers and saws are flying - it looks like they will be open sometime in the early days of July.

SOI

KATOEY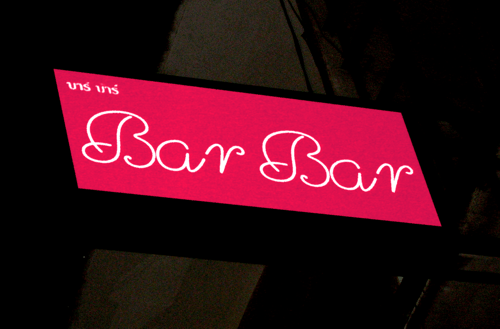 Our night lens captures an advance shot of the Bar Bar neon, which has been installed but not yet turned on.

SOI

KATOEY


QUEEN'S

PARK

PLAZA



MAP



Only last month
MIDNITE HOUR
recommended that
Christina Bar
repair their sign so that passers-by would at least know the place was open. Too late now; their next-door neighbors,
Players
have done it for them. This June
Players
took up the option, and a name change was in the offing. Now called the
Butterfly Bar
, there is absolutely no question that they are open for business. Let's hope
Fate
deals them all aces and faces.

QUEEN'S

PARK

PLAZA


Door Art Of The Month
Award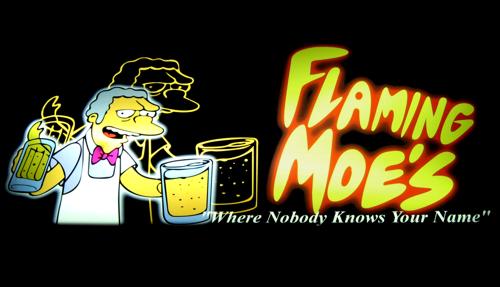 MIDNITE HOUR
's nod for best
Door Art Of The Month
goes to the
Queen's Park Plaza's
recent addition,
Flaming Moe's
. The sign captures all the humor of
The Simpsons'
tormented character - and then some.

QUEEN'S PARK PLAZA


Their neon on the blink for the last six months,
Diva's
has finally called the electrician over to get it fixed. It may be our imagination, but they do seem marginally busier for it. Keep on keeping on.

QUEEN'S

PARK

PLAZA


WASHINGTON

SQUARE



MAP



Gone, but not gone, the on-again, off-again
Crystal Bar
has performed it's umpteenth
Houdini
-like resurrection, throwing the doors open and welcoming all back to the trough. We wish them constancy.

WASHINGTON

SQUARE


SUKHUMVIT

1

PLAZA



MAP



A new marquee was put up in front of
Sukhumvit 1 Plaza
primarily to bolster the number of visitors to the
Night Entertainment Area
- but also because, heretofore, only
Morning Night II
was represented to the outside world, causing a minor amount of angst amongst the other
Nitespot
owners. A good idea, perhaps, but we should remember that it does not behoove a
Night Entertainment Area
to be too 'shiny' in these neo-Victorian times - especially a
Night Entertainment Area
that faces onto
Sukhumvit Road...

SUKHUMVIT

1

PLAZA


SUKHUMVIT

1

PLAZA


Up on the second floor, the
Isaan 40 Degree Bar
has only last week put the welcome mat out and spread the coasters out on the wet bar. While we have heard more inviting names for a bar, this particular
bar beer
seems have the right attitude - a bar being run with all the enthusiasm of someone who has never owned a bar before. Let the nightgames begin...

SUKHUMVIT

1

PLAZA


SUKHUMVIT

1

PLAZA


Also on the second floor, the
Junk Bar
has popped back up out of it's casket (after having been closed briefly last month) - and has hit the deck running. Good to see them back in the fracas. Let the good times roll.

SUKHUMVIT

1

PLAZA


The owner of the
Night Night Joop Joop
was kind enough to advise
MIDNITE HOUR
early last month that they would be subdividing; - one half to remain the
Night Night Joop Joop
and the other half would become a
Sports Bar
(name still under consideration at that time). They have in fact completed the partition, however both are still using the original
Joop Joop
name. With the
Benevolent Autocracy's
pinch-brained
Sign Gestapos
lurking in our midst, it is certainly wiser to proceed slowly - and put any new neon shingle up only
after
it becomes official... Let the band play on.

SUKHUMVIT

1

PLAZA


When the second storey bar first opened back in March of this year, we interviewed the new manager, and we swear we heard him say that the name of their new bar beer was "
Smile
". Now that they have the neon nailed up, front and center, we read,
Happy Bar
. We've scheduled an appointment with the ear doctor - what?...what was that? Let the beat roll on.

SUKHUMVIT

1

PLAZA


TOBACCO

ROAD



MAP



Tobacco Road
(
Soi Zero
) continues to underwhelm. As mentioned in earlier issues, when a prospective expat customer has to wade through a series of soup stalls, push-cart bars and locals drunk on
Mehkong
and
Singh
and
lao khao
, he is going to think twice... Obviously, no one else sees it this way - and
MIDNITE HOUR
can only surmise that it is just a matter of time before
Tobacco Road
dwindles and winks out...

TOBACCO

ROAD

(SOI ZERO)


SOI

EDEN



MAP



My Typewriter Made Me Do It Department
. In
MIDNITE HOUR
's June edition, we co-listed
Night Flight
and
Dreams
as
Soi Eden's
Seminal Bars
. In fact, the sequence of bar openings (the prototypical bars) was as follows:
** Boo-Sa-Bar opened its doors on 11 July 2003,
** Night Flight a week later.
** Dreams opened on 31 July 2003. (Note : Dreams has
since become the Down Under.)
This being the case, the nod to
Seminal Bar
goes to the
Boo Sa Bar
.
(Many thanks to Andrew and Srim for their historical updates.)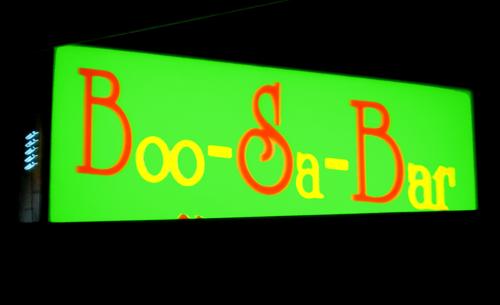 The Seminal Bar. The Boo-Sa-Bar was the prototypical bar on Soi Eden - they 'set the stage' for what was to follow.

SOI

EDEN



OTHER

NIGHTSPOTS

OF

NOTE



The impressively lit
Champagne Room
is now popping corks for the bubbly set. It is located just around the corner from
Soi 4 - Nana Tai
next to
Bully's
. That area has not been popular in the past; in part due to location, location, location - maybe they should call in the
mor feng shui
and get him to rattle some runes... We wish them luck as they leap into the maelstrom.
. He departed shortly thereafter to
and his dream was never realized. However the seed was planted; this last week,
. Other than the music being too loud - and too techno - all systems "go". Prices for beverages are in line with the
. Welcome them to the rough-and-tumble.