June's

Follies

begin here
MIDNITE HOUR
presents the
NEWS
on the
Bangkok Night Scene
; - the
'history-in-the-making'
for all major
Night Entertainment Areas
- for the month ending
1 June, 2005
:

PATPONG

I



MAP



The
Pussy Collection
is closed. Again. Since they relocated to their new digs next to
Randy's Gold Finger's
in September 2001, they have been closed down twice previously - once in May 2003 for three months, and again in October 2003 for five months. Door touts on the street advise that they are closed for "renovations"... Right....but let's not start chiselling the epitaph just yet - because after they cure what's
really
ailing them, they will be back.

PATPONG I


PATPONG

II



MAP



Back full throttle after exactly thirty days' renovating is the
Swing Club
(located upstairs on
The Ramp
). Although our jaundiced eye wasn't able to see just what got renovated, we're glad to see this old
Patpong II
veteran back in action.
Karaoke Lounge
remains the
operant descriptor
. Welcome back to the vale of tears.

PATPONG I I


The
Bua Luang Target
closed down for the second time in 3 months this last May for (-you guessed it-) more renovations. But all is well with the world, because they are already back open again, and looking as busy as ever. Their sister
Night Venue
the
IT Room
, just upstairs, has yet to put out any neon, but at least for the first time since they started renovations both places look good to keep on keeping on. It looks like the
Bua Luang
group are going to retain these two venues as their 'flagship' operation, however, as they have just closed a couple of their original
Night Venues
- see immediately below.

PATPONG I I


Both the
Hong Aharn Bua Luang
(a restaurant), and the
Bua Luang Karaoke
on the 3rd floor,
Cosmo's Stairwell
, have closed their doors - and this time it looks like they won't be answering the bell for the next round. This leaves them with only the
Bua Luang Beauty Parlor
there in the stairwell next to the
Patpong Snooker
. We have never understood how anyone could do business in a dingy stairwell - it seems a minor miracle that they have stayed in business this long.

PATPONG I I


NANA

PLAZA



MAP



News that isn't really news is that the
Rainbow 4
opened on schedule on 6 May in the old
Woodstock
and
Rosemary
digs. And it and lived up to expectations - a very large, glitzy A-Go-Go bar. They are currently staffed with dancers, khon serbs, etc, from the now renovating
Rainbow (1)
. The floor manager advises that this new bar will be the
Rainbow Group's
flagship, and the downstairs bar will have to recruit all new staff when they reopen in a couple, three days, because the people they have on board now are staying put. Let the good times roll.

NANA PLAZA


NANA

PLAZA


As mentioned above the
Rainbow (Rainbow 1)
is closed, but only for a few more days. But as they have been left to their own devices
vis-a-vis
restaffing, they have stretched a banner across the entrance to
Nana Plaza
which in addition to announcing the 3 June reopening (in
English
,
Chinese
and
Japanese
), they seek dancers and staff of every description. Interested parties are to apply in person at
Rainbow 3
on the second floor. It will be interesting to see how all this comes together - the oldest bar in the
Plaza
, having just been renovated, is basically a brand new bar and will have a brand new team to run it - who have never worked together before.

NANA PLAZA


NANA

PLAZA


SOI

COWBOY



MAP



Opening (softly) this May was the
Deja Vu
- as promised by them. But the red carpet comes rolling out onto the
Soi
on 4 June, when they have the party balloons, snacks and
Rock 'n Roll
all over everywhere. Here's "
the skinny
" - on 4th June, they open the upstairs half of the bar - which features yet another "
Peek-A-Boo
" glass
A-Go-Go
floor, allowing the downstairs crowd to check the colorfulness or the colorlessness of the bikinis.
Most of the
Deja Vu
staff are from the old
New Crazy Cats
, a few coming from the old
Five Star II
, and some of the staff are new. So if you had any old acquaintances at either of the predecessor bars, they may still be there. The
Deja Vu
is brought to us by the same people who own
Midnite Bar
and
Spice Girls Pink Cadillac
. Welcome to the sideshow.

SOI COWBOY


Door Art Of The Month
Award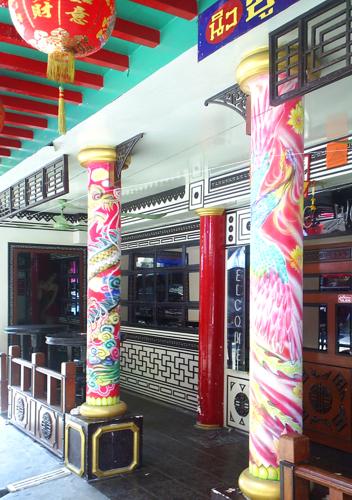 MIDNITE HOUR
's nod for best
Door Art Of The Month
goes out to the
Suzy Wong
on
Soi Cowboy
for their highly decorative
Chinese Dragon
columns, which greet passers-by and customers alike.

SOI COWBOY


SOI

DEAD

ARTISTS

(Soi 33)



MAP



The
Matrix
, down in the basement next to the
Londoner Brew Pub
at the top of the
Soi
is now much more than just a black-light bowling alley. They are now claiming to be a restaurant and a
Pub
. We saw no evidence of the restaurant, although they were serving food and drink to the bowlers. But it was the
Pub
that caught our eye, complete with large reproduced photos from the film
The Matrix
. Well appointed and roomy with a snooker table for those interested. They claimed to have a live band - (but
not
on Friday night???) However, the staff seemed less than friendly, and there were no customers. Hmmmm, ...staff unfriendly, ...no customers, ...do we connect the dots?

SOI

DEAD

ARTISTS


The
Venus Club
, only just opened in March of this year, had what appeared to be a
Vargas
nude incorporated into their sign. At the time we posed the question, "
A Sign Too Far?
". Apparently so; apparently the
Sign Gestapos
, with nothing on their schedule but more free time, had a little chat with the management, and they came to an understanding. The understanding went like this - we will do it the
Sign Gestapos'
way - or not at all.
Before:
"... too sexy for my shoes..."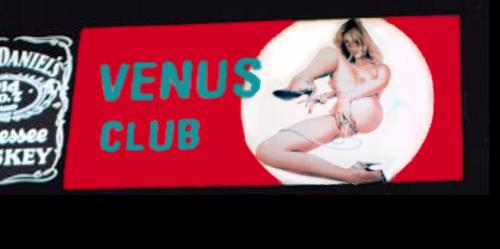 ---
After: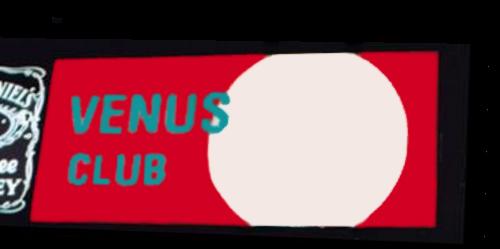 Shake it, don't break it, gang, you know how tiny grub-like men with even tinier jobs can get when they feel they have to justify their paychecks. The "
Before
" and "
After
" photos immediately above tell the tale.

SOI

DEAD

ARTISTS


Entering the
Ambiguous Massage Parlor
milieu
is the
Arsom Babai
, deep in
Sub-Soi 5
, down near the
Buongiorno
. Previously fairly straight-laced, they now seem to be coming closer to a 'full service' massage. Welcome to the nightworld.

SOI

DEAD

ARTISTS


Opening right about.....
now
- just between the
Sa Thai Massage
and the
Po Massage
will be yet another ambiguous massage. The workmen we spoke to were in a bit of a frenzy trying to make schedule, but were kind enough to take a break and kindly inform us that even they didn't know what the name of the new
Night Venue
would be. We'll have to get back to you with the full report next month.

SOI

DEAD

ARTISTS


SOI

KATOEY



MAP



Hopefully, we can be forgiven for thinking that another bar had opened up on
Soi Katoey
(
Silom Soi 4
), but in fact it was yet another of the elaborate promotions which from time to time occupy that
Soi
.
Malibu
was the name of the drink - silly us.

SOI

KATOEY


SOI

KATOEY


Slow to focus, we finally realized that the two large signboards we were staring at were artfully rendered numeral 1's. -And that, together, they made a giant "eleven". -And that "eleven" is the number of years the
Tapas Room Club
has been open. -And that the hundreds of people milling about us were there to help them celebrate their anniversary. May the rock still rock, and the roll still roll.

SOI

KATOEY


SOI

KATOEY


QUEEN'S

PARK

PLAZA



MAP



You may remember
MIDNITE HOUR
mentioning a couple months back that
The Corner
, a Pub-style bar, was built on spec by
Corner Bar
back in, well, the corner. They were hoping to find a buyer after-the-fact - risky behavior in these troubled
Night Entertainment
times. But they did in fact find a buyer. Making their
debut
this month is the
X-Bar
, full of good people and quite a few customers.
Pool Bar - Lounge
is the
prime agendum.
May there always be a
chinchoke
in their corner.

QUEEN'S

PARK

PLAZA


...Not to be confused with
2 Corner
, which is not in
any
corner. This last month, they have put in windows and airconditioning. Should serve them well for the rest of this hot season and the upcoming rainy season. ...And the partying didn't even slow down.

QUEEN'S

PARK

PLAZA


Gone but not gone,
On The Rocks
(whose darkened doorway was piled high with old rattan furniture last month) has popped back up out of it's coffin and continues to march. It doesn't
look
like they renovated, but the place sure looks cleaner - maybe it was new furniture? Let 'er rip, then, gentlemen...

QUEEN'S

PARK

PLAZA


Christina Bar
, which has been around since
Queen's Park Plaza
went critical, has had a burnt out bit of neon hanging out there for two months. Each time we walk by, there are only a couple of customers - quite a bit different from times past. The place looks dead. While not wanting to force our ideas of "cause and effect" on others, perhaps if customers saw a sign that was brightly advertising the place, they might be more inclined to think the place was open....

QUEEN'S

PARK

PLAZA


New Friends
, one of the original bars in the
Plaza
has found a way out from under it all. They have sold out, lock, stock and chrome barstool to
Angel
, who have only been in operation for a few days, and don't yet have their neon nailed up. We don't yet know if this is the same
Angel
from
Asoke Plaza
, or if it is
Angel
from the top of
Soi 22
, or if it is a brand-new
Angel
. Nevertheless, welcome to the long uphill.

QUEEN'S

PARK

PLAZA


WASHINGTON

SQUARE



MAP



The
Crystal Pub
spends about half it's time closed - for whatever reason. Just about the time they start building up a little good will and a few return customers, they lock up and turn off the lights for a month or two. Last Friday night, when we went by for a beer, they were - you guessed it - closed again. That ain't the way to get 'er done, son. Maybe they need to talk to the local
Mor Feng Shui
- change the plumbing around, or something. We are not going to be guileless enough to write the obit on this one just yet, as they have a habit of popping back up out of their coffin just when you least expect it.

WASHINGTON

SQUARE


SUKHUMVIT

1

PLAZA



MAP



The
Hello Bar
- their neon shingle already tacked up above the door at the end of the previous month, had plans to switch on the lights by 4th of May. We are pleased to see that this has happened as scheduled - resulting in a large, comfortably air conditioned
Pool Bar
( -where the
Mae Mai Karaoke
used to be). And, yes, this is the same
Hello Bar
that closed down operations in
Tobacco Road (Soi Zero)
in June 2004. Welcome back to the vicissitudes.

SUKHUMVIT

1

PLAZA


SUKHUMVIT

1

PLAZA


Also mentioned in our last issue as "under construction", the
2 D Bar
nailed up their new neon shingle and rolled out the red carpet early this May.
Bar Beer
, of course, the
modus operandi
. They are located on the 2nd floor. Let's welcome them as they step into the line of fire.

SUKHUMVIT

1

PLAZA


SUKHUMVIT

1

PLAZA


The surprise entry -we didn't even see this one coming- was the
Revolution Salsa Bar
at the far rear on the ground floor. The
Revolution
comes from all the
Che Guiverra
posters, the
Salsa
comes from the music. We have no idea where the noisy
ESPN Sports Channel
television comes from... Nevertheless, a small, dimly lit
Lounge Bar
with reasonable prices... Welcome to the night follies.

SUKHUMVIT

1

PLAZA


SUKHUMVIT

1

PLAZA


The shroud has been pulled around the
Junk Bar
, 2nd floor - the cozy
Pool Bar
appears to have gone the way of the dodo. They did have a
rap samak duan
sign Scotch-taped to the window, however it was for staffing up their new neighbor, the
2 D Bar
(mentioned above). In that all the fixtures are still
in situ
, this looks more like
playing 'possum
than an actual fatality, So we will report back next month to see if the
Junk Bar
suddenly finds the wherewithal to reincarnate...

SUKHUMVIT

1

PLAZA


In earlier editions,
MIDNITE HOUR
noted that the 3rd floor of this
Plaza
was being renovated into what might best be described as a
Short-Time Hotel
. Our suspicions were confirmed this last month as the "
Welcome To Guest House
" opened with limited fanfare. (Great shades of
Welcome To Meeting
that preceded the opening of
Check Inn 99
for several years along Sukhumvit!) May the night demons hector them less severely...

SUKHUMVIT

1

PLAZA


TOBACCO

ROAD



MAP



New Lucky Lukes
, with emphasis on the "
New
", seems to be doing a little better for itself. Formerly a single
loc
bar beer, it has expanded into the adjacent
loc
(the former
Hello Bar
which closed in June 2004). It's new double-wide area accomodating another pool table. Keep on keeping on.

TOBACCO

ROAD

(SOI ZERO)


SOI

EDEN



MAP



My Typewriter Made Me Do It Department
. The photo we should have put up last month for the
Maxim's
bar beer can be found just below.
Got
to be more careful.
Maxim's
is located at the very far end of the
Soi
- it's tiny, but just keep walking - you'll walk right into it. Pump up the volume.

SOI

EDEN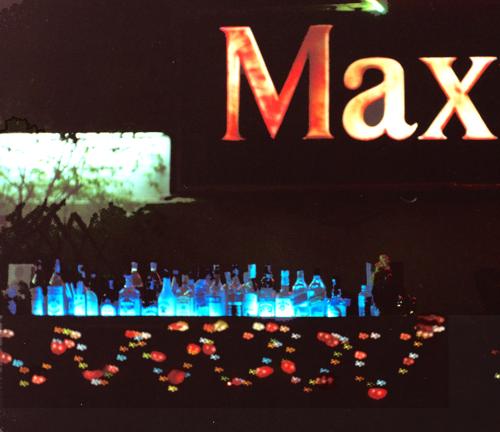 SOI

EDEN



We were so sure that
Tequila Dragon
was going to miss roll call this month that we pre-wrote this month's entry bemoaning it's late opening... Well we had to tear up all the old copy and rewrite it, as come 28 May, there was more than enough red carpet rolled out onto the
Soi
, more than enough party balloons to go around, and more than enough free eats and drinks. A practiced eye would tell you that many millions of baht went into making this the nicest
Nitespot
on
Soi Eden
.
Tequila Dragon
is more an
Entertainment Complex
, with the first (Ground) floor being an indoor-outdoor lounge. The second floor is lounge - Pool Bar, and the third floor is a
VIP
party room - replete with thick carpets and glass sculpture coffee tables. (By the way, they have already started making bookings for the
VIP
room.) They currently employ about 25 hostesses - dressed appropriately, as might be found on
Soi 33
--And who knows how late they will be able to eventually stay open? None of the four partners is new to the
Night Entertainment Field
, so at least they went into this with their eyes open. It now only remains to be seen whether
Fate
deals them sevens or nines...

SOI

EDEN



OTHER

NIGHTSPOTS

OF

NOTE



Sin
is another
Night Venue
that would qualify for "
Night Entertainment Complex
". It is, however, probably better described as an exclusive
Pool Hall
with bars. The rooftop bar is open-air, and by both choice and luck, it is ideally situated to catch the cool evening breezes - one of the few non-air conditioned spots to get out of the
Bangkok
heat once the sun has gone down.
Sin
is located on
Sukhumvit Soi 4
, inside the
Rajah Hotel Complex
.
what time they closed - to which she replied, "Later." As it works out, 'later' can be 06:00 a.m., if the number of customers so warrants. Our
at 01:00 a.m., as they needed to keep the after-hours books separate from the normal hours. She further explained that drinks after that time were more expensive, to cover the cost of paying off the pillars of the community,
... Another person supplemented this with the comment that the senior
allowed flexible hours provided he gets his thirty percent of the after-hour takings. To which we replied, "
kept on hanging in there, as the walls were falling down around them - literally. We don't know whether they settled their tea-money battle with the primary land lease holder or not, but in early May, the
vacated premises (full story, pics above). Greener pastures, ladies.