March's

Follies

begin here
MIDNITE HOUR
presents the
NEWS
on the
Bangkok Night Scene
; - the
'history-in-the-making'
for all major
Night Entertainment Areas
- for the month ending
1 MARCH, 2005
:
• PATPONG I • .


MAP


Opening almost on schedule in the old
Tien Tien Restaurant
is the indoor-outdoor music lounge with the unlikely name
Twilo Live
. (This is the venue we have mentioned in previous issues that is the first of what will be a 'multiplex' of bars running from
Patpong 1
back to
Patpong II
- the others are still under construction, 1st and 2nd floors.) Contrary to previous rumors, the owner is the very same
Frenchman
who brought us
Muzzik Cafι
and
Radio City
, both on
Patpong 1
. Most of the music, by the way, will be 'live', as with it's sister bars. In need of mention, the new
Twilo Live
has some real influence on
Patpong
, either that, or a lot of money. (Or are we being redundant here?) They have not only managed to chase the night-time soup kitchens out of
Soi SuperStar
, but they have got rid of all the rude vendors fronting along their bar on
Patpong 1
itself. May
Fate
continue to deal them aces and faces.
• PATPONG I •

The
Pent House
at the
Silom
end no longer has door touts holding up signs reading,
"No Cover Charge".
Not coincidentally, their sign now reads, "
Member Pent House
". For the uninitiated, this translates as "
unspecified cover charge
" or "
show charge
" or "
first two drinks charge
" or more than one of the above. Those who feel they
have
to go up to see what's going on would be well advised to check on how much it will cost
before
sitting down. As a precaution, you may also want to familiarize yourself with the procedure for reporting incidents to the
Tourist Police
...
• PATPONG I •
• PATPONG II • .


MAP


King's Lounge A-Go-Go
(previously reported closed in this column) is busily renovating for the umteenth time. (When will it ever end?) Like they really needed
new wooden stairs
? We have no idea when they will open - but we doubt it will be this month. We'll be laying down an historical marker on this one, and will give you a 'come back' next month.
• PATPONG II •

Bobby
is renovating his
Marco Polo
restaurant lounge yet again. The rear portion is shaping up to be a continuation of that well-appointed eatery (replacing his earlier
Pool Bar
). It looks like they will be serving before the end of the month (
note:
he hasn't closed the front counter, which seems to continue to do a healthy trade despite the rear of the premises being torn up). For you history buffs, yes, this is
Bobby's
original
Aroy Dee
location.
• PATPONG II •
• NANA PLAZA • .


MAP


Closed for one month, the
Hog's Breath Saloon
has been at-once accused, brought up on charges, tried, and convicted in summary fashion by
Lumpini's
Men In Too-Tight Unforms
. Not being legal in the first place, these arbitrary dispensings of extra-judicial street justice cannot be appealed, so
Hog's Breath
will sit out their 30 day sentence just like all those before them.
Hog's Breath's
intolerable infraction against society was the revealing of a couple of shades of pink more than is normally seen, except of course in all the local newspapers, where 'models' are allowed to 'demo' the latest bust development creams. Our social comedy strides forth in unending self-parody...
• NANA PLAZA •
• SOI COWBOY • .


MAP



"Poster-Signs"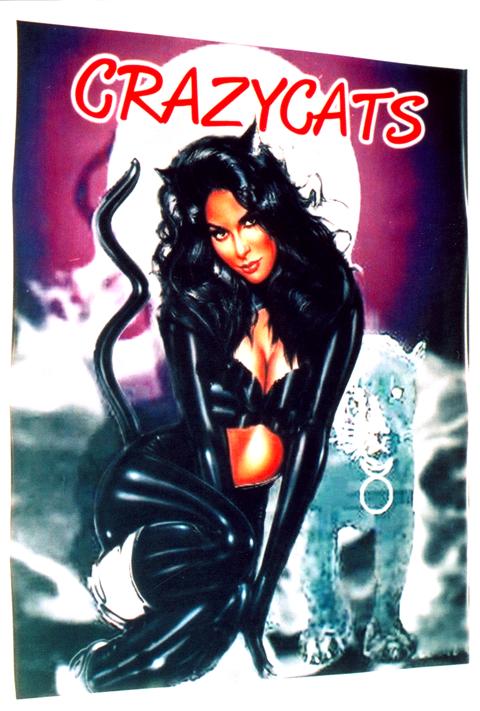 In addition to their '
Hippy Art
' main door, the
New Crazy Cats
have added this wild cat to their gallery.
• SOI COWBOY •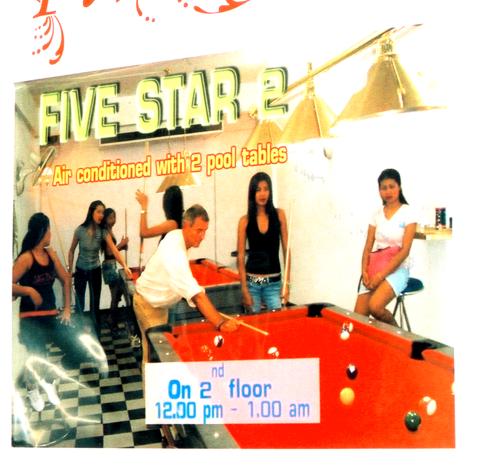 The
Five Star II
putting a good spin on their upstairs pool bar - which most of us never knew existed until just recently.
• SOI COWBOY •
Not quite signs, not quite posters, some of the bars on Soi Cowboy are putting up additional 'graphics' to catch the eye of passers-by. With the proliferation of digital printing shops in Bangkok, and the dropping of prices for these colorful print-outs, some of the more creative Night Entertainment Venues on the Soi are already starting to take advantage. The way of the future? We'll see soon enough...


March 2004
• SOI COWBOY •

New Art Nouveau, Newly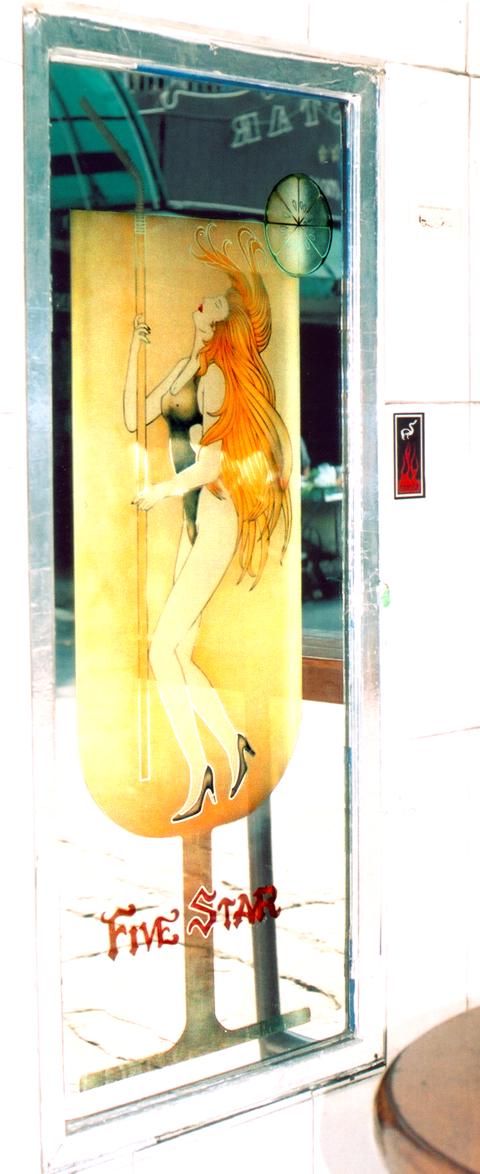 Soi Cowboy March 2005

Five Star II
is
MIDNITE HOUR
's first choice for
Door Art Of The Month
this month - an attractive
art-nouveau
rendition of an A-Go-Go dancer on a pole - in this case the 'pole' is a straw in a long, cool one. The artwork is rendered on a mirror just at the side of the entrance - here's looking at you.
• Soi Cowboy • March 2005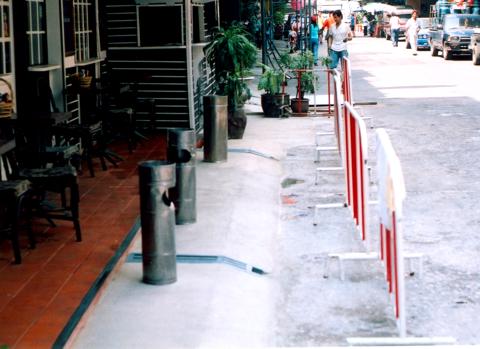 The Old Dutch
has found an innovative way to keep the motorcycle louts away from the building. (We at
MIDNITE HOUR
feel that would be
Bangkok's Finest
's job - but what do we know?) They have also provided a wider outdoor seating area, as have a number of
Night Entertainment Venues
on the
Soi.
By the way, have you tried their new
Big Brit Breakfast
? It'll last you to dinner time.
• SOI COWBOY •
• SOI COWBOY •


Cowboy 2
seems to be telling us it is "
Happy Hour
" all night long. Competition must be getting tough.
Blue Ice
is one of 2 locally produced
San Miguel
beers now available, the other is
Red Horse
. (Note: not 'imported' as the sign implies.)
• SOI COWBOY •
• SOI COWBOY •
• COWBOY ANNEX •
ASOKE PLAZA + ASOKE CORNER .


MAP


On 4 February 2005,
Cowboy Annex
- now known as
Asoke Plaza Night Entertainment Area
- was completely destroyed by the landowner (see story above). The table below shows the 25
Night Entertainment Venues
and their status at the time of the 04 February demolition (the second demolition). Status covers those bars that had already relocated from the front area due to the owner-enforced demolition in December ("
Destroyed
"), and new bars that had been constructed in the last month ("
New, just open
"), and that were in the process of relocating ("
Destroyed during relocation
"), and that were brand-new bars-to-be ("
Destroyed while being built
"). Although there was much discussion about other bars coming into the area, most prominently from
13 Night Market
, we were unable to reverify these - thus unable to include them in our count.
Fantacy (sic)
Bar Bie Bar
'No Name' Bar
Sawasdee
Ann Bar Beer
Angel (Mitr)
Friendly Bar
Cheeky
The Star
Friendly 2
Bamboo
Siam Smile
Tiger
Chid
Kiss
Spanky's 1
Ton Son
Bar Friday
Kill Bill
(Bar A)
(Bar B)
(Bar C)
(Bar D)
(Bar E)
(Bar F)

- Survived - now a Sidewalk Bar
- Destroyed
- Destroyed
- Destroyed
- Destroyed during relocation.
- Destroyed
- Destroyed
- Destroyed
- Destroyed - New, just open
- Destroyed - New, just open
- Destroyed - New, just open
- Closed
- Closed
- Closed
- Closed - New, just open
- Closed
- Destroyed - just reopened
- Destroyed during relocation
- Closed - New sidewalk bar.
- Destroyed while being built.
- Destroyed while being built.
- Destroyed while being built.
- Destroyed while being built.
- Destroyed while being built.
- Destroyed while being built.

In the near future, we will be providing three maps -
Map A - Asoke Plaza at the time of the first demolition - 14 December 2004.

Map B - Asoke Plaza relocated to the Soi 23 side . 01 January 2005.

Map C - Asoke Plaza at the time of the second demolition - 04 February 2005.
For the full story of the most recent demolition, and a brief history of this
Night Entertainment Area
, please see our story above.
• COWBOY ANNEX •

As can be seen from the table above, there was a sole survivor. The
Fantacy Bar
, having become a
Street Bar
by virtue of being drug out onto the sidewalk in front of
Asoke Plaza
during the first demolition on 14 December, has quietly stayed put. The
Fantacy
owner allows as how he has a good working relationship with the local
Men In Tan
who have told him to downplay his visibility as much as possible. -And as long as he doesn't become anyone's eyesore, he can stay.
His nightly "
operating procedure
" is to wait until the giant billboard lights above him are doused (around 9:00 p.m.). He then un-padlocks the bar and stools and sets up. He has two ice chests, a battery operated bar light, and for the stereo he has a battery operated radio-cassette player. He employs (again, low key) four hostesses/bartendees who will sit in the shadows and talk to customers.
He enjoys the same privileges as the other "
Moonlight Mile
" pushcarts and
Sidewalk Bars
that open up after hours between Soi 5 and Soi 15 (See our story,
THE LONG THIN LINE
in the September 2004 issue.) The most significant of these privileges is he can stay open for as long as there are customers - his normal closing time is 4:00 a.m.
And get this: he says he has an "in" with the land owner of the now defunct
Asoke Plaza
, and that he will open his bar back inside (off the sidewalk) in a matter of a few months. On the
Pollyannaish
side, but we can't help but wish him luck.
• COWBOY ANNEX •
• THERMΖ & "13 NIGHT MARKET" • .


MAP


As of midnight last night all of the bars in the
13 Night Market
were to have closed their doors once and for all. And with one exception (noted below) that was how it went down. Below we will give a quick historical summary of each of the bars that survived until the final day, and if known, their future plans. Nevertheless, we hope they all find things a little more to their liking, a little more permanent, a little further on down the road a piece.
• 13 NIGHT MARKET •

The owner of
Chemo 04
is best described as a survivor.
Chemo Bar
and
Chemo 02
perished under
Sia Ang (Godfather Hot-Tub) Chuwit's
iron boot in
Sukhumvit Square
two years ago. Receiving no reimbursement for damages, she tried to make a go of it with
Chemo 03
on
Soi 10
adjacent to
Sukhumvit Square
, but without the crowds that
Sukhumvit Square
drew, it soon went out of business. The owner then opened this
Chemo 04
on May 2003. Realizing early on that this area was destined for redevelopment, the owner then opened
Chemo 01
in
Sukhumvit 1 Plaza
on Oct 2004. where she will be moving full-time starting tonight.
Whew!
-we wonder if the
United States of Amatrixa
has anyone left with the equivalent entrepreneurial zeal....
• 13 NIGHT MARKET •

B.B. Bar Beer
also came aboard in May 2003. Nevertheless, they were the "
last man standing
", having kept their bar open on
1 March
- free drinks for all those visiting them - all the while, neighbors tearing down just about everything in sight. The big-hearted owner,
Ms P
says she will be working in an office - no more bar beers for her. We wish her luck, but we can't help thinking that, just like
Arnold
, '
she'll be back
'.

....feeling so "tsunami"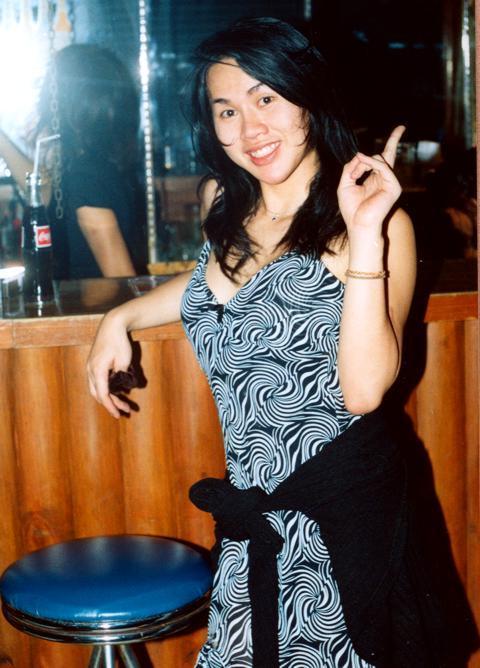 I noticed the bar owner was glancing down at the big black Nikon, and after a couple of moments she asked, "Why did you bring the camera?"

"I wanted to get a couple of last photos of the bar beers - because by tomorrow, they will all be gone, right?" I said by way of reply.

"Oh, so you don't want to take a picture of me, then?" she said as an aside, as she handed me an icy beer. "Here, here's a Sing. ...It's OK, it's on the house," she added hastily as I started to take a hundred baht from my shirt pocket.

"Thanks for the beer - but I'd better leave a tip for your bartendee though... No, I just wanted to take a picture of some of the signs of the bars that are closing down," As an afterthought, I added, "Why? Do you want me to take a picture of you, too?"

"Oh, yes, OK, but don't show it to anybody, OK?"

"Well...I could take your photo, but how would I give it to you - your bar will be gone tomorrow, right?"

"Oh, just email it to me, here is my Yahoo," ...handing me a card. And after a moment's pause, "Wait - don't take my picture yet! My hair!" she blurted, as she took the rubber band off the pony tail, causing strands of hair to fall and twist in every direction.

"Wait!" she said again, as she untied the long-sleeved sweater from around her neck and retied it around her waist. "Oh, everything is so messy, I feel so tsunami..." She hurriedly used the flat of her hands to press imagined wrinkles out of her dress, and pushed most of her hair out of her eyes, taking a quick look in the mirror behind her.

"OK, now I am ready, you can take it now," she advised as she turned back.

Well, we will soon enough know whether or not "tsunami" enters the local lexicon of slang, a-la 'Skylab'. Oh, and I guess I'm not supposed to show the above picture to anyone, so don't look at it.


01 March 2005 • 13 NIGHT MARKET •
• 13 NIGHT MARKET •

Monica's Bar & Pool
is a survivor of the now defunct
Clinton Plaza
. It is interesting to note that they had a grand going-away party when they shut down operations there and moved over here to the
13 Night Market
- just as they partied late into the night a couple of nights ago, in yet another grand send-off for staff and customers alike. Good on yer, mates - may the night-gods smile on you and your next venture, wherever that may be.
• 13 NIGHT MARKET •

Sexy Bar
, the
Night Entertainment Area's
only air conditioned bar, also opened in May of 2003. While not technically a 'relocated' bar from the then recently destroyed
Sukhumvit Square
, it had it's origins in the
Colorando Bar
(which later reopened in the Rajah Hotel grounds on Soi 4). Future plans unknown.
• 13 NIGHT MARKET •

Tequila Bar,
also opening in May of 2003, never had a sign, but apparently didn't need one. It was one of the smallest bars ever to have turned a profit. We honestly don't know how they did it. We don't know their future plans.
• 13 NIGHT MARKET •

Barber and Beauty Massage
is the mollusk - it predates the "coming of age" of the
13 Night Market
- before the time it hit "
critical mass
" in May of 2003 and after the
Night Entertainment Area
fizzled out the first time in February of 2000. Going under several names while it was open, it had the reputation of being less than ambiguous, and quietly staying open 24 / 7 - somehow without detection by
Bangkok's Finest
. Future plans not known.
• 13 NIGHT MARKET •

The
Today Airport Bar 2
opened in June of 2003, and was an offshoot of
Asoke Corner's Today Airport Bar
. They, along with the many, had heard the sound of distant thunder on
Asoke Corner/Asoke Plaza
, and were looking for a fallback position. This suited their needs nicely, although a little smaller than they had hoped for. They also never put up a sign - seeing that business was good as it was. Future unknown.
• 13 NIGHT MARKET •

Sweet Home Bar
, another survivor, was, originally, the seminal bar of
Sukhumvit Square
, having opened there a full year before it was even popular to do so. Soon after the
Mafia
crushed their bar, along with over a hundred other shops and bars in
Sukhumvit Square
, they reopened here (just across the street) from their original bar in June 2003. In anticipation of this closing, they have recently opened yet another venue - the
Sweet Home Club
on
Soi 22
, which seems to be doing well, after a somewhat slow start.
• 13 NIGHT MARKET •

The
Catch Up
bar beer opened curbside in June 2003 with a total of 6 barstools hanging out into the sidewalk. No one thought it would fly - it did a healthy business right up to the end. No future plans.
• 13 NIGHT MARKET •

Beautiful Bar
was another of the "first of the second wave" - also opening in May of 2003. We don't know where they came from, or where they are going.
• 13 NIGHT MARKET •

The Sport Bar
opened in July of 2003, taking over from the unsuccessful
New Bar
. Having also seen the handwriting on the wall early on, they opened the successor
The Sports Bar 2
in
Sukhumvit 1 Plaza
in October 2004. Being the first to roll out the red carpet at
Soi 1
, should
Sukhumvit 1 Plaza
ever attain
critical mass
, the mantle of "
seminal bar
" will be passed to them.
• 13 NIGHT MARKET •

Golden Eyes
opened in August 2003, long running with neon reading "
Golden EEys
", finally got their neon straightened out and made it to the finish line. They are talking of moving over to
Soi 11
, but nothing settled yet.
• 13 NIGHT MARKET •

Red Dragon
opened up in September 2003 next door to the
Walker's Bar Pub & Pool
. (
Walker's
was another survivor from
Sukhumvit Square
, migrating to
Asoke Corner,
only to hear the tom-toms of eminent demise, and then moving on to this location.) However
Walker's
never really got it going here, and was finally absorbed by the
Red Dragon
. We don't know where the
Red Dragon
is heading, but we suspect it has something in mind - it took its rather spectacular neon down a couple of months ago to use - somewhere.
• 13 NIGHT MARKET •

The
Mic Chokdee Bar
bought out the
Thai Tattoo
in March 2004, and finally got around to putting up it's sign. Future plans -- they might end up (with a partner) in
Sukhumvit 1 Plaza
. Wishing them prosperity.
• 13 NIGHT MARKET •

The
You & I
bar opened up in the small corner location at the back, near the massage parlor in July 2004. They made it to the finish line by providing lots of friendly service. They never got ahead enough to buy some decent neon - their prospects are limited after leaving here.
• 13 NIGHT MARKET •
• SOI DEAD ARTISTS (Soi 33) • .


MAP


Livingstone's
has changed the name of their poolside lounge from
Sahara Sports Bar
to just plain
Sports Lounge
. As neither iteration has, or had, any neon, all we really need to remember is that it is a pleasant -and quiet- place to have a drink.
• SOI DEAD ARTISTS •

You & Me Club
appears, for all the world, to be wrapped in it's parting shroud - however it also sports a new, hurriedly prepared
rap samak
sign advertising high paying positions available for pretty hostesses. One of the advantages of paying attention to the
Thai
language signs - we can be pretty sure that when bars do this, they are only closed for the short term. No indication, however, when they plan to reopen.
• SOI DEAD ARTISTS •

The
33 Barber / Oil Massage / Drink
is closing its doors at 10:30 p.m. - for no apparent reason.
• SOI DEAD ARTISTS •

Club Ayano
(
Japanese
) has added some new neon, and apparently two new floors of additional, inscrutable entertainment - 2nd, and now 3rd & 4th floors,
Peep Inn Park.
• SOI DEAD ARTISTS •
• " SOI KATOEY " • .


MAP


Tapas Room Club
, one of the older bars on the
Soi
, must have a license to print money. They are now displaying -just outside the main entrance- a crisply printed little sign saying
Entrance Fee 100 Baht
. The sign was in
English
- we didn't see any equivalent sign in
Thai
. Nor did we see, after three separate revisits, any locals paying their way in.
MIDNITE HOUR
is not a supporter of discrimination, and just coincidentally, if those acting in a discriminatory manner should rot in
Hell
, it wouldn't be our fault.
• SOI KATOEY •
• QUEEN'S PARK PLAZA•

MAP


Back at the end of July of last year,
Sweetheart Bar
nailed up a couple of brand-new neon shingles and promptly closed down a few days later (in early August). We stopped by a couple of nights ago, and they had the party balloons up, along with a half dozen folding tables and chairs crowding out onto the footpath. The rock-n-roll was pumping, and the beer was flowing - almost as if they hadn't just dropped off the edge of the planet for half a year. Everything looked bright and shiny - keep on keeping on.
• QUEEN'S PARK PLAZA •

Last month, back in the far corner there were two
The Corner
lounges - the original, and the second newer one behind it that they built on spec, hoping to sell soonest (see our last month's
MIDNITE HOUR
). This month, the new addition has assumed the name
The Corner
, while the original has changed their name to just
Corner Bar.
We don't know if we see the logic in that, but it seems to work for them - both looked reasonably busy last Saturday night. Let the good times roll.
• QUEEN'S PARK PLAZA •
• WASHINGTON SQUARE • .


MAP


The Prince Of Wales P & G
was shrouded in ominous darkness when we last passed by. This bar went waaaaaayyy back - and was one of the last places in the
Square
we would have expected to fall on it's sword. While we hope this is only a temporary closure, it looks like they've already drifted off quietly into the night.
• WASHINGTON SQUARE •
• TOBACCO ROAD • .


MAP


Honey Bar
has opened up in the old
The Linda Bar - Happy Joint
digs. (As you may remember,
Linda
closed two months ago). The kindly new owner, showing all the enthusiasm of someone who has never owned a bar before, showed me her hand-printed sign - almost hidden behind all the opening night party balloons. She asked if I knew where she might find a shop that could make some respectable neon for her. Any ideas? If so, drop on by and let her know, or e-mail me... In the meantime, we welcome them to the sharkpool.
• TOBACCO ROAD (SOI ZERO) •

Originally opening as
Lucky Lukes
(Aug 2000),, they quickly changed to
Nui Lucky Bar
, then back to
Lucky Lukes
again (Nov 2001), opening and closing as necessary to effect changes. Last November, they closed yet again, seemingly for the last time. Like a cat with nine lives, however, they have popped back up out of their crypt, this time as
New Lucky Lukes
. We have, again, been assured that this
New Lucky Lukes
is no relation to it's namesake in
Nana Plaza
. Welcome back to the catfight, and may you conquer all your personal demons this time around.
• TOBACCO ROAD (SOI ZERO) •

The
Sidetrack Beer Bar
, one of the
Soi's
few air conditioned bars, has rung up it's last
check-bin
. It's roller-shutters pulled down and padlocked, it sits camouflaged by the surrounding detritus and darkness. It's as though it has been absorbed by the shadows around it; as though it never existed at all. Greener pastures...
• TOBACCO ROAD (SOI ZERO) •
• OTHER NIGHT VENUES OF NOTE •
• SUKHUMVIT 1 PLAZA •

The
Chemo 01
is closed - but it is only hibernating. The owner, who also manages
Chemo 04
at
Thirteen Night Market
, says they seem to be doing a land office business there these last days before
13 Night Market
go under the redevelopers' hammer. So, simply, as a business decision, she moved all her barmaids down there to work until the end of February. Look for all to be
status quo ante
back here at the
Chemo 01
starting tonight (01 March).
• SUKHUMVIT 1 PLAZA •

Up one flight of stairs, the first bar to open it's doors on the 2nd floor is the
Mini Bar
. As it's name suggests, it is tiny - and as it is open-fronted, surprisingly, air conditioned. They are not very busy - no one knows they are up there. --Which is something they need to work out with building management re: signs and advertising. We welcome them as they cast their fate with the rest. It is interesting to speculate -- a couple of successful bars in the upstairs floors could push
Sukhumvit 1 Plaza
over the
critical mass
threshhold....let's wait and see how this develops as they are anticipating an increase in walk-in trade from passing foot traffic next month when
Nana Square
commercial building opens (corner Soi 3 & Sukhumvit).
• SUKHUMVIT 1 PLAZA •

The new rooftop seafood restaurant / lounge could open as early as tonight. At any rate, we will give the full report next month. We still don't have a name......?
• SUKHUMVIT 1 PLAZA •

Last month we mentioned that the
Mae Mai Kitchen & Karaoke
barbecue pit facing onto the front sidewalk seemed never to be open. Well, it is open, but only for the local lunch crowds that frequent that area each workday to eat and shop at the
talat nat
that blossoms with
wairoon
fashion items each morning. We knew there had to be an explanation....by the way they do a respectable amount of business each lunchtime- had it not been so busy, would have tried it myself. The back Karaoke-Restaurant is still open every night.
• SUKHUMVIT 1 PLAZA •
• EASY SQUARE • .


MAP


A note to the remaining few
Pollyannas
- there is a large new sign right on the front property line at
Easy Square
that reads (when translated), "
DANGEROUS AREA - THIS IS A HIGHRISE CONSTRUCTION SITE
". In this case, we have gone past the "handwriting on the wall" stage - those of you hoping against hope that new life will be breathed into this once-promising
Night Entertainment Area
need to go out and find new direction in your lives. It's like the feller said, "When you drop your keys in molten lava, forget 'em, man - they're
gone
."
• EASY SQUARE •
• The No-News-Is- Good-News Department •
(No news)