in January of '95 and opened their doors that February. Now, all of a sudden, they would like it -thank you very much- if you would call them
. Whatever makes them feel warm and fuzzy.... Like we said, why would they bother?
) re-re-opened in March this year, and we were wondering how long it would be before they started pushing the
thing again. Well, in August, they changed the sign and had an "everybody welcome" night - once again a
. Apropos earlier comments on
was paid another visit. The bureaucratic gremlins have made up their collective micro-mind - they do not want to see the word, "
" anywhere at all. (And we thank them for sparing us the moral indignity of having to see that repulsive word appear in public.) We passed by the other night to see their umpteenth brand-new signage.

Mike's Place (Spanky's)
, located, deeply, beside
Foodland
, has reopened, but a peek inside would have you shaking your head. It looks like
Hurricane Andrew
had been through and back again. Might it be they are concentrating on their
Spanky's
pool bar out on
Patpong II's
thoroughfare? Keep on keeping on.

PATPONG I I


The bar beer just out in front of
Bar & Pub The Pink
(
Pink Panther
) that we reported closed in August has reopened. They have done a good job on the renovations - a first-class interior. But the newly renovated bar beer makes no bones about it - they are the "
Pink Panther Bar
" and they don't care if it hare-lips the
Pope
. With all the recent cracking down by
Bangkok's Sign Gestapos
, let's see just how long this rather hard-to-miss bit of neon lasts... (We note that they have been pounced upon by the authorities several times before for use of this particular copyrighted name.)

PATPONG I I


And while we are on the subject of
Bangkok's Sign Gestapos
, the
Coyoty Spicy Girls
, which opened their newly renovated doors in August, are now, and once again, displaying their old name,
Tik Ko
(but defiantly keeping the new
Coyoty
neon up as well.) We like their
illegitimi non carborundum
attitude - keep it up, ladies.

PATPONG I I


NANA

PLAZA



MAP



Roadhouse
bar beer renovated and reopened in August -
sans
neon. To date, they have yet to come up with any signage whatsoever, but like their sister bar
Alibi
, just next door, this hasn't seemed to slow them down any. Keep on rockin'.

NANA PLAZA


Obsession
A-Go-Go
is down for the count - this is no ordinary "closed for renovations", as we were told by the owner. It has been closed since July - somewhere, there is a dirty little secret - and if you know, please don't tell us. We note their outside bar beer is as busy as ever, however.

NANA PLAZA


SOI

COWBOY



MAP



Pop quiz: When is the
Five Star 2
not the
Five Star 2
? Answer : "When it is closed yet again by the
Men In Too-Tight Uniforms
on yet another trumped-up infringement." We received notification from the
Five Star 2
(Deja Vu)
management which read, in part: -
"Thanks for your words last few months. I would like to be the first to tell you that DeJa Vu will be closed again for 30 days starting today (October 20). The reason we have been closed this time is unbelievable. As you know the DeJa Vu was two bars ; Crazy Cat and Five Star 2. We broke the wall to make it one bar. They said we did not inform the authorities, even though they were all aware that we could not make a double-wide bar without breaking the wall. Anyhow the bar is being punished for breaking the wall. Can you believe it?
Hopefully by the time we open on November 19th, the name will be officially changed to DeJa Vu - after of 6 months' work and hundreds of pages of documents. "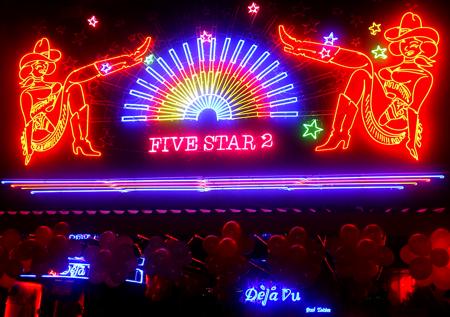 "Can we believe it?" - oh, ya. Lest we forget - if the tiny minds in high places want you, they
will
find a way to get you. Let's hope that this will be the last of the
Deja Vu's
torments at the arbitrary hands of our mostly-bent
Men In Tan
...
SOI COWBOY



Bearer of Bad News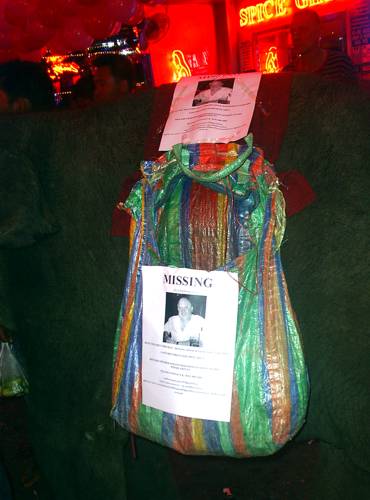 A three-year-old elephant, whose name I just forget at the moment, had "Missing" posters pasted on his saddle-bags as he and his mahout and handlers went panhandling down the Soi the other night. The missing bar owner (the Glow) disappeared mysteriously almost a week ago, while, or shortly after returning home from visiting colleagues on Soi Cowboy. His passport, money and wallet all still at home - so it is not likely he did a runner.
SOI COWBOY


SOI

DEAD

ARTISTS

(Soi 33)



MAP



The
Richmond
opened it's doors in December of 2000, amid one of
Soi Dead Artists
' mini building booms. They appeared to be holding their own against the competition, so we were a little surprised when we passed by mid-month and not only had they failed to make roll call that night, there were
strangers
in there making modifications to this and that... Greener pastures, guys.

SOI

DEAD

ARTISTS


...But as soon as the sawdust cleared from what was the
Richmond
, we saw that new tenants were already ensconced and leaning forward in their foxholes, waiting to roll out the red carpet for what would be
Bangkok's
newest
Irish pub
. When we passed by last night, the
Shamrock Irish Club
had already hit the ground running. May there be a four-leafed shamrock, or two, there amongst them...

SOI

DEAD

ARTISTS


We must admit the
Casablanka
(sic) had a bevy of beauties out on the front steps the other night. Our night vision lense caught them out - waiting to entice the (mostly
Japanese
) custom into having a drink or two.

SOI

DEAD

ARTISTS


The
Karaoke Sakura 33
, which recently (February) opened just above the
Oliver reed's Club (R Club)
has given up the dream. They have been absorbed by the downstairs
R Club
- from which they originally spawned. -Ashes to ashes - so be it, then....

SOI

DEAD

ARTISTS


The
My Typewriter Made Me Do It Dept. Part I.
Last month, I made a meticulous note to myself so I wouldn't forget to inform one and all that the
Arsom Sabai Massage
on
Sub-soi 5
had gone walkabout. I then meticulously forgot to put it in last month's column. In that I don't make mistakes, this is largely the maid's fault....

SOI

DEAD

ARTISTS


SOI

KATOEY



MAP



Last month, we noted that the
Roxy Bar & Club
had some brand new neon - not to replace the old, but in addition to the old. Inasmuch as we promised to get back to you, we hear -from the horses mouth- that this is the name of the in-house dance troupe. We also note that they have gone back to mostly all cushions on the outside wooden sidewalk - and the place looked full once again last week. Like they say, if it ain't broke, don't fix it. For those wondering... the clientele, like the waiters, are mostly gay, but hetero couples and straights seem to enjoy the outside cushions while they sip their drinks and watch the passing parade. Let it rip...

SOI

KATOEY


The
Hip Bar
has pulled up stakes, pulled down neon, and pulled out. The doorway that once led to their upstairs premises has been closed down and neighboring venues have put their paraphernalia and whiskey signs up in what once was the
Hip Bar's
sidewalk area. Like it was never even there....

SOI

KATOEY


The
"My Typewriter Made Me Do It - Part II" Dept.
Last month we dug up a file photo of
Orchid Massage
with a mind to publish it - along with a note that it had gone the way of the dodo. Well, somehow demons invaded my computer and erased it - at almost the exact same time my dog ate my homework, so we will publish it this month, instead. The good news is that
Orchid Massage
has popped up out of their crypt and have continued to march without missing a beat.

SOI

KATOEY


The Balcony
have made it at least semi-official - they have installed permanent signs across the street in the area they have been using for some time as expanded bar beer space (in front of the old
Rome Club
). Or should we call them "
Balcony The
" ? -Have you noticed the artsy phartsy way they write the name on their neon?

SOI

KATOEY


QUEEN'S

PARK

PLAZA



MAP



Door Art Of The Month
Award
The
MIDNITE HOUR
nod for best
Door Art Of The Month
goes to
Popeye 2
in
Queen's Park Plaza
. Their sign, cartoonish and colorful, combines
America's
spinach icon with the
Union Jack
in a manner hard to miss, even by the casual passing foot traffic.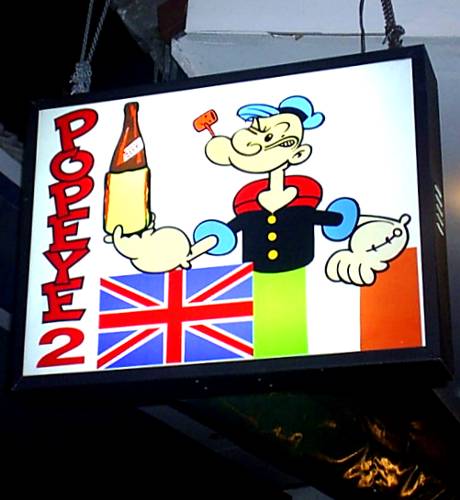 QUEEN'S

PARK

PLAZA


As we stood and watched,
The Captain's Inn
reeled in the red carpet and threw the upturned chrome barstools onto the bar. -And it wasn't even midnight. Next, a quick lockdown, and they vanished into the night. Was it something we said? Should we change our mouthwash? We'll put a marker down on this one and check back - surely they weren't
closing
closing, like, doing the chicken?

QUEEN'S

PARK

PLAZA


SUKHUMVIT

1

PLAZA



MAP



OK, you wannabe Asia Hands, if you're really as worldly as you're putting on, tell me what "
Coyote Dancing
" is... You don't know, do you, you raggedy bunch of left-footed
Bangkok
hillbillies? Suffice it to say, we had no idea what it meant, either. The newly opened
First Avenue
(in the old
Chemo 01
digs) now has
Coyote Dancing
. The best way to describe it is: -
Coyote Dancing
is to
A-Go-Go
as
soft porn
is to
porn
. This may not interest us hard-cores, but the intended market will be tour groups, mostly
Asian
, who will be brought in by the busload - should all go to plan. And if all does go to plan, it could be good for the rest of the
Plaza
as well, which according to all accounts, is still a little slow. We wish
First Avenue
all aces and faces as they cast their lot with the rest...
(Footnote: Coyote Dancing, as defined in Las Vegas and elsewhere, is an evolving style of catwalk dancing that is a hybrid between 'disco' and 'A-Go-Go', --and is usually quite a bit more vigorous than some of the up-country shuffling we have become used to... It often involves customer participation -- (Kee-rist on a crutch, let's hope that part of it never catches on here in Sin City...)

SUKHUMVIT

1

PLAZA


SOI

EDEN



MAP



Everyone on the
Soi
seems to be getting into the act - the massage act, that is. Now the
Blue Star
offers strong hands, lots of aromatic oil - and perhaps even suds. Keep on a-slippin' and a-slidin'.

SOI

EDEN



The newly expanded
World Kitchen
-an adjunct to the
World Hotel
- is an indoor-outdoor cafe
cum
bar beer. The bar beer part kicks into high gear after the main restaurant shuts down. The sole waiter and waitress beckoning customers over to have a drink have an uphill run ahead of them, however, as virtually the only people doing business on the
Soi
-as bars- have hostesses. Perhaps the
World Kitchen
should have first observed the underwhelming amount of business the
Maxim Bar Beer
isn't doing... Nevertheless, we wish them luck as they lurch into the
Nightlife
maelstrom.

SOI

EDEN



OTHER

NIGHTSPOTS

OF

NOTE



In case you've missed it, this is the restaurant that has been at the center of all the notoriety. The Tsu Nami Japanese Restaurant has been alternately cast as "in bad taste", "sick" and "committing entrepreneurial opportunism". A little harsh, don't you think? Restauranteurs aren't out to capitalize on the deaths of hundreds of thousands of people, only journalists stoop to that sort of thing....

Making Waves
The Tsu Nami is located in the Mariott Hotel at the top of Soi 2 Sukhumvit Road.
---

NO

NEWS

IS

GOOD

NEWS

DEPT.