October's

Follies

begin here
MIDNITE HOUR
presents the
NEWS
on the
Bangkok Night Scene
; - the
'history-in-the-making'
for all major
Night Entertainment Areas
- for the month ending
1 October, 2005
:

PATPONG

I



MAP




Silver Girls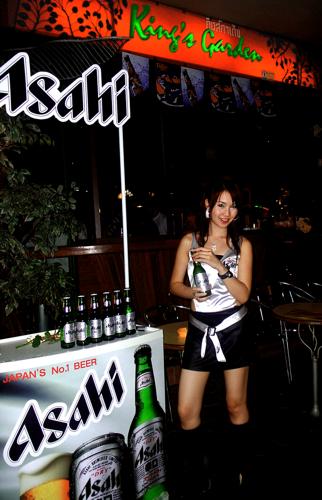 This last month it was
Asahi's
turn to flog the grog on the streets of
Patpongs 1 & 2
. In recent months, it was
Tiger Beer
,
Corona Beer
and
Malibu
that had their lovelies blocking your footpath - but if the
Patpongs
must have touts, then this is the way to go. The friendly promoter shown above was not the least bit shy about advertising her wares; she says she and her silver-lame'd friends will be there at the
Asahi
booths each weekend. As we are wont to say, things could be worse....
---
Below is a photo out-take of the Asahi girl. "She's too cute to be a minute over seventeen."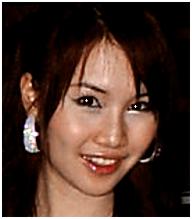 PATPONG I


We were told, but would we listen? Nooo. The
Tip-Top
has been renovating for the last couple of months, so we asked - and were told that they would reopen as
Tip-Top
again. We watched the construction proceed, and it kept looking more and more like a
lounge
as it progressed. But we were
wrong
- the new
Tip-Top
has opened as a partially open-fronted restaurant - not
lounge
. This venerable mollusk of
Patpong
is not -
per se
- a
Night Entertainment Venue
, but, like
Mizu's
, has been a part of "
The Scene
" for so long, we would be remiss in not noting it in the historical record.

PATPONG I


PATPONG

II



MAP



We got a fright when we saw the
Mike's Place (Spanky's)
door double-bolted and the entranceway looking darker than a poisoned well. But not to worry, they sustained some water damage during the recent tropical storm
Vincent
, and while they are drying out, they are going to spruce up a bit. One can always hope that they have resurrected the old
Mike's Place
A-Go-Go license..... Look for them to reopen on or before 01 November 2005. This
'damage due to tropical storms'
seems to be going around, no matter where you are on this planet - hard evidence of
global cooling
, if you ask us....

PATPONG I I


Door Art Of The Month
Award
The
MIDNITE HOUR
nod for best
Door Art Of The Month
goes to
Century
- Neither
graffiti
nor
Van Gogh
, it is an unusual subject for a
Nitespot Venue
'work of art'.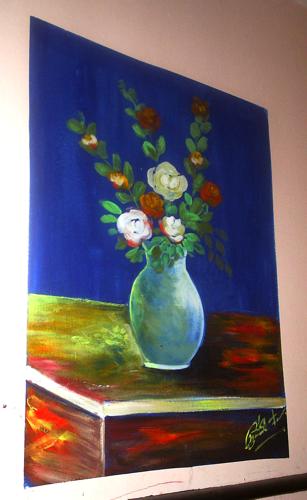 The Century is located on the 3rd floor of the Cosmo"s Stairwell- across the street from Foodland. As mentioned last month, Century was closed for renovations. Renovations having been completed, they have hit the deck running. Keep on keeping on.

PATPONG I I


NANA

PLAZA



MAP



Obsession
A-Go-Go
- is still closed (inside only) "for renovations". We don't, however, see any signs of construction going on, and it's been more than a month now - begs the question, 'bust' or 'renovation'? No one was around to ask, so we will have to throw a marker down and get back to you.

NANA PLAZA


SOI

COWBOY



MAP



Pop quiz: When is the
Deja Vu
not the
Deja Vu
? Answer : "When it is the
Five Star 2
". Take a look at the two photos of their marquee below, and see if we are not right. The top photo was taken in May when they opened; the lower photo was snapped last night. There are a couple of new, smaller
Deja Vu
signs down by the entranceway, but it seems that, yes, the
Sign Gestapos
have been hard at it again.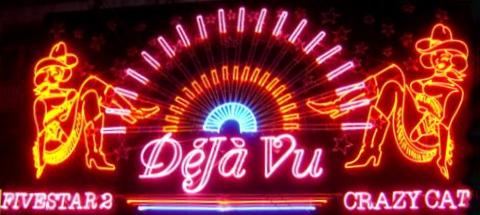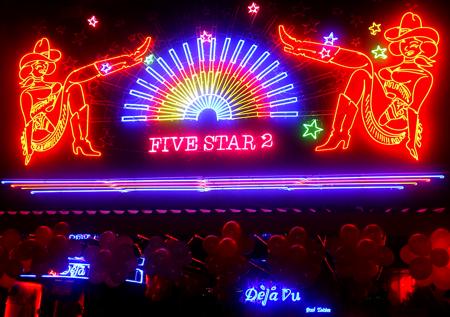 One really has to wonder at
Bangkok's
'
crackdown mentality'
- the authorities decide they 'don't like' this or that sign because the
biggest
words on the sign do not portray the registered name of the
Night Venue
. That is plenty reason enough to bust them, right? This is the very essence of the tiny-minded bureaucratic machinations with which the local authorities continue embarrass themselves.
SOI COWBOY


As we went to press last month, we mentioned that we suspected the
Apache
would be opening within hours. Well, we were right - and as technically, it opened in September, we will mention it again this month for the historical record. And, yes, it is a '
table dancing
' bar with the angled mirrors on the tabletops for those who would prefer to see which shades of pink the bikini bottoms are, or are not. The night we visited, they were packed to the rafters - may Fate deal them all aces and faces.
SOI COWBOY


The
Midnite Bar
has been eking in a renovation, apparently between dance sets. But now it is beginning to show - the emphasis is on sapphire blue. Next time you walk past, have a look at the facade, or walk in and look to your right - the
Midnite Bar
is slowly transmogrifying into one of the hottest looking
Night Entertainment Venues
on the
Soi
. The format of their entertainment seems little changed, for those of you who have been there before. Keep on rockin'.

SOI COWBOY


SOI

DEAD

ARTISTS

(Soi 33)



MAP



The newest massage parlor to open on
Soi Pan Pan
(
Sub-Soi 1
) is the
Baan Khon Thai Massage.
The format: "slightly ambiguous", and as can be seen below, prices are within acceptable limits. Welcome to the rough-and-tumble.

SOI

DEAD

ARTISTS


The
Venus Club
is nothing if not chameleonesque. They have not only recently changed their neon, they have now changed their '
format'
. Probably the best description of this format is '
grope-show
'. While the groping is basically non-stop, the dance-shows take place from time to time on the second floor. (Prices on
Soi Dead Artists
remain higher than in the other
Night Entertainment Areas
, and the
Venus Club
is no different - hostess drinks are about
Baht 160
and the
escort service fee
is
Baht 1,000
.) Another way to say the same thing, the action at the
Venus Club
is as close as you can get to being an
A-Go-Go
bar without actually having it on your sign. Shake it, don't break it, ladies, you
do
know well how the guardians of our virtue can be when they think they can publicly make an example of someone....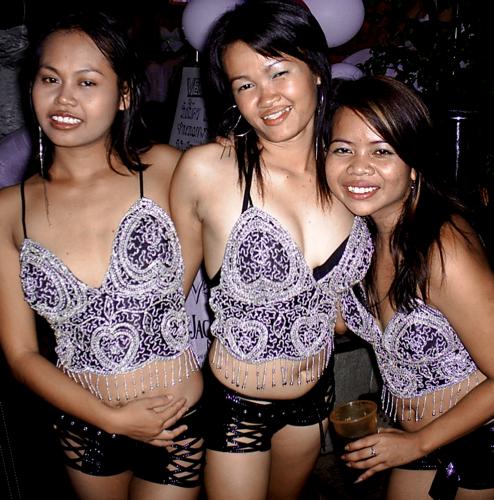 Be warned: this team, and sisters-in-kind, will come out on the sidewalk, sandbag you and drag you in for a drink or two.

SOI

DEAD

ARTISTS


The Brick
, which opened only in February 2004, is the second of the
Christie's Group
bars to show up missing from roll call this year - following the slow, agonizing death of
Papa
, just next door. When we passed by last night, all we could see was darkness shining out from within. Ashes to ashes; so be it then...

SOI

DEAD

ARTISTS


When we cruised
Sub-Soi 5
last night, we noted that the
Arsom Sabai
traditional massage had roller-shutters padlocked to the concrete floor. Looks for all the world like it has wheezed it's last.

SOI

DEAD

ARTISTS


SOI

KATOEY



MAP



The
Roxy Bar & Club
have got some brand new neon - not to replace the old, but in addition to the old. The significance of this flashy sign seems lost on all, including the staff, who were even more vague than usual. We'll throw a marker down on this one, and get back to you.

SOI

KATOEY


Soi Katoey
had the
Men In Tan
out in force last Friday, minding our morals for us with the hard-pounding zeal of a tropical storm. But as can be seen from the photo, sometimes
Bangkok's Finest
are the
Men-In-Plain-Clothes
. If you are under twenty years of age, don't try coming in the front way; come in through one of the back doors facing the parking lots behind.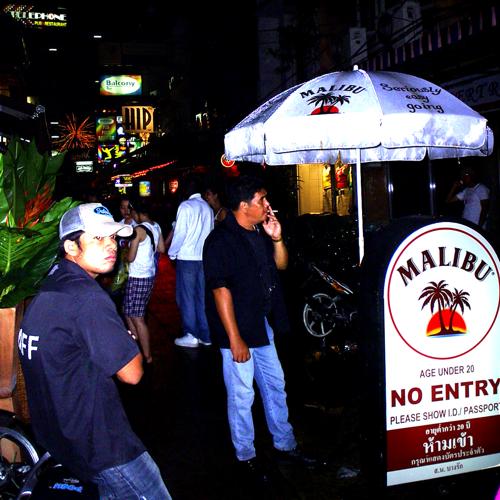 We wonder just how much Malibu really enjoys being part-and-parcel of the Crackdown?

SOI

KATOEY


QUEEN'S

PARK

PLAZA



MAP



Friendly Bar
bar beer
, opened last month without neon - well, this month they have it right out there in plain sight, well draped with Christmas lights. I thought it looked familiar, so I asked - sure enough - it is their old sign from the long-ago destroyed
Asoke Plaza Night Entertainment Area
. They are planning to put a more elaborate sign up at some future date, but they say this rainy season is hitting pretty hard, so don't hold your breath.

QUEEN'S

PARK

PLAZA


SUKHUMVIT

1

PLAZA



MAP



Gone, but not gone,
Josephines Beer Garden
has resurrected - at least in a manner of speaking. They have every light on in the place except the sign, which gets us to wondering.... The large format projection screen is up and running - for the sports channels, but the pool room has disappeared entirely. But most ominously, the place was entirely empty (again) this Friday night. Don't give up the fight, gang, but you are going to have to promote yourselves better than you have been.

SUKHUMVIT

1

PLAZA


SOI

EDEN



MAP



The
Sweet Heart Club
has finally got some neon down lower (by about three floors) where the passers-by can actually see it. And it doesn't look bad. Let the good times roll.

SOI

EDEN



OTHER

NIGHTSPOTS

OF

NOTE



Just around the corner from
Soi Cowboy
on
Soi 23
, you are going to run into the
Ship's Inn
, that is if you haven't already done so. They open early for breakfast, and stay late. If you like whole wheat toast with marmalade and tea with your breakfast, you've found your spot. '
British Pub
' is the
modus operandi
.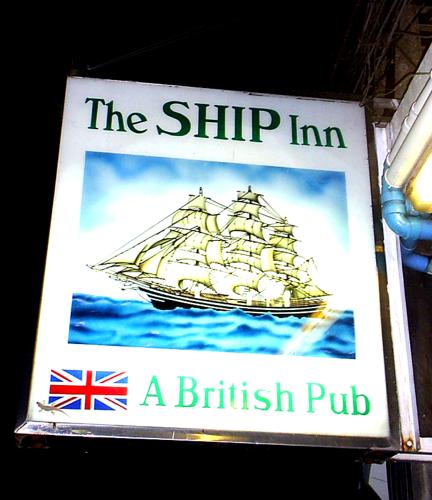 One of the older Night Venues in the Soi Cowboy area. Check out the 'lucky gecko' in the lower left corner.

The Tunnel
has been around for a while, but in that it seems to improve with age, it is well worth a mention. It is located on the shortcut between
Soi 5
and
Soi 7 Sukhumvit
- at the
Soi 5
end. A long, thin bar beer, it was once even longer when the strip of karaoke rooms was operational (now used for junk storage, thank goodness). There is quite a bit of new construction on that small shortcut, and if all of it is destined for
Night Entertainment Venues
, we will have to make a return visit in the very near future for an update.
---

NO

NEWS

IS

GOOD

NEWS

DEPT.