March's

Follies

begin here
MIDNITE HOUR
presents the
NEWS
on the
Bangkok Night Scene
; - the
'history-in-the-making'
for all major Expat
Night Entertainment Areas
- for the month preceding :

PATPONG

I



MAP



The
King's Lounge
makes it a habit of closing down once or twice a year, whether they need it or not. Now is one of "
The Doctor Is OUT
" periods - only dust devils and old cardboard cartons cluttered the top of the stairway when we passed by on the weekend. They might be able to change their luck if they were to take a lesson from
Eienstein
; "
The definition of 'insanity' is trying the same experiment over and over and expecting different results.
" Think about it, gang. (They are, or were, located upstairs on
Soi Bookstore
, connecting
Patpongs I & II
.)

PATPONG I



( In the LAND OF SMILES )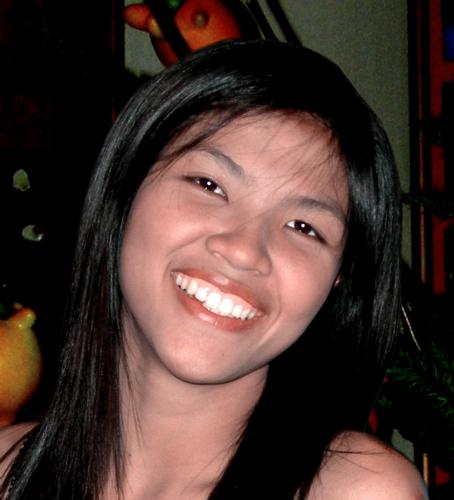 This month the MIDNITE HOUR has awarded the "Thai Smile" to someone in Patpong I....

PATPONG I


The
Kitchen Drink & Dancing Club Restaurant
has imploded quietly, only darkness shining out from their heavily padlocked glass door. Perhaps failure was guaranteed; any potential
dining and dancing guests
had to walk past the sleazy touts in the stairwell they shared with the
Casanova
Pay-For-Show
bar. This would be too repulsive for most patrons. We must wonder aloud once again, if the
TAT
(the
Tourism Authority of Thailand
) were truly interested in cleaning up
Thailand's
image, why on earth would they
NOT
get rid of these human scum touts?

PATPONG I


PATPONG

II



MAP



Located on the 3rd floor,
Cosmos stairwell
, the
P.P. Thai Massage
has just had the heavy hand of the
drug enforcement crew
come down on it's shoulder in a very final way. We remain mildly surprised that these drug busts are not more highly publicized. Smart money is not behind an early reopening.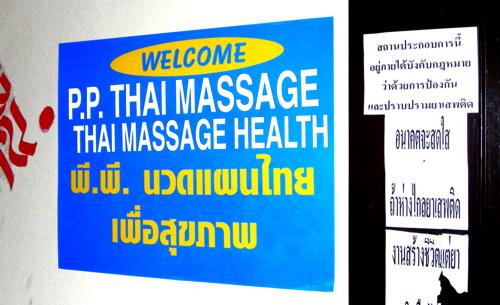 The sign in Thai at top right reads: "This place of business is under the legal jurisdiction of the law on prevention and suppression of narcotics."

The sign just below it reads, "The future will be clear and bright if we are far from addictive drugs."

PATPONG

II



The Time Machine
A Blast From Nightlife Past....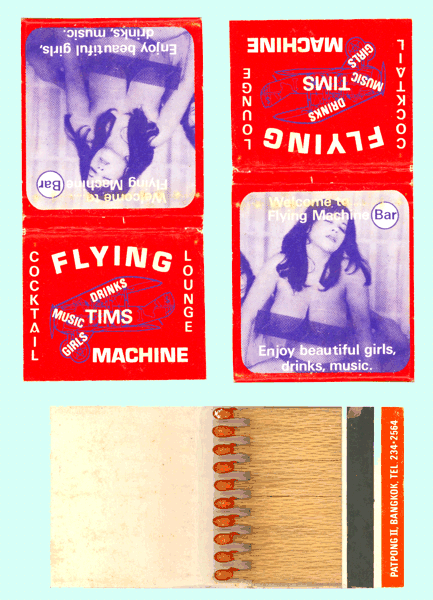 We found this in the bottom of an old packing box. It was just a book of faded wooden (!) matches - but it sure pushed a few buttons.... Some of you may remember Tims Flying Machine Cocktail Lounge from the Patpong II heyday. Known to most as just "The Flying Machine", it shared the Soi with the likes of the Pink Panther (still there), the Cloud Nine (now the Crown Royal) and Mike's Place Go-Go Bar (which died in July 1996 but has been reopened last year, in name only, as a Pool Bar).

PATPONG

II



It looks like
Electric Blue
is re-doing (or has redone?) their
'wall-of-neon'
facade. The photo below was irresistible to us - we just had to take it. What other pic could better capture the spirit of the
Bangkok
Nightscene
? Let the good times roll.

PATPONG I I


SOI

COWBOY



MAP



We can't tell you how many emails we received this month advising us that the owner of the
Midnite Bar
was "
an Arab
". Okaaaaaay...and by this they were suggesting he
shouldn't
be given a contract to manage
U.S ports
? (How's that for timely political content???) But we have news for the newbies - not one in a hundred
Expats
is the "
owner
" of the bar in which he has equity - don't take my word for it, ask your lawyer. We, by the way, have no knowledge of either the "
owner's
" race or nationality -
BANGKOK EYES
doesn't cover these aspects of the
Night Scene
(but if we did, this would surely have been in contention for our
Rumor Of The Month
).

SOI COWBOY


Another of the many species of almost-subliminal pests on
Soi Cowboy
is the
Shoeshine Urchin
. Twenty baht gets you about fifteen minutes of his undivided attention - and, surprisingly, well-shined boots, to boot.
"Little Hulk" Hogan
is ten, and speaks better
English
than seems possible.

SOI COWBOY


Yet another group of
pesky urchins
sells chewing gum and assortments of candies. We recommend
not
buying - sanitation leaves something to be desired. Some of the candies they have for sale are the colorful gummy worms they are playing with while posing for this pic. But, hey, that's what
immune systems
are for, so let's not get too paranoid here....

SOI COWBOY



Involving The Tourist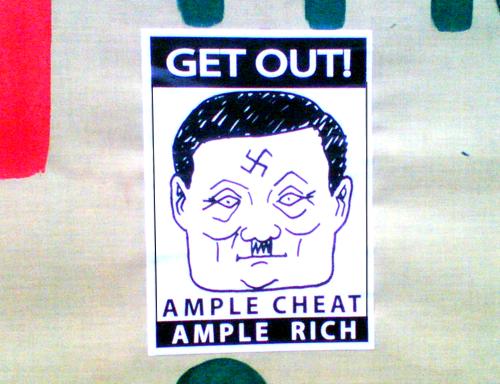 Although
MIDNITE HOUR
is not a pol

itically oriented web site, we would be remiss in not making note for the historical record when the
seven-headed piyanakh
of pol

itics sticks it's most-hideous serpentine heads into the realm of
Night Entertainment
. The above sign is one of those instances where one political faction thought it would be advantageous to involve the
farang
(take note; the sign is in
English
, not
Thai
). This sign was spotted in the
Soi Cowboy
area.

SOI COWBOY


NANA

PLAZA



MAP



The last of the
Rainbows
to renovate,
Rainbow 3
has compensated with some
Vegas-strength neon
. If you miss these signs coming up the stairs, your seeing-eye dog won't. (Tks to
Dave the Rave
<

link>
for this one....) Pump it up,
Rainbows
....

NANA PLAZA


Back when
Angelwitch Rock Dancers
absorbed
Secrets
in July 2005, we mistook the initial lack of construction activity as "proof" that they were going to just use it as a storeroom.
Well, we were wrong.
They
do
have a storeroom there, but they also have done a couple of other things that make the place a
class act
. First, they
widened the main bar area
by another row of seating all the way 'round. Secondly, they have
installed first-class gents & ladies toilets
. (It's the little things....) And, a personal note of thanks to
Dave
-
Angelwitch
DOESN'T
have
toilet louts
attempting to force you to use their towels (and then of course, tip them). -This isn't a
Tijuana
sleaze bar, for krissakes). And another nice touch: --
rock 'n roll music
instead of techno and / or other abominations.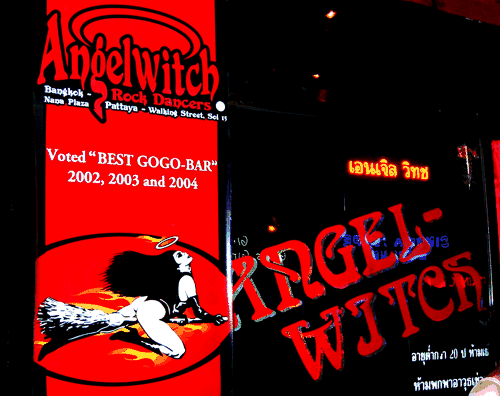 Check out the new Angelwitch logo....
By the way, Manager
Dave
(
Dave the Rave
) has his own
website
now,
Thailand Nightlife
, and his twice-a-month
Prisoner In Paradise
<

link> column
is already proving to be a most worthy contribution to the
Bangkok
Nightscene
. Check it out. We wish them constancy.

NANA PLAZA


The
Doorgirl
at
Spanky's
asked if we would be kind enough to take her picture, and yes, it would be
OK
if we used it. What a refreshing breath of fresh air - such a change of pace from the usual bevy of
bargirls
feigning
Shock-and-Awe modesty attacks
every time they see a camera. And, anyway, how could we say 'no' ?

NANA PLAZA


Between sets, or 'floors',
A Go-Go dancers
often wait outside on the walkway in front of the bar - to get away from the cigarette smoke and, hopefully, to attract a customer or two inside. Many a conversation start here, and not inside in an often too-noisy bar...or did that go without saying?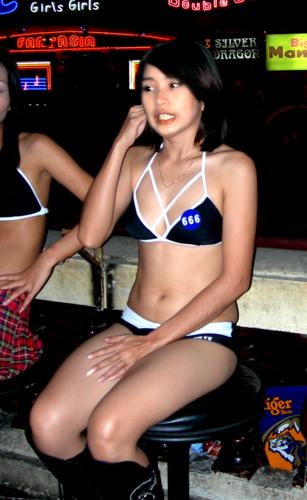 *Submitted by reader N. S.

NANA PLAZA


The
Casanova Bar
has renovated - at least on the outside, and while it may not be to everyone's taste, or perhaps
anyone's
taste, they have made an effort to please those customers that enjoy
transgenderite
company - and enjoy watching
transgenderite
A Go-Go
. Whilst taking this pic, we by chance caught one guy dressed to the nines....

NANA PLAZA


SOI

DEAD

ARTISTS

(Soi 33)



MAP



Gone, but not gone, the
Degas Club
has temporarily closed doors to do some renovating. At least we hope this is the case...they are one of the earlier bars on the
Soi
which helped to set the "
Dead Artists
" theme. We'll lay a marker down on this one, and get back to you.

SOI

DEAD

ARTISTS


SOI

KATOEY



MAP



The
Roxy Bar & Club
have gone from
Lounge
to
Show Bar
to
'Cabaret
' - all in the course of two and a half years. For those not familiar with the
Thailand Scene
,
"Cabaret"
means
"Gay Revue"
, usually
transsexuals
as women, so it may not be your 'cup of tea'. The crowd, however, remains mixed, straight and gay, and the outside sidewalk cushions usually attract hetero
farang
couples wanting to watch the passing parade.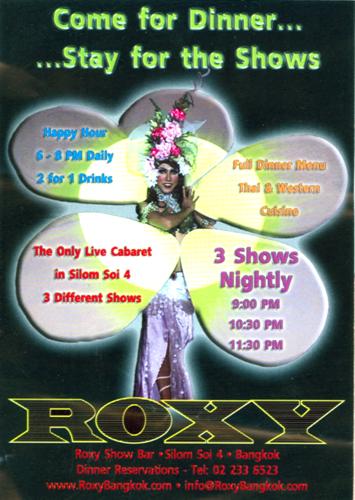 Source: Hand-out flyer

SOI

KATOEY


QUEEN'S

PARK

PLAZA



MAP



The
Olive Oyl
has taken over the reins from the
Nuna's Bar
bar beer. (We suspect
Nuna's
have found a way out from under it all.) The
Olive Oyl
is, as might be expected, owned by the same people that have the
Popeye 2 Bar
across the way. May the nightwinds blow kindly....

QUEEN'S

PARK

PLAZA


Only last month we were commenting on
Nice & Easy's
new neon. This month they have a '
Bar For Sale
' sign up (we assume they mean
that
bar...). Wish them good fortune, whichever way the winds may blow...

QUEEN'S

PARK

PLAZA


Likewise, the
Kangaroo Bar
is going under the auctioneer's gavel - a '
Bar For Sale
' sign with tear-off phone numbers is taped to the front window. We suspect they won't have much trouble selling - they have fixed the place up quite adequately - it's quite comfortable now.

QUEEN'S

PARK

PLAZA


Friendly Bar
, originally refugees from the
Asoke Corner
/
Asoke Plaza
catastrophes, seem to have found a home. Moving here to
QPP
in August of 2005, they have gradually built up a solid business. This last month (February 2006) they bought out the
Captain's Inn
lock, stock and chrome barstool. (We hope the
Captain's Inn
find things a little more to their liking a little further on down the road a piece.) As for the
Friendly Bar
; keep on keeping on.

QUEEN'S

PARK

PLAZA


Open only in January 2005, the
2 Corner Bar
is already looking for greener pastures. In fact, they may already be slamming the door behind them as we go to press today - we'll advise next issue.
The sign reads, "Sell Quickly", followed by the phone number.

QUEEN'S

PARK

PLAZA


SUKHUMVIT

1

PLAZA



MAP



The
Night Night Joop Joop
has called it a night-night - it looks like they mean business, too - they have already removed their pool tables and the neon. A pity, this, as they went to a lot of trouble to make it a really comfortable place since they took over the helm from
The One Bar
in November of 2004. Ashes to ashes, so be it, then....

Closed last month, the
Revolution Salsa Bar
have thrown the doors back open this February, and are welcoming all back to the trough. No longer a '
lounge
' they have become yet another
Pool Bar
. --But not for long, say sources on the ground here; it seems they have seen their future awaiting them in
Phu Khet
and will soon be leaving for that island to reap their due bounty. We'll get back atcha on this one - in the meantime, the beat goes on....

SUKHUMVIT

1

PLAZA


The
First Avenue
distinguished itself as
Bangkok's
first bar to feature '
Coyote dancing
", which, if you will recall, is a form of runway dancing slightly more active and slightly more attired than
A Go-Go
. But it seems that, at least as far as
Bangkok
is concerned,
Coyote dancing
has gone the way of the
Boogaloo
and the
Monster Mash
. Gone are the
runways
, gone are the girls in
hotpants and tied-up bodices
, gone is the
dancing license
(which they never had, and thought they wouldn't need...), gone is the
front of the bar
. -And we're left with just another
Pool Bar
. Methinks it will be a while before
Night Entertainment Venues
come up with something to supplant
lithe hot bodies on chrome poles
....

SUKHUMVIT

1

PLAZA


Never having put up any neon,
Happy Bar
had none to take down. Someone, however, might want to come back to retrieve the
Christmas
light sets and the pic of
King Rama V
. We asked around; why did they close? The answer was simple, "No customer". The
Darwinian Imperative
is merciless, nonetheless, we are disheartened to see them disappear, as they also were 'refugees' (not once, but twice) from the
Asoke Corner
/
Asoke Plaza
debacles (originally the
Chid Bar
). They opened here in March 2005 - may
Fate
turn the other cheek in their next adventure....

SUKHUMVIT

1

PLAZA


MIDNITE HOUR
takes a moment to observe and note: over the last couple of months, the number of
Night Entertainment Venue
closures at
Sukhumvit 1 Plaza Night Entertainment Area
has far outstripped the number of new openings. Should the trend continue, perhaps with the loss of even one more bar, the
Sukhumvit 1 Plaza
would lose it's most valued possession : it's "
critical mass
". As soon as the bar density drops below a certain point - the area is no longer perceived by potential customers as "worth the effort" to go there. Open only a short time,
Sukhumvit 1 Plaza
might consider a more aggressive promotion policy.

SUKHUMVIT

1

PLAZA


WASHINGTON

SQUARE



MAP



The
Japanese
Tochu Sakaba
has popped up out of it's inscrutable coffin and placed the welcome mat back out on the porch. This time around it is looking more like a restaurant-bar than just a bar. Welcome them back to the vicissitudes.

WASHINGTON

SQUARE



SOI

EDEN



MAP



Eden Club
, for which the
Soi
was named, has some brand new neon, which we intended to show you last month, (but they turned the sign off and went home, due to being "
out of staff
". --Gotta love it.)
'The Eden'
, as it is most often called, is a highly successful specialty massage. Keep on a-slippin' and a-slidin'.

SOI

EDEN




Baby Elephant Walk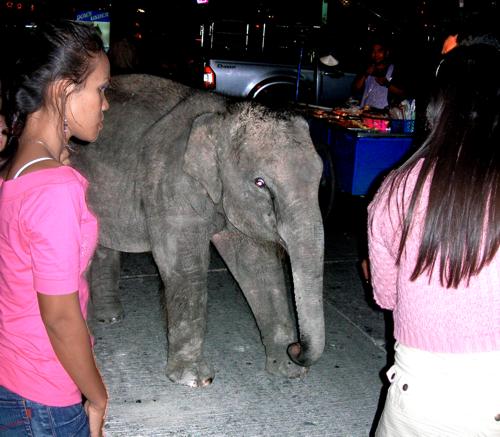 This young elephant may just be the smartest pachyderm ever - she can curtsy, she can bow, she can get all the way down to the ground and shimmy (I'm not making this up). We know we are not supposed to encourage them, but this animal was just so cute, we pried open our Scottish coin purse and bought her a small bag of sugar cane pieces.

SOI

EDEN



OTHER

NIGHTSPOTS

OF

NOTE



Door Art Of The Month
Award
T
he
MIDNITE HOUR
nod for best
Door Art Of The Month
goes yet again to an old venue with some brand new neon. Whether you call it the
Nana Disco
or
Angel's
or the
Love Club
, it's all the same thing.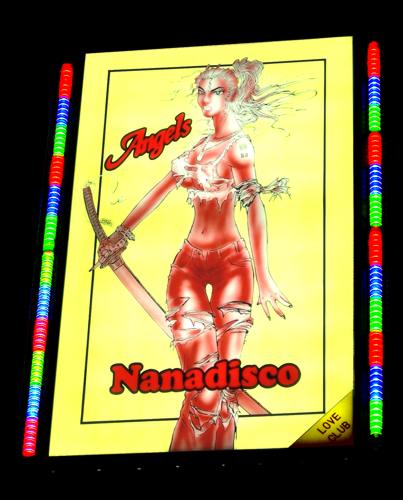 The
Nanadisco's
entrance sting has gone up to
400 baht
- especially and just for all you
farang
, prompting one curmudgeonly denizen to comment, "We pay the barfine
before
we get to see the fishbowl?" This fee includes one drink. Ladies of the evening (with ID) are not charged. Located on the ground floor of the
Nana Hotel
, it is open from 9:00 p.m. until at least 02:00 a.m. -and has continued through the years to do a rocking-good business.

SUKHUMVIT

SOI 4



The upstairs / downstairs
Factory Pool Bar
has, it seems, stood the test of time. The entrance is almost obliterated by all the street vendor stalls, and is itself a little dark, but it's worth the trouble to seek it out. Once inside, and upstairs, you will have found a good spot in amongst the zoo that is
Sukhumvit Road
to relax and shoot some pool with the lovely poolshark bartendees. Located on
Sukhumvit Road
between
Soi 5
and
Soi 7
.

SUKHUMVIT - BETWEEN

SOI 5 & 7


---

NO

NEWS

IS

GOOD

NEWS

DEPT.




TOBACCO

ROAD



MAP


(No News)



--- Datzit Fernow

William R. Morledge
---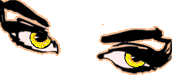 Copyright © Bangkok Eyes / bangkokeyes.com : 2002-2005