opened in June, we noted they did so without benefit of neon. They now have some dayglow Styrofoam signage, which seems entirely serviceable. Keep on a-rockin' and a-rollin'.
bar beer. It didn't look like the bar beer was doing any business last weekend, but being a quite comfortable venue, that should change once they become better known. We wish them luck as they wade into the sharkpool.
was back a-slippin' and a-slidin' on schedule this last month (see our last month's issue). Welcome them back to the snakepit.

We received a surprisingly large response to our
Thermae 10-year anniversary article <

LINK>
last month, so we thought we would include a couple more photos for your perusal.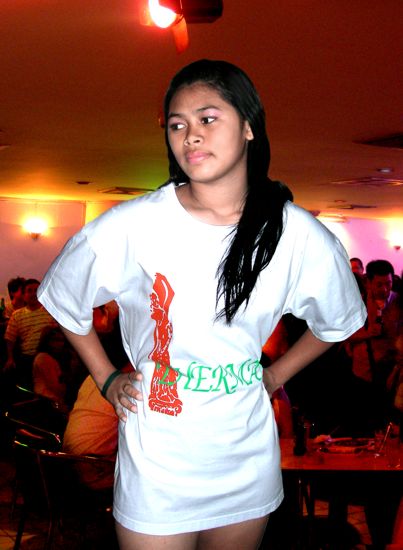 A young lady briefly poses for a pic wearing the Thermae Tenth Anniversary T-shirt. Only a couple of these T-shirts made it into the 'public domain' - rare collectors' items, indeed.

NEW THERMAE COFFEE SHOP - SUKHUMVIT RD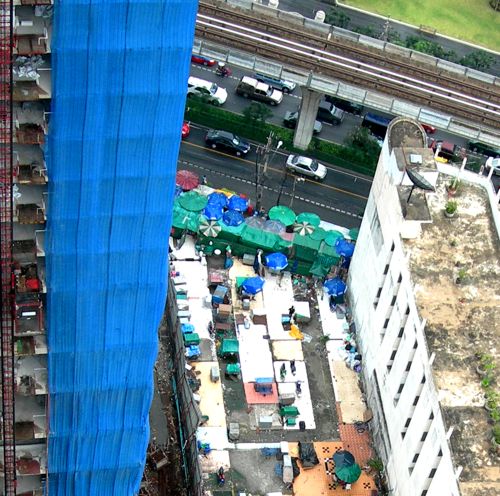 This shot of the original Thermae Massage Parlor grounds from atop the 32-storey Ambassador condo project shows the Miami Hotel on the right and the new (unnamed) hotel under construction on the left. The outline of the old coffee shop is still visible.
Photo August 2006

OLD THERMAE COFFEE SHOP - SUKHUMVIT RD


The big news on
"The 'Boy"
this month was the disruption caused by the filming of yet another
Hollywood
movie, this time -
Bangkok Dangerous
, the upcoming actioner starring
Nicholas Cage
. Although in the minds of the film production company, photography was prohibited, we at
MIDNITE HOUR
have our own interpretation of what may, and may not, be photographed. And while we did not have
their
permission for the following pics, we did obtain
actual
permissions - if, and where required. Special thanks to
Suzie Wong
and
Shebas
A Go-Go
bars for unspecified courtesies.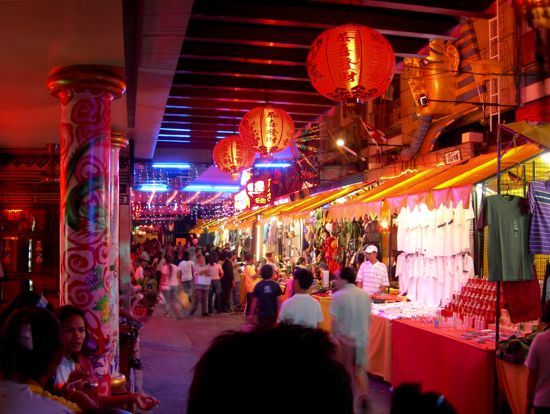 A view of the "Patpong hawker stalls" movie set (right) as viewed from the Suzie Wong (yes, it's still on Soi Cowboy).
Pic courtesy Khun P.

SOI COWBOY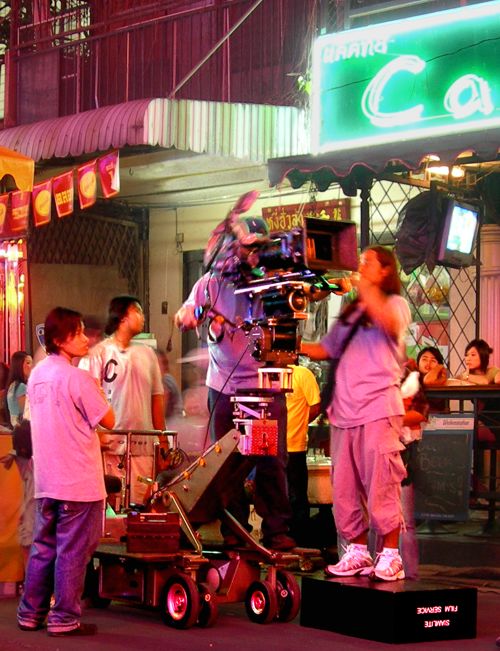 A Bangkok Dangerous film crew sets up in front of the Cactus A Go-Go bar.

SOI COWBOY

Behind the scenes. As the Bangkok Dangerous camera rolls (lower), the official photographer (center, right) keeps a record of the proceedings.
Pic courtesy Khun P.

SOI COWBOY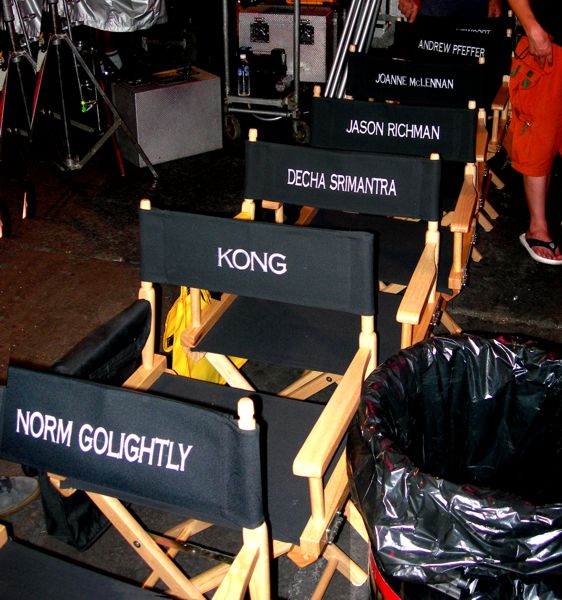 'Roll-call', however the cast and crew of Bangkok Dangerous were a little too busy to be sitting down....

SOI COWBOY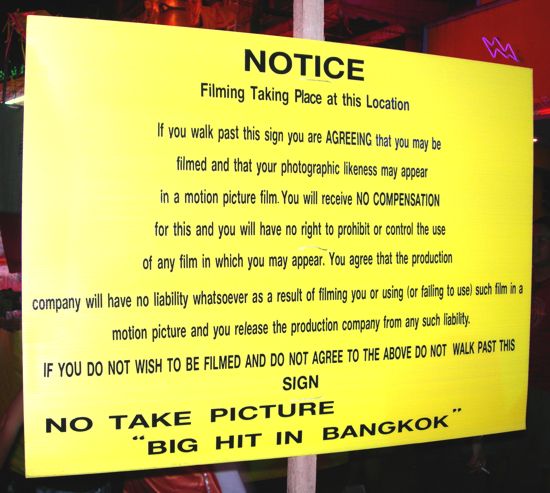 When in doubt, call in the shyster lawyers from Hollywood. Most people just ignored the sign posted by the Bangkok Dangerous production people, except, of course, for it's inherent entertainment value.... "Big Hit In Bangkok" was the film's 'working title', as the Producers didn't want to offend local authorities by inferring that Bangkok was a "dangerous" place.
Pic obviously without permissions.

SOI COWBOY


The
Cat House
sign looks like it has been in a cat-fight, one of the letters hanging by a thread.
Sign-gremlins
? But this hasn't stopped them from offering their usual by-the-pitcher "
happy hour
" special.

NANA PLAZA


Likewise, it appears that the
sign-gremlins
have been at the
Morning Night's
neon - the "
nine-ball
" has gone missing from between the two words - but we feel they would continue to do a roaring trade even without a sign (location, location, location).

NANA PLAZA


What could be better than a
door-dwarf
? Why,
two
door-dwarfs
, of course. The "
Mr & Ms
" door-dwarf team working at the
Lollipop
are always polite and courteous - would that all door touts were so.

NANA PLAZA


Last issue we had a preview of the
Teen 3 VIP Massage
sign just prior to it's opening. They opened on schedule this last month, taking over the helm from the now-defunct
Patou Massage
. The
modus operandi
remains unchanged -
specialty steam-and-cream
. Welcome them to the maelstrom.

SOI DEAD ARTISTS


Door Art Of The Month
Award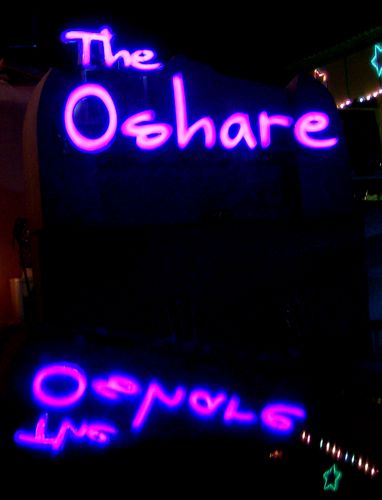 This month's
Door Art Award
goes to
The Oshare Japanese
karaoke palace - newly opened in a small lane at the end of
Soi Dead Artists
. Welcome to the big uphill.

SOI DEAD ARTISTS


The
Chi Haru Karaoke Club
, located next door to the
Oshare
, is, as may be gathered from the sign, geared toward
Nippon
custom. Welcome them as they throw their hat in the ring.

SOI DEAD ARTISTS


Last month we noted that there was a
massage & spa
at the very end of the
Soi
, and that the best we could determine, the name was "
Thai Massage
'. Now that all their neon is up, we see that they in fact have a name : the
Rakuten
. They offer the gamut of legitimate spa facilities and services.

SOI DEAD ARTISTS


Feel Better About Feel-Good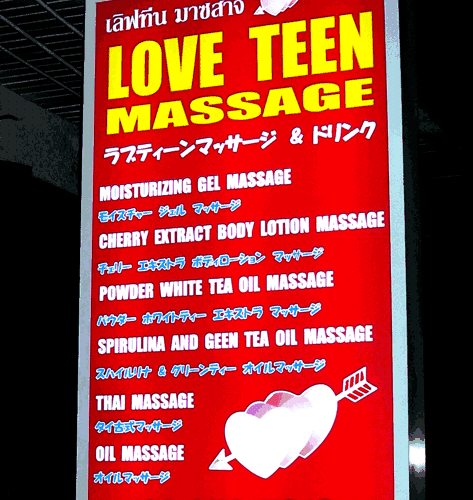 Last month we also mentioned the new Love Teen Massage that opened in the old Lucky Luciano digs, and noted that they had some specialty massages we had never even heard of. We weren't making this up. 'Spirulina and geen (sic) tea oil massage', indeed....

SOI DEAD ARTISTS


Now that
Denny's
is reportedly under new ownership, and has removed about ninety percent of the potted forest that previously obscured the place, the crowds are starting to come back. Management might, however, think about some more visible neon.... Keep on keeping on.

WASHINGTON

SQUARE


The unusually heavy rains at the end-of-the-month kept most of the people away from
Soi Katoey
-
The Balcony
being the exception. They managed a fairly large, if soggy, crowd. The below pic shows the expansion out in front of
Helene's Place
, that they utilize in the evenings after the
Vietnamese
restaurant closes.

SOI

KATOEY


Last month we noted the closing of the
2 Corner Bar
, and that they were going at the renovations like the
Winchester Mansion
. Well, renovations are behind them now, and the all-airconditioned
Tube Bar
has popped up like a mythical soldier from a dragon's tooth to take it's place. Welcome them as they step out, and into the line of fire.

QUEEN'S

PARK

PLAZA


Friends.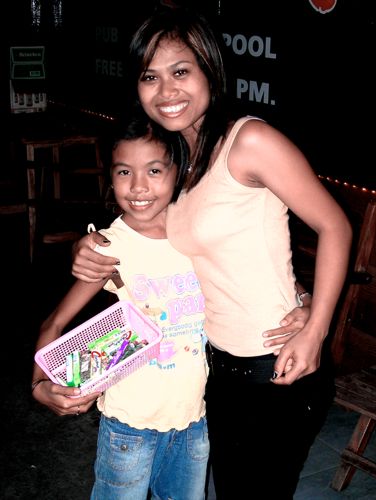 Two old friends from the Soi 7 Food Court meet up again at the Queen's Park Plaza.

QUEEN'S

PARK

PLAZA


The
Olive Oyl
has glassed itself in, and air-conditioned the premises - so don't be too hasty pushing your way through the "soccer net"..... Same good service and friendly pool. (And, yes, it's the sister bar to the
Popeye 2
, just across the footpath.) Let the good times roll.

QUEEN'S

PARK

PLAZA


The latest arrival from the now defunct
Tobacco Road
(
Soi Zero
) across the street is the
Rooster Bar
- we are pleased to hear they didn't wink out of existence entirely. They have promised some new neon (or perhaps the old neon relocated) by next month. We'll do a come-back and shoot a better photo if and when they do. Welcome back to the nightcircus.

SUKHUMVIT 1 PLAZA


Over the last few months, the
Subway & Coffee World
at the top of
Soi Eden
has become a favorite hang-out of
Bangkok's European ladies-of-the-evening
. On the weekend, there is a steady stream of
Sub-Continent
and
Dark Continent
punters approaching the waiting fair-haired damsels.

SOI EDEN


Gone but not gone, the
Bar Lover Shot Bar
has reopend after a 3-month mystery holiday, looking pretty much the same as before the 'renovations'.

- File photo

SOI TWILIGHT


The Vegas-strength neon jumps out at you when you walk by : "
The Players
". We looked down the narrow lane near
Sukhumvit Soi 14
in the direction of what used to be a
Korean Barbecue
, and saw even more bright lights, so we walked in to have a look, and found that "
The Players
" refers to '
pool players
', just as sketched in neon out front. We were there for more than an hour (midweek) and didn't see any (of the seven) pool tables empty. We assumed this was a brand-new venture, but in fact, this is the relocated
After Work
, formerly just above
Country Road
at the top of
Sukhumvit Soi 19
- they had just moved across the street. The pool tables themselves (
2
nine-ball and
5
eight-ball tables) are well tended by the inhouse
table attendants
, and are well hustled by the lovely in-house
poolsharks
. We asked the manageress how it was that they were already quite busy, having only been open less than a month. She replied that most of their customers had followed them over from the old digs. Break a leg, gentlemen, and gentle ladies....

SUKHUMVIT NEAR SOI 14


SUKHUMVIT NEAR SOI 14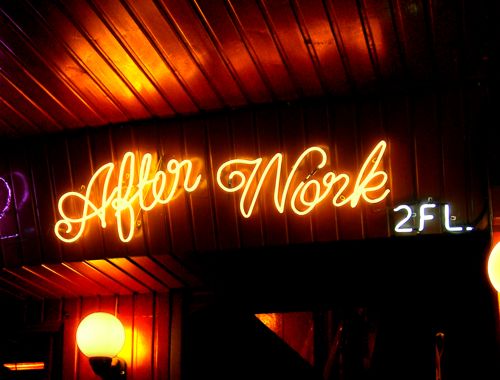 The After Work quietly closed down just over a month ago, and reopened just across Sukhumvit Road as The Players. We note they still turn their sign on at the old location, though (?)

'THE PLAYERS' - SUKHUMVIT NEAR SOI 14


The
Koi Restaurant
, open almost one year now, has become one of the "hot"
Night Entertainment Venues
- every
Tuesday
and
Thursday
is "
Model's Night
" at the
Lounge
, where the young ladies get a free pass (a free drink), thereby attracting the large crowds. (You might be asked if you have a reservation.) They also have a well-appointed
a la carte
restaurant
and
private dining rooms
(and a great
sushi bar
). And while the prices aren't aimed at the
bar beer
set, the drinks in the
Lounge
are from
120
baht - on up. Well worth a look. Telephone reservations @
02 258 1590
.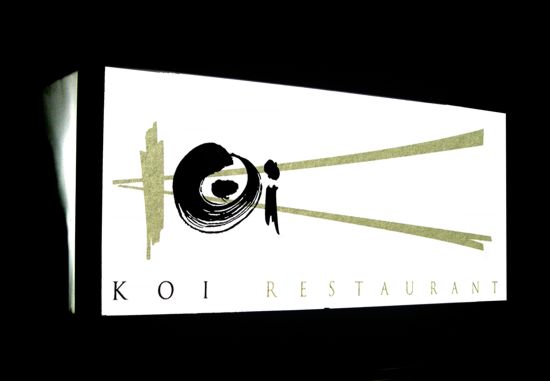 The Koi Restaurant's sign is not all that visible to those passing by on the Soi, so keep your eyeballs peeled....

KOI RESTAURANT - SUKHUMVIT SOI 20

On "Model's Nights" the young mem-farang models arrive early at the Khoi Restaurant's Lounge to sign in for the evening's entertainment. This photo taken from one of the upstairs private dining rooms.
Photo with permission

KOI RESTAURANT - SUKHUMVIT SOI 20


The
Crystal Lounge & Galleria
(just say, '
Crystal Lounge'
) on
Sukhumvit Soi 20
- has been open for three months (softly), and only this last month did they have their grand opening. The
modus operandi
is pleasant
up-market
indoor/ outdoor garden drinking and dining. -And then, mix into that a most interesting exhibit of crystal art-works, which includes
crystal-encrusted thumb cuffs
and a
psychedelic bejewelled iguana
. At the rear, they have a popular
bed-sitting lounge
. Again, not for the backpacker crowd, but shouldn't be missed. While reservations are not usually required, telephone reservations can be made @
+662 258 1599
.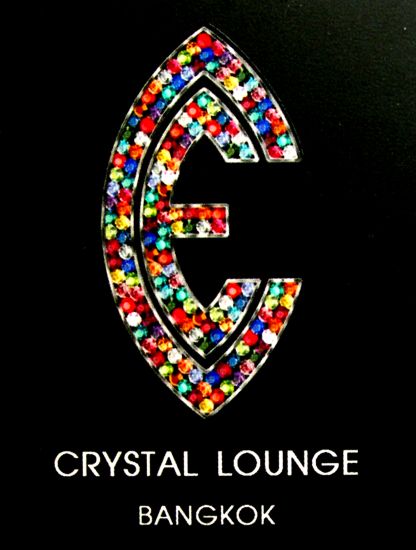 The Crystal Lounge employs interesting and colorful graphics.

CRYSTAL LOUNGE - SUKHUMVIT SOI 20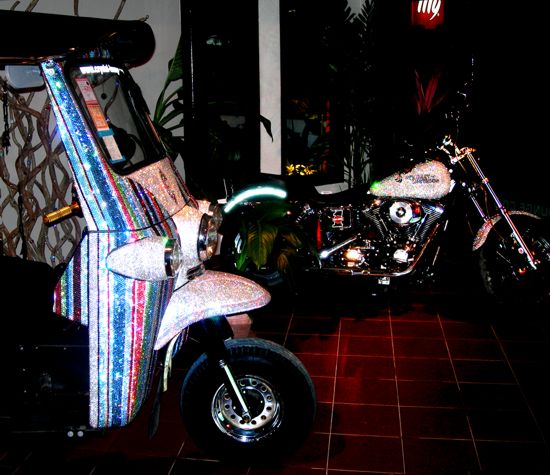 Or, how about a jewel-encrusted tuk-tuk? No? OK, then, how about the jewel-encrusted Harley? We had to ask, but the Receptionist at Crystal Lounge didn't have the price for these two items. .....If you have to ask-

'CRYSTAL LOUNGE - SUKHUMVIT SOI 20


All the way at the end of
Sukhumvit Soi 18
is the
Toxic
, a small and very well appointed
lounge bar
. A great place for a quiet get-away drink - you won't be inundated by loud music, and the hostesses will either chat with you or leave you alone, if that is what you prefer. No hustle, no hassle.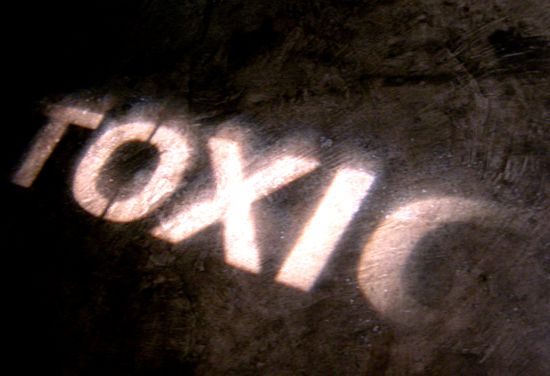 The Toxic's 'neon' is, as far as we know, an original - their signs are projected onto various surfaces - making for an interesting 'visual'.

TOXIC - SUKHUMVIT SOI 18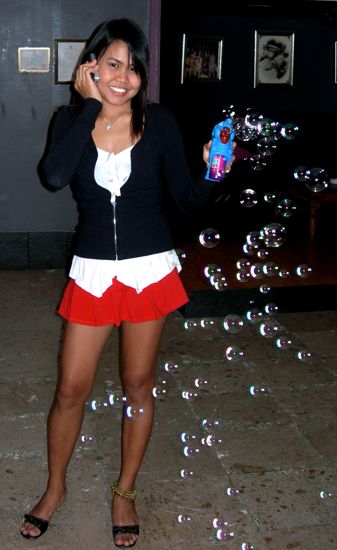 This probably says it all - a young hostess from Toxic smiles for the camera, talks on her hand phone and plays with a bubble machine....

TOXIC - SUKHUMVIT SOI 18

---

NO NEWS IS GOOD NEWS DEPARTMENT

(No News !)

---
VICARIOUS ART CRIMES # 13
MIDNITE HOUR's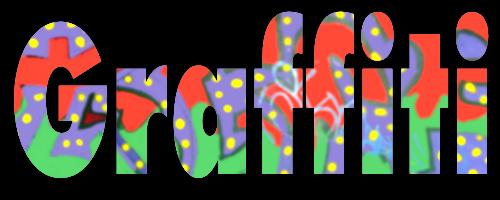 GRAFFITI IN THE NEWS -
"Throwies"
"IF THE CAT RAMPS UP,
SO DOES THE MOUSE"
Derived from an article originally titled "Geek Graffiti Takes on New York"
NEW YORK
-- A dozen
graffiti artists
surrounded their target - "
The Cube
" - a well-known
Manhattan
sculpture, waiting for the signal to begin tagging. It was going to be anything but easy, as the 15-foot metallic sculpture in
Astor Place
had recently been coated with a graffiti-preventive paint.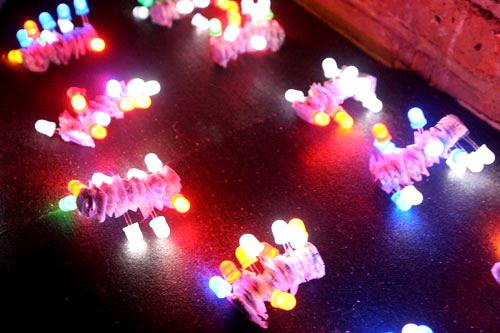 A 'close-up' of the 'LED Throwie' - which is basically a bundle of batteries, magnets and light-emitting-diodes of various colors.
But seconds after the signal was given,
The Cube
was covered in glowing
LED Throwies
, the most recent brainchild from
Graffiti Research Lab
, (
GRL
), which refers to itself as 'an open-source think tank dedicated to developing new methods and tools for street artists'.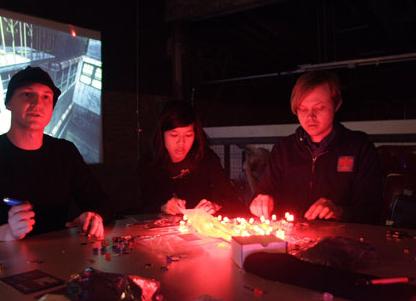 An inside look at a Throwie assembly lab - Throwies are being readied for a 'non-destructive' assault on a billboard, or other metallic surface.
In spite of
The Cube's
coating of
Acrolon
paint, the sculpture wasn't protected from the
magnetic
,
multicolored LEDs
, which are capable of attaching themselves to any surface. The glow-in-the-dark spectacle in
Astor Square
soon attracted a throng of passers-by, many of whom joined the 12 artists in throwing
Throwies
at the sculpture.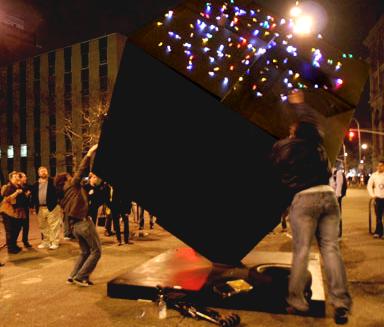 Members of the Geek Graffiti class at Parsons and members of the graffiti group Visual Resistance pepper The Cube in Astor Place with Throwies. They were soon joined by passing youths, and it wasn't long before the sculpture (previously coated with anti-graffiti paint) was covered with glowing multicolored clumps of light.
The
GRL
was started by graffiti writers
Q-Branch
and
Fi5e
(probably their real names) after a brainstorming session on the perennial question of how to get around ever-developing anti-graffiti measures being employed by the authorities. The lab is a part of the wider see-saw 'war' that graffiti artists constantly wage with municipalities and campus authorities. Various anti-graffiti paints are the most recent weapons in the authorities' battle against the artists. But
GRL
co-founder
Fi5e
. summed it up, "
.... if the cat ramps up, so does the mouse.
"
The
LED Throwies
cost only
75 cents
to make and continue to glow for
two weeks
. They are one of a growing handful of do-it-yourself street-art innovations that have emerged from the twisted minds of the terrible
GRL
twins since they ramped-up last
February
.
(Another recent revelation is the
Electro-Graf
, an application technique that attaches
LEDs
, tiny
electric motors
, and even
solar panels
& other electrical devices onto a wall using a conductive spray paint. Needless to say,
Electro-Graf-ing
can give your tags a a blinking, or vibrant shine, and even
moving parts
.
Electro-Graphing
will be covered in detail in a future
MIDNITE HOUR
article.)
---
As a matter of general interest, below is another recent publication by an
author
and
publisher
who are among the growing number of people who see a social significance in
graffiti
as an art form -
Belong: A TV Journalist's Search for Urban Culture
by Jennifer Morton
In paperback (2004) ISBN 1894663780




- And now to Bangkok's own brand of Graffiti....
Graffiti #085
Almost Me, Almost You
7 ft high x 7 ft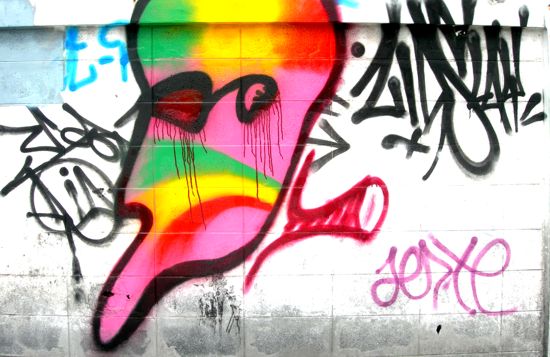 Graffiti #086
Clearing The Tubes
10 ft. high x 8 ft.
Graffiti #087
Corner Tag
3 1/2 ft. high x 5 ft.
Graffiti #088
Haze Days
7 ft. high x 10 ft.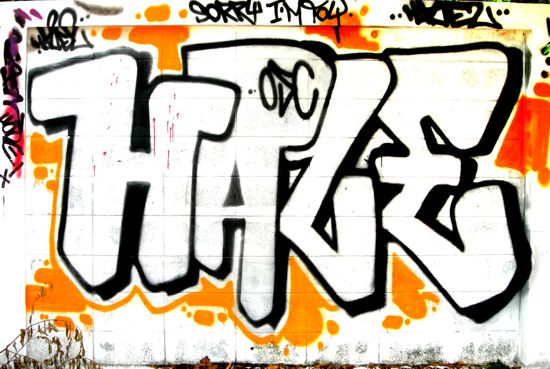 Graffiti #089
Urban Herbie
7 ft. high x 30 ft.

Graffiti #090
Pinched
7 ft. high x 5 ft.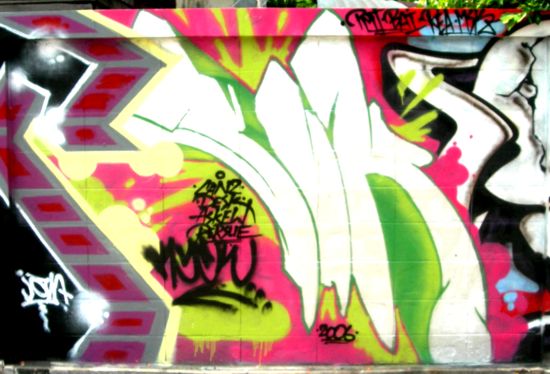 Graffiti #091
Shock-A-Block
10 ft. high x 18 ft.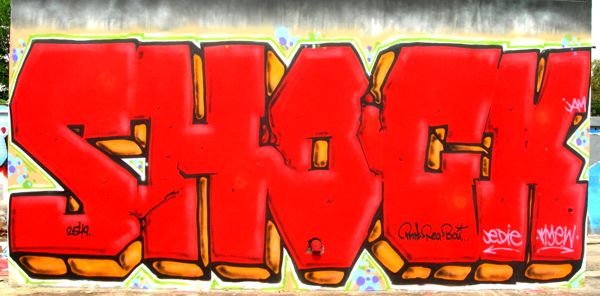 The M IDNITE HOUR Graffiti Page is prepared by Staff Contributor "Boge" Hartman .

(Boge's photo, above, is not a graffiti per-se, although there are those who have insinuated....)




--- Datzit Fernow

William R. Morledge
---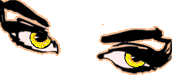 Copyright © Bangkok Eyes / bangkokeyes.com : 2002-2005