are, in fact, joined at the hip. While they have separate entrances, there is also a connecting door at the rear.
is a large late night pub whose closing time is limited only by the lack of imagination of the
.
. They are quite serious about the "
" appearing on their sign. Shake it, don't break it, guys.... For more details, go to
. They are located on the 4th floor in the
pub digs. Welcome them as they wade into

The
Suzie Wong
is now but one of many
Nitespots
that have employed wooden sidewalk extenders (check out the photo below). During the day, the sections of sidewalk are drawn up like so many drawbridges - and the
Soi
returns to it's original width.

SOI COWBOY


It's the hot season, and tourism is undeniably down. The other night
Soi Cowboy's
Nitespots
had more girls out on the street beckoning to passers-by than they did in the bars themselves. This too shall pass.

SOI COWBOY


A quick snack between '
floors
' outside on the
Soi
isn't dampened by the lack of a place to sit. These two
A Go-Go
dancers from
Moonshine Joint
found the
yum woon sen
and shrimp just too delicious to pass up, so they hunkered down right there in front of the food cart, and got stuck into it.

SOI COWBOY


If you are going up to
Spankys
but see it full of workmen, that's because the dancers are temporarily shaking the chrome poles next door in the old
Hog's Breath
. Presently neither location has any neon up, but starting (approximately) today, the two bars should be joined into a single double- wide
A Go-Go
. We are betting they will retain the original
Spankys
neon, some of which is shown below, but we can anticipate some additional
LED
razzle-dazzle like the sister bars on
Soi Cowboy
....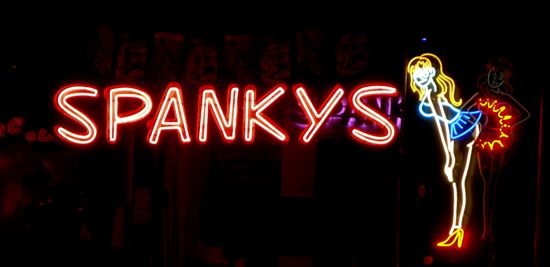 - File photo

NANA PLAZA


We heard it through the grapevine. Someone is opening an unnamed short-time hotel above
Bobby's
now defunct
Pool Boyz Club
....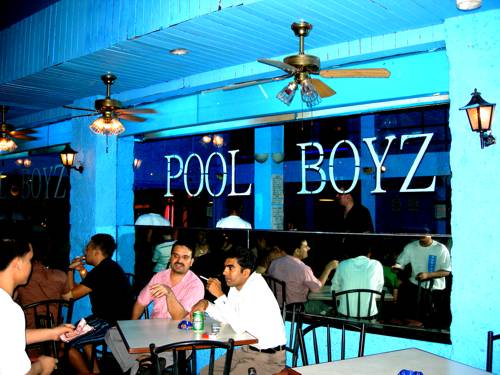 - File photo

SOI KATOEY


We promised you another look at the
La Vogue Club
neon, once they got their archway on fire. This is the view a prospective, usually
Japanese
, customer would see looking down the small lane from the
Soi
, with the
Oshare
on the right. Keep on rollin'.

SOI DEAD ARTISTS - SOI 33


All these (almost 6) months that the
Santana Club
has been closed, they have kept a candle burning in the window - giving hope to passing nightcrawlers that it would once again throw open it's doors and roll out the red carpet. Well, about 3 weeks ago, that is exactly what happened. Welcome them back to the sharkpool.

SOI DEAD ARTISTS - SOI 33


Jack & Betty Massage & Center
has risen from the ashes of the
Miss Phu Ke Massage
, and it looks for all the world that no one even missed a beat.
Jack & Betty
offers the usual array of legitimate and ambiguous services. While we wish
Miss Phu Ke
(read:
Phuket
) a better roll of the dice next time around, it looks like
Jack & Betty
is already off to a successfully slippery start. Let the nightwinds blow kindly.

SOI DEAD ARTISTS - SOI 33


One of the older traditional massage parlors, the
Po Massage
has cashed in it's chips and headed for higher ground (if you don't mind the mixed metaphor). In it's place is the unusually named
Pheeran Massage & Spa
. We can safely agree that the
Pheeran
will be offering a wider selection of massages than it's predecessor. Let's welcome them to partytown.

SOI DEAD ARTISTS - SOI 33


The
Let's Go Bar
, which replaced the
Cupid Bar
last month, has already deep-sixed. This otherwise attractive corner location must have been dobbed with some bad
sanay
- that's two bars opened and two bars closed in just under three months. Next time around, someone had better call in the monks for a couple, three hours' chanting....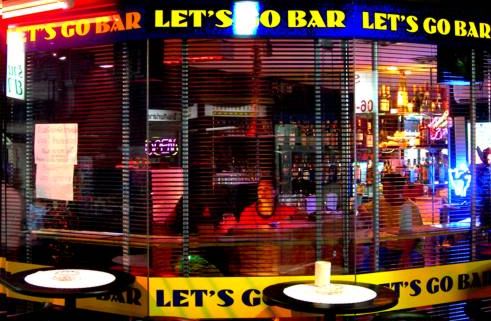 - File photo

QUEEN'S PARK PLAZA - SOI 22


The
Lee Lee Pub & Pool Bar
has foundered in dark waters after a relatively respectable four and a half years' attempt to stay afloat. If you're in the market for a small, comfortable
Pool Bar
, give
Lee
a call at the number below. We hope they find things a little more to their liking a little further on down the road a piece.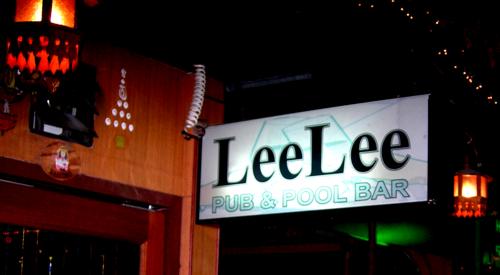 - File photo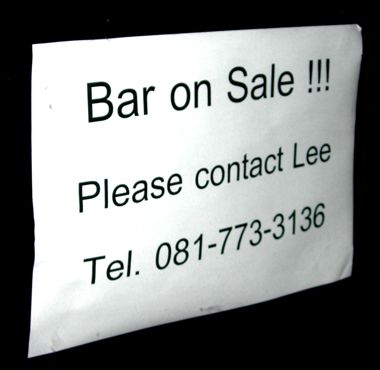 QUEEN'S PARK PLAZA - SOI 22


The other half of the now-defunct
Double Entry Bar
(2nd floor) has just been taken over by the
Relax Bar
, and as is the
modus operandi
for almost the entire 2nd floor, it is a
Pool Bar
. Let's welcome them to
Bangkok's
neon circus.

SUKHUMVIT 1 PLAZA


The
DC.10 #2
wasn't really gone, they were just playing musical chairs (again). No sooner had they moved from the front of second floor to the front of the ground floor, than they moved yet again to what was (last month) the
Angel Bar's
digs. Where does it all end? Nevertheless, we wish them constancy.

SUKHUMVIT 1 PLAZA


The
Lynx
has added some color to their neon - but fear not, all else remains the same -
Pool Bar
being the
prime agendum
.

SUKHUMVIT 1 PLAZA


The
Angel Bar
has, it seems, been bumped from their original digs, and sent packing all the way to the rear - to the area previously occupied by the
Revolution Salsa Bar
. Nevertheless they have survived their relocation to play another day. Rock 'n Roll.

SUKHUMVIT 1 PLAZA


The late-nighter
Black & White
(4th fl., roof), which took over from the original
Josephines
in mid October last year, has stuffed it's last chit in the cup. The doors were bolted and the legal notices were posted in plain sight. Alas, the
Darwinian Imperative
plays no favorites.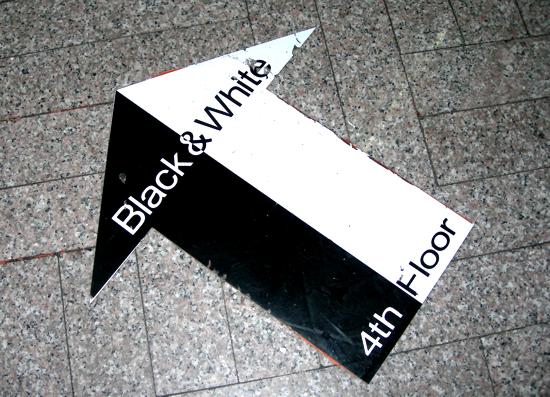 -File photo

SUKHUMVIT 1 PLAZA


The
New Screw Boys A Go-Go Bar
and it's late night counterpart, the
$BM Discotheque
(a.k.a. '
Black Market
') didn't quite make it to the end of their second month - the fat lady sang before they even got all the way out of the chute, figuratively speaking. It happens.

SOI TWILIGHT

---

NO NEWS IS GOOD NEWS DEPARTMENT

---
VICARIOUS ART CRIMES # 19
MIDNITE HOUR's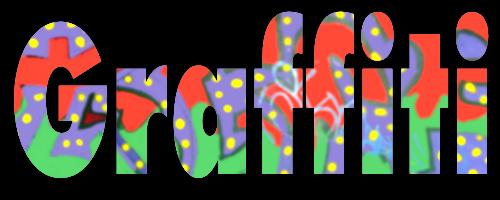 Street Gang Graffiti
THE DARK SIDE OF COUNTER-CULTURE EXPRESSIONISM
If you
Google
"
Gang, Graffiti, News
" you will get how many hits, again? How does "
about 1,130,000
" sound? Incredible, but true. Many of these links headline the ever increasing amount of gang violence and the concomitant increases in
'gang graffiti'
. While most of this 'news' is from the
USA
, to be fair, it is an increasing problem worldwide.
What initially brought this to our attention was a news report saying that there had been an increase in gang warfare in
Los Angeles
, and that the cause of these "turf wars" was over whose
graffiti
got painted over by whom. And who came back to repaint over that
graffiti
with their own
graffiti
all over again.
All of this sounds like so much storm in a teapot until one realizes that people are maimed and killed in the process. Outsiders need to be reminded that a gang's turf has a lot to do with their influence (ego) and their customer base (drugs
=
money, for those needing it to be spelled out).
One 'enlightened'
Police Chief
commenced a policy of removing and painting over all
graffiti
, and repairing all the broken windows. He said if the gangs saw that the community would not tolerate all this graffiti and breaking of windows, then they, the gangs, would stop and become nice people.
Chief
, all I can say is your cranium is in rectal defilade (as we used to say in
Vietnam
).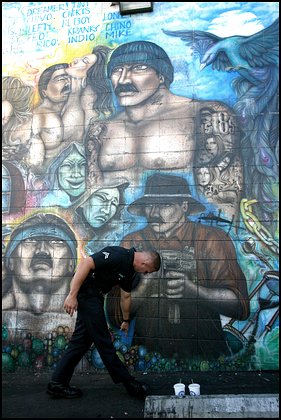 A police officer inspects a large mural idolizing the 18th Street gang in Los Angeles. Contrary to popular belief, much of gang graffiti is in fact quite artistic.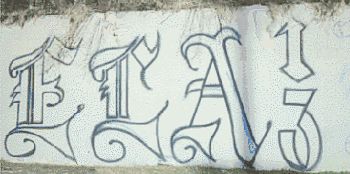 An Hispanic gang marks it's territory outside one of Los Angeles' housing projects. "ELA" is, obviously for ' East Los Angeles', and the number 13 refers to the gang name. Old English script is typical of Hispanic gangs in Southern California.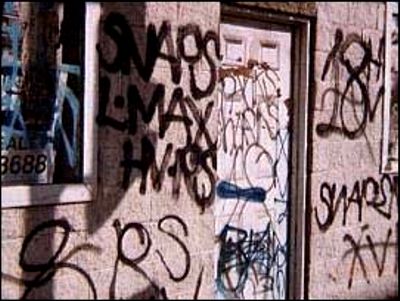 Someone's home stood in the spraycan crossfire; the number "18" seems to be the paint war victor here.
Unfortunately,
gang graffiti
has about as much chance of going away, either by force or by reason, as does any other kind of
graffiti
, Let the municipalities rant and rave, let them spend their weekends removing the 'scourge' of
graffiti
in all it's forms; their chances of success amount to zip.
Read the papers, read the web,
graffiti
is on the increase, whether we like it or not. And while much of
counter-culture expressionism
comes from the spraycan alone, and doesn't have a violent counterpart, there is a very real, and highly visible component that is directly linked to violence. It is therefore unavoidable that the words, "
gang
" and "
graffiti
" are often thought inseparable, joined at the hip, as it were.


- And now to Bangkok's own brand of Graffiti....
Graffiti #127
Panelwork
6 ft high x 20 ft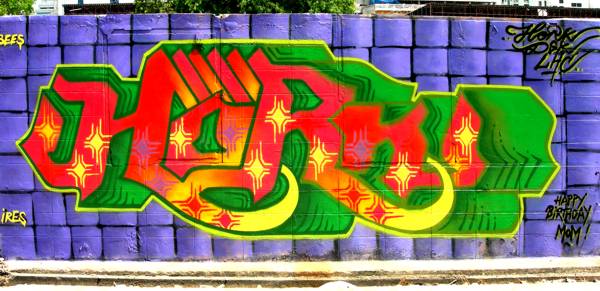 Graffiti #128
Hoop
10 ft high x 18 ft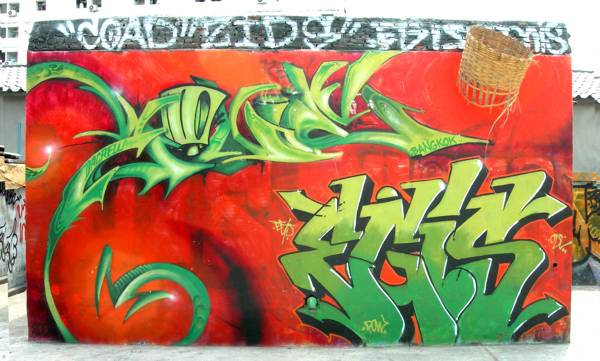 Graffiti #129
Messin' 'Round
10 ft high x 8 ft.
Graffiti #130
Pink Manah
10 ft high x 15 ft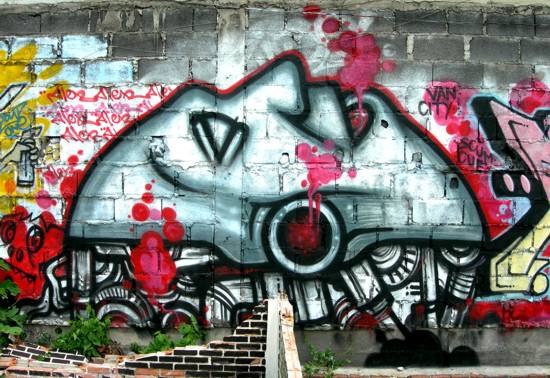 Graffiti #131
Popcorn Coup
10 ft high x 12 ft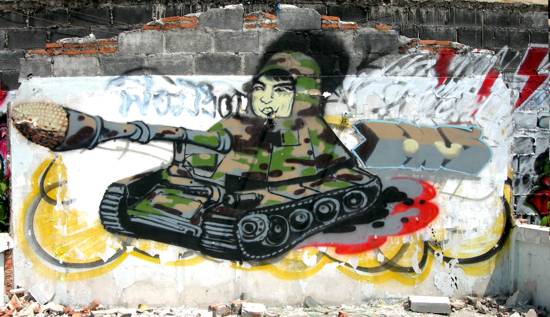 Graffiti #132
Quick 'N Dirty
6 ft. high x 9 ft.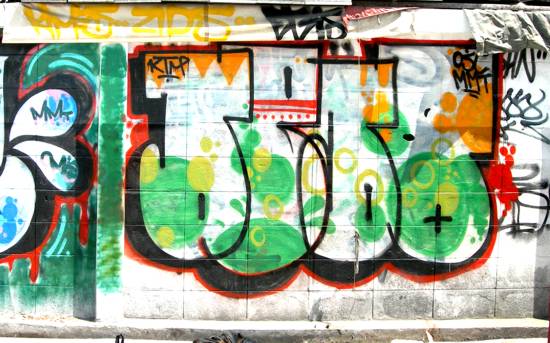 Graffiti #133
Talk-About-It
8 ft. high x 15 ft.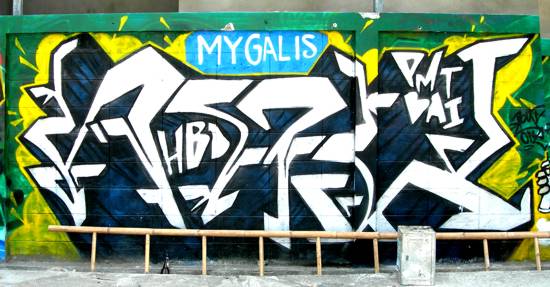 The M IDNITE HOUR Graffiti Page is prepared by Staff Contributor "Boge" Hartman .

(Boge's photo, above, is not a graffiti per-se, although there are those who have insinuated....)