neon for the historical archives....
streets of shame for any length of time in the late evenings will likely have seen this most unusual person, and her tattered half-pack of
cards. &nbspAround about midnight on the weekend we caught her taking a quick cat nap at her usual spot on
.

A welcome change at the
Bangkok Bar
- they now have
A Go-Go
dancing -albiet a more subdued variety than found in the various chrome-pole emporia. This way they can get away with calling it "
Coyote Dancing
", don't you know. Hey, what ever gets them through the night. (You may have noticed that the young lady front and center is our June "
Smile
" awardee.)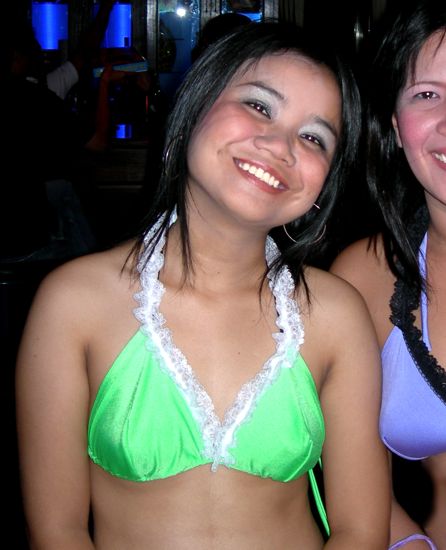 - Photo with permission

PATPONG

II



Let's welcome the
XXX
Bar, which has much the look-and-feel of
The After
Bar which occupied that very same bit of real estate last month. Which has everything to do with who owns what after they sorted out why they now have a very prominent drug warning on the door. Don't ask, don't tell. They are located 4th floor,
Cosmo's
stairwell. The joined-at-the-hip
Sisters
, however, is still going full-throttle.

PATPONG

II



Just barely (softly) opened, and tentatively called
New Steve's Bar
, they are the new kids on the
Patpong II
block. They have taken over half of the
Bar Bar
'
sa-dit
' bar. We welcome them to the neon machine.

PATPONG

II



The fat lady sang rather abruptly last month at the venerable old
Trade Winds Pub
. By the time we got there, the place had been stripped - including their signage. All that remained to indicate they had even existed was this painted sign on the wall. Saaay, do you think the reason they went out of business was because their prices were a little too low? As we have oft said, Darwin plays no favorites. Ashes to ashes, so be it then....

PATPONG

II



Pam's Cocktail Lounge
was from another era - the era of the
Loretta's Bar
and the original
Cowboy's
- back before
Soi Cowboy
was an international name in
Night Entertainment
.
Pam
had been hinting around at retiring for some time, perhaps hoping that her offspring would take up the gauntlet. But that wasn't to be - the offspring now having opened a restaurant in another part of town. So, finally, after these decades in the 'bar business', the call of retirement became irresistible. She has sold out lock, stock and chrome barstool to the next door
Baccara
. Renovations are under way as we speak. As that era ends and a glitzier Las Vegas-like era ramps up, we wish a fond farewell to
Pam's Cocktail Lounge
and, of course, we also wish
Pam
greener pastures.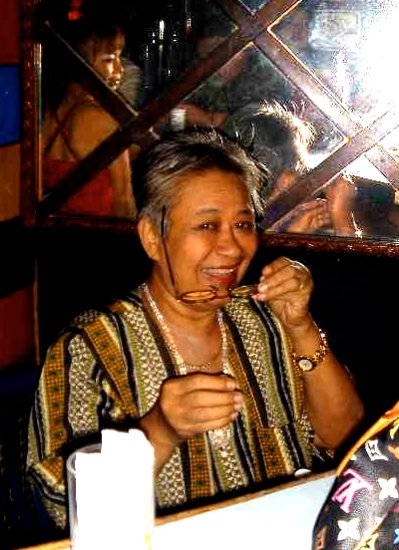 - Photo: Courtesy ATM Charlie
The years have been kind to
Pam
, as she smiles for what was perhaps the last photo of her in the bar. This photo and the next three were taken on 28 May 2007, the night
Pam's Cocktail Lounge
closed it's doors for good. Reader and contributor
ATM Charlie
has kindly given us permission to use these photos on this month's
Midnite Hour
.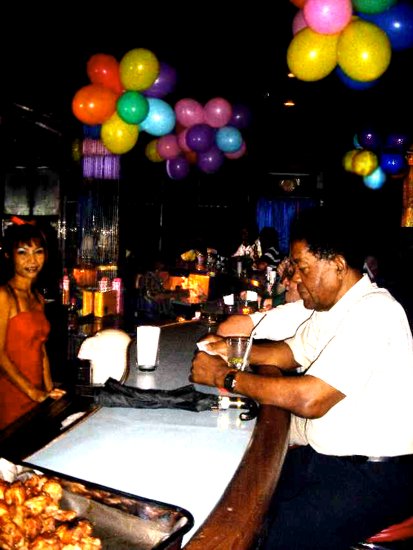 - Photo: Courtesy ATM Charlie
Closing night was happy and sad - a 'beers and tears' affair. But there were a lot of good snacks and beverages to be had. And, not mentioning any names, but that gentleman at the bar, the one sitting front-and-center, has been around these parts as long as
Pam
herself.... Good to see a few of the old hands made it by to wish
Pam
well.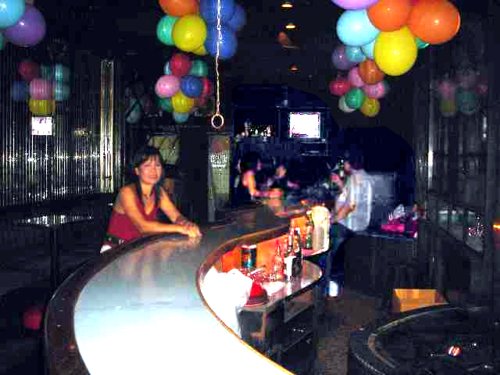 - Photo: Courtesy ATM Charlie
This photo gives us a last look at interior of
Pam's Cocktail Lounge
before the well-wishers and friends began to arrive.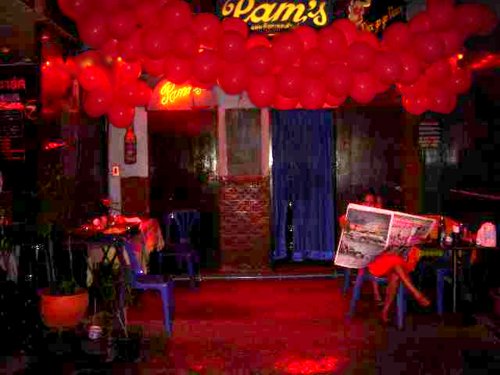 - Photo: Courtesy ATM Charlie
Pam's Cocktail Lounge
on closing night, as seen from outside
Soi Cowboy
. This photo taken, presumably, early in the evening before the celebrations got under way.
For those of you who didn't have a chance to get to know
Pam's Cocktail Lounge
, this probably says it best...
The old original sign is still in place; we wonder how long it will stay there unnoticed.

SOI COWBOY


Cat House
has popped back out of the crypt and are continuing to march as if they hadn't closed down last month. Welcome back to the same-old same-old. We do note however, that they have a way with signs. It's not a good way, but it's a way. The last time they set out to repair their broken neon ....well, see for yourself.........
BEFORE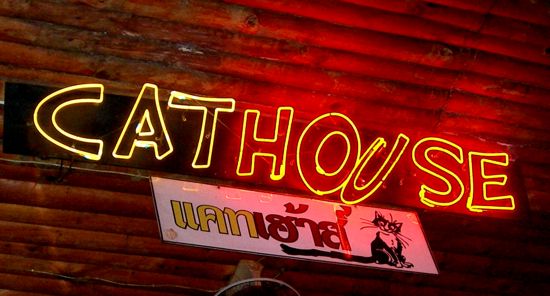 - File photo
AFTER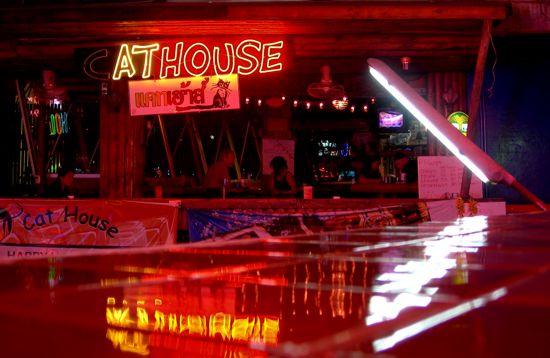 NANA PLAZA


We noted last month that the
Silver Dragon
was closed for renovations. As we passed by this month, we were pleased to see that they had once again thrown open the door and rolled out the red carpet. But the lovely PR girl noted that it was no longer the
Silver Dragon
- it had been absorbed by the parent
Mandarin
, just upstairs. Still one big happy family, however. Keep on keeping on.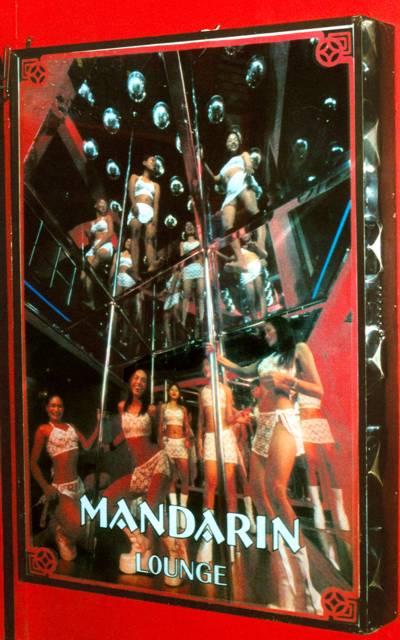 - File photo

NANA PLAZA


You may have noticed on
Noriega's
sign where it says,
"Food 'N' Drink"
and
"Live Music"
. They aren't kidding - plenty of both last night, as their house party swelled to the point of explosion, and became a street party. Rock on.

SOI &nbspKATOEY


SOI DEAD ARTISTS &nbsp



MAP




33 Center Massage
are showing off their brand-new neon - and we have to admit, it's looking good. Here, ambiguity is the name of the game. If an 'ambiguous' massage is your game, you've come to the right place.

SOI DEAD ARTISTS - SOI 33


As the new sign looks almost identical to the old, we almost didn't notice that
CK's Sports Bar
had become
Powelly's Sports Bar
. Same good service, as well. Welcome them to the Big Uneasy.

SOI DEAD ARTISTS - SOI 33


Bacchus
have a new bit of neon up, as well as some new hostesses. The rock still rocks, however, and the roll still rolls.

SOI DEAD ARTISTS - SOI 33


Doug
, from
Bourbon Street
, has been trying to get his Cajun food mural to work for about two years now. But this time, we think he's done it (partial shown below). You will be able to view the entire mural when you drive up - its on the back of the old
Washington Theater
just opposite. Still the best
New Orleans
chow in
Thailand
.

WASHINGTON SQUARE


The Garden Spa
have been quietly doing their soapy-steamy thing for years at the back of
The Square
, and, until now, we have not yet made note. Now seems as good a time as any to make said note - if only for the historical record. &nbspKeep on slippin' and a-slidin'.

WASHINGTON SQUARE


The
Sweetheart Bar
wasn't dead, it was only playing 'possum. And we (below) can prove it. After seeing them closed down last month, it's good to see them back at the tap.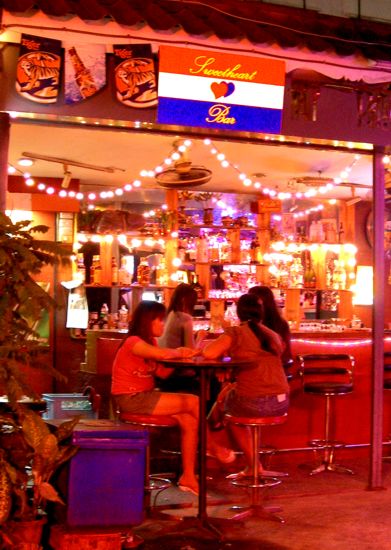 - File photo

QUEEN'S PARK PLAZA - &nbspSOI &nbsp22


Part of the success of a
Night Entertainment Area
is having an ambiguous massage parlor in it's midst. The
Queen's Park Massage
fills the bill - you need look no farther. Note: outside service is available.

QUEEN'S PARK PLAZA - &nbspSOI &nbsp22


No news is good news, except when the rain keeps the customers away.
Soi Eden
was quieter than usual as we passed by during one of the almost daily showers we have been getting - now that the monsoon season is getting ready to, well, get ready.

SOI EDEN


SUKHUMVIT &nbsp1 PLAZA



MAP




The
Funny Bar
went down for the count last month, however they did manage to get out from under it all by off-loading the whole shebang to the
Get Lucky
. We hope the runes, against all odds, will rattle auspiciously for the newcomers.

SUKHUMVIT 1 PLAZA


The
Alibi Cocktail Bar
, open only a couple of months, have already been rent asunder. Alas, the
Darwinian Imperative
cares naught of who makes it, who tumbles headlong into the Abyss.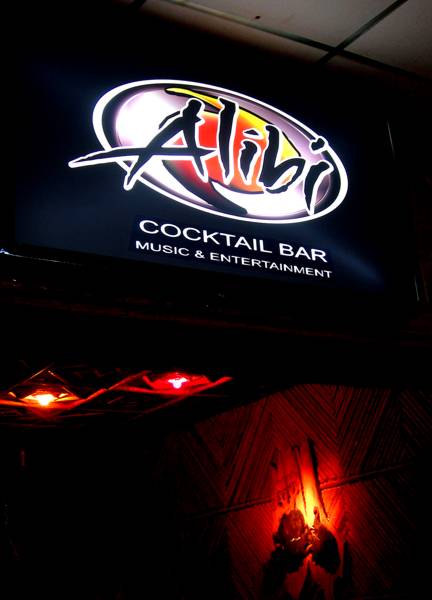 - File photo

SUKHUMVIT 1 PLAZA


The
Relax Bar
no sooner rolled out the red carpet and unlocked the liquor cabinet, than they rolled the carpet back up and, not only relocked the liquor cabinet, but took it home with them. Normally a bar setting up for business will plan to have a few slow months at the start - someone must have forgotten to read their
Business Plans For Dummies
.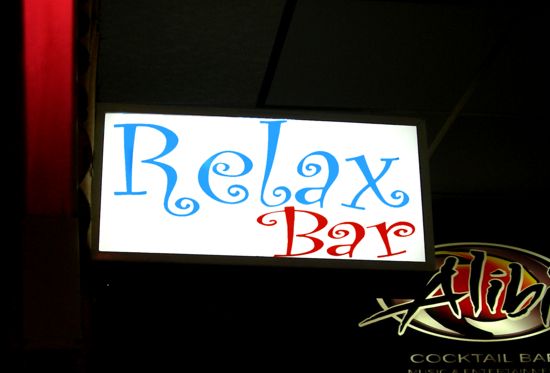 - File photo

SUKHUMVIT 1 PLAZA


The
Angel Bar
has had a rough ride of it. They started out in a good location, and were bumped to all the way in the back, where the only foot traffic they saw was someone on the way to the can. The inevitable happened (does it ever not?) - they stuffed the last chit into the cup this last month. Hopefully they will find things a little more to their liking a little further on down the road a piece.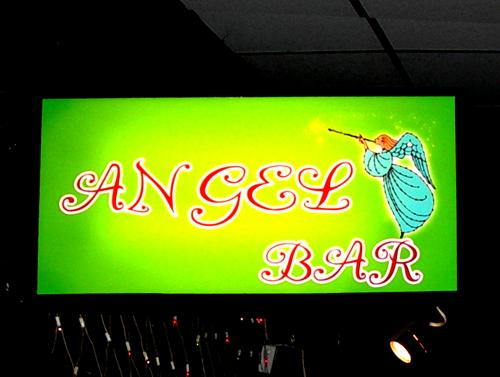 - File photo

SUKHUMVIT 1 PLAZA


The
New ScrewBoy X
is, as one would imagine, the old
Screwboy
from deeper in the
Soi
(formerly above the
5 Star
). They have taken over the reins from the
Fresh Boy
, as of last month. Business as usual.

SOI TWILIGHT

---

NO NEWS IS GOOD NEWS DEPARTMENT

---


---
VICARIOUS ART CRIMES &nbsp# 21
MIDNITE HOUR's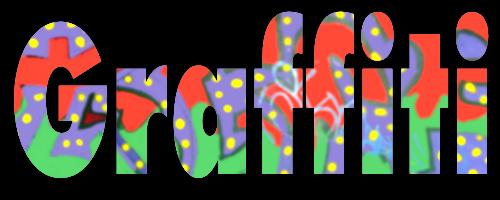 Graffiti Rock
Becomes Freedom Rock
WHEN GRAFFITI IS NO LONGER GRAFFITI
By
John D. Banusiewicz
American Forces Press Service
WASHINGTON, Nov. 17, 2003
- Something about a 12-foot-high, 56-ton rock north of
Greenfield, Iowa
, must scream "
Paint me
!" to the artistically inclined. For years, it played host to teenagers' graffiti as it stood sentry next to
Highway 25
, about a mile south of the
Greenfield
exit off
Interstate 80
in
Iowa
.
Ray "Bubba" Sorensen II
, 24, now of
Des Moines, Iowa
, grew up in
Greenfield
and had seen the rock countless times. Until 1999, if the rock was calling him to paint it, he wasn't listening. But then he saw the
Tom Hanks
film "
Saving Private Ryan
," and soon he answered the call.
"It was right around
Memorial Day
, and I was driving by that rock and wondered what it would be like if I actually took the time to go out there and paint it," he said in a telephone interview. "And so I painted it with the flag- raising at
Iwo Jima
." He included the inscription, "Thank you, veterans, for our freedom" with his depiction of the famous World War II image.
"I got such a huge response that I kept painting it,"
Sorensen
said. "I've been painting it for the last five years with tributes to veterans on
Memorial Day
."
A rural road on the
Great Central Plain
might not seem to be a venue that could bring worldwide renown to an artist, but
Sorensen
said he gets anywhere from five to 15 e-mail messages every day from all over the world expressing admiration or thanks for his work. Photos of the rock are posted on at least 10
World Wide Web
sites.
But seeing the rock on the Internet wasn't enough for one
Maryland
man,
Sorensen
said. "He had seen it (on a Web site) right before he had to go to a wedding,"
Sorensen
said. "He didn't really have time to research who did it or where it was."
Sorensen
said the man later sent an e-mail message to his friends, offering to cover the expenses for a visit to the rock with him if someone could find it for him. "Somebody got back and said it was in
Iowa
,"
Sorensen
said, adding with a chuckle that "he didn't realize it was that far away" when he made the offer. "But he kept his word,"
Sorensen
said, "and drove out one weekend from
Maryland
to see the rock."
Though the rock had been festooned with ever-changing graffiti for more than 20 years, only once in the nearly five years since
Sorensen
started painting the rock has his work been vandalized A 60th anniversary tribute to veterans of the
Pearl Harbor
attack was defaced just a few weeks after it was finished. The vandal,
Sorensen
said, got a punch in the face from a
Vietnam War
veteran for his trouble, and vandalism has never again been a problem.
Sorensen
said that although he never has served in the military, he always has been patriotic, and he hopes his work makes veterans and military members feel appreciated. He said he had planned for this year's tribute -- which features the
Prisoners of War
and
Missing in Action
flag, the
U.S. flag
, and various patriotic scenes and quotations -- to be the last. "But I've got such a huge response from so many people who want me to keep doing it, I know I'm going to do it at least one more year," he said.


- And now to Bangkok's own brand of Graffiti....
Graffiti #141
Checkerboarder
7 ft high x 24 ft

Graffiti #141-A
Humvee
7 ft. high x 12 ft.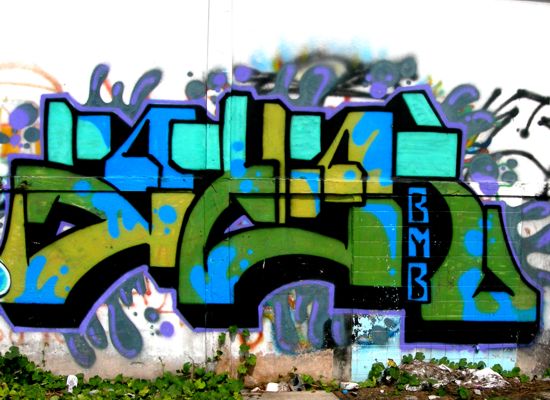 Graffiti #141-B
Front Loader
7 ft. high x 12 ft.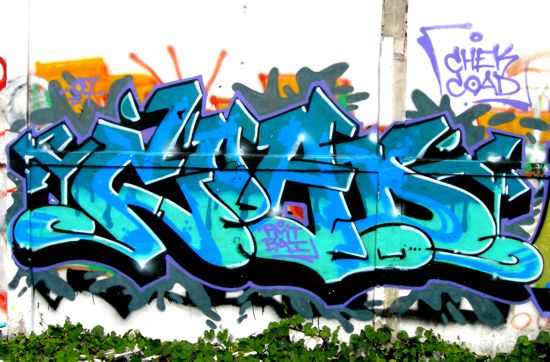 Graffiti #142
Double-Jointed
8 ft high x 24 ft

Graffiti #143
East Wall
8 ft high x 41 ft.
Graffiti #143-A
Gopher Gasper
8 ft high x 15 ft
Graffiti #143-B
Hippo Bones
8 ft high x 15 ft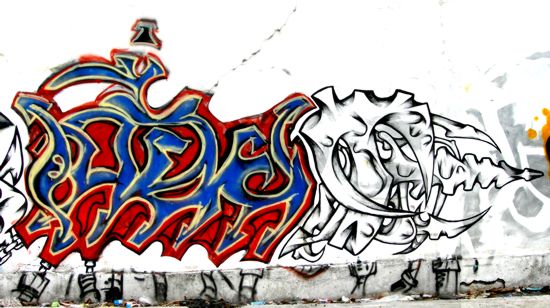 Graffiti #144
Pork Trotter
7 ft. high x 15 ft.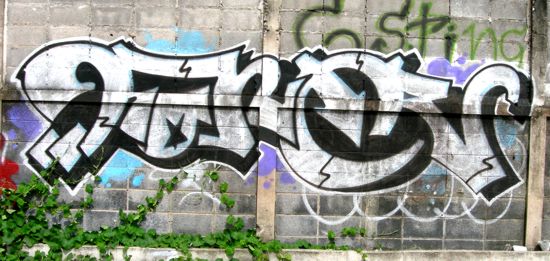 Graffiti #145
Silver Grape
7 ft. high x 11 ft.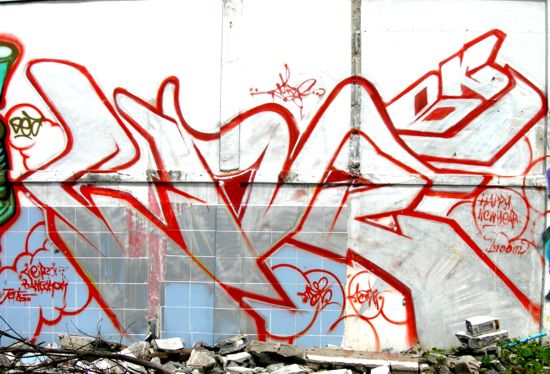 Graffiti #146
The Taker
7 ft. high x 17 ft.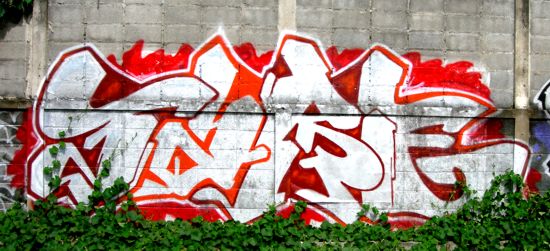 &nbspThe M IDNITE HOUR Graffiti Page is prepared by Staff Contributor "Boge" Hartman .

(Boge's photo, above, is not a graffiti per-se, although there are those who have insinuated....) &nbsp




--- Datzit Fernow

William R. Morledge
---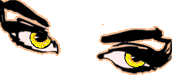 Copyright © Bangkok Eyes / bangkokeyes.com : 2002-2005