In recent weeks, virtually every news publication in
Bangkok
has covered the story of the
Soi Wanglee
redevelopment controversy. And had it not been for this latest media flurry, the
Soi's
destruction, including the destruction of
Bangkok's
first ever
licensed bar, the
Prasitipol Dance Bar
would have certainly gone unnoticed.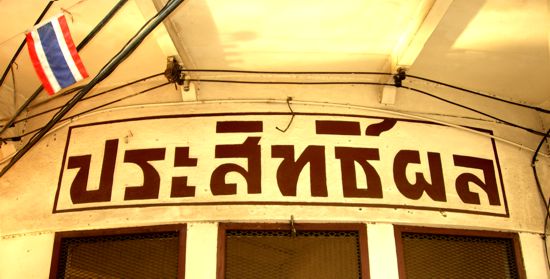 The sign above the door reads, "Prasitipol". It sits at the corner of Charoen Krung and Soi Wanglee, and is one of a very few shops that hasn't already been shut down and gutted in preparation for the proposed redevelopment.

SOI WANGLEE - CHAROEN KRUNG 52

What unfolds is a story of greed and a certain amount of irony.
Soi Wanglee
is now owned by nearby
Wat Yan Nawa
. The wat's Abbot originally intended to tear down the entire
Soi Wanglee
all the way to the riverfront and construct a high rise 5-star hotel. This would require, in part, the destruction of the two rows of historic architecture lining
Soi Wanglee
.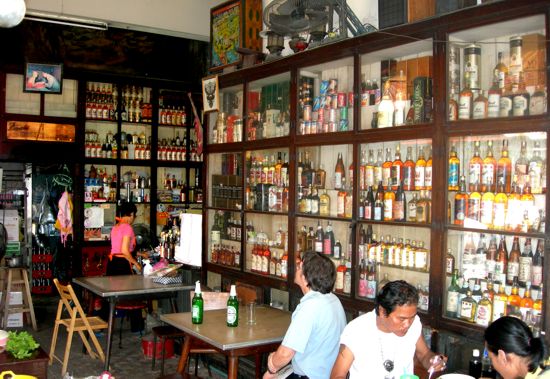 The only currently functional part of the Prasitipol is what was, quite obviously, the bottle shop. After the nighttime activities ceased, it was reportedly a coffee shop. It now is a noodle shop.

SOI WANGLEE - CHAROEN KRUNG 52

The
Soi's
occupants have argued from the outset that the buildings should be restored, not torn down, and that the
Soi
should be made into a "walking street", thereby preserving the architecture, and giving
Bangkok
a permanent showplace - a 'living museum'. It would be a commercial tourist draw - a peek back in time to the "
Old Bangkok
" - just as was successfully done in
Singapore
and other locations.
And somewhat surprisingly, the
City of Bangkok
rebuffed the
Avaricious Abbot
of
Wat Yan Nawa
on his mega-master plan by invoking an ancient law - they said that he would
not
be allowed to build his high rise hotel in any case, as no building could be built near a wat which would be higher than that wat - and that included the
Avaricious Abbot's
own (nearby) wat. We at
MIDNITE HOUR
say,
'som nam nah'
.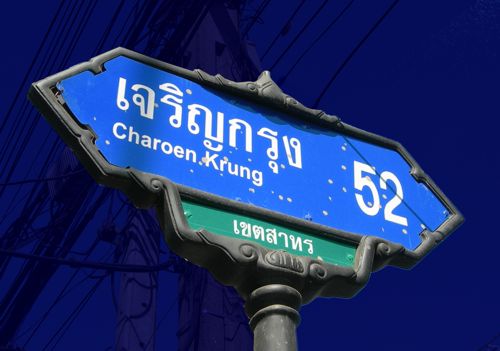 Charoen Krung Soi 52 is Soi Wanglee. The new signage by the BMA has omitted the traditional name, for whatever reason.

SOI WANGLEE - CHAROEN KRUNG 52

But the
Avaricious Abbot
was not through fighting. In spite of the additional recommendations submitted by the
Fine Arts Department
to the effect that the area was "
rich in historical value
", and in spite of the native born occupants of
Soi Wanglee
having a new master plan drawn up to demonstrate the possibilities and advantages of 'renovation' rather than 'destruction', and in spite of attempted community meetings with the
Avaricious Abbot
, he has, to date, refused to reconsider his decision to build anew.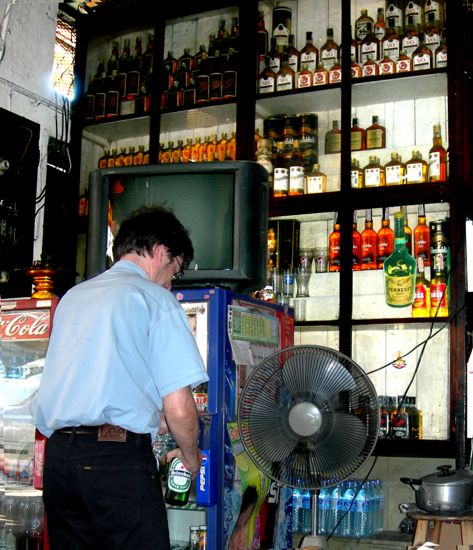 You can still get a cold beer at the Prasitipol, but quite often you have to get it yourself. Obviously things have remained casual there through the decades.

SOI WANGLEE - CHAROEN KRUNG 52

The
Avaricious Abbot
said that if he couldn't have his hotel, he would still destroy the historic 2- and 3-storey shophouses at
Soi Wang Lee
, and construct new 4-storey shophouses instead - the shophouses being just short of the height of his wat. Most simply said another way, he would be getting less money building the 4-storey shophouses than if he were able to build the hotel. But he would be making a lot more money building the 4-storey shophouses than if he were just to allow the renovation of the historic buildings.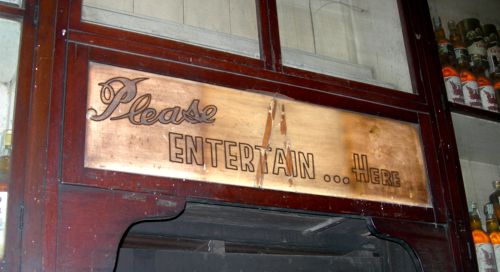 Only recently a clock was removed from the center of this sign (note lighter area) - giving us a serendipitous glance back in history. The real nightlife didn't start until you passed through this doorway, where musicians played upstairs and there was a long teak bar.

SOI WANGLEE - CHAROEN KRUNG 52

But alas, and great shame, the
Avaricious Abbot's
memory is short indeed - he forgets that this very same
Chinese
community at
Soi Wanglee
was instrumental in raising money for the impoverished wat at the end of
World War II
. -And now, if he ultimately has his way, he, effectively, will be driving them from their family homes and businesses. It appears to be yet another case of, while blood is thicker than water, money is thickest yet.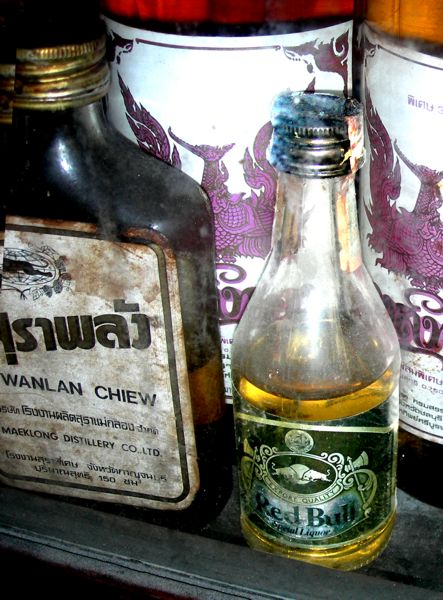 Would anyone like an Export Quality Red Bull "Special Liquor", or a bak of Wanlan Chiew from the Maeklong Distillery? As they are assuredly decades past their shelf-life, we are not recommending it - but these are just a few examples of what may be seen on the Prasitipol's shelves. This just may be Bangkok's only 'museum of distilled spirits'.

SOI WANGLEE - CHAROEN KRUNG 52

The
Prasitipol Dance Bar
, or what was the
Prasitipol Dance Bar
, is in one of the remaining shophouses on
Soi Wanglee
that hasn't yet been stripped out in preparation for demolition. It was in it's heyday some fifty years ago, before
Bangkok
had a "scene". At that time, the
Yan Nawa District
was the major port and customs area, and as a result, it was where the 'waterfront bars' were.
Night Entertainment Venues
were thinly scattered from the
Wanglee Wharf
in both directions along
Charoen Krung Road (New Road)
. But what little nightlife there was, was low-key in comparison to today's standards, and certainly bore no resemblance to the
Night Entertainment Areas
that started springing up in the
1960's
.
In
1951
, the new port facilities and customs houses were opened further downstream in
Klong Toey
, and it wasn't long before the waterfront bars were either moving down or springing up anew there. But in spite of the shift, the
Prasitipol Dance Bar
kept a full head of steam for several years.
The current owner,
Khun Lephin
, 62, has memories of the
Dance Bar
from her youth - she recalls that the customers were a mixture of locals and
farang
, and if a customer wished to get to know one of the ladies working there, he would buy a dance ticket, private-dancer-style. There was also a long teakwood bar where all were served, and live music - often provided by
Khun Lephin's
two brothers.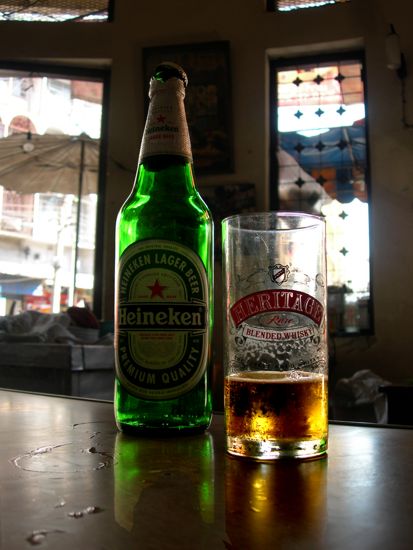 We couldn't help ourselves - we had to photograph what may actually be the last beer served at the Prasitipol before the wrecking ball careens in through the exterior wall. (But we hope not - with all the recent interest generated by the Press, it is likely there will be many more such 'last beers' served there.)

SOI WANGLEE - CHAROEN KRUNG 52

BANGKOK EYES
is first and foremost an historical website, and we have no intention of hiding our bias regarding this ongoing controversy. We can see no justification whatsoever for destroying the historically significant
Soi Wanglee
and the
Prasitipol Dance Bar
, other than the financial aspirations of an already wealthy, well-patronaged wat and it's avaricious abbot. Would that common sense prevails, and let the greed of those whose lives should be above greed, take the hindmost.


---
Year of the Pig
After almost walking past the unpretentious entrance, and after wading through a sea of red paper flecks from spent firecrackers, we came upon a beautifully crafted
Chinese Temple
in
Yan Nawa District
of
Bangkok
. It was apparent they went to a great amount of preparation and ceremony to usher in the
Chinese New Year - Year Of The Pig
this last month.

CHAROEN KRUNG ROAD


---
Soi 8 Neon Review

- BUT WILL IT REACH CRITICAL MASS ?


Sukhumvit Road's Soi 8 has been growing over the last three years, to include some large and well appointed Night Entertainment Venues (and a few choice restaurants - which we do not include in our surveys).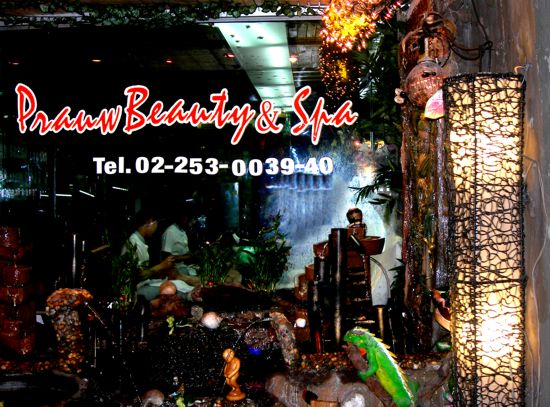 The Praew Beauty & Spa has been around for several years, walking point for Soi 8. And while it is 'traditional' massage, there can be, at times, some ambiguity.

SOI 8 - SUKHUMVIT RD

But virtually all of the growth has been
Massage Parlors
- and while these
Massage Parlors
do qualify as
Night Entertainment Venues
in the absolute sense, they do not contribute significantly in tipping the balance in favor of reaching a "
Critical Mass
".
As you may have seen in these columns before, a
Night Entertainment Area
reaches
Critical Mass
when the number of
Nitespots
reaches about a dozen, and to be considered a "
Night Entertainment Area
" the
Night Venues
must lie in a relatively contiguous area - for example, the bars spread out along the length of
Suriwong Road
could not be considered to be in a single
Nitespot Area
, simply because they are spread out too thinly.

SOI 8 - SUKHUMVIT RD

Further, for a group of
Nitespots
to be considered as a
Night Entertainment Area
, the area itself would have to be such that night crawlers such as ourselves could go there and spend an entire evening in, say, several different venues.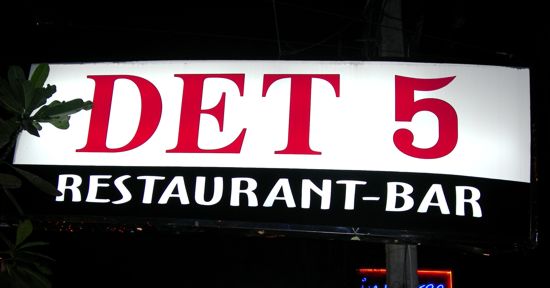 The Det 5 has successfully made the 'step-up' from their former long-time digs at Tobacco Road (Soi Zero).

SOI 8 - SUKHUMVIT RD

So then,
Soi 8
doesn't quite measure up to the criteria - a fun place to visit, to be sure, but one would be hard-pressed to spend an entire evening there. So, then you ask, 'Will it ever reach
Critical Mass
, and if so, when?" Well if we were to take an educated guess, barring yet another swing of the
Purichaian Pendulum
(on whether or not the crackdown mentality returns),
Soi 8
will likely 'come of age' in the next two years, or so.

SOI 8 - SUKHUMVIT RD

The
MIDNITE HOUR
will be keeping our midnight eyes peeled, and will go back to
Soi 8
for regular updates - and we will, of course, be keeping you informed. Follows are photos of the remaining
Soi 8
Night Entertainment Venues
.
Door Art Of The Month
Award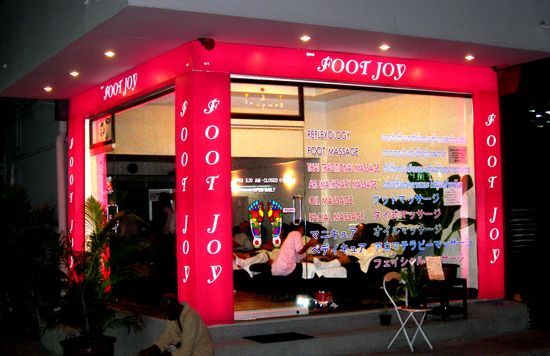 The
Foot Joy
massage has been on
Soi 8
for years, however recently they have moved across the street to their new digs. Their 'door art' is minimalist, to be sure, but the thing that caught our eye this month was that the entire exterior of the place is
all sign
- to include the floor-to-ceiling windows.

SOI 8 - SUKHUMVIT RD


SOI 8 - SUKHUMVIT RD


SOI 8 - SUKHUMVIT RD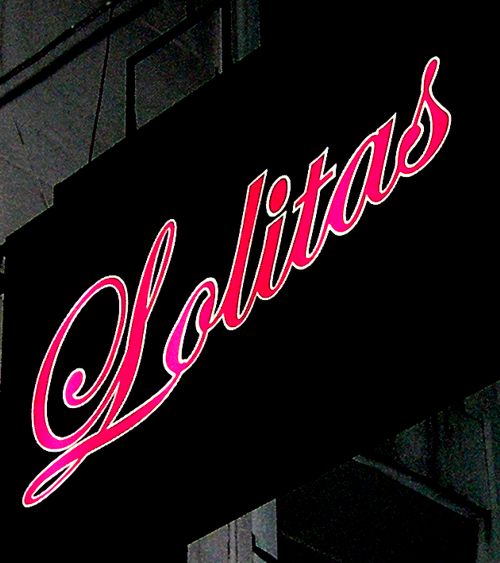 Lolitas, known for specialty services, was born in Sukhumvit Corner Night Entertainment Area, but when the area was torn asunder by unscrupulous real estate developers in December of 2004, and then, incredibly, again in February of 2005, Lolitas relocated to Soi 8 as 'refugees'. It, however, was the beginning of their 'success story' - they now have other successful branches here and in Pattaya.

SOI 8 - SUKHUMVIT RD


SOI 8 - SUKHUMVIT RD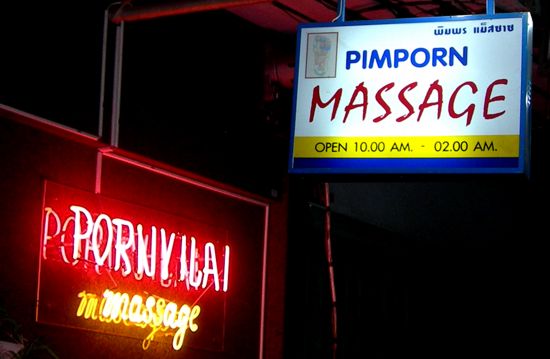 Looking out towards the main soi, the Pornvilai Massage, appears to have two names & two signs. But the Pimporn Massage has moved up and around the corner, out of the subsoi.

SOI 8 - SUKHUMVIT RD


SOI 8 - SUKHUMVIT RD


SOI 8 - SUKHUMVIT RD



---

Historical Minutiae Dept.
ASK US (ALMOST) ANYTHING


LM:
I've read you for several issues, and when you are covering a new bar opening, you seem to always have some quip about "Welcome to Shark Pool", like that. Are you really so cynical? Is opening a bar in
Thailand
really such a big worry?
MH:
Yes.
Yes.
(The above is one of several similar queries.)
---
? ASK US (ALMOST) ANYTHING !
We can answer virtually any (reasonable) question on the Expat Night Entertainment Scene in Bangkok - be it Historical or very recent. Send us an e-mail and we will do our best to answer you soonest.

'Boge' Hartman
Historical Research
* Zootramp Publications


---


- In the LAND OF SMILES -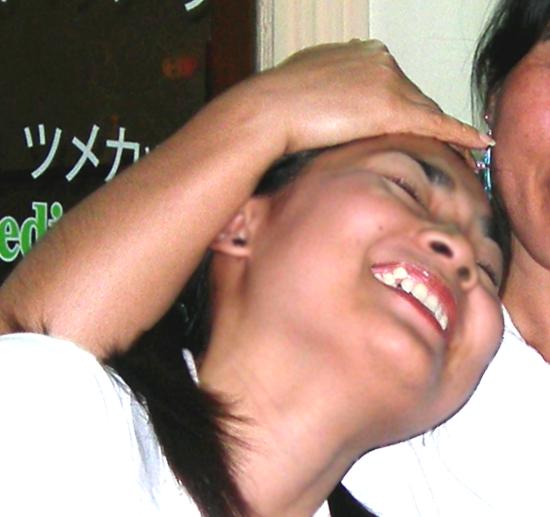 This month the MIDNITE HOUR awards the "Thai Smile" a slightly camera-shy masseuse on Soi 22.

---
---
---

Let the March 2007 Follies begin...
MIDNITE HOUR presents our monthly recap of the
NEWS on Bangkok's Expat Night Scene.


The
Funky Dojo
had some wild and very intense lights reflecting through the neighborhood this last week. Keep it up.

PATPONG I


Lolitas
, true to the rumor, has moved into the old
Spankys
(which was
Mike's Place
decades ago). No change from previous
Lolitas
formats. Wish them all the best as they try their luck uptown on the
Street of Shame
.

PATPONG

II



The
Pink
is once again flashing their "
Pink Panther
" sign - the one that periodically gets them in trouble with the
Sign Gestapos
. (And how we wish it was
The Pink Panther
....) Let's see how long it will be before the next crackdown on copyrighted signs comes.... We also took note that their
coyote dancing
theme has faded into the sunset (?)

PATPONG

II



S.T.V. Beer Bar
has been around for ages, but until now they haven't had any proper neon. (They also have a small sign - harkening back to a former age - which identifies them as the
Memphis Queen
.) Keep on keeping on....

PATPONG

II



In that
Spankys
is combining with the old
Hog's Breath
, we thought it prudent to make record for the historical archives of their neon as it stands today. When they finish with renovations on the old
Hog's Breath
, they will move over from
Spankys
and start work on renovations there. When those renovations are complete, the partitition between will be removed, making it a double-shophouse. As things stand today, they will retain the "
Spankys
" name.

NANA PLAZA


The
La Vogue Club
, good at their word, had new neon nailed up and all aglow when we passed by last night (see last month's issue). However, their neon remains a work in progress - they are currently installing neon over their archway at the entrance to the parking lot - we'll try to shoot that at a later date for the historical record. Although "
Orientation Oriental
" the girls at the
La Vogue
were beckoning our
farang
faces in for a drink or two. Let the good times roll.

SOI DEAD ARTISTS - SOI 33


And while we are on the subject of new neon,
The Office Bar & Grill
has nailed up their new shingle - just above the old one. Rip it up.

SOI DEAD ARTISTS - SOI 33


Mojos
probably holds the world's record for having broken neon - there is always something wrong with their signage. ...But not last night, last night they had their
Mojos
workin'.....

SOI DEAD ARTISTS - SOI 33


The ghostly blue glow coming from within the boarded-up, locked-down, barred-windowed
Papa
is what looks like a brand new hunk of neon. Could it be they will soon be a reinvented
Papa Pub
? We'll put a marker down on this one, and get back atcha.

SOI DEAD ARTISTS - SOI 33


The
Let's Go Bar
has replaced the
Cupid Bar
at the right hand corner of the compound. Welcome them to the briarpatch. Let's hope the fates deal them face cards up.

QUEEN'S PARK PLAZA - SOI 22


The
Double Entry Bar
(2nd floor) has hit the road, Jack, and they won't be comin' back no mo'. But filling the vaccuum immediately is the brand new
Alibi Cocktail Bar
. Let's welcome them to the
Big Uneasy
.

SUKHUMVIT 1 PLAZA


The
DC 10 #2
is but a ghost of January past - they didn't even leave a forwarding address. Meanwhile,
Junk Bar
from the 2nd floor has jumped downstairs to take over the reins. Other than dropping "
Bar
" from their name and adding a pool table, all else remains the same. Although you were never really gone, welcome back to the same old same old.
-File photo

SUKHUMVIT 1 PLAZA


New to the boy's soi is the
Red Massage
. This is the second massage for men by men on the soi, after the
Bunny Massage
.

SOI TWILIGHT


One of the more upmarket
Nitespots
to have stood the test of time is the
Q Bar.
They are all the way down at the end of
Sukhumvit Soi 11
, then take a quick left, and you are there. Keep the fire burning.

SOI 11 SUKHUMVIT ROAD


Who says an
Oz
-themed sports pub can't make the grade? Every time we pass by, the
Downumder Sports Bistro
is packed. Check them out on
Soi 23
before you get to
Cowboy
. Whatever you guys are doing, keep on doing it.

SOI 23 SUKHUMVIT ROAD


The
Bed Supperclub
doesn't have a sign, and is probably inappropriately named as a supperclub, but beds it has. It is more a pub-lounge, and is yet another
Soi 11
Nitespot
to have made the grade. Rock on.

SOI 11 SUKHUMVIT ROAD

---

NO NEWS IS GOOD NEWS DEPARTMENT

(No News !)

---
VICARIOUS ART CRIMES # 18
MIDNITE HOUR's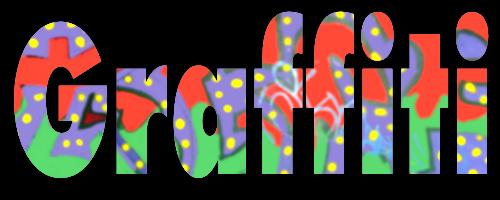 Graffiti Goes A-Blogging

'COUNTER-CULTURE EXPRESSIONISM'
DOCUMENTED IN MEN'S TOILETS
It would be misleading to say that this was "breaking news", but the inexorable penetration of graffiti into the
Internet
is happening all around us. A testament to this is the large number of websites totally dedicated to this art genre, several of which have been reported and linked-to here in the
MIDNITE HOUR
over the last year.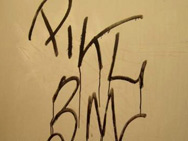 In this case, whether or not it is "art" is irrelevant - it is, however, undeniably an example of "Counter-Culture Expressionism".
In addition to websites that specialize in, or feature the graffiti of others, we also have graffiti artists who maintain personal websites in order to promote their own works (see last month's issue on
Banksy
). There is even a website which takes photos of walls or buildings or busses and 'photoshops' imaginary graffiti onto them, creating a virtual graffiti that has never seen the light of day in the real physical world. (Really.)
One of the more interesting variations-on-a-theme is a recent posting on the
Internet photo journal
Fotolog.net
<

link>.
A blogger has posted a series of graffiti photos taken in a mens' room at a
Phoenix
bus station. We are speaking here of the lowliest of the low, toilet graffiti. A sample of his work is shown above.
Nevertheless, from the historical standpoint, the lowly toilet graffiti was the "founding father" of the modern sub-genre of graffiti we now refer to as
'counter-culture expressionism'
. And one is not surprised that this
counter-culture expressionism
currently comprises ninty-nine percent of all the world's modern graffiti. (John loves Mary carved into the park bench, et al, comprising the remaining one percent). And, so, if only from that perspective, this recent penetration by toilet graffiti into the world of blogging is noteworthy, even if the content itself is often not 'art', and is geared to the basest of human endeavors. In other words, it would be a mistake to confuse the subject with the object.
So, for better or worse, this virtual world we now live in for a greater or lesser part of our days, is a world where anyone can disseminate, anyone can propagate, anyone can view graffiti, be it real graffiti or the only the product of someone's imagination. Whew! We have made it to the future, gang, and it is neither better nor worse - it is only ubiquitous.


- And now to Bangkok's own brand of Graffiti....
Graffiti #120
Delia's Gone
6 ft high x 9 ft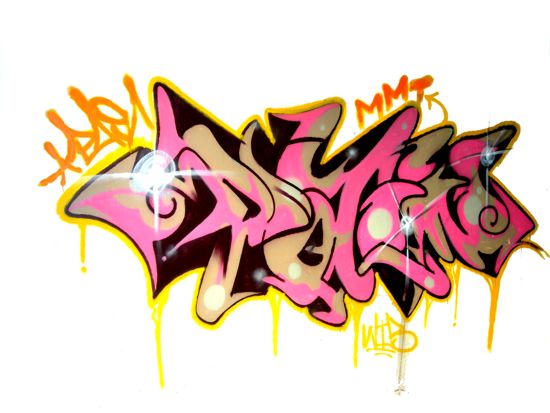 Graffiti #121
Derreck
8 ft high x 17 ft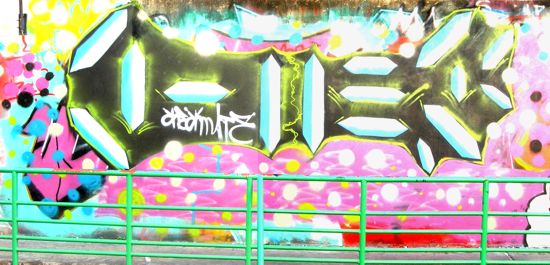 Graffiti #122
Flyspecking
7 ft high x 5 ft.
Graffiti #123
Tracker Vein
8 ft high x 15 ft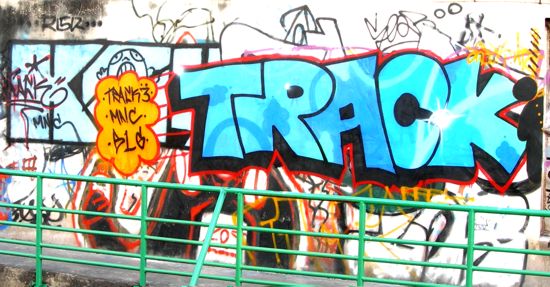 Graffiti #124
Lungtongue
8 ft high x 8 ft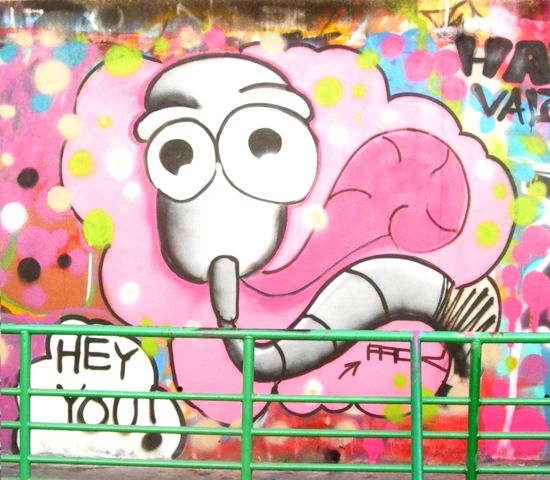 Graffiti #125
Hey Lookitme
6 ft. high x 7 ft.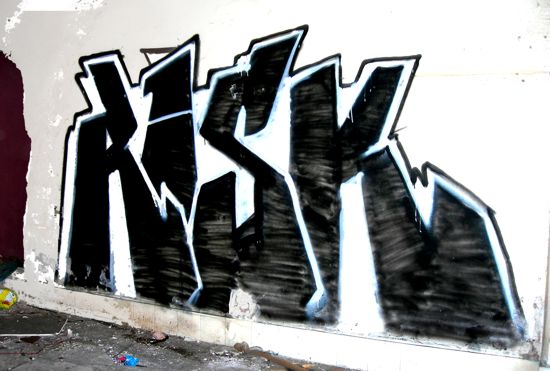 Graffiti #126
Valentimer's Disease
( & Detail)
8 ft. high x 18 ft.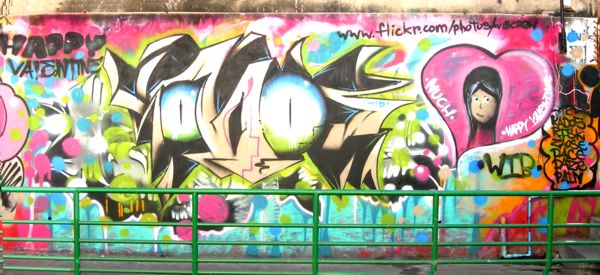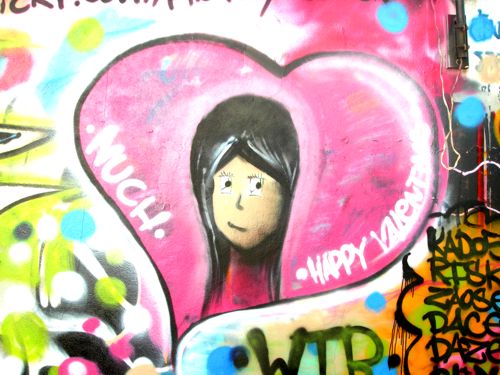 The M IDNITE HOUR Graffiti Page is prepared by Staff Contributor "Boge" Hartman .

(Boge's photo, above, is not a graffiti per-se, although there are those who have insinuated....)




--- Datzit Fernow

William R. Morledge
---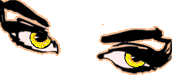 Copyright © Bangkok Eyes / bangkokeyes.com : 2002-2005