PART 1 OF 2 - THE PREVIEW OF A "MIDNITE SPECIAL"
By chance the owner (and creator) of the
Grand Prix
bar,
Rick Menard
, contacted me here at
Midnight Hour
, and as the email correspondence between us evolved, we decided to put together an historical piece which would do the
Grand Prix
proud. We received
Rick's
generous contribution of clippings and photos too late to get them all scanned in prior to our deadline for this month, but we will present the
full
historical account in next month's issue - and that's a promise. (Truth be told, we were stuck in
Hanoi
with the
Bangkok
blues again.)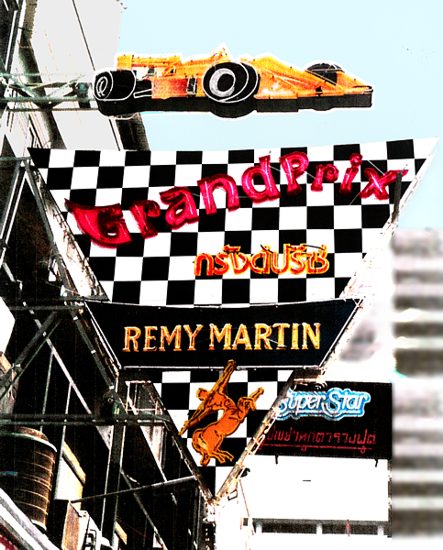 There aren't that many good photos of the Grand Prix sign around today, but in it's day, the sign was synonymous with Patpong. Stories or articles on Patpong would invariably have this sign somewhere in one of the photos.
For those of you who do not remember, or have not heard of the
Grand Prix
, let me say by way of introduction that the evolution of
Bangkok's Nightlife
over the last
40 years
was influenced by only a handful of bars. Ask anyone who remembers, anyone who goes back that far, which were the top half-dozen bars in
Bangkok ever,
and we will guarantee every list will have the
Grand Prix
on it.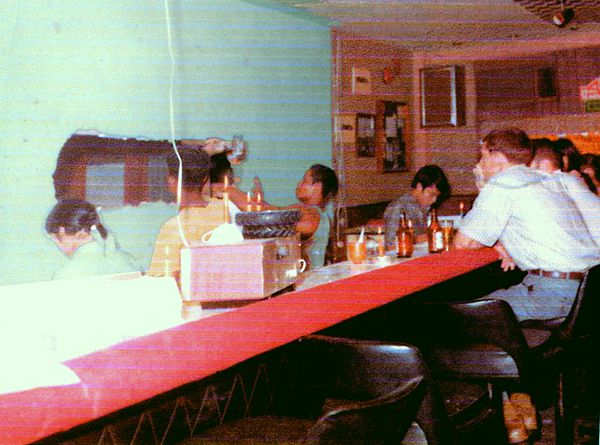 This is a rare old photo indeed. Here they are knocking down a wall to put up Bangkok's first dedicated A Go-Go stage. If you look carefully you will notice several candles burning on the bar - they had cut the electricity (but it didn't seem to drive the Grand Prix regulars away).
Go ahead, and take a wild guess which bar first successfully introduced
A Go-Go
dancing to
Bangkok
. If you guessed the
Grand Prix
you wind the
Grand Prize
. But more on this next month.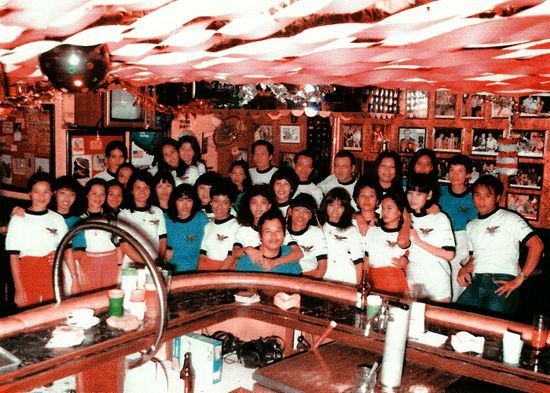 Here is a photo of the Grand Prix staff taken circa 1970 (?)
Next month's issue will have the full account - to include a few twists and turns about
Patpong
and the
Grand Prix
that even you long-time
Patpong
regulars will not have known about. Yes, we live(d) in interesting times.... so join us next month for the full
Magic Carpet Ride
.


---


- In the LAND OF SMILES -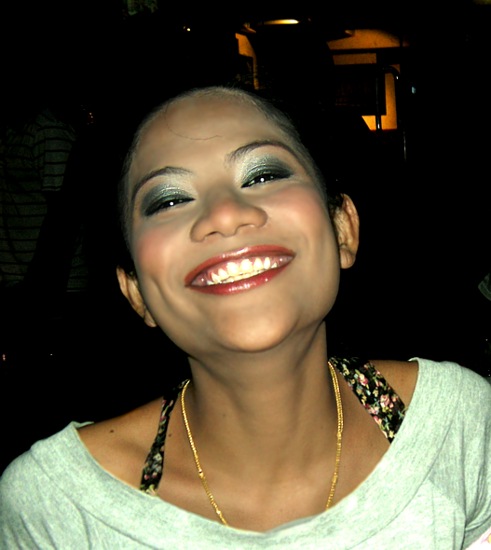 This month's Thai Smile brightens the entrance to the Blue Lightning on Soi Eden (Sukhumvit Soi 7/1).