The human zoo that is the area in front of
Nana Entertainment Plaza
can only be partially captured on camera - the rest will require witness; as taxis and
tuk-tuks
nudge their way into the street-crowd to pick up and drop off the flux of nightcrawlers. Food and insect sellers vie for space with bikini and toy vendors on overcrowded sidewalks, as buy-outs on the arms of their johns, thread past, heading for nearby short-time hotels. Transgenderite whores mingle with the usual crowd of street hookers as the night heats up. Children selling roses and
mali
garlands tug on shirtsleeves like puppies on your cuff, while
Surin
elephants and their
mahouts
wander through it all, begging. Street touts crowd around to thrust tattered, full-color massage parlor brochures at passers-by, along with offers of free taxi rides.....umm, and "cigarettes". The occasional evangelist on a soapbox telling us something about Alpha's and Omega's Kingdom Come; oh, there's a fire down below... Bandaged derelict amputees looking for handouts drag themselves on their stomachs through their vertical brethren, who step smartly around and over them on their way to Night's pinker pleasures.
Mondo Cane
in a new hat; one begins to understand why
Bernard Trink
didn't give a hoot.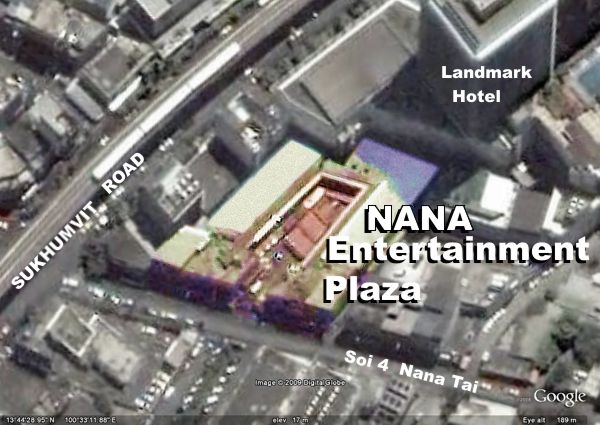 The Nana Entertainment Plaza complex is highlighted in saturated color in the above photo (satellite pix courtesy Google Earth).
But say what you will,
Nana Plaza
has continued to grow in size and reputation since the first bars relocated there in
mid-1982
. And in reviewing our records, we see that our original maps of
Nana Plaza
and other
Night Entertainment Areas
are now outdated. To that end, we shall endeavor this month to update the
NEP
maps for your information and use.


---


- In the LAND OF SMILES -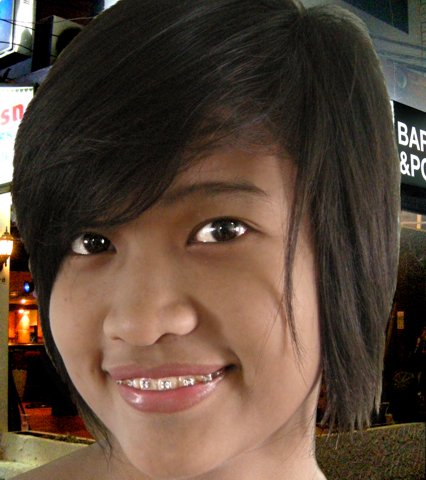 This month's Thai Smile is from one of Bangkok's outer suburbs....