Thaniya
is one of
Bangkok's
older
Night Entertainment Areas
, however in that it is almost entirely dedicated to the
Japanese
nightcrawler, we do not cover it in our monthly update surveys. Nevertheless, in digging through our archives we found our unpublished
2000
survey and map of
Thaniya Road
(usually referred to as
Soi Thaniya
, or
Soi Ginza
).

"SOI GINZA" - THANIYA RD

This month we have undertaken what turned out to be a nearly impossible task of resurveying
Thaniya Rd
(and it's sub-sois), and making a map which would be somehow readable. The main problem in preparing a map of
Thaniya Rd
is the bars are most often stacked on top of one another, from the ground floor up to the 6th floor - we have therefore taken shortcuts on our map (above) to take this into account. Generally, bars listed at the top of a group are on the uppermost floors, working down.

"SOI GINZA" - THANIYA RD

The 'action' in
Thaniya
is slightly different than that of
Western Expat
bars. When the bars open in the evening around 8 p.m., the hostesses line up outside their respective bars dressed in their finest, usually matching, and often formal attire. There, they await passing groups of
Japanese
businessmen, often dressed in suits. The hostesses, and the one or two
PR
types begin to call loudly - in
Japanese
- inviting these groups inside for drinks and entertainment. The calls can reach cacophony - a blind person could track a group of
Japanese
businessmen walking down
Thaniya
by the loudest source of the callings-out.

"SOI GINZA" - THANIYA RD

The
Japanese
Nitespots
are usually "
Clubs
" - which means they can claim exclusivity - for 'members only'. 'Membership' in reality, means '
Japanese
', and
Westerners
or
Thais
are not, as a rule, found at these establishments. Hostesses will usually quickly inform stray
Westerners
that they have entered a '
Japanese
bar'. There are exceptions to this, of course, where, for example,
Westerners
are invited in as guests of 'members'.

"SOI GINZA" - THANIYA RD

From our limited experience, the
Japanese
bars on
Thaniya
(and elsewhere) are not really
Westerners'
cup of tea. The surroundings and decorum are a bit formal, as are the prices. Nevertheless, if you are invited in by the
PR
personnel, or by a
Japanese
host, you should definitely avail yourself of the opportunity - it's perhaps not something you would want to do regularly, but it would definitely provide an interesting experience.

"SOI GINZA" - THANIYA RD



---


- In the LAND OF SMILES -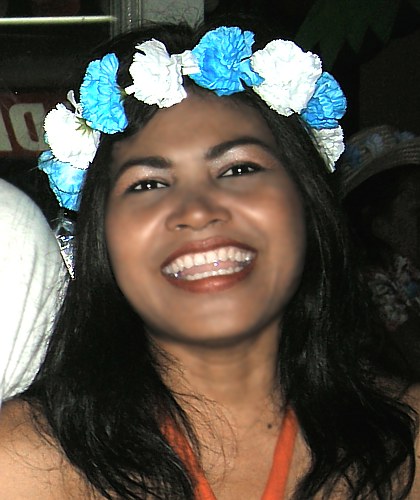 This month's Thai Smile Award goes to a lovely "South Pacific" lady on Patpong II.