---
This month, in keeping with our policy (such as it is) to regularly visit the
Expat
Night Entertainment Areas
in
Bangkok
, we re-survey
Sukhumvit Soi 33
(better known as
Soi Dead Artists
- due to the several bars that have been, and are, named after '
Impressionist'
artists).
Since the
Pan Pan
Italian restaurant
moved into
Soi Dead Artists
in
1986
, bringing
Expats
down that once-dark soi for the first time (followed shortly thereafter by the
Renoir
in
1987
), it's growth has been in one direction only - upward. While the other
Night Entertainment Areas
in
Bangkok
have either plateaued (
Cowboy
,
Nana
), shrunk (the
Patpongs
) or disappeared entirely (
Clinton Plaza
,
Soi Zero
...) over the last quarter century, only the
Dead Artists Soi
has continued to expand.
Not that the
Expat
Night Entertainment Industry
is on the wane, (
Cowboy
and
Nana Plaza
are limited by real estate, not business reasons). To the contrary,
Bangkok
in general is expanding it's
Night Entertainment
horizons. And in this regard, it can be said that
Soi Dead Artists
(currently not limited as far as '
potential Nitespots
' is concerned) has kept pace, and often outpaced the city-wide
Night Entertainment
expansion.
Soi Dead Artists
currently supports
seventy
Night Entertainment Venues
, and when those bars currently renovating, and those now seeking occupants are back in operation, the number will be approximately seventy-five (depending on the ebb-and-flow of bars opening, renovating, closing, reopening). But available real estate is not the only reason for the
Soi's
continuing growth record. It has had a balanced development (likely not by design, but rather by economic forces). There is a large number of
Japanese
(including
Japanese
bars that also cater to
Westerners
),
massage parlors
(of every flavor),
lounges
,
music lounges
,
pool lounges
, and now
Coyote Bars
(just say "
A Go-Go
" - a rose by any other.........).
Note that
Midnight Hour
does not count
hotel outlets
or
restaurants
in our survey head count of the
Night Entertainment Industry
, unless under special circumstances where these outlets actually do provide "
night entertainment
" - a chance to meet others, etc. Nevertheless, it should be noted that there are also good restaurants to be found on
Soi Dead Artists
.
In summary,
Soi Dead Artists
is in a convenient location, does not have real estate problems, and has a diversity of entertainment and food. The
Soi's
old reputation of being too expensive - as compared to the other
Nitespot Areas
is fading - competition being the great leveller. The
Soi
has grown this last
25
years through thick and thin of political upheavals, etc, and all signs point to continued growth for the forseeable future.
-Oh, and we would be remiss not to note that many of
Bangkok's
resident Expats
see
Soi Dead Artists
as a welcome refuge from the over-priced
chrome-pole & mirror coyote palaces
in
Nana
, and especially in
Soi Cowboy
, that seem to be of undying interest to the swelling tourist population....


---
ANNOUNCEMENT

BOOK LAUNCH
&
ART EXHIBITION

All Welcome
Friday, 7 p.m, 1 April, 2011
:
Book Launch
:
NAVIGATING THE BANGKOK NOIR
by Chris Coles
1 April - 30 April 2011
:
Art Exhibition
:
Chris Coles'
PAINTINGS ON EXHIBIT
Location:
Koi Gallery, 43/12 Soi 31, Sukhumvit Road,
Bangkok, THAILAND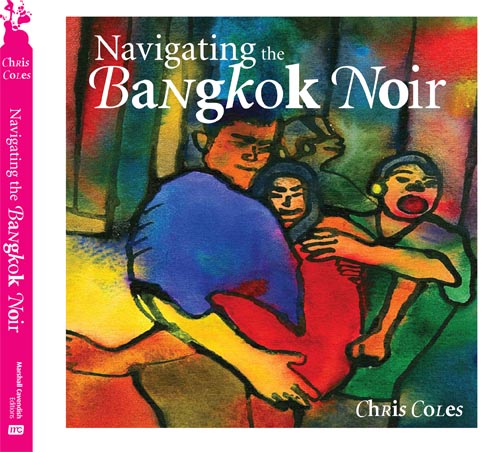 "
Noir
" is a word that is quietly growing - nay,
pushing it's way up
into the
English
language like one of those giant luminous mushrooms in
Alice In Wonderland
. So then, what exactly is "
Noir
"? We are aware that it is derived from the
French
word for '
black
', but then what? "
Noir
", while not surreal like
Alice In Wonderland
, does have an element of
other-real
- a distinctly darker real.
Noir
is one of those words that each of us feels he knows, if only on a visceral level - but no one can really get down to brass tacks and nail it down. Those that do try to define it either use too many words, or come back tomorrow and say, "What I meant by that was....".
On the other hand, '
Noir
' can, and has been represented through the arts, and entirely without words. (Even
Charles Lutwidge Dodgson
knew that in the altered, somewhat darker reality of
Alice In Wonderland
,
Alice
herself, the
mushrooms
and the
Cheshire Cat
, et al, would
have
to be illustrated....)
Enter artist
Chris Coles
and his unique and sometimes outrageous portrayals of
Bangkok's
nightlife. The night-scene and it's variegated nightcrawlers have been captured freeze-frame in
Chris Coles
' imagination. - And then reflected back in
black-light and neon
in this kaleidoscopic series of paintings.
Mr Coles'
, seemingly without effort, is the very first to have captured on canvas that elusive, nearly ineffable
"Bangkok Noir"
- he is a
Bangkok
original; to miss this exhibition would be to your own regret....
(All original works on display 1 April to 30 April.)