---
What is known for certain is the term "
Mama-san
" is a
Japanese-American
"hyphenated compound word" - ("
mama
" from mother; "
san
" from the
Japanese
honorific form of addressing others). The term originated in
Japan
after
WWII
during the
American
occupation. However, the
details
of the origins of that now-ubiquitous term remain vague and contradictory (but probably closely follow the story-line of the fictional
geisha
,
Lady Red Lips
). Prior to
WWII
, the
geisha
were both sophisticated entertainers, and/ or providers of sexual pleasures, depending on stature and circumstance. One chapter of that clan, the '
Onsen Geisha
' tended to work '
outstation
' and were often '
sponsored
' by wealthy individuals to travel here and there ("
onsen
" being the
Japanese
approximate-equivalent of Turkish baths). And as might be expected, the
onsen geishas
were held in markedly lower esteem than their classier courtesan counterparts in
Tokyo
and
Kyoto
.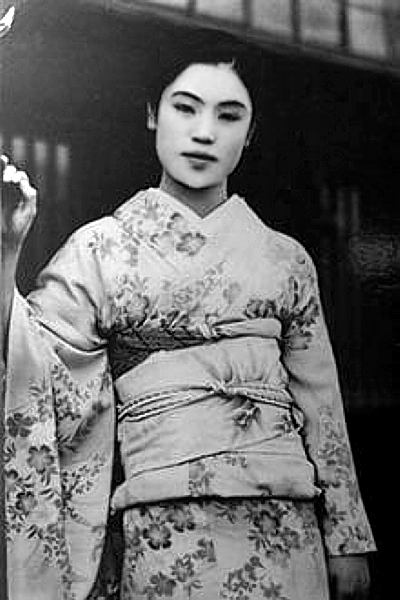 Yasunari Kawabata wrote Yuki Guni (Snow Country) in 1934. His central character was based on the real-life onsen geisha Matsuei, above.
Although there are many accounts of one-on-one encounters between the
American
forces and local ladies in
Japan
in those days and nights of the
Occupation
, it is most probable that the
onsen geisha houses
played the primary role in sexual recreation - in that the
onsen geisha houses
, and the
onsen geishas
' stature in the community had continued to be 'ambiguous' since before the war. These
onsen geisha houses
were the first to adapt to provide for the entertainment of the
Gaijin
on a regular basis. And it was (most probably) the
onsen geisha house
madames
that first acted as the go-betweens, assisting the
GI's
in making their selections in the baths. And, again, knowing the overseas
American
servicemen's unending penchant for incorporating the latest slang into daily conversation, it was (most probable) that these venues first saw the term, "
mama-san
" being used to refer to the
onsen geisha house
madames
. All very logical, but in the final analysis, still very speculative.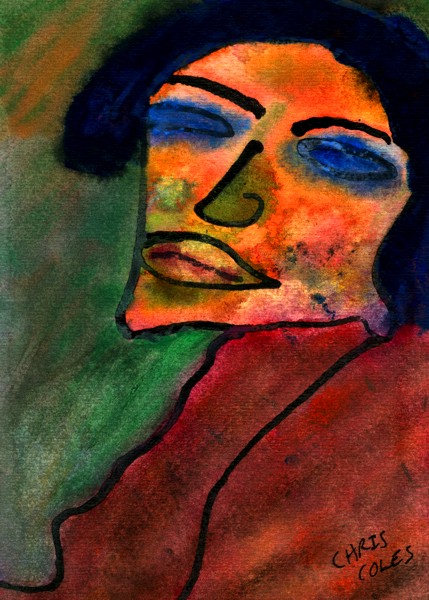 - Copyright Chris Coles - used with permission.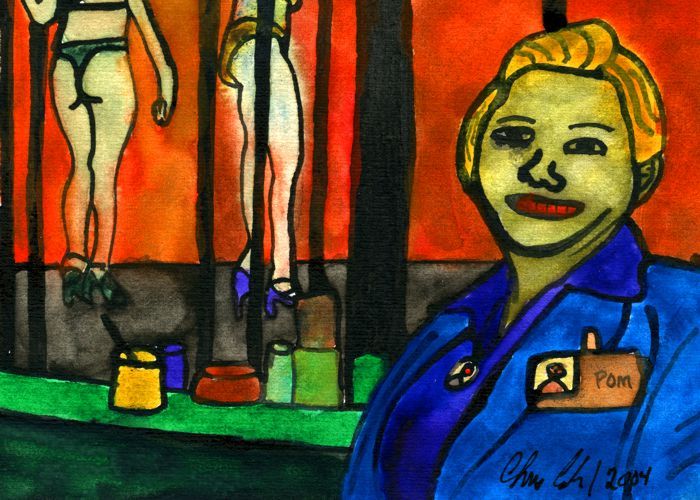 - Copyright Chris Coles - used with permission.
Among noir artist Chris Cole's favorites (and our's) are his paintings of Bangkok's mama-sans. Visit Chris Coles at his website - ''Chris Cole's Gallery'' <

link> .
Five years later,
American
and allied forces were back in
Asia
in another war, this time in
Korea
. And the term
mama-san
returned with them. And
mama-san
meant the same in
Korea
as it did in
Japan
- the
house madame
. But it wasn't until yet another
Asian
war, this time in
Viet Nam
, that the term became broader in meaning. During that
8
years of active combat, approximately
2.7
million
Americans
rotated into and out of
Viet Nam
- all the while picking up existing and new multicultural slang, and, of course propagating it by word of mouth, on
Zippo
lighters, tattoos, items of apparel and letters home. A book could be written on it..... Here, in
Viet Nam
, the term, "
mama-san
" was broadened in meaning, tacitly and through laxity of use, not only to mean, '
female brothel manager
', but also to mean '
female bar manager
', '
female massage parlor manager
', and then on to encompass "
hooch maids
" and other menial female employees, and, eventually, any less-than-young
Vietnamese
female - regardless of status. And variations began to appear; "
papa-san
" (any elderly
Vietnamese
male), and "
baby-san
" (which originally meant
Vietnamese
babies, but later took on the additional connotation of any young
Vietnamese
girl).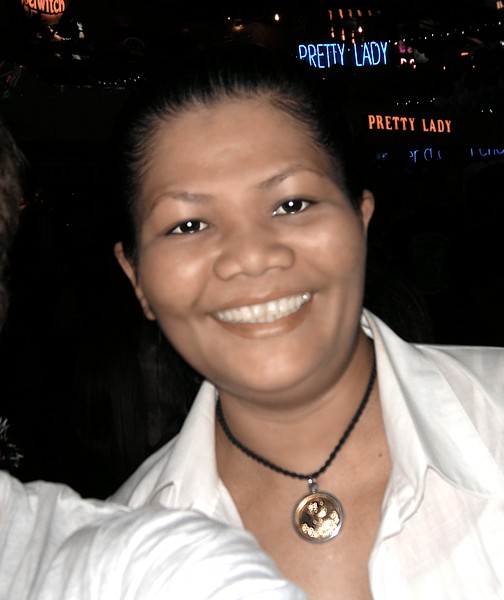 More than 20 years as a 'mama-san' in, and around Nana Plaza, the lady pictured above was previously the head mama-san at the Fantasia. It was there, a little more than fifteen years ago, that she showed us "The Book". We noticed that one girl had been bought out more than thirty times (several buy-outs more than that of the #2 dancer) - and the month was not yet over. We asked what was so special about that young lady, to which she replied, "She's Khmer, you know...." Not wanting to show our ignorance, we never did find out what -exactly- that meant....
As most readers are already aware, the
Viet Nam
war had large
U.S.
support contingents in nearby countries (primarily the
Philippines
and
Thailand
). Additionally, both
Manila
and
Bangkok
were
R&R
centers during the conflict. So it will not surprise us to learn that the
American G. I.
slang, so prevalent in
Viet Nam
, made it's way to
Thailand
, and to the
Thailand Night Entertainment Scene
. Although the term was, and is, firmly entrenched in
Thailand
, the broader definitions have disappeared; meaning now (almost exclusively) the '
floor manageress in a bar or a massage parlor
'. Interestingly, however, the
mama-san
's function as '
facilitator
' has remained intact - making introductions between the employed ladies and male customers - precisely as it was in the
1946 Tokyo
.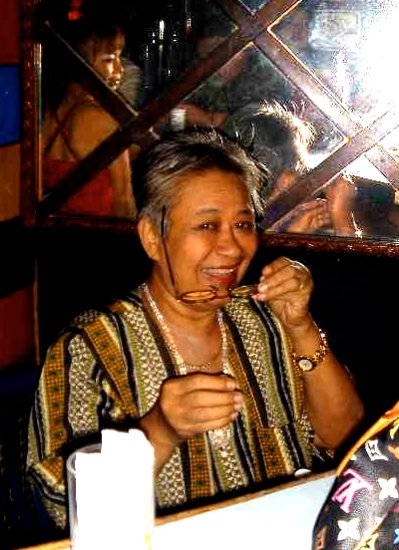 - Photo courtesy 'ATM Charlie'
Without a doubt, everyone's favorite Soi Cowboy "mama-san" was Pam of Pam's Cocktail Lounge (Sold to Baccara in 2007). Pam was also owner and manager. ....If we could turn back time......
As the oft repeated line goes, "
If you feel lonely in the Far East, look for a Mama-san. She knows how to help you to have a good time
." While this is true more so for those new to the
Asian
scene than those long-term residents and regularly returning visitors, it does point out that a primary function of
mama-san
s in the modern scene is that of the '
ladies in the middle
'.

Mama-Sans and Noodles
- THE KEY IS IN THE CONTEXT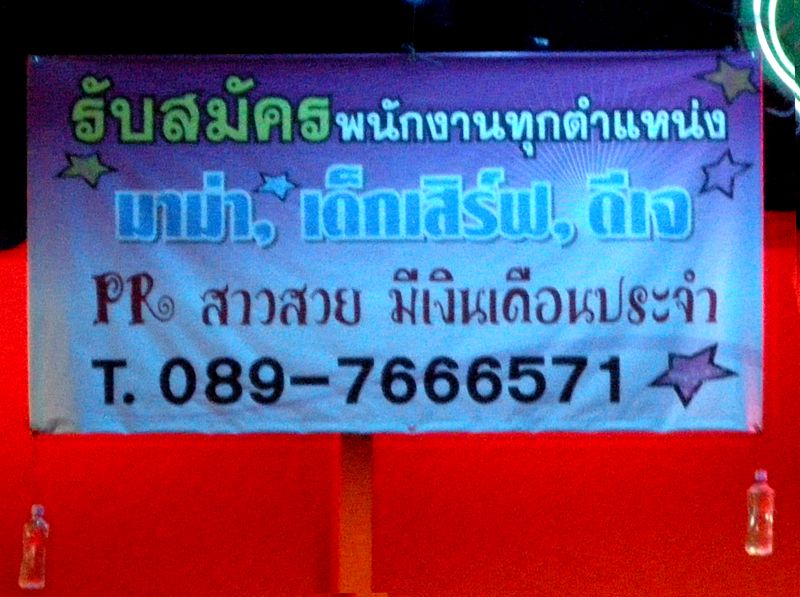 Typically, when Nitespots are hiring, they will hang out signs similar to the above. The approximate translation:

"Receiving applications for - employees of all positions.
Mama, Waitress, D. J.
P. R. - attractive young lady - on monthly salary
(Telephone number...)"

The above "Mama" is of course, a Mama-San. It is interesting in that they have spelled it exactly the same as the famous "Ma Ma' noodles.



However, today's
mama-san
has other responsibilities as well. She is required to ride herd on the
khon-serb
s to insure customers are served quickly, and that the chits are quickly and correctly stuffed into their respective cups, and to insure departing guests have paid their tab. The
mama-san
also insures the dancers, be they
coyote
or
A Go-Go
, are up on stage when it is their 'floor'. And behind the scenes, the
mama-san
will '
keep the book
" on the girls - recording when they come to work (or not) and which days they are "opped", and for how many times. This latter bit of accounting, concerns significant amounts of money, and is important for the bar and the bargirls. It is not surprising, then, that the bargirls whose assignations with customers were facilitated by the
mama-san
will regularly, and without fail, tip her (usually about
Baht 100
).

- News photo clip, source unknown
Mukda of "Shake it, don't break it" fame, was the undisputed queen of the Bangkok mama-sans. She was first spotted by us at Dino's at the top of Sukhumvit Soi 29 in 1975, where she TAUGHT her A Go-Go girls how to dance - 'hands-on'; none of this up-country shuffling for her. She also taught her girls how to perform a specific act by practicing on peeled bananas, and they didn't get a "Pass" if she found even one tooth-mark on the banana. ....Or so the legend goes. Mukda passed away in the '90's from cancer. RIP.
Just as many new
farang
arrivals to Thailand will soon have a regular tailor (to whom they refer as "my tailor"), and a "my jeweler", and even a "my shoemaker", many will have at least one "my
mama-san
". We at
Midnight Hour
have known many
mama-san
s over the decades, and while some of them were cold, mercenary and calculating, most were friendly, helpful and open, and a very few were star personalities in their own right. And while the
mama-san
's importance as the '
lady in the middle
' is diminishing due to the girls' use of the mobile handphone and the
Internet
, a good
mama-san
is as important to the success of a
Nitespot
as an honest cashier. ....Well, OK, let's not stretch credibility too far, let's just say, 'a reasonably honest cashier'......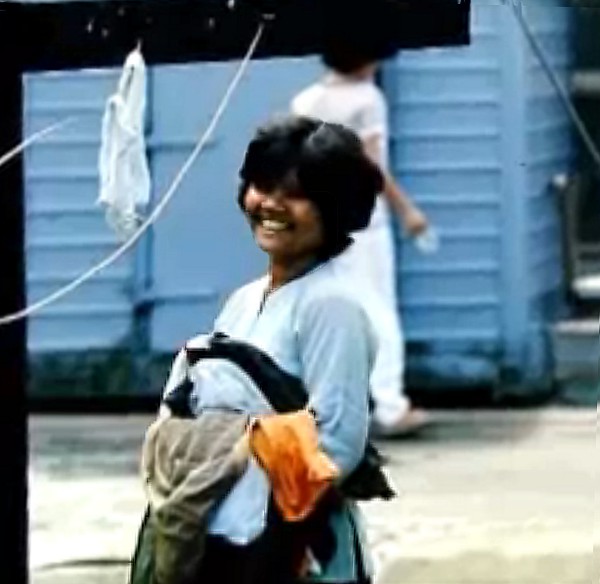 In the Viet Nam war in the '60's and '70's the definition of 'mama-san' broadened to eventually include virtually any mature local female. This included the likes of day laborers, cooks and hooch maids. Babies of both genders and, then younger girls, sometimes even into their teens, were referred to as "baby-sans". The above photo was reportedly taken in Long Binh in the late 1960s. This broader definition faded as the term "mama-san" migrated further west to Thailand..


---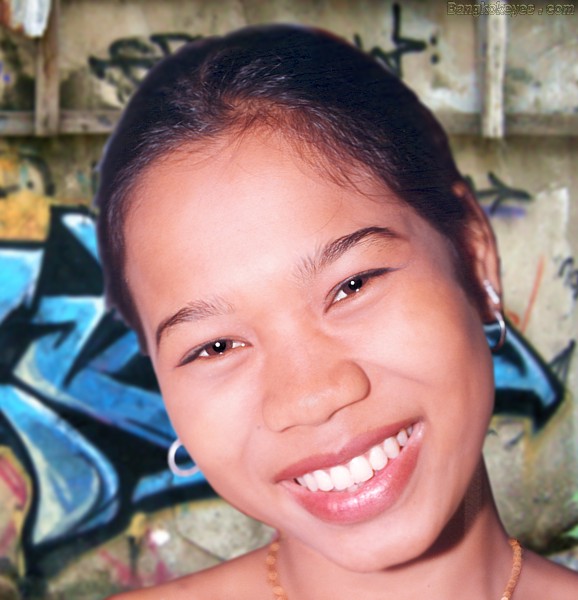 If one views this month's Thai Smile for long enough, one is likely to smile back....