---
There is still a number of long-time
Bangkok
resident expats and return visitors who remember when
Soi 22
boasted nothing but the
Starlight Hotel
, an un-air conditioned,
2
-star hostel located down a small side soi, and a seemingly unending tract of swamp.

SOI 22 - Sukhumvit Road

Built above the swamp, and cut off from the rest of '
Bangkok
civilization' were myriad shacks - all for rent. Their occupants were almost exclusively bargirls from the
Soi 16
bars, the
Grace Hotel Coffee Shop
, the
Thermae
,
Soi Cowboy
and other
Sukhumvit
Nitespots
stretching all the way up to, and just past
Soi 26
. The shacks were connected to each other, and to the 'outside world', by a network of wooden planks supported on wooden pole 'pilings', sometimes with a handrail, sometimes not. Barring flooding in the rainy season, the planks which comprised the inches-wide web of 'boardwalks' hovered just above the black viscous stench that was, at one time, probably water. It's overwhelming 'aroma' was that of of raw sewage and
Fab
detergent from the hundreds of one-bucket-laundries. The shacks themselves were constructed of whatever was available - sheets of tin with printed
Fanta
or
Singha
labels still visible on the never-to-be fabricated cans, as well as plywood forms from building sites, reused construction board, scrap crating and dunnage, and if you were lucky, corrugated sheet metal roofs (which became eyes-wide-open amplifiers for each individual raindrop during the torrential
Southwest
monsoons).

SOI 22 - Sukhumvit Road

Scores upon scores of
Ladies-of-the-Evening
called this
chum chon
their '
home-away-from-home
' - a mattress on the floor, just wide enough to accomodate an occasional one-night john or a
Thai
mangda
'boyfriend'. A few small cushion pillows (including one long-pillow) sufficed. No mattress, regardless of condition, was complete without a floor to ceiling mosquito net - and mosquito coils to burn, just in case. The desk fan (on the floor) was mandatory, and the refrigerator (unheard of) was supplanted with an ice bucket or a small styrofoam cool chest. Also mandatory were the
thoop
(joss sticks) - paying respect to luck-bearing
Buddha
, but also to ameliorate the pervasive reek of the underlying
Black Lagoon
. To hide the bareness, and to discourage peeping Toms, calendars and large posters of the
King Rama IX
(alternate;
King Rama V
), or movie stars, flower-filled fields, babies and/ or far-away places were taped, tacked or glued to the walls. A time and place -some would say an era- almost forgotten for many expats, a
rite-of-passage
for others. But, that was then, and very long ago - and with nostalgia not being what it used to be, it is time to move on.

SOI 22 - Sukhumvit Road

Our first foray into
Soi 22
, at least as far as
Midnight Hour
is concerned, was back in
June
of
2002
, when we introduced the
Queen's Park Plaza Night Entertainment Area
.
<

LINK>
which had just reached "
critical mass
". At that time, we didn't have the slightest inkling that the
Soi
itself would one day reach it's own "
critical mass
". We did a follow-up
Soi 22
-run in
November
of
2003
- our lead story being the opening of
Easy Square
deep in the
Soi
<

LINK>
.
Easy Square
became a full fledged
Night Entertainment Area
the following year, only to close down months after reaching "
critical mass
". And even then, we at the
Midnight Hour
had no idea that
Soi 22
- the
Soi
that then hosted
Easy Square
and
Queen's Park Plaza
and accessed
Washington Square
would become an independent 'stand-alone'.

SOI 22 - Sukhumvit Road

Around about
2005 - 2006
, we saw some changes - a number of new
Nitespots
. We got curious - time for another look - was
Soi 22
becoming a
Nitespot Hub
of it's own? We did an immediate resurvey (in
November 2006
)
<

LINK>
. However, after an interesting reappraisal, it was obvious that the
Soi
wasn't yet a "
Night Entertainment Area
" by the strict definition. And we had our doubts it ever would be. Likewise, in
December of 2010
<

LINK>
, we resurveyed yet again, suspecting that
Soi 22
was coming close to the 'magic' combination of sufficient number of venues ("
critical mass
"), and generally "
contiguous
", or to say, the
Nitespots
were within reasonable distance of one another, and able to feed synergistically off of their mutual customer attraction. Again, we found gains, but still 'no cigar'.

SOI 22 - Sukhumvit Road

However, over the last
18 months
, or so, there has been a rash of new
Nitespots
, many of them massage parlors, but also a number of new bars and larger pub style venues. This time around, there could be no denying that the
Soi
had adequate '
population density
' - and with the long standing
Imperial Queen's Park Hotel
a solid standard and a source of custom (along with some of the smaller hotels further down also providing additional customer base), the increase in numbers of venues and the increase in
Night Entertainment
business obviously was not a fluke. And now that the new
Holiday Inn Hotel
is about to open at the top of the
Soi
, from all appearances, it's going to be more than a little busy in
Soi 22
in the evenings. The future, as they say, looks bright ahead - so much so, that we suspect land / lease prices will be rising substantially as they have done in recent years in
Soi 33
,
Soi Thonglor
, etc.

SOI 22 - Sukhumvit Road

In our survey of
Soi 22
this month we looked into the extent of migration from the recently defunct
Washington Square
into
Soi 22
. We did note that the
B 52
moved into
Queen's Park Plaza
, and the people who run the
Easy Pub
(still open) have opened up the
Squeeze Inn
(and perhaps the
Too Easy
) on
Sub-soi Titanium
. For purposes of this write-up, and for subsequent monthly updates, we will be incorporated the last four remaining bars previously on the
Washington Square
inventory.

SOI 22 - Sukhumvit Road

..........Nevertheless, all said and done, we're betting that there are more than a few of you out there who would trade almost anything for just one or two more "lost nights" - your
ti rak
clasping tightly to your arm, helping you to negotiate those creaking planks through the rain, lighting up those mosquito coils and a troika of joss-sticks, then, under the drum-roll of rain on the roof, switching on that noisy rusted-out old fan. And, late into the night, sweating heavily under that mosquito net - on a thin, lumpy, unfamiliar mattress - mere inches above that coal-tar black goo in the swamp below.

SOI 22 - Sukhumvit Road


SOI 22 - Sukhumvit Road


SOI 22 - Sukhumvit Road



---
---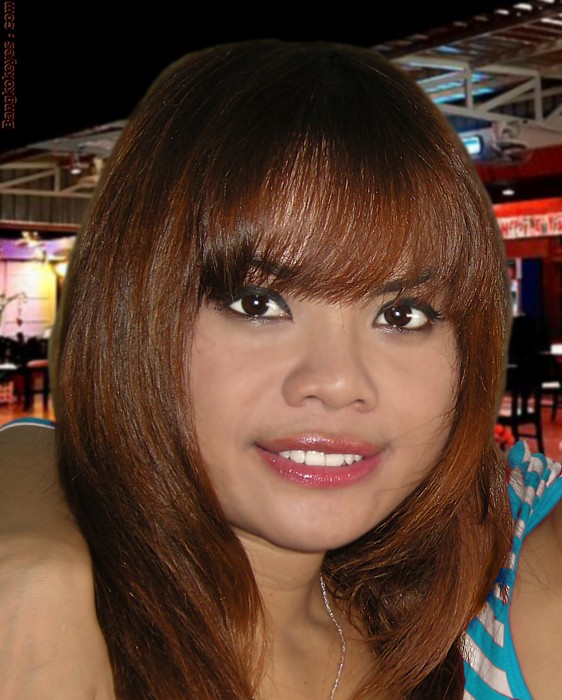 Not only a grand Thai Smile, but great Bangkok Eyes....