The Blues
, and by that we mean
LIVE Blues
, has been searching for a
Bangkok
home for longer than we care to remember.
Blues
, mixed with a lot of what was then called "
Soul Music
" made a fairly good, if rather temporary, showing back in the
1960
's in
Jack's American Star Bar
on
Petchburi's Golden Mile
. But, as long time residents will recall,
Jack's
didn't 'make it to the future'. Nevertheless, there would be other venues along the way that would cater to the
Blues
.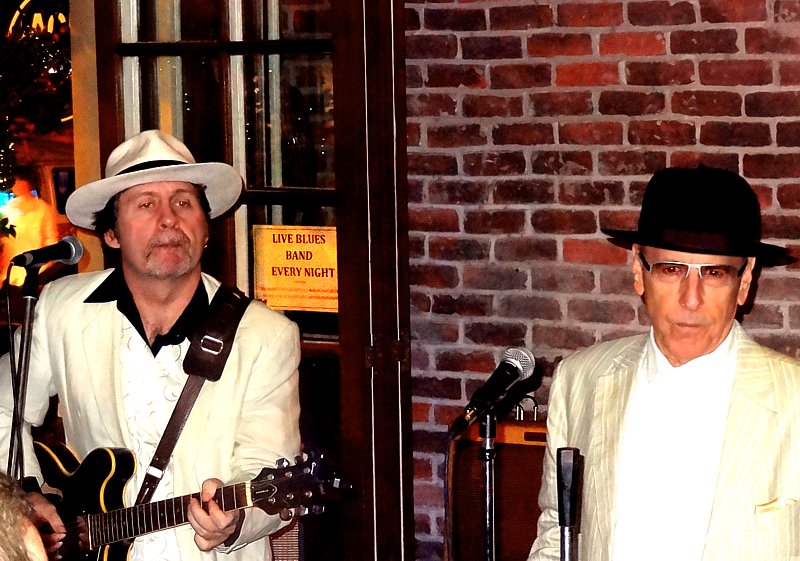 Humble Mike, left, and Danny of Danny California's Blues Allstars performed at Apoteka on New Year's Eve to a SRO crowd.
To name just a few of the more prominent attempts through the years by
Bangkok's Nitespots
to provide
Blues
bands a home, many will remember
Checkpoint Charlie's
at
Clinton Plaza
at the turn of the
Millennium
. And then there was
Mojos
which opened in
2003
on
Soi 33
- which did quite a respectable job (and is still open today). And we can't forget
Tokyo Joe's
on
Sukhumvit Soi 26
back in
2007
.
Joe's
is also no longer around, unfortunately.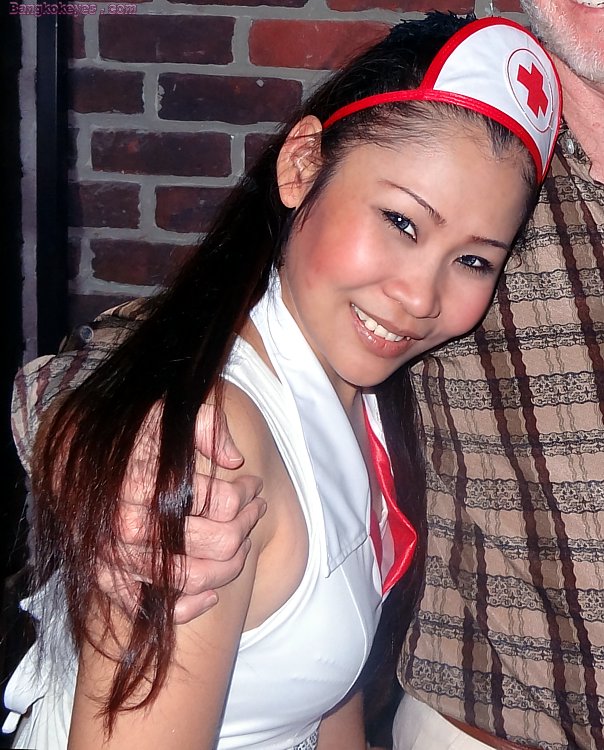 The 'nurses' at the Apoteka stand at the ready, prepared to bring libations to those in danger of dehydration.
And while there have been, and are other
Nitespots
hosting
Blues
gigs on a semi-regular or casual basis, none has held out the promise of becoming a "home" to performing
Blues
artists - somewhere these '
travelin' bands
' could hang their hats. That is, until now. Enter the
Apoteka
on
Sukhumvit Soi 11
. The
Apoteka (Apothecary)
advertise that they have a live
Blues Band
every single night.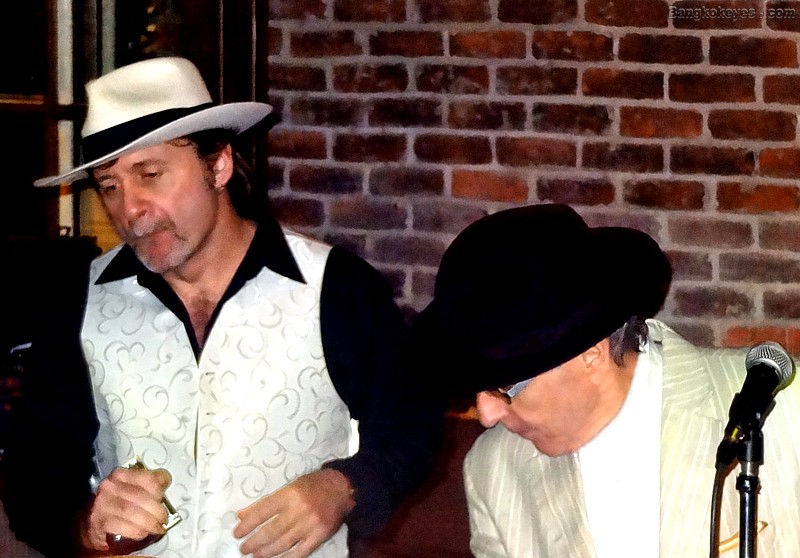 Humble Mike readies for a launch into a harmonica solo, the likes of which you won't find this side of the big waters..... Danny California's Blues Allstars did a rockin' rendition of Auld Lang Syne as the countdown ended on New Year's Eve.
And going hand-in-hand with
Bangkok's
increased interest in the
Blues
, and the
Apoteka
's initiative in becoming a regular showplace for
Blues
bands, there is a noticeable increase in the number of quality bands in town these days. For example, the
Apoteka
recently featured
Danny California's Blues Allstars
, leading with
Danny
and
Humble Mike
- and very solid back-up.
Apotika
has also had the
Nervis Brothers
with
Eddie Baytos
( a
New Orleans
Blues
band with a
Zydego
flavor ) and a much improved
Soi Dogs Blues Band
. And this is by no means a comprehensive list of the
Blues
bands currently gigging through the
Apoteka
on a regular basis.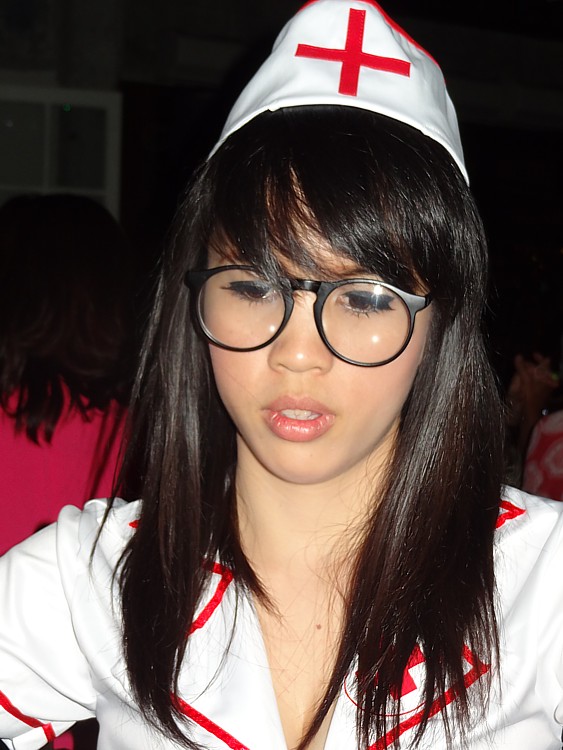 There's just something about girls in uniform. The lovely Apoteka waitresses in their 'nurse' attire were garnering almost as much attention as the blues bands.....
Although not the only venue in town to feature the
Blues
, the
Apoteka
has, in a very short, few months become the most popular - most of this by word of mouth. On weekends, you often won't get a table during performances (but that's not a problem - feel free to stand upstairs on the inside balcony with a beer - the view is much better).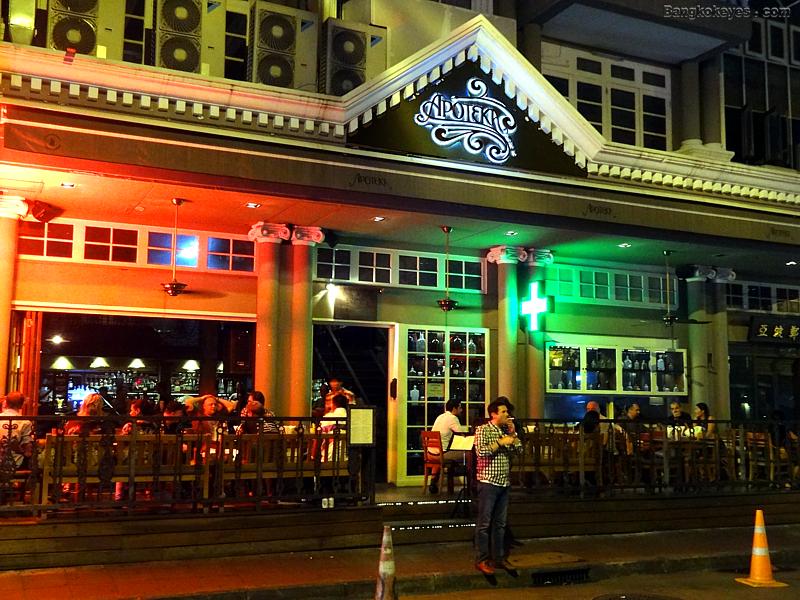 The Apoteka doesn't have much in the way of identifying neon - the Apoteca sign is difficult to see walking past on the sidewalk. Look for the "Green Cross" signifying the 'apothecary'. It is sandwiched in between the Fire House and the Double Wide, just opposite Q Bar.
If you are planning to get down to the
Apoteka
and see the best blues on offer here in
Bangkok
, it is recommended you either get there early, or call for a reservation, and you might want to plan to have a meal while you are there. They are located deep in
Sukhumvit Soi 11
, immediately across the
Soi
from the
Q Bar
. And yes, there is ample parking in the rear for those who drive.
At Apoteka, the "Thai Smile" is far from dead, and goes hand-in-hand with prompt, friendly service.


---
---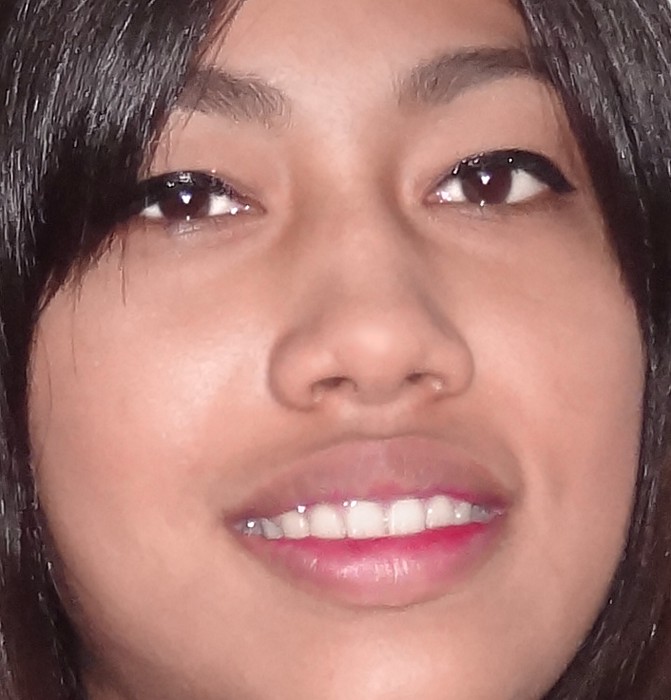 January's Thai Smile beams 'friendly' to all.
---

---
---