MONTHLY
COLUMN

Bangkok,


01 November 2015


William R. Morledge



November's Nightlife News
Bangkok's Bars - 20 Years Ago
A Smile in the Land of Smiles.
Ask Us: The Sapphire Club ?
Graffiti -BKK's Midnite Vandals - #116

'Rachada' for short, Rachadapisek Road Night Entertainment Area is a giant. This is a 'thumbnail' history of that giant - a giant in more than one sense. But a decade ago, it was yet an even bigger giant. Then again, three decades ago it was known more for a few restaurants, while Night Entertainment there was almost unheard of.

Back in the 1980's there was talk of developing Rachada into a super-sized Night Entertainment Area. Some said it was primed and ready for exploitation - land was relatively inexpensive, and access -such things as parking- would be no problem. They said it could be even bigger than Petchburi's Golden Mile of the 1960's -70's era. Others said, 'Where are you going to get staff for all this?' The industry (Patpong, Cowboy, Nana) was already stretched to the limit for decent looking, attractive staff - there was just not that much talent around. SuperStar Frank said it would be no problem, the girls could be found - Trink said, "From where, Frank?"

The question of course is no longer moot - Rachada's build-up started slowly, and gained momentum. They were building up, not only in the Night Entertainment realm, but generally. The Nitescene was, however, abuilding like the Winchester Castle. -But, there was a catch. Virtually all the entertainment development was geared for the local Thais, and later started catering to the Japanese and Taiwanese as well. Western expats, while welcome, were not catered to - it was not an extension of the A Go-Go scene by any means.

Door Art Of The Month
Award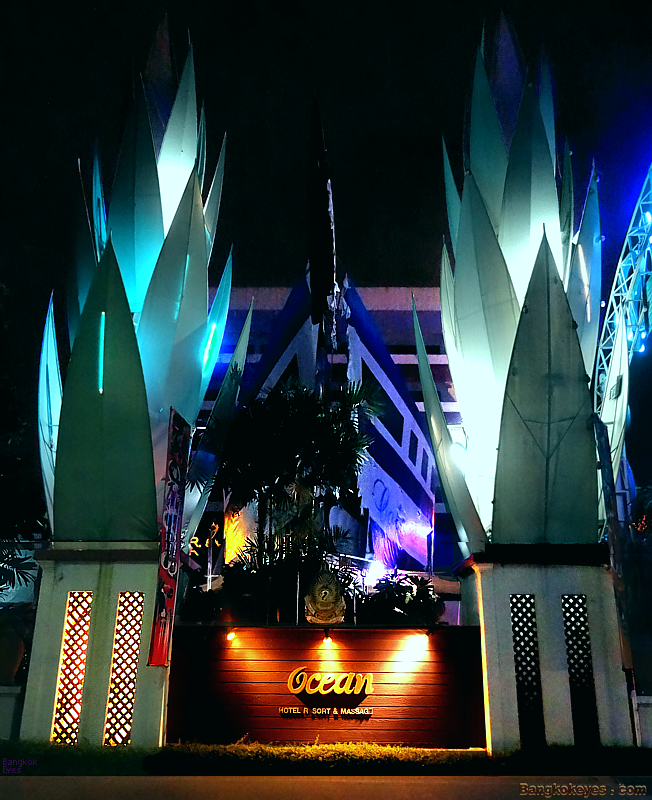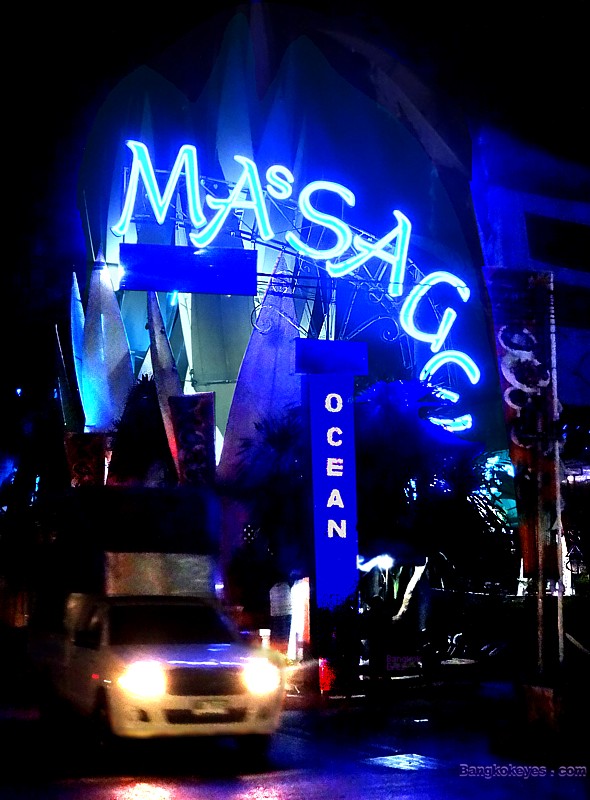 The
Ocean
frontage is not only easy on the eye, it has an element of 'strange', as in : "strangely fascinating". The best-on-the-block this month.


SOI KATOEY - (SILOM SOI 4)

The development on Rachada in the 80's and 90's initially was more a continuation of the Steam-Job / Blow-Bath Massage Parlor which, as noted, did start in the Sukhumvit / Petchburi areas in the 60's, to include the requisite coffee shop and barber shop. But it didn't stop there. There was a Thai 'entertainment revolution' afoot.....

Let's hit the 'Rewind' button. In the early pre-A Go-Go days, Expat entertainment was mostly lounges and bars, and hotel coffee shops. On the other hand, Thai Night Entertainment in those ancient times consisted of corner coffee and/ or tea shops, often with additional entertainment upstairs, barber shops (also with additional entertainment available) and dance halls, like the Prasithipol on Charoen Krung Rd where you would buy dance tickets, and a bottle of Mehkong. There were also the shady places in Yao Warat like the Texas Cafe (& Massage) and a few small waterfont bars in Khlong Toey. Other than that, a Thai might elect to drink with friends on a street corner.

With the rise of the Golden Mile, the Expat-oriented Steam & Creams and A Go-Go on the Patpongs, all that changed. Expat Night Entertainment was suddenly far superior, far more attractive than it's Thai counterpart. Most Western expats found themselves bored with the 'inferior' Thai Night Entertainment Scene.

- But that was then, that was before the rise of the giant, the rise of Rachada. At first, the Rachada Steam & Cream massage parlors were mirrors of their predecessors on Sukhumvit, Sri Ayuthaya and Petchburi Roads, but soon "bigger" became "better" - and additional services were added to attract and keep customers. Often these new, ever larger structures would incorporate Karaoke bars and lounge bars, should one not want to rush right in for a 'massage'. The Thai Steam & Cream massage parlors of old were evolving, morphing into super-sized Night Entertainment Complexes. Today, one might find Steam & Cream massage, a Thai traditional massage, a coffee shop, a karaoke, a lounge bar, a men's club replete with 'Coyotes', a barber shop, and 'suites' (ST rooms by any other name) all in one mega-Entertainment complex. We don't mention 'gaming rooms' here... ahennnh... Today a Thai on a binge could enter one of these establishments, and not leave for days. Two examples of this style of mega-multi entertainment complex found on Rachada are The Lord Palace and the Casablanca.

The Expat Nitescene has by no means, been standing still. However, the "Day Of The A Go-Go" is on the wane. On the other hand, expat Pubs and Clubs have become more popular. Discotheques are still with us, but not in any big way. The smaller multi-service massage parlors, found on virtually every soi, are the answer to many Expat Nighttime requirements. But there is nothing in the Expat Nightscene, or even on the horizon, that compares to the once-inferior, now far-superior Thai Night Entertainment Scene. (It is interesting to note that a great number of Expats we meet are unaware, or unwilling to admit that Expat Entertainment now plays second-fiddle, or perhaps third-fiddle to Thai Entertainment.)

In a parallel development during the same period, on Rachada Sois 4, 6, and 8, the Thai Nitescene developed in yet another direction. By early 2000's there were dozens of clubs, music bars, Thai-style pubs and discos. Again, Expats were welcome, but unless accompanied by their Thai counterpart, found that 'the scene' was not all that interesting.

This 'Rachada Model' of Thai Entertainment, the large-scale Entertainment Emporium, has spread like wildfire throughout Bangkok - RCA and Sri Nakarin Road are two prime examples among the many. Rachada itself, in recent years has diminished in activity to a degree, and there are much fewer Nitespots than earlier, but it is still a major player on the Bangkok scene. Yes, Rachada is still a giant, it is just not the giant it once was - it once boasted over one hundred Night Entertainment Venues (confirmed estimates), but is now down to less than half that. The relatively diminutive Sois 4, 6, and 8 once hosted 33 Venues alone (now down to four). Still a giant, if somewhat diminished, but it is the giant that spawned the mega-giant of Thai Night Entertainment that is found in Bangkok today.





November's Thai Smile is in the round.


Historical Minutiae Dept.


What's your sign?
A SAPPHIRE CLUB BY ANY OTHER NAME
Hello,

You guys did an excellent job on the Pattaya Walking Street map (last month -ed). One correction I'd like to mention is that where you have Smile on Soi 15, it is actually the Sapphire Club.

M.Y.

Greetings, M.Y.,

Guilty as charged. Sapphire Club it is. Our apologies (we hope it is our only mistake, but somehow we doubt it). We shall be updating our Walking Street map next year, and hope to correct any discrepancies and to include all updates. Next year should be a lot easier, as we now have the basic map in hand. Thanks for writing in.

Best,
Mor


? ASK US (ALMOST) ANYTHING !
We can answer virtually any (reasonable) question on the Expat Night Entertainment Scene in Bangkok - be it Historical or very recent. Send us an e-mail and we will do our best to answer you soonest.
| | |
| --- | --- |
| 'Boge' Hartman Historical Research | |
* Zootramp Publications


Let the October 2015 Follies begin...
BANKOK EYES' Expat Night Scene.


P

ATPONG

1



MAP




The Den
has opened it's doors as scheduled, and is now open afternoons and evenings (as with the
Soi 12
branch).
Modus operandi
: '
lounge bar
'. They are busy acquiring additional staff and more sharks. It will be interesting to see if they provide any serious competition to
Cosmos
on
PPII
. Welcome
The Den
to partytown.

PATPONG I


P

ATPONG

2



MAP




A tiny little bar beer, tentatively called, "
Dragon Beer Bar
" (no sign yet), has opened up on "
The Island
" just next door to
The Pink bar beer
. It is hard to see how they are going to make ends meet - (we hope we are wrong about this). May the nightwinds blow kindly.

PATPONG II


Up on
The Ramp
, the
Rig One Pub
has gone
United Nations karaoke
. May there always be a
chinchoke
in their corner.

PATPONG II


S

OI

C

OWBOY



MAP




The
Lighthouse
welcome for the
2015 Hockey Classic
on
Halloween
night didn't seem to slow down the non-stop partying out in the
Soi
. This year we have to give the nod to
Soi Cowboy
for best-of-the-best
Halloween
enthusiasm and originality. A very big year for spiders... say no more.

SOI COWBOY


N

ANA

P

LAZA



MAP




Recently a small number of bars in the
Plaza
have been busted for having outraged the modesty of the morality police. The most common sin is employing underaged dancers. Shake it, don't break it, gang.... The
A Go-Go
bar currently battened-and-shuttered is the
Rainbow 4
. Fortunately, the
Men In Too-Tight Uniforms
(not from
Lumpini
, by the way) are only levying short closures. We expect they will be reopening soon; we'll keep them on the vigil.

NANA PLAZA


On the other side of the
Plaza
(also on the
2nd
floor), the
Rainbow 3
has nailed up some first-class neon. Got themselves a brand-new look. Same good service within, however - do what you do, do well.

NANA PLAZA


S

OI

N

ANA



MAP




Hooters
has stated their clear intention to open what will be their
4th Hooters
in
Thailand
. It will be occupying the area in the
Nana Hotel
previously belonging to
Golden Bar Beer
and almost all of the
Nana Hotel Coffee Shop
. It will probably open around
New Years
- we'll be keeping tabs.... (The first
Hooters
was opened last year in
Phu Ket
, the second in
Soi 15 Sukhumvit
, and the
3rd
will be, with any luck, sometime this month on
Beach Road, Pattaya
.)

SOI NANA


We didn't think it was possible, but
Annie's Pub & Bar
has actually found a new use for a blow-up doll..... The only good witch is a witch well hanged.... Let the
Halloween
festivities roll on. Located in the
Rajah Hotel
compound at the rear of the outbuilding.

SOI NANA


The
Amsa Massage And Spa
opened last month - tentatively named "
Elegance
" (as reported our previous issue). Since then it has had a face-lift and a new bit of neon - reflecting the actual name. Lookin' good.... May they continue to slip and slide.

SOI NANA


The
Swan 4 Bar bar beer
has been there since who-knows-when. It's time we included a snapshot for the archives. Located deep in
Soi Nana
on the right as you walk in. May they keep on keeping on....

SOI NANA


The
Chawang Massage
wasn't dead when we passed by last month, it was only playing 'possum. Now back in the tussle, they can be found at their usual spot on the second floor of the
Rajah Hotel
outbuilding.

SOI NANA


S

OI

K

ATOEY



MAP




The slow transition looks to be complete. Two months ago the
Sphinx
opened a section of their renovated digs to dining, calling it
Fork & Cork
. Last month, they hung out some major signage and expanded the
Fork & Cork
area inside. This month it is no longer the
Sphinx
(with the
Fork & Cork
dining within) - it is now the
Fork & Cork (by Sphinx)
. We have no idea how a restaurant this far into the
Soi
will work out (both
Bobby
and
Frank
tried it), so we'll hang onto this thread and keep you posted.

SOI KATOEY - (SILOM SOI 4)



Halloween for all
SOFT TOYS JUST WANT TO HAVE FUN


SOI KATOEY - (SILOM SOI 4)


S

OI

22



MAP




Bangkok Betty
was bouncing on
All Hallows' Eve
- a live band, food, drink and 'party' until the wee hours. 'Get down tonight....'

SOI 22 - (Sukhumvit)


The
Bong Kot Massage
has transformed itself seamlessly (with the exception of a change of neon) into the
Bongkot@22 Massage
. Same friendly service. Located in
Soi Titanium
.

SOI 22 - (Sukhumvit)


The
Euphoria Massage & Lounge
has gone the way of the
Osteodontornis
. They've thrown in the steamy towel and faded back into the night.

SOI 22 - (Sukhumvit)


S

OI

D

EAD

A

RTISTS



MAP




Opened only in
June
, after extensive and expensive renovations, the
Renoir 2015
have already rung up their last check-bin and gone into permanent lock-down. Ashes to ashes, so be it, then.

SOI DEAD ARTISTS - SOI 33


S

OI

A

MBASSADOR



MAP




A photo for the archives. The long-staying
Zak's Wine Pub
continues to do a good business, what with the nearby hotel foot traffic... May they continue to rock 'n roll. They have a
Kizomba Sunday
. I didn't even know kizombas were in season......

SOI AMBASSADOR - SOI 11


Q

UEEN'S

P

ARK

P

LAZA



MAP




The
Baan Beer 22
is no more - ripped asunder by slow-motion carpenters; termites could have done it more quickly. The
Baan Beer 22
was the oldest remaining
Nitespot
in the
QPP
. We'll be keeping an eye out for what they might be putting up in it's place.

QUEEN'S PARK PLAZA - SOI 22


S

OI

E

DEN



MAP




A lone witch holds down the fort at the
Dr BJ's Salon
.
Soi Eden
was quiet on
Halloween
... too quiet.... Perhaps business will pick up on the
Soi
, now that the
Rainy Season
is ending....

SOI EDEN - Soi 7/1 Sukhumvit


S

OI

T

WILIGHT



MAP




The unnamed
Pool Bar
that took over from
Siam Angel Boy
in
December 2008
is still keeping it's head above water. No one has seen fit to open another bar at that location.

SOI TWILIGHT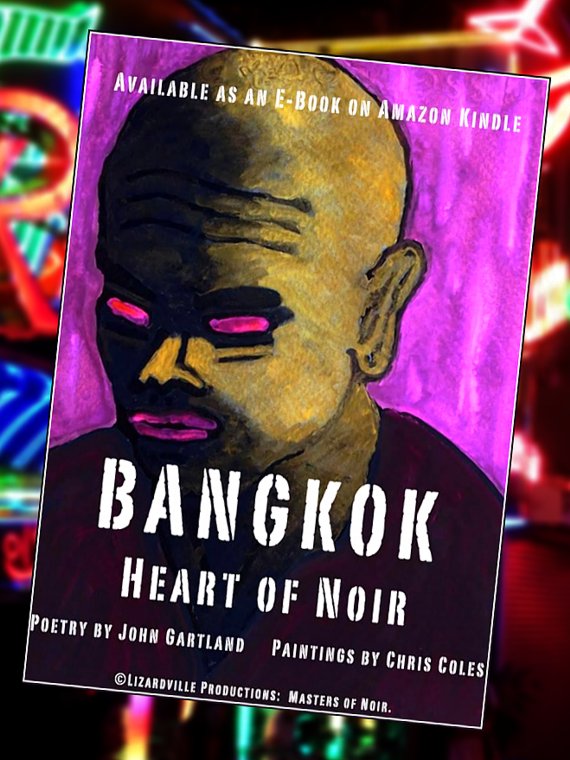 TOP

A PAGE FROM Bangkok's NIGHTSCENE HISTORY....

20

YEARS AGO :



November

With thanks to Cool Text - cooltext.com
Bangkok Eyes goes back in time to see
Who was new - And who was through
in the Expat Night Entertainment world.
How many of these old 'oases'
do you remember ?
Patpong I
*
No changes that month / year. -
Patpong 2
*
The
PD
closed. It was on the
5
th floor of the stairway opposite
Foodland
. There is currently no
Nitespot
at that location.
*
The
Club Sawasdee
closed down for renovations. It would eventually become
Vinai's Cosmos Club
, which is currently still at that location.
*
The
Princess Castle
reopened after a brief one-month closure. They were located next door to the
Pink Panther
. Today those digs are occupied by
Screw Boy
.
Soi Cowboy
*
The
Klymax II A Go Go
opened in the previous upstairs digs of
Disco Tack
(sic). It was located above today's
Lighthouse
- there is currently no
Nitespot
at that location.
Nana Plaza
*
No changes that month / year. -
Soi Katoey
(Silom Soi 4)
*
Within the previous two months, the originally named The Blue Castle
changed from that name to just
The Blue
, and back to
The Blue Castle
again. It was located on the
Silom Road
side of
Tapas Room Club
. There is no
Nitespot
at that location today.
*
Hyper - the Un Pub changed it's name to The Hype. It was located next door to today's Tapas Cafe.

* The Genysis opened upstairs - located between today's Tapas and Telephone Pub. There is no Nitespot at that location today.



Buckskin Joe V

illage
(~ October 1988 to October 2006)
(Also known -originally- as Tobacco Road or Soi Rot Fai or, 'The Tracks', and later as Machim [Thai] and Soi Zero)

*
No changes that month / year.


Sin
City
2

A Film
Review
Click Here
! ORDER NOW !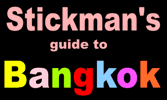 CLICK-

Bangkok Nightlife