MONTHLY
COLUMN

Bangkok,


01 February 2016


William R. Morledge



February's Nightlife News
Bangkok's Bars - 20 Years Ago
A Smile in the Land of Smiles.
Ask Us: Seeking God....
Graffiti -BKK's Midnite Vandals - #119


hirteen years, almost to the day, after
Chuwit Kamolwisit
orchestrated the
04:00 a.m. Mafia-style
demolition of the
Sukhumvit Square commercial area
, the
Supreme Court
, on
28 January
, sentenced
60
of the
131
defendents to
5
years in jail, and
6
defendents to
3
years in jail.
Chuwit
was among those sentenced to
5
years. However the
Supreme Court
reduced
Chuwit's
sentence to
2
years for compensating the victims (only very partially true), and for turning the
Sukhumvit Square
area into a public park.
Prior to it's demolition, Sukhumvit Square was occupied by approximately 112 separate lease holders and sub-lease holders, all believing the leases on their establishments were legal and binding. Exactly 60 of those leases/ sub-leases were Night Entertainment Venues, the others were restaurants, a laundry, gift shops, a beauty parlor/ barber, an internet cafe, a tattoo parlor, as well as others (see Nitespot map below).
In spite of the Supreme Court's proclamation that Chuwit compensated the victims of this now-infamous Mafia raid, only very few of the injured parties (42 of the primary lease-holders) had enough financial reserves to file the original charges against Chuwit and his web of intentionally obfuscating military cronies and shell companies Tisco PLC, BTR Holdings, Silver Star Co (also known as Sukhumvit Silver Stars Co), Nickel Co, General Guard Co (also known as Ideal Service Corp) and the likes of then-Army Ltc Himalai (just to name the most prominent).
Chuwit states clearly that he is not running from prosecution like those other criminals.... His last news conference?
Only those 42 lease holders received any compensation, and they received from 5 cents to 10 cents on the dollar, or about one month's rent. Hardly worth mentioning - hardly worth 3 years' leniency to Chuwit by the courts..... The rest of the lease-holders (and those many who were sub-leasing) that were bankrupted by the Mafia blitzkrieg received no compensation whatsoever, and were allowed to go suck wind.
Another view of the carnage that was, only hours before, Sukhumvit Square. This pic taken from the SkyTrain.
Nevertheless, in spite of the courts' taking 13 years to clear this case against Chuwit and minions, and in spite of the local jurisprudence, or lack thereof, a semblance of justice was in fact carried out. Chuwit appeared at the court with his wife and son, hoping to be given leniency, however he was led away to the Bangkok Remand Prison in handcuffs - protesting loudly that he should not be handcuffed, that he didn't run to another country to avoid incarceration like the others. His loud protestations were not ignored by the Press or the public. Fom all we have seen in print, and from our sources on the avenue - virtually all have expressed gratification that this pompous, 'influential person', this super-wealthy former massage parlor Godfather, this wanna-be puu-yai, got what what was coming to him.
Another view of the decimation at Sukhumvit Square - showing the gulag wall that was thrown up during the night by the marauders. This pic taken from the Sukhumvit Road side looking towards Soi 10. Many thanks to contributor "J.C.".
Click Here
to read our original
2003
reportage and background on the "
Sukhumvit Square Story
".




February's
Thai Smile
welcomes all to the Venue.


Historical Minutiae Dept.


Seeking GOD
...IN A MOSTLY FORGOTTEN PAST
Hello,

First of all, I really enjoy reading your site. Stickman refered me to talk to you, as he said you had very good knowledge on these kind of things.

Is it, or has been, some girly bar in BKK called the -The Good Club- or GOD Club or anything like that? I was there a few years back and I meet a girl there, but I don't remember where it was located. I know we took a short short ride from Bed Supperclub and then took an off street on the main road (Sukhumvit).

I think its located on an off street to Sukhumvit Road, quite close to 26 Soi Sukhumvit 11, Sukhumvit Road.

Is this anything you know something about?

Would be more than happy if you had the time to help me.

Regards,
L.

Greetings, L,

I have just combed through my old maps and was unable to come up with either 'God Club' or 'Good Club' in the general area you described. Is it possible that you can remember the time frame (year) ? This would help me in further searching.

I have Googled God and Good clubs, and the only thing I could find was GOD Club on Soi 2 Silom Road. It is not anywhere near the area of Bangkok you describe. They do not have a website, however you may want to Google it yourself or try this link for more information:

http://www.travelgayasia.com/venue/g-o-d-g-bangkok/ .

Best,
Mor


? ASK US (ALMOST) ANYTHING !
We can answer virtually any (reasonable) question on the Expat Night Entertainment Scene in Bangkok - be it Historical or very recent. Send us an e-mail and we will do our best to answer you soonest.
| | |
| --- | --- |
| 'Boge' Hartman Historical Research | |
* Zootramp Publications


Let the February 2016 Follies begin...
BANKOK EYES' Expat Night Scene.


P

ATPONG

1



MAP




The upstairs
Pussy Magic
, the
pay-for-show bar
previously squatting in the old
Lipstick
digs, has moved a couple of doors down to the old
Super Girls
. Their
modus operandi
unchanged.

PATPONG I


The
Thigh Bar
, noted in our column last month for new neon, is closed for renovations
-and
a good scrub-down. They should open afresh in a few days (but nevertheless, we will check back to verify.....)

PATPONG I


P

ATPONG

2



MAP




Glamour Girls (Glamour on Silom)
is closed once again ; "
Under Repair
" - their third closure. It remains to be seen when they might reopen..... if at all.......

PATPONG II


S

OI

C

OWBOY



MAP




When we passed by last night we noted that
Club Rio
was closed down again. If the past is any window to the future, they will likely reopen soon - it is likely their
contracted team of Coyote Dancers
didn't show up for work - again. A heck of a way to run a railroad. We'll keep an ear to the ground and get back atcha.

SOI COWBOY


N

ANA

P

LAZA



MAP




A quick-pic
For-the-Archives
of
Spankys
and their animated neon.

NANA PLAZA


S

OI

N

ANA



MAP




The massage parlor named simply
Thai Traditional Massage
has reopened (after a brief closure) in it's original location. May they continue to slip and slide.

SOI NANA


Capping off a brief spate of renovations, the
G-Terminal
has put out some new neon. Looking good. Located upstairs in the front outbuilding in the
Rajah Hotel
compound.

SOI NANA


Remaining almost invisible to passing foot traffic for several months, the
OK. D. Massage
has, at last, put up some very visible neon. May they keep on keeping on.

SOI NANA


S

OI

K

ATOEY



MAP




The
4 Sports / Lounge 4
have been operating as a combined single unit for a very long while. However, we note this month that the
Lounge 4
has been leased to another business entity not engaged in the
Night Entertainment Game
. We should note that
4 Sports
is still going strong, so don't go away....

SOI KATOEY - (SILOM SOI 4)


S

OI

22



MAP




A brand new
2-
shophouse-wide bar, the
Bar I'on
has opened in what, up until two months ago, were the
Aloha Bar
and the
Top Secret 22 Bar
. Not much in the way of signage, but don't judge a book by it's cover - the interior is very well appointed - quite comfortable. And yes, some slightly-more-professional neon is reported to be on the way.... Welcome them to the machine.

SOI 22 - (Sukhumvit)


The
Po Thai Massage
was closed down the other night when we passed by - or did they just forget to put out the signage? They have done this before - we'll check back next round and shall duly advise of change(s).

SOI 22 - (Sukhumvit)


S

OI

D

EAD

A

RTISTS



MAP




Another place...
...TO GET YOUR OIL CHANGED

Not long after the Lookie Lookie closed behind the Wall Street there was a rumor going around that it's real estate would be absorbed by the Wall Street. That didn't happen, and instead, a couple of months ago, the Wall Street closed. The next round of rumors claimed it, the Wall Street, was going to open as a massage parlor. This rumor, however, appears to be true. The sign out front reads:
Receiving Applications
For Masseuses
Many openings
Very Good Pay
Ages 19 - 35 years
Interested parties contact :



(For those who hadn't noticed, the "Massage Parlor" has become one of the most prominent, if low-key "Signs of the Times" over the last decade.)

SOI DEAD ARTISTS - SOI 33


What was originally the
Top Up 33 Lounge & Bar
, then the
Baan Isarn Muong Yoke 2
will soon be the
Captain 33 Seafood & Lounge Bar
. They should be opening later this month (
February
). We'll look in on them next time around.

SOI DEAD ARTISTS - SOI 33


S

OI

A

MBASSADOR



MAP




What used to be the
Elite Music Theater
became the
Escape Club
(which lasted all of one month). Now just closed (
RIP
), it will soon be home to the currently-renovating
Vegas Exclusive Club
. Expectations are it will be rolling out the red carpet at the end of the month. Located across from
Fire House
, near the old
Q Bar
.

SOI AMBASSADOR - SOI 11


Q

UEEN'S

P

ARK

P

LAZA



MAP




Last month, while we weren't looking,
Five Star Bar
did a quick 'change-of-clothes' from a
lounge bar
to a
pool bar
. New
operant descriptor
, same friendly service.

QUEEN'S PARK PLAZA - SOI 22


S

OI

E

DEN



MAP




The
Bangkok Beat
continues to be unique on
Soi Eden
with live music and disco. It remains the most popular
'till-late Nitespot
in that part of
Sukhumvit Road
.

SOI EDEN - Soi 7/1 Sukhumvit


S

OI

T

WILIGHT



MAP




A "
For-The-Archives
" pic of
Soi Twilight
, one of
Bangkok's
gay
Nightlife areas
.

SOI TWILIGHT




TOP
A PAGE FROM Bangkok's NIGHTSCENE HISTORY....

20

YEARS AGO :



February

With thanks to Cool Text - cooltext.com
Bangkok Eyes goes back in time to see
Who was new - And who was through
in the Expat Night Entertainment world.
How many of these old 'oases'
do you remember ?
Patpong I
*
That which was
Chics
became
Chick
. Located above today's
King's Castle II
, that real estate is currently the
Club 66
.
Patpong 2
*
Patpong Snooker
,
3
rd floor (stairwell across from
Foodland
) was closed for more than one month. It would eventually reopen; it is still there today.
*
Up on
The Ramp
,
Club Abaniko
closed it's doors. Located in the real estate currently occupied by
King Corner Net
.
*
Also up on
The Ramp
,
Lanna Thai
closed it's doors. No
Nitespot
currently occupies that
loc
.
*
And yet again, on
The Ramp
,
Classic Cocktail Lounge
closed it's doors. No
Nitespot
currently occupies that real estate.
Soi Cowboy
*
No changes that month / year.
Nana Plaza
*
A third
3rd floor
Nitespot
was under renovation - it was intended become the
Kinky
, however, plans died on the vine. It would be several months, and several name changes on the
3
rd floor before there would be three bars at that upper level.
*
XTC
opened up in it's old digs after renovations were completed. It was located in the corner which is now occupied by
Rainbow 2
.
Soi Katoey
(Silom Soi 4)
*
Tapas Cafe
closed it's doors, but it was to be a temporary closure. They are still at that location today.
*
Hyper The Un Pub
opened above
The Hype Restaurant & Bar
.
Hyper
was located in what is now the
Bearbie Bar
. Neither
Hype
nor
Hyper
exists today.
*
Helene's Place
closed. It would reopen the following month as a
Vietnamese Restaurant
(same name).
*
Spago Party House
closed it's doors. Today that real estate is occupied by
The Balcony
.
*
Divine
, the upstairs half of
Sphinx
closed it's doors. Today that real estate is occupied by
Fork & Cork
(a
Sphinx
-owned establishment).
Buckskin Joe V
illage
(~ October 1988 to October 2006)
(Also known -originally- as Tobacco Road or Soi Rot Fai or, 'The Tracks', and later as Machim [Thai] and Soi Zero)

*
Moon Bar
newly opened in
Bee Jay's
digs, the
Bee Jay's
having gone out of business that month.
*
Rita's Bar
closed it's doors that month.


Sin
City
2

A Film
Review
Click Here
! ORDER NOW !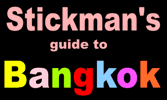 CLICK-

Bangkok Nightlife