MONTHLY
COLUMN

Bangkok,


01 January 2016


William R. Morledge



January's Nightlife News
Bangkok's Bars - 20 Years Ago
A Smile in the Land of Smiles.
Ask Us: Not "The Tunnel" ?
Graffiti -BKK's Midnite Vandals - #118


our months ago a
Night Entertainment Area
did not exist within the
Railway Bazaar
. Currently there are over
30 Nitespots
, and still growing. Not since the ill-fated
Sukhumvit Square
exploded onto the scene in
January 2002
has there been a
Night Entertainment Area
to rise this quickly - from '
scratch
' to '
critical mass
', and then some...
The entrance to Labor Bar, perhaps the longest, skinniest bar in Thailand.
Railway Bazaar is more than 90% Thai-oriented, only now beginning to attract farang. It remains to be seen if this will become an area-of-interest to foriegn nightcrawlers. It is this writer's opinion that it will be only of moderate interest to expats, but then, we have been wrong before....
To keep our terminology straight, the name 'Railway Bazaar' translates as 'Talat Nat Rot Fai', which is what most currently call it. To further complicate matters , the original 'Talat Nat Rot Fai' relocated out of its original digs to the area behind Paradise Park on Sri Nakarin Road around 2 years ago. This new Railway Bazaar (as reported herein) is going on one year old and is located behind the Esplanade Shopping Complex on Rachadapisek Road. (Note: The 'Talat Nat Rot Fai' behind Paradise Park is still in operation, however is not discussed herein.)
Railway Bazaar Night Entertainment Area, generally 'vehicle-themed', is unique in some ways; firstly almost every bar has an outside area, and more than half of the Venues have converted their rooftops to open-air seating. -As well they might - in that the rains have gone, and it looks like we are not going to have a 'cool-season' this year.... Secondly, in addition to the few permanent structures, there are a number of innovative Nitespots, made from Volkswagen vans, shipping containers, school busses - or whatever materials come to hand.
A couple of Volkswagen vans, an awning frame, barstools, booze - and.... walla ! ...a full-scale bar-beer on wheels.... (Pardon our Internet French....)
The Railway Bazaar modus operandi ranges from quiet hideaway bar to live rock music to mega-karaoke to restaurant bar. (We suspect the latter, the 'restaurant bar' is because of licensing restrictions - while food is usually available on premises, virtually all the Nitespots advertising as restaurants are, functionally, drinking-bars.)
One aspect of the Thai 'bazaar' in general is that it's opening hours / days are 'by appointment only', which translates as : it only opens on certain days of the week. Railway Bazaar is no different in that respect - originally it was open only Friday through Sunday. Currently, the Night Entertainment Area has a waiver, in that they are closed only on Mondays.
'Survival', of course, is in question - the Railway Bazaar now sits upon land that will soon be of high real estate value, and therefore subject to redevelopment. We have referred to other similar Nitespot Areas in the past as "opportunistic" - the businesses within are semi-permanent at best, and are doing all they can to make a profit before the land is redeveloped. Nevertheless, for as long as it lasts, the Railway Bazaar Night Entertainment Area is, in itself, an interesting and unique 'exploration' for the curious expat, and combined with the rest of the market, it can provide for an entertaining evening out on the town.
Bus Bangkok was originally just that - a bus. Now it has
grown outward and upward.... Busy on weekends.
Below are a few of the other pics we snapped on our last visit.
The Apache is located next door to the.... Apache. Two identically named bars, one having taken over it's next door neighbor.
The always-popular Retro Cafe located in the end slot.
They manage to maintain that essential 'festive mood'.
The indoor-outdoor Rod's Bar, one of the biggest bars (in total square feet)
we know of, has a good rocking band most nights.




January's
Thai Smile
sees in the
New Year
.


Historical Minutiae Dept.


'The Tunnel' isn't 'The Tunnel'
Bangkok,

Last month you had a Q & A on that dark little pathway from Soi 5 to Soi 7 which had a few low class bars, the shortcut to the Beer Garden. You referred to it as The Tunnel, but actually it was just that shortcut path, it didn't actually have a name.

Just sayin'
Bob

Greetings, Bob,







Best,
Mor


? ASK US (ALMOST) ANYTHING !
We can answer virtually any (reasonable) question on the Expat Night Entertainment Scene in Bangkok - be it Historical or very recent. Send us an e-mail and we will do our best to answer you soonest.
| | |
| --- | --- |
| 'Boge' Hartman Historical Research | |
* Zootramp Publications


Let the January 2016 Follies begin...
BANKOK EYES' Expat Night Scene.


P

ATPONG

1



MAP




The
King's Castle II
wasn't short of
Christmas
spirit this year. Keep the party rolling.

PATPONG I


Likewise, the
Thigh Bar
celebrated
Christmas
in grand scale - not to mention flashing some new neon... Looking good.

PATPONG I


The upstairs
Queen Bar (Queen 1)
, after having been briefly closed last month, popped out of it's crypt and is back in business. Roll on.

PATPONG I


P

ATPONG

2



MAP




G's
(in the old
Bobby's Hotdog
location next to
Foodland
) is being renovated - but when renovations are completed, they will not be moving back in - they have moved lock stock and beer barrel to
Soi Katoey
.

PATPONG II


S

OI

C

OWBOY



MAP




A
for-the-archives
pic of
Spice Girls
(
Cowboy 2
in the background) from one of our semi-regular contributors. Good shootin', Pard.

SOI COWBOY


Cowboy 2
has added yet even more new neon - now we know how to write '
Cowboy 2
' in
Japanese
.... All else unchanged. Let 'er rip, then, gents and ladies.

SOI COWBOY


N

ANA

P

LAZA



MAP




There was no shortage of
Santa-ettes
at
Nana Plaza
on
Christmas
.

NANA PLAZA


In the "
We Don't Make Mistrakes
" department, the sign "
Bangkok Milfs
" is not the name of the bar behind
Bangkok Bunnies
, rather it is part of that name (see our last-month's entry).
Bangkok Bunnies
now runs all the way back, utilizing (almost) all the area of the old
Voodoo
.

NANA PLAZA


The
Monster Ink
(nee
Spirit House
) has tanked, and the slack has been taken up by the new
Short Time
. Ostensibly a restaurant, it's
modus operandi
is that of a
bar beer
. May the force be with them....

NANA PLAZA


Technically, it is
Lucky Luke's Tiki Bar
, but from the visible neon, most will know it as just
Tiki Bar
. May they keep on keeping on. Another pic for the archives.

NANA PLAZA


S

OI

N

ANA



MAP



Door Art Of The Month
Award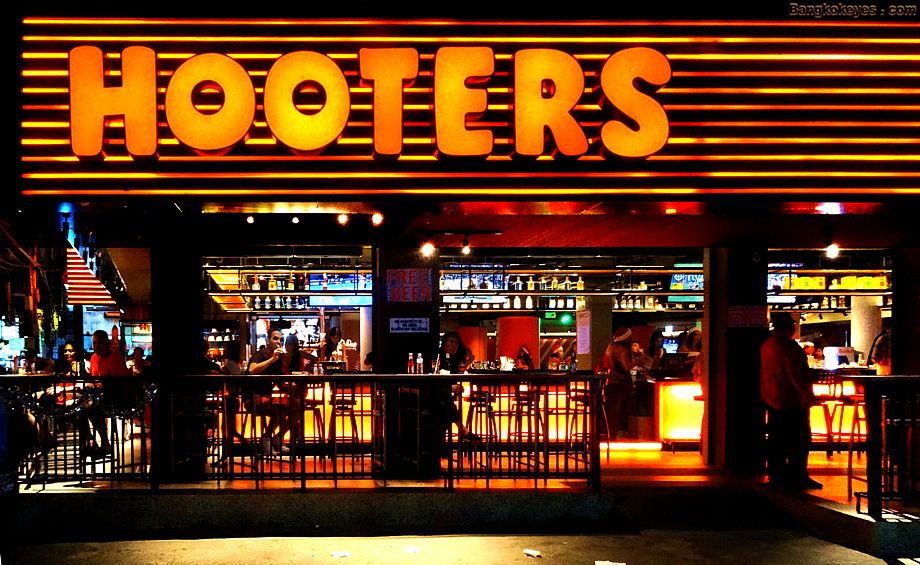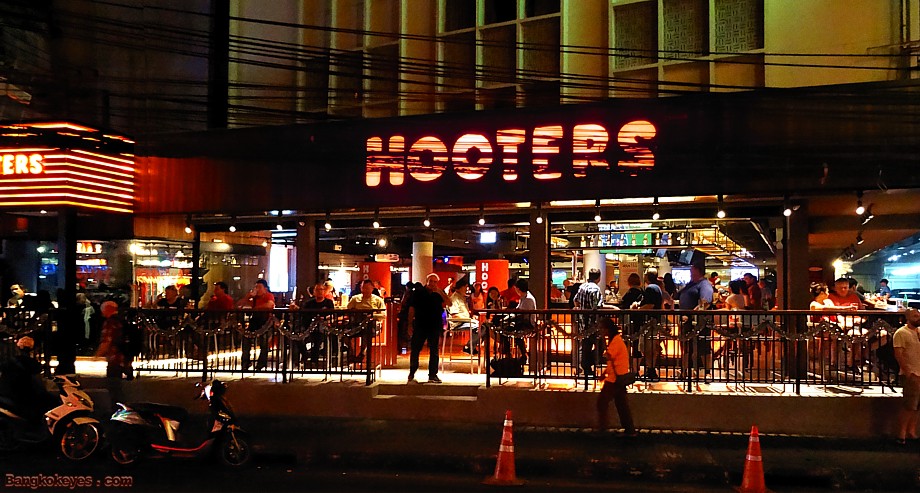 The
Hooters
at the
Nana Hotel
opened softly on
22 December
, and by the time you read this, it will have had it's "
Grand Opening
". In spite of the myriad
Prophets of Doom
, the new
Hooters
is doing just fine, thank you very much. They pulled off a surprise : the layout is that of an open
bar beer
, much as was it's predecessor
Golden
, except that it is now very much larger. The big differences between
Hooters
and 'just-another-bar-beer' are - they serve food, and don't allow 'freelancers'. And check the layout (pics above) - our first choice for
Door Art of the Month
. Welcome them to
Darwin's
trials of attrition.....


SOI NANA


Starting out years back as the
Nana Disco
, it has gone through several iterations, to include
Angels Disco
, then later,
Nana Liquid
, then back to
Nana Disco
, then to
Mai Peng
, and now brand new out of the starting blocks; the
Equality Nightclub
.
Katoey disco
is the
prime agendum
. Each iteration, each time there has been a name-change, the new
Nitespot
has lasted a shorter time than it's predecessor.... (personally, we wish it was still
Angels
). Nevertheless, welcome them to the machine.

SOI NANA


After missing their original opening date of
31 October
,
The Mexican
has opened it's large pintal doors to everyone. If you appreciate good
Mexican food
, we think you're going to like it. If you're an aficionado of tequila, we think you're going to like it even more - they have their own
tequila bar
within - all
blue agave
- all major brands.
Five-Star
all the way, at reasonable prices. Wish them all aces and faces in this sudden-death game of
Night Entertainment
.

SOI NANA


The Night of the Dragon
...THE CYMBALS ...THE DRUMS

Come the festive Christmas / New Year's Season, so come the dragon dancers. You want your Nitespot to have good luck, just give them money, and they will do their thing. Very colorful.

SOI NANA


S

OI

K

ATOEY



MAP




For you regular customers who haven't got the word,
G's Bangkok
has relocated from
Patpong II
to
Soi Katoey
- in the old
One Night Only
digs (after extensive renovations). Bigger and, business-wise, better. May they continue to beat the wolves at their own game.....

SOI KATOEY - (SILOM SOI 4)


S

OI

22



MAP




The
Asia Health Massage
, a highly successful, and highly ambiguous massage parlor has expanded into the unoccupied next door
loc
(the second of three
loc
of the now extinct
May Massage
). The beat goes on....

SOI 22 - (Sukhumvit)


The
Baan Sabai Thai Massage
has taken over, lock, stock and Tiger Balm, from the
Wild Orchid Massage 2
.

SOI 22 - (Sukhumvit)


Ah, the moon is a harsh mistress, as is the
Night Entertainment
game. Just ask the long-standing
Aloha Bar.
They have cashed it in, lock, stock and chrome barstool. Wishing them a soft landing, wherever, whenever....

SOI 22 - (Sukhumvit)


The never-very-popular
Dreamz 22 Discotheque
in the
Soi 22 Holiday Inn
has seen it's end of days. And nights. We suspect there was too much in-house competition, what with the ground floor
Bangkok Betty
continuing to jump -as it tends to do - picking up passing foot traffic as it goes along.....

SOI 22 - (Sukhumvit)


The
Top Secret 22
has stuffed the last chit in the last plastic cup, and wheezed it's last. All that remains is an historical footnote. Greener pastures, ladies.

SOI 22 - (Sukhumvit)


S

OI

D

EAD

A

RTISTS



MAP




Christie's Club
was originally replaced by
Velvet
(
May
of
2013
), however, it went out of business after a moderate run. Then, at the end of last
August
it reopened as
Velvet / Christie's Club
. But this month the
Velvet
neon has disappeared, to be replaced by
100% Christie's Club
signage. What goes around, comes around. Welcome back.... if you were ever really gone....

SOI DEAD ARTISTS - SOI 33


The
My Theraphy (sic) Spa & Massage
has added some digital scrolling neon, which can be seen from a thousand yards... May they keep on slippin' and a slidin'.

SOI DEAD ARTISTS - SOI 33


The
i-Bar (Bar Krus)
, which took over from the
Degas
in
July
of
2012
, has plummeted headlong into the abyss. However, if current signage is any indication, it looks like the
Degas
will soon be returning from the crypt. What goes around comes around.... We will follow up and get back atcha.

SOI DEAD ARTISTS - SOI 33


The
Yumeji Club
in
Soi Pan Pan
, opened in
November
of
2010
, has said it's last
sayonara
- only windblown leaves decorate its darkened doorway. A decent
5
-year run, nonetheless.

SOI DEAD ARTISTS - SOI 33


S

OI

A

MBASSADOR



MAP




Escape Club
- at the end of
Soi Ambassador
(across from
Fire House
) has replaced, ostensibly, the
Elite
, which earlier replaced the
St Moritz
. Welcome to the neon jungle.

SOI AMBASSADOR - SOI 11


Play 'Taps' for the
Champions Sports Bar
, for they have fallen on their sword. Perhaps they have found a way out from under it all....

SOI AMBASSADOR - SOI 11


Zaks Dining & Lounge
, a low-key
Night Entertainment Venue
, tends to emphasize the '
Lounge
' in the later hours. May they persevere. A file-photo for our archives.

SOI AMBASSADOR - SOI 11


Q

UEEN'S

P

ARK

P

LAZA



MAP




The
grande dame
of
Queen's Park Plaza
, the
Baan Beer Restaurant & Bar
was not dead, it was just playing 'possum. This last month, it has reopened - de-emphasizing the
restaurant
, and emphasizing the
pool bar
. Welcome back to the night-follies.

QUEEN'S PARK PLAZA - SOI 22


S

OI

E

DEN



MAP




Last month we noted that the
B & A Bistro Bar
had more than doubled in size, and we put up a photo to prove it (see again below). Little did we know that the right-hand side was primed to be a brand new bar : "
Shots Bar
". Welcome them to the slippery slope.

SOI EDEN - Soi 7/1 Sukhumvit


S

OI

T

WILIGHT



MAP




The
X Size
has put out new signage. For the life of us, we can't figure out why - it is much harder to read than the previous sign - almost unreadable at any distance greater than
25
feet. The show must go on....

SOI TWILIGHT




TOP

A PAGE FROM Bangkok's NIGHTSCENE HISTORY....

20

YEARS AGO :



January

With thanks to Cool Text - cooltext.com
Bangkok Eyes goes back in time to see
Who was new - And who was through
in the Expat Night Entertainment world.
How many of these old 'oases'
do you remember ?
Patpong I
*
No changes that month / year.
Patpong 2
*
King's Love Boat
opened newly in what is now
The Club Kings
.
*
Princess Castle
closed it's doors. Located next door to the
Pink Panther
in what is now
Screw Boy
.
Soi Cowboy
*
No changes that month / year.
Nana Plaza
*
Shooters Wild West A-Go-Go
opened up as
Nana Plaza's
second
3
rd floor bar, next to
Slitz ! A Gogo
. There is no
Nitespot
at that location today.
Soi Katoey
(Silom Soi 4)
*
The Blue Castle Pub
closed it's doors for good. It was located next door to
Tapas
, nearer
Silom Road
(
Tapas
is still there today).
*
The
Redwood 23
reclosed, yet again, after having reopened for only one month. There is no
Nitespot
at that location today.
Buckskin Joe V
illage
(~ October 1988 to October 2006)
(Also known -originally- as Tobacco Road or Soi Rot Fai or, 'The Tracks', and later as Machim [Thai] and Soi Zero)

*
No changes that month / year.
Sin
City
2

A Film
Review
Click Here
! ORDER NOW !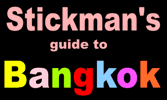 CLICK-

Bangkok Nightlife