MONTHLY
COLUMN

Bangkok,


01 March 2016


William R. Morledge



March's Nightlife News
Bangkok's Bars - 20 Years Ago
A Smile in the Land of Smiles.
Ask Us: A Lady moves to Bangkok
Graffiti -BKK's Midnite Vandals - #120


en years ago this month,
Midnight Hour
opened with :
'Chris Coles' Noir Perspective'
<

Iink>
- a piece on up-and-coming
expressionist painter Coles
. Our article was motivated by the sudden and growing interest in
Coles
' paintings immediately following his successful showing at
Liam's Gallery
in
Pattaya
. Last month we revisited this ongoing success story -
Chris Coles
, his
exhibits
and his
paintings
.
One corner of Chris Coles' showing at the Brainwake Cafe & Gallery this January.
As by coincidence, while we were in the drafting stages of an 'update' story on Chris Coles, we received an invitation from him to attend his 'opening' at the Brainwake Cafe & Gallery at the back of Soi 33 Sukhumvit. ....Made to order - we would definitely be in attendance.
A candid shot of Chris Coles at the Brainwake.
The turnout for Chris Coles' Brainwake exhibition was somewhat greater than anticipated ; a number of reporters representing large and small publications, 'local' expat writers and a 'poet' or two, in addition to several members of the expat population that had purchased a 'Chris Coles' in the past. Last, but not least were the expats and local customers of the Brainwake who were drawn in to the showing like moths-to-the-flame by their own curiosity.
A 'Chris Coles' painting we at Midnight Hour are quite fond of. In fact, we were so 'fond-of' it, we purchased it and placed it front and center in our News Room. We never knew the name for this painting, so we call it 'Predator'.
Over the last ten years, the demand for Chris Coles' paintings has been on the increase. A number of local restaurants and other Nitespots have a 'Chris Coles' hanging somewhere in a prominent position (Check Inn 99, for example). Many in Thailand's expat community also have a Coles painting up at home, and will note conversationally, "Oh, yes, I already have a 'Chris Coles'.
Another pic of the Coles exhibition at the Brainwake.
While Chris pursues other themes from time to time, it is his Nightscene Expressionist canvasses which capture both the the viewer's imagination and the reality on the ground. Often a single Chris Coles canvas will capture the neon / black-light / chrome-pole frosting on the cake - and the darker grunge of the cake itself. Chris Coles... "the painter who sees in the dark". Chris' works are original, unique, and have carved a permanent niche in Bangkok's Nightlife Scene.
The Check Inn 99 has three 'Chris Coles' paintings hanging within. This one, Crazy Hour, partially obscured by a customer, is located at the end of the bar.
Not that Chris Coles' paintings have taken off like Bligh Dolls or Luke Thep Dolls or Krispy Kreme donuts - Chris will just have to wait for that 'intangible', that unknowable element that causes something to 'go viral'. Those of us who know Chris have told him in jest that he would have to fake his own demise before his paintings would be sought by the rich-and-famous, the renown galleries, the famous auction houses....
A rendition of a young lady many imagine they once knew....
An out-take from the Bangkok Post heralding the Chris Coles outing at the Brainwake.




A
Hooters
Thai Smile
for one and all this
March
.


Historical Minutiae Dept.


A Farang lady in Bangkok
Bangkok,

Hello, Happy New Year.

I am an Australian woman, and was living in Tokyo before returning to Australia recently. I have a job in Bangkok and I will be coming in April. I am an artist, I like meeting people and going out. I really like what I do, but the problem is that after work and on weekends I need to hang, have a few bits of communication and kick back a bit. I just want some single guy who doesn't mind hanging with a foreign girl and talking and going out. By 'going out', I mean the temples and galleries and stuff, but also restaurants, just where people can hang for fun. I am not looking for 'the one', but that's not to say its not what I want, it's just the city life can get lonely and better to share the experience than hang in my room at night.

What do you think??

B.

Greetings, B.,

Assuming this is a legitimate request, (we receive so many scam emails), it would be all too easy for a foreign lady to find someone to escort her around Bangkok (as would be any other big city). Although Bangkok is much safer than virtually all other big cities, it would still be risky for you to take short-cuts finding someone to 'show you around'.

Recently, I have heard of 'services' which offer to take new visitors around on a 1-on-1 basis, but I do not know of their reliability or their price structure. And therefore I do not recommend them. Also, it would be better, read: 'safer', if you were 'out on the town' with a girlfriend at least until you know the territory.

As Bangkok Eyes is a 'Night Entertainment" website, I could list for you some legitimate Night Entertainment Venues that do not take advantage of customers - if you are interested. However, as a public forum, Bangkok Eyes (me), I have gotten myself in hot water before on making specific personal 'recommendations', as occasionally the people to whom I have made those recommendations were dissatisfied with their experience. -It seems they harbored unrealistic expectations, and they saw this as my fault.

Probably the best, and safest, is the Bangkok pub scene. The pub scene has grown over the last decade, and there are a number of them in the Silom Road area and the Sukhumvit Road area. Of course some of them are better than others, but for the most part, they have a higher ratio of 'nice guys' to predators. Another way to say the same thing, pubs are tamer than the discos and the late night clubs, and you can take your time getting to know what's what and to meet people. A fun place to start off at would be Bangkok Betty's at the Holiday Inn on the top of Soi 22, Sukhumvit Road. It is indoor - outdoor, and has a good band on the weekends.

Best,
Mor




? ASK US (ALMOST) ANYTHING !
We can answer virtually any (reasonable) question on the Expat Night Entertainment Scene in Bangkok - be it Historical or very recent. Send us an e-mail and we will do our best to answer you soonest.
| | |
| --- | --- |
| 'Boge' Hartman Historical Research | |
* Zootramp Publications


Let the March 2016 Follies begin...
BANKOK EYES' Expat Night Scene.


P

ATPONG

1



MAP




Part-time A Go-Go
...NOT-SO-PRIVATE DANCERS WANTED

The Thigh Bar, having completed renovations within and without last month, are looking for more dancers. And they have gone the way many bars in Bangkok and Pattaya have gone : offering a daily rate of 500 baht. -By the way, the new interior is much more spacious and customer-friendly - let the good times roll.

PATPONG I


P

ATPONG

2



MAP




The
"Bar-On-The-Bridge"
- the
Black Pagoda
- now has their extension at the rear in full operation - pool tables, alcoves for private conversations, and a private 'room with a view'...

PATPONG II


The
Bua Luang Snooker (PP Snooker)
has been in lock-down the last couple of times we passed by. Guess it is really closed after all (it would close temporarily in the past, only to reopen) - it doesn't look like it will come back to life this time. Co-located with the
Black Pagoda
on the
3rd level
in the
Cosmos stairwell
.

PATPONG II


S

OI

C

OWBOY



MAP




Closed most of last month, the
Dollhouse
has now reopened with it's same old flare. The closure, originally due to management-staff discord, was exacerbated when partner/ manager
Darel Davenport
tragically fell to his death while trying to access his locked highrise condo from a next-door balcony (his photo below). Rest In Peace,
Darel
.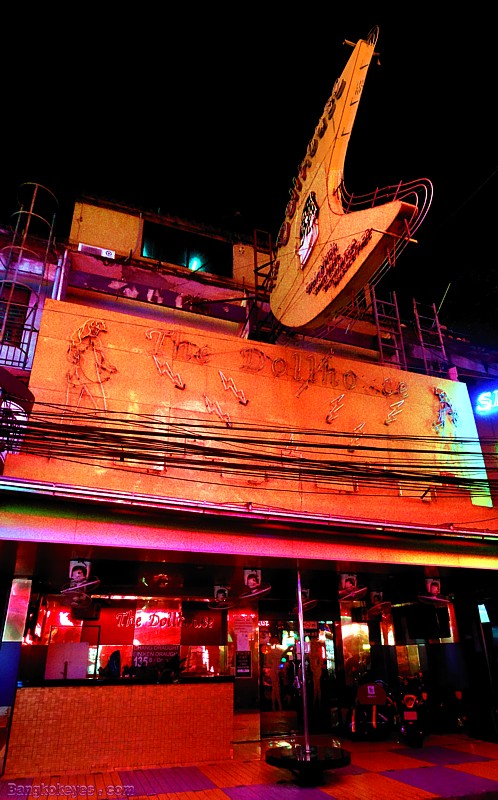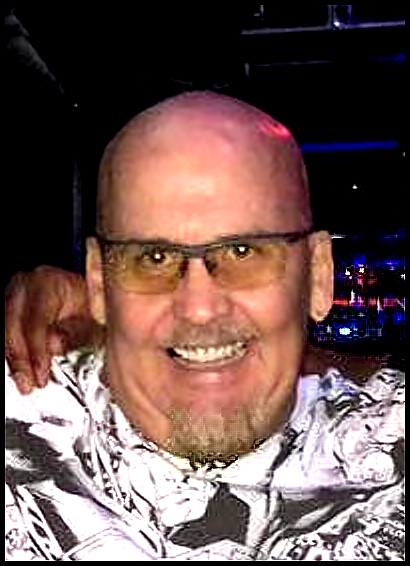 Extract from Internet source considered 'Fair Use' under Copyright Law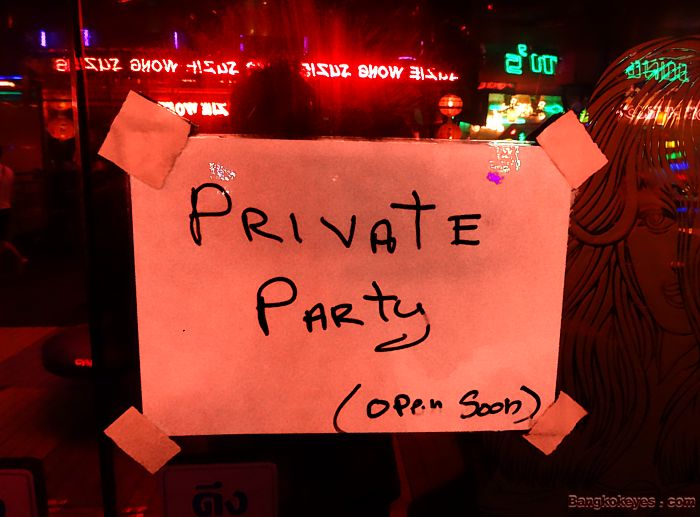 SOI COWBOY


Last month we noted in this column that
Club Rio
was closed, but that it quite likely would reopen soon. This month, while on our survey, we were pleased to note that it had reopened. As we were annotating our survey sheet to that effect, the lights went out (
21:50
hrs), and the few girls that
did
show up for work began to trickle out into the
Soi
in their bikinis and high platforms, slowly making their way to one of
Rio's
sister bars.
WTF?

SOI COWBOY


N

ANA

P

LAZA



MAP




A quick-pic
For-the-Archives
of
Casanova Bar
and their new signage.
Casanova
is
Nana Plaza's
first katoey bar.

NANA PLAZA


While
Bangkok Bunnies
and
Bangkok MILFS
try to make up their mind, we try to follow along. (Yes, they did make up their mind.) Originally
Bangkok MILFS
was a separate bar, then it became part of the larger, extended
Bangkok Bunnies
, and now it is a separate bar once again. (It does, however, have a narrow passageway amidships where you can walk between the two bars.) We wish them constancy.

NANA PLAZA


S

OI

N

ANA



MAP




The katoey disco
Equality Club
, located in the
Nana Hotel
, lasted approximately two months - and a little bit, before it plummeted headlong into the
Abyss
. No one was particularly surprised, by the way - there were a lot of "
I-told-you-so's
" down in the streets. This month we noted that the
Equality
had been replaced by the
EQ Late Night Club
, so we went in for a quick chat with the staff. I proceeded to ask a lovely young lady about the new
Venue
in my very best
Thai
language. She eventually told me she doesn't speak
Thai
, that she was from the
Philippines
. At any rate, in answer to my specific question, no, the
EQ Club
is not another katoey venue. Their sign at the entrance indicates a cover charge of
200 baht
.
Two hundred baht
just to get in?... Hmm, one wonders how judiciously they went over their business plan.... ...And why do I get that same old sense of impending doom? Nevertheless, wish them well as they wade into the sharkpool.

SOI NANA


S

OI

K

ATOEY



MAP




A
For-the-Archives
snapshot of the
Spanish On 4
. A long-standing and successful
Nitespot
on
Soi Katoey
(...since
September 2009
, having taken over the reins from
Luminous
).

SOI KATOEY - (SILOM SOI 4)


S

OI

22



MAP




A brand new massage parlor, the
Malaiseeda Massage
has moved into the old
Fee Far
/
Fah Massage
digs. Wish them well on that slippery slope. Located at the top of
Soi Lemongrass
, just past the old
Queen's Park Hotel
.

SOI 22 - (Sukhumvit)


A month ago, the
Wild Orchid Massage
put up some new neon - much more visible. All else
status quo ante
. Located next to the old
Queen's Park Hotel
on the main
Soi
.

SOI 22 - (Sukhumvit)


The
Happy Pub Bar
was never much more than a
hole-in-the-wall
at the top of
Soi Starlight
, but at least it was happy. This month, after a
14 month
run, we note it is in lockdown mode - the steel roller-shutter firmly in place...

SOI 22 - (Sukhumvit)


Last month
Miss Neko
was a small restaurant located a couple of doors deeper in the
Soi
. This month, she moved in between
Baan Sabai Massage
and
Yuuka Snack Bar
, and is now a
massage parlor
instead of a restaurant. Welcome the
Miss Neko Massage
to the neon jungle.

SOI 22 - (Sukhumvit)


What was the
'Massage' Massage
is closed down, and in it's place, come
March 8
, will be the
Quickie Massage
. Photos next issue.

SOI 22 - (Sukhumvit)


S

OI

D

EAD

A

RTISTS



MAP




What was originally the
Top Up 33 Lounge & Bar
, then the
Baan Isarn Muong Yoke 2
is now the
Captain 33 Seafood & Lounge Bar
. (See our note last month.) We welcome them to
Sisyphus'
mountain, and good luck with that boulder.....

SOI DEAD ARTISTS - SOI 33


Originally the
Yumeji Club
, these digs are now home to the brand new
7-Heaven Fantasy Massage
. A specialty massage aimed primarily at
Japanese
clientele. Located in
Soi Pan Pan
. Welcome them as they continue to slip 'n slide.

SOI DEAD ARTISTS - SOI 33


Joy,
located up one flight of stairs at the
S 33 Compact Hotel
, is closed again. No telling when it will open again, or how long it will stay open, should it open at all....

SOI DEAD ARTISTS - SOI 33


The unusually named
[H] Massage
, located in
Sub-Soi 4
, has battened down the hatches and posted a 'For Rent' sign in the window. That's all she wrote, then.

SOI DEAD ARTISTS - SOI 33


S

OI

A

MBASSADOR



MAP




What used to be the
Elite Music Theater
became, briefly, the
Escape Club
. Last month we noted that the '
Vegas Exclusive Club
' was under renovation at that location, very nearly ready to open. And open they did, but with one small minor change in the wording : it is now the
Vegas Entertainment Club
. Located near the now-defunct
Q Bar
. Let's get ready to rock 'n roll....
Door Art Of The Month
Award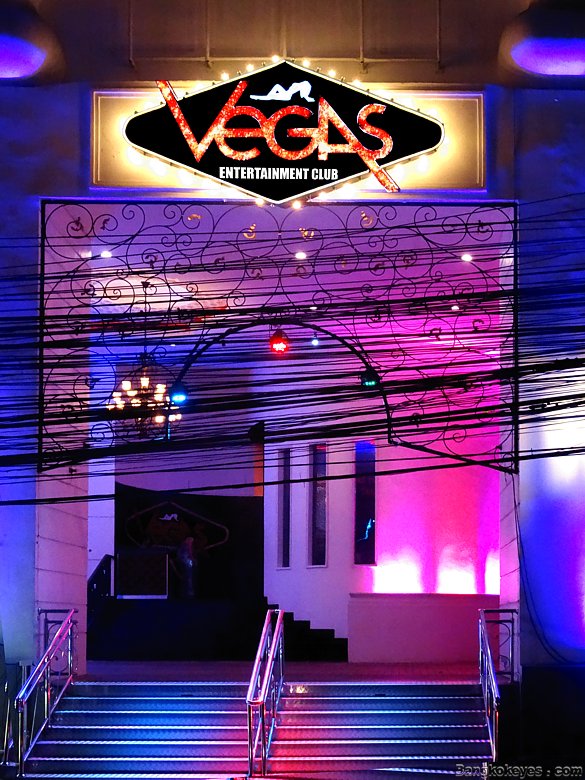 The
Vegas Entertainment Club
, with the exception of the sign atop the structure, changes color in a most dynamic fashion - as is now possible with the new
LED
lighting systems. The combo of tasteful architecture and the lighting make the
Vegas
our sure-fire selection for this month's award.


SOI AMBASSADOR - (Sukhumvit Soi 11)


Flow
(located in the same building as the
Nest
- across from the old
Q Bar
) has been open for a couple of months already, but until last week we did not see any activity there. Last weekend, however, was another story - the place was jumping, replete with party balloons, projection video, etc. Welcome them to the vicissitudes.

SOI AMBASSADOR - (Sukhumvit Soi 11)


The
Night Friends Bar
is no more. Not much more than a temporary '
sidewalk bar
', it wasn't destined to last. Ashes to ashes - the story of old....

SOI AMBASSADOR - (Sukhumvit Soi 11)


Q

UEEN'S

P

ARK

P

LAZA



MAP




A
For-The-Archives
photo of
Hangout
- this new bit of neon includes the words, '
Queen's Park Plaza
', which, on reflection, is quite unnecesary, in that the sign has been located in a place that can't be seen from outside.

QUEEN'S PARK PLAZA - SOI 22


S

OI

E

DEN



MAP




The
Crazy Hot
has put the last checkbin in the last plastic cup... It was bought over by the
BJ Group
of bars (it's lease had expired), but the reincarnation won't be coming on line for a while yet - the
Crazy Hot
chattel is still inside under lock-and-key. The
BJ Group
hasn't yet decided what the new name will be. We will, of course, be checking it out next round.....

SOI EDEN - Soi 7/1 Sukhumvit


S

OI

T

WILIGHT



MAP




A "
For-The-Archives
" pic of
Soi Twilight
taken at the
Surawong Road
entrance.

SOI TWILIGHT




TOP
A PAGE FROM Bangkok's NIGHTSCENE HISTORY....

20

YEARS AGO :



March

With thanks to Cool Text - cooltext.com
Bangkok Eyes goes back in time to see
Who was new - And who was through
in the Expat Night Entertainment world.
How many of these old 'oases'
do you remember ?
Patpong I
*
No changes that month / year.
Patpong 2
*
Up on
The Ramp
,
Club Abaniko
reopened. It was located where
King Corner Net
now holds court.
*
The
Princess Castle
reopened after almost two months' down-time. It was located next door to the
Pink Panther
- that lot is now home to
Screw Boy
.
Soi Cowboy
*
No changes that month / year.
Nana Plaza
*
No changes that month / year.
Soi Katoey
(Silom Soi 4)
*
Tapas Cafe
reopened. They are still at that location today.
*
Hyper The Un Pub
combined with
The Hype Restaurant & Bar
.
Hyper / Hype
was located next door to the
Telephone Pub
, now the
Connections
. The
Hype
/
Hyper
no longer exist.
*
Helene's Place
reopened. It is still there today, primarily as a
Vietnamese
restaurant.
*
Milk Bar
reopened. It was located between
Telephone Pub
and the (now defunct)
Rome Club
.
*
Divine
, the upstairs half of
Sphinx
reopened. Today that real estate is occupied by
Fork & Cork
(a
Sphinx
outlet).
*
Deeper
became the
DP 2000
( a name-change only ). It was located in what is now the
Bearbie Bar
.
Buckskin Joe V
illage
(~ October 1988 to October 2006)
(Also known -originally- as Tobacco Road or Soi Rot Fai or, 'The Tracks', and later as Machim [Thai] and Soi Zero)

*
No changes that month / year.


Sin
City
2

A Film
Review
Click Here
! ORDER NOW !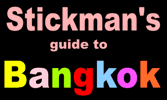 CLICK-

Bangkok Nightlife