MONTHLY NEWS
COLUMN

Bangkok,


01 September 2016


William R. Morledge


September's Nightlife News
'NANA PONG Style'
Bangkok's Bars - 20 Years Ago
A Smile in the Land of Smiles.
Ask Us: Katoey-spotting ?
Graffiti -BKK's Midnite Vandals - #126
Perhaps more obvious to longtime expat residents and those visiting
Thailand
over the years, the
Pattaya Nightlife Scene
has a visceral, edgy undercurrent, neither entirely pleasant nor unpleasant, but omnipresent nonetheless. The closest parallel would be the
"Wild West"
feel to the long-gone
Golden Mile
on
Bangkok's New Petchburi Road
. And yet
Pattaya
wasn't always that way....

WALKING STREET Pattaya

And at this juncture, a look back in history paints an interesting picture. We often have seen in print that
R&R
from the
Viet Nam
conflict was the beginning of, and the culprit behind,
Thailand's notorious
Nightlife
. And while we were busily dwelling on that urban myth, we tended to forget - the
Viet Nam
conflict was, in fact, the opening of
Western Eyes
to the
Nightlife
of the
East
as a whole. The
R&R
program (
1966 - 1972
) opened up opportunities to travel to countries participating in the
Viet Nam
conflict on the side of the
South Vietnamese
. Excluding
R&R
areas outside of
Asia
, there were a number of international destinations - each with it's own
heavy-duty
expat
Night Life
game. And, at that moment in history,
each
of these
expat
Night Entertainment Districts
had the potential to grow into permanent destinations for those seeking the
Good Asian Nightlife
experience
:
Hong Kong
(mainly
Wanchai
, but there were other areas as well).
Malaysia
(Originally
K.L.
but later
Penang
).
Manila
(an exploding
Ermita
, and including
Olongapo
, and a budding
Angeles City
next to
Clarke AB
).
Seoul
(
Itaewon
near
Yongsan Garrison
.)
Singapore
(
Geylang
, old
Bugis Street
)........
Taipei
(
Ching Shan Road
and
"Sin Street" Chin Chow
).
Saigon
(
Tu Do
and
Cach Mang
streets, and including parts of
Vung Tao
and
Cho Lon
.
*
In-country
R&Rs
were rare, but
Saigon
had a huge
Nightlife Scene
due to military/ civilian personnel in the area.)
Bangkok
(
New Petchburi Road
, the growing
Patpong Roads
and
Khlong Toey
).
In hindsight, we see that most of those locations have either shrunk into inconsequential size and reputation or disappeared altogether.
But what about
Pattaya
while all this was going on? How did
Pattaya
find it's way into this
patchwork of internationally known
Night Entertainment Areas
?
Door Art Of The Month
Award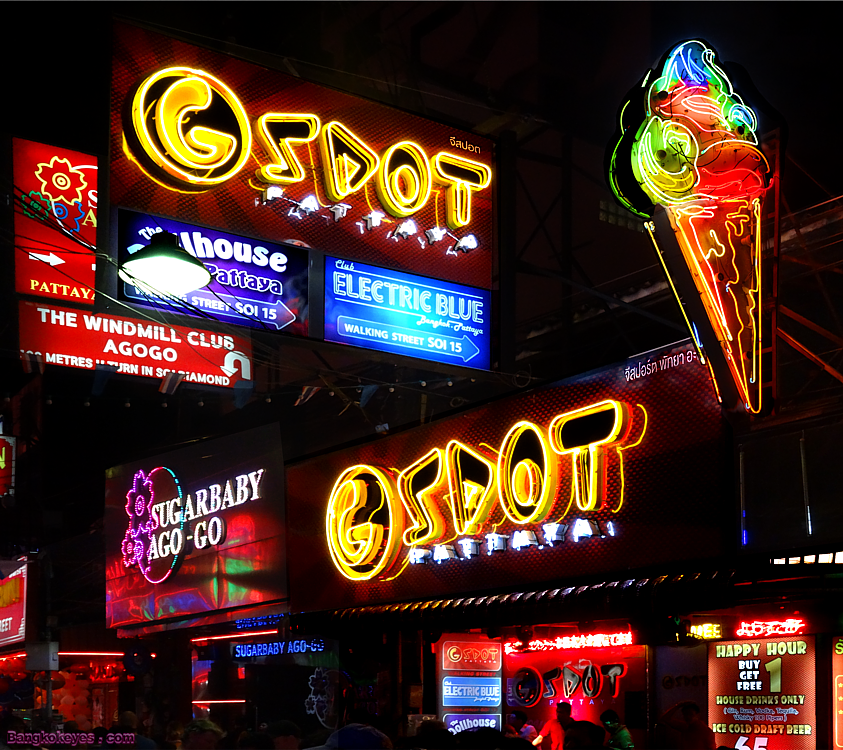 G-Spot
- the most colorful - the most inviting
A Go-Go
we have visited, or even laid eyes on this last month. 'Knock-Out' neon...


WALKING STREET (Pattaya)

While the

West

was busily opening it's eyes to those major

Asian Night Entertainment

destinations

during the

60's

and

70's,

Pattaya

remained pretty much just another

Night Entertainment

backwater, at least at first.

Pattaya

did have some increase in foreign tourism during that time, but the lion's share of the

expat

Nightlife

in that neck of the woods was closer to the

U Tapao Airbase

at

Kilo Sip

, while the bulk of such

Entertainment

remained in

Bangkok

. By the

mid-70's

, there were a few

A Go-Go

bars in

South Pattaya

-

Dino's

, the

Harbor Light

and

Hank's Hideaway

. (These were the pioneer

A Go-Go

bars in what would one day become '

Walking Street

'.) Shortly after, the

Tahitian Queen

A Go-Go

opened in

Central Pattaya

, but that was pretty much it.

WALKING STREET (Pattaya)

What happened next was the so-called
German Invasion
in the last half of the
70's
, which brought to
Thailand
two significant additions to the
Night Entertainment World
. As might be fitting, the sun-seeking
Germans
brought the
bar bier
(beer bar) and the
bier garten
(beer garden). At first, the
bar bier
concept was not received well in
Bangkok
, however
Bangkokian
expats did take to the
bier garten
s. Not so,
Pattaya
- in fact, the reverse was true; the
bier bar
s were what caught the imagination of the beach-ware crowd, and thus began their flourishing.... The
bier garten
s not so much.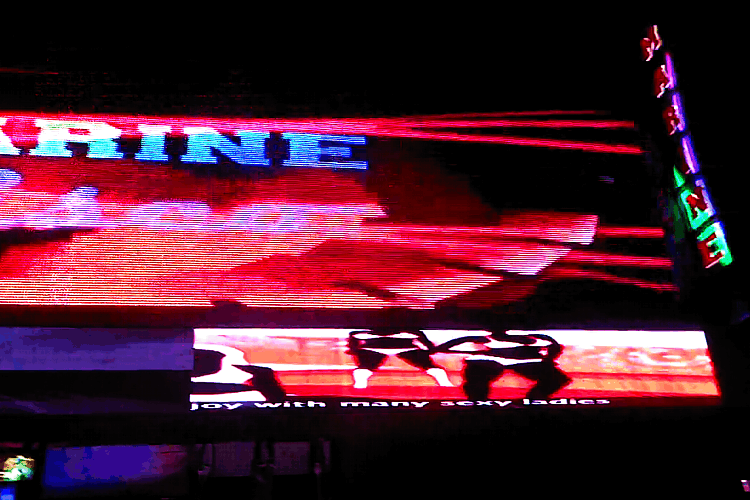 WALKING STREET (Pattaya)

Thailand
, because of geological location and international politics, remained a focus for foreigners, and the growth of the
Night Entertainment Sector
continued unabated after the
R&R
days faded into history. Initially, the bulk of new
Night Entertainment
was the seemingly inextinguishable
A Go-Go
bar. The peak of
Bangkok's A Go-Go
growth was in the
1988 - 1989
timeframe. But in spite of the ever-increasing millions of tourists annually,
Bangkok's A Go-Gos
didn't keep pace
:
their numbers slowly, inevitably, being stifled by the likes of
pubs, discos, beer bars (!), sports bars, pool bars
....
A Go-Go
was, and is no longer "
Number 1
" in
Bangkok's
Night Entertainment
kingdom. In contrast, growth of the
A Go-Go
scene in
Pattaya
(in spite of the overwhelming superiority-in-numbers of the
bier bars
) was slower, but nonetheless, rock-steady. In the
international press
, while
Bangkok
was receiving (almost) all the notoriety,
Pattaya
remained lower profile - and slowly continued to build, and to build even more.

WALKING STREET Soi 15 (Pattaya)

In summary, while
Bangkok
, and virtually the entire remaining inventory of
Planet Earth's
Night Entertainment World
was either stagnating or diminishing or disappearing all together,
Pattaya
continued to quietly grow. No longer contained in
South Pattaya
, there is the equivalent of a large
Night Entertainment Area
on each of the succeeding sois going north from
South Pattaya Road
up through
Soi 6
and beyond. And that is not counting the
Nitespots
on
Pattaya 2 Road
. Nor does it take into consideration the (relatively new) mega-spread of bars on
Soi Bua Khao
(more than a mile long) and the clusters of bars on the sois connecting
Bua Khao
to
Pattaya 2
and
Pattaya 3
roads. Nor have we included the clusters of
Nitespots
on the inland side of
Sukhumvit Highway
or at the
Na Klua
end of town.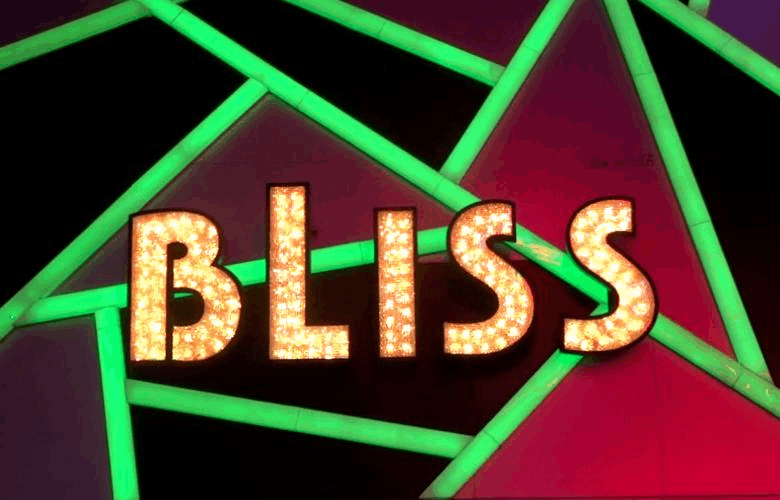 WALKING STREET (Pattaya)

While the world slept (or, at least dozed...),

Pattaya

has become the largest, most well-developed

expat

Night Entertainment

destination

on earth. And guess what else? It now has the largest concentration of

A Go-Go

bars on earth -

Walking Street

alone has more than one hundred

Nitespots

, most of which are

A Go-Gos

. Second place going to

Angeles City

, Philippines

(holding their own), and third place going to tired old

Bangkok

. (Yes, we are talking about

Planet Earth

- nothing compares to

Pattaya

- not

Rio

, not

San Jose

, not

Acapulco

, not

Ibiza

, not - you name it. Nothing comes even

close

.) Recognition where it is due -

Pattaya,

ever so gradually, has become the new center of the

A Go-Go Universe

.

Contributors gonna contribute.....
PATTAYA SIDEBAR
'Nana Pong Style'
ANATOMY OF A BIRTHDAY PARTY

The word was out on the street.

The Dollhouse

(Pattaya) was going to have a grand birthday celebration for a member of the management on

20 July

. That celebration would include a "

Nana Pong Style Dance Competition

". Certainly tempting for the long time resident of

Thailand

- a chance to see

A Go-Go

dancing as it was meant to be. Not to mention they would be dancing to real rock and roll - as opposed to the all-too-annoying electronic techno garbage - where even the drums are faked. A grand evening was in store....

As the bewitching hour approached, the bar periodically announced over the

PA

system that they were minutes away from commencing the dancing competition (

10:00 p.m

). Good at their word, the party commenced on time, with the

PA

system exhorting all to be thankful to

Jesus Christ

for what we were about to witness. We were told there would be four dancing teams of two couples each, one team from each of the four participating bars in the

South Pattaya

neighborhood:

Club Electric Blue

,

The Dollhouse

,

Angel Witch

and

G-Spot

. What could possibly go wrong? They announced, "....and no photography." We would soon learn why.

The scoring of the competition would be done by customers sitting elbows-&-beers on the edge of the dance floor - which was the size and shape of a boxing ring. Score sheets were handed out by the bar management. They also sought (among the packed house) additional judges, should any other patrons want to join in. As a final suggestion, the newly recruited judges were advised over the

PA

system to consider the level of raunchiness; - the raunchier the better. The first fleeting indication that, just perhaps, things would be getting a little wild.

The first bar up at bat was the

G-Spot

, two pairs of girls, four dancers total. But why dance in pairs? Why not just have four dancers up there dancing their hearts out to the beat of some good old fashioned rock and roll? (How naive could we be?) The four girls swayed slowly from chrome-pole to chrome-pole in their G-string bikinis and see-through micro mini skirts - way too slow for the music. Hey, what's going on here? Half a minute into the swaying back and forth, the girls began the slow strip-tease, often helping one another doff their duds. Then it dawns on us, four girls, not five, not seven. Two pairs of girls undressing one another......

Without further prelude, the two pair launched into what were well-rehearsed side-by-side lesbian shows. Those "

old hands

" sitting 'ringside' who thought they had "seen it all" - hadn't seen anything yet... Girls hanging upside down on poles getting chowed-down on, while chowing-down on their respective 'dance' partners. Standard

69

on the floor. Girls doing the splits, one foot on the floor, the other foot above her head on the chrome pole, all the while getting chowed down on. The girls, obviously very much into it, were not doing just the faux tongue-tickle lesbian shows, they made sure the audience saw they were getting as much meat in their mouths as humanly possible. Needless to say, the other non-performing dancers from the

Dollhouse

(whom the

Management

referred to as "the House vagina") were shrieking with each deeper descent into the raunchiness.

The '

old hands'

were getting restless; admittedly, a couple new 'positions' but nothing to write home about.... But that's when things started coming undone. Someone was handing the girls bottles of cream, or perhaps milk, that were, in turn, shaken vigorously. Most of the cream spraying onto the judges and the dance floor; the rest they poured over themselves. Dildos, pre-coated with

KY

, appeared on stage - with the inevitable happening - one girl 'doing' her partner with gay abandon.... The occasional

Golden Shower

. At which point the announcer noted that he was happy to see that urinating on stage had been added into the dancers' repertoires. The announcer, once again overcome with the Rapture, made some additional '

Thank You Jesus, Thank You Lord

'-type comments in praise of the abundance of available open-slather at the bar - adding as an aside that the only thing not allowed in the competition was defecating on one another. - But even then, he didn't rule it out. It dawned on us, quite belatedly, why there were admonitions against taking pictures....

Two young

A Go-Go

dancers sitting next to us that had been working in the

Pattaya bar scene

for less than a week were in a mild state of shock. One looked at the other and said in disbelief, "

This is Thailand.... This is Thailand....

" But she was soon climbing up on my shoulders to see better, and shrieking with the rest. The other newbie had seen enough and went outside in shock and disgust, where she remained for the duration as an escape from the carnal blitzkrieg.

After each bar's team had finished their competitive performance, the stage had to be squeegied, and then dried off with towels. They had to wipe the cream and urine and

KY

off of everything, to include the chrome poles and hand rail in order to make way for the next team-of-four - who would foul the stage in equal measure. The judges were left to wipe themselves down after each of the four performances.....

By the end of the second bar's performance, or sometime midway through the third bar's performance, several expats were seen to be paying their tabs and departing. After all, there is only so much a person can stand of anything before the brain goes into 'extreme overload'. In summation, while we did hear some great

classic rock

, we never did see any

A Go-Go

dancing, per-se, during the contest. So if you are planning to go to future events of this kind, be warned : while dance competitions might have a lot more than you had bargained for, they might not actually have dancing....
Contributed by '

Pattaya Nick

', or sometimes, '

Old Nick

', obviously not his real name.
.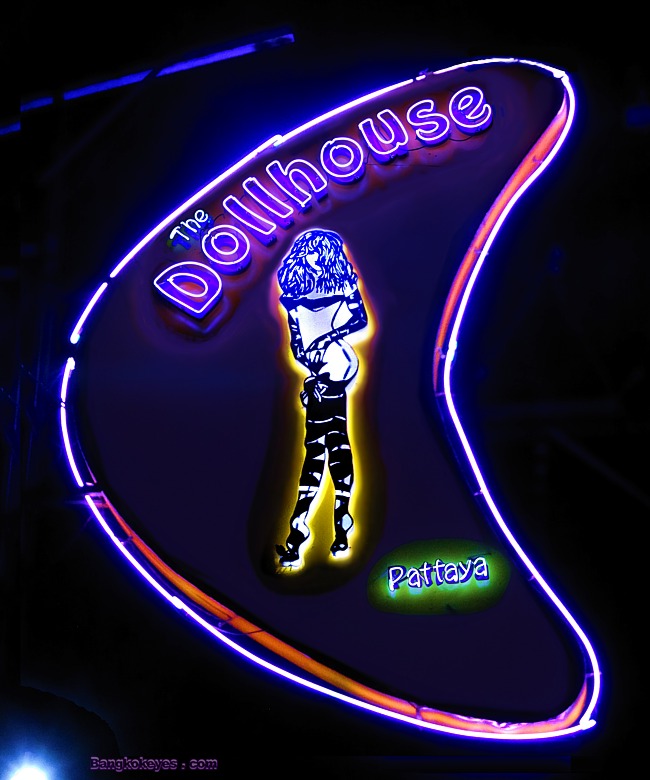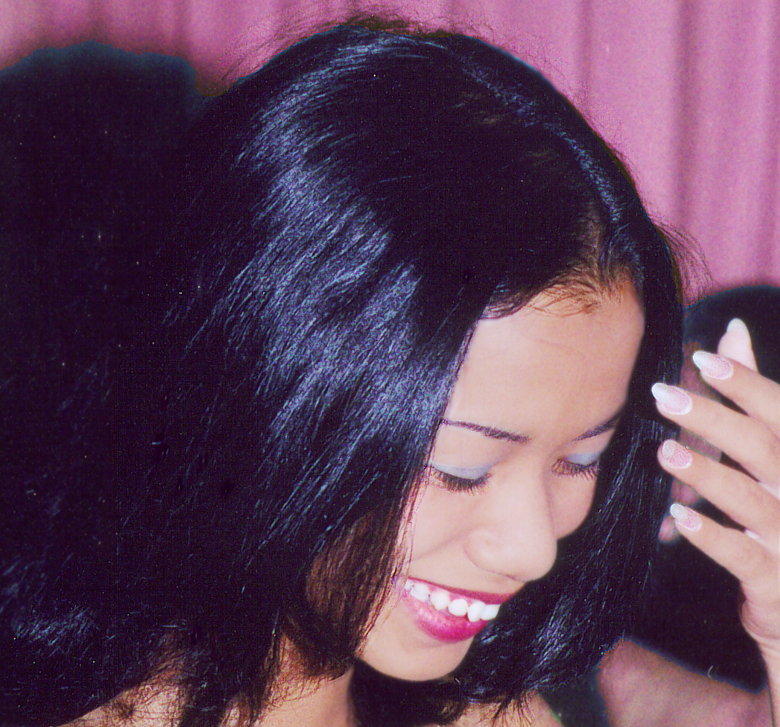 September's

Thai Smile

recalls another place....


Historical Minutiae Dept.


Katoey-spotting
WHERE THEY ARE AND AREN'T
Good afternoon, William,
Love the
Nana/Soi Cowboy
map.
Maybe a suggestion to color mark the bars/shows etc, according to known
100%
girls,
Mixed
, or
Khatoey
places? It will never match completely, but is soo handy because things do change…
Thanks in advance,
I.
Greetings, I.

,

Currently

Nana Plaza

is changing names and formats at a rapid rate. For example, I have noted that recently there was another change in which bars were

katoey

bars and which were not. As of last survey, the following bars are full

katoey

:

London Calling

(1st floor)

True Obsessions

(1st)

Casanova

, (2nd)

DC-10

(2nd)

Temptations,

(2nd)

Chili

(2nd)

Charades

(3rd)

Soi Cowboy

remains steady at one

katoey

bar;

Cockatoo

Being able to tell which bars have some

katoeys

is not practicable for the reason you have stated (the scene is changing too fast), and also because a number of transgenders are very good copies - in order to evaluate an individual bar one would have to spend a lot of time in each bar, and perhaps confirm with one of the dancers or the mamasan about those which were very good imitations. It would be a time-consuming project, with the results likely changing before the survey had been completed..

The

M

IDNITE

H

OUR

does not emphasize this, as you may have noticed in reading our '

About Us

' page, although we will from time to time mention which bars are

100% katoey

bars.

Gays

which prefer

katoeys

appreciate this information, as they then know where to go.

Straights

who do not consort with

katoeys

appreciate the information, as they will want to avoid those venues.

Best,

Will


?

ASK US (

ALMOST

) ANYTHING

!

Email

bangkokeyes@gmail.com

and "

ASK US

" - - Click Here We can answer virtually any (reasonable) question on the Expat Night Entertainment Scene in Bangkok - be it Historical or very recent. Send us an e-mail and we will do our best to answer you soonest.

'Boge' Hartman
Historical Research


Let the September 2016 Follies begin...
B

ANGKOK

E

YES'

Expat Night Scene

.


It looks like the
French Connection
has become the
French Dis-connection
. Both the parent
The Den
on
Sukhumvit Soi 12
and this, the
Radio City
(previously also
The Den
) have plummetted headlong into the abyss. Chatter in the neighborhood is all about what happened to all the sharks in the aquariums...

PATPONG 1


Welcome, somewhat belatedly, the
De Talk 2
, a beer, booze & coffee stop. They actually opened as a hole-in-the-wall coffee spot a couple of months ago, but now have spruced themselves up a bit, and are serving other beverages. It is difficult to see how this
Venue
will progress into a
'Nitespot'
where one may find some 'action', but then, you never know.... This is the young sister of the
De Talk
on
Patpong 2
.

PATPONG 1


An interesting '
for-the-archives
' shot of
Patpong 2
.

PATPONG 2


Last month, we noted that the
9501 Studio Bar
was closed, but word on the street was that it would be opening in three days.... That, it seems, never transpired - now officially scrubbed from the rolls.

PATPONG 2



It's not what you say
...IT'S HOW YOU SAY IT

SOI COWBOY


A quick

for-the-archives

pic of the

Play Skool

A Go-Go

. Due to the clutter of other

Nitespots

, this signage can only really be viewed from the upper two floors.

SOI 22 (Sukhumvit)


Last month we noted that the
Country Road
in the now-defunct
The Tunnel
was going to move into
Sukhumvit Soi 4
. Well,
fait accompli.
Their new digs are a big improvement - and they still have their live band on designated nights. Old hands are already returning.... Located in what was most recently the
Swan Live Country Music
, just past the
Soi 6
cut-off.

SOI NANA


A
for-the-archives
pic of (some of) the signage on
Soi Katoey
.

SOI KATOEY (Silom Soi 4)


The
Pretty Relax Massage
had some tussle or another about the name of the shop, so they took a sharp knife and scraped off the '
Pretty
', becoming the
Relax Massage
. Same suds, different day.... Located deep in
Soi 22
, across the street from the
New Cowboy Bar
.

SOI 22 (Sukhumvit)


In the previous issue, we noted that the
Overground
was closed, but that we would keep an eye out and report back as to whether or not it was closed permanently. Well, we've got bad news - we can confirm they have gone
MIA
. We walked up the stairs as far as we could, and the place has been cleaned out. When you roll the dice with
Fate
, it's not if, but when....

SOI 22 (Sukhumvit)


The
Happy Pub Bar
in
Soi Starlight
has closed (again) for what appears to be the longest mile....

SOI 22 (Sukhumvit)


A small

beer bar

has opened up between

The Connection

lounge

and

Angel Bar 22

beer bar

. They have yet to assign a name. We hope to have pix next issue.

SOI 22 (Sukhumvit)


The
Pisamai Spa
at the end of the
cul-de-sac
at the back of the old
Q Bar
has gone the way of the
paraphysornis
, quickly to be replaced by the
P. P Beer Bar & Massage
(also known as
P. Beer
). Welcome them to the bright city lights.

SOI AMBASSADOR (Sukhumvit 11)


The
Chaba Massage
located at the end of the
Soi
across the street from the old
Q Bar
has closed. They are renovating furiously - let's wait and see if they reopen. (No
File Photo
available.)

SOI AMBASSADOR (Sukhumvit 11)


When we passed by a couple nights ago, it looked like the

Popeye 2

bar beer

was having a birthday party

(?)

. May they persevere.

QUEEN's PARK PLAZA (Sukhumvit 22)


The
Ranhim Club
, a long-running
Japanese Karaoke Club
, has changed its name (slightly) to
New Ranhime
. And they put up some sparkling new neon to prove it. The beat goes on....

SOI DEAD ARTISTS (Sukhumvit 33)


Last month the

Love & Service

Japanese massage

thought they could get by with the "Minimalist approach" and have only a symbol for their sign. This month they have conceded defeat, and have put up some signage... Well, a small white board, anyway.... Perhaps more neon is in the pipeline. (Begs the question, why didn't they just use the old signage from across the street ?)

SOI DEAD ARTISTS (Sukhumvit 33)


The
bar beer
Shots Bar
was closed down for some reason when we passed by a month's end. Looking through the window, it looks like they still have booze on the shelves... We'll keep our ear to the ground, and advise should they reopen....

SOI EDEN (Sukhumvit 7/1)



Don't ask...
...WE DON'T KNOW EITHER...

SOI TWILIGHT


The
Bush Garden
(above the
Thermae
, below the
Sports Academy
) has reopened after an extensive, and much needed overhaul. All looking good.

Adjacent THERMAE



A PAGE FROM Bangkok's NIGHTSCENE HISTORY....
20

YEARS AGO

September

With thanks to Cool Text - cooltext.com
"History is hard to know, because of all the hired bullshit..." - H.S. Thompson
Bangkok Eyes goes back in time to see
Who was new - And who was through
in the Expat Night Entertainment world.
How many of these old 'oases'
do you remember ?

Patpong I

* The upstairs

Queen's Castle Bar

show bar

reopened after a one-month closure. It is still at that location, with a slightly modified name;

Queen's 1

.

* The upstairs

Chick

closed it's doors. It is currently

Club 66

.



Patpong 2

* Up on

The Ramp

, the

Matador Club

closed briefly (one month). No

Nitespot

currently operates at that location.

* The

Le Bouchon

opened in the then-recently renovated

Bua Luang Karaoke 2

, which had closed a month earlier. The

Le Bouchon

continues at that location.



Soi Cowboy

* The Pink Pussycat

A Go-Go Bar

closed, this time for good. Today, that real estate is occupied by

Cockatoo

.



Nana Plaza

* The XXX (XTC) went back to using it's old name,

XXX Tacy

. Those digs are currently home to

Rainbow 2

.

* The

2

nd floor

G-Spot

reopened after a one-month closure. Current occupants :

Rainbow Four

.

* Up on the

2

nd level, the

Vixens

opened newly. There was no

Nitespot

at that location prior to that time. That real estate currently home to

The Balcony Bar

.

* The

Pharaoh

, the first of three bar beers under construction in the parking lot, opened in the area closest to the entranceway.



Soi Katoey ( also Silom Soi 4 )

* No changes that month / year. -



Buckskin Joe Village (~ October 1988

to

October 2006)


(Also known -originally- as

Tobacco Road

or

Soi Rot Fai

or, '

The Tracks

', and later
as Machim [Thai] and

Soi Zero

)


* An unnamed bar opened at the far end of the

Night Entertainment Area

. It would later be named Jungle Bar.





! ORDER
NOW !