Bobby
, if one is to take him literally at his word.... began his professional years in the
Hong Kong police force
. To be sure, he was from
Hong Kong
of mixed
Portuguese / Chinese
heritage - that much, at least, can be verified. However, the remainder of his shadowed origins shall remain one of the
Mysteries of the Orient
. He moved to
Thailand
in the early
60's
(actual date unconfirmed). In an apparent about-face, career-wise, he worked for a major hotel in the
Silom - Suriwong Road
area, polishing his culinary skills. But with his entrepreneurial zeal bursting at the seams, he decided to '
go it alone'
, and opened a hotdog stand in
Patpong 1
.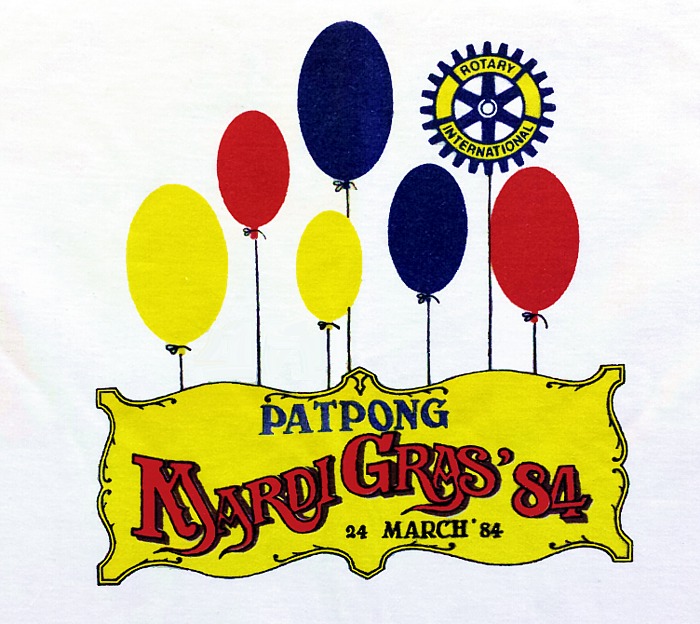 Bobby, a longtime Rotarian, contributed to the Mardi Gras effort for many years.
Bobby's
initial foray into what was rapidly becoming planet earth's most notorious
Night Entertainment Area
was not as most of us remember -
Bobby
and
Rick Menard
agreed to allow
Bobby
to set up shop in one corner of
Rick's
now-legendary
Grand Prix Bar
. This non-monetary 'deal' would be win-win:
Rick
would have food on-tap for customers, and
Bobby
would, well, sell hotdogs. This arrangement would not last forever, however - as
Rick
had other ideas for the
Grand Prix
- ideas that not even
Bobby's
great hotdogs could overcome...
Rick
kicked
Bobby
out (they remained friends) and he,
Rick
, started a
Thailand Revolution
- he installed
Thailand's
first permanent
A Go-Go
stage (and as
Tim Young
would later say, 'The rest is history'.) ...But I digress...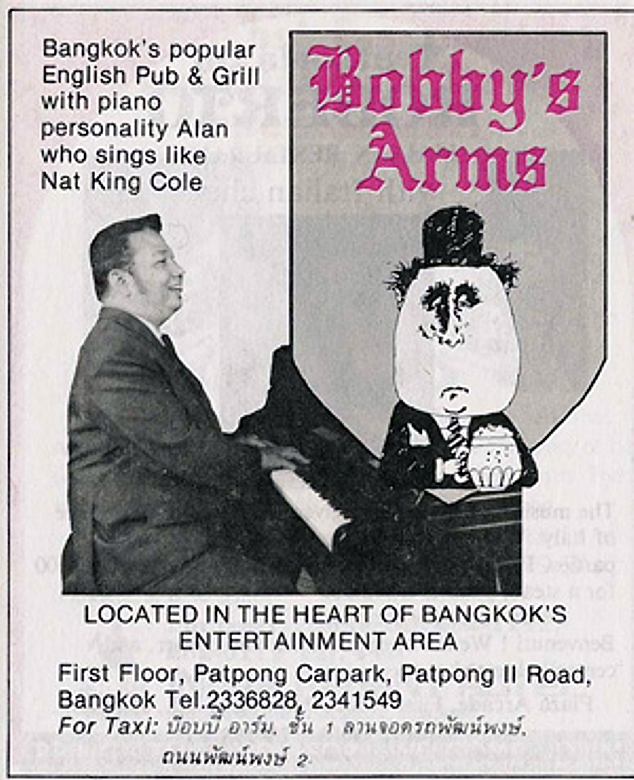 But
Bobby
'getting the boot' by
Rick
didn't dissuade
Bobby
in the least - rather, it lit his fuse. He almost immediately obtained a small corner in
Patpong 2
from
"Old Man"
Udom Patpongpanich
himself, and opened (what else?)
Bobby's Hotdogs
. There was a silver lining to
Bobby
going it alone - the unintended consequence - most of the bars in the area, once they found out
Bobby
was right there in the middle of things, began allowing customers to send out for
Bobby's
hot dogs - as a means of keeping their customers on their stools longer. And the longer they stayed on their stools, the more chits would end up in the cup. However,
Bobby
didn't keep that name for long; it was soon changed to
Bobby's Aroy Dee
- most just referring to it as the '
Aroy Dee
'. (He soon added hamburgers to the menu, and they were just as good, but we were particularly addicted to the chili dogs...)
Bobby
realized he had tapped into a 'goldmine' - he saw that, in spite of the mushrooming of new bars in the area, there were very few good places for expats to eat in the immediate area. He saw that even his diminutive '
hotdog stand
' had, almost by default, become a roaring success.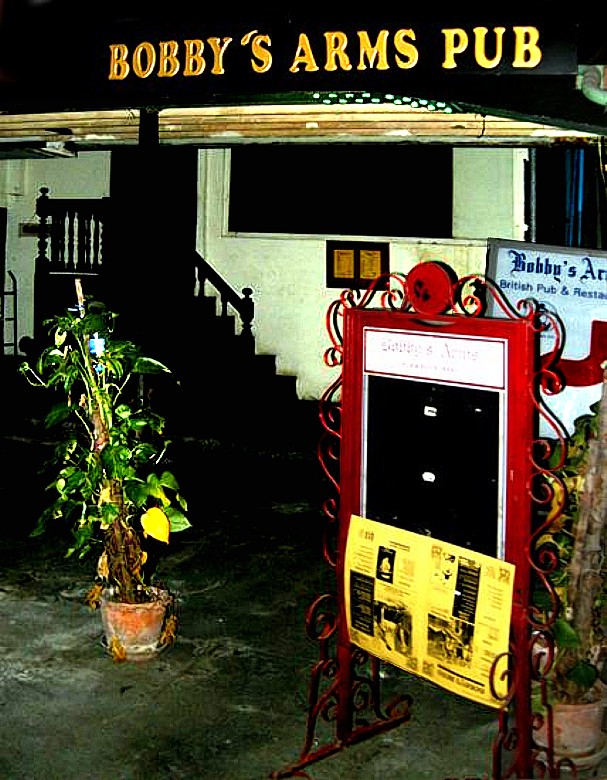 Bobby's Arms Pub - The one we all knew - up in the parking lot...

In

1975

he opened his next venture , the one most remember

Bobby

for -

Bobby's Arms British Pub & Restaurant

. Had he followed the

Golden Rule

of restauranting

(location, location, location

), he would not have opened

Bobby's Arms

in the most unlikely spot possible - a considerable walk up through the

Patpong

carpark

to an unused second-storey building on the far side. Geographically speaking, this property was located in a building on

Silom Soi 4

,which belonged to yet another private

Bangkok

family - not '

the Patpongs'

.

Silom Soi 4

was - and is a

soi suan bukon

(private soi), and has had a number of nicknames over the years, among them "

Patpong 3

" (which it most definitely was not), "

Soi Katoey

" (which was, by then a gay soi, no longer a

katoey

soi), and "

Soi Bobby

", (which, as we will see, has a modicum of merit...)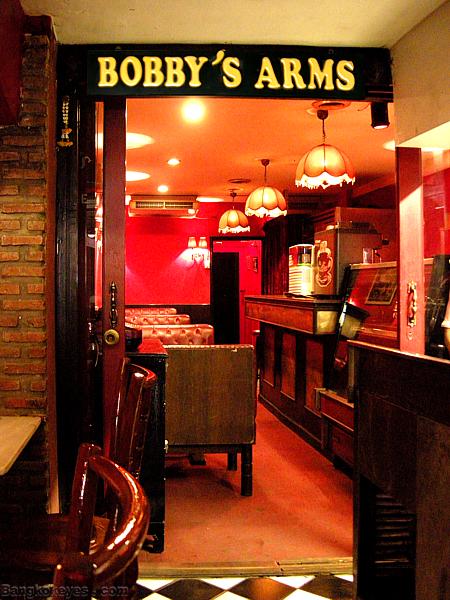 Bobby's Arms - the extension ... in the old Cafe De Paris

Bobby's Arms

, virtually from opening day - and for most of the three succeeding decades, became a place that visiting dignitaries (the list is too long) found to their liking, and where staff from many different nations' embassies would invite visiting guests, and where, at the other end of the spectrum, the

Patpong

crawlers (such as yours-truly) could also be found.

Bobby's Arms

made its way into the international travel guides, the hotel reception-desk 'recommended venue' handouts, the newspapers (as advertisements, leisure-page puff pieces, and of course,

Bernard Trink's

Nite Owl column

), but most importantly, it grew in popularity by word-of-mouth. Being a most proper

British Pub

,

Bobby's Arms

had a fiercely competitive team '

toeing the oche

' weekly in round-robin darts competitions (teams ostensibly under the

British Club of Bangkok

umbrella). These weekly darts face-offs were often catered (snacks / finger food),

FOC

, by

Bobby

.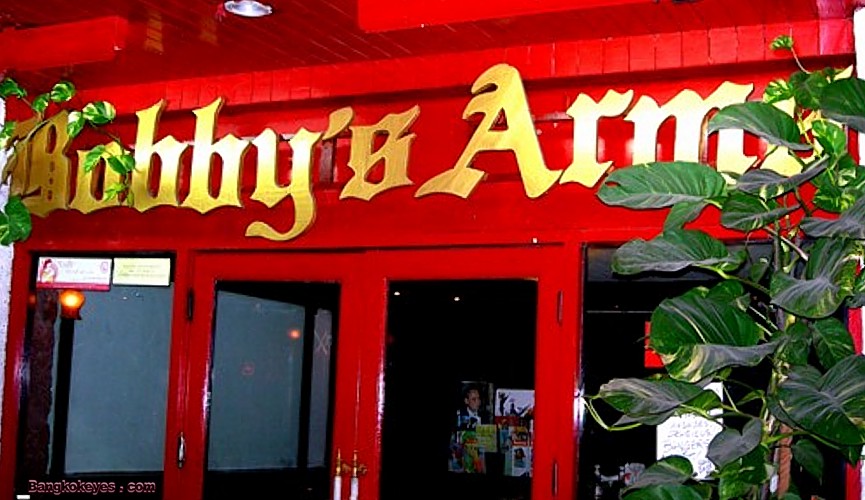 A successful branch, but all too short a run at the Hyatt.
At this juncture it would be tempting to say of
Bobby
, and
Bobby's Arms
, "...and the rest is history". But this is only the beginning, only the departure. Almost no one remembers
Bobby
was a
Rotarian (Rotary Club Bangkok South)
. The
Rotary
and many of the
Nitespots
on
Patpong Road
would sponsor the
Patpong Mardi Gras
once each year through the
'80's
and into the
90's
. The
Patpong Mardi Gras
raised money each year for various charity causes - and while
Bobby
remained a member, he was always front-and-center in those fund-raising efforts.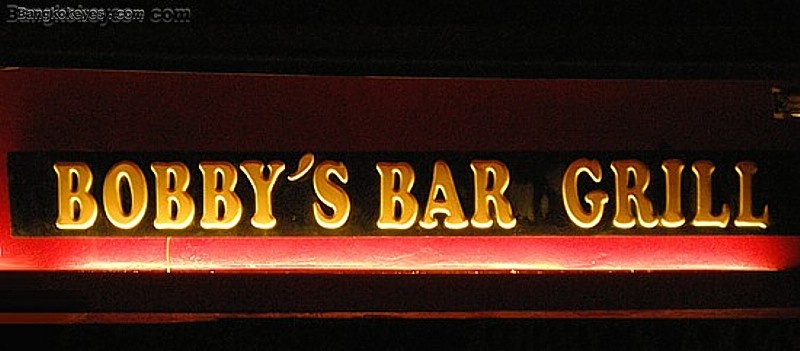 But the "

Britishness

" doesn't stop here - how many of you remember the annual

Ploenchit Fair

- a grand event for young and old, held in the grounds of the

British Embassy

(before the greedhead

Englishmen

decided to sell it for mere filthy lucre - I hope they choke on it). Not far from the '

Queen Vic

' statue in the back of the manicured grounds (which the

Thai

ladies flocked to with incense and

puang rit

in hopes of having many healthy babies) was, inevitably,

Bobby's Arms

booth

- ribs, hot dogs, the works. -Great eats along with great self-promotion.

It doesn't stop here either - The

British Club

would regularly have

Bobby

cater their bigger events - invitations

Bobby

couldn't refuse.

Bobby

also provided catering services to

Bangkok's

larger

International School

. The list goes on, but suffice it to say, in those heady years

Bobby

remained more than casually active in the expat community.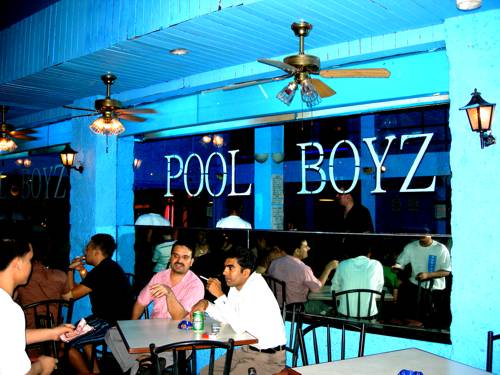 One of Bobby's less-than-successful outings on Soi Katoey
Bobby
, being by chance at the right place, at the right time, historically speaking, knew well the
'other'
stories of
Patpong's Nightlife
. We would often talk over my cup of coffee;
Bobby
relating
the humorous
along with '
the dirt
' on a grand cross-section of
Patpong's
early
'players'
. He told of the adventures of
The Sportsman
, and of
Ladda of Patpong
, and the origins of the
Takara
, and of the
kings and queens
of
Silom Soi 4
, and, well, on and on.... I would ask him why he wasn't writing a book on all this. His reply was always the same, "
If I did, it would have to be published after I die, because it would surely get me bumped off. And if you publish any of this on your website, I'll kill you too.
" Of course, he wouldn't, but it certainly gives insight into
Bobby's
sense of decorum and his discreet nature.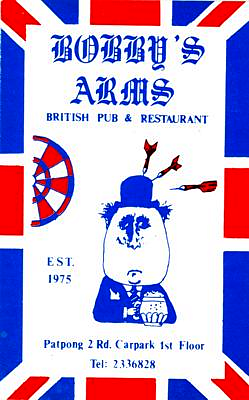 A common item in yesterday's wallets...

Another of the commonly held misconceptions re;

Bobby

was that he was a

restaurateur

, but not really into the

Night Entertainment Scene

. For the record (and this will have some of you popping your eyeballs out)

Bobby

was into a number of ventures that even the oldest of "

Old Bangkok Hands

" will have forgotten. Follows is an eye-opening bit of

Nightlife

history

.

'

Bobby's Hotdogs

' (not actually named) - located in a corner of the

Grand Prix Bar

on

PP1

.

Bobby's Hotdogs

- soon to be renamed

Bobby's Aroy Dee

on

PP2

next to

Foodland

.

"Gotcha Hotdogs! Gotcha Hamburgers!"

Bobby's Arms Pub & Restaurant

- accessed from the

PP 2

parking lot.

"Just another English Pub - only it's in Bangkok"

Trattoria Da Roberto

- (Just say, '

Roberto's

'). On the second floor

PP2

, across from

Cleopatra A Go-Go

. A successful Italian restaurant in its own right, with a separate entrance from

The Ramp

.

"Pizza, Beer and Hand-Made Gelate"

The Italian Connection

- A predecessor to

Cafe de Paris

.

-

"Hard liquor - soft music."

De Knappe

- (The name being a play-on-words for the

German

customers....)

"Achtung Veal and Port with Sauerkraut."

Cafe de Paris Bistro Bar

- on

PP2

between

Bobby's Aroy Dee

and

Roberto's

. Successful al fresco dining and drinking and people-watching for a number of years.

(

Another '

Trattoria de Roberto

'

) - an indoor-outdoor garden restaurant on

Sukhumvit Soi 18

, across from the

Rembrandt Hotel

.

Bobbys Arms

(without the "

Pub & Restaurant

") - A 'branch' in the basement of the

Hyatt Hotel

- lunchtime and after-work crowds. An arm's length from

Spasso

, it proved to be quite successful, but a disagreement with the lessor on operating hours put the nix on it. It was only open a few months.

Bobby's Arms

(& Guest House)

- Ground floor,

Silom Soi 4

. It was actually a pub - bar, and had what must have been the longest "

Long Bar

" in

Bangkok

. (There was actually a non-public way to get upstairs through the back to the original

Bobby's Arms

.) It was immediately successful - always full on weekends, and a good counterpoint to

SuperStar Frank's

Noriega's

, just next door across the

Soi

.

Pool Boyz Club

- Ground floor,

Silom Soi 4

. It took over the premises of the "

Bobby's Arms

" on

Soi 4

. When

Bobby

initially decided to close the

Soi 4

Bobby's Arms

and open a

pool bar,

I suggested that he was fixing something that wasn't broken. With eyebrows quickly raised, and an impish wink, he replied, "

Soi Katoey

doesn't have a gay pool bar. This will be the first of its kind." This was one of

Bobby's

few not-so-hot ideas; it lasted less than a year.

"Po' Boy Cafe"

Hideaway

-

Silom Soi 4

.

Bobby

broke off a third of

Pool Boyz Club

to make

Hideaway

. Another attempt to tap into the 'gay' crowd on

'Soi Katoey'

. Both

Hideaway

and

Pool Boyz Club

quickly became history.

Marco Polo

-

Patpong 2

- a reopening of the

Bobby's Aroy Dee

.

Bobby's Arms Pub

- opened in the then-closed

Cafe De Paris

digs. This time around, live jazz on the weekends.

As the years ate away into the new

Millennium

,

Bobby's

venues slowly disappeared, one by one, from the

Nighttime arena

. We didn't see much of

Bobby

, so no one really got the full

who

,

how

and

why

he was no longer restauranting and running the occasional bar. But just as we had given up on seeing him again, he opened a smallish

Bobby's

coffee shop

at the top of a

Silom Road

side-soi near

Soi Thaniya

. Its prominent feature was a long 'coffee bar', which likely came from the

Bobbys Arms

on

Silom Soi 4

. It also didn't last long, closing for financial reasons - which (some say) were exacerbated by

Bangkok's Men In Too-Tight Uniforms

....

Many have speculated that

Bobby's

fortunes rose and fell hand-in-hand with the rise and slow collapse of the

Patpongs 1 & 2

- each having their '

days in the sun & deep clover

' through those same years. Others have said that

Bobby's

star began to wane when

Udom Patpong

passed away, and the

Patpong

family began to raise the lease prices. Perhaps both are true, but we should not let ourselves confuse correlation with causation. On the one hand,

Bobby

mentioned more than once that the rents were going up, but on the other hand, his real, oft-repeated lament was he was unable to keep responsible management and staff. (

Bobby's Arms Pub & Restaurant

the exception, which up until almost the last day, had a

great manager

and an

even better chef

).

Bobby

had expanded rather rapidly in the latter years, having a number of venues open at the same time. This was something he admitted he couldn't manage alone. Then again, perhaps all three of these are significant contributing factors to that final chapter - only the

Devil

knows for sure, and he isn't saying...

In local parlance,

Bobby

was "a part of the fabric". If ever there is a

Patpong Walk of Fame

comparable to

Hollywood's

, where bronze-edged terrazzo stars decorate the footpath,

Robert "Bobby" De Cozier's

star will be right there amongst them.

Set a table for us

Bobby

, we'll be along by and by.