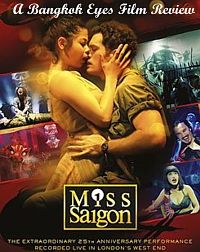 .









MONTHLY NEWS
COLUMN


Bangkok,


01 January 2018


William R. Morledge


January's Nightlife News
Bangkok's Bars - 20 Years Ago
A Smile in the Land of Smiles.
Reader's Corner: "The Malaysia"
Graffiti #142 : On Trump ...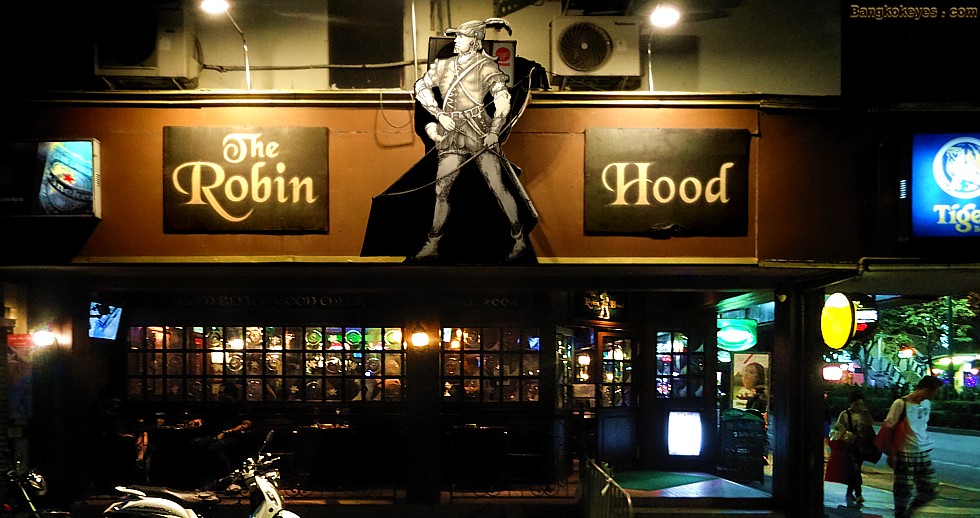 The Robin Hood - at Soi 33/1 Sukhumvit
Fifty years ago, when
farang
were first discovering
Thailand's
Night Entertainment Scene
in a big way, they had a relatively brief menu to choose from :
Lounge Bar
, or
A Go-Go bar
or
Steam-n-Cream Massage Parlor
. In the ensuing decades, all that has changed -
Thailand's
, and in particular,
Bangkok's
Entertainment Scene
has gone
3-D
. Now there are
lounge bars
,
bar beers
,
beer gardens
,
sports bars
,
A Go-Go bars
(or
Coyote bars
),
wine bars
,
pool bars
,
show bars
,
traditional massage parlors
,
one-stop 'massage'
,
steam-n-cream massage
,
music bars
,
taverns
,
oral-services bars
,
Japanese-only-'Snacks'
,
Entertainment Complexes
,
Entertainment Emporiums
,
Discos
,
Videotheques
,
Clubs
, and last, but not least;
Pubs
. (Not to mention unique mixes of any of the above...)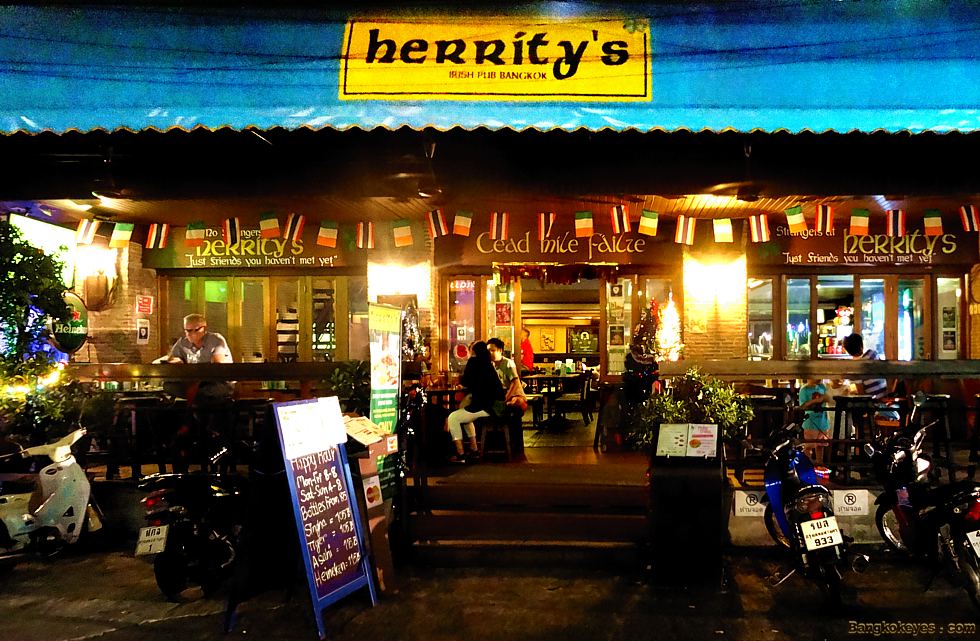 Herrity's Irish Pub Bangkok - inside Soi 33/1 Sukhumvit
Pubs
(or
Public Houses
) are said to have a number of traits in common: they traditionally sell alcoholic drinks such as
ales, ciders, wines
and
beer
in a relaxed social setting (the music is kept at a level where you can carry on a conversation). They usually have light recreation such as darts, and they generally sell food and snacks. A
Seventies
' innovation, which is now almost universal, is the "
Pub Quiz
". And we find, at least as far as the
Bangkok Scene
is concerned, there are a number of
Nitespots
that call themselves '
Pubs
' that aren't, as well as a number of
Pubs
that don't advertise themselves as 'pubs' on their signage. We'll attempt to keep this on track as we proceed...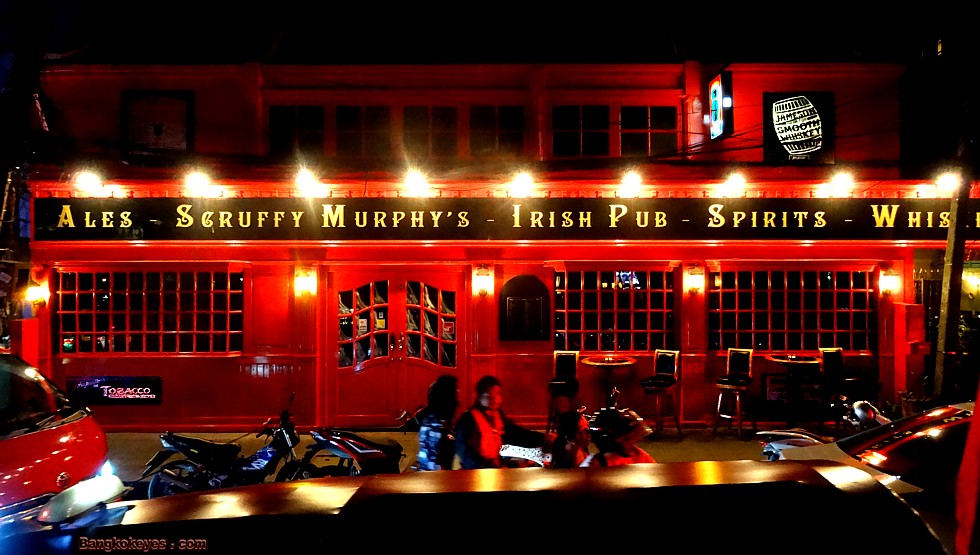 Scruffy Murphy's Irish Pub - inside Soi 23 Sukhumvit, just past Soi Cowboy.
Although we headline with "
The Pub Crawl
" we hasten to mention we do not mean this in the slang sense of that expression, which means (to some) to 'hit as many bars in an area and get as hammered as possible as quickly as possible'. Our intent is to review several
Pubs
in
Bangkok
that have been, or are becoming popular with the
expat
community. We of course are not capable of surveying all of the
Pubs
city-wide, so we have concentrated on those in or near the major expat
Night Entertainment Areas
.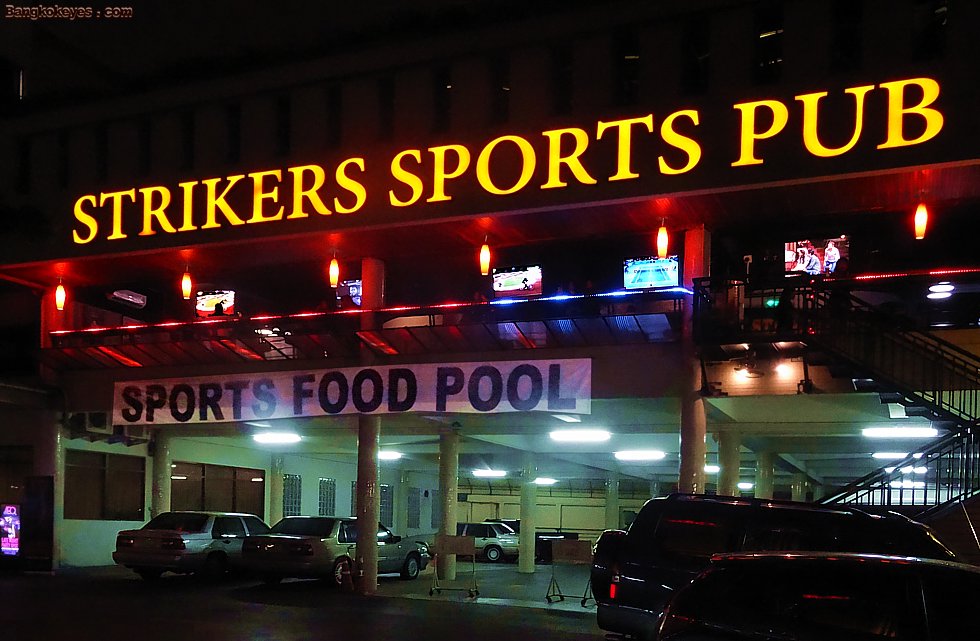 Strikers Sports Pub - In the Nana Hotel compound, Soi Nana 4, Sukhumvit.
Pubs
(and to some extent, '
Clubs
') are probably the most typical of the 'new' (non-traditional,
non-1970's
)
Nitespots
in
Bangkok
. The continuing and growing success of
'The Pub'
reflects the changing demographic of the
tourist-seeking-entertainment crowd
. No longer are the
Nightlife seekers
just looking for the
A Go-Go bars, massage parlors
and
hostess lounges
. The new breed is from a larger cross-section, and often include couples seeking a night out together. (...No matter how 'foreign' that concept may seem to the crusty, curmudgeonly
'old Bangkok hand'
....)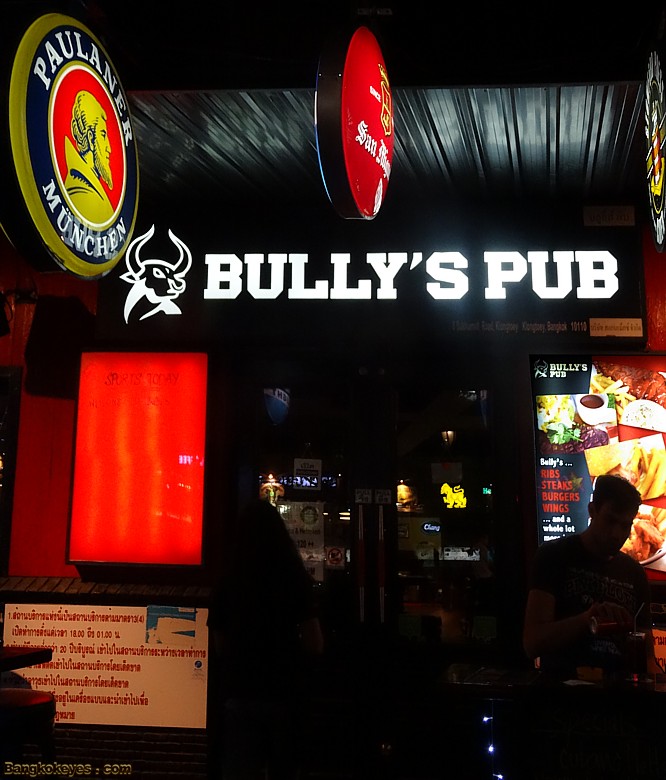 Bully's Pub - just around the corner from Soi Nana 4 on Sukhumvit Road.
Herein and below is a selection of
Pubs
for your perusal that are in or near
expat
Entertainment Centers
, and their locations. Should we have left any out of our listing, do send us a note, along with a photo, and we shall endeavor to publish next time 'round. Happy pub-crawling...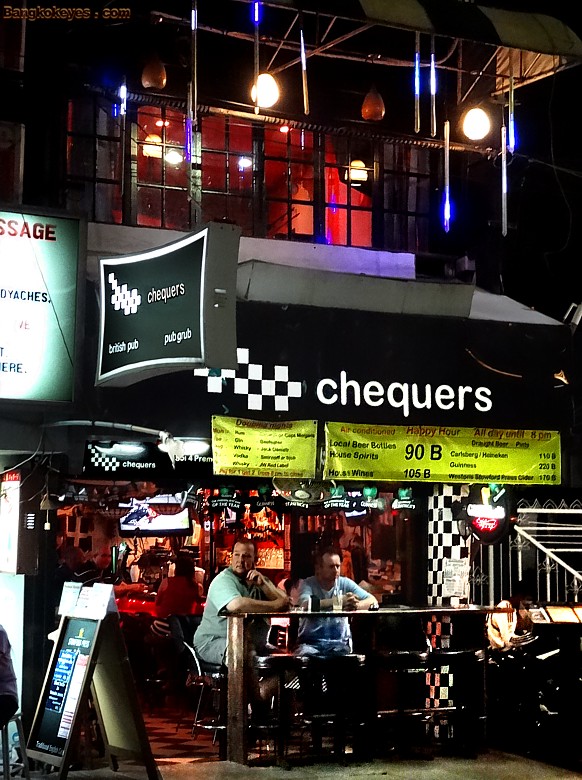 Chequers British Pub - On Soi Nana 4, Sukhumvit Road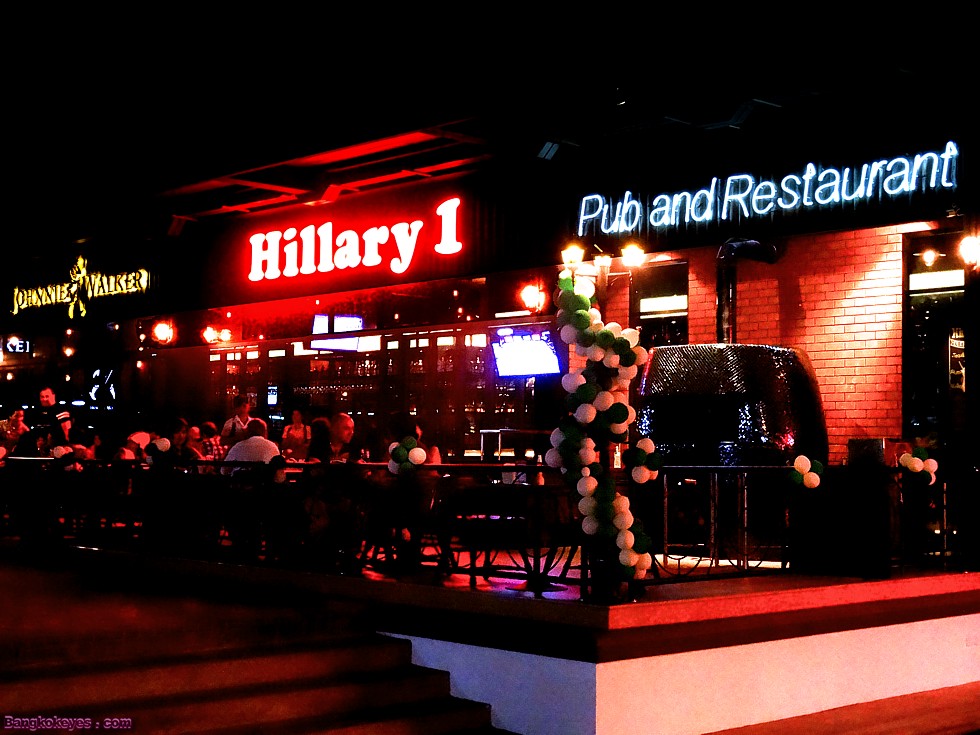 Hillary 1 Pub & Restaurant - in the Rajah Hotel Compound, Soi Nana 4, Sukhumvit Rd.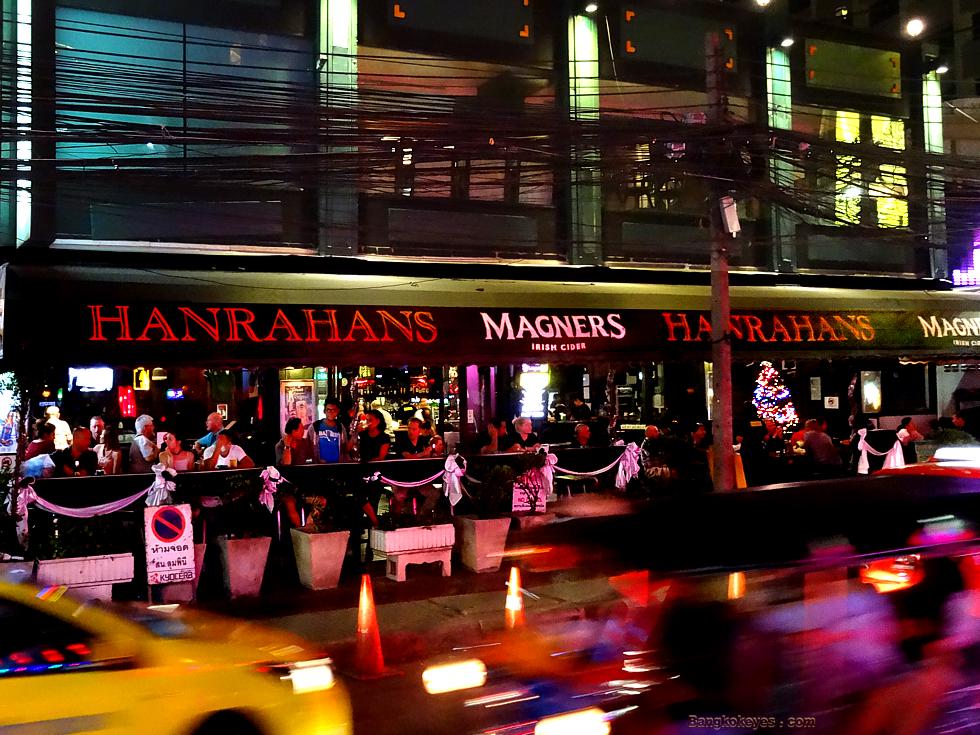 Hanrahans - Soi Nana 4, Sukhumvit Road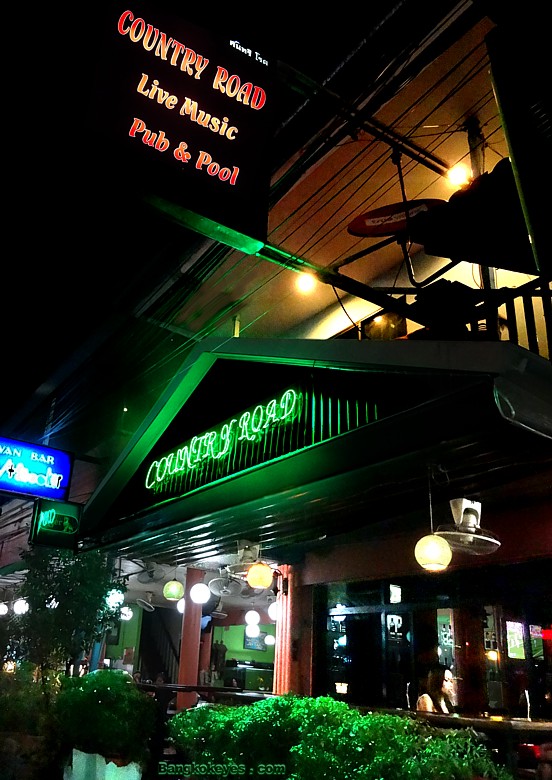 Country Road Pub & Pool - Soi Nana 4, Sukhumvit Road, just past the Soi 6 cut-off.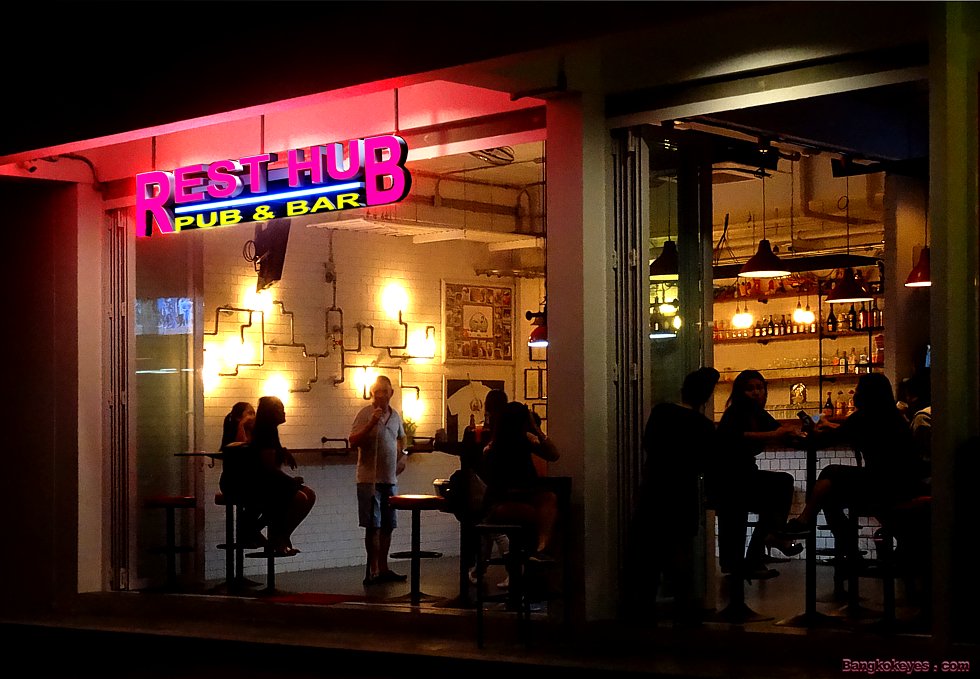 Rest Hub Pub & Bar - in the Rajah Hotel compound, Soi Nana 4, Sukhumvit Road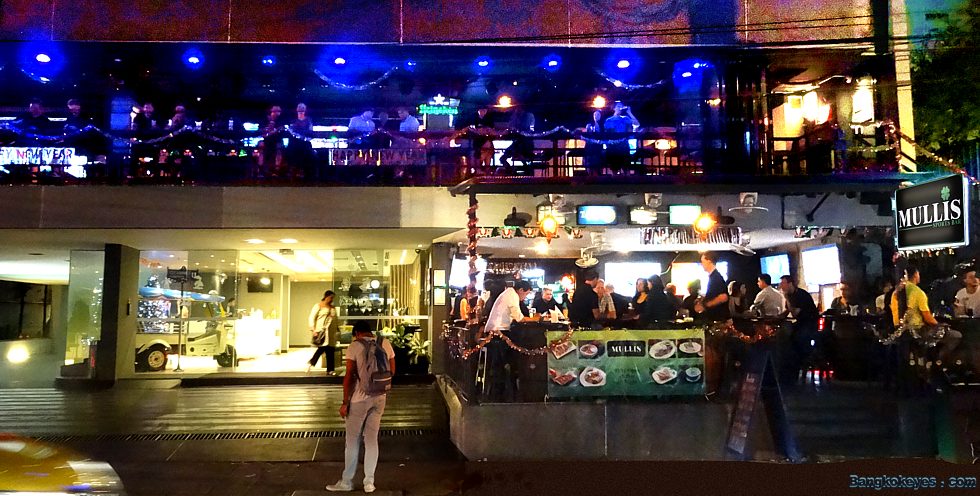 Mulli's (formerly Mulligan's) - Soi Ambassador 11, Sukhumvit Road. (Note new upstairs addition ...)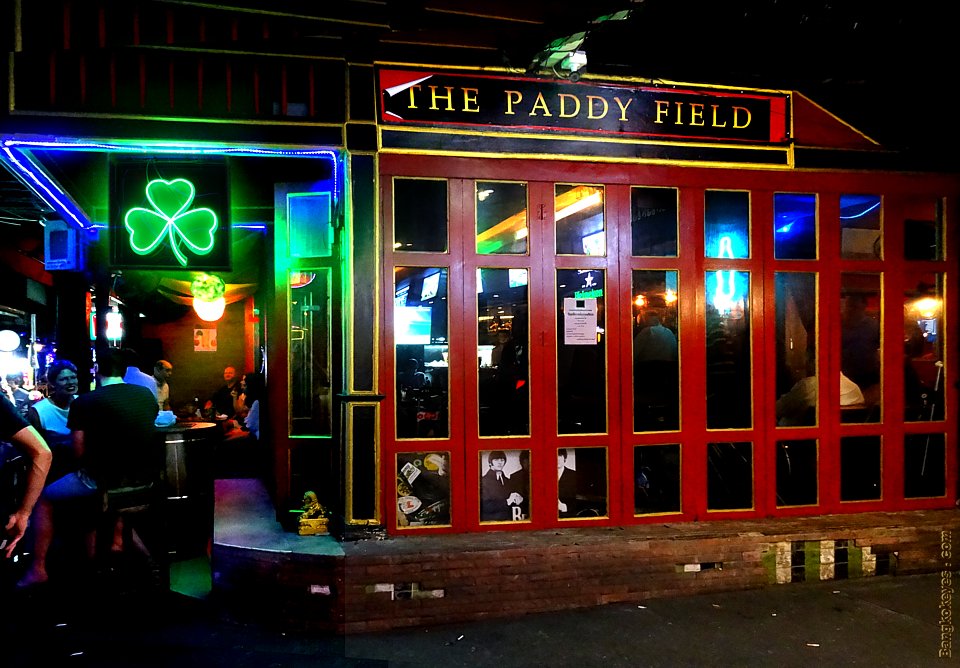 The Paddy Field - Patpong 2 Road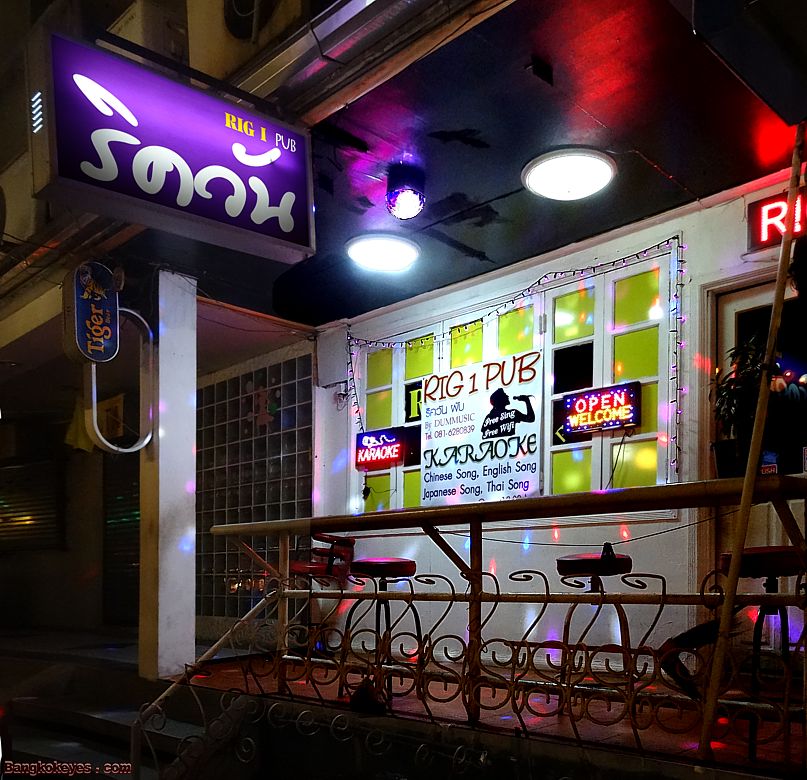 Rig 1 Pub - up on 'The Ramp', Patpong 2 Road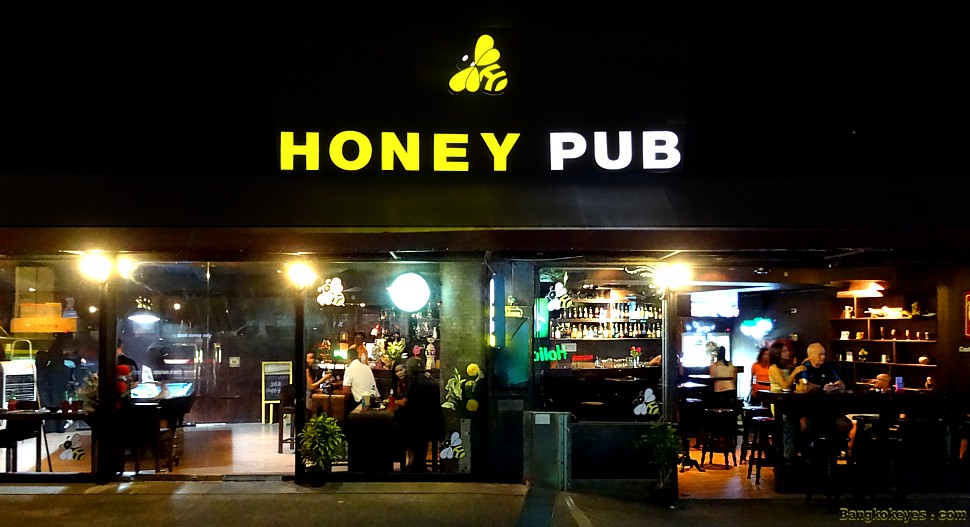 Honey Pub - located in the Holiday Inn at the top of Soi 22, Sukhumvit Road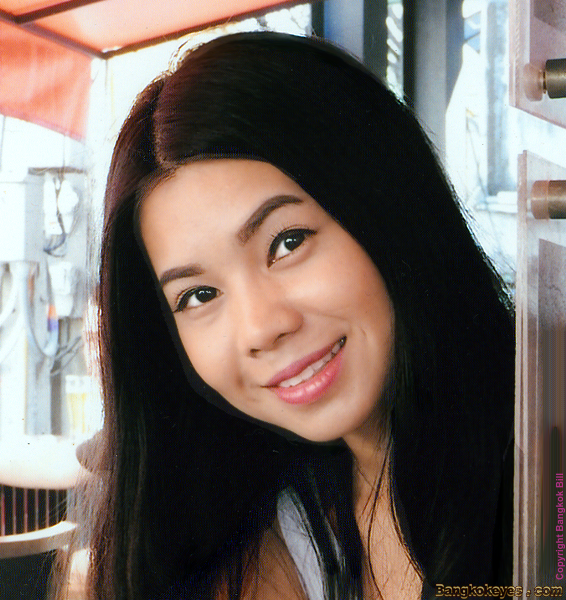 January's

Thai Smile

welcomes our New Year.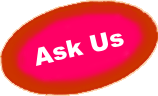 Join the 'Comments' page...

Reader

: I was recently part of a many-headed thread of emails discussing the

Malaysia Hotel

and its participation in the

backpacker evolution

and the

R&R scene

, and it appears there are a number of dissenting views on these subjects. The discussion started over an article on the

Malaysia

in the

Khao Sod English

website. Does your

Bangkok Eyes

go back to that period, and what're your thoughts on all this?



Midnite Hour:

Although the

Bangkok Eyes

website does not go back to that era, and although not directly related to

Night Entertainment

, our staff was very much in place during that era. We saw the

Khao Sod English

articles, and were in discussions of our own with a number of our contacts. Regrettably, the articles made

errors of omission

and

over-simplification

- and while they covered the basics on the historical aspects of the

Malaysia Hotel

itself, and other hotels, they failed to present an accurate picture of the situation on the ground. Rather than rehash point-by-point the failings of the

Khao Sod English

articles, we will instead, present the essential facts of the day - with emphasis on those points that are continually misunderstood and misrepresented on the Internet.

While the rise in the '

backpacker era

' and the build-up of the war in

Viet Nam

both took place during the same years, they each had their own separate and independent effect on

Thailand

, specifically

Bangkok

. It would seem this wouldn't need to be said, but it does.

Backpackers in the first half of the

1960s

, while they stayed in various parts of

Bangkok

, were mostly found in and around the

Hua Lampong train station

, in the cheap flop-house

Chinese

hotels. The

Thai Song Greet

being the most well-known of these. In these years, there was no backpacker action on

Soi Ngam Dupli / Soi Si Bamphen / Soi 1 Sathorn

. While the

Malaysia Hotel

did exist - since

1967

- it was not an

R&R hotel

, and did not serve as one. Nor was it immediately a popular tourist hotel - although later that would change. On the other hand, the

US military

presence in

Thailand

(military stationed in

Thailand

) was substantial; at the end of

1966

the number of

US soldiers

stationed in

Thailand

was approximately

25,000

. No mean number - and those stationed at

JUSMAG

, just around the corner from the

Malaysia

knew the area well, frequenting the

Malaysia

and

Pitak Court

and the

Blue Fox

bar-restaurant. These

25,000 plus G.I.s

were not, repeat, not on

R&R

(although many of the grunts in from

Viet Nam

had expressed their doubts....).

The

R&R Hotel

.

R&R hotels

were specific hotels, not apartment buildings, that were leased by

JUSMAG

directly from the owners for use as

BOQs

(Bachelor Officer Quarters) or

BEQs

(Bachelor Enlisted Quarters). -Each having their own lease agreement. Again, these hotels were only some of many "leased facilities" that were leased and lease-managed by

JUSMAG

. Soldiers coming to

Thailand

on

R&R

were assigned to an

R&R hotel

, and not left free to find their way 'on the economy'. (Not that they necessarily stayed in their assigned

R&R hotels

..) These

JUSMAG

leased facilities should not be conflated with

JUSMAGs NAF Special Services

contracts that involved the likes of

Tommy's Gems

for tours and entertainment.... Other hotels frequented by the

G.I.s

coming in from

Viet Nam

during the

R&R

years were not

R&R hotels

.

By the early

1970s

the small

Chinese

hotels around

Hua Lampong

station could no longer handle the number of tourists looking to live the "

See-The-World-On-A-Dollar-A-Day

" dream. It was at this time that the guest houses started sprouting like mushrooms in

Sois Ngam Dupli / Si Bamphen

. At this time, the

Malaysia Hotel

grew in popularity - many of today's long term

Thailand

residents stayed first in the

Malaysia

. But the two crowds - the true backpackers staying in guest houses, and the

Malaysia Hotel

guests were essentially two different classes of travelers (although some wannabe backpackers -who never slept in their sleeping bags- did stay at the

Malaysia

). The

Soi Ngam Dupli

(and adjoining areas) still was not an

R&R

area, although it continued to be frequented by the

US military

from

JUSMAG

. In this respect, the

Soi Ngam Dupli

area was unique in that there was a mixing of

US military

, true

backpackers

and other

budget travelers

staying at the

Malaysia

and similar hotels in the area.

On

R&R

. The

R&R program

for military serving in

Viet Nam

started ramping up in

1965

and was ended in late

1972

on the concluding of the

Paris Peace Accord

(in

January 1973

). In that the

US armed forces

were out of

Viet Nam

almost immediately after that, there was of course no need for an

R&R program

. This fact seems difficult to assimilate by many who visit, or live in,

Thailand

. We see for example, various so-called 'historical' descriptions of

Soi Cowboy

as one of the

R&R-era Night Entertainment Areas

. The first bar on

Soi Cowboy

, even before it was '

Soi Cowboy

', was the

Gold Label

, and it opened in

late 1974

(?), almost two full years after the end of the

R&R

era. The confusion likely stems, at least in part, from the fact that the

US military

contingent (of now slightly less than

25,000

) stationed in

Thailand

did not depart for home until

June-July 1976

(leaving only a small core of advisers at

JUSMAG

itself).

By the

1980s - 1990s

, the center of backpacker / budget traveler activity was shifting to the

Khao San Road

area, leaving

Sois Ngam Dupli / Si Bamphen

with fewer and fewer guest houses. But the only constant is 'change', and now

Khao San Road

is an

open zoo

by day, and an closed off

"walking street" bazaar

and

Thai-Yuppie Nitespot venue

at night - the guest houses and budget hotels having shifted to the nearby sois.



http://www.khaosodenglish.com/life/arts/2017/11/24/salute-50-years-late-nights-bangkoks-malaysia-hotel/
A SALUTE TO 50 YEARS OF LATE NIGHTS AT BANGKOK'S MALAYSIA HOTEL =========================================================== http://www.khaosodenglish.com/news/2017/11/24/bangkoks-1960s-retro-cool-hotels-live-photos/
BANGKOK'S 1960S RETRO-COOL HOTELS LIVE ON (PHOTOS)

Massage Parlors are Sinking Bangkok !

Reader

: Last

October

there was a helluva hullabaloo about

massage parlors

once again using so much ground water,

300,000 liters

per night, through

illegal water wells

, and how they were causing

Bangkok

literally to sink. How can something as important as this, if it is even real, just disappear from the public view? As this is about

massage parlors

, it should be right up your alley. Are your pet

"Night Entertainment"

venues a curse on

Bangkok

or not?



Midnite Hour:

We also noted that particular storm in a teacup, and followed it closely for a couple of days. First, we should clarify by stating right out of the starting-gate that we report on

Night Entertainment

as an integral part of

Bangkok's

history, and not

Night Entertainment Venues

as favorite-sons. Secondly, we noted that much of the "

Bangkok Is Sinking

" (

The Sky Is Falling

) rant comes from none other than

Khun Chuwit

. This is political high-comedy from the master hypocrite himself. Remembering that he was nicknamed by the vernacular press "

Uncle Hot Tub

" in the days when Rachadapisek Rd was shoulder-to-shoulder massage parlors (most of them his), this takes on a bizarre luster - one for the history books. We won't mention any financial interests he currently may or may not have in

The Lord Group

(ahennh) - and recent photos of him in a

Copa Cabana

hot tub stuffed to the rim with local lovelies.... His bizarre claims that each massage parlor uses

300,000 liters

of water per night are not only unsupportable, but ridiculous on the face of it. But let's talk the science :

Bangkok

is built on an alluvial river delta, and has been sinking, unabated, for the last 200 years. Unless, and until,

Khun Chuwit

and friends can produce scientific results based on soil studies that show the actual usage of water in massage parlors has caused some areas to sink faster than they otherwise would have due to natural conditions, he at best, can only be describing a theoretical possibility. At worst, this is just another example of a politician stating non-science for the purpose of self-enhancement. It is way, way premature to start worrying....

'Reader's Corner' moderator -

'Boge' Hartman


Historical Research



Let the January 2018 Follies begin-



Last month we noted that the original
Pussy Magic
had branched out, opening another
Venue
in the old
SuperGirls
. That was true at the time, however this month, the original
Pussy Magic
has changed its name to
Pussy Special
(the other, new
Pussy Magic
at the old
Supergirls
digs has kept its old name). Both
Venues
remain "
Pay For Show
" bars.... May they find constancy.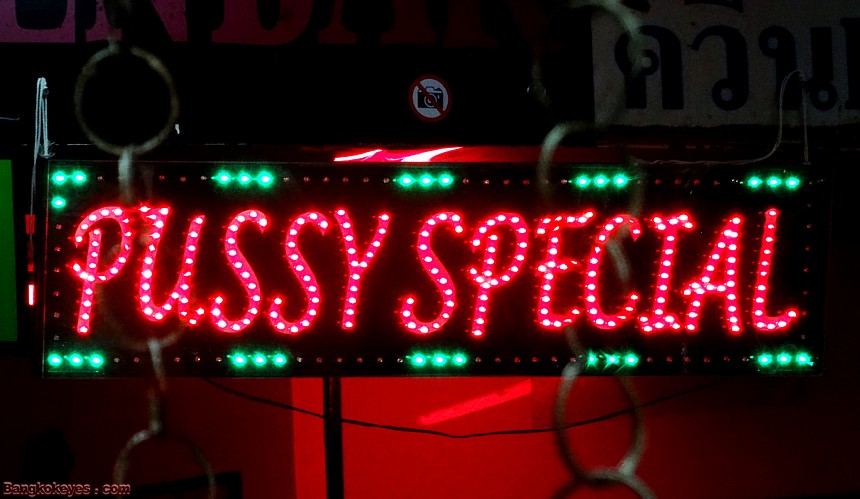 PATPONG 1


Promotion...
THE LEADER OF THE PACK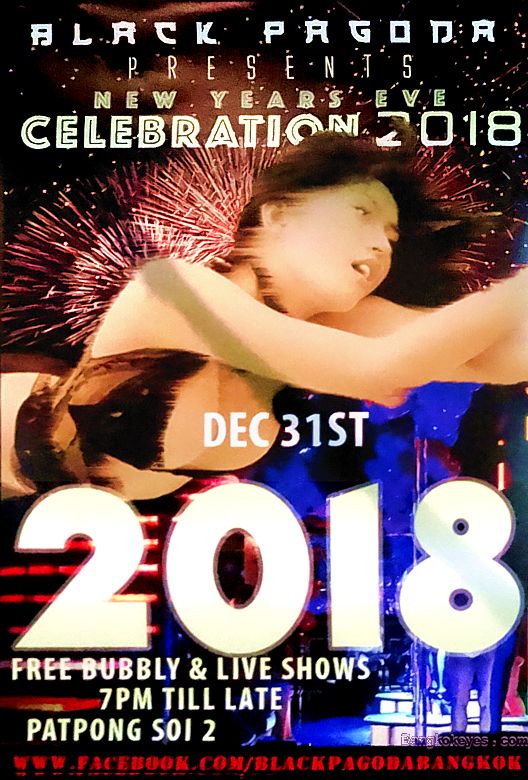 When it comes to promoting one's
Nightlife Venue
, the
Black Pagoda
is light-years ahead of the rest. Perhaps this has something to do with its continuing popularity?

PATPONG 2


The long-closed
Matador House
has sprung from its darkened crypt, and is going full-torque - this time 'round just as '
Matador
'. Located up on
The Ramp
. Let the good times roll.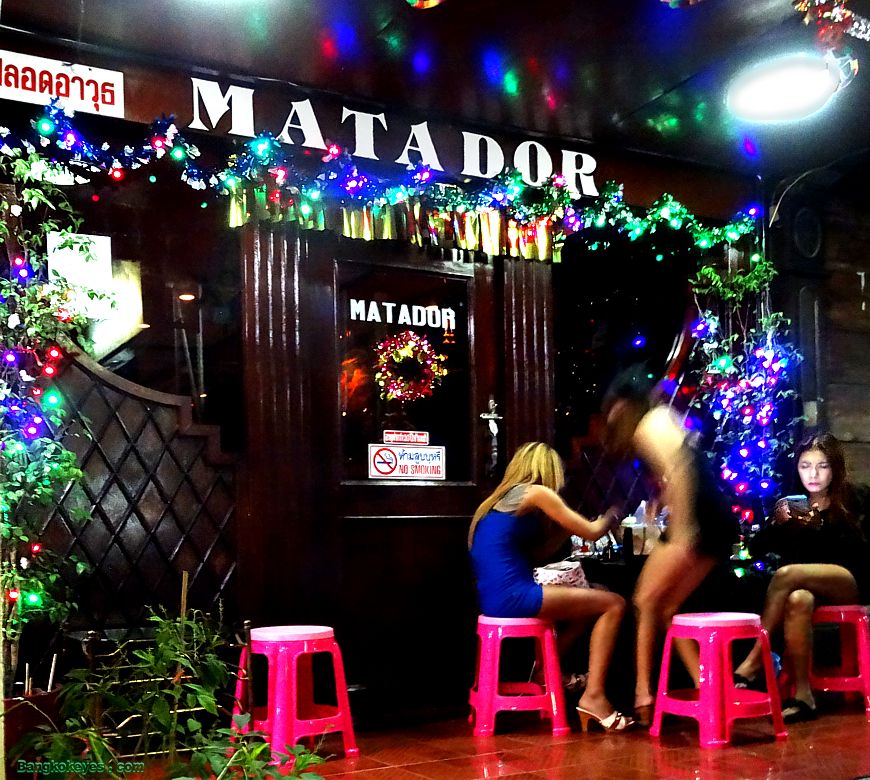 PATPONG 2


In keeping with our recent push to illustrate the trend toward "
dynamic signage
" in
Bangkok's
Nightlife Venues
, we show a brief clip of last month's
Door Art Of The Month
awardee,
Five Star
. (They are to be congratulated again for sticking with
real
neon....)
VIDEO CLIP

SOI COWBOY

A few months ago, one of
Nana Plaza's
older bars, the
Playskool
, closed its doors. After some renovations, the ineptly named
Easy Lick
took over the reins. Well,
Easy Lick's
reign is over; they have fallen on their sword - to the accompaniment of nobody's crying-eyes. And, as can be seen, the
Playskool
has returned to its old stomping grounds. Welcome them back to the machine.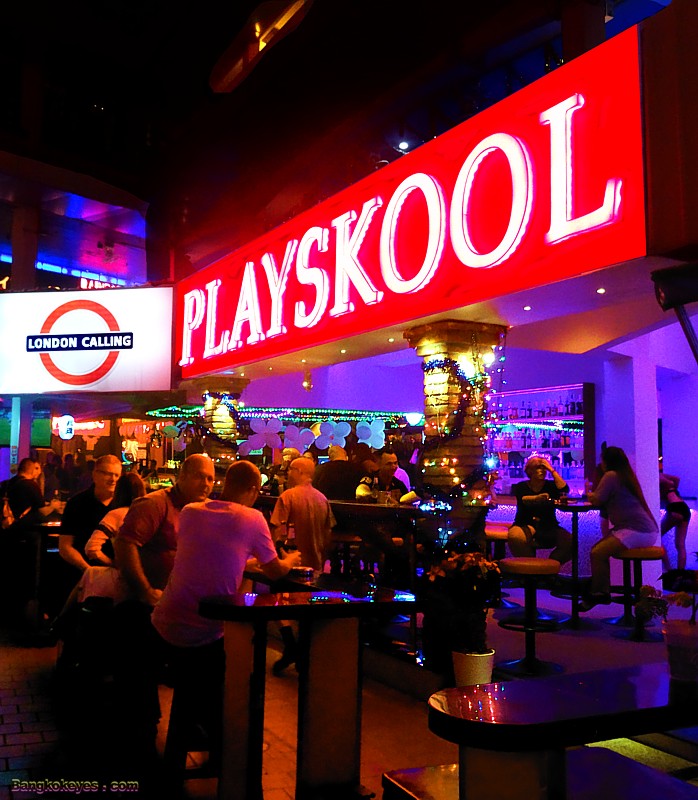 NANA PLAZA

And while we are on about '
what goes around comes around
', the
True Obsession
has taken down all its neon and left in a huff. The original
Obsession
, without the '
True
', has come back to roost. We hope to have some new pics next time around - once they get all their new signage up... No change in
modus operandi
, however....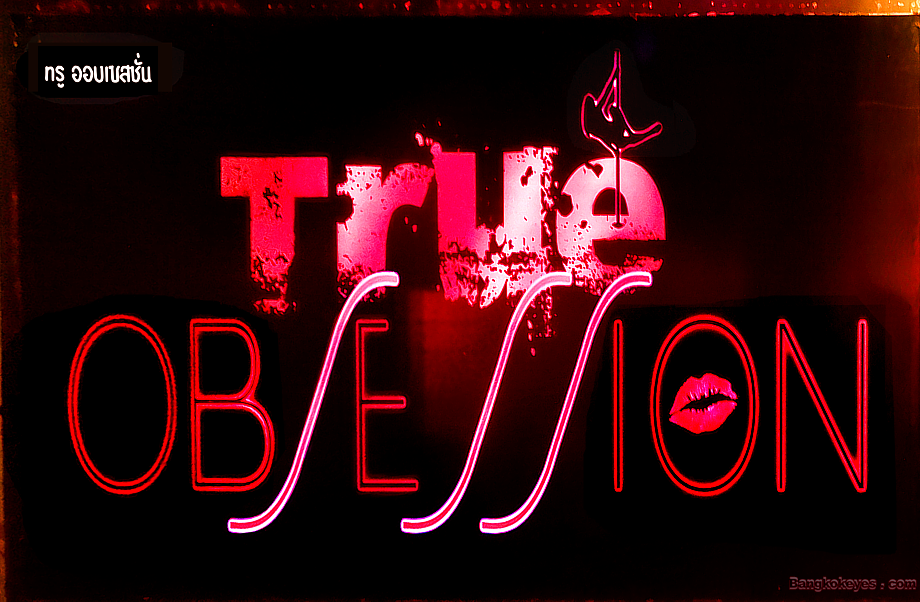 NANA PLAZA

For the record... Although there is currently no neon nailed up, the longish beer bar in the
Nana Plaza
courtyard (which used to be
3
separate beer bars in times past) is called
Nana Beer Garden
. (Witness: the chits you find in your cup...)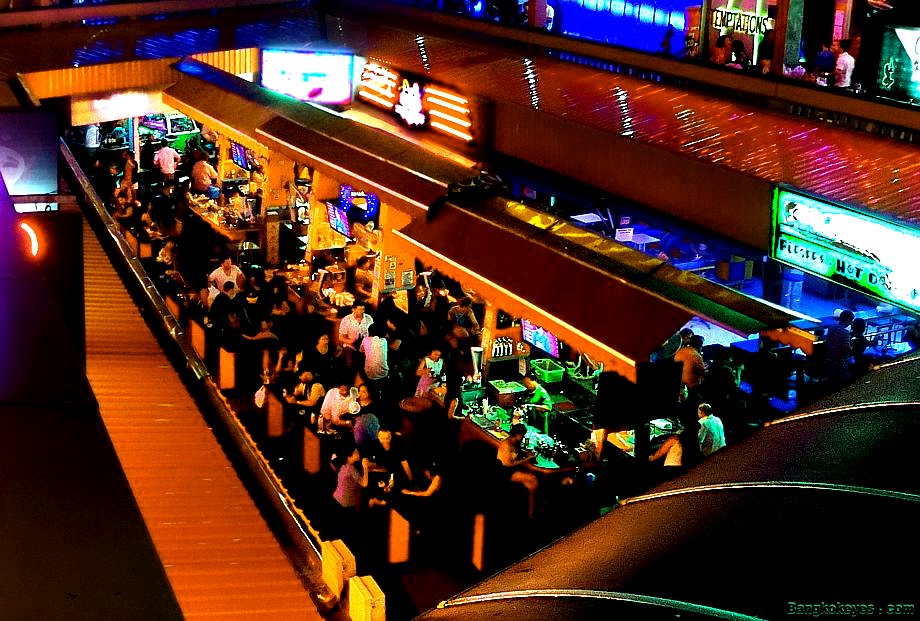 NANA PLAZA


Some months back,
The Night Witch Bangkok
opened in the new entertainment area of the
Rajah Hotel
- in the area we though was going to be the
Toh Roong
.
The Night Witch Bangkok
didn't make the grade - in spite of being an attractive, upmarket
Nitespot
, it went headlong into the
Abyss
after a couple of months. After some months of additional renovations of the old
Night Witch
area, the
Toh Roong
opened - as an
open-sided, open air
Venue
. Welcome them to the nightcircus.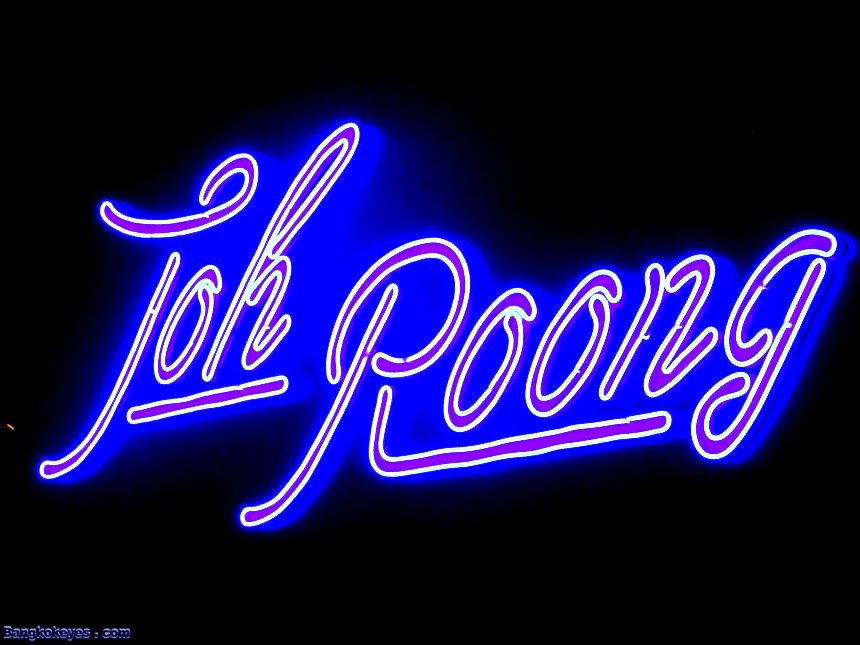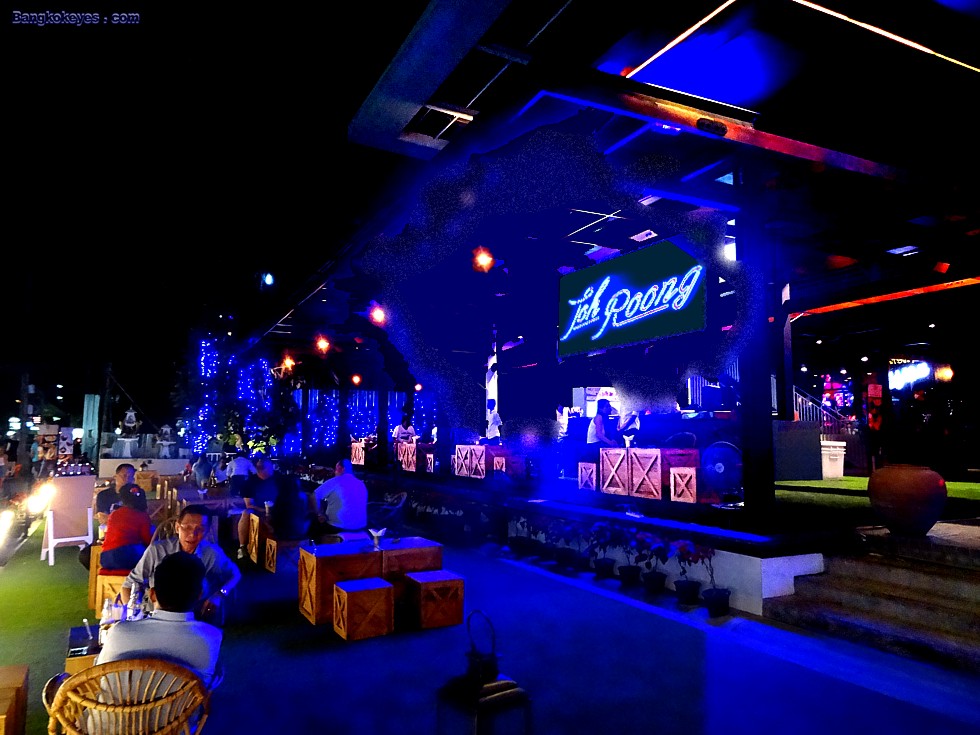 .

SOI NANA


The spacious
Tamasha Exclusive Indian Club & Lounge
opened on the second floor of the
Rajah Hotel
outbuilding (above the
Angels Four
). We passed by on the
New Year's weekend
and we didn't see any exclusive
Indians
crowding into the place, so naturally we wondered whether or not all had read their
Business Plans For Dummies
... Nevertheless, we wish them well in their quest to snare the brass ring.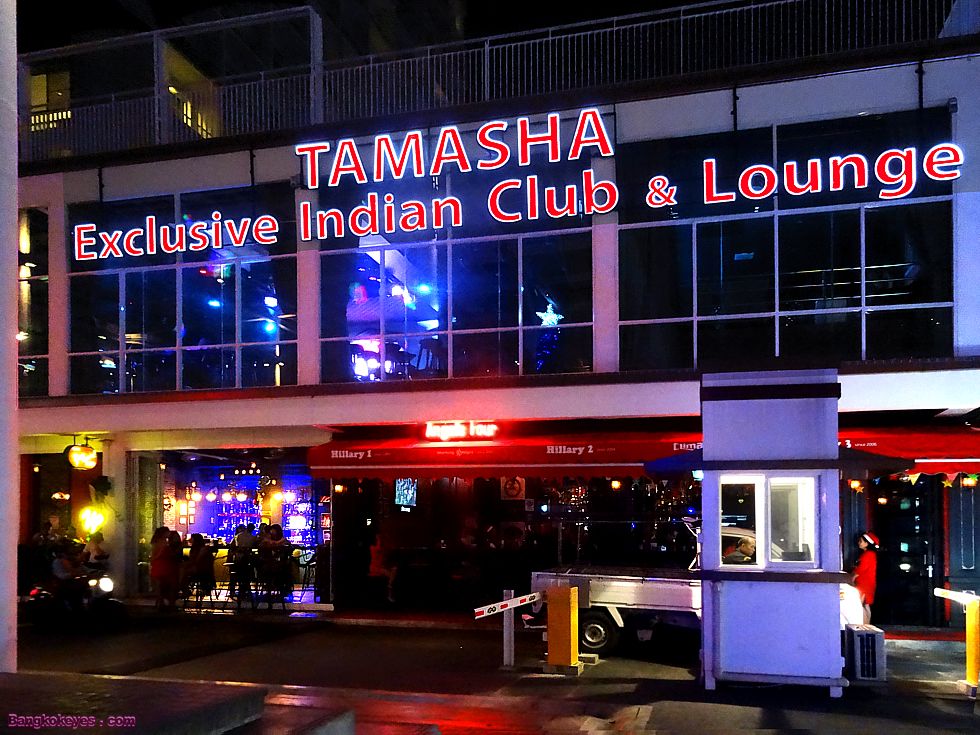 SOI NANA


Deeper in the

Soi,

opposite the cut-out to

Soi 6

, the

Heavens

bar beer

, has reopened, albeit quite a bit smaller than before (and now downstairs at street level). Welcome them back to the piranha pool.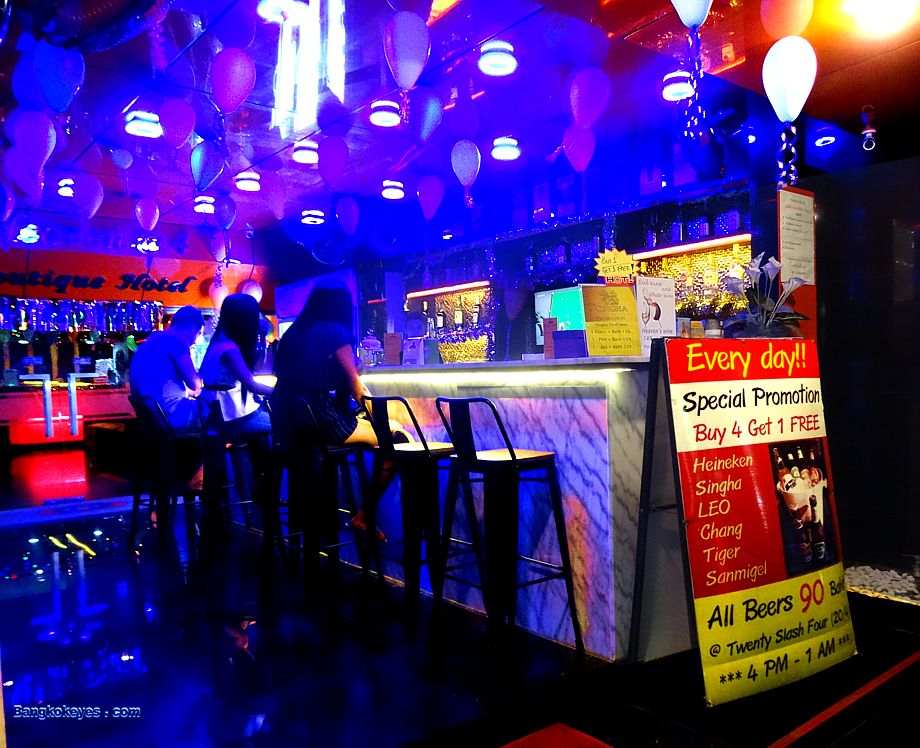 SOI NANA


Yet another pic of
Soi Katoey
for the
Archives
- this time with much of the lighting for the
New Years
still in place.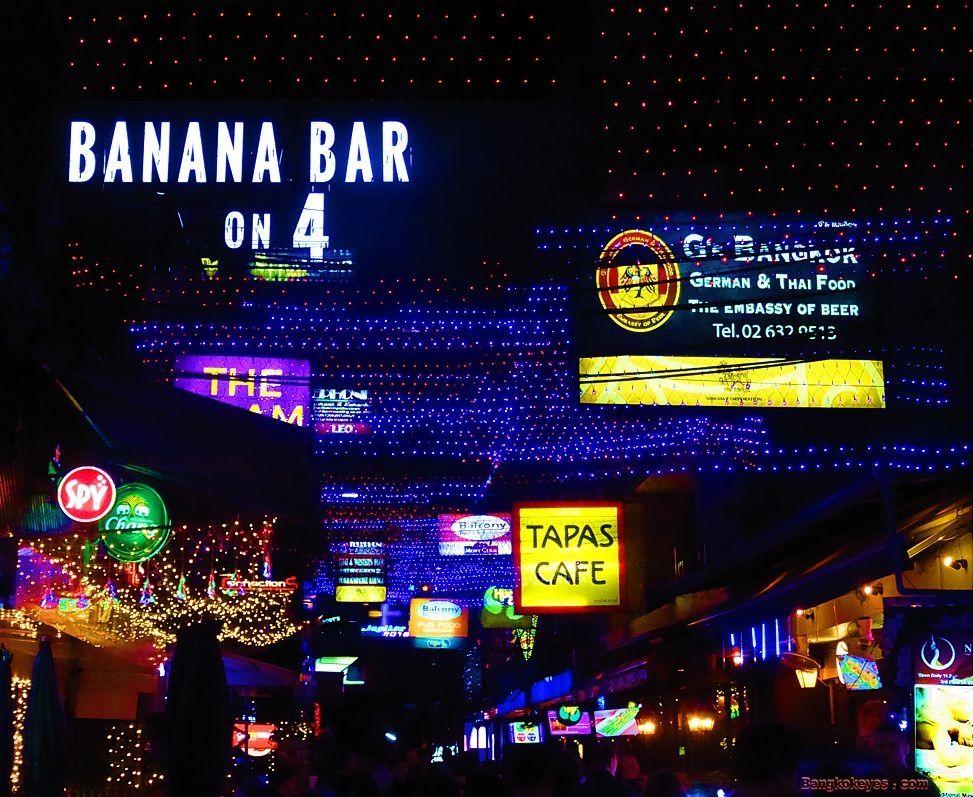 SOI KATOEY


The
Moderation
has bounced back after its sudden closure almost two months ago. People on the ground say there was an employee rebellion of sorts, so out with the old girls, in with the new. Located in
Soi Titanium
. Welcome them back to the big city lights.

SOI 22 (Sukhumvit)


Deep in
Soi 22
, in
Sub-soi Hanna
, the
Liola Massage
has taken over from the
Malaiseeda 2 Massage
lock, stock and
Tiger Balm
. Welcome them to the slippery slope.

SOI 22 (Sukhumvit)


The
Radha Thai Massage
has burst forth onto the scene right next door to the
Moderation
in
Soi Titanium
. May they continue to slip and slide...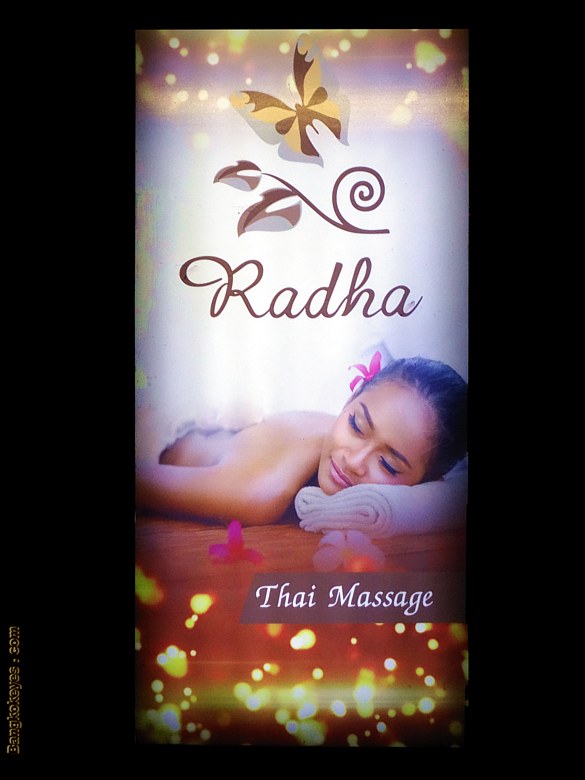 SOI 22 (Sukhumvit)


The
Stronger Bar
had its roller shutter half down when we passed by the other evening... Does that mean it is half-closed, or half-open? We will give it the benefit of the doubt and call it 'half-closed'. Located deep in '
Soi Starlight
'. Should things change, we shall get back atcha with an update...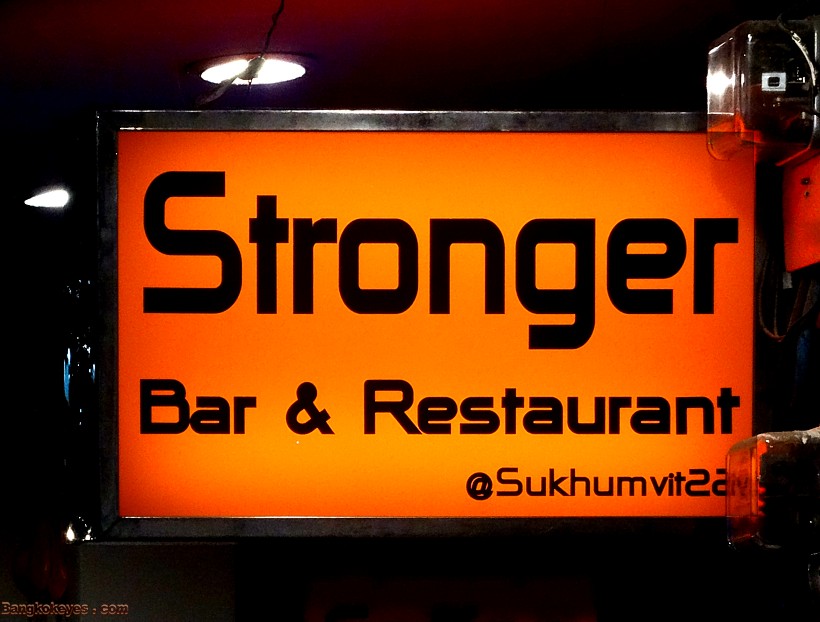 SOI 22 (Sukhumvit)


The
Sabai Massage
has opened newly next door to the
Fire House
deep in the
Soi
. We hope to have a better pic or two next time around. Welcome them to partytown.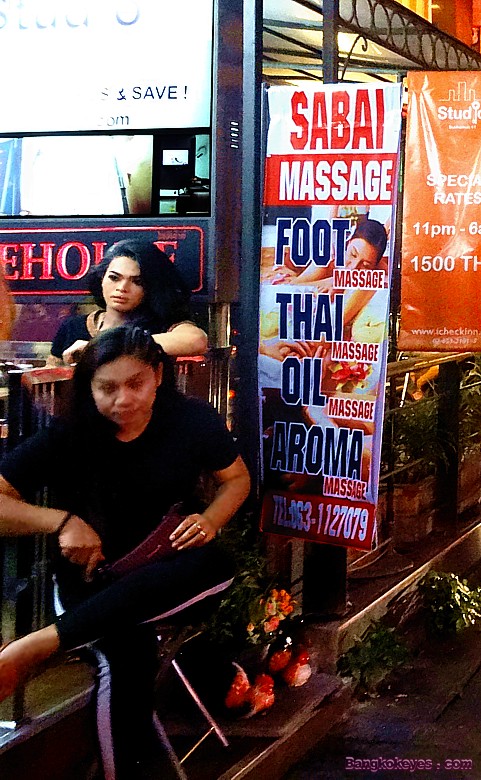 SOI AMBASSADOR (Sukhumvit Soi 11)


Last month we passed by the
The Vagabond
, and it was quiet... too quiet. And we suspected the worst... But all is well, the owner, who was down with the current version of
Asian Flu
, is now once again steady at the helm. The first pic you see below is, however, not of the current
The Vagabond
(see our
November
issue), but rather from his original
Vagabond
street bar which resided at the foot of the
Nana BTS station
. There's good rockin' tonight.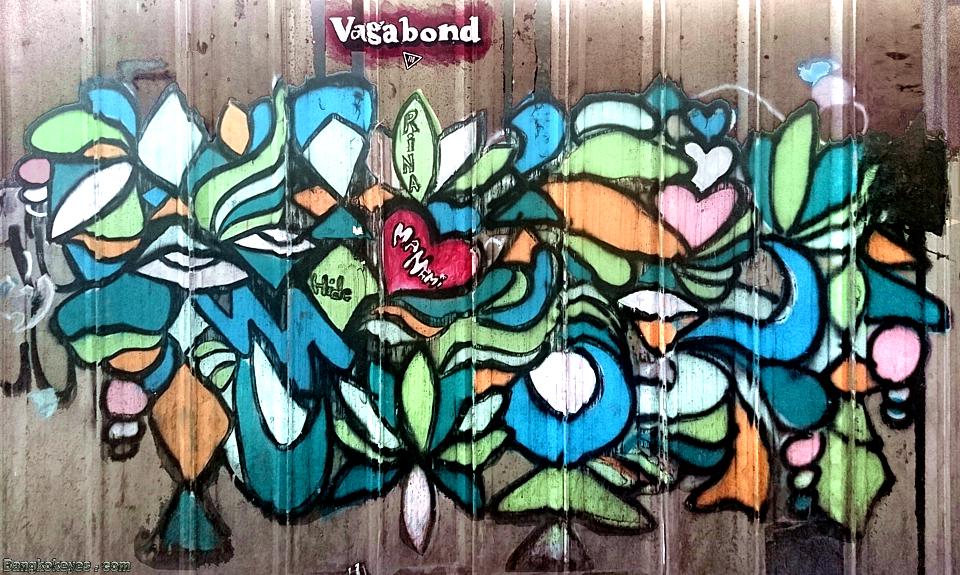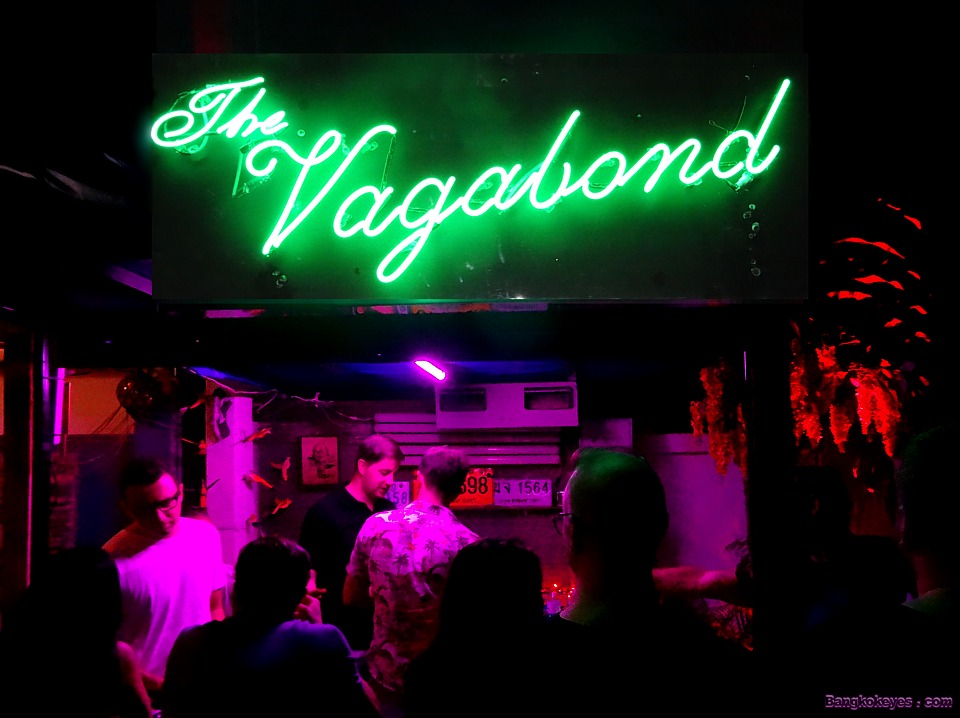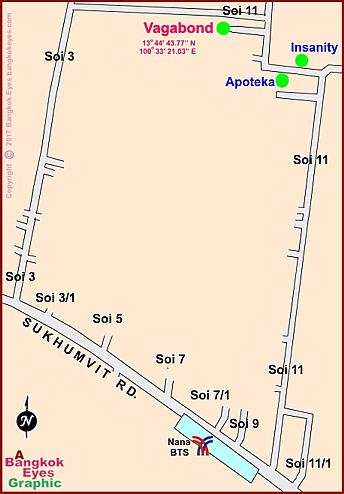 SOI AMBASSADOR (Sukhumvit Soi 11)


A pic for the
Archives
- a view of
Queen's Park Plaza
looking along the back lane...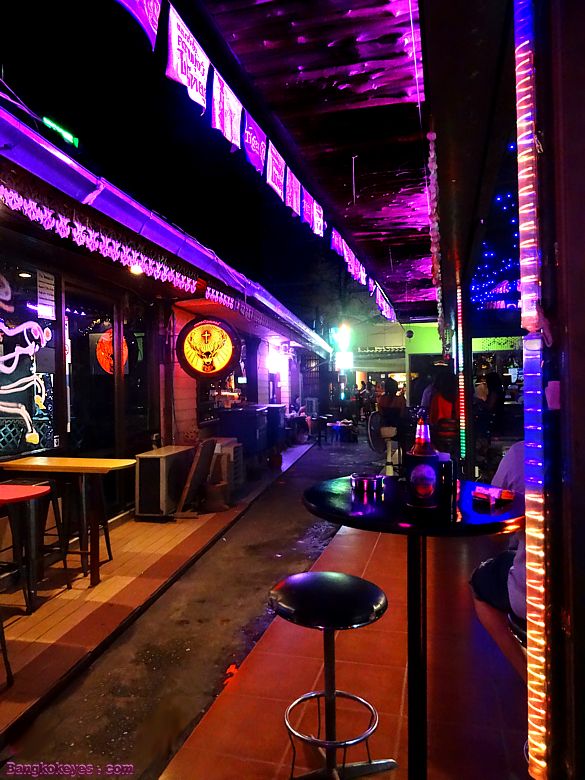 QUEEN's PARK PLAZA (Sukhumvit 22)


Last month, we saw work proceeding on what would be the very well-appointed
The Firm
. And this month it is exactly that. What we are having a problem with is what sort of a
Nitespot
do they want to be? Sitting out front on the sidewalk are four bouncers and four male waiters. Are they selling "
exclusivity
" (?) where male customers are patted down for weapons on entering, and females are required to sign in? This so-called '
exclusivity
' didn't work for the
Velvet
- the club that used to reside just across the
Soi
from them. And, so far, it doesn't seem to be working for
The Firm
(from what we have observed on a number of occasions)... It's a
Nightlife jungle
out there - we hope they know what they are doing...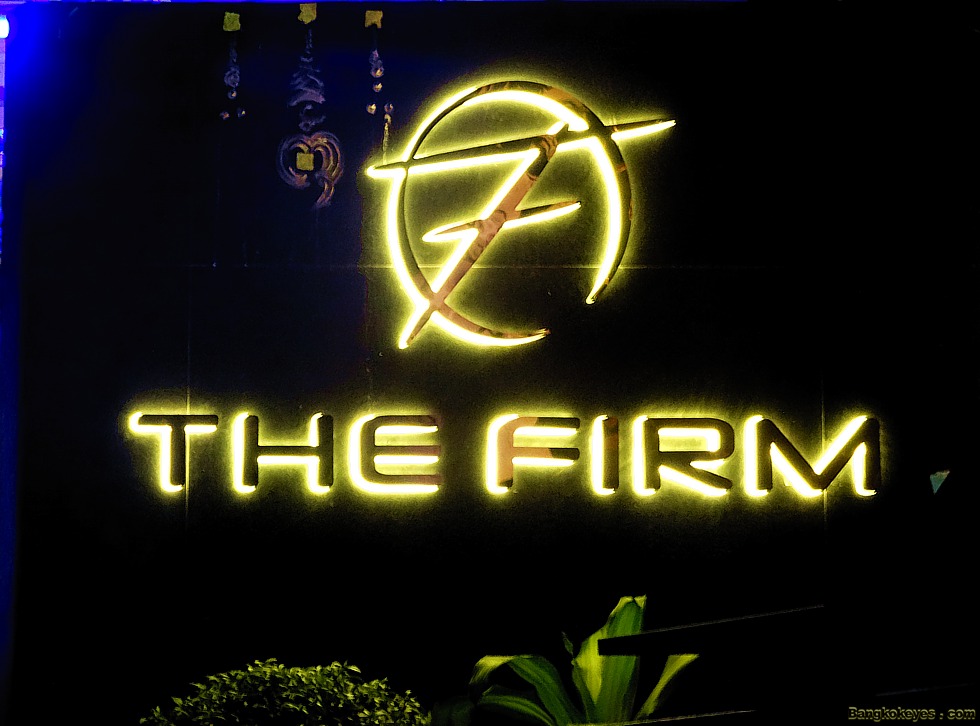 SOI DEAD ARTISTS (Sukhumvit 33)


A few months back the
Napoleon
uprooted itself and moved to the back of
Soi 39 Sukhumvit
. After a brief renovation, the
Angel's Club
opened therein, looking for all the world like a first-rate
Nitespot
. We passed by on
New Years
only to be met with an empty shell of a building, and signs of heavy-duty renovations. Greener grass, ladies.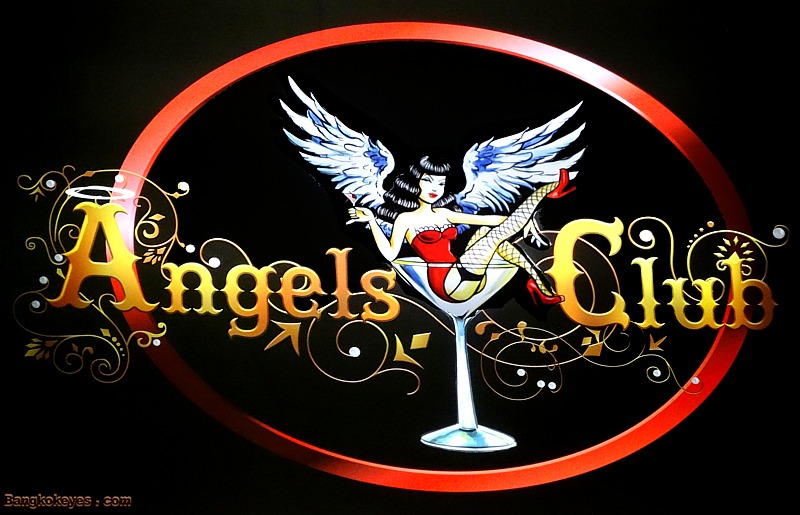 SOI DEAD ARTISTS (Sukhumvit 33)


It looks like the Japanese
Sakuranbo Snack
has locked horns with the
Darwinian Imperative
and come out second-best. Located in
Sub-soi Pan Pan
. May they find peace.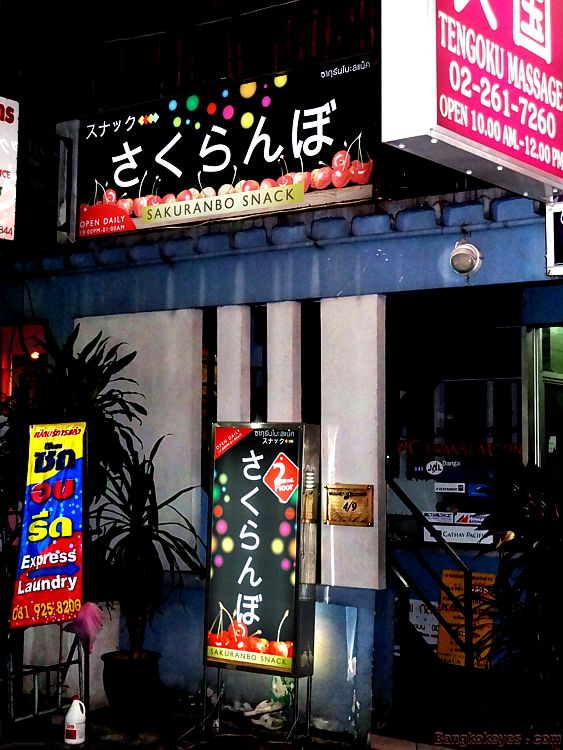 SOI DEAD ARTISTS (Sukhumvit 33)


It looks like the upstairs
Japanese
lounge
Vanilla
has rebounded from their bout of narcolepsy - and that all has returned to
status quo ante
. Welcome them back to the tussle.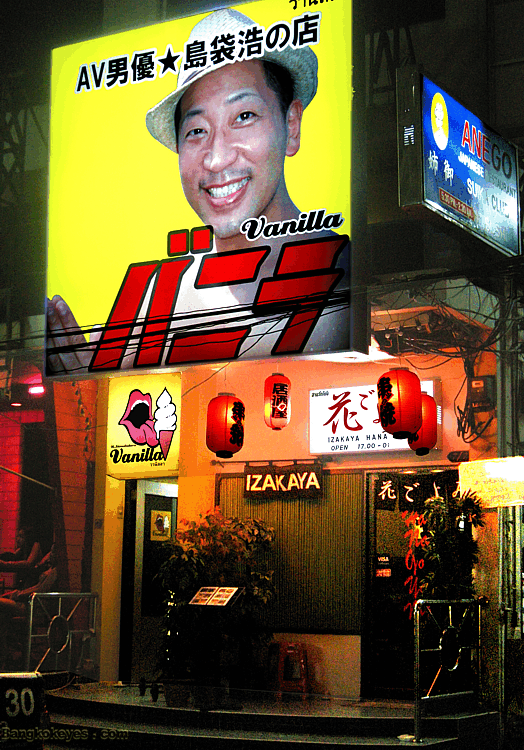 SOI DEAD ARTISTS (Sukhumvit 33)


Last month we published photos of the below signage, and issued a '
wait and see
' on the upcoming move(s). This month, not only has nothing transpired (both
Tenderloins
and
33 Bistro
are still right where they always have been), but the sign in the photos has been ripped down. The best laid plans....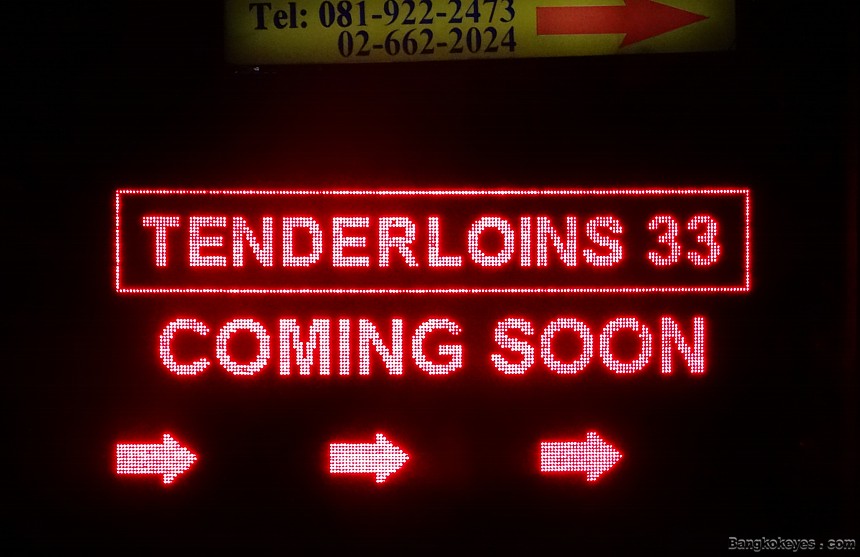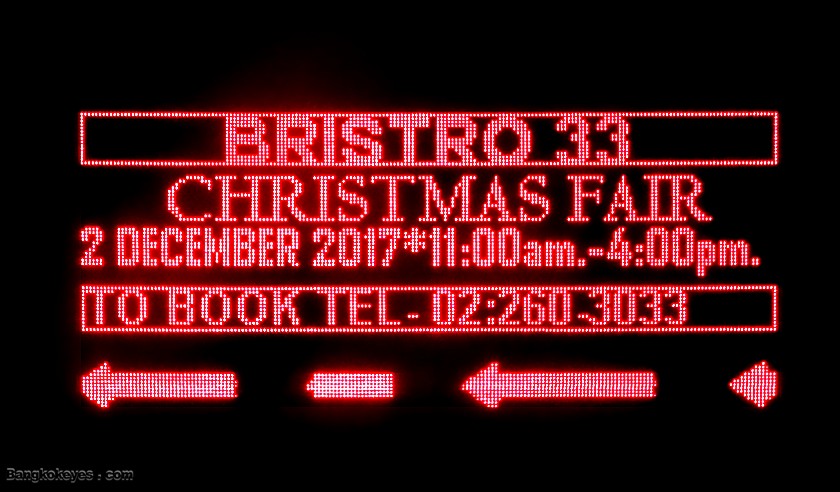 SOI DEAD ARTISTS (Sukhumvit 33)


The oft-closed
Shots Bar
at least for now, is once again "
Open
". A bar owner of some local repute once told me the primary rule for establishing regular custom - and that is to open regularly. He also said, 'If you must close, put a sign in the window, just like you would if you were a barber shop, otherwise people are going to think the worst.' -Just sayin'...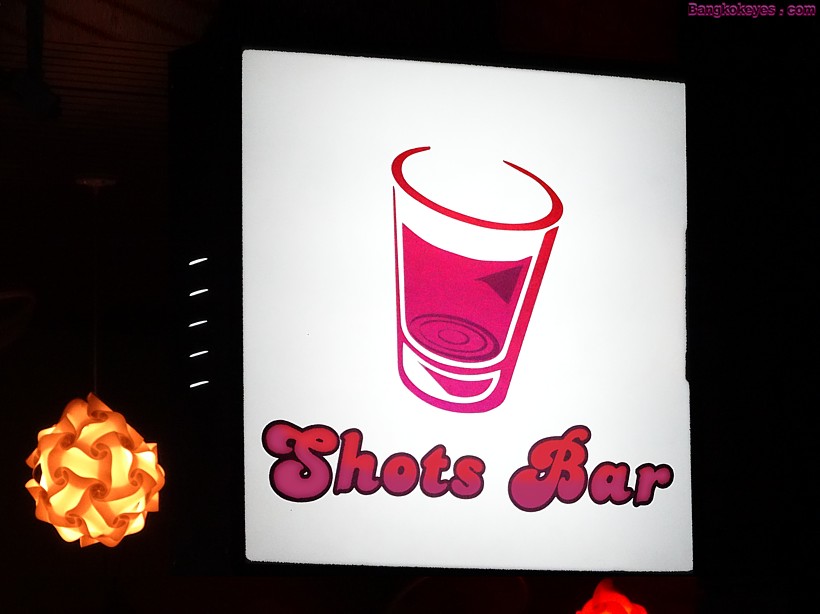 SOI EDEN (Sukhumvit 7/1)


A '
For-the-Archives
' pic of the all-too-quiet "
Twilight Zone
"...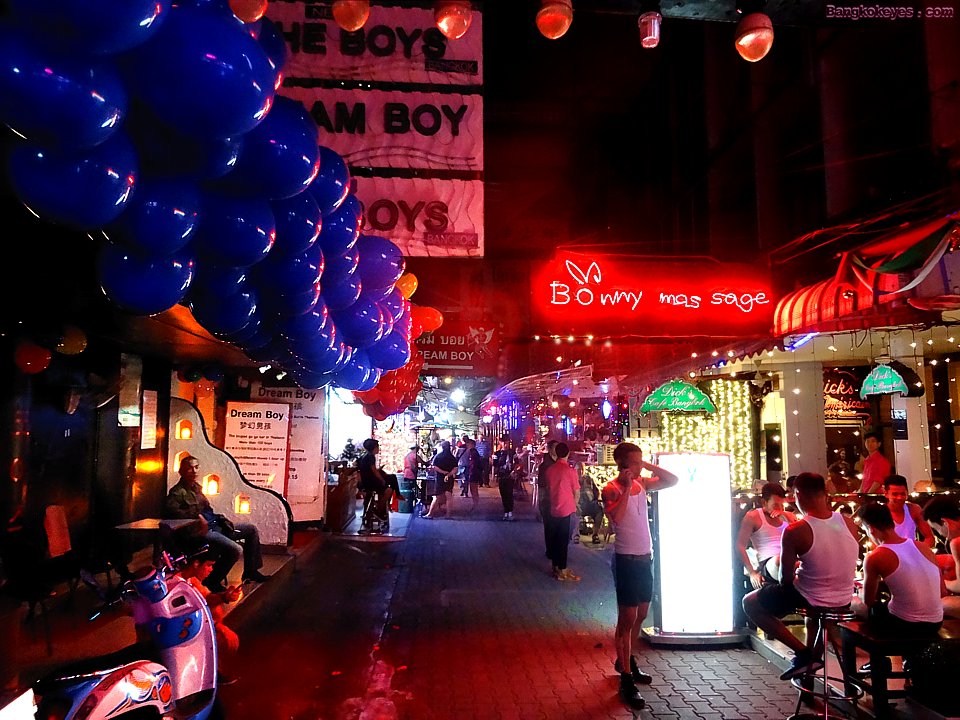 SOI TWILIGHT



A PAGE FROM Bangkok's NIGHTSCENE HISTORY....
20
YEARS AGO

January

With thanks to Cool Text - cooltext.com

Bangkok Eyes goes back in time to see
Who was new - And who was through
in the Expat Night Entertainment world.
How many of these old 'oases'
do you remember ?
Patpong I
*
The
Donna Bar
rip-off bar
opened newly in the just opened, and just closed
Sesso
. Located above today's
Thigh Bar
. An unnamed
rip-off 'massage'
currently operates there.
*
Radio City
closed downstairs temporarily for renovations. The upper two floors remained open.
Patpong 2
* The

Super O.K. Club

opened newly on the

5th

floor of the

Cosmos Stairwell

.

* The branch of the

Patpong Snooker

located upstairs in the

Carpark

closed.


Soi Cowboy
* - No changes that month / year. -


Nana Plaza
* The

3rd Level

Hollywood Country

closed.


Soi Katoey
( Silom Soi 4 )
*

The Airbus

opened up on the

2nd Floor

near today's

Telephone Pub

.





Buckskin Joe Village (~ November 1988

to

November 2006)

(Also known -originally- as

Tobacco Road

or

Soi Rot Fai

or, '

The Tracks

', and later as Machim [Thai] and

Soi Zero

)




* The

Banana Bar

closed down.

* The

Suzie Bar

reopened.

* The

Tequila Bar

reopened.









LINK TO US

MISS
SAIGON

A FILM
REVIEW
Click Here
! ORDER
NOW !