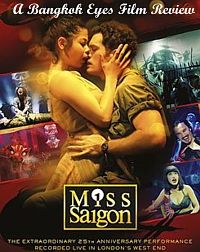 .








MONTHLY NEWS
COLUMN


Bangkok,


01 July 2018


William R. Morledge


July's Nightlife News
Godspeed, Old Friends - RIP
Bangkok's Bars - 20 Years Ago
A Smile in the Land of Smiles.
Reader's Corner: A Bar is a Bar?
Graffiti #148 : Graffiti Copyright?
It wasn't so long ago (early 2017) that the current go<! >verning body decided the best way to clean up Bangkok was to forbid vendors selling their wares on the city's sidewalks. Thus denying, or making it almost impossible for a large segment of the population to earn a living. And before all you conspiracy theorists get too wound-up, there couldn't be any truth to the rumor that the mi<! >litary go<! >vernment was putting a foot down on the necks of the te<! >saban po<! >lice - thereby depriving them of their nightly vendor-extortion. ...You should be ashamed of yourself...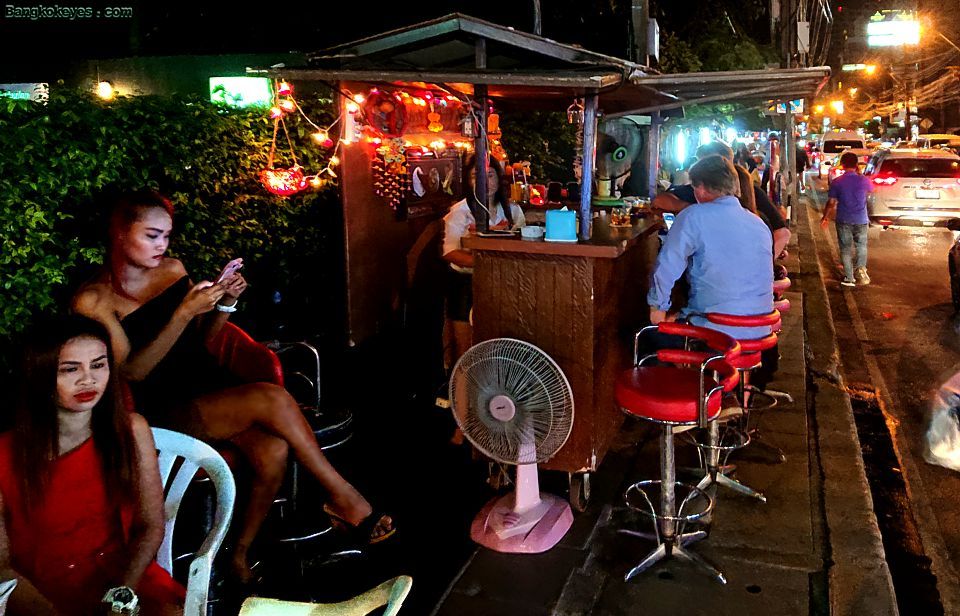 This Street Bar, as with most, does most of its business after the other bars close.

SOI 22 Sukhumvit Rd.

To say that the Go<! >vernment's "clean-up Bangkok" decision was unpopular was an understatement. Bangkok, locally and internationally, has long been famous for its varied and spicy 24 / 7 food stalls. It was, and remains, a Bangkokian's assumed right to be able to go out at any time of day or night to a nearby street stall and sit down to a toothsome delight - and perhaps have a beer. Who among us didn't have a favorite pre-dawn khao tom stall? Stories in the international Press went so far as to imply the closing of these street stalls was a cultural violation akin to telling the Germans they had to cancel Oktoberfest, or telling the French they can no longer drink wine.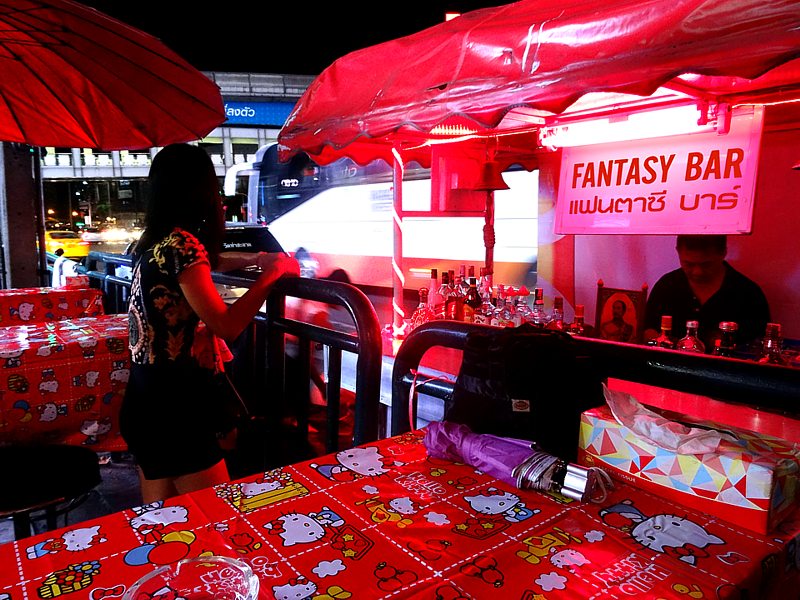 The

Fantasy Bar

has a long history, starting out in

Cowboy Annex

in

2004

with a small hand-made sign reading '

Fantacy

'. Recently, they were closed down as a

Street Bar

under the current crack down on street vendors, however have recently reopened - with a twist. The actual bar is a pushcart out on the street, and the tables for customers are on the sidewalk (featured last month). We note that on most nights, there are

6

or

7 Street Bar

s near the entrance to

Soi Cowboy

.

SOI ASOKE at SOI COWBOY

But, as with all previous ridiculous, poorly thought-out promulgations by The Aut<! >horities, what goes around comes around. Initially, it didn't take long for vendors to discover that they could work deals with some of the shop owners to use the narrow space between the front door of the shop and the inner edge of the sidewalk (depending on the shop placement on its property). In this manner, they technically remained on private property and not on the public sidewalk. Then, of course, "Bangkok Creep" set in, where they would have most of their stall on that thin wedge of private property, but displaying their wares 'across the line' onto the sidewalk. This, of course, was once again open season for the tesa<! >ban co<! >ps, as the mi<! >litary either lost interest in the problem or dealt themselves a hand...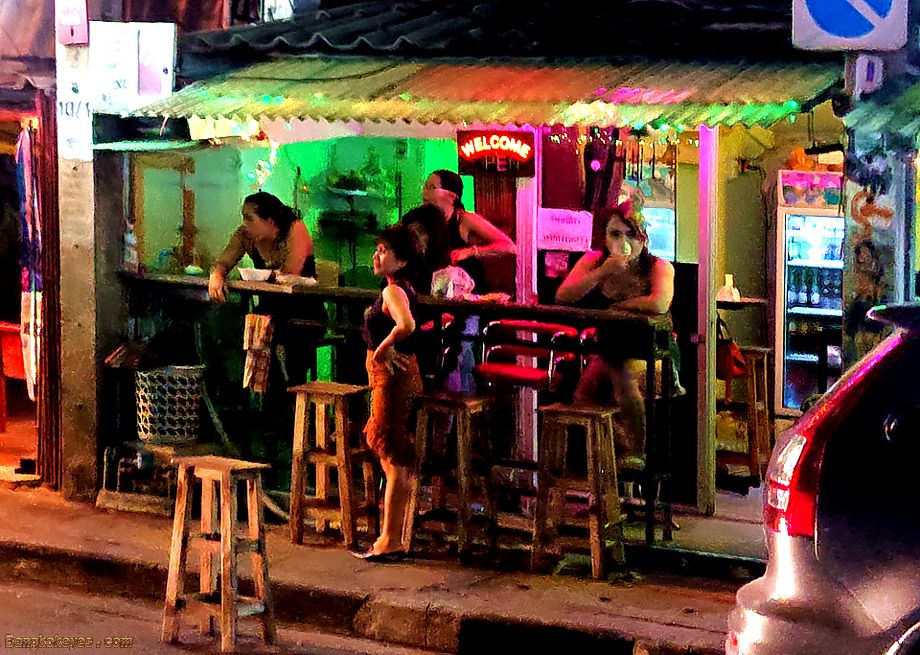 This bar, although having indoor space, has oozed out onto the sidewalk, and then out into the street. (The stool in the street is mainly to discourage parking directly in front of the bar.)

SOI 22 Sukhumvit Rd.

Fully more than half of those street vendors that found themselves thrown off their patch of sidewalk were those who plied their trade after dark. And likewise, a percentage of those were the very popular late-nite & all-night
Street Bar
s. See our previous
Street Bar
issues :
The Long Thin Line

< LlNK >
and
After Midnite

< LlNK >
.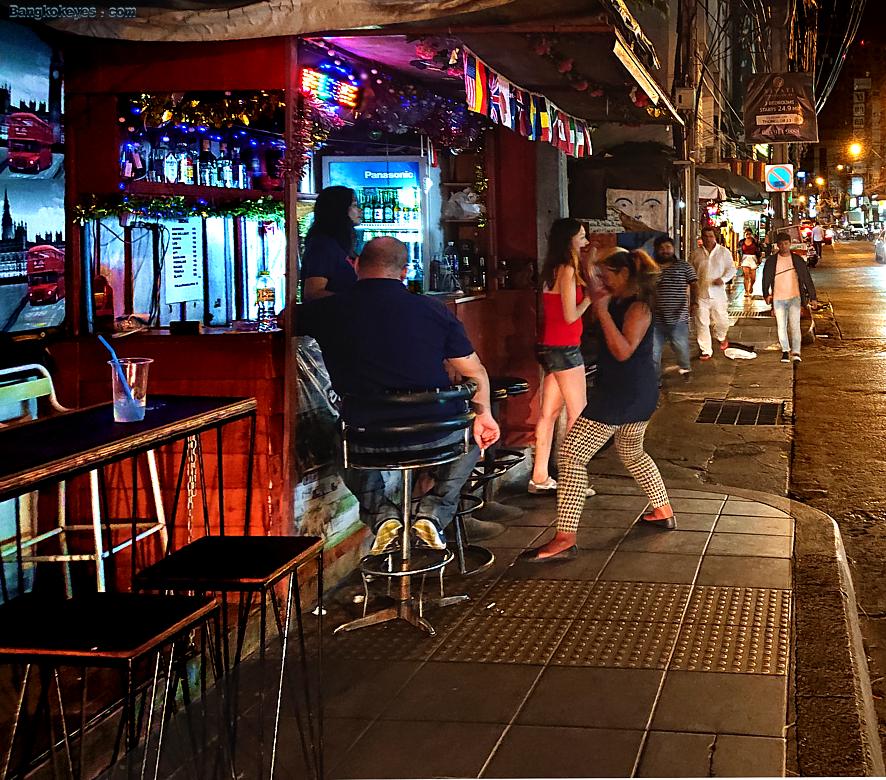 This

Soi 22Street Bar

is typical - hugging the inside of the sidewalk so passers-by will be able pass comfortably, and perhaps be persuaded to stop off for a beer or two.

SOI 22 Sukhumvit Rd.

What started out as a trickle is now a stream - our survey last night revealed approximately
thirty street stalls
between
Sukhumvit Soi 4 (Nana)
and
Soi Dead Artists (Soi 33)
- either
Street Bars
or food stalls serving alcohol. And we're not hearing any complaints from those long-time residents and frequent visitors to these shores. We
Bangkokians
are starting to feel at home again....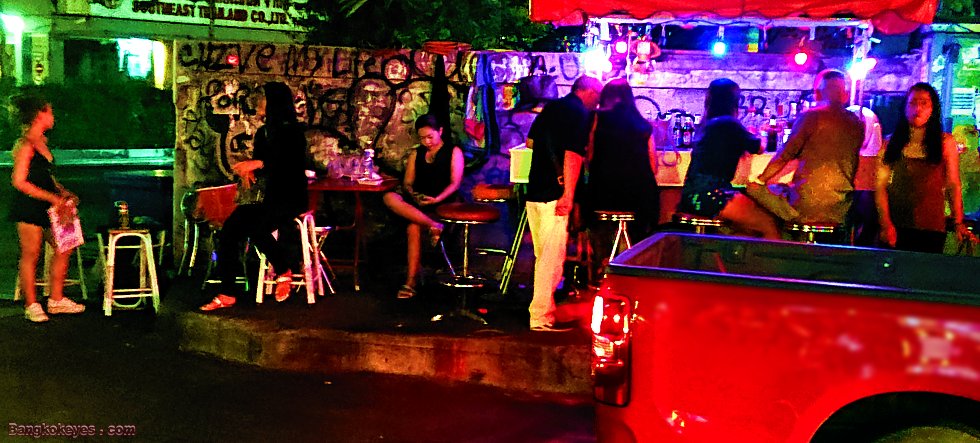 This

Street Bar

has maintained midnight-to-dawn popularity for some time - located at the top of

Soi 23

.

SOI 23 Sukhumvit Rd.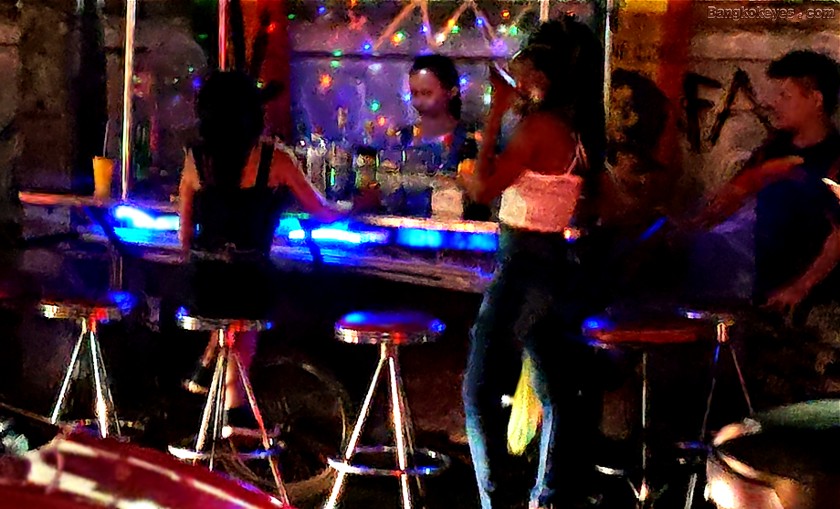 Another

Street Bar

on

Soi 23

- awaiting the late night rush after the closing of

Cowboy

.

SOI 23 Sukhumvit Rd.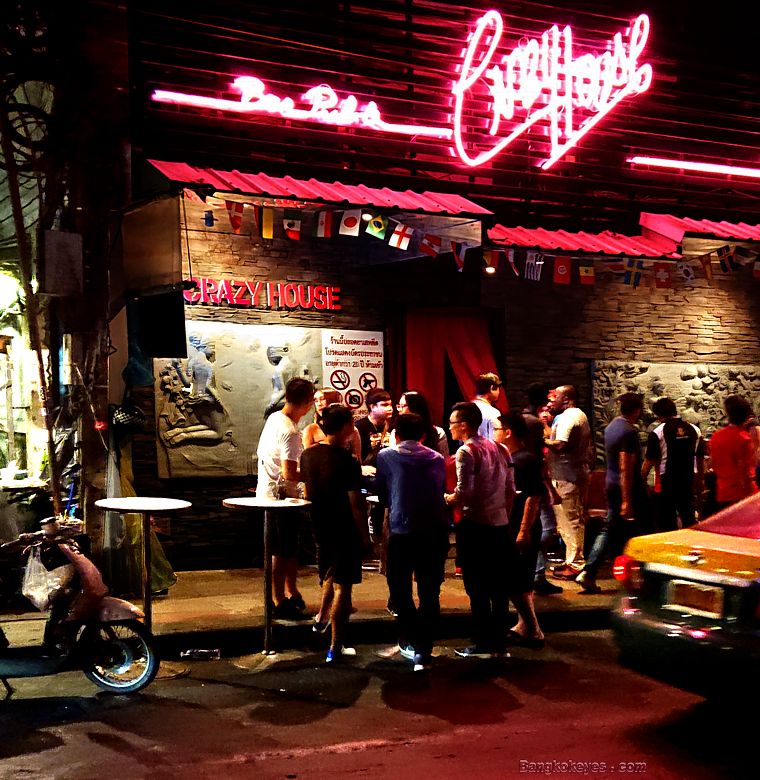 This popular

A Go-Go

has four floors to themselves, but remains active on both their sidewalk and out onto the street...

SOI 23 Sukhumvit Rd.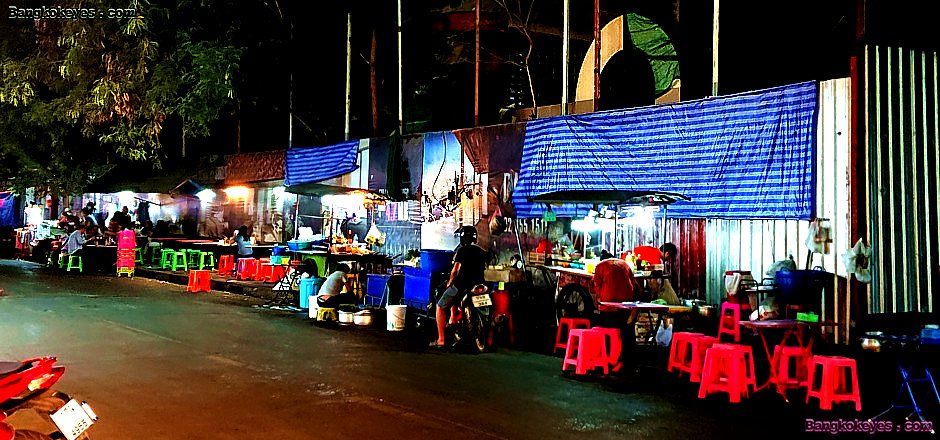 This

Soi Dead Artist

strip of sidewalk/street stalls and bars can be found serving into the wee early hours -

6

days a week.

SOI 33 Sukhumvit Rd.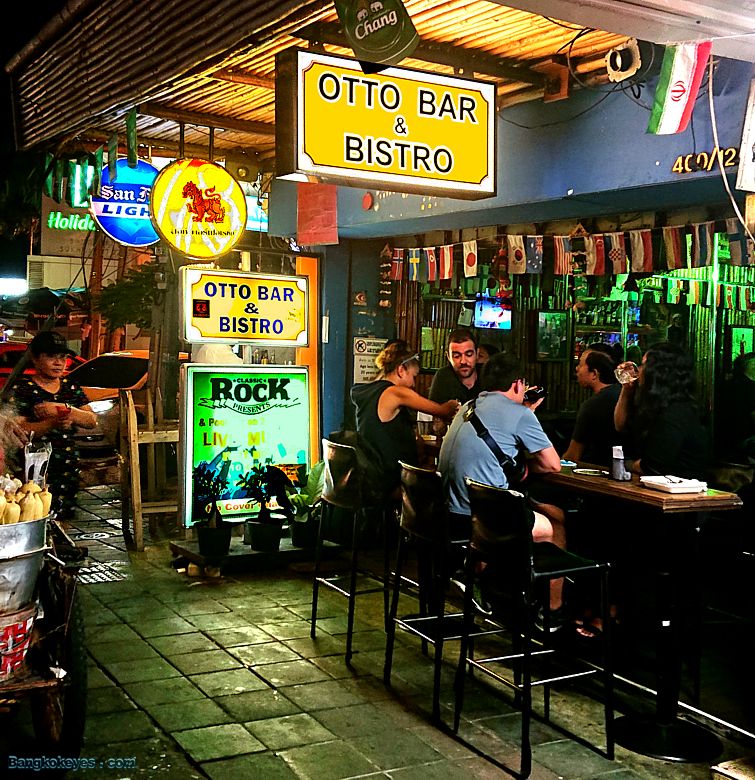 A popular live music bar in its own right, it takes care of the overflow with a small sidewalk bar and a few stools.

SUKHUMVIT ROAD at SOI 22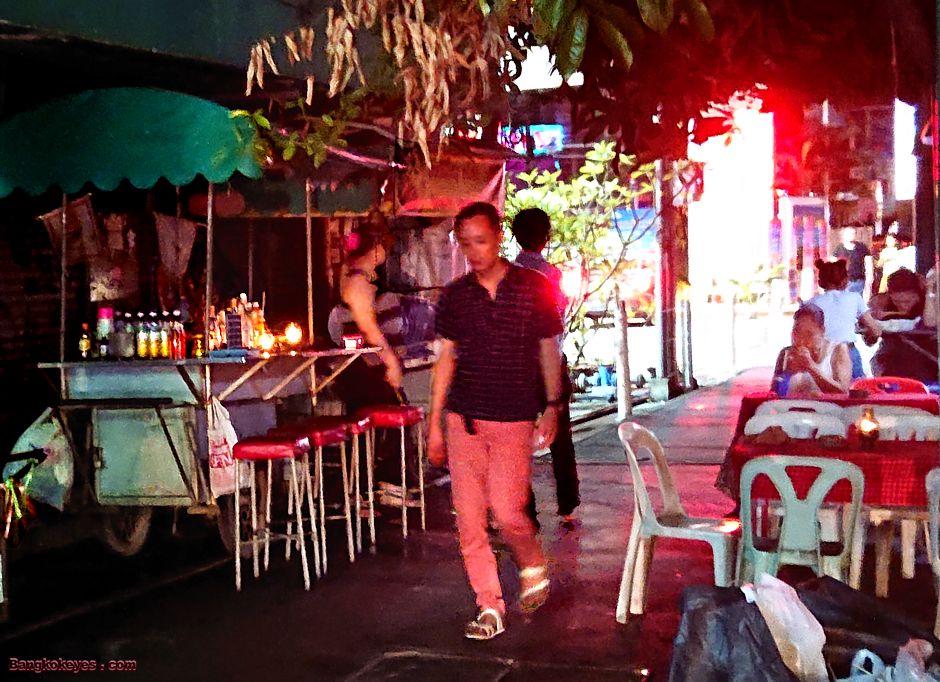 Almost hidden in the shadows, this

Sukhumvit Road Street Bar

shares space with an all night food stall.

SUKHUMVIT ROAD Near SOI 11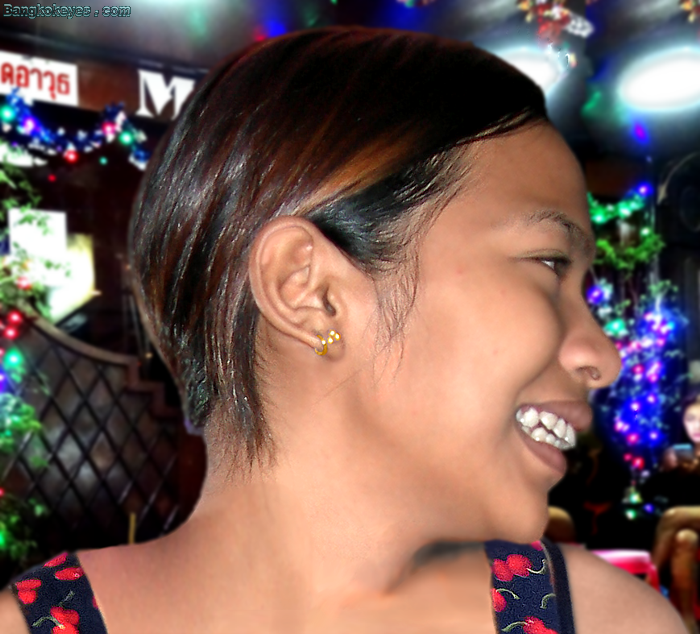 July's

Thai Smile

shall continue on...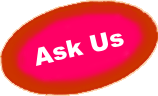 Join the '

Comments

' page...




A Bar Is A Bar?

Reader

: Greeting, I saw where you recorded the closing of the

Electric Blue

(tragedy!) and now a steakhouse with a bar in it is there. You mentioned you would not be following it. But why not, a bar is a bar, right? How do you decide?



Midnite Hour:

Thanks for writing in. This borders on a

FAQ

(

Frequently Asked Question

). When we were first starting this historical

Nightlife

website, we realized very early on that we couldn't cover all of

Bangkok

. We would only have time every month to cover the major expat

Night Entertainment Areas

and those

Venues

within, in which a person "seeking some action" would likely be interested. (And occasionally get out of town to an interesting area or two.) This would exclude, in particular, restaurants unless they had bars which attracted a crowd which was

'out-on-the-town'

, and not just having a drink or two along with a meal..

Unreal Neon

Reader

: Keep up your monthlies - always worth a read. Why don't you send out notices to people to remind them of

new issues

? I saw where you noted the new

Rainbow

sign, as glorious as it might be, was real neon. Not. It is a new form of lighting where

LEDs

are put in colored translucent plastic pipes. They look as good, if not better than real neon - and are a lot cheaper and easier to maintain and repair. Sorry, no more nitpicking.



Midnite Hour:
We stand corrected. When we got your email, we checked the sign again, and it is definitely as you say;

LED

in translucent tubing. Thanks the heads-up - we shall be observing more carefully in the future.

But What About Pra Pradaeng?

Reader

: Last month you noted that your previous survey of

Sri Nakarin Road

was partly in

Pra Pradaeng

, but I think that

Sri Nakarin

terminates at

Bang Na Trat Highway

, still in

Bangkok

? I am a

Soi 107

resident, so I hope more night life stories here in

Pra Pradaeng

?



Midnite Hour:
We rechecked our maps, and you are, well, not correct. The border between

Bangkok

and

Pra Pradaeng

(on

Sri Nakarin Rd

) is just south of

Soi 105

, which is south of the

Bang Na Trat Highway

. Our survey started at

Soi Theparak

, which is south of

Soi 107

, and continued down to the old

Sukhumvit Highway

. We erred in that our entire survey was in

Pra Pradaeng

.

'Reader's Corner' moderator -

'Boge' Hartman


Historical Research



Let the July 2018 Follies begin-



Opening right about....
NOW
is the newly relocated
Shenanigans
. Located on the corner of
Surawong Road
and
PP1
- who woulda thunk? We think you're going to like it, just you wait and see...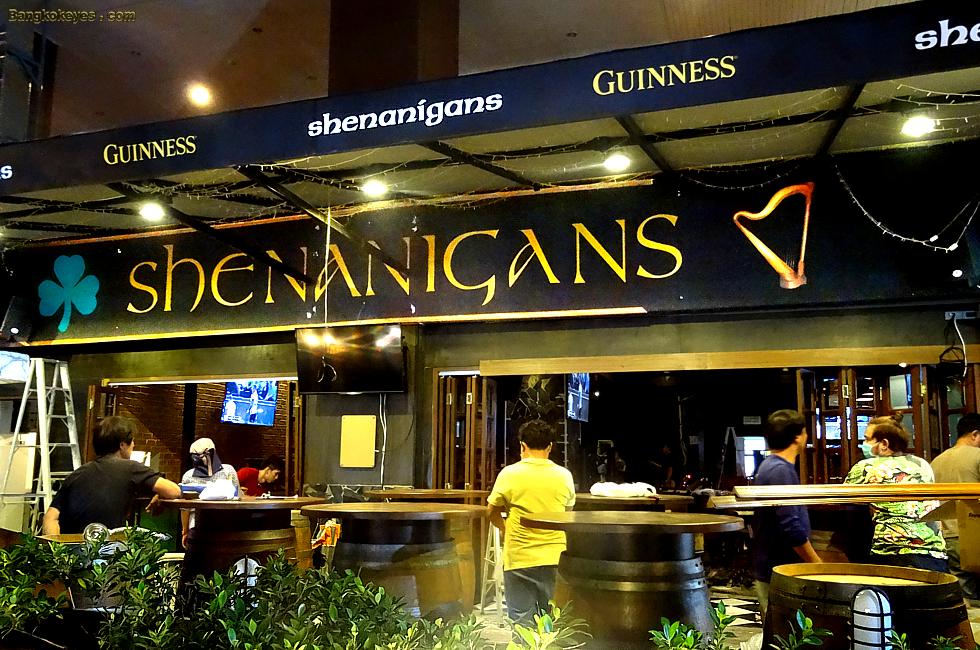 PATPONG 1


The upstairs rip-off
Happy Bar
(above the
King's Castles
), has gone the way of the
Bahaman caracara
. In its place is the
ABC Pool
. May
ABC Pool
ride the fates...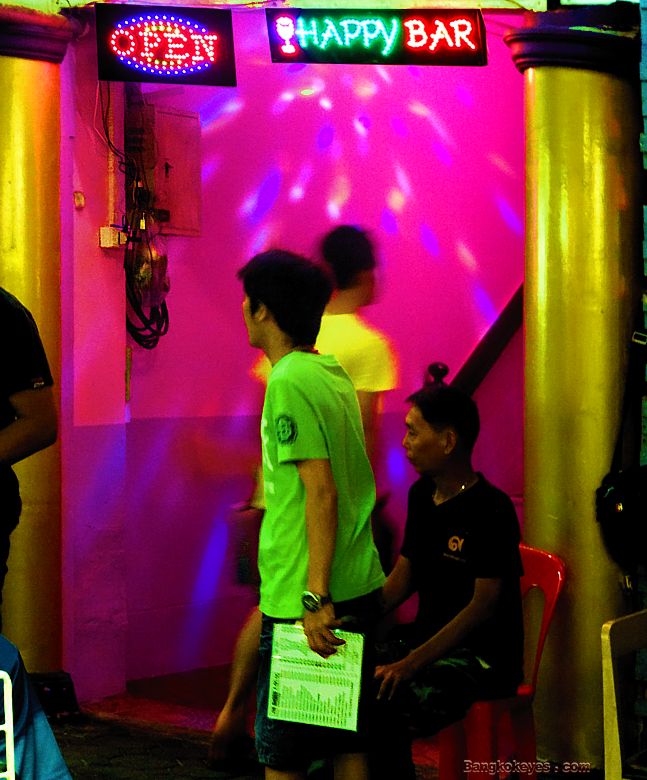 PATPONG 1


The gay bar
Tokyo Boy
has displaced the
Toplight
.
Toplight
, in the meantime, has moved a couple doors down, moving in with
Tavern Two (Tony & Tooey)
, and going
katoey
in the process. What the heck is happening to
PP2
? With the number of bars diminishing in the
Twilight Zone
, and the number of
gay/katoey
bars increasing in
PP2
, are we seeing the beginning of a 'migration'? ...A wait-and-see item...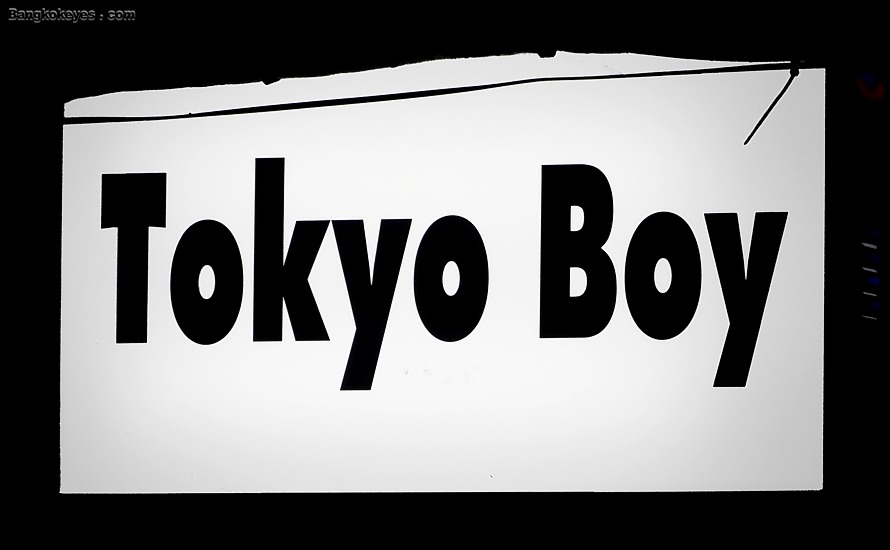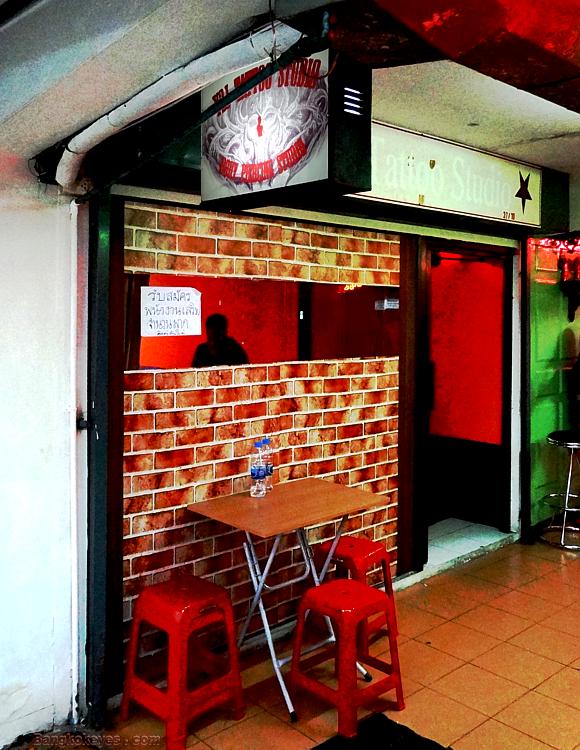 PATPONG 2


The
Matador
has pulled up its socks, and put up some new neon, reading
Matador Club
. We wish them luck, but there is virtually no way to entice passing foot traffic up on
The Ramp
....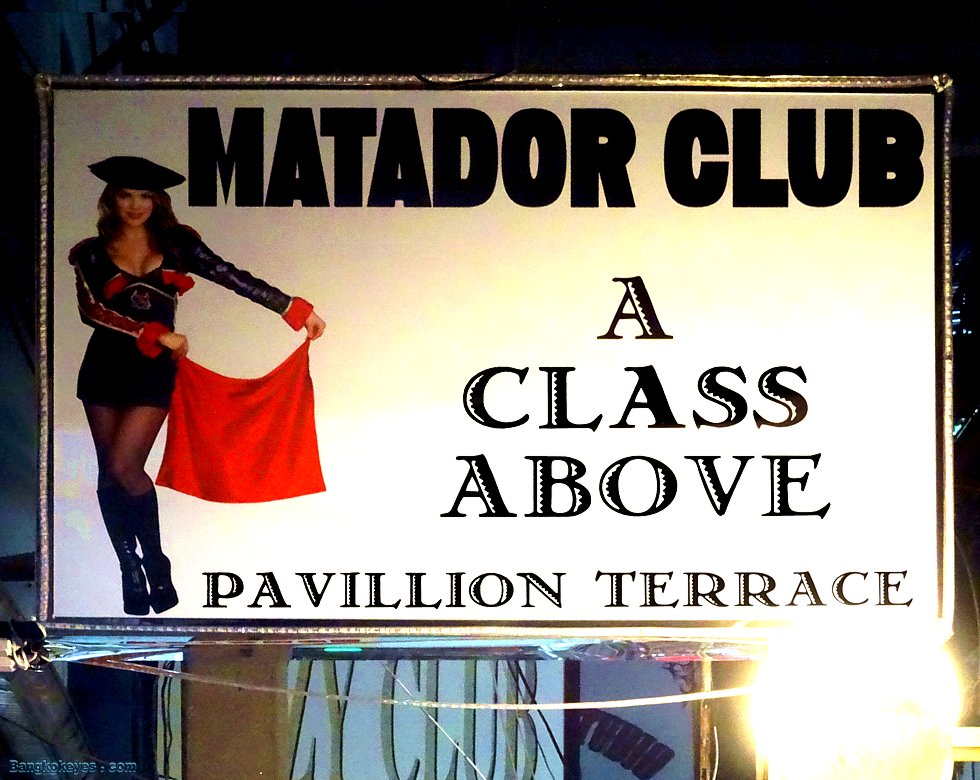 PATPONG 2


The
Glamour
was closed down when we passed by the other evening, having sent their young ladies to the
Bada Bing
... They said they would be closed for only one day to "wash the glasses". Well, we'll see about that next time 'round....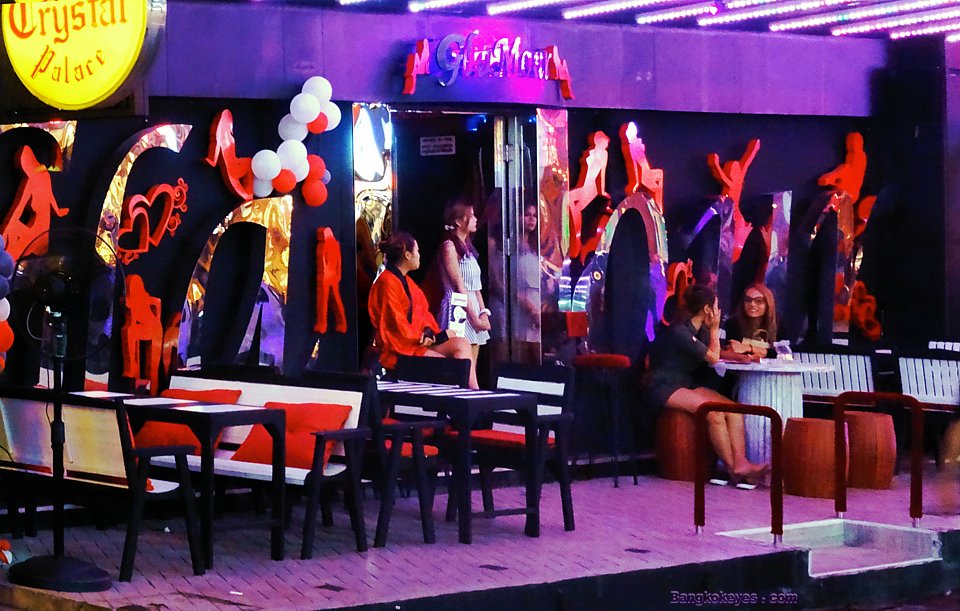 PATPONG 2


The
Thai Smile Bar
must have new owner(s)... Last time around they had a '
For Sale
' sign up, and now they are once again rolling out the red carpet. Welcome to the tussle...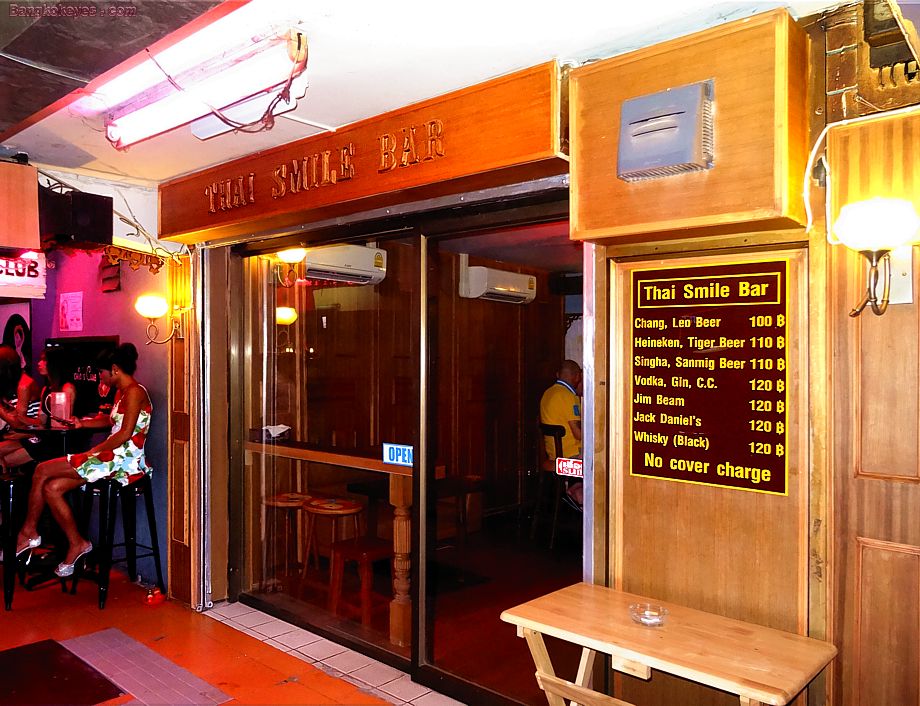 PATPONG 2


Last month we reported the
Country Road
closed, with hammers and saws a-flying. We had no indication of what it might become at the time of that previous survey. This month, renovations completed, they have reopened, lights ablaze. Welcome them back to the nightcircus.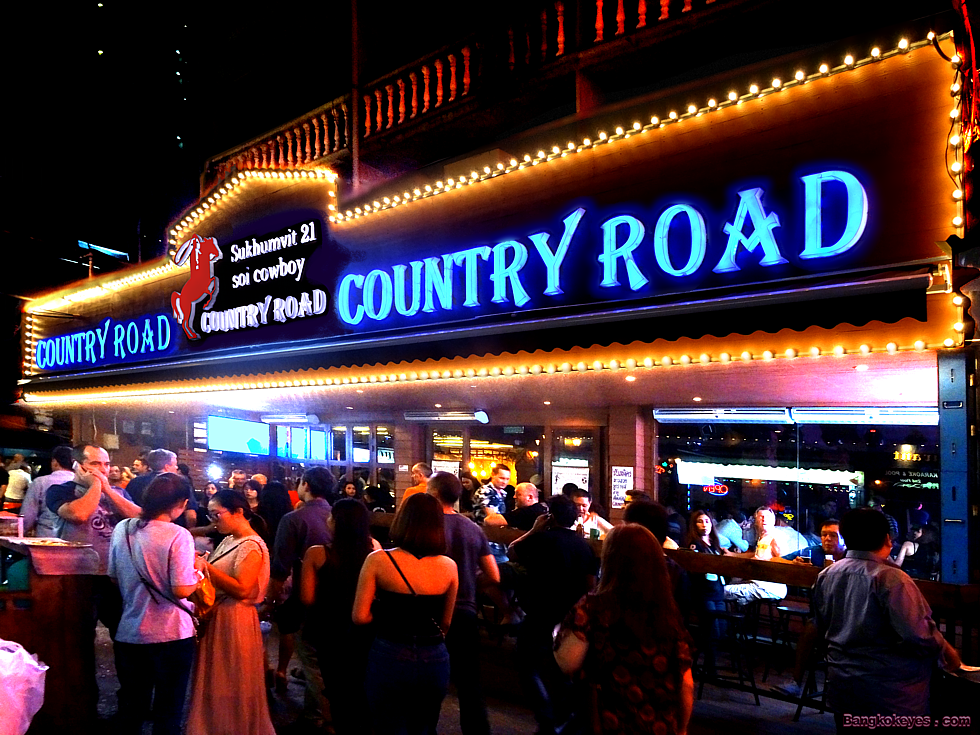 The

Country Road

, all

5

shophouse-widths of it, has opened in a blaze of new signage and lights. We note its tribute to

Soi Cowboy

on its marquee... This month's runaway best for

Door Art of the Month

.




SOI COWBOY


The
Nana Beer Garden
will likely never be this busy again... The reason: the
World Cup
... Say no more...
VIDEO CLIP

NANA PLAZA


The
You Again ! Bar
have thrown in their hand and cashed in their chips. They were one of the bars that returned to the
Rajah Hotel
compound after the hotel renovations were completed, but they never revved up to their old level of action. Its a neon jungle out there...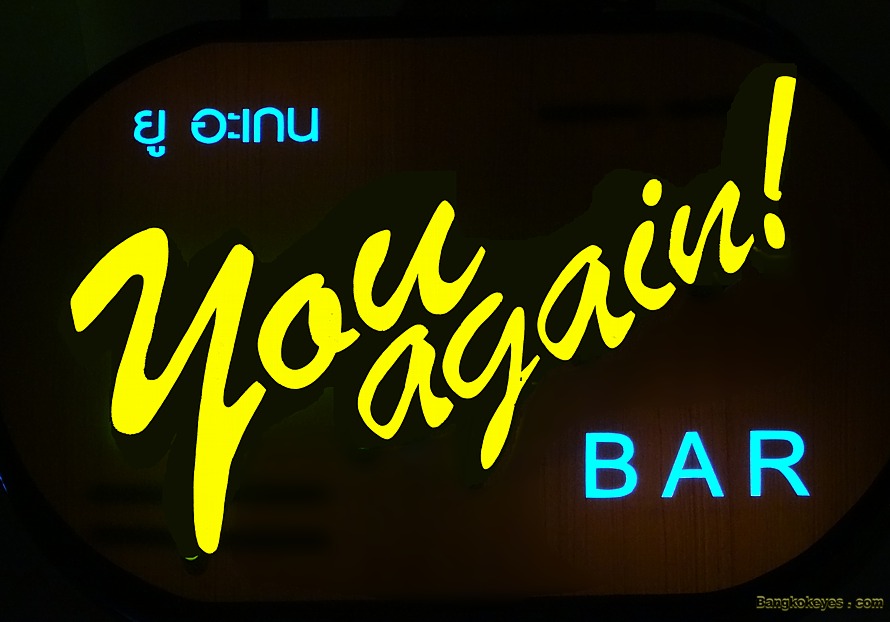 SOI NANA


The upstairs (
Rajah Hotel Compound
)
TamAsha Club & Lounge
was closed briefly last month, but we note they are up and running pedal-to-the-metal at present. May they persevere.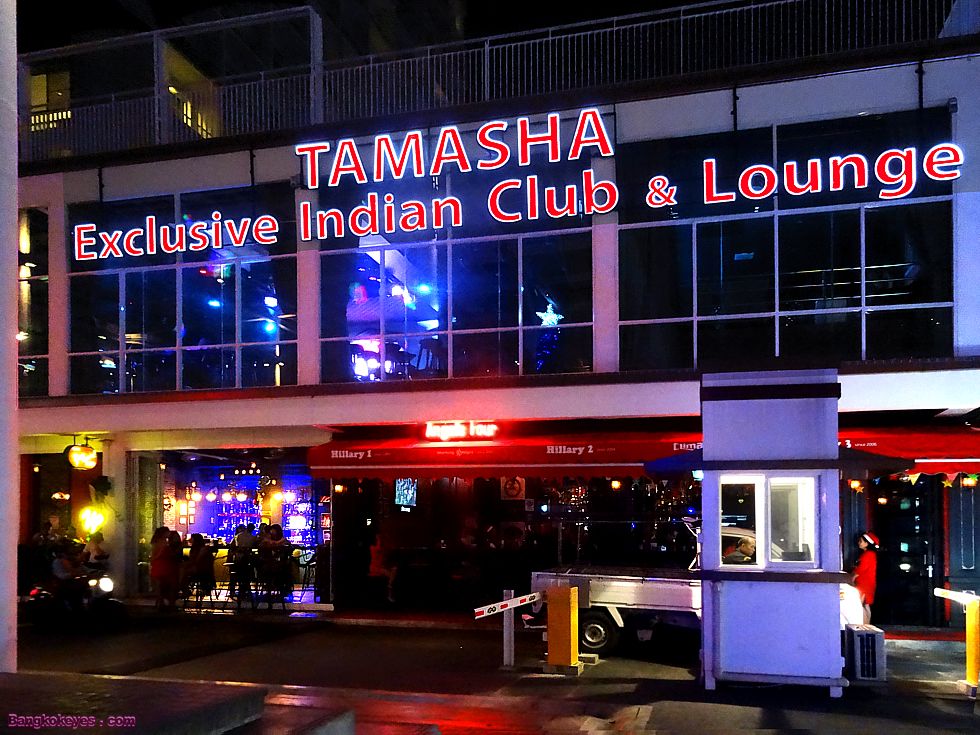 SOI NANA


The upstairs

Japanese

pub

Eat. Drink Izakaya & Sushi Bar

has recently opened above the

'Eat. Drink. Man. Woman.'

at the top of

Soi Katoey

/ Silom Road

.

SOI KATOEY (Silom Soi 4)


The upstairs
Hugs Bar - Karaoke
has reopened - again. We dare not venture a guess as to how long it will stay open, however, as it seems every bar that has ever existed at that location has either not lasted, or kept opening and closing until it finally winked out.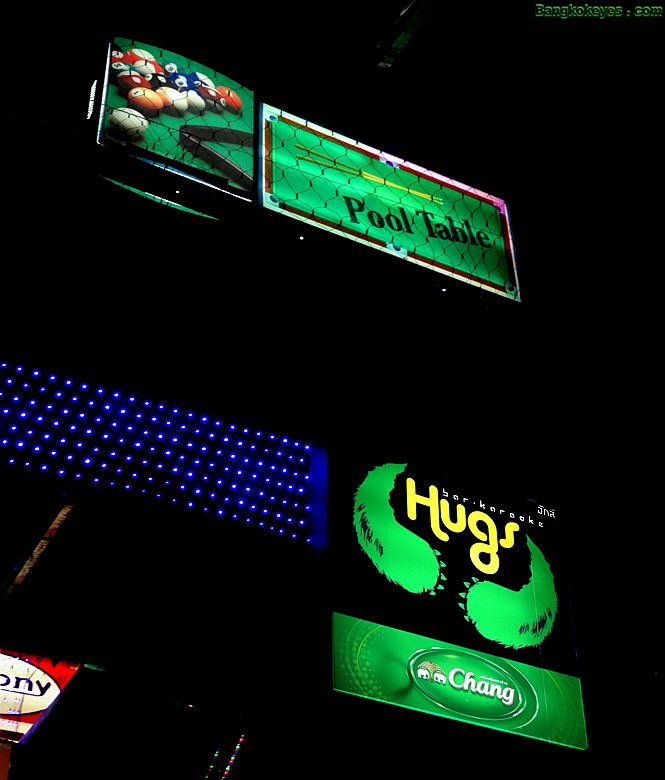 SOI KATOEY (Silom Soi 4)


Small Bars
...ARE STAYING ALIVE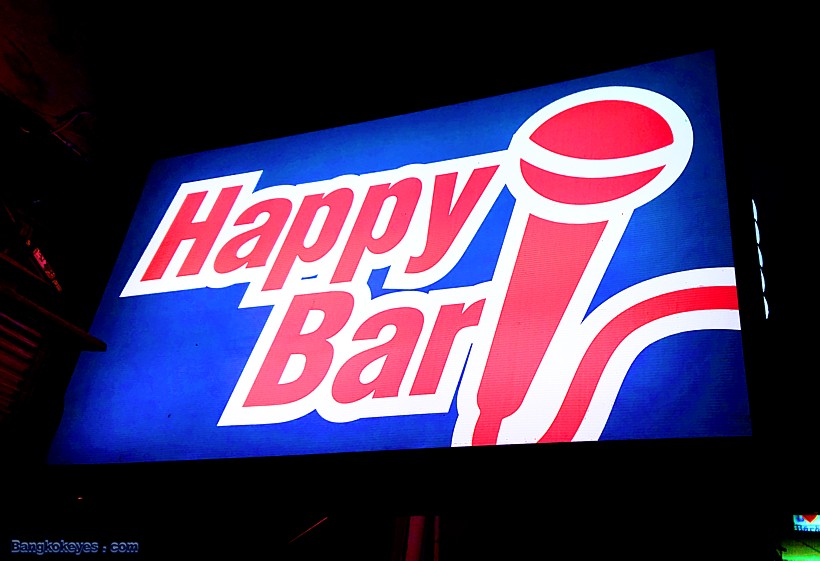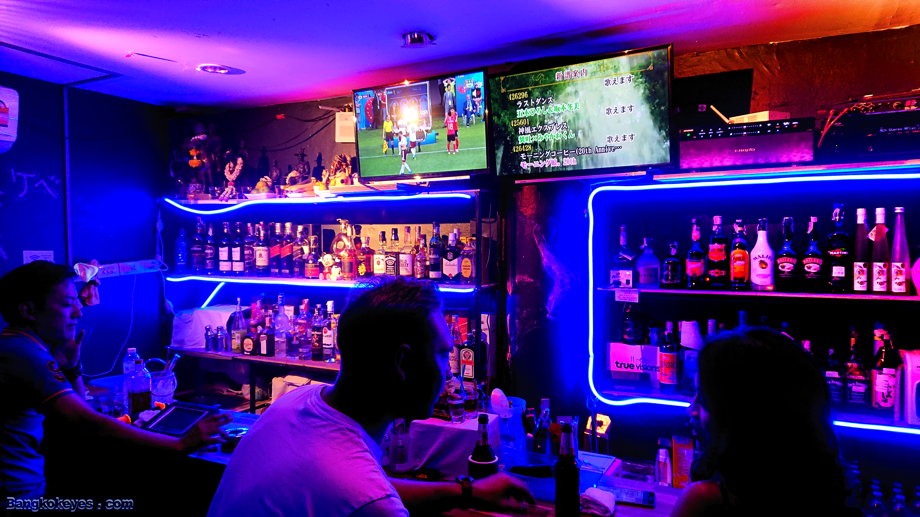 On our surveys, we occasionally come across a small and comfortable and quite successful bar that, at least by our preconceived notions, should not succeed. This is the case with the
Happy Bar,
located just across from
Queen's Park Plaza
.

SOI 22


Last month, we noted

Wax

Late Nite

was closed, in spite of their signs indicating they are open

7

days a week. This month, it seems, business as usual. Let the train roll on...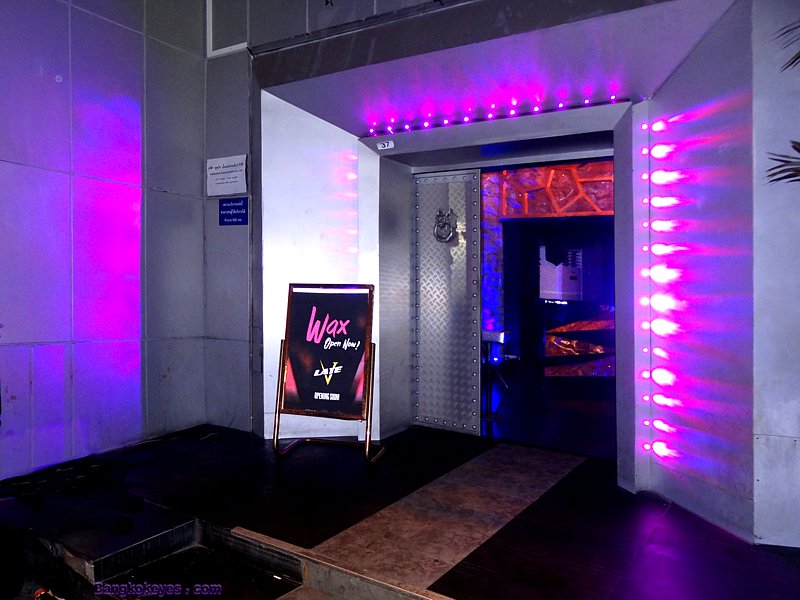 SOI AMBASSADOR (Sukhumvit Soi 11)


Business seems relatively constant in
Queen's Park Plaza
, and as a result, very few bars are turning over. The
Supreme Bar
, having been in operation for some time, has put up some new signage. Rock on.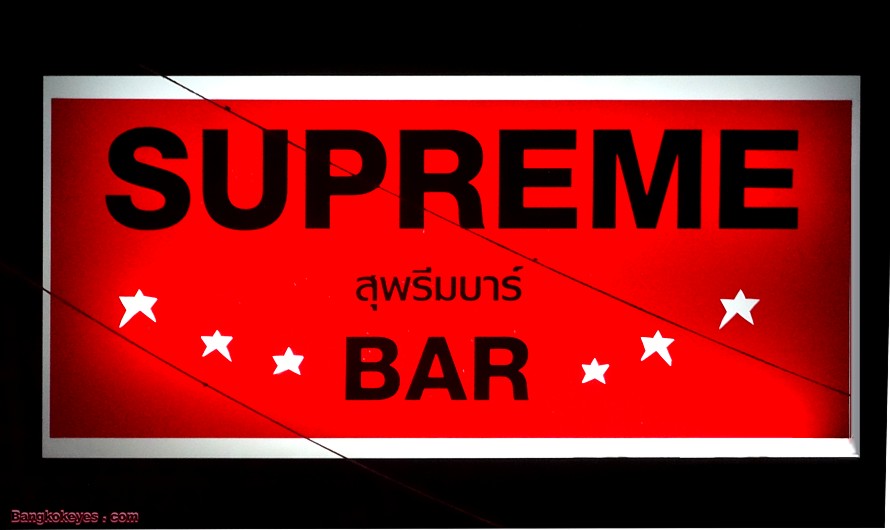 QUEEN's PARK PLAZA (Sukhumvit 22)


The
Dali
, one of the older "
Dead Artist
" bars, has called 'time'. Or rather, 'time' was called for them by the redevelopers, which have closed off all commercial activity for a couple hundred meters on the left side (going in) of
Soi Dead Artists
. We saw no signage indicating
Dali's
intent to move elsewhere.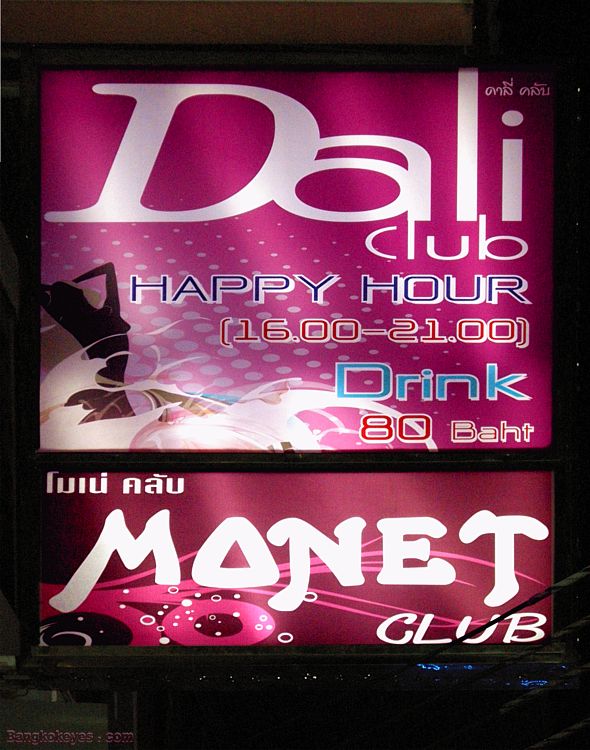 SOI DEAD ARTISTS (Sukhumvit 33)


Having moved to this location back in
2011
from deeper in
Soi Dead Artists
,
Monet Club
now also have been closed down by the developers. Greener grass, ladies... With this closure, the
Goya
remains the last "
Dead Artist Bar
" on the
Soi
. Additionally, with
Monet Club
's (&
Dali
) closure, it looks like the rot has been stopped - these two bars are the last two that were located in the current
Soi 33
redevelopment areas.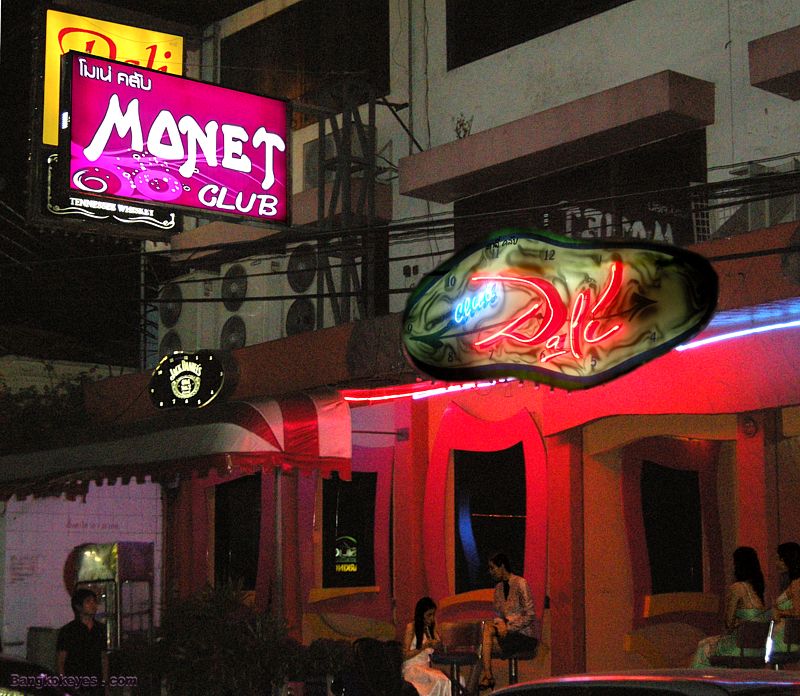 SOI DEAD ARTISTS (Sukhumvit 33)


The
Nyan Nyan Massage
has dropped one '
Nyan
" becoming
Nyan Massage Nuru
. No idea why this name-change could have suddenly become an important thing to get done... Perhaps it had something to do with the
Japanese
equivalent of
feng shui
....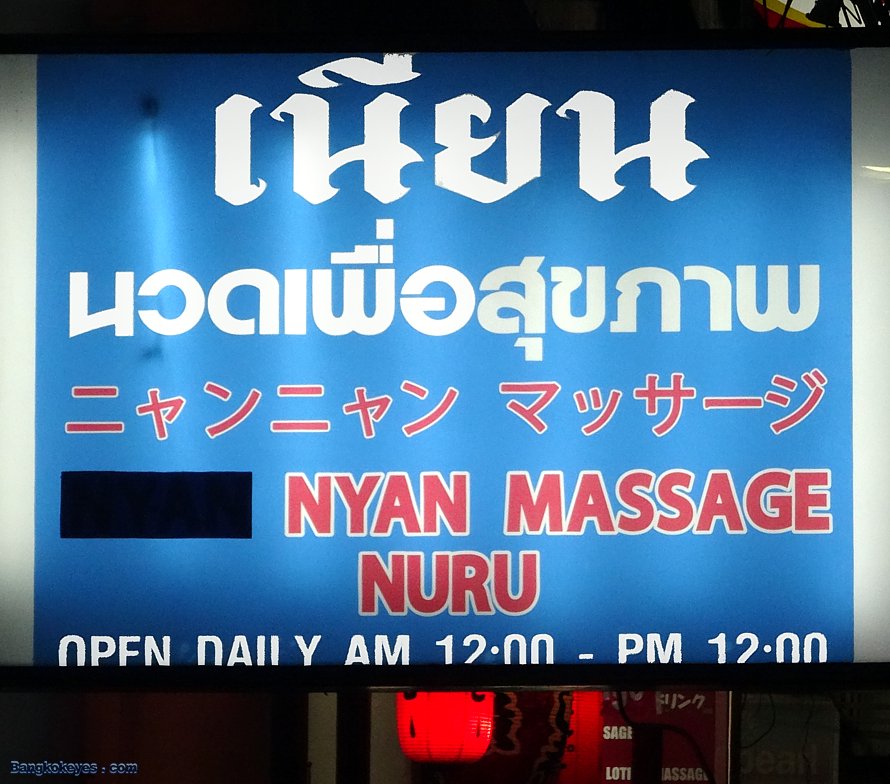 SOI DEAD ARTISTS (Sukhumvit 33)


Gone, but not gone, the
Fortune 17
, closed for a couple of days last month for the holidays, is '
Business-As-Usual
'...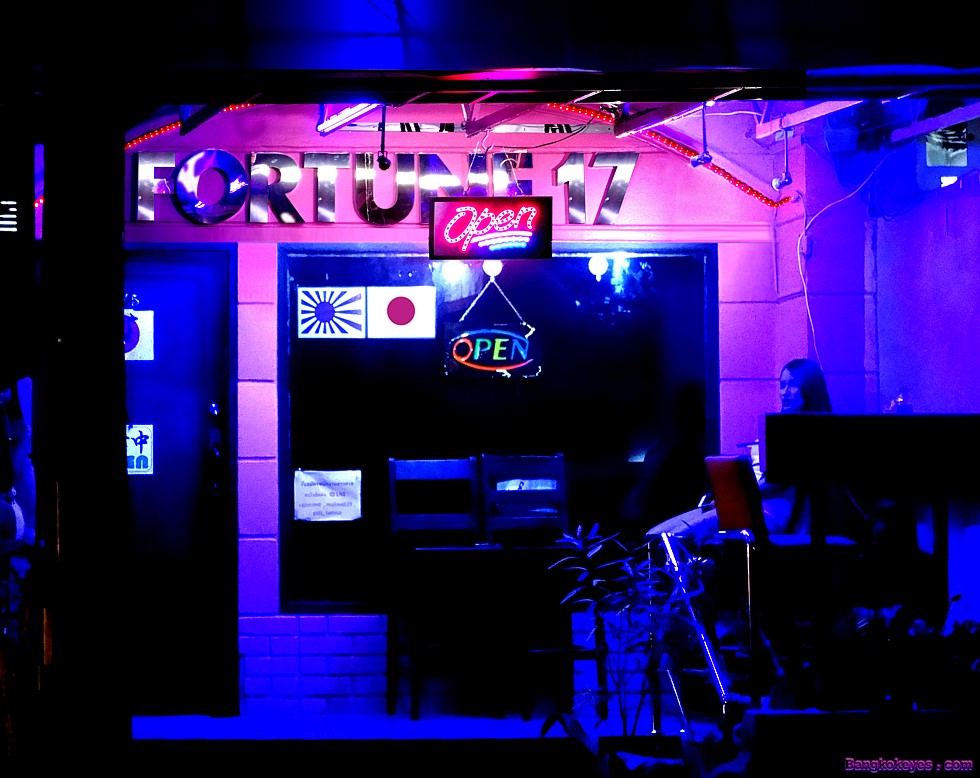 SOI DEAD ARTISTS (Sukhumvit 33)


The
Fortune Club
, as was its sister
Venue
, briefly closed (for the holidays), however, it is now
BACK
.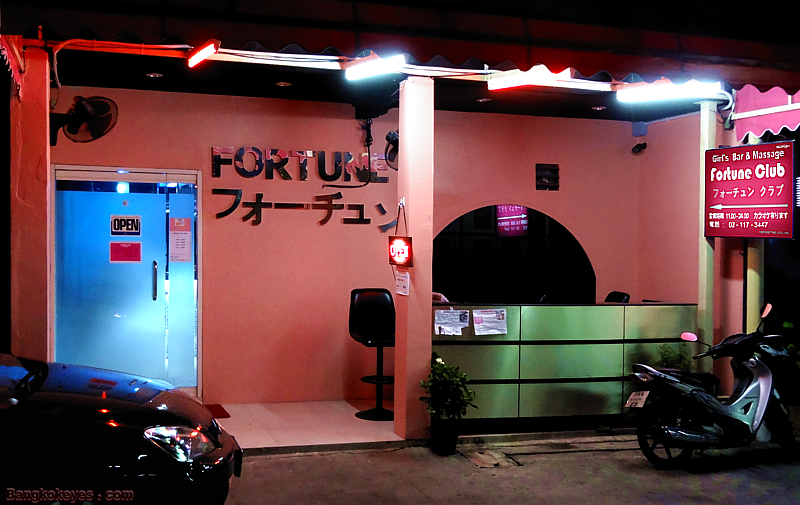 SOI DEAD ARTISTS (Sukhumvit 33)


The

Chill In

Bar Restaurant

looked darker than a poisoned well when we passed by a couple nights ago. However, it looked like all the chattel was in place, so perhaps they will be reopening - one of these days. A wait-and-see item...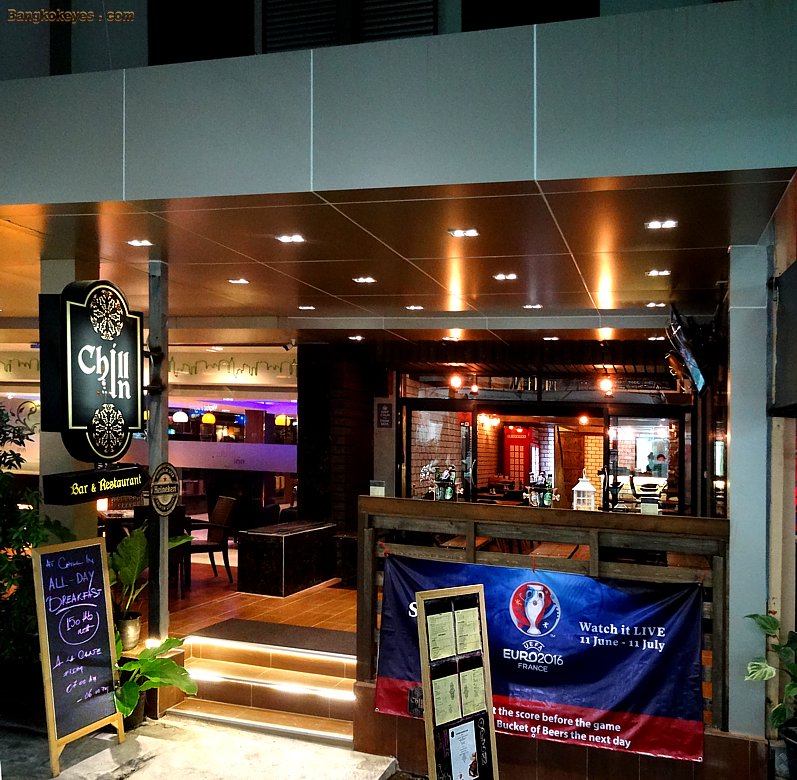 SOI EDEN (Sukhumvit 7 / 1)


The
Good Time Massage
and one other to-be-named
Massage Parlor
have opened up in what was the old
New Wave
. We'll endeavor to get pics next survey, once all the neon is nailed up.
( No Pix Available - yet...)
.

SOI EDEN (Sukhumvit 7 / 1)


A
For-The-Archives
shot of the two unnamed bar beers at the end of the
Twilight Zone
.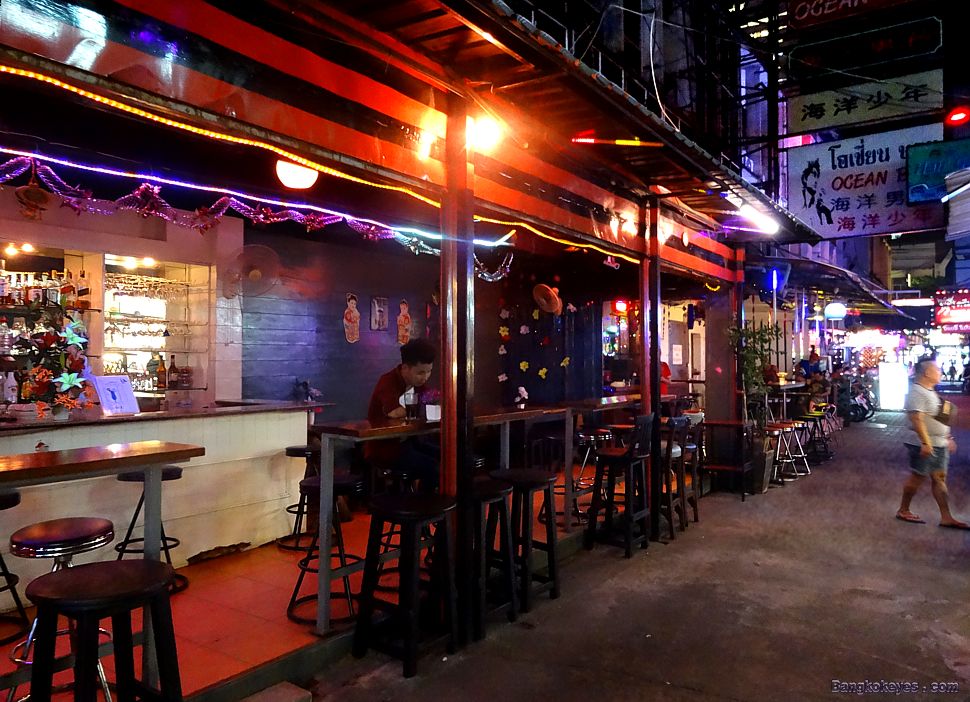 SOI TWILIGHT



A PAGE FROM Bangkok's NIGHTSCENE HISTORY....
20
YEARS AGO

July

With thanks to Cool Text - cooltext.com

Bangkok Eyes goes back in time to see
Who was new - And who was through
in the Expat Night Entertainment world.
How many of these old 'oases'
do you remember ?
Patpong I
*

Thigh Bar

A Go-Go took over the reins from the

Sawasdee Bar

.

Thigh Bar

remains at that location today.
Patpong 2
* - No changes that month / year. -


Soi Cowboy
* The previously unnamed

beer bar

at the

Asoke

end of

Cowboy

became

Piccolo Entertainment Beer Bar

. Today it is home to

The Corner - Live Music

/

Penny Black

.


Nana Plaza
*
A new bar, the
Para Disio
, opened on the
2nd
level (with further activities upstairs on the
3rd
level). Today it is home to the
Mandarin
and
Mercury
.
*
Tabasco Charlies Pub Disco
up on the
3rd
level closed its doors.
*
The
unnamed massage parlor
up on the
3rd
level became
No. 1 Thai Massage
.
*
XXX - Hollywood Strip
up on the
3rd
level reopened.
Soi Katoey
( Silom Soi 4 )
* The

Cool ph Restaurant & Pub

closed after only one month. It was located in what is now

G's Bangkok

.

* The

Om Trance Club

rolled out the red carpet for the first time. It was located next door to today's

The Balcony

.





Buckskin Joe Village (~ November 1988

to

November 2006)

(Also known -originally- as

Tobacco Road

or

Soi Rot Fai

or, '

The Tracks

', and later as Machim [Thai] and

Soi Zero

)




* The

Som's Place Beer Bar

opened newly. *

Up Country Bar

closed its doors. *

Kiss Me

bar beer reopened.







LINK TO US

MISS
SAIGON

A FILM
REVIEW
Click Here
! ORDER
NOW !