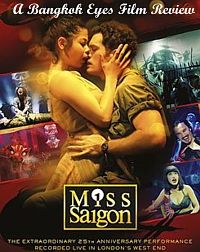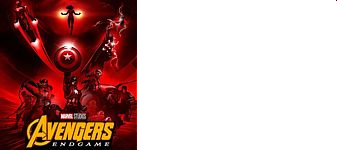 .








MONTHLY NEWS
COLUMN


Bangkok,


01 May 2019


William R. Morledge


May's Nightlife News
Bangkok's Bars - 20 Years Ago
A Smile in the Land of Smiles.
Reader's Corner: Mizu's Remembered
Bangkok's Graffiti Update - #158

M

IDNITE

H

OUR has, in the past, celebrated some of the

Patpongs

' seminal venues and their colorful owners, but heretofore we have not featured the real key to the success of the

Patpongs

- the young ladies who graced those venues and brought the clamoring crowds from the four corners of our planet. This month, all will change - with a 'thumbnail-documentary' from professional producer

Peter Du Cane

who was on the scene in the

Patpongs'

golden years.

In light of the recent news that the surviving twin of

Mississippi Queen

fame had also passed away, the following reminiscence is reprinted - with kind permission of the author.
Bunkham 'Joy' Intarasuwan 22 Nov 1957 - 3 Apr 2019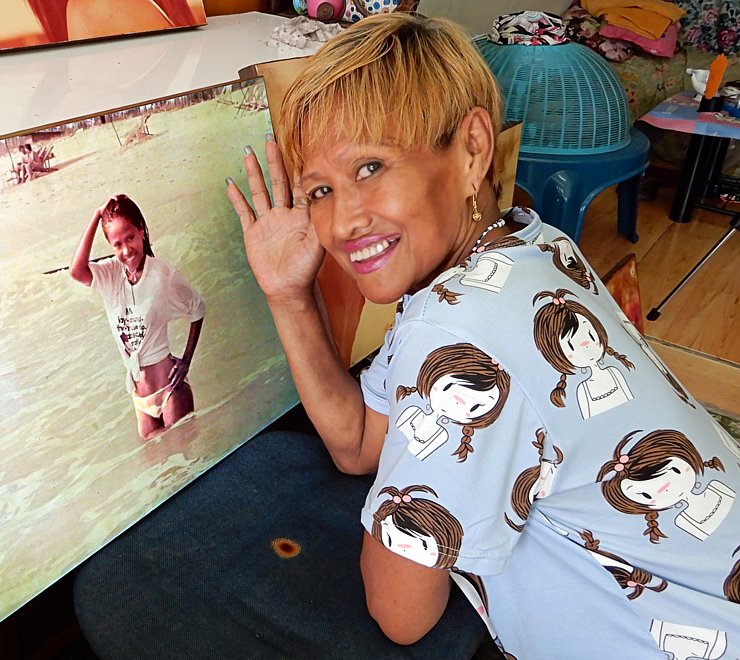 Joy in March 2018 with a photo of her twin sister June

Sad news for all those who frequented the famous Mississippi Queen Soul Music Bar on Patpong 1 during the late 1970s and early 1980s. JOY, one of the spectacular dancing twins that graced the MQ at that time, has passed on aged 61, from cirrhosis of the liver. Her twin sister JUNE pre-deceased her in April 2000 from kidney failure.

I'm Peter Du Cane from Australia and I first met Joy at the Mississippi Queen in 1979 on my birthday the 14th Feb. Yes, Valentine's day! I was working for Pan Am Reservations in London at the time and used cheap or free tickets to take short trips to Bangkok. That night I was on my own and decided to listen to some good music so headed for the MQ. I usually liked to hide in the small recessed section upstairs at the back, but it was full, so I was in one of the benches facing the bar. I had stuff on my mind and hadn't really been paying attention to the dancing and other goings on as I normally would have. Joy told me that it was that quiet distraction that intrigued her. When she got my attention I was astounded by her lovely personality and stunning looks. For the next couple of years we would hook up when I managed to get tickets for another visit. But from 1981 onwards I had left Pan Am and England for Australia (via a year and a half in India). In the process I lost track of Joy, and soon afterwards the MQ was sold and its name changed.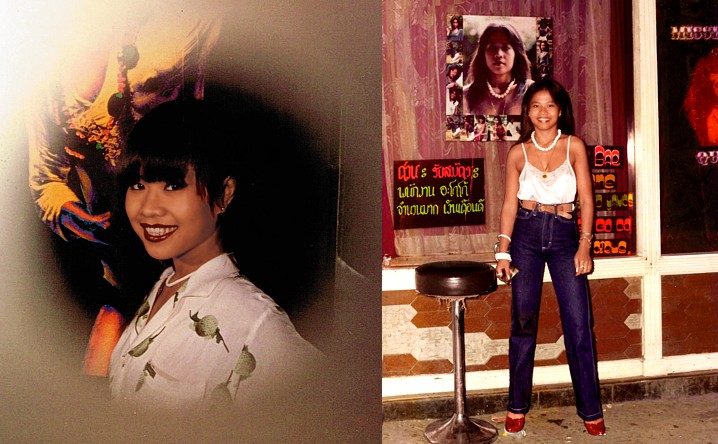 'When I was young! working at mississipy bar patpong 1rd. how is wow!....Am I ?look like a seinsitive or not ? Sorry my english not so good because l'm a Thai..100% ha ha...'
Joy Facebook Post 12 Aug 2018
Joy at the Nana Hotel in 2004


I know that many have similar fond memories of time spent with Bangkok's lovely ladies and often wonder what happened to them later. Finding them can be very hard, or impossible, partly due to the complex naming system - many would only be known by their nicknames such as Noi, Joy, Lek, etc., and there can be thousands with the same one. It wasn't until 2004 that I managed to find her again. This I managed by asking some older girls around the rails at the Beer Garden on Soi 7. One called Toi realized who I was talking about. She had worked with the twins at the Butterfly Bar in Patpong. Even better she still knew Joy and was able to get in touch with her. Joy was a bit confused as she knew a Peter from England but not Australia (I had failed to explain this to Toi)! Fortunately she showed up at the Nana Hotel where I was staying and we caught up and later visited her family for the first time. I am a documentary film maker and over the succeeding time, especially since 2015, I have been interviewing Joy (and others who knew the twins and their times) about her life through conversation, correspondence and on video as well as collecting photos and other items from the 1970s Patpong era. Gradually I have been able to piece together much of the essential Joy & June story. Although the work is incomplete this seems the right moment to share some of what I have learned.

The twins were born in Saraburi, north east of Bangkok on 22nd Nov 1957 (Thai year 2500). Joy was proud to point out they were Scorpios from the Chinese year of the Fire Rooster. June arrived first followed by Joy 55 minutes later. Their father, Narong Intarasuwan, was a policeman who later moved to Udorn Thani in the Isan Region of North Eastern Thailand, and they went to Junior High School there. At that time Udorn was the site of a large Thai/US base for the Vietnam war effort. The family was neither poor nor well off and Joy & June led relatively normal lives, their ambition to finish school and go on to University. Joy wanted to emulate an elder sister by becoming a nurse or doctor.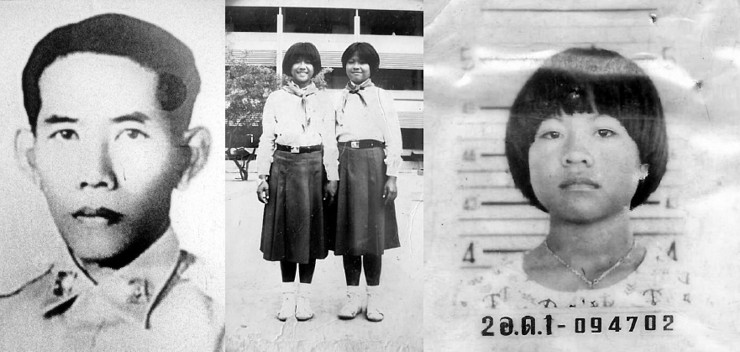 Father Narong, June (Left) & Joy (Right) at school aged 16, at school in Udorn, Joy's first ID Card photo at 17.


For the twins everything changed when their father died whilst they were still at Junior High School. Their mother, Tongmak Intarasuwan, moved the family to Bangkok. Overnight they were suddenly poor because there were 7 children (the twins were the two youngest), with all but two still needing education. Somehow they managed and Joy & June went to High School in Bangkok, from the age of 17, for a year and a half before they both (deliberately according to Joy) became pregnant at the same time aged 18 and a half. Their baby girls, Poupée and Lu Ket were born 12 days apart in March and April 1977. Joy put the events down to 'puppy love' and they both chose not to ask help from the young Thai fathers involved. Instead they taught themselves English from a large conversation book and, in search of badly needed extra money, eventually found their first work in a bar in Patpong.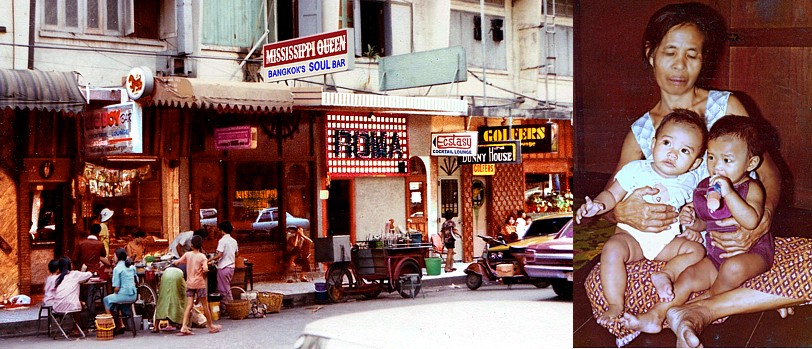 The Mississppi Queen exterior in 1970s Patpong and twins' mother Tongmak babysitting her granddaughters Poupée and Lu Ket


The bar that hired them was already quite famous for a number of reasons, including having just been used to represent a Saigon bar in the Oscar-winning film The Deer Hunter. It was the now-legendary Mississippi Queen Soul Music Bar at number 60 Patpong 1.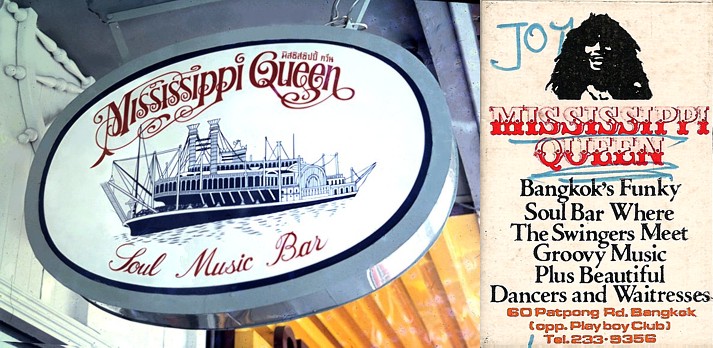 The MQ's iconic Sign & the matchbox Joy gave me the day we met in Feb 1979


The MQ had a unique history. Until sold in late 1972 it had been the Patpong Café, a hangout known for high stakes gambling and also for hosting the Foreign Correspondents Club. Australian Tony Douglas, the new owner, completely re-designed the interior to have the look and feel of a Louisiana paddle wheel riverboat. But that wasn't all as Tony once explained: "Mississippi Queen was the first to introduce great music - in our case, American soul music. We were also the first to place Go-Go dance stands over the bar. In our case, we had no other room. I believe we were also first with the brass bars for the dancers to hang on to. And we had fabulous dancers who seemed born to dance."

Joy said she reckons they got the job partly because of their extreme innocence. But they were also beautiful identical twins, and turned out to be arguably the most fabulous of all the MQ's exceptional dancers.


The dance platform arrangement at the Mississippi Queen


Joy explained their routine to me. In the day they might sleep in, then do some shopping, maybe get their hair done, before resting again in the afternoon. As Go-Go dancers at the Mississippi Queen they would arrive for work at 5pm. They'd change into bikinis or similar and would notionally work through until 2am, for a salary. Their primary work was as dancers. This they would do on the MQ's elevated platforms, dancing to Soul, Blues and Rock & Roll - usually not together, only doing a double act on special occasions. Their personal music favourites included Santana, Bad Company, Jimi Hendrix & Tina Turner.


The twins on the stairs at the back of the Mississippi Queen - can you pick Joy from June?


Bob F from Pattaya sums up the impact they had: "They were dynamic, especially when they both danced together. They'd feed off each other and they were little balls of energy, so tiny and so cute and so dangerous ...they had a certain glow about them...and being two of them it was squared, it was four times special because there were two of them.... They were like princesses and they acted the part and looked the part and it was just so much fun to be around them when they were around. And they were having a lot of fun with it as well, and it was infectious you know - they really were superstars of their time. There were a lot of beautiful women in Bangkok at that time but wherever they went they'd shine."

Because of the energy they were expected to put into their dancing (a far cry from the desultory shuffling now the norm), each girl would dance for only 3 songs. They'd come down, usually dripping with sweat, towel off, and then normally talk to the bar's customers. The MQ didn't feature sex shows or similar like many other Patpong establishments of the time. It had paid staff running the bar and music and paid the dancers salaries. However, the girls were still very much a part of the main bar girl economy. The twins were popular enough to pick and choose, but nevertheless relied on the extra income gained from going with male customers. Their income was also augmented by a share of the bar's take on 'lady drinks' bought for them by those they interacted with. Joy says that the split was a straight 50/50 at the MQ. Unlike many girls their strategy was not to ask to be bought a drink but rather just to initiate conversation. They found the drink offers eventuated naturally from there. If they wanted to go out with a man prior to closing at 2.00am he'd have to pay a bar fine in the usual way to compensate the place. They didn't encounter too many problems with the clients but did have a minder to offer them some protection. Joy said they also learned to be adept at turning potentially nasty situations into something harmless.

Many consider the 1970s & early 1980s the 'Golden Age' of the Thai bar scene and Patpong in particular, coming as it did before the sobering advent of HIV in 1984. Of course they had to deal with a common male fantasy - to take them both out at the same time. This Joy assured me, they never agreed to, despite being offered some significant rewards. "Never get same guy on bed. Never!" In her exact words. In fact she said they never even knowingly had the same boyfriend, however long apart. It was just a no-no between them.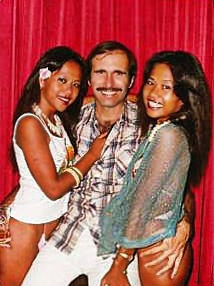 June & Joy (Right) with author Dean Barrett in the MQ


Author Dean Barrett featured photos of Joy and June in the 'Night Moves' section of his classic photobook 'The Girls of Thailand'. He was a regular at the Mississippi Queen at that time and knew the twins better than most: "I remember them well because I was there practically every night. I got to the point where I could tell them apart. They had good attitudes and were a lot of fun and I'd buy them drinks and stuff like that but they knew we were local so weren't going to spend a fortune on them. The Mississippi Queen had soul music and these girls were really good at it and they had their own shelves along the wall, which I think was unique in those days...and there was one girl per shelf and they just danced, wow did they dance, they'd come back down in a mass of sweat, unlike today..., they were really good at what they did and they enjoyed it as well, they loved dancing. I vaguely remember some of the other girls there but they were really the stars of the show, the twins. Because they were twins it was unusual but also they really danced, they had talent - soul music dancing, wow, they were fantastic! You don't see much like that now in any of these bars."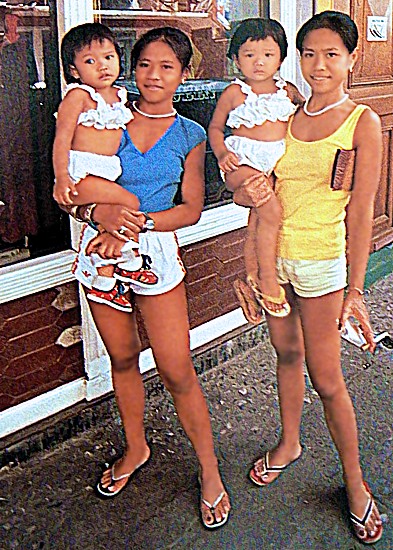 Joy & June with babies Poupée & Lu Ket outside the Mississippi Queen (from Dean Barrett's The Girls of Thailand)


They did, of course, make the most of their appeal as cute identical twins. If a boyfriend wanted to buy one twin a present, they'd find they'd also have to buy an extra one of the same item 'for my sister'. The bond between the two was incredibly strong, even for twins. They didn't just live together, they did virtually everything else together as well. In the process they were making a lot of money by Thai standards at that time, but it went quickly enough on supporting the large extended family (this was normal and expected) and buying nice clothes, makeup and so on. One larger outlay was when they became amongst the very first in Patpong to have breast enlargement work done.

They both had passports and occasionally would travel to boyfriends' homes overseas in places like Europe & Australia. Joy had 5 passports in all and spent two 6 month stays in Switzerland ('f...ing cold' as she recalled), the first time with sister June along as well. They both had numerous 'fiancés', most or all farangs, but in the end always decided not to marry because they didn't want more children (though June did have another baby, a son, on her own by an American boyfriend in about 1993).

From their start at the Mississippi Queen, which was sold around 1983 or 84, they also worked at the King's Castle, the Butterfly and the Pink Panther. Occasionally the two would decide to go to dance together at a large bar like the Super Star - they'd ask first but were, not surprisingly, always more than welcome! And drugs? Joy told me that to kick back they'd often smoke ganga and occasionally eat small balls of opium. Fortunately they never got sucked into using smack - the heroin scene that started to devastate many of the bar scene's finest, including several of the top dancers at the MQ.



The twins were inseparable to the last


As the years finally took their toll and the twins' dancing days drew to a close, they considered the possibility of remaining in the Patpong bar business, probably as respected mamasans. Many of the high profile dancers went on to this calling, but Joy & June both decided to 'kick themselves out' (as Joy put it) and move on to more traditional pursuits. They did try a Bar Beer (maybe on a soi off Sukhumvit) but despite the loyal patronage of the Dutch Ambassador it wasn't a success. They bought a small land property together at Prachuap near Hua Hin (possibly with a view to fish farming). They even tried working a Laundry, but this was difficult work for the two women. They remained incredibly close, living together as always. Around this time, in the late 1990s, June started to have trouble with a kidney complaint. Even before she got sick June had told Joy that she couldn't live if Joy died first, but told her that she knew Joy could manage to go on if it was her that died first. After June died in 2000 (Thai Year 2543) Joy realized she did indeed have to live on to look after their three children and many other family members.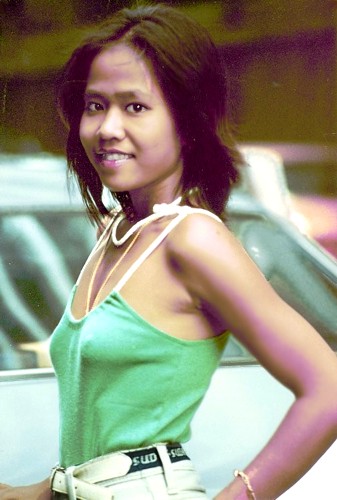 Tongkoon 'June' Intarasuwan (22 Nov 1957 - 19 Apr 2000) in her early days at the Mississippi Queen
Three Generations - Lu Ket (June's Daughter), Poupée (Joy's Daughter), Joy, Tongmak
(Joy & June's mother, 90 years old), P'Dang (Twins' elder Sister by 4 years) 20 Feb 2015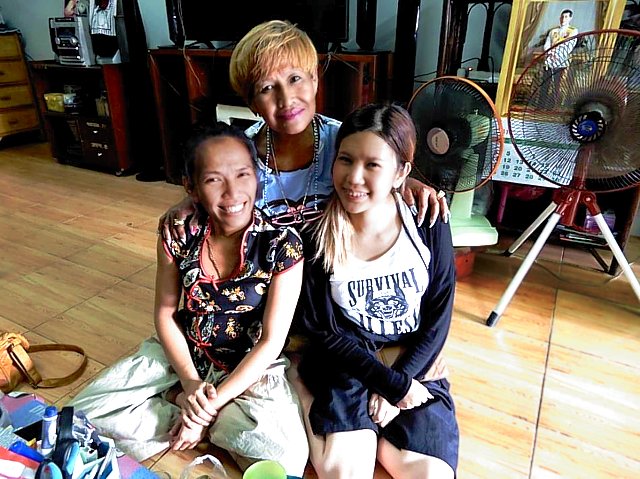 Joy as a Grandma with daughter Poupée and granddaughter Sprite (SP) March 2018


More recently the extended family had started to pay Joy back for all the years of support and, in turn, to look after her. She enjoyed the advent of Facebook, but her 'friends' were family and friends rather than ex-bar scene colleagues. She liked to drink (Hong Thong in particular) and smoked heavily but chose to accept the growing damage to her health with a defiant good humour.

In one of her last messages on Facebook she posted a photo of herself I had recently scanned for her. It was one she had given me the very first time we had met at the Mississippi Queen. The bright eyes and amazing smile capture her perfectly. Her accompanying comment with the post said much about the attitude and spirit of this wonderful lady. "Hello friends of the earth, all lovely people. Here is a photo of Joy not yet drunk on Hong Thong for you all to enjoy....I love all you lovely people of the world." I'll miss her a lot.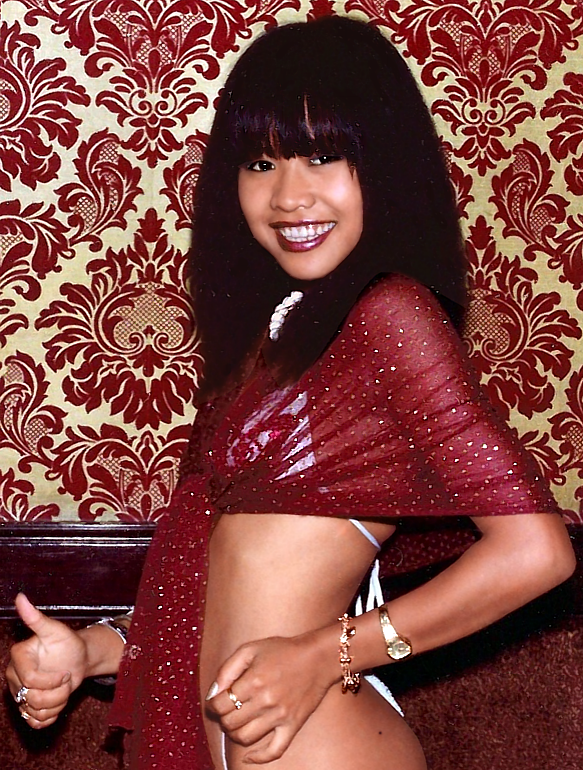 Joy at the Mississippi Queen 1979
Postscript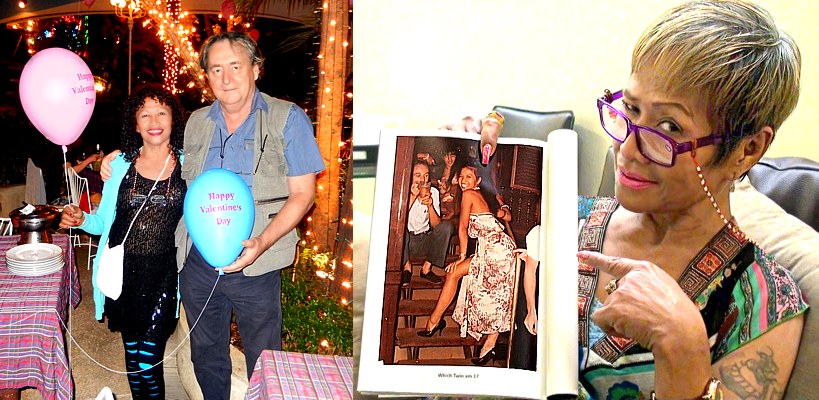 Celebrating my birthday with Joy in 2015 & Joy with the draft Photobook of her story


Joy's trust in me with her story and photos meant a lot to me and as I progressed with my work on them I decided to put together a present for her. It was a somewhat 'instant coffee' photobook of pictures of her and June's story with brief linking text. The cover was titled JOY & JUNE - Bangkok's Dancing Twins and I put it together through an online system and ordered 2 copies (one for each of us) as I was about to leave Australia for Thailand. As it happened, the draft turned out much better quality than I had expected and Joy loved it. As I went around seeing as many people as I could find who knew the twins and their times, I showed each the photobook and asked if they wanted to write something to Joy in a couple of blank pages at the end. I am glad to say that the last time I was with Joy I was able to show her my copy of the photobook and the list of messages and comments from what amount to a veritable Who's Who selection from the era. Those that know the ex-pat history of early Patpong days will no doubt appreciate the list and understand how much it meant to Joy, who was deeply moved by it. Joy also added a comment, as did I. I attach the handwritten text as is.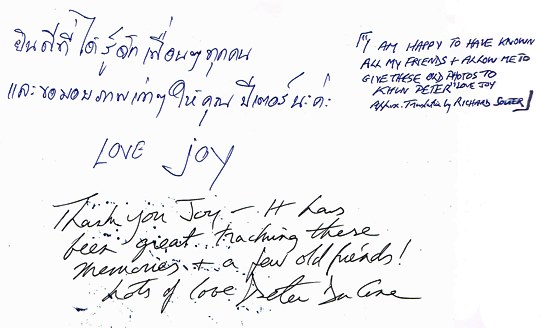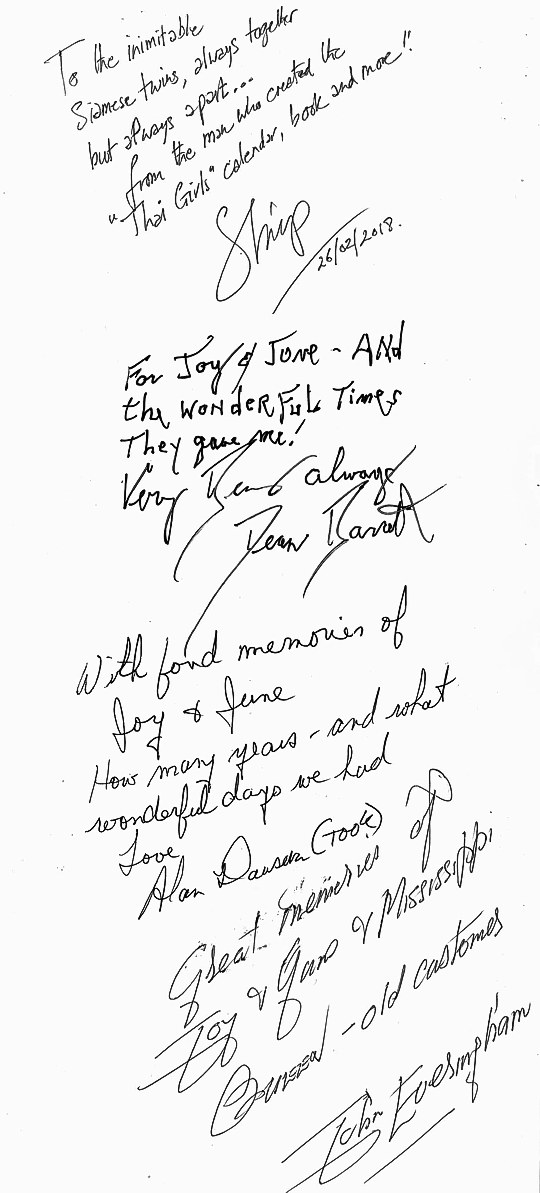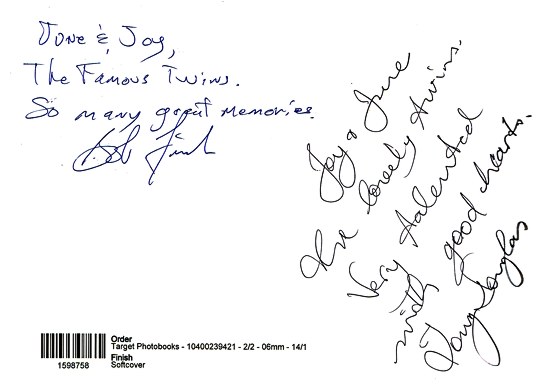 Writings in the back of Peter's copy of the Joy & June draft Photobook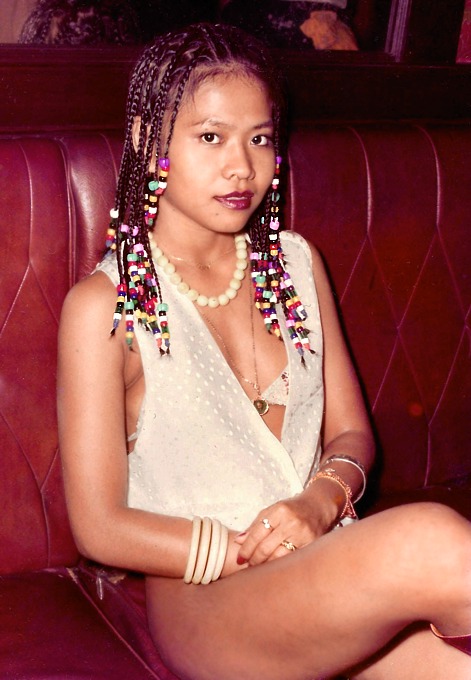 Joy enjoying a quieter moment at the MQ
May your song always be sung. And may you stay forever young. -Bob Dylan
The author of the Mississippi Twins retrospective is Peter Du Cane. The text and photos in this work are Copyright 2019 by the author, with the single exception of the two "Dean Barrett" photos. Novelist Dean Barrett is the owner of the 'Dean Barrett' photographs, permission for use having been obtained by author Peter Du Cane. Materials may not be reused without the permission of the owners. Bangkok Eyes republishes this narrative with permission.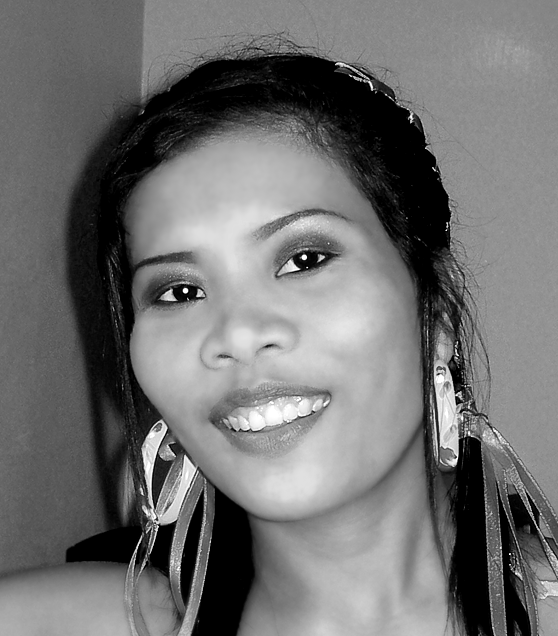 May's

Thai Smile

is from a border afar...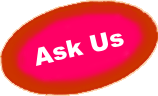 Join the '

Comments

' page...




MIZU's KITCHEN REMINISCENCES

READER

:

Sirs,


Great reminiscing the

Mizus Kitchen

, but I think you missed the photograph on the

Mizu Facebook

page of the original

Mizus

in

1957

. The photo shows

Mizus

on a corner, not inside

Patpong Road

. This would mean that

Mizus

moved into

Patpong

at a later time. Keep up the great history pieces.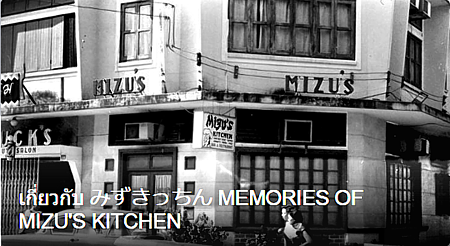 MIDNITE HOUR:


Great minds, (or is it small minds?) think alike. We noticed the same thing. We queried the sharp-eyed

Hanuman

, and he explained that at the time

Mizu's Kitchen

opened, nothing was next door to it (right hand on the photo). He noted that the buildup of other structures came later. We did a "

trust and verify

" recon, and found that this was the case - the upstairs windows on

Mizus

was a give-away, and show identically today.




READER

:

Sirs,


Fascinating account of the early development of

Patpong

. Please keep me on your mailing list for future editions.



READER

:

Sirs,


What an incredible story you've written. A ton of research weaved perfectly to make a compelling story. This will be the definitive history of

Mizu's of Patpong

. Well done, ....



READER

:

Sirs,


That's an amazing effort that goes into that. How do you classify it,

Tourist Brochure, Bar / Restaurant Advertising, Local Living Articles, What?

I'm assuming someone pays you guys for the time and quality of the work, you don't just do it as a hobby do you? I like the History part, always have been and always will be a History buff especially when it involves

Indo China

and it's neighbors. In the end though the bar thing is not for me, my time has come and gone for that kind of stuff, I am more content to just sit in the yard with the dog and watch the grass grow or walk on down to the beach in the off hours when there are very few tourists. ...



READER

:

Sirs,




Mizu's

finally closed! No idea it had been there that long. In the

90s

, we used to start nearly every Friday evening at

Mizu's

, and then venture off to nearby places…



READER

:

Sirs,


Love the

Mizu's

story. Kudos for '

declamatorily

'!!!



MIDNITE HOUR:

All your comments are greatly appreciated. (Due to space considerations a number of reader comments were not included. ) Thanks, all.


SOI 22's 'BARGIRL SLUM'

READER

:
I'm taking another longshot here but I recall you published a description of a "

bargirl slum

" on

Soi 22

some years back. Should you be able to find it, could you reprint it? I have been telling people about this, and they are starting to doubt my sanity. It really existed maybe thirty years ago (?) right?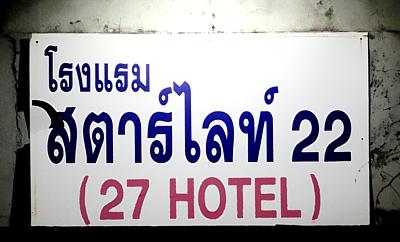 MIDNITE HOUR:


You are not losing your mind. A number of requests have come in for this reprint over the years. The original write-up of the "

Soi 22 slum

" was contained in the story, "

Arise, Soi 22

" in the

April 2013

edition. The story described the timeframe

1970's

-

1980's

. We have reprinted that portion below:

There is still a number of long-time

Bangkok

resident expats and return visitors who remember when

Soi 22

boasted nothing but the

Starlight Hotel

- an un-air conditioned

2

-star hostel located down a small side soi, and a seemingly unending tract of swamp.

Built above the swamp, and cut off from the rest of '

Bangkok civilization

' were myriad shacks - all for rent. Their occupants were almost exclusively bargirls from the

Soi 16

bars, the

Grace Hotel Coffee Shop

, the

Thermae

,

Soi Cowboy

and other

Sukhumvit Nitespots

stretching all the way up to, and just past

Soi 26

. The shacks were connected to each other, and to the 'outside world', by a network of wooden planks supported on wooden pole 'pilings', sometimes with a handrail, sometimes not. Barring flooding in the rainy season, the planks which comprised the inches-wide web of '

boardwalks

' hovered just above the black viscous stench that was, at one time, probably water. It's overwhelming '

aroma

' was that of

raw sewage

and

Fab detergent

from the hundreds of one-bucket-laundries. The shacks themselves were constructed of whatever was available - sheets of tin with printed

Fanta

or

Singha

labels still visible on the never-to-be fabricated cans, as well as plywood forms from building sites, reused construction board, scrap crating and dunnage, and if you were lucky, corrugated sheet metal roofs (which became

eyes-wide-open amplifiers

for each individual raindrop during the torrential

Southwest monsoons

).

Scores upon scores of

Ladies-of-the-Evening

called this chum chon their '

home-away-from-home

' - a mattress on the floor, just wide enough to accommodate an occasional one-night john or a Thai mangda 'boyfriend'. A few small cushion pillows (including one long-pillow) sufficed. No mattress, regardless of condition, was complete without a floor to ceiling mosquito net - and mosquito coils to burn, just in case. The desk fan (on the floor) was mandatory, and the refrigerator (unheard of) was supplanted with an ice bucket or a small Styrofoam cool chest. Also mandatory were the thoop (joss sticks) - paying respect to the luck-bearing

Buddha

, but also to ameliorate the pervasive reek of the underlying

Black Lagoon

. To hide the bareness, and to discourage peeping toms, calendars and large posters of the

King Rama IX

(alternate;

King Rama V

, or movie stars, flower-filled fields, babies and / or far-away places) were taped, tacked or glued to the walls. A time and place -some would say an era- almost forgotten for many expats; a

'rite-of-passage'

for others. But, that was then, and very long ago - and with nostalgia not being what it used to be, it is time to move on.
Note: Text may be edited for brevity and/ or clarity.

'Reader's Corner' moderator -

'Boge' Hartman


Historical Research



Let the May 2019 Follies begin-



How the mighty have fallen... The '
upstairs bar
' that started the revolution of '
show bars
' in the
80's
, the
Fire Cat,
had lain virtually fallow for a number of years (the occasional attempt at a rip-off bar in those digs never succeeding). This month, it was reoccupied by
Superboyz
, one of the (renamed) gay bars from
Soi Twilight
.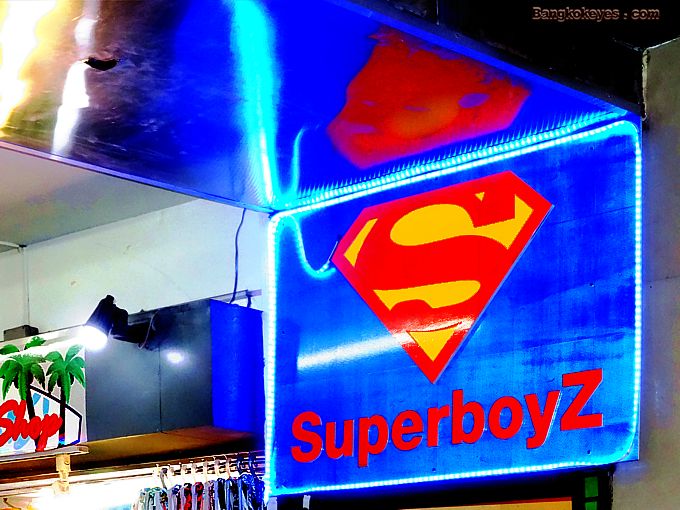 PATPONG 1

In the digs that were home to the original, and world-renown

King's Castle

in the

70's

and

80's

(most recently

King's Castle 3,

a katoey bar

) a new gay boy bar,

Sweet Bannana

(sic)

has opened after a

2-

month renovation.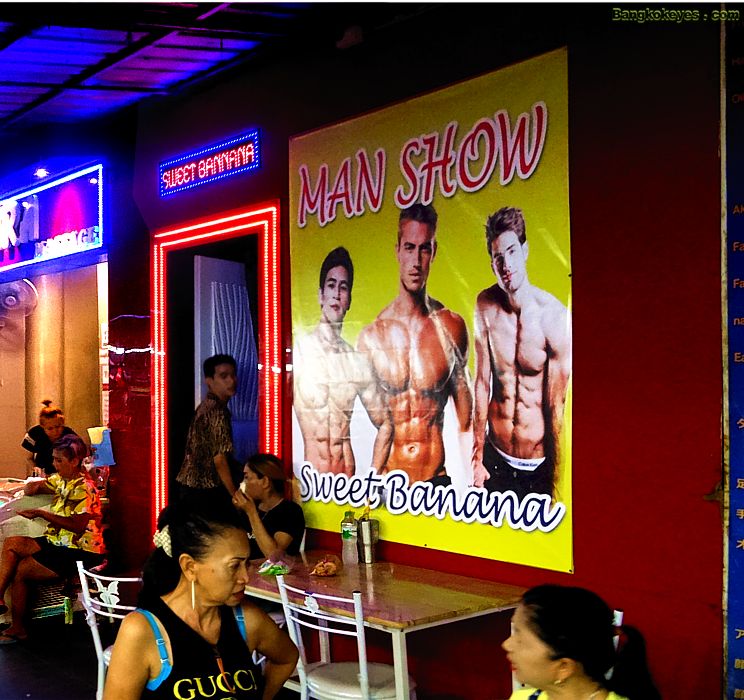 PATPONG 1

O.K., gang, what're we thinkin'? Is this upstairs bar the
Pussy Magic
, or is it the
Cute Girl
? Or is it, as the
Thai
sign says, still the
Super Pussy
? And does it even matter?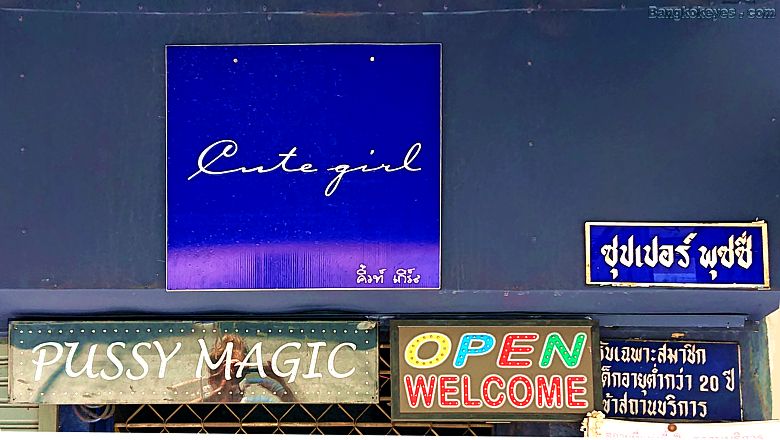 PATPONG 1

The

Hot Male

gay boy bar

has moved into three

loc

upstairs on

The Ramp

(we note they remained open at their other

Venue

on

Soi Twilight

, while they were moving.)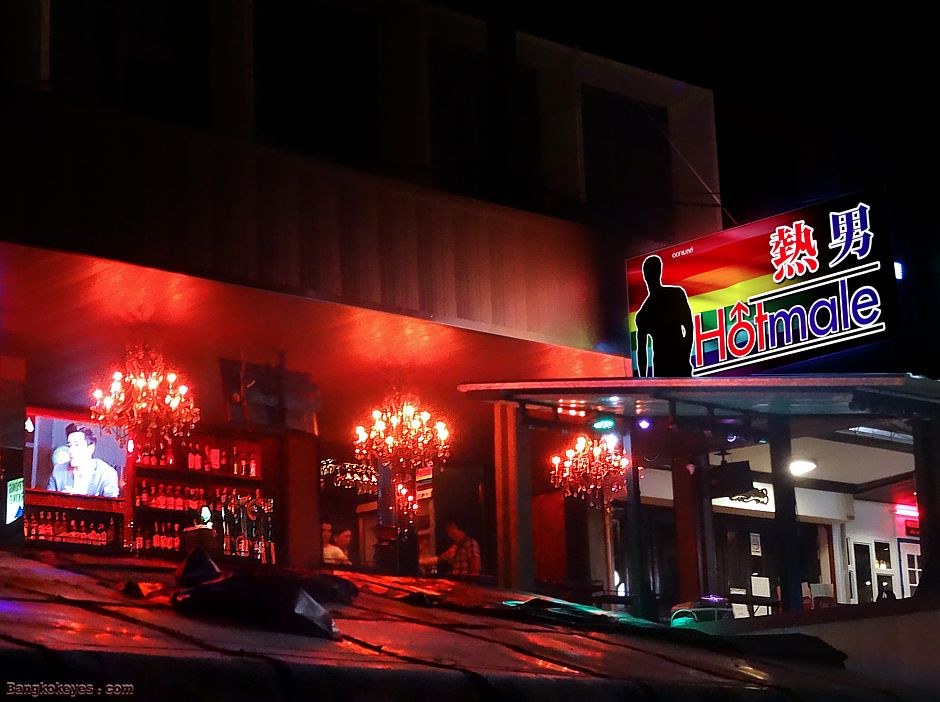 PATPONG 2

The

Lucky Boys Bangkok

gay boy bar

(newly renamed since arriving on

PP2

from

Soi Twilight

) reopened upstairs in the long-vacated

Super Queen

digs.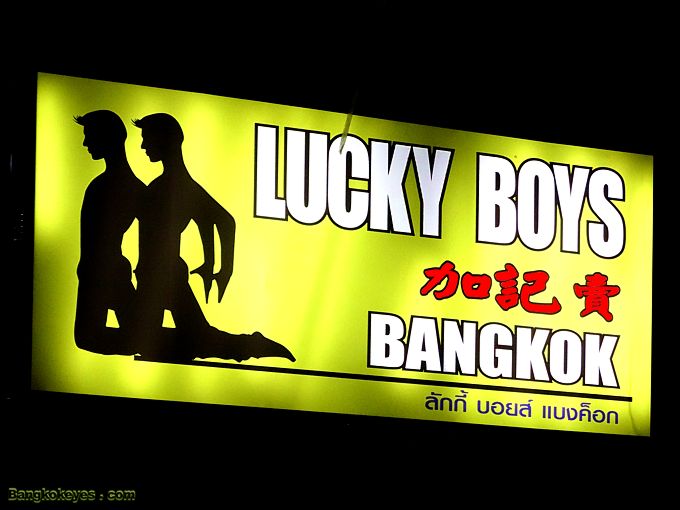 PATPONG 2

Bangkok Massage

gay massage

has relocated from

Soi Twilight

into the area adjacent to the abovementioned

Lucky Boys Bangkok

in the long-closed

Super Queen

area (above the rear of the old

Bat Boat

).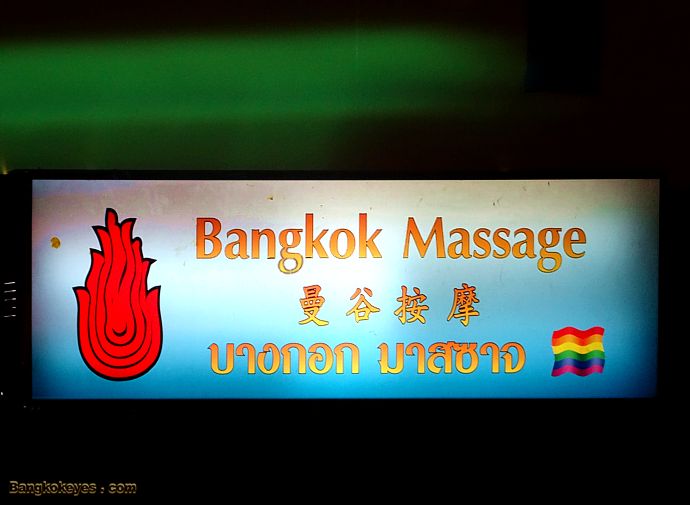 PATPONG 2

Dreamboy Paradiso
has moved from
Soi Twilight
into the long extinct
Executive Lounge
digs.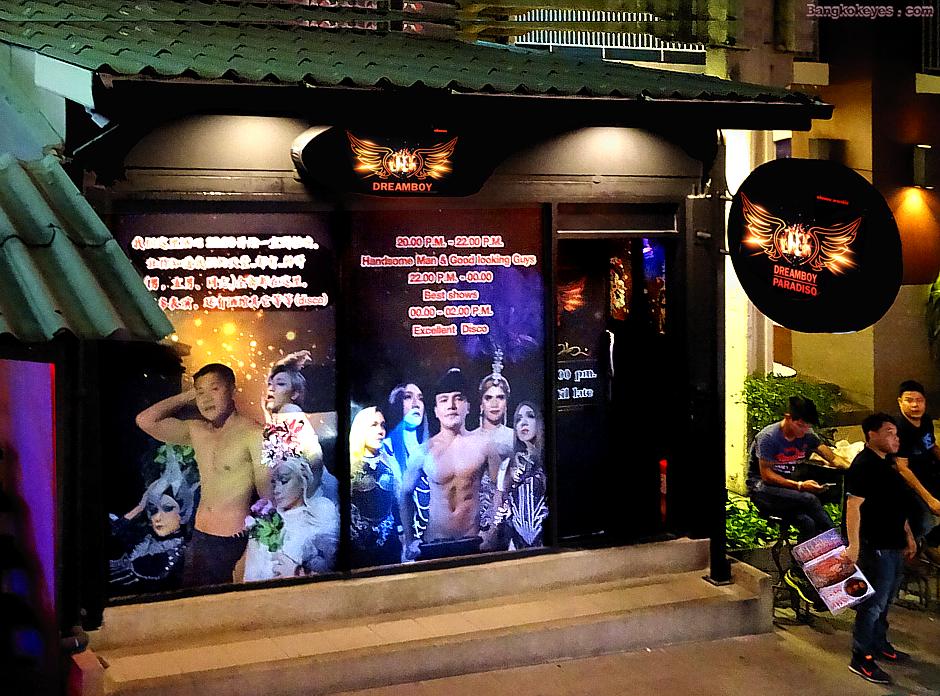 PATPONG 2

Candle Light Studio
is not a
Night Entertainment Venue
per-se, but if you are in the area, it is a most entertaining 'aside' - showing works of art from local and foreign artists. Located up the stairway (
3rd level
) above
Bar Bar
at the
Silom Road
entrance.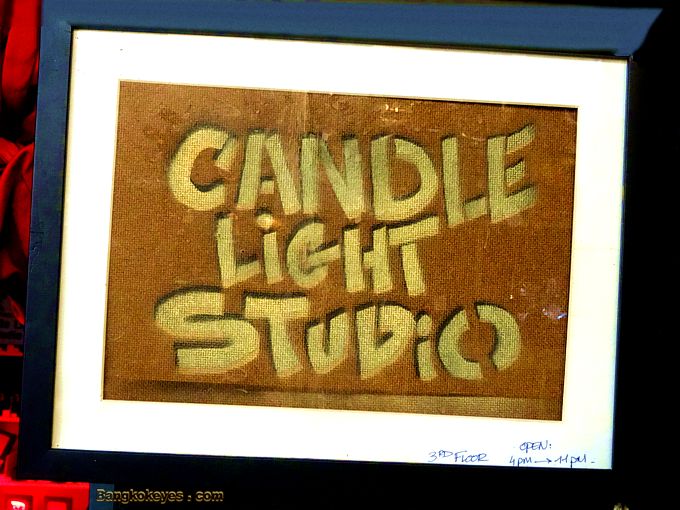 PATPONG 2

Soi Cowboy
has been most crowded these last few days - but it remains to be seen how many are '
just selfie-ing
', and how many are
young lady dancers
out on the
Soi
enticing passers-by, and how many are actual
customers
...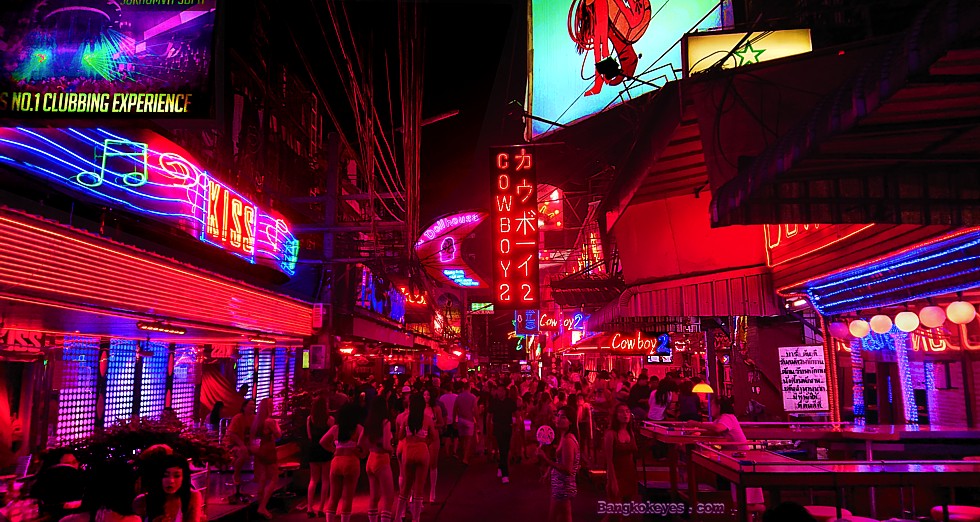 SOI COWBOY

This here "
Coyote
" thing's done got outta' hand....
30,000 Baht a month...
Many bars are offering high wages to attractive girls that would otherwise not dance in a bar. The offers often stipulate the girls do not have to '
off
' - the word '
coyote
' being the '
tell
' that the girls do not have to go out with customers.... (Not to worry, though, mates, the bars will let you pay extra to buy a
coyote
a drink...) Or to say the same thing another way, the
A Go-Go
bars of the past are turning into '
show venues
' for the tourists to '
come inside, have a look, suh
'.

Gotsta Get Paid
-HOW'ZA POOR

COYOTE

GONNA MAKE ENDS MEET?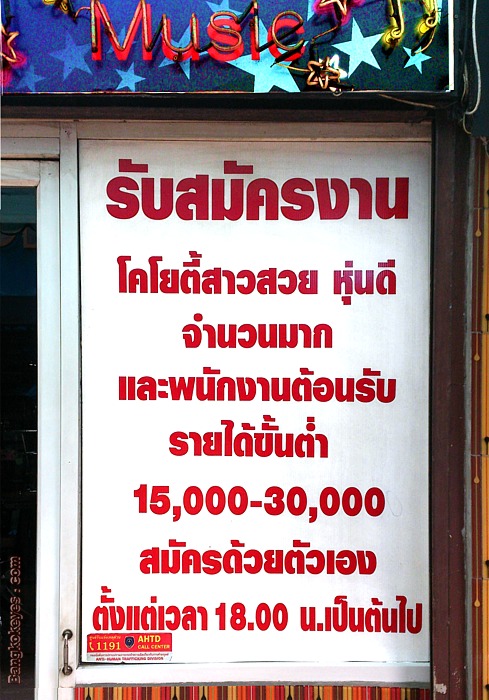 Translation:

Accepting Employment Applications



Beautiful Girl Coyotes - Good figure
High Pay
And Receptonists


15,000 - 30,000

(Baht/Mo)
Apply In Person
From 18:00 Hours Onward



(The tiny

red sticker

lower left is the

1191

hotline number for

AHTD - the Anti-Human Trafficking Division

, like, for example, if you see a bar owner forcing a dancer to take 30,000 baht a month....)


SOI COWBOY


Butterflies
, (
3rd level
), have a new dynamic
LED
sign - obviously not aimed at
Western clientele
, but very colorful indeed.
VIDEO CLIP

NANA PLAZA


The
Nana Plaza
's central beer garden has finally put up some visible signage: "
Nana Beer Garden
". Not that it matters - it was busy before they had a sign, and it is busy now...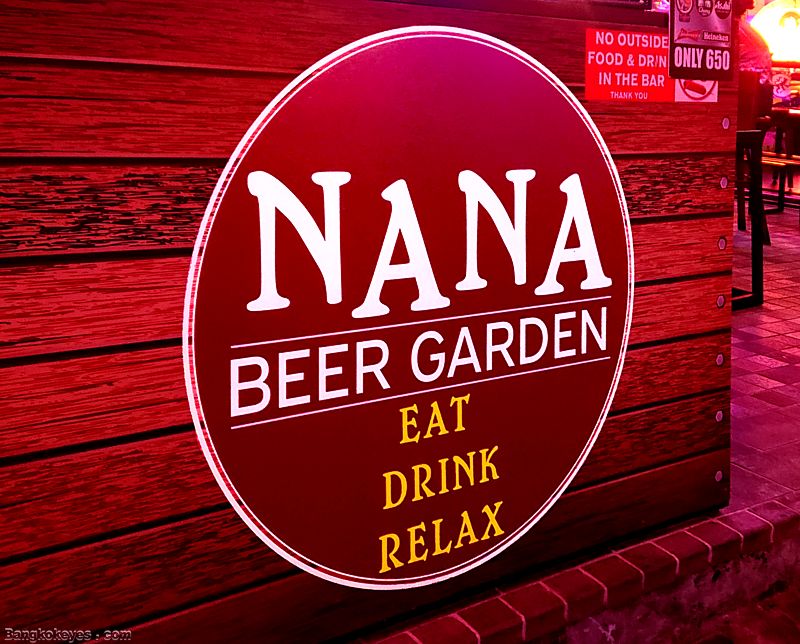 SOI NANA


We seldom mention anything that even smells like a rumor, but last month we went out on a limb and mentioned that
Hanrahan's Pub
was possibly going to change hands (much input from the street). Well, this month we welcome the new
Fitzgeralds
.
Modus operandi
unchanged. Welcome them to the neon jungle...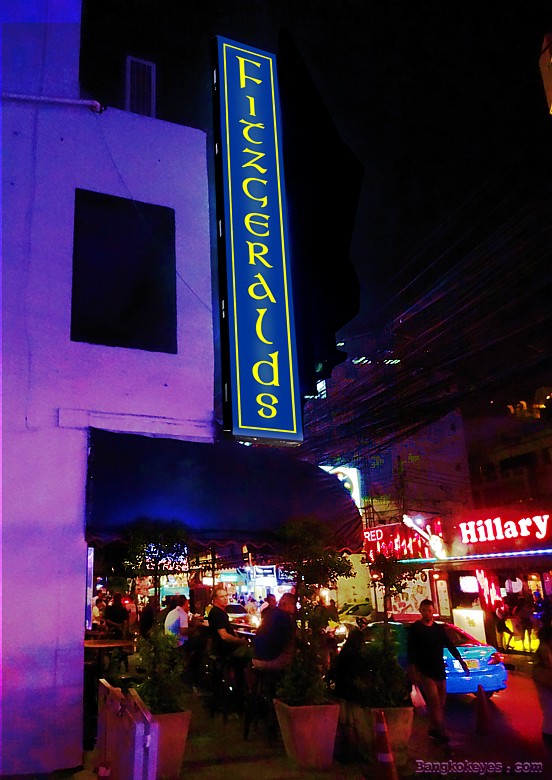 SOI NANA


Last month we mentioned the opening of
King's Night Club
, observing somewhat pessimistically that it didn't seem to be any busier than its two failed predecessors. Well, that was then, this is now - when we passed by last weekend, the place was jumping... Located
2
nd level of the
Rajah Hotel
outbuilding. May they keep on keeping on...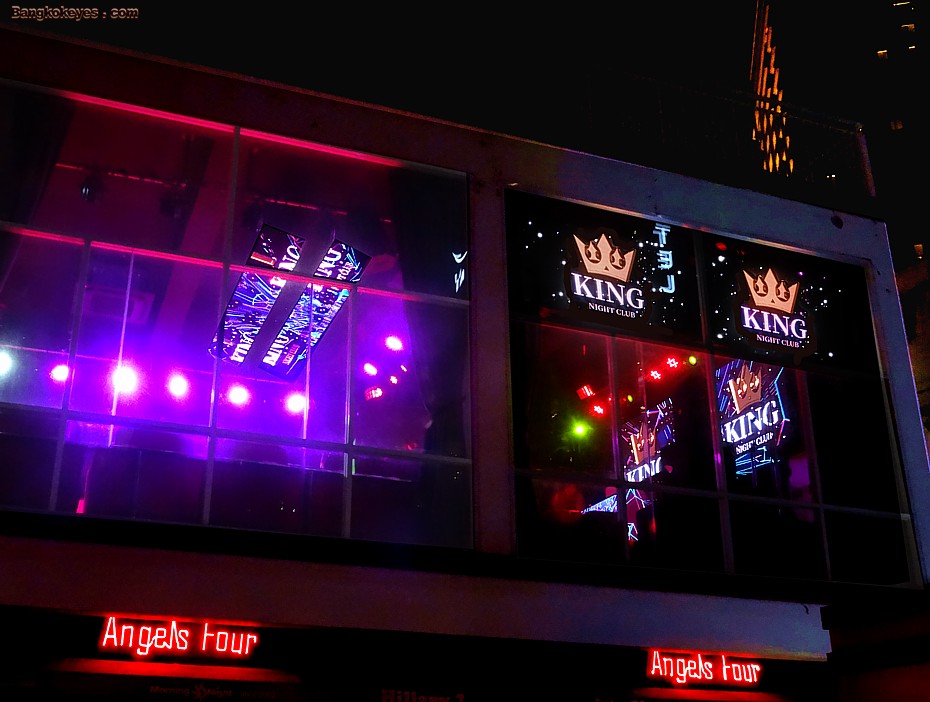 SOI KATOEY


Here we go again... The
EQ Late Night Club
was closed yet again - and this was on a
Saturday night
- no excuses. Since the days of the original '
Nana Disco
' which was a huge and enduring success, there have been several
Night Clubs
that have tried their hand at getting something going - and all have failed... This is
EQ's
second try at it; let's see if they pop back out of their coffin, or if they have really fallen into the abyss...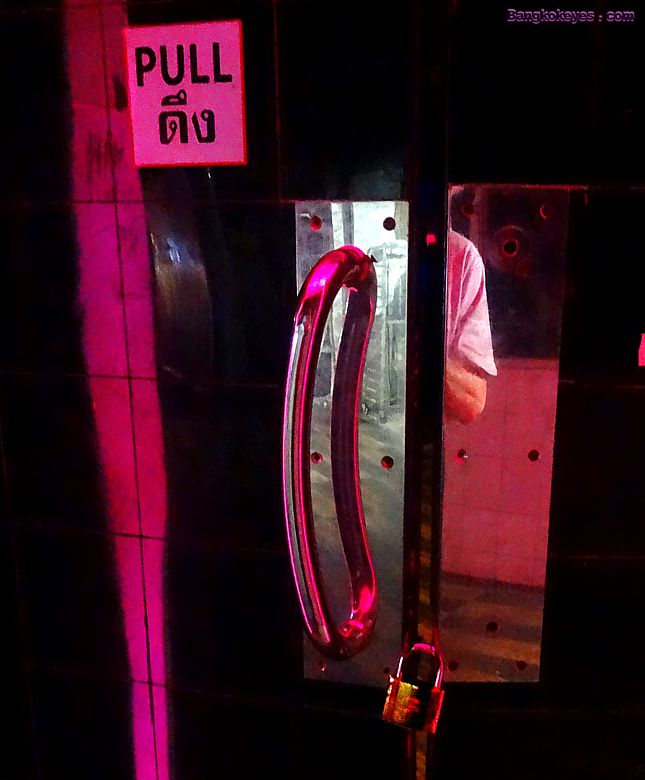 SOI NANA


The only '
refugee
' from
Soi Twilight
to put feet down in
Soi Katoey
is the newly reopened
Banana Boys
(ex:
New Banana Bar
). They are located on the
2
nd level above the
Banana Bar on 4
.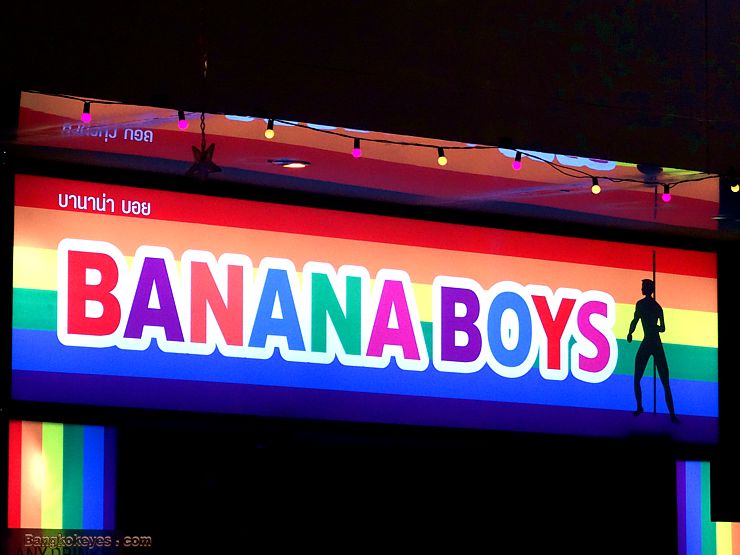 SOI KATOEY



Feral Cats...
- CUTE FROM A DISTANCE...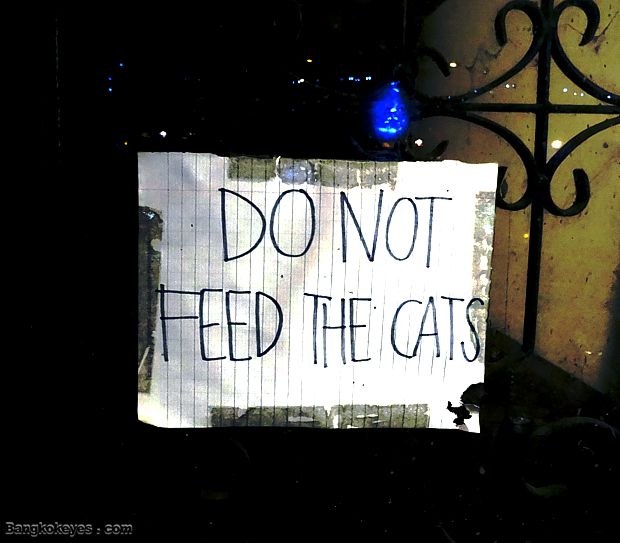 At the risk of sounding like your nagging, wing-nut
Aunt Martha
,
feral cats
can carry
rabies
, a disease that, as of this writing, has
NOT
been irradicated from
Thailand
.

SOI KATOEY


In what can only be described as a
massive "Musical-Chairs" exercise
, the
Specialty Massage Parlors
on
Subsoi Hana
and
Subsoi Lemongrass
have moved themselves around like chess pieces.. Rather than try to describe the goings-on, we have included a new map, below. The only new entry was the
Check Me
(pic below).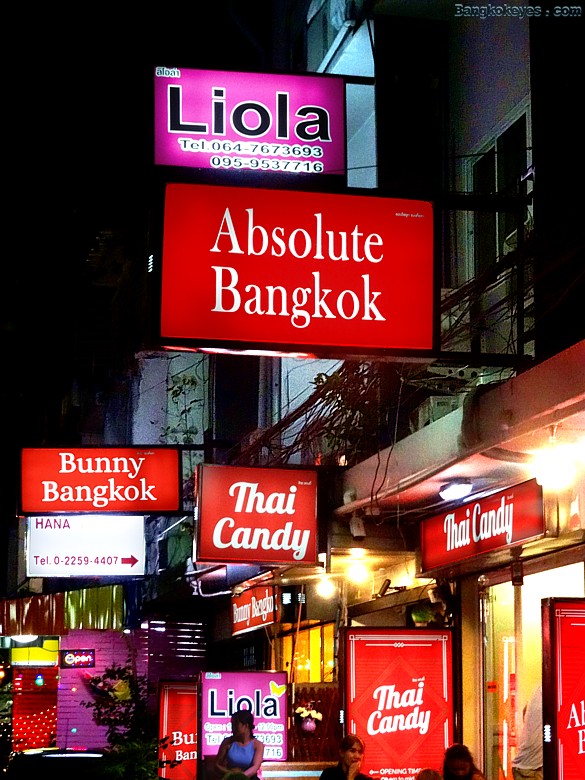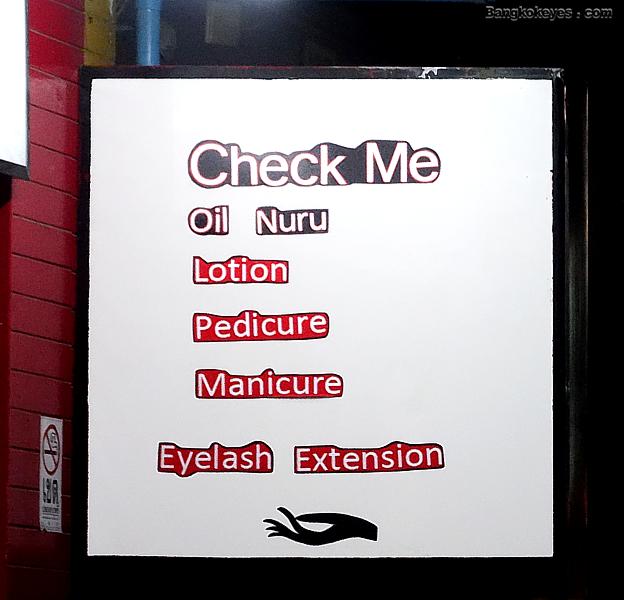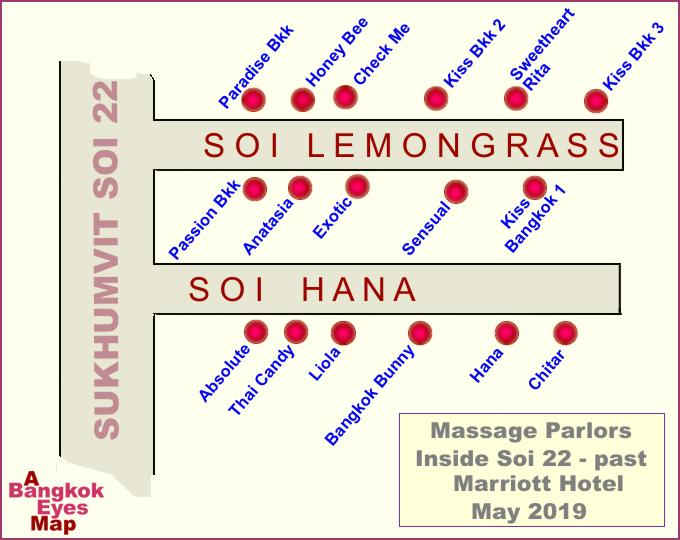 SOI 22


The ground floor
hotel club
scene at the
Holiday Inn
seems to be doomed by ghosts from deep dungeons. Last month, the
Kick Club
went out of business. This month the
Juicy Club
has opened in its place. Lets see what the Fates have in store. I'm not taking any bets, and neither is my bookie...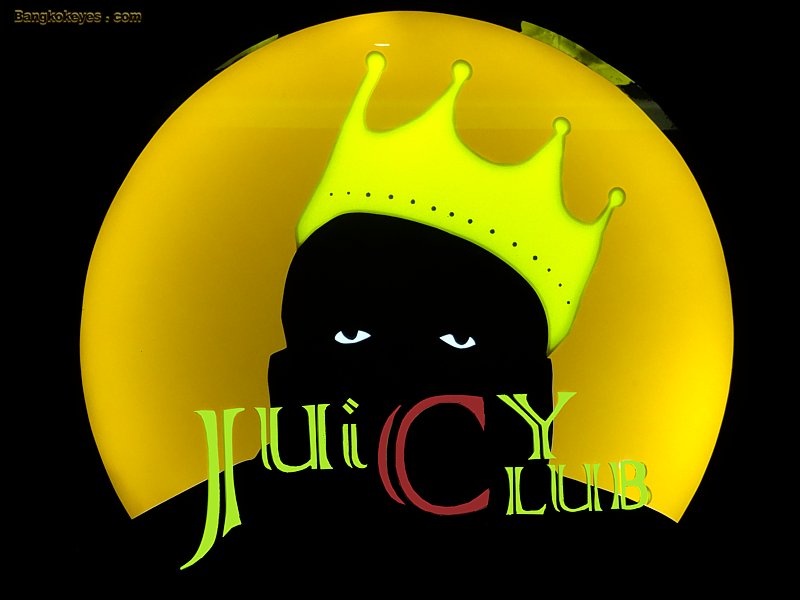 SOI 22


The

Keep In Touch

Sports Bar

opened a few months ago (see our earlier issue), and was off to a slow start. But that was then.... We don't know what has happened exactly, perhaps the

Washington Square

orphans

(like myself) have found a new roost... Barely big enough for a small pool table, the place is usually crowded - with (mostly local expat) customers. A best kept secret - but perhaps not for long... Located all the way down

Soi Starlight

in the old

Taffy's Faulty Towers

digs...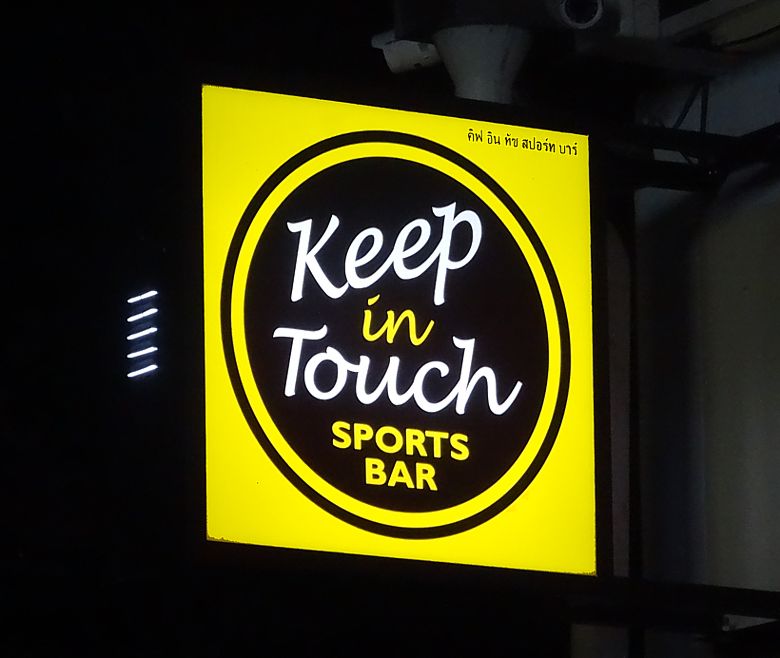 SOI 22


The
Miss BJ Massage
has gone through a
Sign-Ge

.

sta

.

po-induced
name-change. They are now proudly calling themselves
Miss BS
. Hmm.. were there no other choices..?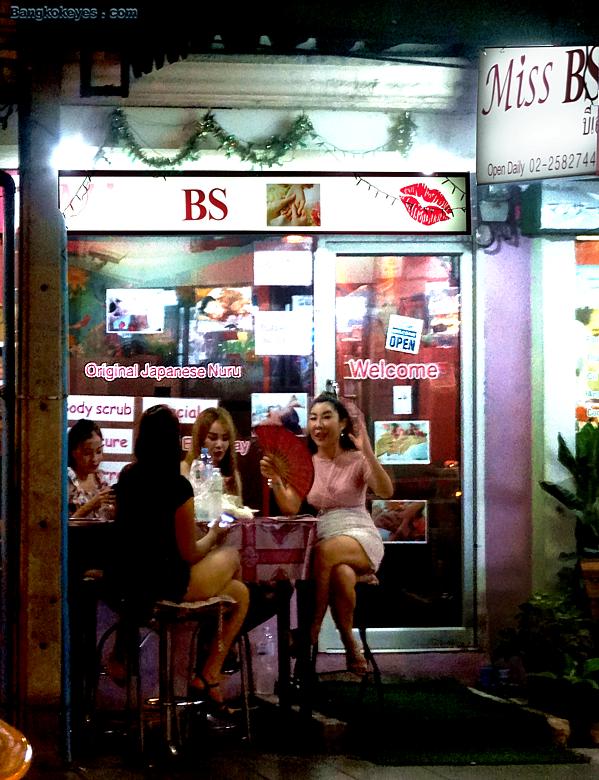 SOI 22


The
Tuk Tuk Bar
has opened newly in one corner of
Indian Tadka
- perhaps they are taking my earlier suggestion that they get something going on
Soi Ambassador
to replace the relocated
Cheap Charlie's
... A long row to hoe, but you never know...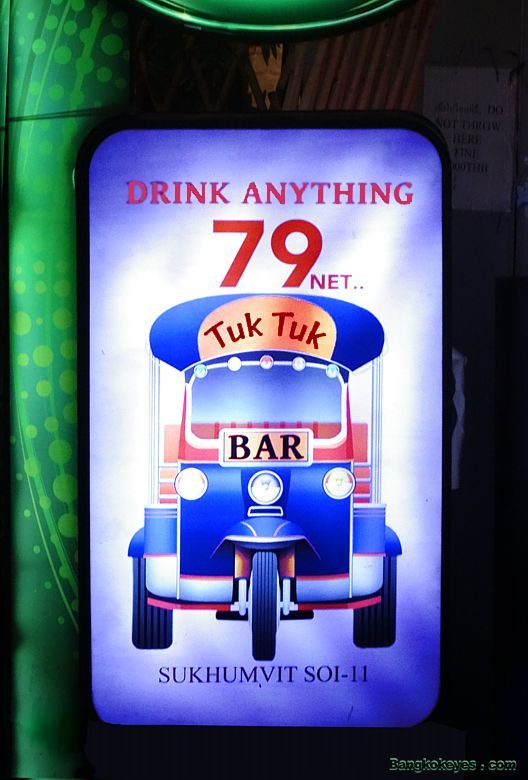 SOI AMBASSADOR (Sukhumvit Soi 11)


A 'Party Hostel' with a Bar...
- I WANNA SEE THEIR BUSINESS PLAN...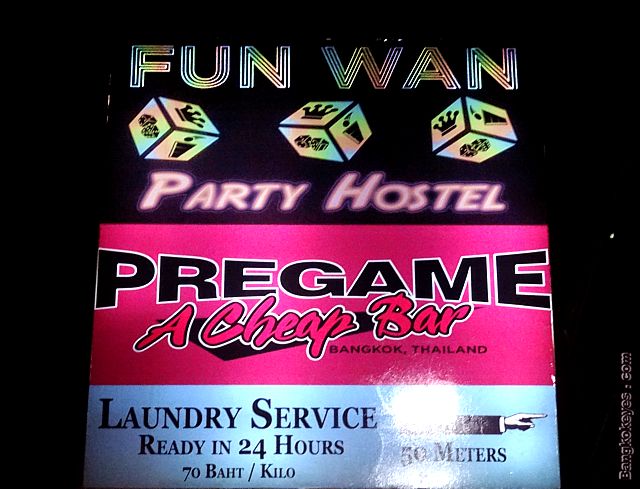 SOI AMBASSADOR (Sukhumvit Soi 11)


Occasionally during the more important
holidays
, the
sanuk
overflows and the
A Go-Go girls
will provide entertainment outside the bars on the sidewalks for the benefit of the passers-by (usually from bars populated with young ladies from
Isan
)... In this instance, the ever-popular
Maew Maew Bar
.
VIDEO CLIP

QUEEN's PARK PLAZA (Sukhumvit 22)


The tiny bar beer aside the
Sin Bin
, sometimes calling itself the
WTF Bar
has rolled the shutters down and faded quietly into the heat... Greener pastures, ladies...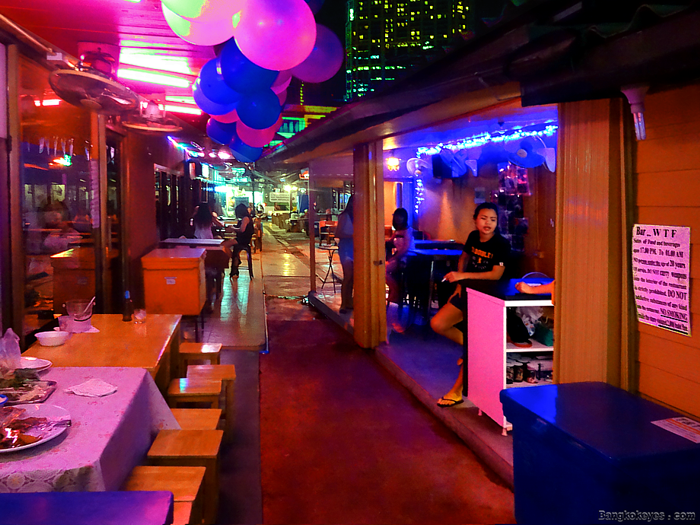 SOI AMBASSADOR (Sukhumvit Soi 11)


The
SKV33
massage has taken over the slippery ropes from the
Nyan
(was
Nyan Nyan
).
Prime agendum
unchanged. (Of course, they can't put the word, 'massage' on the sign...) May they continue to slip and slide...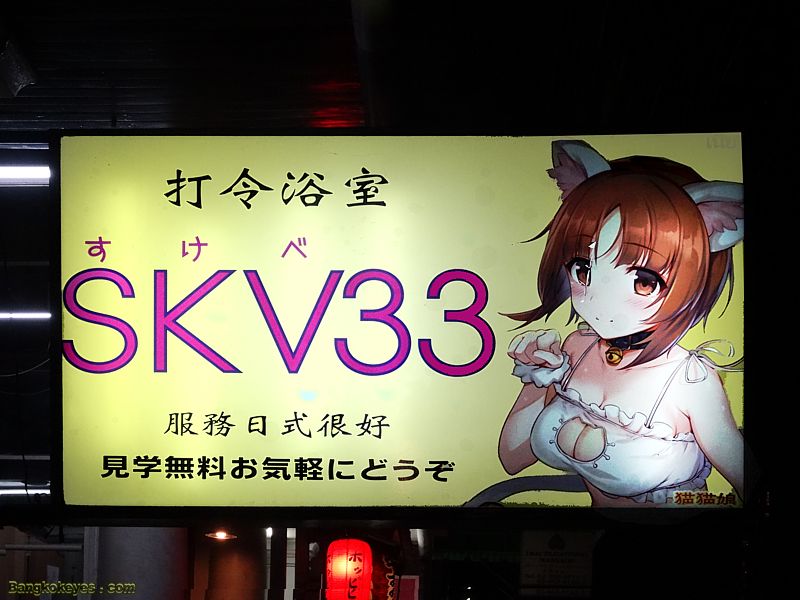 SOI DEAD ARTISTS (Sukhumvit 33)


Love Teen
is back in the saddle, after becoming
D.D Massage
for several months. The
D.D
is no more... Note: they have even used their old sign.. and have taped over the words, 'massage'. All is as it was...

SOI DEAD ARTISTS (Sukhumvit 33)


The
Soba Juban
, a
Japanese snack-lounge
, has said its final
sayonara
. Located deep in
Subsoi Pan Pan
.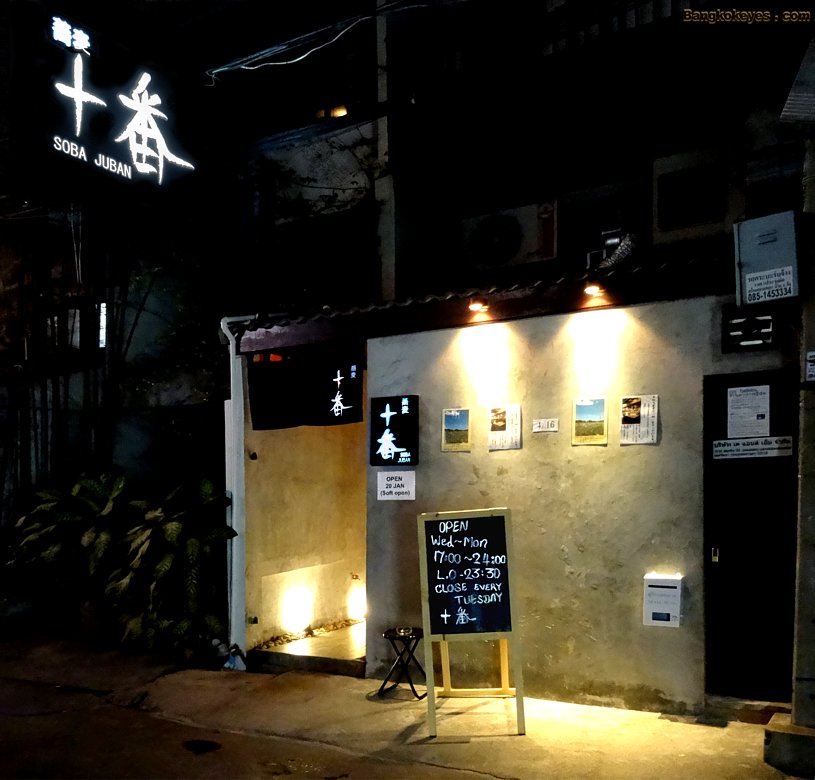 SOI DEAD ARTISTS (Sukhumvit 33)


The
33 Club
has closed again. So what is it this time? They closed some months back, and had just reopened a couple months ago. All we can really say is, statistically, when a
Nitespot
starts the
'close-reopen' cycle
, its days are numbered...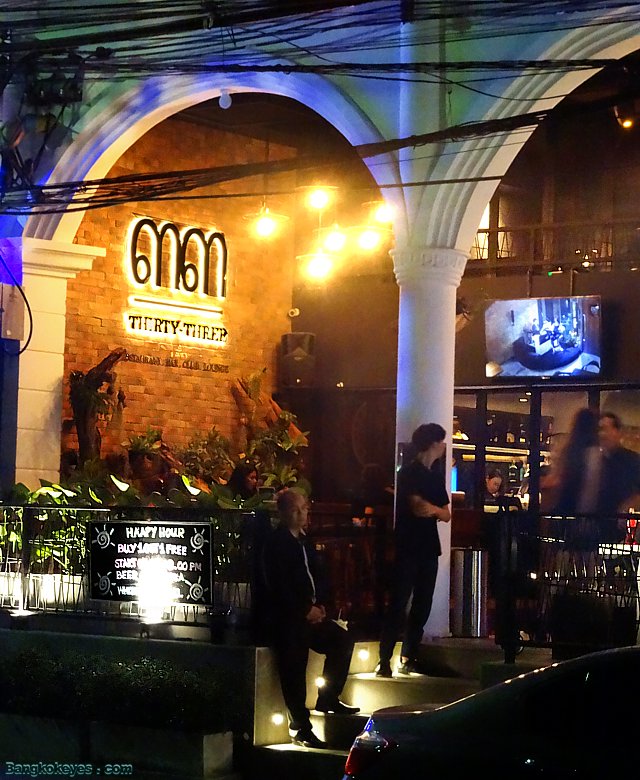 SOI DEAD ARTISTS (Sukhumvit 33)


Closed last month, for whatever reason, the
Love & Service Massage
is once again open for play. Welcome back to the nightgames. Located in
Subsoi 4
.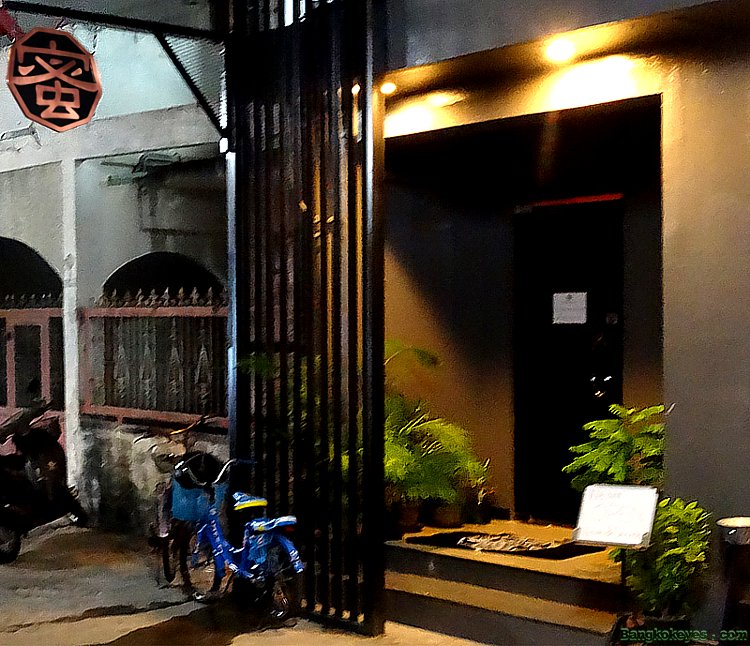 SOI DEAD ARTISTS (Sukhumvit 33)


The upstairs
Kizuna Bar
next door to the
Pan Pan Restaurant
has reopened after a brief closure last month.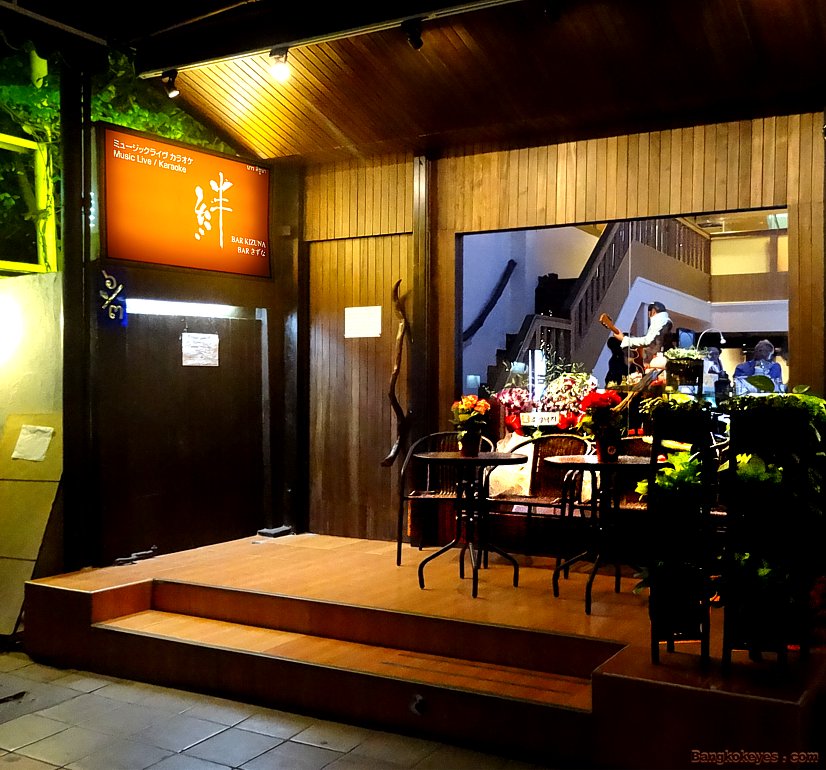 SOI DEAD ARTISTS (Sukhumvit 33)


Joy
, located on the
2
nd level of
S 33 Compact Hotel
is yet again
REOPENED
.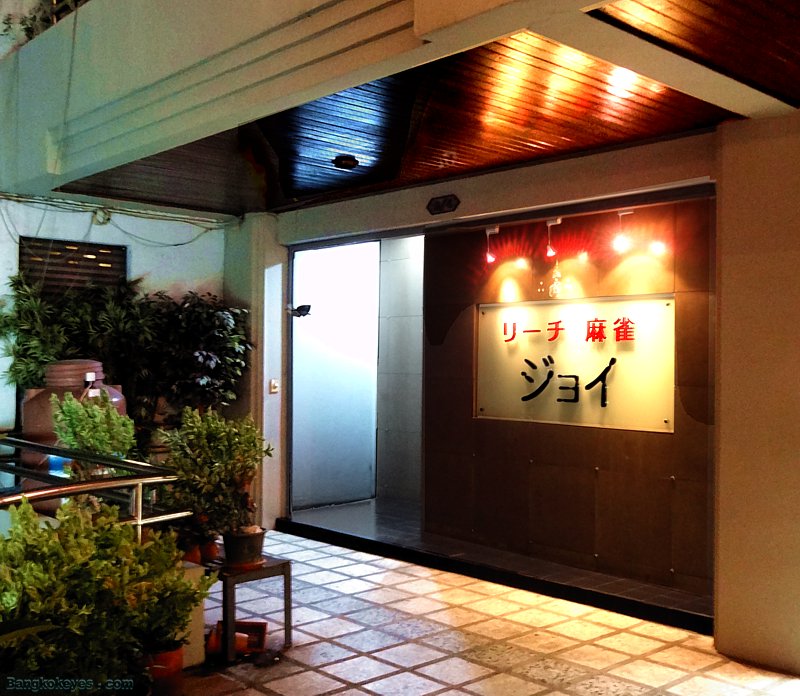 SOI DEAD ARTISTS (Sukhumvit 33)


MAP



Y'Not Bar
has reopened - after a fashion... When we passed by on the weekend, no one was inside: no customers, no staff. Shortly, the manager showed up because I was there. Heck of a way to run a bar.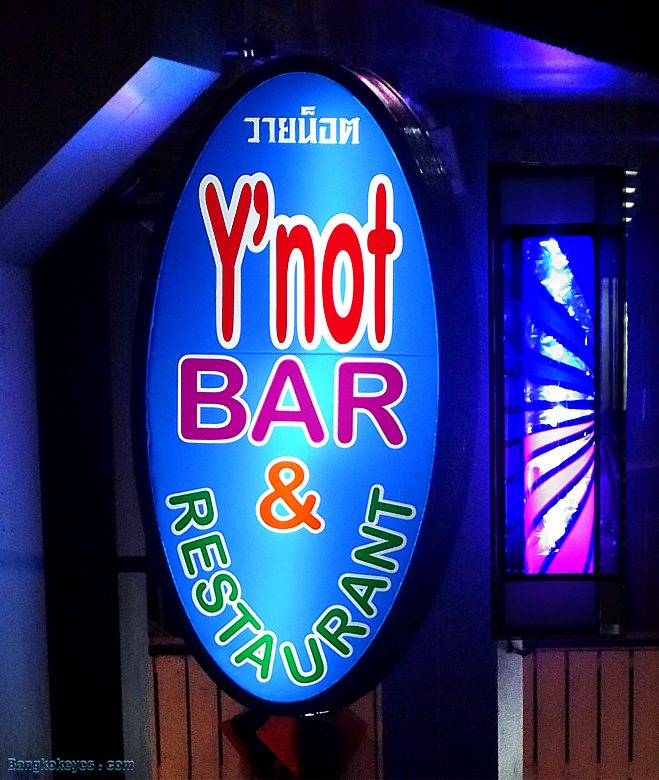 SOI EDEN (Sukhumvit 7 / 1)


Our lead story this month was to be the
wrap-up
on the demise of
Soi Twilight
, and a
rundown
as to where the bars were relocating. However, we had to postpone - as '
The Twilight Zone
' did not close down at the end of
March 2019
(contrary to a lot of talk on the street). Mid-month
April
saw
Hot Male
,
Maxis
and
Dream Boy
still open (see clip below). Although most of the bars have relocated, it appears the final close-out is to be at or about the end
April
/ first of
May
. So instead of getting out ahead of our headlights, we'll wait until the dust has settled and do a proper
thumbnail history
and
close-out
next issue.
VIDEO CLIP

SOI TWILIGHT



A PAGE FROM Bangkok's NIGHTSCENE HISTORY....
20
YEARS AGO

March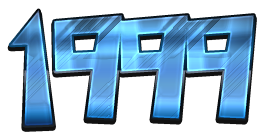 With thanks to Cool Text -cooltext.com

Bangkok Eyes goes back in time to see
Who was new - And who was through
in the Expat Night Entertainment world.
How many of these old 'oases'
do you remember ?
Patpong I



*

The upstairs

Thai Lady Bar

(above the

Thigh Bar

) closed. Today, an unnamed "

pay for show

" bar occupies those digs.




*

The upstairs

Pussy Galore / Pussy Alive

dropped the "

Pussy Alive

". No

Nitespot

exists at that location presently.




*

The

P.P. Superbar

changed to

P.P. Superstar

". It would eventually revert to

SuperStar

.



Patpong 2



*

The

Bua Luang Restaurant

closed its doors. It preceded, until recently,

The Strip A Go Go

. No

Nitespot

currently occupies those digs.




*

The

The French Kiss

closed temporarily for renovations. It is still at that location today.



Soi Cowboy



*

Jungle Jim's

opened in the

Moonshine Pub

digs (then closed). The

Moonshine Joint Whiskey and "Go Go

" were still operating next door, and both are still there today. -



Nana Plaza



* No changes that month / year. -




"Entertainment Plaza" (Soon to become

'Clinton Plaza' - Thermae Annex

)
[ February 1999 - May 2003 ]



*

Below are the changes to the

Nitelife

at

Night Entertainment Area

(Soon to become

Clinton Plaza

).

*

You & Me

- Outside Main Bldg.

- NEW

*

(Unnamed Bar Beer)

- Against Side Wall

- NEW



"Old Thermae Compound" (Soon to become

'13 Night Market' Entertainment Area

)
[ August 1999 - February 2005 ]



* INITIAL REPORT

: This

"Old Thermae Compound"

was slow to reach

'Critical Mass'

, appearing on our survey for the first time as "

13 Night Market

" in

August 1999

. The compound was located next door to

Clinton Plaza

. Below are the '

seminal

'

beer bars

as of

April 99

:

*

Thai Angel Bar

- Left Side

*

El Burrito Feliz

- Left Side

*

Elephant Bar

- Center Section

*

Arcadia

- Right Side



Soi Katoey
( Silom Soi 4 )



*

Edoya

(

Japanese lounge

) opened newly next door to

Tapas Café

. The

Body Star

is now

The Adam

massage.




*

The

Que Pasa ?

opened newly in the recently closed

X Bar

. It was located just past today's

Telephone Pub

.

Welcome Bar

now occupies those digs.






Buckskin Joe Village(~ December 1988

to

December 2006)

(Also known -originally- as

Tobacco Road

or

Soi Rot Fai

or, '

The Tracks

', and later as Machim [Thai] and

Soi Zero

)





*

The

Linda Bar

reopened.





Washington Square(~ April 1999

to

April 2014)

* INITIAL REPORT :

Washington Square

had long been a casual drinking spot, but the bars were too few and too spread out (

not contiguous

) to be considered an

Entertainment Area

in its own right. However by

May 1999

, we could no longer ignore the growth within the compound. Below is the original

April 2009

'inventory' of bars as found on site at that survey..

* The

Silver Dollar Bar




*

Texas Lone Star (Lone Staar Saloon)


*

Wild Country Bar


*

No Problem Cocktail Lounge


*

Bourbon Street


*

The Prince of Wales P&G


*

(A bar with a Japanese sign)


*

New Square One Pub


*

Dennys Corner


*

Huttasat 2 Tradional Massage


*

Sumire (Japanese)


*

Crystal Bar


*

Happy Pub










LINK TO US

A

VENGERS


E

NDGAME

FILM
REVIEW
Click Here
! ORDER
NOW !