A
ccording to reports in
Artnet News
<

link>
, by way of
Ars Technica
, "
chemists
" and "
scientists
" have come up with
environmentally-friendly solvents
(
they didn't name any
) which are able to '
remove vandalism from street art
' - their phraseology... In plain, un-spun language, these 'miracle' solvents
can remove layers of graffiti .... from graffiti
.
WTF?
-Or more to the point,
'WHY'
? .....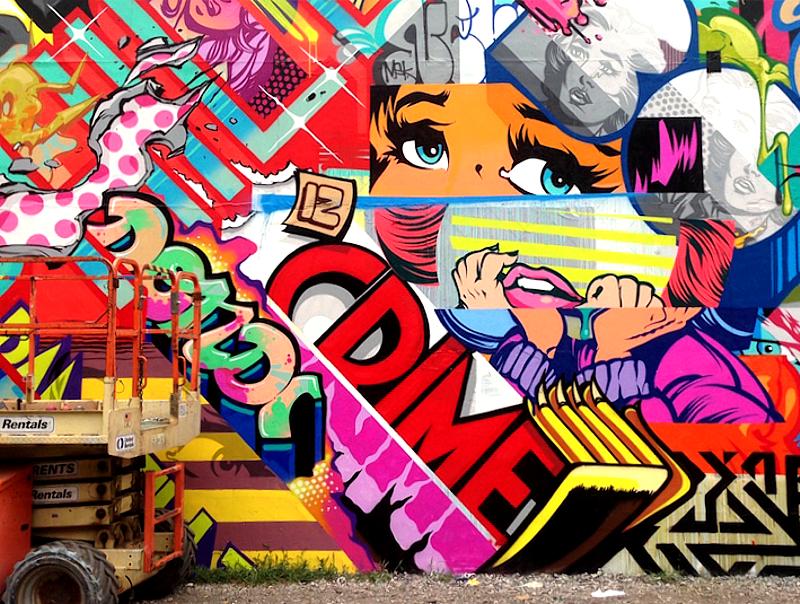 Photo excerpt from

Artnet News - link above

Copyright to owner.
When in doubt, follow the money.
When there's real money to be made, we don't just run around town with our
ethylene glycol
spray tanks and wash everything away. Graffiti "
conservators
" and "
restorers
" exist (oh, yes, they really do exist) for only one reason - to make money through
the further commercialization of graffiti
. And, all of a sudden, we find there is "
good graffiti
" and "
bad graffiti
"... '
Good graffiti
' is now spun as "
street art
" or "
murals
", while "
bad graffiti
" remains with it's old stigmata : '
vandalism
', '
tags
', or just plain '
graffiti
' - and all its negative connotations. The '
conservators' / 'restorers
', are of course, interested in only the '
good graffiti
'. -And here's where the
mental gymnastics
comes in - when the
artists
(or
sellers
) want to boost marketability, they call it "
graffiti
", giving it that
edgy, 'street-cred' sound
. When they are presenting
graffiti
in its '
respectability cloak
', it is '
street art
', '
art brut
', or '
murals
'. Sometimes in the same sentence.... New game, new rules. Play along and make money...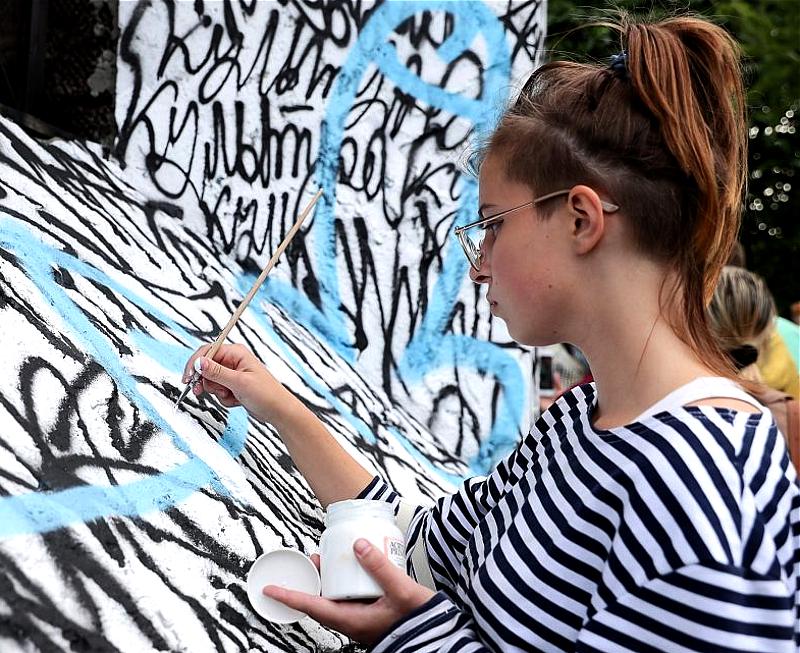 Photo excerpt from

Artnet News

- link above. Copyright to owner.
"
Researchers
" responsible for developing the
low-toxicity concoctions
(and their application procedures) can now claim their '
cleaning agents
', when properly applied, will remove
graffiti
one layer at a time - without disturbing the layer below. Their
'nanostructured' solvents
are embedded in a hydrogel, which can then be made into micro-thin layers. These
solvent-impregnated layers
are then placed on the offending
graffiti
by the
conservators / restorers
who allow the layers to work their magic for the 'correct' amount of time - allowing the removal of only the top layer of paint. (This is possible only because -and when- the layers of paint are similar, but not exactly the same.)
A number of
'established' graffiti artists
were interviewed about this new process, and were less than thrilled. While the old-school
graf artists
do not appreciate their pieces being over-painted, they still see
graffiti
as a
temporary art form
, and over time, all inevitably will be lost to the
weather, over-painting or outright removal
- the
'natural order' of things
... This is why they keep their sketch-books and (now digital) '
portfolios
' (- and why they will on occasion go out and retouch an earlier throw-up). While they will undertake commercial projects, they are able to differentiate between the two :
graffiti
being '
unauthorized markings on others' property
', all else
not being 'graffiti'
....


Bangkok Eyes

adheres to a single, comprehensive definition of

Graffiti

:
"

Unauthorized, often illegal markings on another's property

."


Bangkok Eyes

does not support or advocate any illegal activity. Content herein showcases the ongoing controversy over

Graffiti

in our Society and is provided for educational and entertainment purposes only.