Dateline: 26 August 2021
In a major
police dragnet
last
Thursday, New York City's
Thin Blue Line
despatched dozens of
officers, vehicles, a helicopter and a drone
to the vicinity of
67 West Street
in
Greenpoint
, while simultaneously
cordoning off
several adjacent streets. The cause for the
major swoop
was a report they received from a concerned citizen that a
graffiti artist
was in the process of tagging a nearby water tower.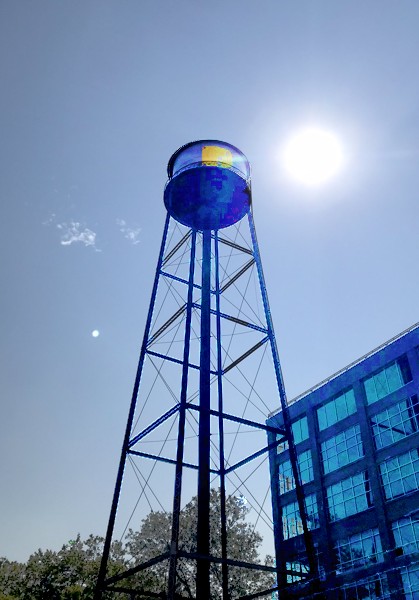 The water tower under siege....
Photo excerpts from

'The Gothamist"

<

link> Copyright to owner.
To ensure nothing went haywire in their
multi-pronged operation
,
Gotham's Finest
also sent a number of
plain-clothes units
to assist in the surrounding of the water tower. And just for good measure, they also closed down the nearby
American Playground
.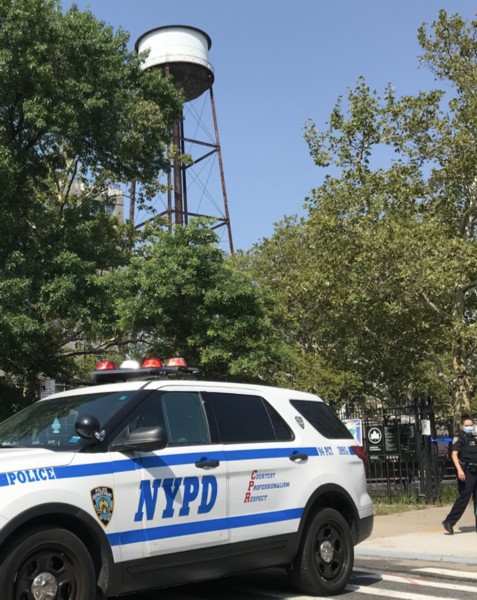 When
police
approached the water tower, the
graffiti artist
(still at the top) initially refused to come down.
Main-force officers
surrounding the water tower revealed to journalists they were
'cornering' the suspect
. It would be hard to argue that a lone man atop a water tower was in fact
not
cornered, so the journalists did not persist with that line of inquiry. In all fairness to the
phalanx of heavily armed
Men In Blue
, it was only then that they summoned in the
helicopter
and the
drone
to assist in the operation. After an
hours-long standoff
, the
graffiti artist
, heavily armed with paint brushes, descended and was immediately
taken into custody
.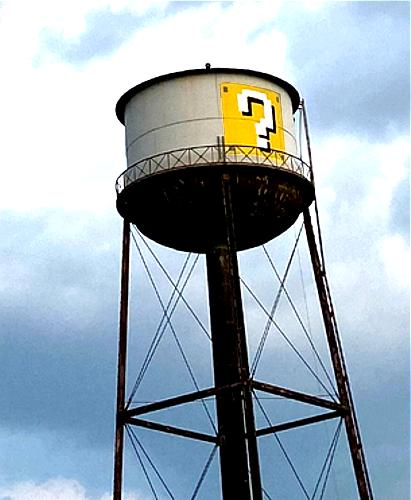 The offending Mario Bros style question mark...

In the face of

scathing ridicule

by the

Media

and

social media

for outrageous

squandering of the City's manpower and resources

, the

NYPD

exhibited not a scintilla of embarrassment. Quite the opposite - they, of course,

doubled down

- an

official

police

spokesperson

said they would be

widening their dragnet

to determine if there were any similar heinous incidents of graffiti to be able to

add to their currently pending charges

against the suspect. ...Yes, really....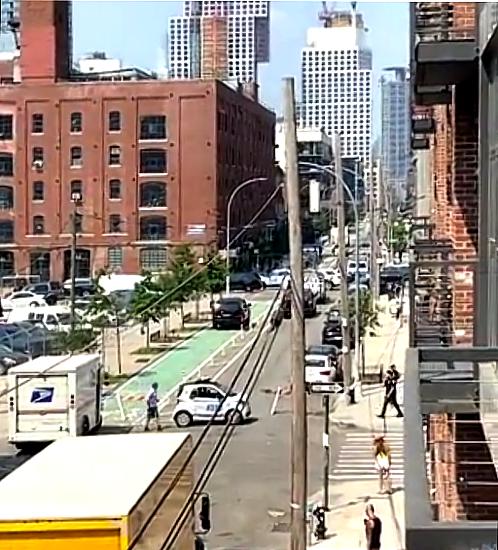 Roadblocks securly in place

Not quite done,

Wilson Arambloes

from

Police Emergency Services

tripled

down, publicly praising the officers involved for resolving the case in a highly professional manner without any further serious consequences. After which their

Public Relations team

refused to respond to repeated questions regarding their lightning response and decisive and timely closing-out of the case. Another catastrophically catastrophic inner-city catastrophe nipped in the bud.... According to an unofficial estimate, the

NYPD

juggernaut

cost

New York taxpayers

a cool

$500,000

. As far as we know, the

roadblocks

have been removed and the

playground

has reopened.

New York, New York

, indeed...