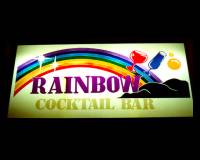 Who knew indeed.
Hua Hin, being outside the Bangkok area is not normally within the purview of Bangkok Eyes, however, a brief write-up might prove useful to others travelling from Bangkok for a holiday, as well as an historical point-in-time reference. &nbsp&nbsp The included map includes virtually all of the Expat-oriented Night Entertainment Venues.
View the Bangkok Eyes Map of Hua Hin's Night Entertainment Area. &nbsp&nbsp- Or download (right mouse on Map) and print it out at home.
On Bangkok Eyes' visit to Hua Hin seven years ago, there were a total of three or four bar beers in this area. &nbsp&nbsp Our visit in June of this year (2002) was more than a little disconcerting - we found over 50 bars.&nbsp&nbsp Most of them are beer bars, however the inside / air conditioned bars are starting to make their presence felt (the two Hogs Breaths, the Lucky Lukes 2, the Lips Bar, and the J Gene 'Takieng').

As can be seen from the MAP, the main Entertainment Area is located between Hua Hin's largest wat ( Wat Hua Hin) and the Hilton Hotel. &nbsp&nbsp The MAP shows the main soi name, however it only exists in the Thai language at the Poolsuk Rd entrance. &nbsp&nbsp The two streets, Naret Damri and Poolsuk Road have bilingual signs, and will stand you in good stead if you have a problem locating the area..

In addition to the 'bar-beer' scene, there are several Thai Massage, Traditional Massage & Foot Massage places, as well as several decent Thai and European restaurants.

Generally speaking, the "quality of entertainment" in Hua Hin doesn't yet come up to a par with Bangkok's or Pattaya's (for example, no A-Go-Go), however, an enjoyable time is easy to come by, and a visit of 2 to 3 nights is definitely in order.