A little over
30
years ago, when we stragglers trickled into
Bangkok
from
Laos, Cambodia
and
Viet Nam
after the war, we would marvel at the bar scene in
Southeast Asia
in general. But mostly, we rambled on about how there would likely never be another bar scene to match that found in war-time
Saigon
, (not to mention
Danang
, and other
Vietnamese
cities).
Historically, there had been other great "
Nitescenes
" in
Asia
, and some that likely rivaled in delights, if not in magnitude, that of
Saigon
in the
'60's
and
'70's
: There was the
Ginza
in
Japan
after
WWII
; there was the
South China
coast (
Hong Kong & Shanghai
) after that same war and before
Mao's
armies came south; there was
Itaewon
in
Seoul
during and just after the
Korean War
in the early '
50's
; there was
Manila's
Ermita-Malate
area with it's
Mabini
and
M.H. Del Pilar
streets whose heyday lasted until it was closed down by
Mayor Lim
in '
93-'94
; and last, but not least, there was the
Taipei
scene in, and around
Roosevelt Blvd
. (
Taipei
was probably one of the best-kept
Nightlife
secrets - it's heyday lasting up until the
U.S. Military
departure in
April
of
'79
.)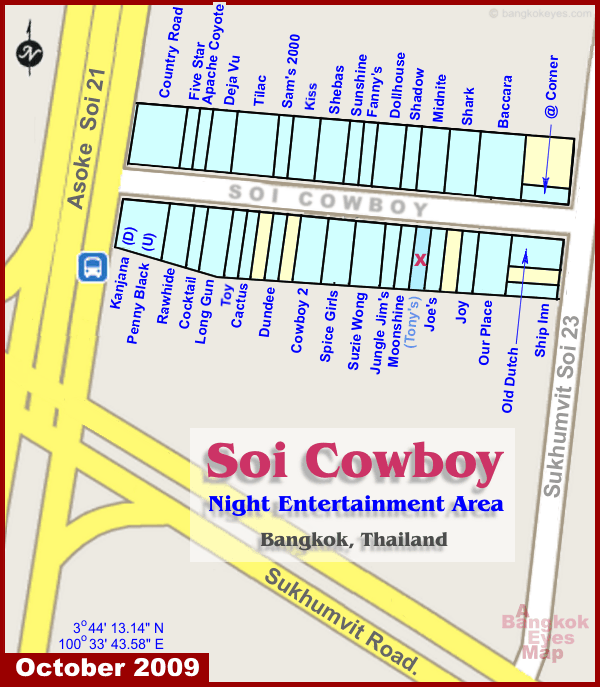 Soi Cowboy, born just after the Viet Nam War R&R troops went home, started out most modestly; the Gold Label, and a few single shophouse lounges; Chitra's, the Red Diamond, Loretta's, and then along came Cowboy's. Soda was 15 to 20 baht, and beers were usually around 30 baht, with lady 'dinks' about 40 baht. Today, a drink for a Coyote girl can be 200 baht, yours will be about the same. A barfine can be more than we used to spend in an evening. Is Cowboy a candidate for pricing itself out of the race? Will it be relegated to the sidelines by The Ginza Effect? Only time will tell....

SOI COWBOY

In those early days, we also realized that
Bangkok
was a
Nightlife
force to be reckoned with -as was
Pattaya
- but we didn't know at the time that they would in fact develop to rival
Saigon
in it's glory days. Part and parcel of our pontificating on
Asia's
several bar scenes was how these various and different bar scenes would start up, build up rapidly to their zenith, and just as surely head into decline. Many 'reasons' were formulated, but it always came back to '
when in doubt, follow the money
'.
By unspoken concensus, we took
Tokyo's
Ginza
as typical : - during
Japan's
occupation by
U.S.
forces after
WWII
, the
Ginza
area began to grow rapidly; prices for services were minimal. As decades passed, the prices rose, and continued to rise. By the
'70's
the
Ginza
was for only the wealthy, or those foreign tourists wanting to 'take it all in' and check it off the list. The
Ginza
had succeeded in pricing itself out of the game, and was only on the sideline of world-class
Night Entertainment
. (Or so ran the scenario in our minds...) This "
pricing one's self out of the competition
" became known within the circle as "
The Ginza Effect
".
Although
The Ginza Effect
was not the cause of all such declines in
Asia's
Nightscene Areas
, we held to the belief that it would be the guiding principle in most instances. (
Saigon's
Nightscene
demise, for example, was not typical - the entire
Scene
was terminated literally overnight when the
South Vietnamese Army
fell to the north in
April
of
'75
)
As we progressed into the
'80's
, the group of
Bangkok-hangers
would bemoan each increase in barfines, each increase in the cost of a soda-water or beer, and any increase in the price of an
all-nighter
(
short-times
were almost unheard of in the expat population -
short-times
were for
Thais
in curtained hotels....). And with each increase in price(s) a round of cries would be forthcoming, "
The Ginza Effect
!
The Ginza Effect
!". And the usual round of predictions would burst forth, "
Bangkok
will be dead as a
Nightlife Scene
within two years !", etc, etc.
Well,
Bangkok
and
Pattaya
are still very much amongst the cities to be considered "
players
" in the
Asian
Nightlife
game (as is
Angeles City
in the
Philippines
- which also refused to lay down and die after the '
Viet Nam Era
'). These cities have also continued to see steady, sometimes staggering, increases in prices of
Night Entertainment
-related services. We read on
Dave The Rave <

link>
the other day that some of the girls in the bars frequented by
Japanese
patrons were hopeful of being short-timed for
Baht 4,000
. Now, that's more than enough justification to cry out, "
The Ginza Effect
" !
Somehow, though, we just don't see
Bangkok
(or
Pattaya
, or
Angeles
) dying out, or even pricing themselves out of the mainstream, any time soon. First of all, there seems to be enough to go around, and more and more of the expat community are '
going off-Broadway
' to get their kicks -
specialty massage parlors
, out-of-town
Night Entertainment Areas
, etc.


---


- In the LAND OF SMILES -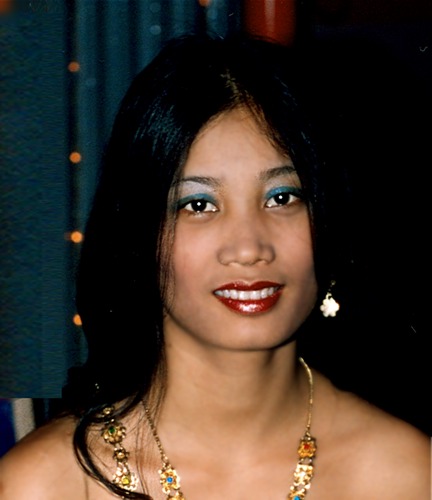 This month's Thai Smile was a former PR girl on Soi Cowboy.