---
We have recently heard from a number of regular readers that
Soi Udomsuk
has "
Nightlife
" - but that it is mostly geared to local
Thai
patrons. At first, we were going to ignore this as not really relevant to
Midnight Hour
readers, but then, on the other hand, what if we were missing out on something? After all, we have surprised ourselves in the past (
Sri Nakarin South
, for example). To make a long story short - we went for a look-see this month.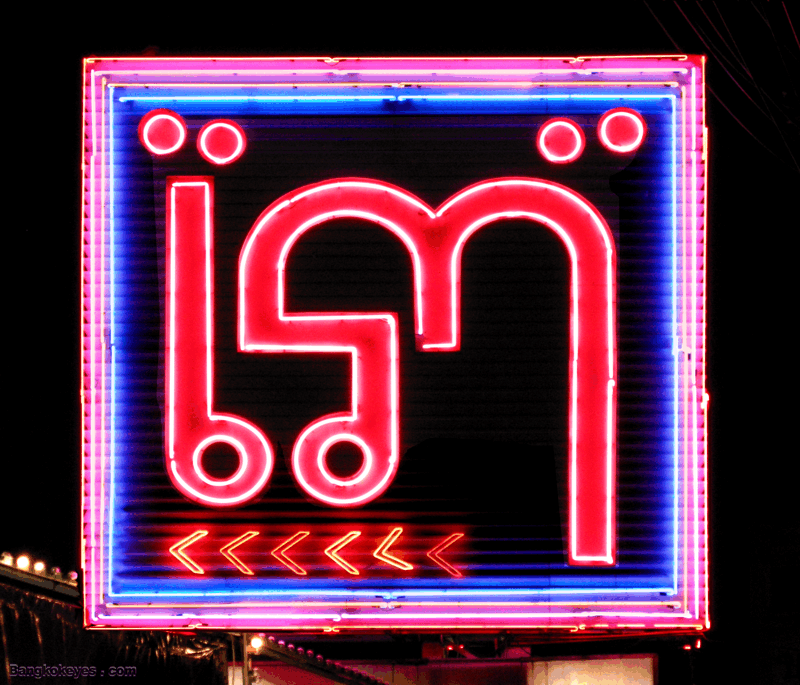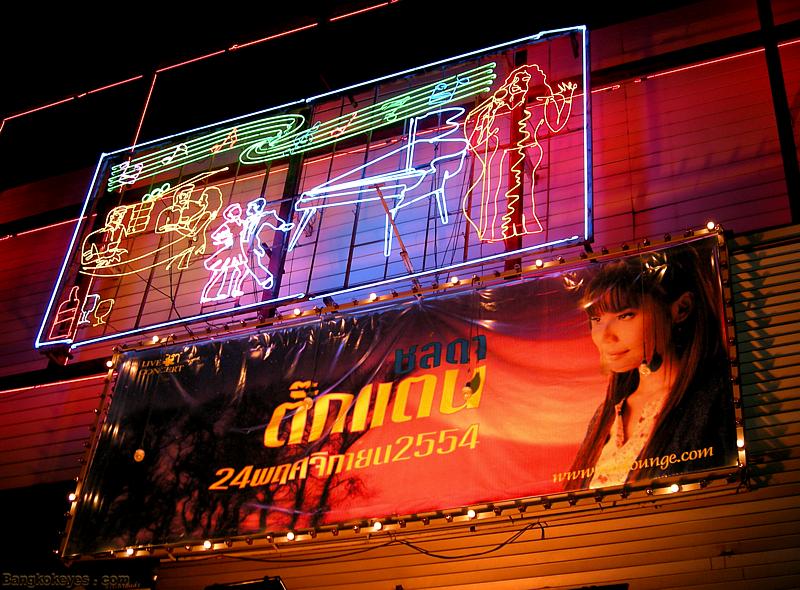 The Rao Cocktail Lounge is an exception to what one is likely to find elsewhere on Soi Udomsuk - it is a full-on Night Entertainment Emporium, often showcasing mainstream stars from the Thai entertainment world. In the photo above, they advertise popular singer Takkatann (Grasshopper) to sing on 24 November (unfortunately one night only).

UDOMSUK ROAD , SOI 103

Udomsuk
is located in the south of
Bangkok
, almost to the
Bang Na-Trat Highway
, stretching exactly between
Sukhumvit Road
and
Sri Nakarin Road
. It is unusual in a few ways - first it is a '
Soi
' (
Soi 103 Sukhumvit
) and it is a '
Road
' (officially designated
Udomsuk Road
), so whether you say,
Soi Udomsuk
, or
Udomsuk Road
, you will be correct. Another interesting feature is it is an almost perfectly straight
East-West
road of almost exactly
4.0
kilometers in length.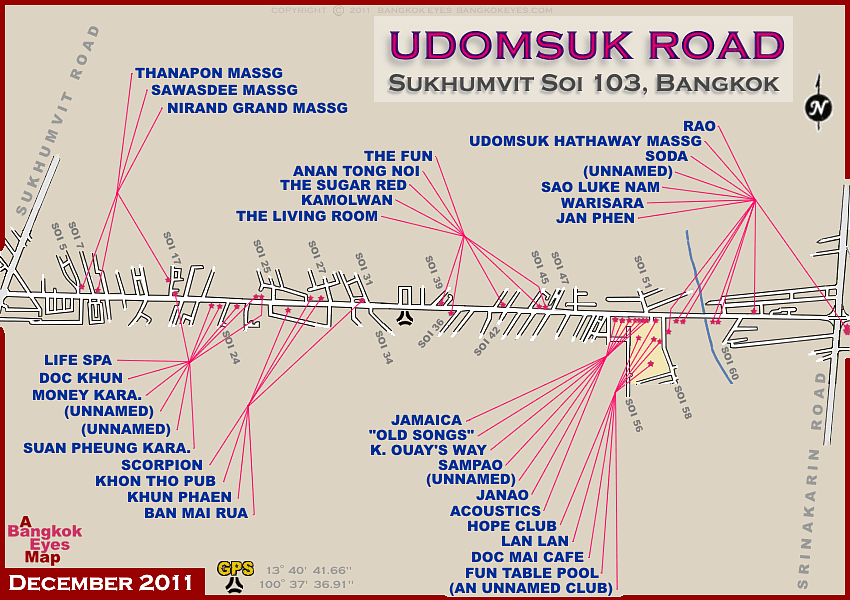 Due to the complexity and large area of this map, we have connected names to actual locations with red lines through a focal point to maintain clarity of viewing. The connecting lines remain in original order, by group, and individual Nitespots can be identified as to location. Many names appearing in 'English' on the map will appear only in 'Thai' at the actual venue.

UDOMSUK ROAD , SOI 103

Although there are approximately
37 Night Entertainment Venues
on
Soi Udomsuk
, it must be remembered that they are scattered randomly along a
four-kilometer
stretch, and, with one exception, would not be considered to be a part of a
Night Entertainment Area
. Many of these
37 Nitespots
are open-fronted single shophouse '
karaoke
' or '
khrua
' (kitchens) that serve alcoholic beverages, and are lit with one or two strands of
Christmas
lights. While technically qualifying as
Night Entertainment Venues
, they are of little interest to the average
Expat
nightcrawler.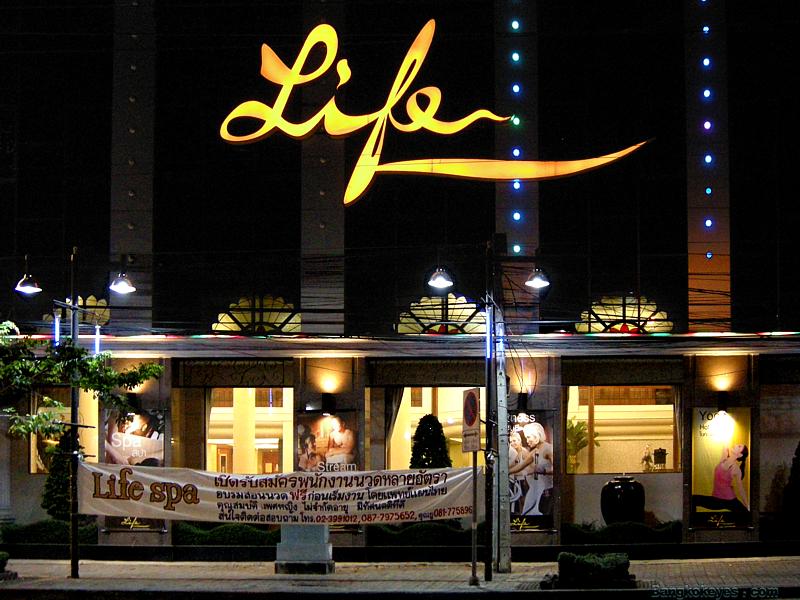 Life is a full-service spa, and would appeal to farang as well as locals.

UDOMSUK ROAD , SOI 103

The exception we noted above is between
Udomsuk
Soi's 56
and
58
- and this area has the potential to become a true
Entertainment Area
. (See yellow area on the above map.) The
Nitespots
along the main street-front are not terribly impressive, but on seeing flashes of neon down one of the wide driveways, we went inside to explore. There is a huge, (almost) deserted field behind the shops fronting on the
Soi
(they also have interior access), where four additional, more sophisticated
Nitespots
are situated. This nearly-empty land area could easily support at least
20
additional
Night Entertainment Venues
,
AND
have space left over for parking.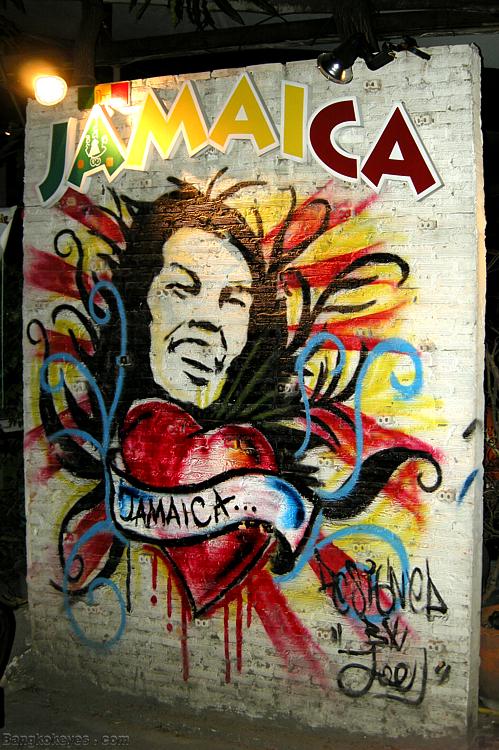 The Jamaica is a mostly outdoor beer garden style Nitespot, with local singers performing most nights. (Thai music, not Reggae....)

UDOMSUK ROAD , SOI 103

So, at least, one part of
Soi Udomsuk
, as it now exists, has the potential to obtain the required self-sustaining "
critical mass
" and become a "
Night Entertainment Area
" in it's own right. It hasn't happened yet, but the trend is - that this large amount of empty land - this
vacuum
- will likely soon be filled.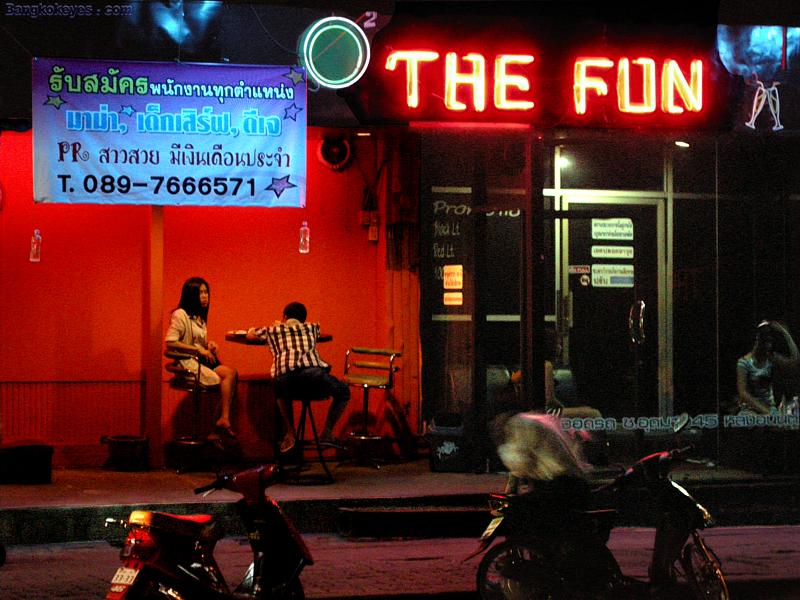 The Fun is a Thai-style pub. Open to all, of course.

UDOMSUK ROAD , SOI 103

Should it eventuate that this area is developed into a
Night Entertainment Area
, however, it is virtually certain that there will be little appeal to the
Expat
community of night-lifers. There is very little
English
spoken on
Soi Udomsuk
, and the style of entertainment is geared toward the
Thais
. This is not to be construed as a negative recommendation, however, as there are a good many of our readers who are able to enjoy themselves in a "
Thai Thai
" environment. And, having said that, there
are
a few (very few) larger, more "
international style
"
Nitespots
there, such as
Rao Cocktail Lounge
at the
Sri Nakarin
intersection, the
Life Spa
and the
Nirand Grand Hotel Massage Parlor
.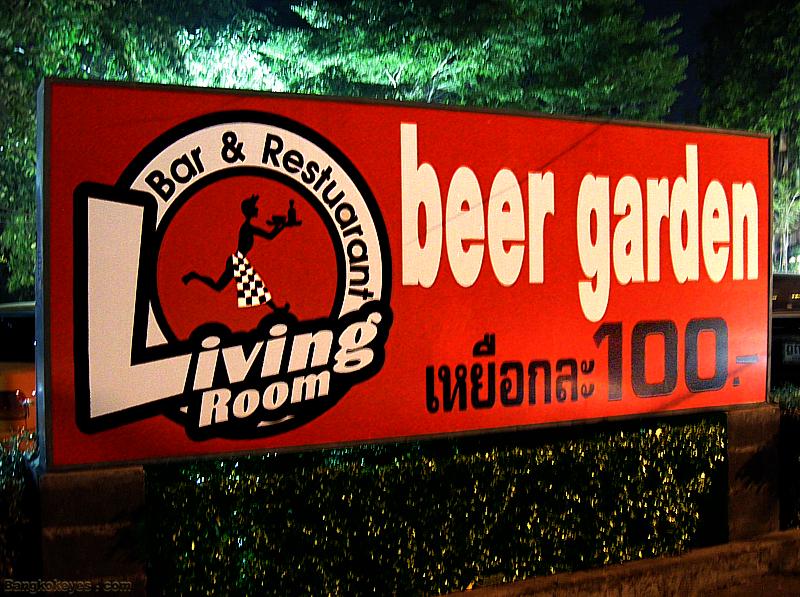 The Living Room is spacious outdoor Beer Garden with live Thai entertainment. A pitcher of beer - Baht 100- - standard fare for the Soi.

UDOMSUK ROAD , SOI 103

For those of you interested in a change-of-pace, and feel like exploring
Soi Udomsuk
, your best bet would be to take the
Sky Train (BTS)
out to the new
Udomsuk Station
on
Sukhumvit Road
, and head out from there.


---
ANNOUNCEMENT -
Noir Artist Coles shows
at Bed Supperclub
Here comes the night..... Bangkok's own, Chris Coles, will have a showing of his unique Bangkok Nightscene art at Sukhumvit Soi 11's Bed Supperclub from 8 December until 18 December. Many of his latest works will be on display. A "Not-To-Be-Missed" for the Bangkok nightcrawler.