A Good Old Boy
...ON THE GOOD OLD DAYS



MONTHLY
COLUMN

Bangkok,


01 November 2014


William R. Morledge



November's Nightlife News
Bangkok's Bars - 20 Years Ago
A Smile in the Land of Smiles.
Ask Us: Soul in the Sixties.....
Graffiti -BKK's Midnite Vandals - #107

---
The
Midnight Hour
recently ran across an old '
Bangkok hanger
' as old as
Dean Barrett
(as
Stickman <

link>
might say). We found it refreshing to see this particular 'old timer' had a mind of his own - and we were to see many a
resonant
thought..... Follows is our interview - no holds barred......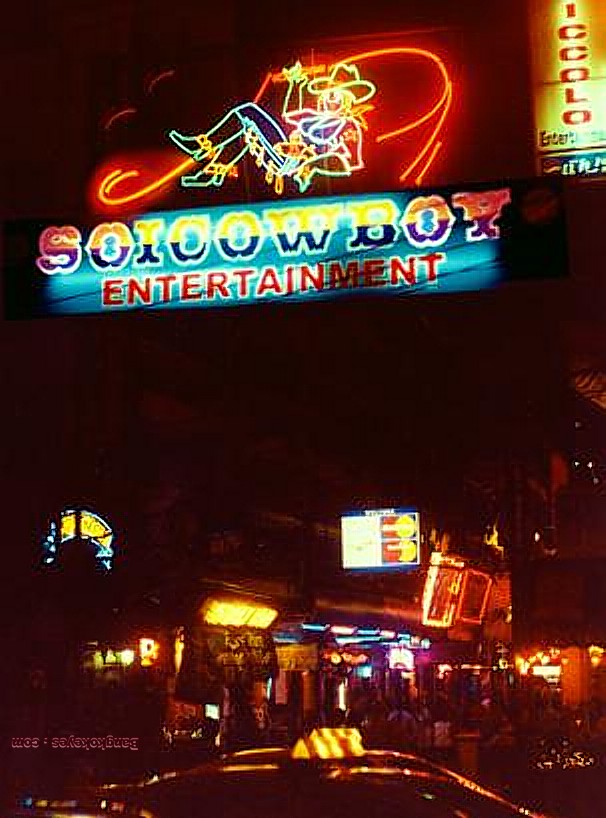 - File photo
MIDNITE HOUR: We appreciate you taking the time from your busy schedule ......

RS: My 'busy schedule' consists mostly of getting up in the morning. For purposes of this conversation, specifically for the part that goes on your Bangkok Eyes, when quoting me please use just the initials; "RS" - I wouldn't want to fall into disfavor with any of the bar managers where I do my drinking. <chuckles>

MH: To kick things off, then, when did you get here to Bangkok, or should I keep it general - when did you get to Thailand?

RS: I got here in the mid '60's and stayed on after my discharge from the US Air Force. I was stationed at U-Tapao - actually, nearby at another military facility. I have been here off and on since then, mostly 'on'. And to anticipate your next question - I have been enjoying the Nightlife scene in Thailand since that time.

MH: You must be reading our mail. Your tenure here qualifies you as an "Old Thailand Hand" - let's start then with your earliest, your very first impression or memory of the Thai Nitescene back in the mid '60's.

RS: Well, I've read your Nightlife column for a number of years now, and I know we agree on this - whatever you do, I would be much obliged if you don't refer to me as an Old Asia Hand of any sort. Of the several "characters" I know from the old days -those who would have others believe they are "Old Hands"- are, to a man, living in an ever-shrinking circle of experience and knowledge, not an ever-increasing one. They know less about the real Thailand of today than the backpackers. Of course part of the reason their world is shrinking is due to attrition - fewer 'survivors', and old people just don't tend to make a lot of younger friends. But the main reason is they just don't get out anymore and see what is beyond the few bars and restaurants they habitually go to. These people are living mostly in the past, feeding off nostalgia, war stories, bar stories of times past.... <pauses> Not exactly crying in their beer, but close to it.....

MH: I would say I have to agree with that, and truth be known, if it weren't for the challenge of getting this website up every month, I would likely be falling, or falling deeper perhaps, into that same decreasing circle of experience and knowledge. It's part of what keeps me at it - it's like my doppelganger is nipping me in the ass, not letting me slow down into 'old age'..... Where were we? Oh, your first Thailand nightlife experience.....

RS: Your doppelganger!? <laughs> Nobody says that. My first immersion into Thai Nightlife was in Kilo Sip, just outside of U-Tapao. Back then, Kilo Sip, which means, of course Kilometer 10, was just a wide spot in the road - the other road into Pattaya. There were a number of small roadside bars, mostly shacks, we would call them bar beers today. But there was also the Swan Lake, a hotel, the only permanent structure anywhere nearby. This was before Tim's place opened (Tim Young's Ann's Company -ed). The Swan had a large outdoor bar-restaurant area in front that was popular with those of us that weren't heading off to the smaller shacks further down the road looking for a short-time. The Swan had these old, round, cast concrete tables and benches -low maintenance and hard for the locals to steal- which could withstand the occasional shattering of Singh or Mehkong bottles, and the continuous batterings of ice buckets. The waitresses there were semi-available, and there were a number of freelancers wandering in as the sun went down. We hung there after hours when we could get off base. Easier for me, as I wasn't on base for the most part anyway. A few Army guys up from Samae San, and even a couple Coast Guard from the LORAN site would find their way there. After a while, we would know all the waitresses and freelancers - at least by their nicknames, and they knew us - at least by our nicknames. <chuckles> Without descending into the purple prose, you can imagine my new, wet-behind-the-ears response to having landed in the middle of several attractive, available Thai women, all smiles, all with come-on glances and come-on stories to tell - and, of course, with no Commanding Officer looking over your shoulder.

MH: Enough said. Have you been back to Kilo Sip lately? It's been absorbed by the urban sprawl of Ban Chang. The Swan Lake is still there, but the Night Entertainment Area is a 'klick' further up the road.

RS: Yeah, I was through there not long ago, the Swan has been given a new layer of 'frosting', and is now, I think, for tour groups. Barely recognizable. The new Ban Chang bar area is OK actually, ....considering. Well.... 'new' by our standards, anyway. Mostly for farang golfers - a discreet place to go so they won't get shot down by their old ladies, or 'regulars'. Most of those bars have a short-time room or two upstairs. ....Or so I've heard from third-party sources....

MH: Yeah, right. <both chuckle> Yep, Ban Chang, the not-so-new Nineteenth Hole, take your pick of a couple dozen Nitespots. So how long have you been Bangkok-based? Specifically, how long have you been watching Bangkok and it's Nightscene 'evolve'?

RS: I think it was 1969 when I more or less started calling Bangkok my home, or at least my 'headquarters'. Funny you should use the term 'evolve' for the Night Scene here in Bangkok. I haven't seen your website, or any other website discuss the dichotomy, or rather the trichotomy of the Nightlife Scene. Of course everyone is aware of the bar scene that sprouted up around the US military R&R program during the Viet Nam War, and there are some fools who still believe this was the birth of Night Entertainment in Bangkok. And I have seen where a few websites have referred to a parallel Thai scene that was in place for, literally, centuries. But there was also a third scene, also expat, that has never been well chronicled. This is what I refer to as the Backpacker Nightscene , typified in the sixties by places such as the Thai Song Greet Chinese hotel down by Hua Lampong train station. There were other similar hotels in the area. These farang were not part of the crowd frequenting the R&R bars of the Golden Mile, or the Thermae or Nana Coffee Shop, etcetera. There is a whole untapped well of stories, escapades, of the farang backpacker set in these old Chinese hotels. And then, how did this scene evolve? By the seventies, the scene had segued toward Soi Ngam Dupli and the surrounding sois, and the Malaysia Hotel, the Blue Fox bar and restaurant, and the smaller hostels. And did this Backpacker Nightscene evolve again? No surprise here, it did evolve yet again, shifting to none other than Khao San Road. That scene still exists today, albeit mostly off-Khao San on the adjoining sois; Khao San itself becoming a day-and-night bazaar of sorts. In the meantime, of course, the G.I.s came and went, while this backpacker scene, in a lower key to be sure, and more or less independent of other Nightscenes, continues unabated.

MH: I remember a number of personal incidents at the Thai Song Greet, and later at the Blue Fox which would tend to confirm that - I shouldn't take the time to elaborate here..... You've touched on the segment of the Bar Scene spawned by the G.I. 'invasion' and the backpacker night scene, what about the Thai night scene?

RS: Well, I have already stated that the Nightlife Scene in Thailand existed centuries before foreign countries were allowed to send permanent envoys. But since just after WWII, the Thai Nightscene has been much larger than any combined farang scene. In the fifties and sixties, there were dance halls along Charoen Krung Road as typified by the recently extinct Prasithipong, and at the end of the Rachadamnoern Klang Road and several other places. There was the action at the Khlong Toey anchorage, and the brothels in China Town, and the Sois Inthamara before the farang knew about them, and, believe me, that is only the tip of the iceberg.

MH: And what is your take on the Thai element of Bangkok Nightlife today? How does it compare with both the 'Backpacker' Nightscene and the 'International' Night Scene here in Bangkok?

RS: Well, I have seen some of your reporting on the Thai scene, so you know what's out there, but if any of this gets published, perhaps others may be interested. The Thais have taken Night Entertainment to a new level, both in variety of entertainment and sheer volume. This might be hard for the farang of subnormal curiosity and motivation to believe - especially in consideration of the proliferation of 'off-broadway' expat Nitespots as found in, say, Soi 22 and Soi 11. But take a close look at both north and south Sri Nakarin, look at RCA. Look at Rachadapisek, and I don't mean just the Chinese & Japanese oriented steam and creams. Just behind the Poseidon, there is a place called Copa Cabana that has a 250 meter frontage - it has a disco, bars with coyote dancers, karaoke, 'models', massage parlor, restaurant, whatever. You go there for the evening, you won't need to go anywhere else. In fact, it also has rooms, so you could stay there for several days. And this type of Entertainment Emporium is not even unusual - this is the new "Thai Style". Have a look at just the Thai disco scene alone, as found on Rama III, Rama IV at Soi 26, and dozens of other places. Have a look at STATE - no, don't, I meant that figuratively. Cross the river to the Thonburi side of Bangkok and check out the steam and cream massage parlor scene, stretching from the Pin Klao Bridge on down and around Charoensanitwong past the Rama IX Bridge area. Check out the Thonburi side of Rama III outbound to Nakorn Pathom. Check out the smaller Night Entertainment areas just off the main drag going up through Rangsit and up to Nonthaburi. Check out Phra Pradaeng, both sides of the river. If you wanted to expand the Bangkok Eyes website horizons, there is enough Night Entertainment out there to keep you nose to the grindstone 24/7.

MH: I do enjoy doing an out-of-the-way Nitespot location from time to time, but in order to do what I do, I need to focus primarily on expat Night Entertainment Areas within Bangkok city. As you may have read elsewhere, I try to limit myself to four days at the end of every month to do the entire website. Any more than that, and I would lose the focus, as well as cut into my own personal time, my other projects.

RS: On second thought, forget that, you couldn't do it all, and by that I mean no one could. You just couldn't - there's too much. I haven't even mentioned taking the 5 Baht ferries across the river at various points; go and check out the Christmas-lighted bunches of bars before you come to any main road. In fact, there are very few areas you can go in Bangkok at night where you don't see blinking lights or bits of neon over doorways at some Thai karaoke or another, or maybe just a small bar. If you consider the big and small Thai Nitespots combined, the sum total of Expat Night Entertainment wouldn't make a pimple on, well, on the cheek of Thai Night Entertainment.

MH: As the primary 'scope' of Midnight Hour is the Night Entertainment Scene spawned by the US Military presence in the 60's and 70's, or that which we have been referring to, very generally, as the "Expat Scene", you would have seen a lot of change in this arena - new bar areas popping up, bars changing hands and then changing hands again, bars closing down, two small bars becoming big bars.....

RS: Oh, yes, by all means, as chronicled by your website and others, at least for the last decade or more. And Trink before that. But those are really the superficial changes. There has been a paradigm shift in the expat Night Scene - slow but cumulatively massive. It is not something that hits you in the eye, like bigger and brighter neon signs. In fact, if you didn't know the old Bangkok Bar Scene, you wouldn't even know it had changed. And, as you may have supposed, this change has not been, an any way, for the better.

MH: Something tells me we are getting down to it.... Let's take Soi Cowboy as a first, perhaps most typical example....

RS: Don't get me started on Cowboy. No, it's too late, I've already started. Soi Cowboy is probably the best example, or should I say worst example, of how the Night Scene has changed, and is still changing. I recall back in '75, Trink used to refer to some bar 'behind the Shell station on Soi 23'. At that time, that was the only bar there, but it was what a bar should be - a place to drink, and a place to meet and take women out - for a night, as a live in, or as a wife, for whatever.

MH: That was the Gold Label, we have written it up a number of times.

RS: Well, in '75 there was no Nana Plaza, there were only the Patpongs, if you are talking major expat areas. The Golden Mile on Petchburi and the great bars in Khlong Toey were starting to wind down. Needless to say, by 1989, Cowboy was a major Bar Area, that's when the reviled Patpongs allowed the street vendors in to destroy Patpong 1. That left Nana Plaza, which got up and running in the early '80s, and Soi Cowboy. Cowboy was mostly the 'local expat' Bar Area, and Nana was the main tourist area. These are sweeping generalizations, of course, but for the most part, true.

MH: Of course, most of the Cowboy bars were single-shophouse in those days, and a lot less neon, but we recall that Cowboy, back then, was some place you could visit virtually every night and make an interesting evening of it....

RS: And the reason for that was, by definition, it was fun. The Thai Smile had not yet started to disappear, and the bars were where you would go primarily to meet girls, and the drinking was just a part of that.

MH: And now? We already have our own opinions of 'now', but we'd like to hear yours.

RS: Ho boy. As an example of what you are likely to experience in an ever-growing number of Cowboy bars, you are met outside by a sleek girl in hotpants who takes you in and seats you, and leaves. Then, if you are lucky enough to catch the eye a dancer who is not preening in the wall-to-wall mirrors, or outside trying to drag in more dupes, she will come to sit with you, and ask you for a drink. She then asks for a drink for her girlfriend and the mamasan. This is an opt-out situation - if you don't opt out by saying that, no, you only want to buy her a drink, then drinks will come for the girlfriend and the mamasan. If you don't notice, and if the chits end up in your cup, you pay. You then ask the girl out of the bar and ask about the barfine. Well, she is a "coyote" so she doesn't go out with customers - you should have noticed, she was wearing hotpants, not a bikini, dummy! The first time it happened to me, I said to myself, "What is this, some kind of a sick joke?" Today, the owners of these chrome pole and mirror palaces actually believe the customers' idea of having a good time is getting to buy a girl a drink. And if you really want to have a good time, the bar management will let you 'buy' a bucket of ping pong balls - I don't know whether to laugh or cry. To sum it up, you walk out of one of these bars up to 700 baht lighter, and you only had a beer for your time and effort.

MH: And yet a number of these bars continue to exist, and more bars are converting over to this format.

RS: Too true, but the customer base is different - there are very few of the long time resident expats going to Cowboy these days. These are almost exclusively tourists - who have read about 'Soi Cowboy' in their Lonely Planet or their Fodors guide book, or nowadays, the Internet. These people just plainly don't know any better. They don't know the Cowboy that was - the Cowboy that gave Soi Cowboy it's reputation - the reputation that got it into the Lonely Planet in the first place. These chrome pole palaces are, as far as the long term resident is concerned, not even bars - they are 'show venues'. Fake bars.

MH: But not all of Cowboy is that way, there are still a couple of hold-out single-shophouses, and there are a couple of big bars there still operating on the old Cowboy format....

RS: Yep, and let's hope that the hold-out single-shophouse bars continue to hold out forever. The big bars would be the (name withheld), which is the old Gold Label, incidentally. It is mostly a Jap bar now. The other is around the corner, the (name withheld) which is rumored to be heavily invested by Bangkok's Finest. But the sum total of Cowboy hold-outs is less than 50%, and the pressure to sell out is forever increasing.

MH: In spite of all this, we haven't had any Night Entertainment Areas disappear recently, there are no, or very few, empty bars up for lease. Isn't this in fact a positive note? Or at least, not a negative note? After all, the bar owners are looking at the bottom line here.....

RS: OK, no denying money talks, but that's not the question. There are venues located on Soi Cowboy which long term residents would marginally even call 'bars' - as I mentioned, fake bars. They are mere similaricons of A Go-Go bars, not real bars, when compared to venues in the '70's, '80's and '90's. And to add insult to injury, we now have the preposterous situation where Night Entertainment entrepreneurs are offering guided tours - bringing rubes in by the busload to come view the Bangkok Nightlife. The tour guides herd these eager gawkers into the Bar Areas for their first-hand, 45-minute visit - to see what real tourists do there. Then they go inside for their tour-included drink, and rush back to their group-stay hotel, check "Soi Cowboy" off their pre-printed itineraries, and say, "OK! Been there, done that!" Fake tourists visiting fake A Go-Go bars. This is an abomination. It would be high comedy if it was an isolated occurrence, if it weren't an upward trend.

MH: Peering into your crystal ball, where do you see this trend-shift, this 'downer' approach, will take us? It seems to be something that will not likely be reversible any time soon....

RS: Don't need a crystal ball. Thailand tourism has more than doubled from 2004 through the end of last year, from about 11.5 million to 26.5 million people - yes, I looked it up. All things being equal, the A Go-Go style, or old style bars should have experienced an approximate increase of the same order of magnitude. But it, of course, didn't happen. Partly, because choice real estate is too expensive in the inner city, but, hey there are a lot of places it could have gone.

MH: So, from your 'take', what happened? Or should we ask, what didn't?

RS: There has been a large increase in Night Entertainment in Bangkok, but not those 'traditional forms of entertainment that made Bangkok world famous as THE Night Entertainment Capitol of the World. The explosion of the pub scene, the explosion of the bar beer scene - look at Soi 4, and the Hillary bars, and the bars in front of the NEP (Nana Entertainment Plaza). Look at Soi 11. Look at the explosion of massage parlors, where punters can opt for one-stop-shop nights out - I won't elaborate, you get the drift.... You would be hard-pressed not to find a massage parlor in any soi you turn down. But even all this increase is only, say, ten percent of the increase one would expect from even the most pessimistic extrapolations from the tourism stats. So where did the other anticipated 90% go? Have a look at Pattaya, for starters. Over this ten year period, it has become the largest 'Bar Area" on Planet Earth. How would you like to survey the Night Scene down there? You would never finish. Potential bar owners see Bangkok as a loser now, comparatively speaking. Bangkok has evolved, or devolved past and beyond it's reputation - it has none of the "bad boy" attraction of old.

MH: So where to from here? The newer arrivals to the Kingdom claim that we old farts are the ones living off nostalgic recollections that never existed in real life. Their perceptions of Bangkok are different than ours, to be sure, and they still will have people believe that Bangkok is the Night Entertainment Capitol of the world...

RS: Bangkok will never die away entirely as a Night Entertainment destination, but those who never traipsed the waterfront bars with wild, big chested ladies, those who never lived with their girlfriends in the slums of Soi 22, those who were never ravaged by the girls at the Thai Heaven, those who never paddled out into a darkened khlong for a 'boat job', those who never knew Bangkok when it still had it's up-country smile, those who believe we are victims of our own nostalgia and selective memories, are, simply stated, baying at the moon. Let them bay - they don't want to think they missed all the good parts, and they are more than a little defensive of their FNG status. You asked, where to from here? I'm going home to cry in my beer. Seriously? I think I will go on down to Soi 33 for a two hour Thai traditional massage.....

MH: We may run into you a little later, then....




---
---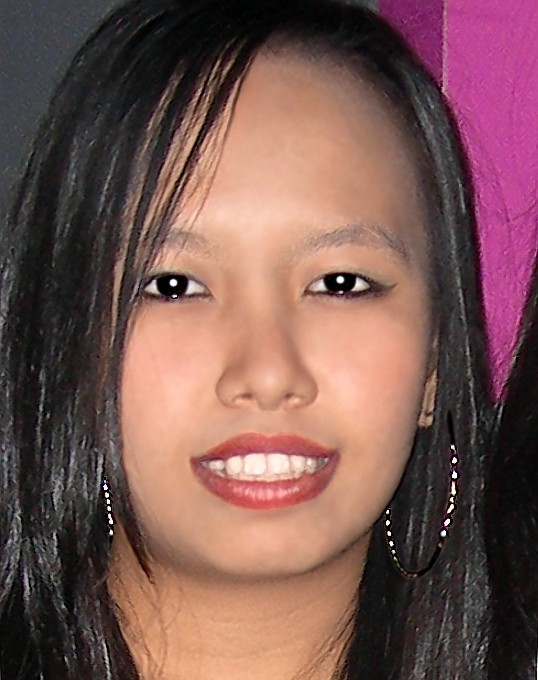 This November the Midnight Hour smile takes her cue from Bangkok's billiards halls....
---
---

TOP

Historical Minutiae Dept.


Soul in the Sixties
GETTING IT ON IN BANGKOK AND UTAPAO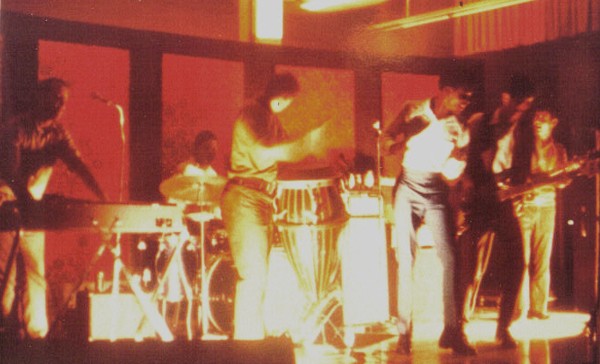 Salt & Pepper Soul band - Thailand in the Sixties
Dear Mr Morledge

I suppose you got quite a few (emails) today already after the Stickman column. The reason for my message is to inquire if you have any soul records from "back in the days", or if you know anyone that might. With the U.S. Military presence there must be good stuff somewhere, and I would be more than happy to dig it up, so to speak. Bangkok even had its own Soul band with Army staff in the late sixties that I know of. I am also curious about .... Cambodian music from the era which seems to have been like Motown...if only I knew...just impossible to find these records...

If you could be of any help I would be really appreciative! Collections you might have or know of, old radio stations (esp. US Army), distributors or warehouses or anything really. The fun is in the hunt...

I hope to hear from you...,

Sven W


Greetings, Sven,

First, you are spot on about getting a lot of email (and traffic) from the Stickman interview. It's been overwhelming.

The "Soul band" you referred to based in Bangkok in the Sixties could be the Salt & Pepper. You would be interested in the Midnight Hour column "Salt & Pepper" which we published in February of 2009. Just click on the link below. You will find two songs from Salt & Pepper that you can download for your personal use.

www.bangkokeyes.com/2009feb01.html <

link>

Regretfully, we do not have any source for the old Cambodian music to which you refer.

Feel free to ask any questions on the Bangkok Scene, and we will do our best to answer.

Best,
Boge Hartman
(for Will Morledge)
---
? ASK US (ALMOST) ANYTHING !
We can answer virtually any (reasonable) question on the Expat Night Entertainment Scene in Bangkok - be it Historical or very recent. Send us an e-mail and we will do our best to answer you soonest.
| | |
| --- | --- |
| 'Boge' Hartman Historical Research | |
* Zootramp Publications

---

Let the November 2014 Follies begin...
BANKOK EYES' Expat Night Scene.


P

ATPONG

1



MAP




In celebration of
Halloween
, the lovely
Public Relations
lady at the
King's Corner
volunteered to have her photo taken at the front of the
A Go-Go
bar.

PATPONG I


Not only did
Lust
newly reopen what used to be the upstairs
Lucifer Disko Tk
, but they brought
Old Nick
himself out to greet arriving
Halloween
customers.....

PATPONG I


P

ATPONG

2



MAP




Last month we carried a photo of the
Spanish Eyes
as an 'archive' shot. It is a good thing we did - this month they have a brand new sign. They had a very successful
Halloween
party this year....

PATPONG 2


The
Black Pagoda
made sure they were well stocked with
ghouls
and
witches
for the
Halloween
celebrations this year. For some reason, we prefer the
witches
.....

PATPONG 2


Our favorite
door-ghoul
keeps busy shepherding customers into the
Electric Blue
, a consistently good bar in the old tradition....

PATPONG 2


The
Top Lite Bar
, which closed once earlier this year for a few months, has closed again. One suspects they won't be answering the bell for the next round. However, should it eventuate, we shall so advise....

PATPONG 2


S

OI

C

OWBOY



MAP




These three
door-witches
are not the
Witches of Eastwick
- on
Halloween
they were kept busy bustling customers into
The Corner
- which, by the way, has rocking live music....

SOI COWBOY


N

ANA

P

LAZA



MAP




It looks like most of the mystery has gone out of what will become of the old
Lone Star Saloon
on the
3rd
floor. It looks like the entire area will be occupied by the
Jail Birdz
. The only remaining mystery is the "
when?
".
Jail Birdz
....
hmmmm
.

NANA PLAZA


S

OI

N

ANA



MAP




At the start-of-business on
Halloween
night, the attractive young ladies from the
G Terminal
were street-side in their best spider web attire encouraging customers inside. They kindly allowed us to take a group photo. When we passed by again they had gone inside, so they apparently found their customers.
G Terminal
is located upstairs in the
Rajah Hotel
outbuilding.

SOI NANA


Last month we noted that
i Darts Metal
was poised to open in the very near future - and that is exactly what has happened. A darts bar. Located in the old
Big Mango
(then
The M Bar
) digs. Welcome them to the nightcircus.

SOI NANA


S

OI

K

ATOEY



MAP




The
Tapas Room Club
consistently has the best
Halloween
decorations.... BTW, were you aware that
Halloween
is the second biggest (commercial) holiday?
Christmas
remains the biggest commercial success. Both are celebrated here by the predominantly
Buddhist
population.

SOI KATOEY - (SILOM SOI 4)


Is this what happens when the proverbial '
Red-headed Step-Child
' grows up? We never did find out what bar he was advertising the
Happy Hour
for.

SOI KATOEY - (SILOM SOI 4)


S

OI

22



MAP




The
Dreamz 22 Discotheque
is a disco located in the
Holiday Inn
- it hasn't really taken off (yet) as a 'hotspot', but we will keep an eye on it.

SOI 22 - (Sukhumvit)


The
Bong Kot Massage
is now the fourth
Night Entertainment Venue
on
Soi Titanium
. Wish them well as they cast their dice against the pitted wall of fate.

SOI 22 - (Sukhumvit)


The
Tantra Massage
is the newest addition to the several massage parlors located in
Soi Lemongrass
(just past the old
Queen's Park Hotel
). Welcome them to the dark side of bright lights, big city.

SOI 22 - (Sukhumvit)


Momiya Jasmine Massage
has closed after only being open since
June
of last year. Neighbors say, 'No customers,' - which is the general worry for many of the establishments on
Soi 22
, now that the
Queen's Park Hotel
has closed.....

SOI 22 - (Sukhumvit)


The
Yardpetch Massage
has closed again, this time for good - the insides have been stripped out - again, 'no customers'. The large 'massage industry' that is
Soi 22
is now much more competitive, what with the considerable drop-off of passing foot traffic.

SOI 22 - (Sukhumvit)


S

OI

D

EAD

A

RTISTS



MAP




No sooner had we put up our last month's edition proclaiming the
Santana
had reopened - and had kept it's old name, than the
Napoleon
(across the street) closed down and moved into the
Santana
. So, at least on a technicality, say good bye to
Santana
, and, well, welcome the
Napoleon
to their new digs. (Owned by the same group.)

SOI DEAD ARTISTS - SOI 33


Last month we heralded the opening of the
Pudao Pretty Love Massage
, and we caught a photo of their new sign. This month, they went wild on signage and have a bright combination of neon that would be hard to miss.

SOI DEAD ARTISTS - SOI 33


Joy
, the on-again, off-again massage (at least mostly massage), located upstairs at the
S 33 Hotel
, is open again, this time at a new location - across the patio, still upstairs at the
S 33
. Welcoming them 'back' seems somehow inappropriate - lets see how they do.....

SOI DEAD ARTISTS - SOI 33


The
Fashion Massage Club
at the back of
Soi Pan Pan
have called 'Time' for the last time - signs down, and the facility restored to it's original condition - you wouldn't even be able to tell where it used to be. Greener pastures, gentlemen - and gentle ladies....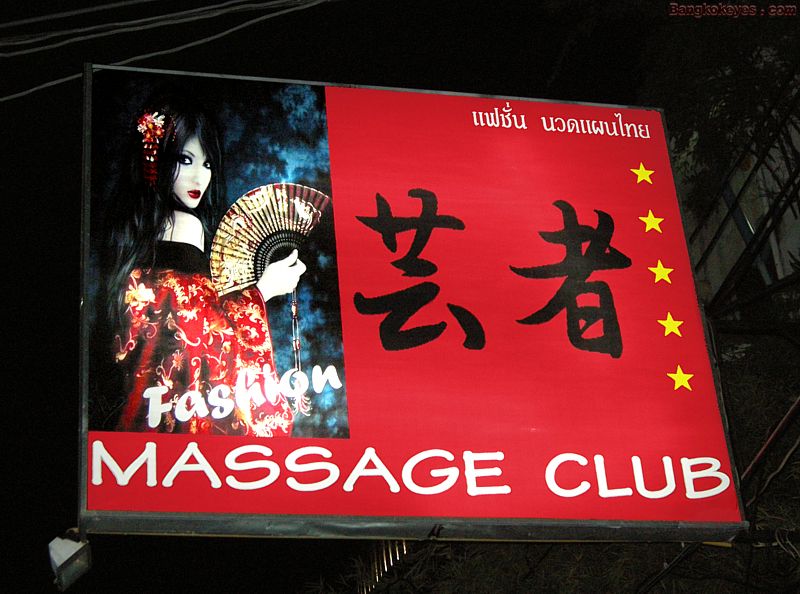 - File photo

SOI DEAD ARTISTS - SOI 33


Sakura
, the
Japanese
establishment that moved into the vacant
Gauguin
digs last month is already closed down.... Either they will be reopening soon, or someone forgot to read their "
Business Plans For Dummies
".......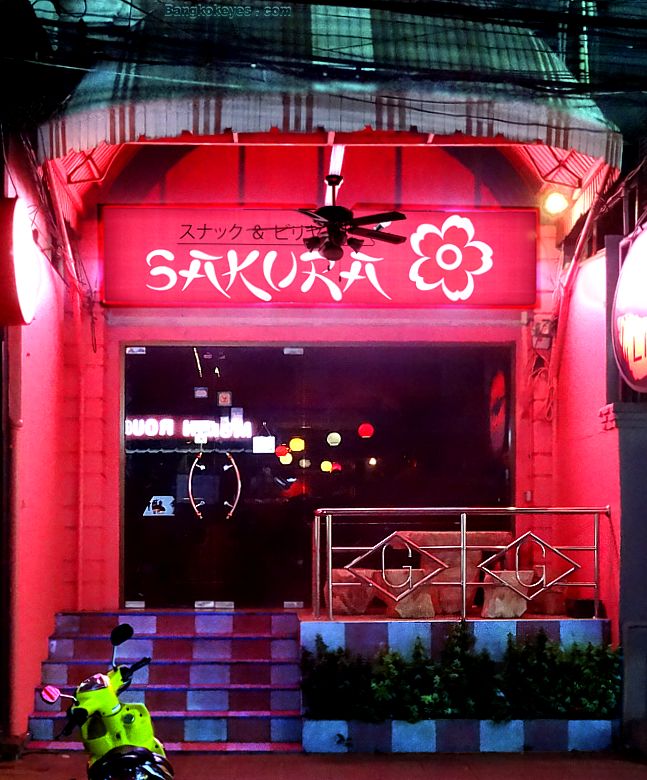 - File photo

SOI DEAD ARTISTS - SOI 33


It looks like the
Ikemen 33 / Japanese Karaoke
have moved next door, above the
Heaven Above
..... Located at the rear of
33 Complex.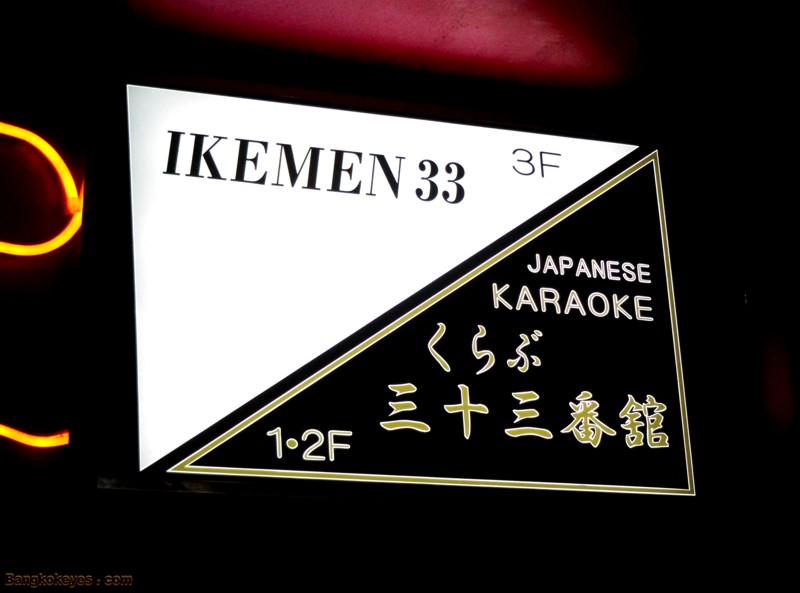 - File photo

SOI DEAD ARTISTS - SOI 33


S

OI

A

MBASSADOR



MAP




The
Wax Late
have re-branded, to an extent - last month
Sugar Club
was just a name on a poster, this month it is incorporated mainstream, front-and-center. Now they are
"Wax Sugar Club"
. Signage looks great. They are also opening earlier - a good move, one never knows when closing times may be truncated again......

SOI AMBASSADOR - SOI 11


For the last couple of months, we saw ongoing renovations at
Q Bar
, while they kept part of the bar operational. This month, a major surprise, the venerable old
Q Bar
is
gone
, as in
GONE
..... In it's place, is the eye-catching
Azura Loungebar
. Play '
Taps
' for the
Q Bar
, but, wow, check out the new
Azura
. Welcome them to the nightcircus.
Door Art Of The Month
Award

The
Azura Loungebar
, while being far-and-away the most attractive new
Nitespot
this month, is also probably one of the most attractive places in
Bangkok
- our conscience would bother us if we didn't award them the
Door Art of The Month
.


SOI DEAD ARTISTS - SOI 33


Wolff's
is the successor to the
Doublewide
, which closed down a couple months ago.
Wolff's
, run by novelist
Harlan Wolff
and his lovely wife, is a live music
Jazz Bar
- with emphasis on jazz going back to the
'50's
. Tastefully decorated - rarely do we see owners take such pride in the interior decorations anymore.... Located next door to
Apoteka
at the deep end of
Soi 11.
Let the good times roll....

SOI AMBASSADOR - SOI 11


On
Halloween
night, the
Ava
had a most frightening apparition beckoning one and all upstairs to quaff the poison of their choosing.....

SOI AMBASSADOR - SOI 11


The
Marshmallow
, not to be outdone, had a selection of ghouls to greet the
Halloween
revellers. We wonder what the ghoul was holding in his/ her right hand... but on the other hand, I suppose we really don't want to know.....

SOI AMBASSADOR - SOI 11


The
Zanzibar
, of all places, had a live music group in for the
Halloween
holiday, and they were beating out a
blues
rendition of
Mustang Sally
when we were passing by. Sounds weird, but they were awesome - don't know how long they will be playing there, however.....

SOI AMBASSADOR - SOI 11


Q

UEEN'S

P

ARK

P

LAZA



MAP




Those high cheekbones and that broad
Isan
smile isn't always as attractive as envisioned..... This old witch was frightening away the stray cats from the
Platinum Beer Bar
on
Halloween
night....

QUEEN'S PARK PLAZA - SOI 22


The
Nice & Easy
reopened, as we hoped it would.... The rock continues to rock.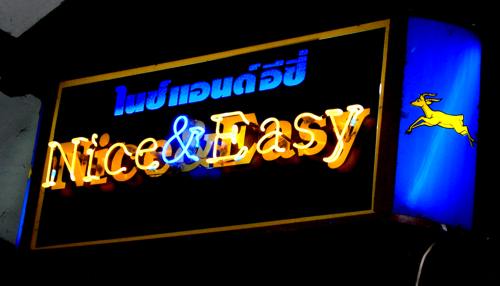 - File photo

QUEEN'S PARK PLAZA - SOI 22


The on-again, off-again
3-Sisters Bar
is "
ON
" this month - as we suspected it would be. Keep hanging in there, ladies...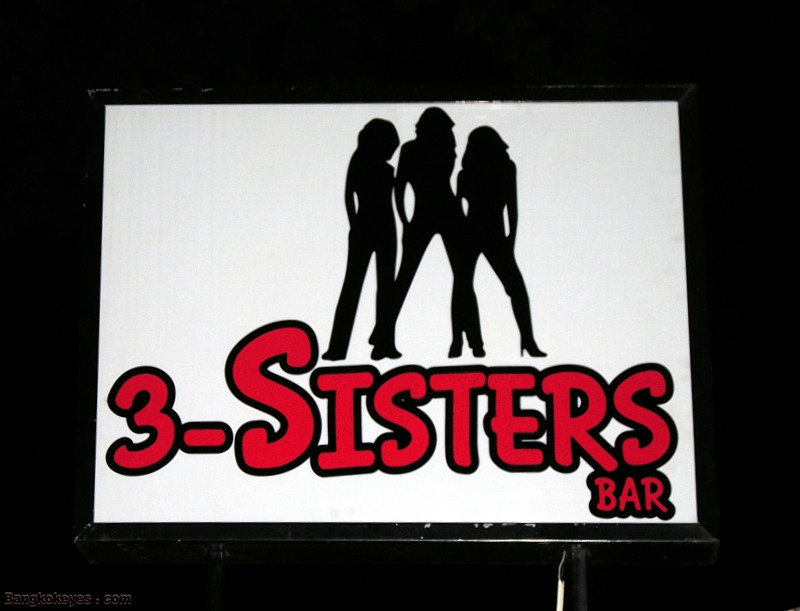 - File photo

QUEEN'S PARK PLAZA - SOI 22


S

OI

E

DEN



MAP




A flower lady prepares her wares in the light of the
Tarntip Massage
sign.

SOI EDEN - Soi 7/1 Sukhumvit


S

OI

T

WILIGHT



MAP




The
Twilight Zone
(
Soi Twilight
) bars are heavy into celebrating
Halloween
night, as exemplified by the below photo taken outside the
Fresh Boy
.

SOI TWILIGHT



---
'

TOP

A PAGE FROM Bangkok's NIGHTSCENE HISTORY....

20

YEARS AGO :



November

With thanks to Cool Text - cooltext.com
Bangkok Eyes goes back in time to see
Who was new - And who was through
in the Expat Night Entertainment world.
How many of these old 'oases'
do you remember ?
Patpong I
*
The
SuperStar
remained closed for the second month, and would reopen the following month. It is still there today.
*
The
Smile Club
(originally
Napoleon
) commenced carrying an additional sign:
'Radio City'
. It would become
Radio City
in the following month. Those digs are currently home to
Lust
.
---
Patpong 2
*
The
Bua Luang Karaoke
opened on the
4th
floor of the stairwell opposite
Foodland
. There is no
Nitespot
currently at that location.
*
The
Family Bar
(on
Soi Bookstore
) closed, and reopened as
Flower Blue
. There is no
Nitespot
currently at that
2nd
floor location.
---
Soi Cowboy
*
No changes that month / year.
---
Nana Plaza
*
The
Voodoo
opened newly in real estate not previously used as a
Nitespot
. Currently home to the new
Underground
.
---
Soi Katoey
(Silom Soi 4)
*
No changes that month / year.
---
Buckskin Joe Village
(~ March 1988 - 9 June 2006)
(Also known -originally- as Tobacco Road or Soi Rot Fai, and later as Machim [Thai] and Soi Zero)

*
No changes that month / year.
---
---
Sin
City
2

A Film
Review
Click Here
! ORDER NOW !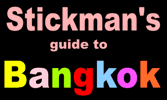 CLICK-

Bangkok Nightlife