SOI's IN TRANSITION



MONTHLY
COLUMN

Bangkok,


01 December 2014


William R. Morledge



December's Nightlife News
Bangkok's Bars - 20 Years Ago
A Smile in the Land of Smiles.
Ask Us: Cracked Crackdown Rumor.....
Graffiti -BKK's Midnite Vandals - #107

---

t had been a while since we had 'hit the bars' in
Soi Sarasin
and
Soi Lang Suan
. And we assumed there would be changes; some of the old places gone, some new places popping up. However what we did not expect was that
everything
had changed - absolutely none of the old haunts still existed, and that included bars and restaurants. Where did the 'other'
Pan Pan Italian Restaurant
go? Where did the
Whole Earth
go? Where was the blues bar? And mainly, where is the
Brown Sugar
? (Actually, it did go somewhere - but that's another story.)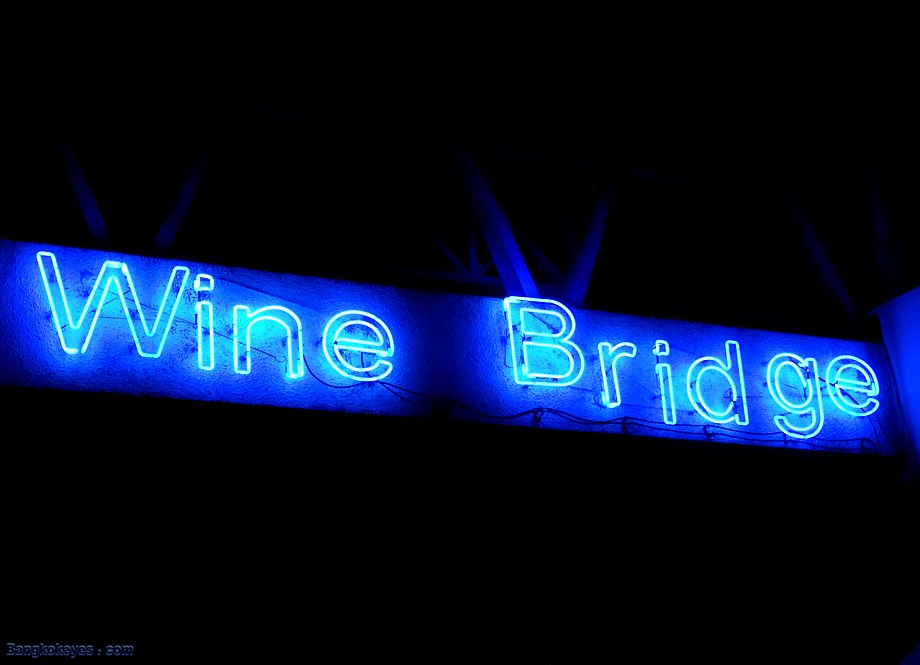 The Wine Bridge doesn't look like much from the street. In fact it looks like nothing more than this neon sign stuck on a small overhead footbridge. But don't be fooled - walk inside, and find a large Night Entertainment facility of several separate areas, to include an outside (under roof) area. Live music on the weekends.
If we can steal a line from Heracleitus, you cannot step twice into the same river. And that couldn't be more true than on Sois Sarasin and Lang Suan. Not only are all the entertainment and eating establishments gone (and sometimes replaced with other venues) but the entire area has more acreage under renovation than any area I can recall in Bangkok history. This is not superlative-laced ranting; there are several large tracts of land under redevelopment on both sois. I'm not talking about the occasional vacant lot - take for example a single development on Lang Suan that stretches from Soi 3 to Soi 6, having closed off Sois 4 and 5 entirely (have a look at the map below). And this is only one of the several projects. Most of Soi Sarasin from Lang Suan to Witthayu Road is now demolished and under redevelopment. This is big-time.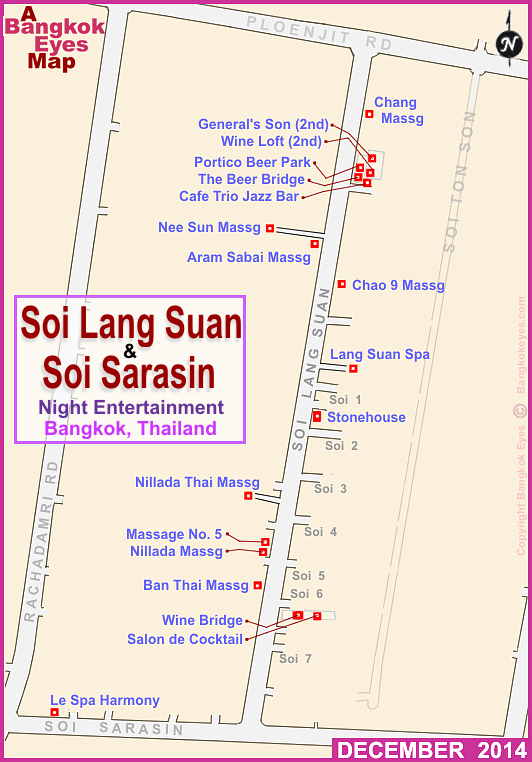 Were it not for the street sign, I wouldn't have known the Soi Lang Suan of recent memory. And once the redevelopment-in-progress is completed, I will not be able to recognize it yet again. 'The only constant is change' : truer words never spoken. Nevertheless, in spite of the vast ongoing redevelopment, there is a Nitescene to be found, however limited.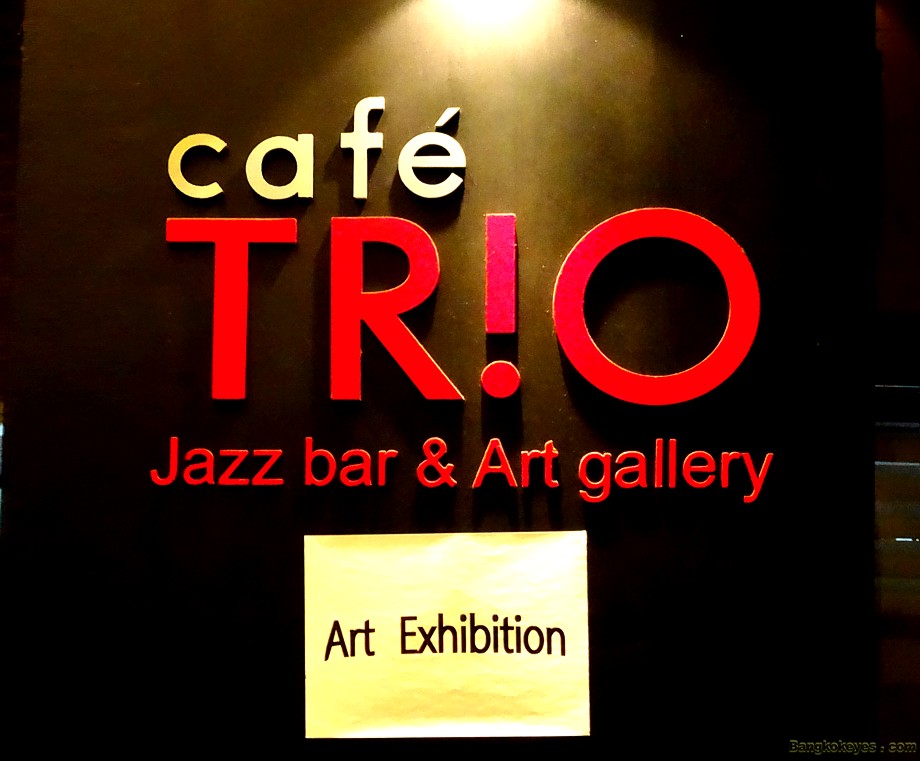 Yes, the Trio is a Jazz Bar, and yes, it really has art exhibitions. Worth exploring.
It is immediately apparent that the Nightscene development on these two sois, such as it is, is the same as can be found in virtually every other part of Bangkok. If the City of Bangkok were to be a participant in the O.T.O.P. Program*, it's most ubiquitous product would be 'Massage Parlors'. In the Bangkok Nightlife world, the 'Massage Parlor' is definitely the flavor of the decade. There is virtually no main road or adjacent soi in Bangkok that you might twist and turn onto, or out of, that doesn't have a smattering of massage parlors.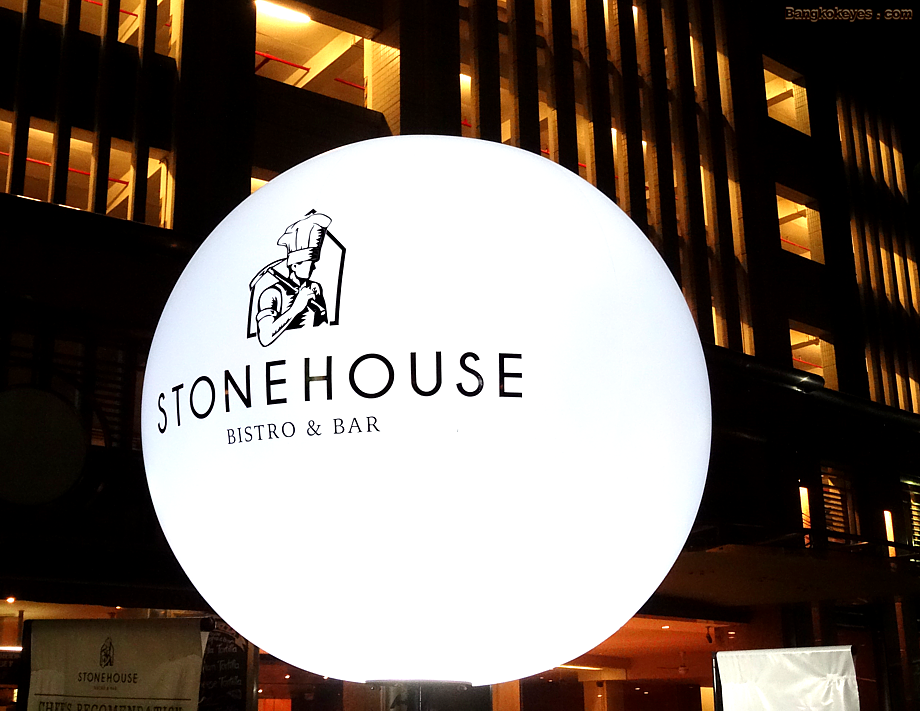 The Stonehouse Bistro & Bar is the closest thing to a mixed Nitespot (Farang and Thai) to be found on Soi Lang Suan. A large facility with adequate seating, both inside and out. The larger percentage of Farang visitors to Soi Lang Suan appear to enjoy this pub atmosphere.
But this isn't meant to imply that Soi Lang Suan is only massage parlors. The beginnings of an Night Entertainment plaza can be found at The Portico, which currently has 5 Nitespots and a couple of decent restaurants. Further on down the soi, the Stonehouse can be found, which caters to all, and further yet on down the soi, the Wine Bridge sets the mark for 'full entertainment'.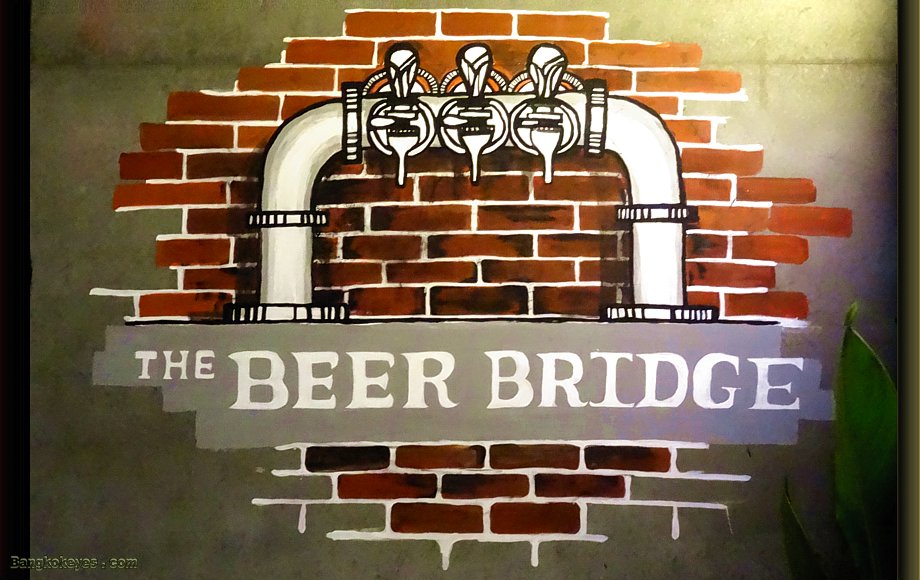 The question which we, as a matter of course, ask : Are Soi Sarasin & Soi Lang Suan now, or will they be in the foreseeable future, viable Expat Night Entertainment Area(s)? The immediate answer is - these two sois, singly or in combination, currently do not have the 'critical mass' - they currently do not have the 'draw-power' to bring crowds and keep them there for an evening. And, currently, the existing Nitespots are not contiguously located, too spread out to qualify as a single Nitespot Area. But, never say never. In another year or two, when the massive construction projects are completed, we are likely to see, first, new restaurants opening, then (in order) Bistro-bars, Music (jazz / blues) bars, and perhaps a karaoke or two, much as what we currently see happening on Soi 11 Sukhumvit.
We will be keeping a closer eye on Soi Sarasin and Soi Lang Suan in the future, but I suspect, because of the widespread ongoing construction, we are about two years out from seeing a rush to open new Nitespots. When that happens, we shall mount another serious survey.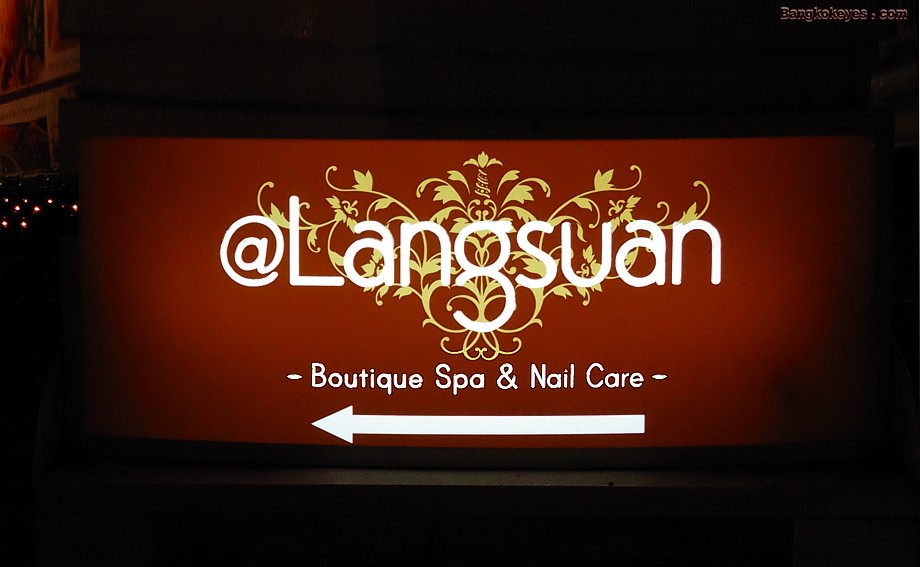 The @ Langsuan Boutique Spa is set off the main soi but is easy to locate. Geared mostly to female custom, but presumably open to all.


* O.T.O.P. Program - a Thaksin initiative. - A program, One Tambon, One Product, where the Government provides assistance to each Tambon, or Subdistrict in Thailand to promote commercially it's most important product. This still-struggling program never really took off - firstly, villagers were already 'promoting' their products to the best of their ability, and the government helping them to market didn't equate to the average villager, all of a sudden, selling more. Secondly, there are way too many Tambons, too many trying to sell the same wares - there are only so many wicker baskets, only so many umbrellas, only so many dried banana fritters you are going to be able to sell in a given period, and it doesn't matter how many commercial fairs you organize to try to change that.
---
---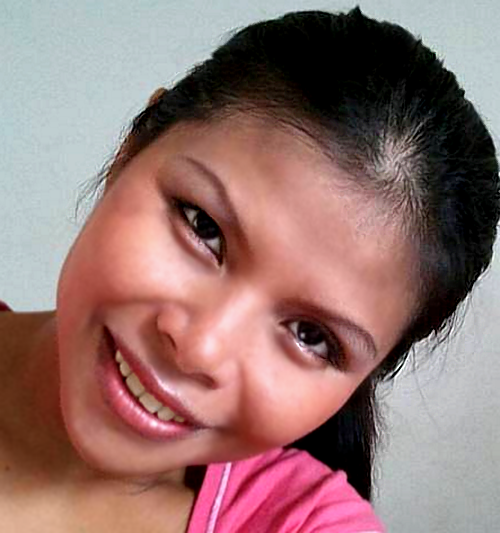 December's smile is Isan born-and-bred.
---
---

TOP

Historical Minutiae Dept.


Massage Parlors Closed ?
CRACKS IN THE CRACKDOWN RUMOR
Hey Boge,

I got several emails and SMS from friends about a general crackdown on "naughty" massage parlors in the Sukhumvit area. I traced these back to a website called 'Stickboy.com". The problem is I know people who own properties on some of the sois they mentioned (Soi 22, Soi 24 Soi 33, and Soi 26), and I was visiting on Soi 33 the night of the supposed 'crackdown'. My friends and I are not aware of this supposed crackdown, can you shed any light on this? How can a website spread a report like this?

B in B



Greetings, B in B,

We also got a number of queries on this - in addition to yours. We were not previously aware of any website called Stickboy.com, but it in fact exists. We at Midnight Hour tend to encourage any and all new websites on the Bangkok Nitescene, and will promote those with original output.

However, it behooves all Bangkok Nightlife websites to insure accuracy in their reporting, otherwise, they will lose credibility with their readership public and their advertisers. And in this instance, they might also lose credibility with the powers-that-be, which would be a most undesirable 'unforeseen consequence'... We should note that when we first heard this rumor, we went to a number of venues on Soi 22 and Soi 33, and to a person, we could not find a single individual, to include massage parlor staff, who knew anything about this reported crackdown. We later checked at other locations - and found no, zero, substantiation. It is indeed possible that there were some combined police-army checks at some venues somewhere, and the rumor-mill blew the story out of proportion, but we do not know this to be true, either. Suffice it to say, things in the Sukhumvit world of massage parlors, are, and were unchanged.

As a matter of historical reference, we used to publish Night Entertainment rumors - as rumors, under the kicker "Where There's Smoke, There's Mirrors" and rate them as bogus, or factual. 'Bogus' won more than 90 percent of the time. The reason we stopped this feature was people were reading our rumors, not too carefully, and later writing in to us demanding to know why they didn't come true. WTF? Go figger....

Best,
Boge Hartman


---
? ASK US (ALMOST) ANYTHING !
We can answer virtually any (reasonable) question on the Expat Night Entertainment Scene in Bangkok - be it Historical or very recent. Send us an e-mail and we will do our best to answer you soonest.
| | |
| --- | --- |
| 'Boge' Hartman Historical Research | |
* Zootramp Publications

---

Let the December 2014 Follies begin...
BANKOK EYES' Expat Night Scene.


P

ATPONG

1



MAP




The
Thigh Bar
has added a small counter bar streetside for those who would like to sit outside and watch the zoo. Let it roll on....

PATPONG I


P

ATPONG

2



MAP




Likewise, the
Black Pagoda
has opened what must be the smallest bar beer in
Thailand
- just downstairs, at street level, from their main
A Go-Go
venue on the
3rd
floor. Said
A Go-Go
continues to rock 'n roll
status quo ante
.

PATPONG 2


This past month
The Strip A Go-Go
had a
Bikini Beach Party
.
The Strip
regularly has various new 'themes' to keep things all the more interesting. May they keep on keeping on.

PATPONG 2


The
Top Light Bar
, closed briefly last month, has reopened. We were told that they closed last month for a few days because no one came to open the bar. Huh? Welcome back, just the same.......

PATPONG 2


S

OI

C

OWBOY



MAP




The Dollhouse,
looking very much the worse for wear, is not falling apart - they are in the throes of a major renovation - which should be finished this time next month. We note they aren't closed, or even slowing down inside - the chrome poles continue to be well staffed.

SOI COWBOY


N

ANA

P

LAZA



MAP




The talk-on-the-block about the
Bubbles
replacing the
Wild Thing
appears to be at least mostly true - however it doesn't look like the
Wild Thing
is entirely out of the picture (so to speak). We wish
Bubbles
fame and fortune as they join the neon circus.
Door Art Of The Month
Award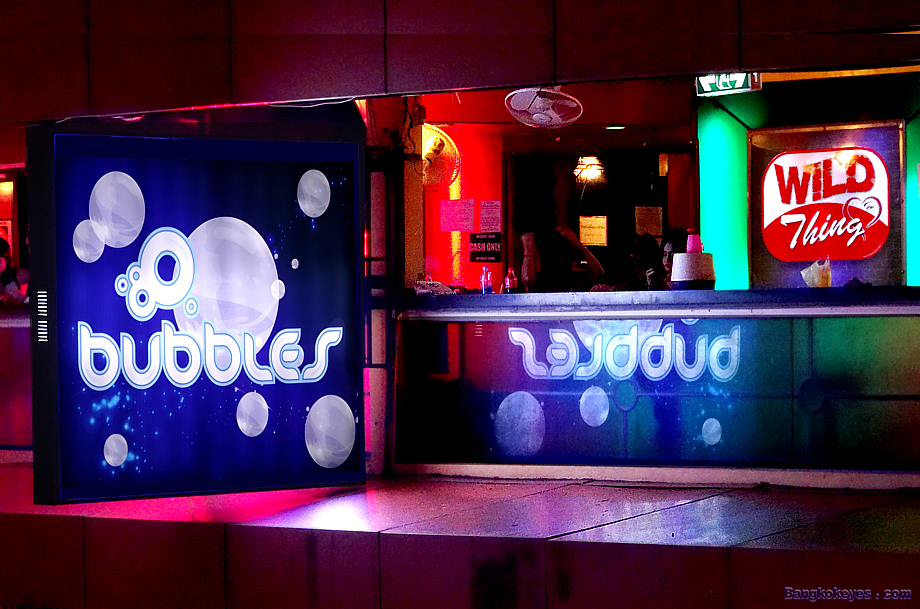 The
Bubbles A Go-Go
neon provides an attractive addition to the
NEP
- reflections included. The best new signage we've seen anywhere this last month. We anticipate more of the same to come, once they drop the rest of the
Wild Thing
neon - and at that time, we shall be back with our cameras poised...


NANA PLAZA


The
2nd
floor
Straps
may just be the best single-shophouse
A Go-Go
in
Bangkok
- a well run bar -in the old style- with an attractive and energetic staff. Say no more.....

NANA PLAZA


Suckers
now have their permanent neon up - and looking fine. Actually, it's just like their previous temporary sign, except it doesn't have the old
Lollipop
sign showing through anymore. May they continue the romp.

NANA PLAZA


S

OI

N

ANA



MAP




Last month we noted that
i Darts Metal
officially opened their doors to the public. This month they have added some prominent new neon - easily seen from the streetside passers-by. Located in
Soi Big Mango
.....

SOI NANA


Last month the
Swan Massage & Salon
(sometimes written '
Salon & Massage
)', took over the reins from
Sabai @ 4 Massage
. May they continue to slip and slide.

SOI NANA


After a brief closure last month, the
Guess Bar
is open, business as usual. Actually there is no guessing, this is a transgender bar.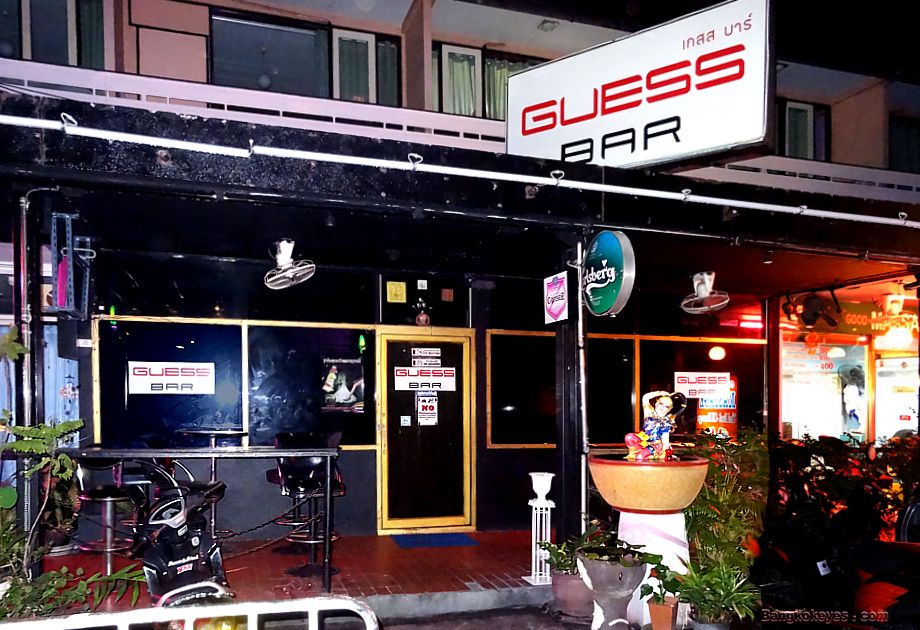 - File photo

SOI NANA


S

OI

K

ATOEY



MAP




No,
The Balcony
is not taking on a new partner - they are now, however, featuring
Mont Clair
wines from
South Africa
.....

SOI KATOEY - (SILOM SOI 4)


S

OI

22



MAP




The
Polaris
, a long running
Japanese
lounge, has cashed in their chips. The sign on the front says the premises are up for lease. May they find satisfaction further on down the road.

SOI 22 - (Sukhumvit)


We noted a couple of months ago, with some trepidation, that the
Wine Depot
, had newly opened across the street from the now-closed (and renovating)
Imperial Queen's Park Hotel
. Our fear was that their timing was bad - with the closing of the hotel, they would have greatly reduced passing foot-traffic. Well, we were wrong - not only do they keep customers coming through the doors, but they have opened an additional lounge-room at the side, making for a spacious
Nitespot.
May the force be with them.

SOI 22 - (Sukhumvit)


Waew's Massage
has taken over the reins from the now defunct
Momiya Massage
. Located deep in the
Soi
, across the street from the
New Cowboy Bar
. Welcome them to the sharkpool.

SOI 22 - (Sukhumvit)


Lotus Massage
has closed after a fairly good run. Greener pastures, ladies.....

SOI 22 - (Sukhumvit)


What's with the
Be Rich Massage
? On the one hand, we have never seen them open, on the other hand they have a sign up for hiring new masseuses. Located in
Soi Lemongrass
. We'll keep an eyeball peeled, and get back atcha.

SOI 22 - (Sukhumvit)


The
Momiya Jasmine
massage has reopened after a brief closure last month. Welcome them back to the slippery slope.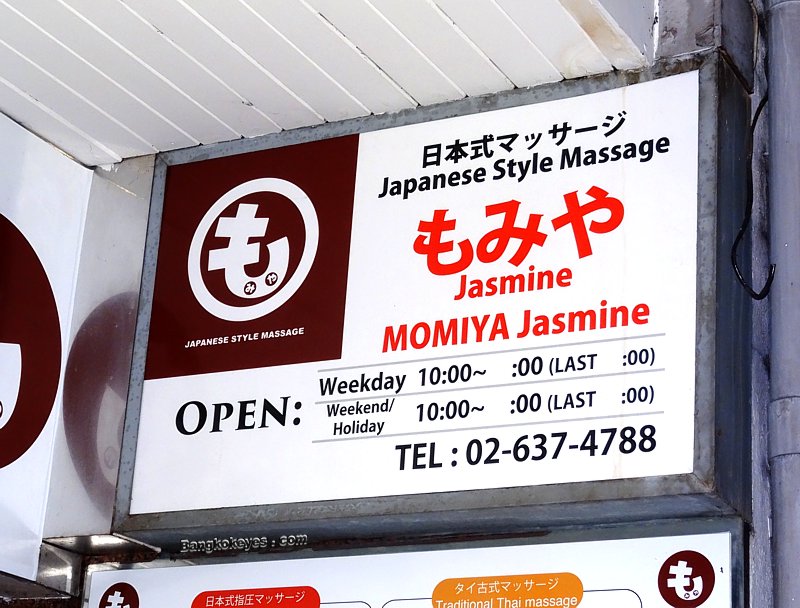 - File photo

SOI 22 - (Sukhumvit)


The
Rin Massage
has thrown in the towel - they will not be coming out for the next round. (They were) located in
Soi Lemongrass
.

SOI 22 - (Sukhumvit)


S

OI

D

EAD

A

RTISTS



MAP




The new
Tomoe Club
(
Japanese
-oriented) has taken over from the previous occupants, the
Mirai Club
(
Japanese
-oriented). Located deep in the
Soi
, in the small sub-soi on your left. Welcome them to partytown.

SOI DEAD ARTISTS - SOI 33


The
Honey In Soi 33
has opened in the now closed down
Massage Club Mitu
. Welcome them to fun city. Some are saying their sign is just a tad
too
explicit... ...in the immortal words of
Mukda
, 'Shake it, don't break it."

SOI DEAD ARTISTS - SOI 33


The
Sakura
, located in the old
Gauguin
digs, never did reopen, however, it did paint "
Snack
" on the window - so there are signs of life, after all. And at least we know what type of
Nitespot
it may someday become. We will put them on the vigil, and report again next time around.

SOI DEAD ARTISTS - SOI 33


No. 1 Massage
, was closed briefly at the end of last month, however should be reopening right about......
now
.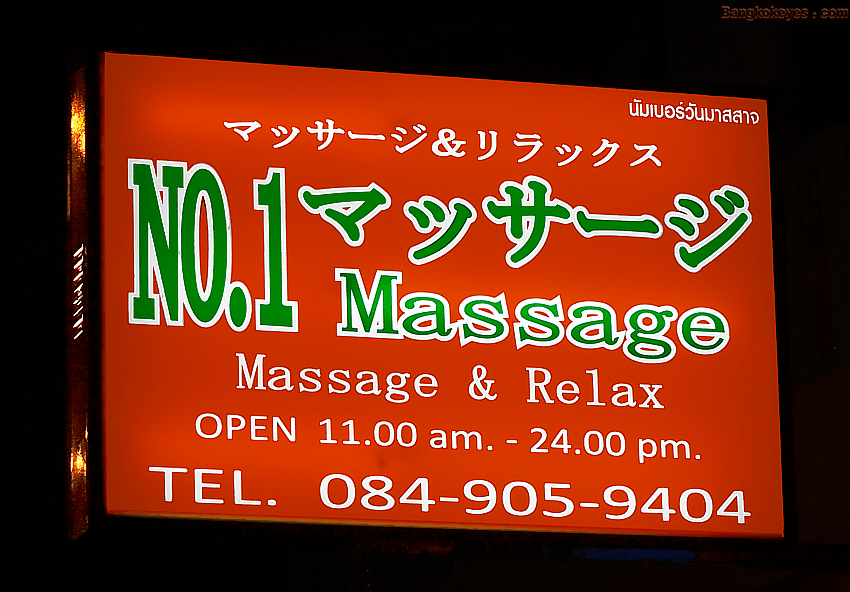 - File photo

SOI DEAD ARTISTS - SOI 33


S

OI

A

MBASSADOR



MAP




The
Foot Joy Massage
has been a
Soi Ambassador
stalwart since before our original survey in
June 2007
. May they long endure. This photo for our archives.

SOI AMBASSADOR - SOI 11


Q

UEEN'S

P

ARK

P

LAZA



MAP




The long-standing
Rumour's Bar
has nailed up some new neon. Hard to miss, and looking good. May they continue the long march.

QUEEN'S PARK PLAZA - SOI 22


S

OI

E

DEN



MAP




A for-the-archives photo of
Dr. BJ's Salon
. While 'prostitution' is at least technically on the books as a 'no-no', apparently some variations-on-the-theme are not, as may be implied when the sweet young lady in librarian glasses demurely mentions to passing foot-traffic, "
Browjob, Kha
."

SOI EDEN - Soi 7/1 Sukhumvit


S

OI

T

WILIGHT



MAP




The
Hot Male
and the
Hot Male 2
have combined. All is now just
Hot Male
. From the signage, one need not guess that this is a gay bar.

SOI TWILIGHT



---
'

TOP

A PAGE FROM Bangkok's NIGHTSCENE HISTORY....

20

YEARS AGO :



December

With thanks to Cool Text - cooltext.com
Bangkok Eyes goes back in time to see
Who was new - And who was through
in the Expat Night Entertainment world.
How many of these old 'oases'
do you remember ?
Patpong I
*
The
SuperStar
reopened that month after a two-month closure. It is still there today.
*
The
Smile Club
(originally
Napoleon
) officially became
'Radio City'
. Currently home to
Lust A Go-Go
.
---
Patpong 2
*
The
Body Talk Thai Traditional Massage
located on the
4th
floor in the stairwell opposite
Foodland
, became the
Body Talk Cafe Bar
. There is no
Nitespot
currently at that location.
---
Soi Cowboy
*
No changes that month / year.
---
Nana Plaza
*
No changes that month / year.
---
Soi Katoey
(Silom Soi 4)
*
No changes that month / year.
---
Buckskin Joe Village
(~ March 1988 - 9 June 2006)
(Also known -originally- as Tobacco Road or Soi Rot Fai, and later as Machim [Thai] and Soi Zero)

*
The
Cedar Bar
beer bar closed down permanently.
---
---
Sin
City
2

A Film
Review
Click Here
! ORDER NOW !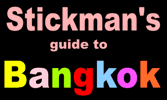 CLICK-

Bangkok Nightlife