MONTHLY
COLUMN

Bangkok,


01 June 2015


William R. Morledge



June's Nightlife News
Bangkok's Bars - 20 Years Ago
A Smile in the Land of Smiles.
Ask Us: Cutting a Foreign Rug
Graffiti -BKK's Midnite Vandals - #111

---
Ten years ago, the area encompassing Rachadapisek Sois 4, 6 and 8 were the 'hotspot' of Thai Nightlife, and the farang population was just becoming aware that they, too, were welcome - as they were at RCA. The area was known to the foreigners as "Hollywood" or "Hollywood on Rachada", and most of the farang Nightcrawlers had spent at least one night checking out 'the scene' there.

The combined area had
33 Nitespots
between them, and there was every indication that the area would continue to grow. On
October of 2006
the
Midnite Hour
decided we shouldn't wait, we should survey the areas before they reached their peak in order to have point-in-time historical coverage of the "
Hollywood scene
" in the event it took off as a major Expat destination. See our article,
Rachada's Other Face
<

link>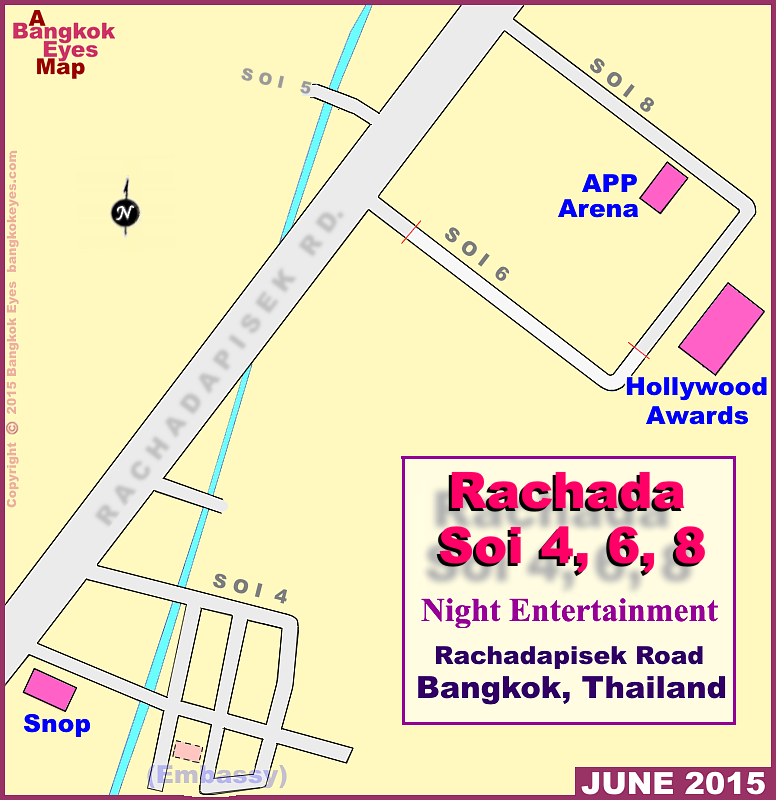 Well, as they say, that was then, this is now. Through a series of developments and incidents, the Hollywood scene at Rachada has all but disappeared. The major disruption to the Night Entertainment Area was the construction of the Thailand Cultural Center, the subway station of that name, and all the ancillary structures associated with it. Most of the land was simply usurped. The second, and also critical reason was - we were seeing almost every month where Thai Nitespots were being busted for drugs, oftentimes the Police Chief responsible for suppressing drugs in these areas was "reassigned to an inactive post" for his purposeful, or otherwise, negligence. The third reason was the gradual decentralization of the Thai Entertainment Industry. The smart-places-to-be, the "in" places were appearing elsewhere throughout Bangkok, from Sri Nakarin Road to Rama III and elsewhere - and the 'flavor of the moment' would continue to change every few months.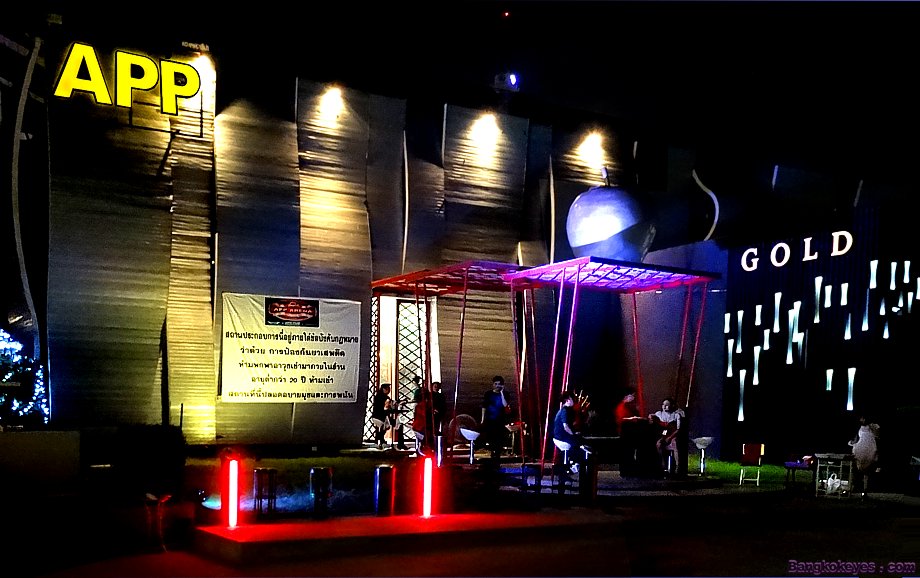 The Hollywood Awards (which we all knew as just Hollywood) is still there at the back of Soi 8, and only has any business to speak of on Friday and Saturday nights. There is one other venue on that Soi, new since our last survey, called APP Arena, which likewise has virtually no customers except on the weekends. I learned from the taxi drivers that the APP is a gay pickup venue. That's a total of three Nitespots on two Sois. Soi 6 is closed off to the public - see Map above..

Our revisit to the "Hollywood at Rachada" was enlightening, to say the least. If not already evident from the above, the place was literally a ghost town. In summation, there were three Nightspot Venues currently open for business, while virtually all the other structures were abandoned, or already gone. SNOP, one of the old original Nitespots, was the only Night Entertainment Venue open on Rachada Soi 4. Once you cross the bridge over the khlong, there is virtually nothing at the rear but market stalls.

The decimation of what was once a vibrant Night Entertainment Area was a surprise, but, nevertheless, the only conclusion that can be drawn at this late date, is that the lands on Rachadapisek Road are just too valuable for single and two storey bars. That which is not already redeveloped (the Thai Cultural Center and MRT) will soon be. ...And need it be said, if you were one of those with great memories of the "Hollywood" scene a decade or so ago, don't go back. Or to say it another way, 'you can't go back'.


---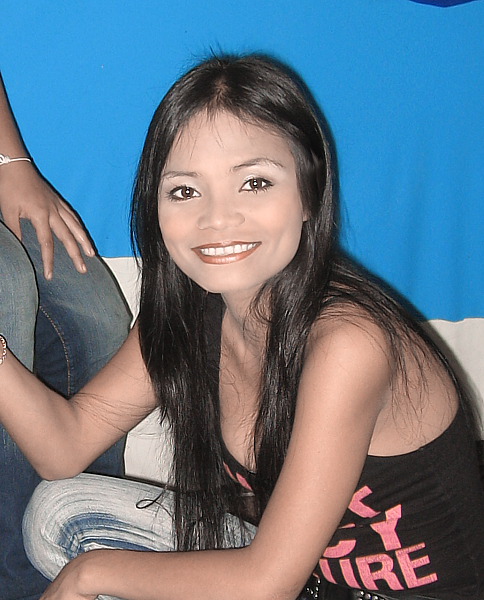 June's Thai Smile could possibly be the widest in the land....
---
---
The new Vincent Calvino novel by Christopher G Moore has just been released. It may be ordered on line.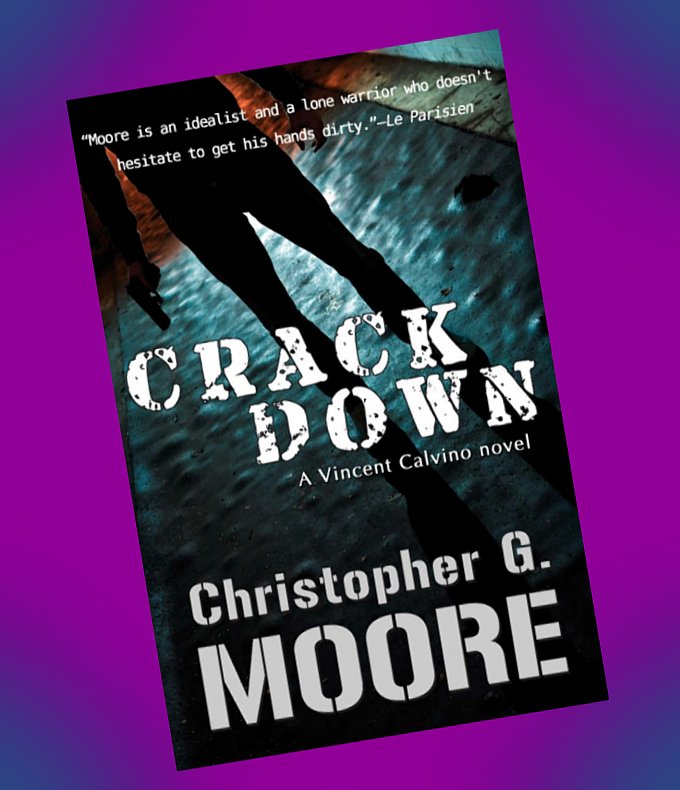 ---
---

Historical Minutiae Dept.


Cutting a Foreign Rug
SET AND SETTING....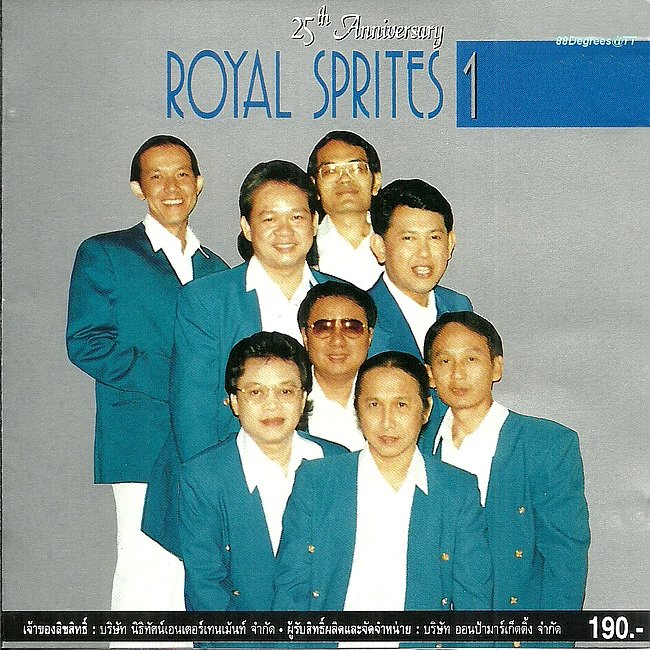 Hi,

My father passed away 7 years ago, and I have recently been going through some papers which I had never gotten round to. During the late 70's and early 80's my father used to spend a few months of the year working in Hong Kong - well that is what he told my mother anyway !

To cut a long story short, it would appear that he was actually spending a lot of time in Bangkok, and I have just found a cutting from the Bangkok Post advertising the "Cosmic Club" at the First Hotel, 2 Petchburi Road. In the advert is a large photo of a dance floor, with a man dressed in a suit dancing with a young Thai lady, and yes, you guessed it ... the man is my father !! WTF. The advert also has the wording "Royal Sprites Relation Shampoo" inviting you and your parties to dancing on our Stainless floor nightly from 8pm etc etc.

My question is ... would anyone know, or remember this Cosmic Club, and what type of club was it ? Was it a pick up joint full of FL's (freelancers), like an old-day CM2 or Spazo, or a small hotel club with a dance floor, mainly for guests etc. Any details about this Cosmic Club would be of great interest to me !!

Thanks in anticipation.

Kind Regards
CS
Greetings, CS,

While we are quite familiar with the 'action' during the '70's and '80's on Petchburi Road, and while we have visited the First Hotel on a number of occasions, we do not recall specifically the Cosmic Club. (Any of our readers please corrrect us.) Had the Cosmic Club been any other than a venue for mostly hotel guests, the word would have got around to those of us who were on the streets virtually every night.

What with the new wing, demolition and renovations, there is now no trace as to where the Cosmic Club might have once been. But certainly, the Cosmic Club could not have been a popular freelancer destination - those of us on the streets would have heard about it through the bamboo telegraph had it been so. (The freelancers from the Thermae, Nana, and Grace would have known, and included it on their 'circuit'. Also the taxi drivers would have known, and would have been readily touting it.) Whatever it was, it was a minor player.

A matter of set and setting. Your father obviously was coming to Bangkok on-the-quiet for a reason, and that reason would not likely have been for work, or to relax at the First Hotel and to have a quiet dance at the club downstairs. He could have brought in someone from outside the hotel, or even have met one of the few ladies that possibly did frequent the First Hotel. Or he could have met a clerk at Robinsons that he kept on the side as a 'regular', ...any number of possibilities. He did have the presence of mind to be terribly discreet, which counts for everything.

As for "Royal Sprites Relation Shampoo", we haven't the foggiest ..... unless the group we Googled was the same Thai group "Royal Sprites" that played at the First Hotel. Timeframes look compatible. Could be a lead..... Should we hear further on any of the above, we shall let you know. (See pic above and https://www.tt-torrent.com/details.php?id=441408 ).

Best,
Boge


---
? ASK US (ALMOST) ANYTHING !
We can answer virtually any (reasonable) question on the Expat Night Entertainment Scene in Bangkok - be it Historical or very recent. Send us an e-mail and we will do our best to answer you soonest.
| | |
| --- | --- |
| 'Boge' Hartman Historical Research | |
* Zootramp Publications

---

Let the June 2015 Follies begin...
BANKOK EYES' Expat Night Scene.


P

ATPONG

1



MAP




A pic of the long-standing
Gold Finger's
- one of the oldest
A Go-Go
bars on
Patpong I.
One for the archives.

PATPONG I


P

ATPONG

2



MAP



Door Art Of The Month
Award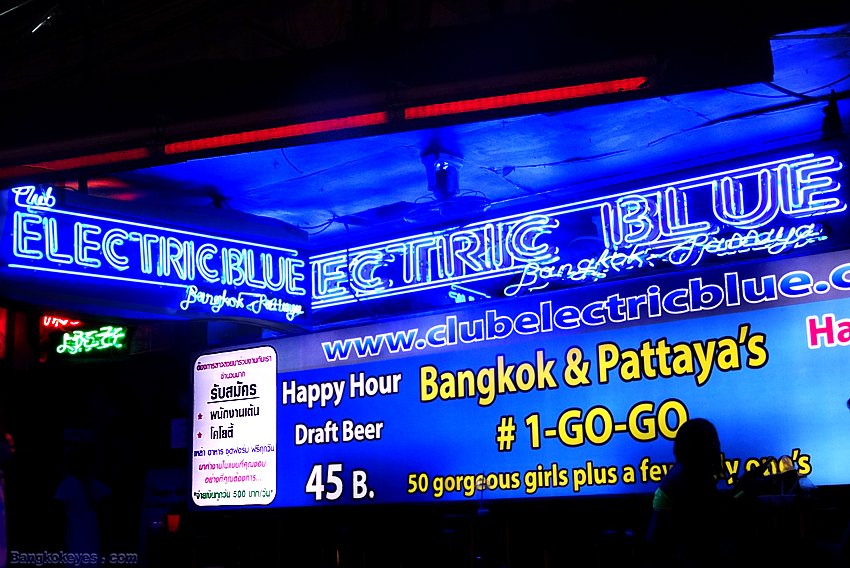 The
Club Electric Blue
has gone all out - inside and out. In addition to the new, and spectacular neon, they have done everything from reupholstering the benches to sprucing up the bathrooms. While not normally within our purview, the
Pattaya Electric Blue
will be reopening in the very near future - in the old
Baby Doll
digs. Gotta let 'em roll on....


PATPONG 2


The
Barcelona Cocktail Lounge
located up on
The Ramp
has reopened after a brief closure. Welcome them back to the dogfight.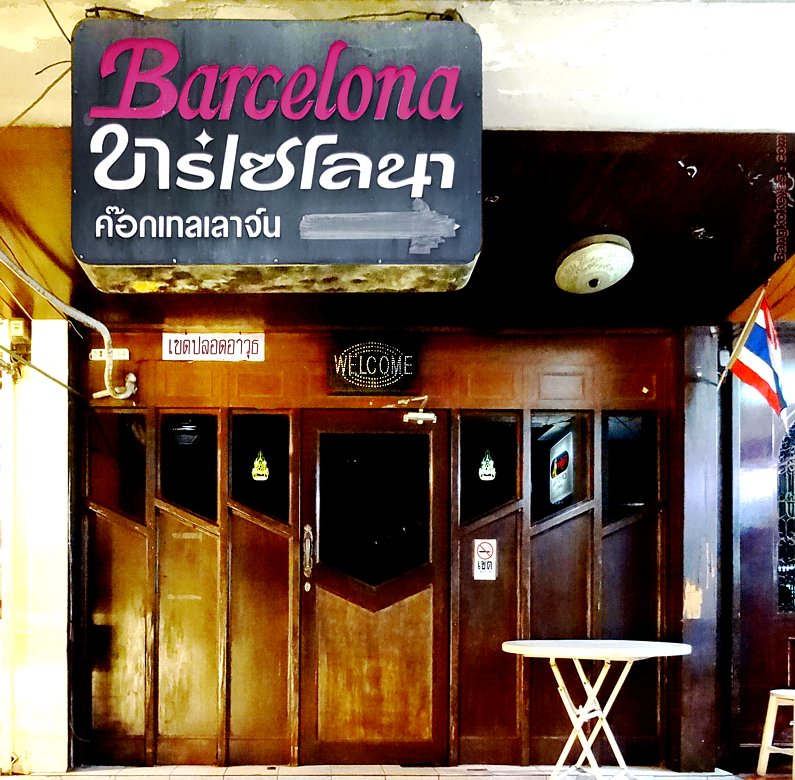 - File photo

PATPONG 2


Padlocks-on-the-deck and dark shadows were all that greeted passers-by and would-be customers at the
Glamour Girls
the other night. They have closed down before - for various reasons, let's see if they pop back up out of their crypt yet again.... In the meantime, we'll be expunging them from the rolls...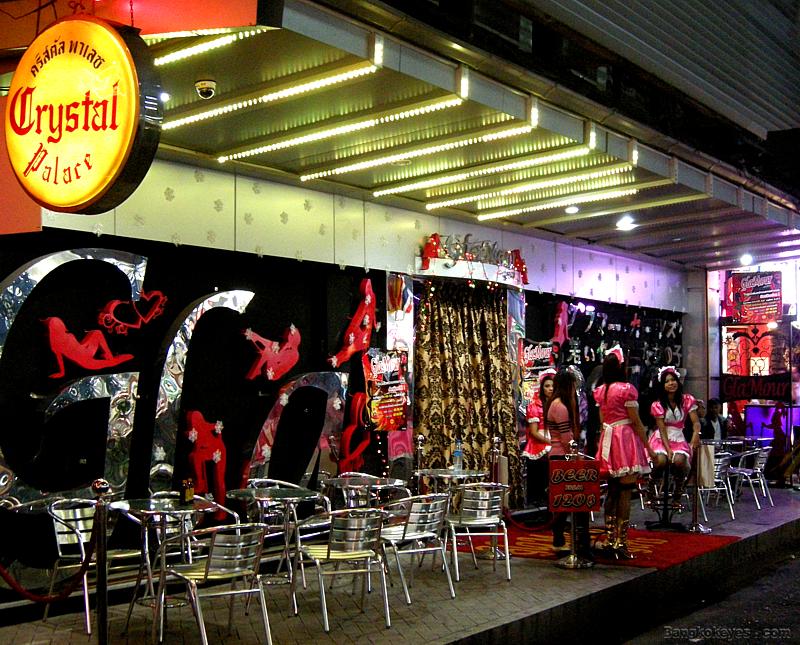 - File photo

PATPONG 2


S

OI

C

OWBOY



MAP




An on-the-fly, "
for-the-archives
" pic of
Baccara
. May they persevere....

SOI COWBOY


N

ANA

P

LAZA



MAP




We noted last month that
Bubbles
had closed their doors, their coyotes released back into the wild. (Not quite true, they went to affiliated bars for the short-term.) But
Bubbles
did not stay closed - they popped back to life mid-month, as though nothing had happened.... We suspect this is just a part of an elaborate game of
Musical-Chairs
, so let's wait and see how long they stay open.... But for the interim, welcome them back to the neon jungle....

NANA PLAZA


Candy Land
closed at the very beginning of
May
, so we missed reporting the closure until this, our
June
issue. But no time for tears, from what we hear, that was part of the
Musical Chairs
plan all along... to move them over to the new
Candy Land 2
(which is still open, by the way).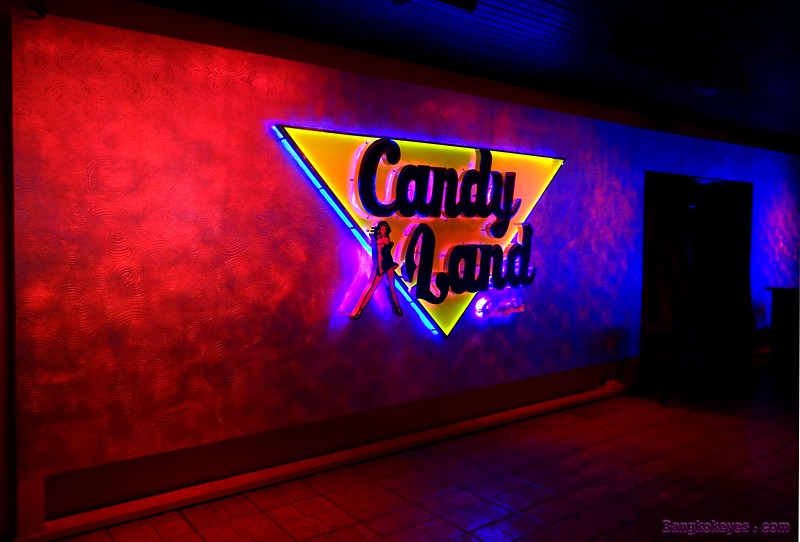 - File photo

NANA PLAZA


Last month we heard discussion that the
Jail Birdz
might resume renovations , and open in
June
(taking on the coyotes from
Bubbles
). Well, as it happens, the first part of that came true - there has been significant progress on the interior renovations. And the second part -opening in
June
- could just come true also. We'll keep our eyeballs peeled and get back atcha next time.

NANA PLAZA


S

OI

N

ANA



MAP




In the
Rajah Hotel
compound, the
X Box
closed down very quietly and was immediately taken over by the brand-new
Rest Hub Pub & Bar
. Located on the ground floor of the hotel outbuilding facing
Soi Nana 4
. Welcome to bright lights, big city.

SOI NANA


S

OI

K

ATOEY



MAP




The
For Fun
has completed their interior renovations and are back to their rock 'n rolling ways. (Note, the outside verandah, shown below, did not close during these renovations.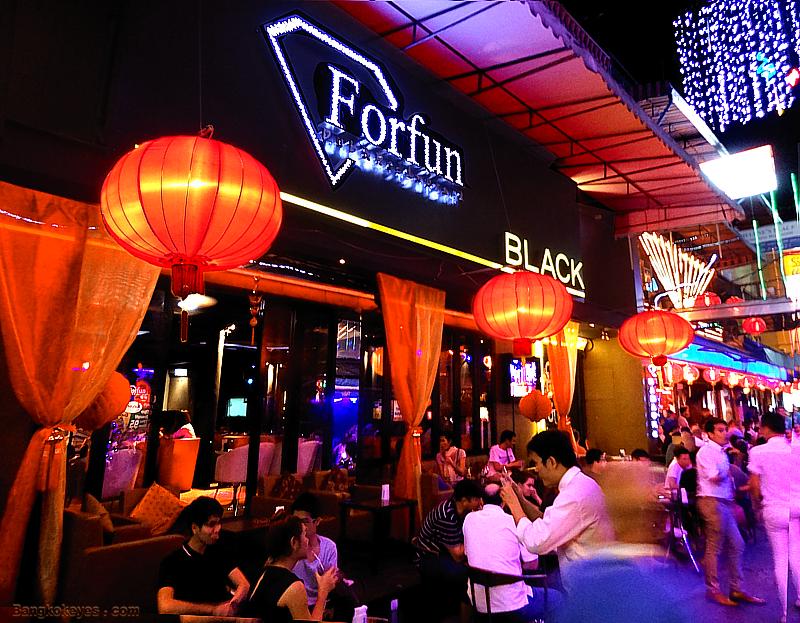 - File photo

SOI KATOEY - (SILOM SOI 4)


S

OI

22



MAP




The Most Beautiful Girls
ARE IN ASIA...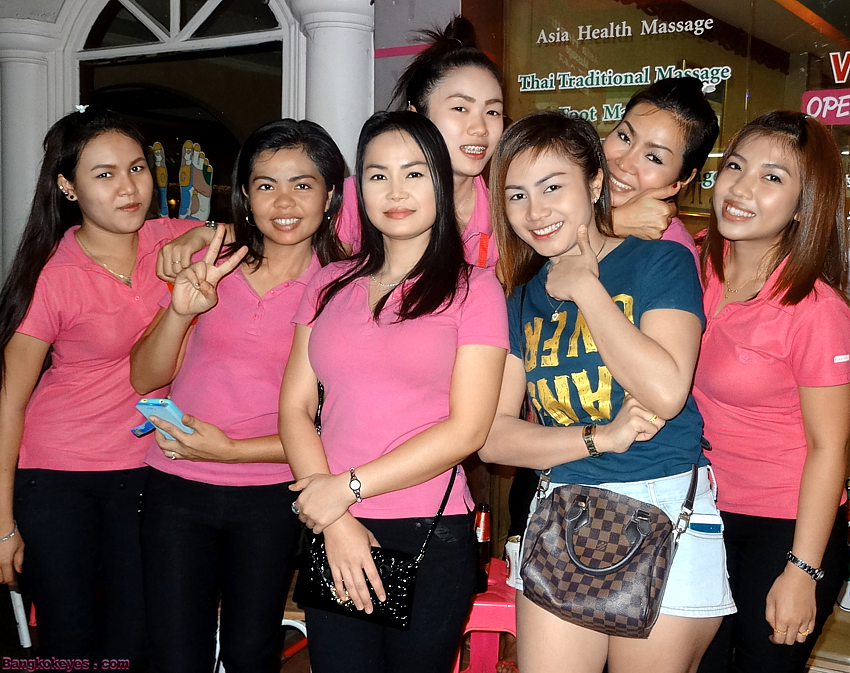 Asia Massage, that is.....


SOI 22 - (Sukhumvit)


The
Soft Sense Massage & Spa
has opened newly in the already overcrowded
Lemongrass sub-soi
(just past the now-renovating
Queen's Park Plaza Hotel
). It hasn't stopped them from doing a land-office business, however - we showed up before
11:00
the other night and they had so many customers inside, they had to put up the "
CLOSED
" sign. May they continue to slip 'n slide.

SOI 22 - (Sukhumvit)


One of the stranger
Japanese
hybrid
Nitespots
,
Girls Restaurant Bar Pasela
, is poised to open right about ....
NOW.
Part
restaurant
, part
karaoke
, part
bar
, and part
beautiful girls
. Don't ask, I have no idea how all this is supposed to work. Located deep in the
Soi
, near
New Cowboy Bar
. We shall report back next time and see how they are getting on....

SOI 22 - (Sukhumvit)


The
Momiya Jasmine Massage
has closed - but then again, they have been doing that on occasion. Let's wait and see if they decide they want to come back to work, or not.... In the meantime - off the rolls until further notice.

SOI 22 - (Sukhumvit)


A side-door pic (for the archives) of the tiny
Honey Bar (Honey House)
- located at the front of
Honey Plaza
.

SOI 22 - (Sukhumvit)


The
Fee Far / Fah Haircut & Spa
was closed the other night when we passed by. Too many customers, or not enough?
Located in Soi Lemongrass.
We'll keep our ear to the ground and get back atcha...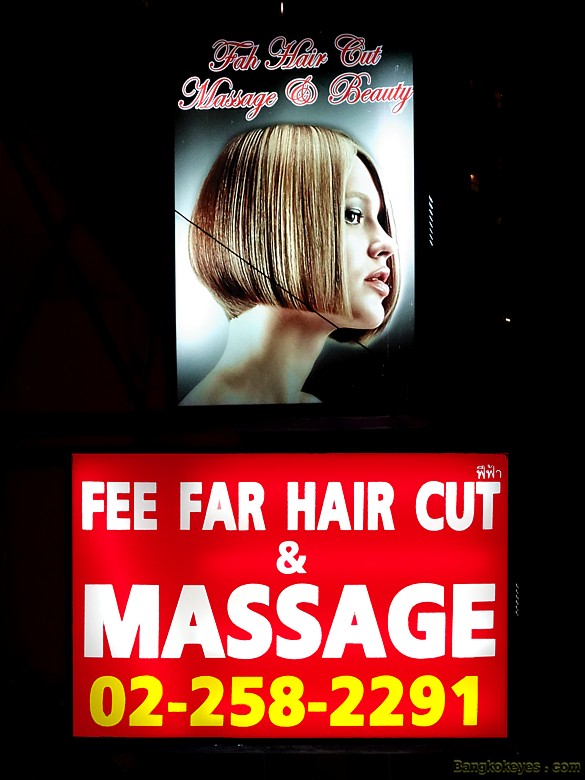 - File photo

SOI 22 - (Sukhumvit)


S

OI

D

EAD

A

RTISTS



MAP




The first we knew, they were tearing out the front of the
Bar Fly
; we didn't know then that it had closed.
Bar Fly
had a pretty good run at it, however, opening in
January 2010
, having taken over from
Powelly
before it. Opening in it's place this month is the
Kangaroo Sports Bar
. May the nightwinds blow kindly....

SOI DEAD ARTISTS - SOI 33


The on-again
Lips
, off-again
Lips
is off-again for good this time. Time for a re-naming session : they will be called
Renoir 2015
just as soon as renovations (which include an open patio) are complete. Expect them to open before the end of the month.

SOI DEAD ARTISTS - SOI 33


Taking over at the ex-
Top Up 33
is the Isarn food emporium
Baan Isarn 2
(for short). This is their second outlet, after the first successful undertaking in
Soi 31
. As they are not a
Night Entertainment Venue
, per-se, we will not continue reportage.

SOI DEAD ARTISTS - SOI 33


S

OI

A

MBASSADOR



MAP




The
Hillary 3 Pub & Pool
has some wild new neon adorning the front of their bar. All else unchanged. Let the rock continue to rock.

SOI AMBASSADOR - SOI 11


Q

UEEN'S

P

ARK

P

LAZA



MAP




A
For-The-Archives
pic of the
Queen's Park Plaza
as viewed from the center lane, street-side.

QUEEN'S PARK PLAZA - SOI 22


S

OI

E

DEN



MAP




The
Sweet Heart Bar
having moved into
Soi Eden
in the
~ 2004/ 2005
timeframe was already in place when
Soi Eden
reached critical mass as a
Night Entertainment Area
in
May of 2005
- except it was then called
Sweet Heart Club
. It changed over to
Sweet Heart Bar
in
November of 2008
, and remained such until last month, when it closed. In recent times, it became a
katoey
bar, which was not very successful, and it was only a matter of time before it closed. The new bar,
New Life Bar
, has, from all that can be observed, female staff once again. May the
Fates
deal them all aces and faces....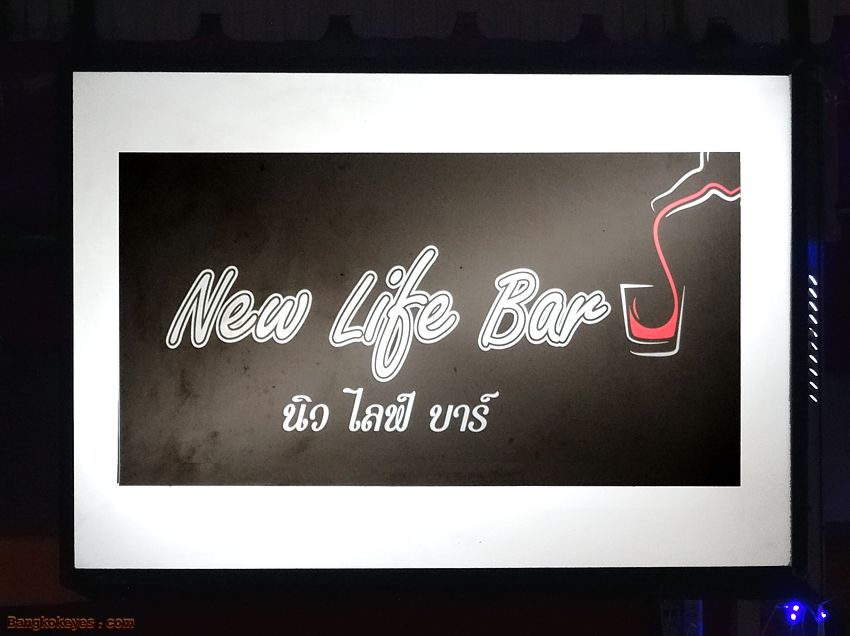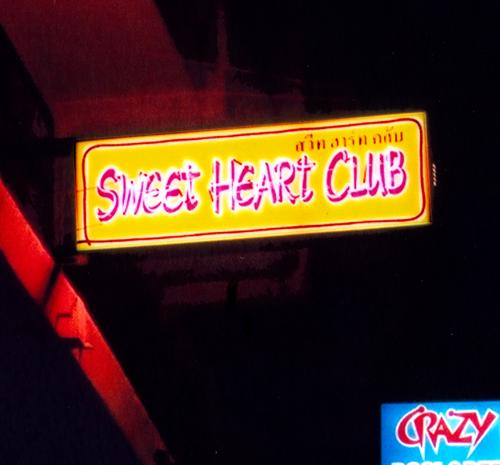 - File photo

SOI EDEN - Soi 7/1 Sukhumvit


Gone, but not gone, the
Down Under
(which was battened down last month when we passed by) is back
full-tilt
. (We had suspected a temporary closure, as the wooden kangaroo was still left out front....).
- File photo

SOI EDEN - Soi 7/1 Sukhumvit


S

OI

T

WILIGHT



MAP




Balls The Sports Bar
has closed yet again. Something tells me they have run headlong into the abyss this time....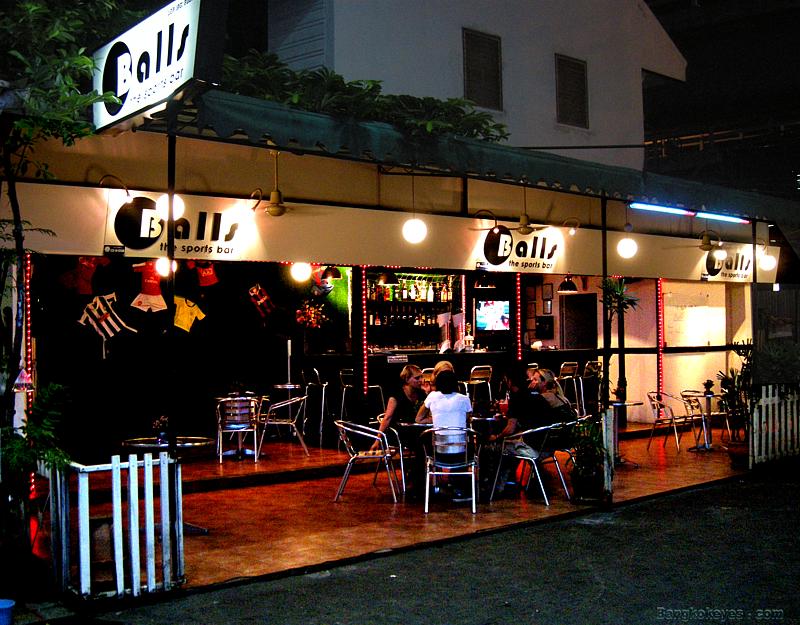 - File photo

SOI TWILIGHT



---

TOP

A PAGE FROM Bangkok's NIGHTSCENE HISTORY....

20

YEARS AGO :



June

With thanks to Cool Text - cooltext.com
Bangkok Eyes goes back in time to see
Who was new - And who was through
in the Expat Night Entertainment world.
How many of these old 'oases'
do you remember ?
Patpong I
*
The upstairs
Pantera Rosa
commenced hanging out an additional sign reading
La Panthera Rose
. There is currently no
Nitespot
at this location.
---
Patpong 2
*
The upstairs
Pantera Rosa
(also having an entrance on
Patpong I
, see above), continued using
Cassanova
- the name would 'officially' change to this in subsequent months. There is currently no
Nitespot
at this location.
---
Soi Cowboy
*
No changes that month / year.
---
Nana Plaza
*
No changes that month / year.
---
Soi Katoey
(Silom Soi 4)
*
No changes that month / year.
---
Buckskin Joe Village
(~ June 1988 - 9 June 2006)
(Also known - originally- as Tobacco Road or Soi Rot Fai or, 'The Tracks', and later as Machim [Thai] and Soi Zero)

*
No changes that month / year.
---
---
Sin
City
2

A Film
Review
Click Here
! ORDER NOW !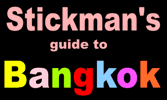 CLICK-

Bangkok Nightlife