MONTHLY NEWS
COLUMN

Bangkok,


01 October 2016


William R. Morledge


October's Nightlife News
'Soi Ho Karn Kha'
Bangkok's Bars - 20 Years Ago
A Smile in the Land of Smiles.
Ask Us: Girls just wanna have fun....
Graffiti -BKK's Midnite Vandals - #127

It's been just over three years since

M

IDNITE

H

OUR

has done a complete

MAPS

update, and we have just about run out of excuses. Below are

Bangkok's

twelve major

Expat

Night Entertainment Area

maps

- as of

01 October 2016

.

Note

: Maps are provided for the

major

Expat Entertainment Areas

only (those areas that have reached '

critical mass

'), and do not cover the many smaller areas in and around

Bangkok

.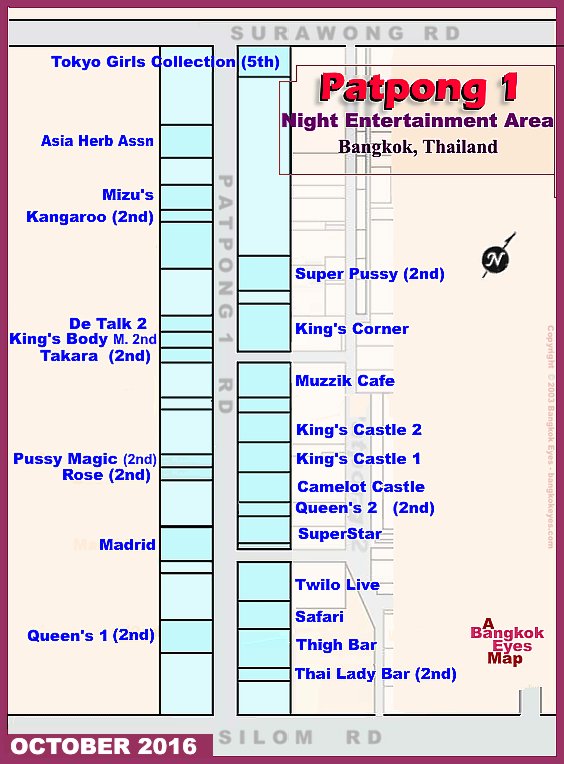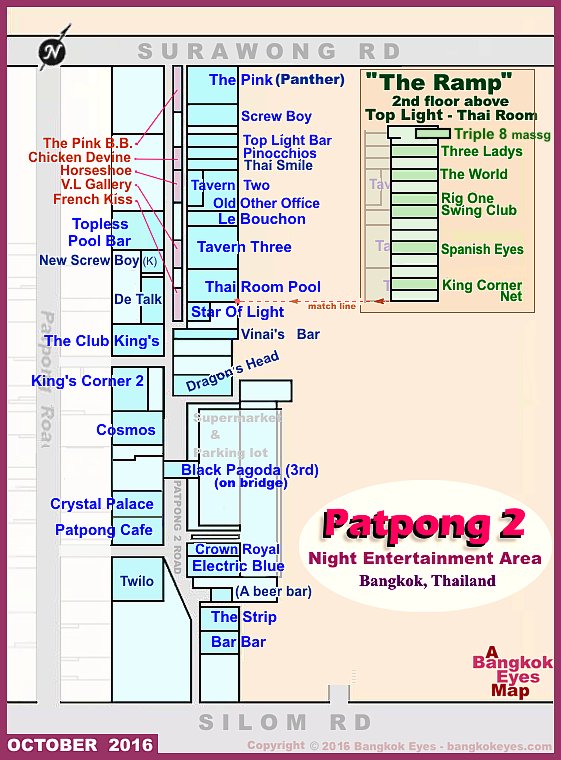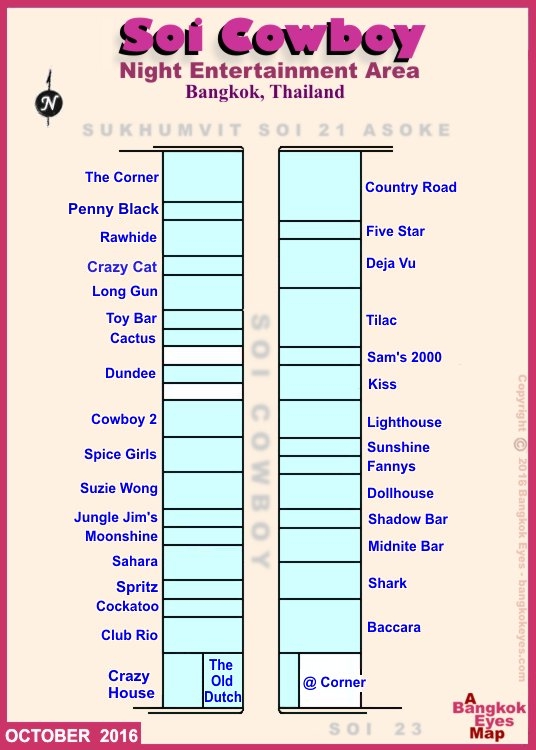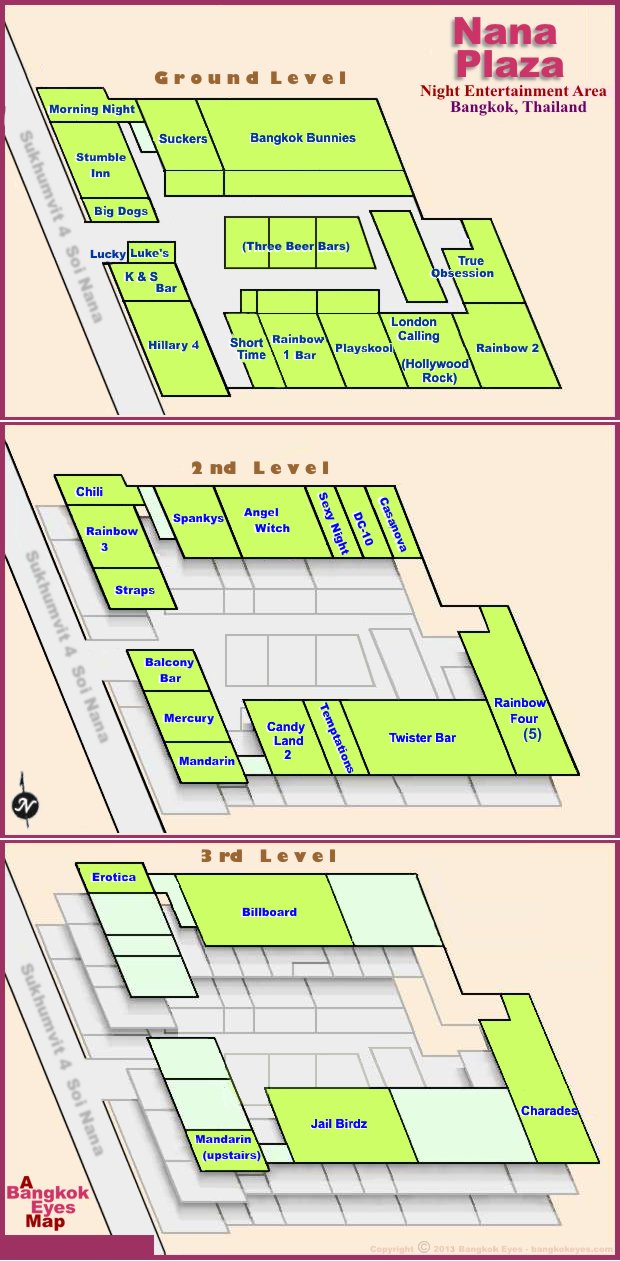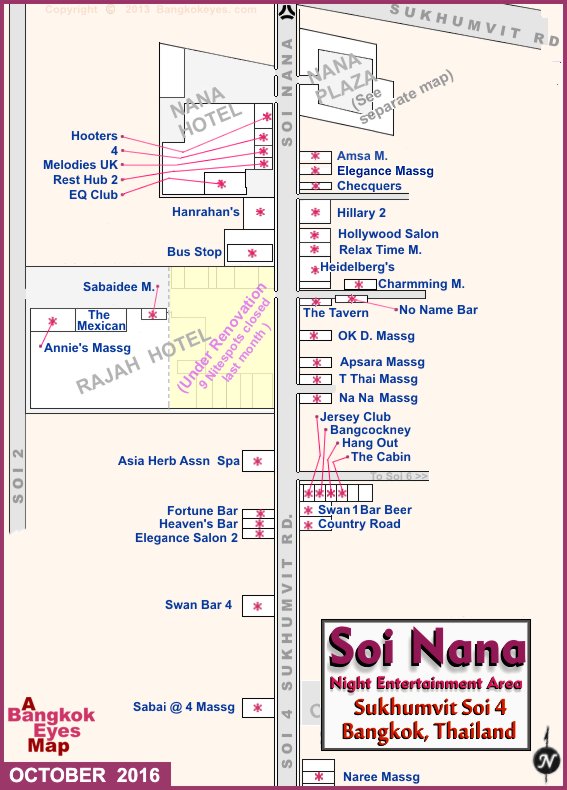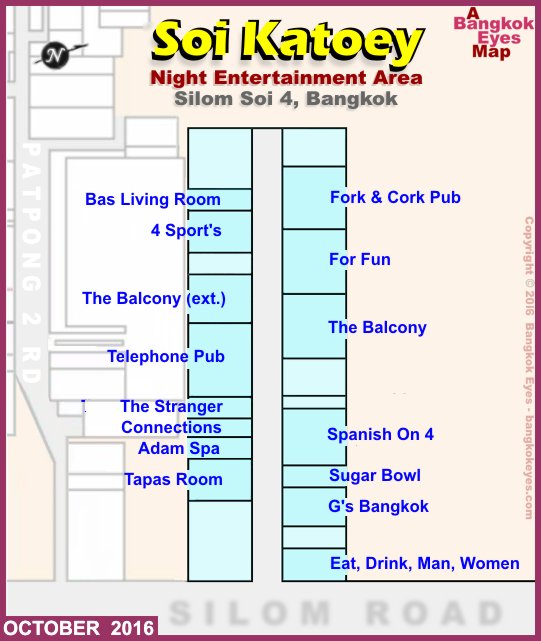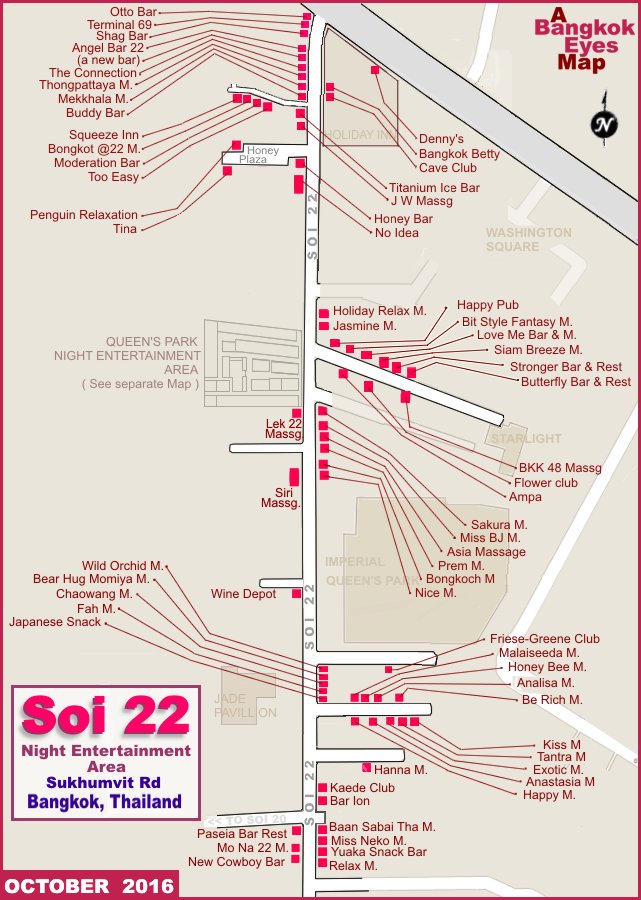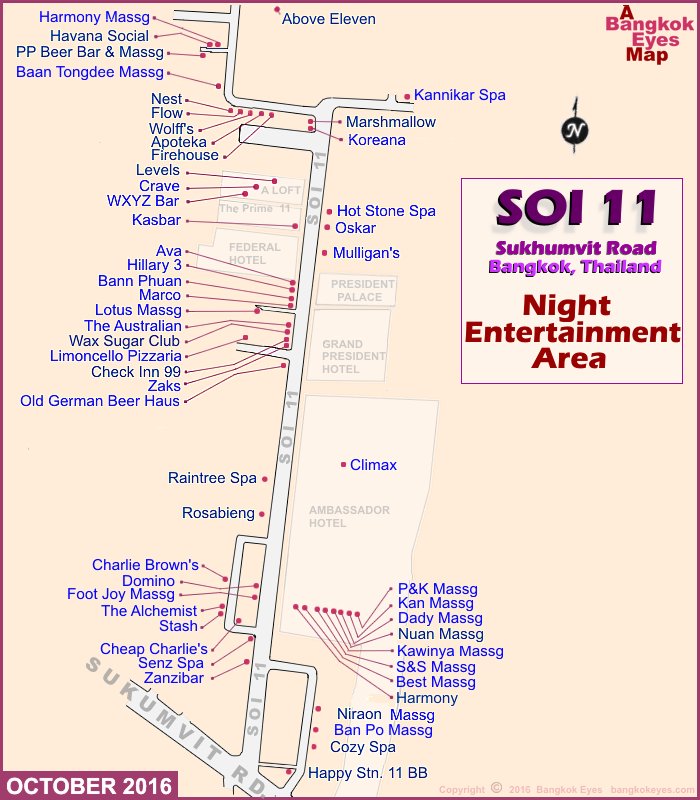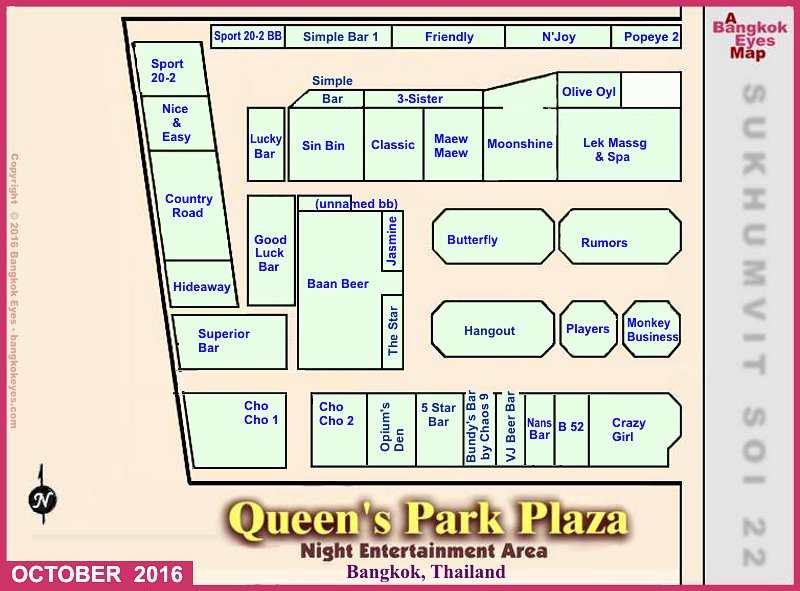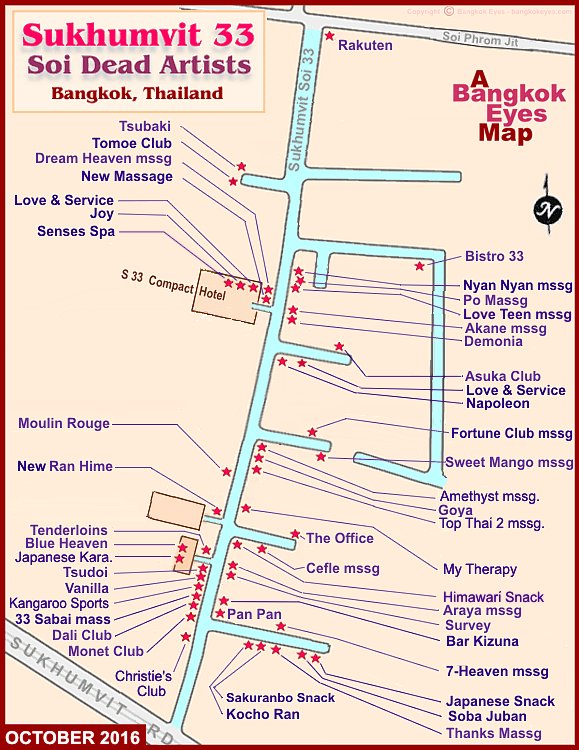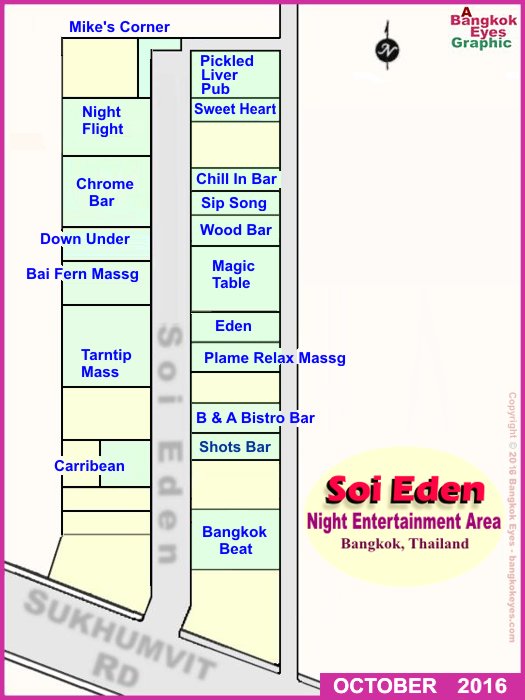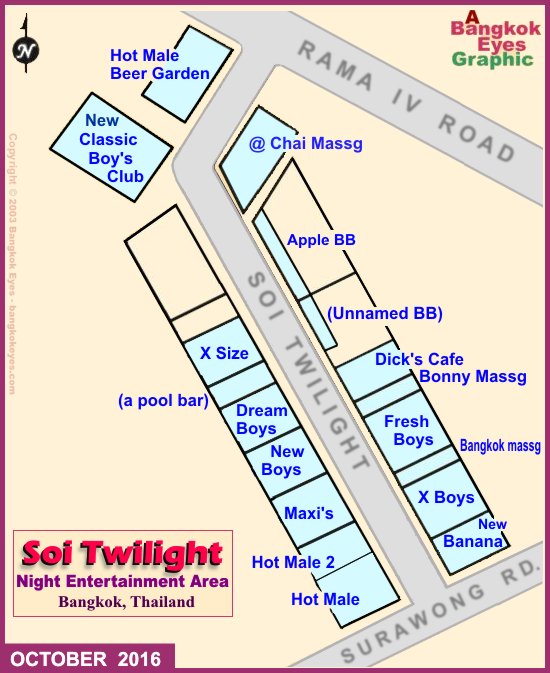 Soi Ho Karn Kha
. Never heard of it? Neither did we until the stories began trickling in. How could we have been so remiss
(?)
- a
Night Entertainment Area
in our own back yard, as yet unvisited. This was something that had to be investigated at the first opportunity.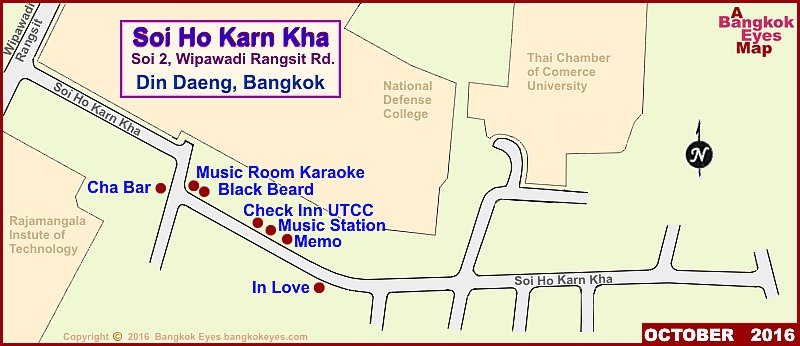 This last weekend, armed with notepad and camera, we made our way down to
Soi Ho Karn Kha
(Soi Chamber of Commerce)
, hoping to discover the next big break-out of
Night Entertainment
in
Bangkok
. Well, as is almost always the case, unbridled optimism goes hand-in-hand with unrealistic expectations. While it was indeed an active
Soi
, there were very few active
Nitespots
(see map above).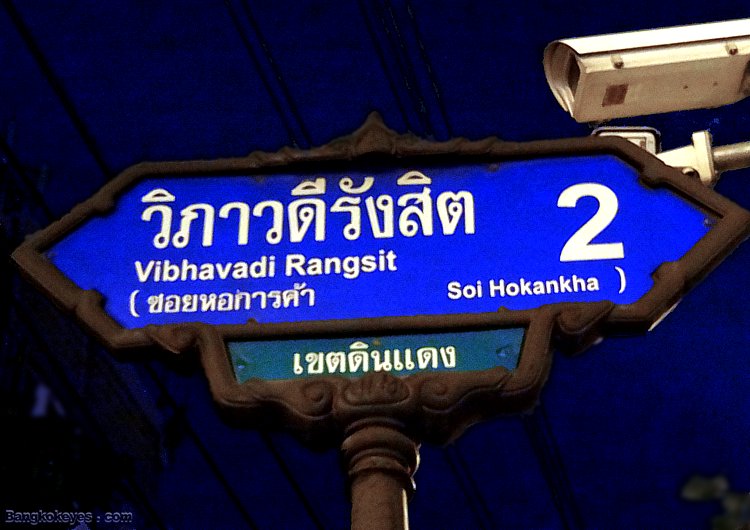 Having no historical perspective, we took a trip up and down
Soi Ho Karn Kha
in
Google Street View
, and we noticed a number of
Nitespots
that are no longer there. This is an indication that the
Nightscene
there is contracting. Unless and until we hear of something positive, we will not be making a return visit.
We note that the
Soi
has a number of small
restaurants
, to include
Japanese
, which might be of interest to the intrepid
Bangkok
explorer. And if you do have the urge to have a look at what there is of a
Nightscene
, we would suggest you try the
In Love
- very popular, and very
Thai-Thai
.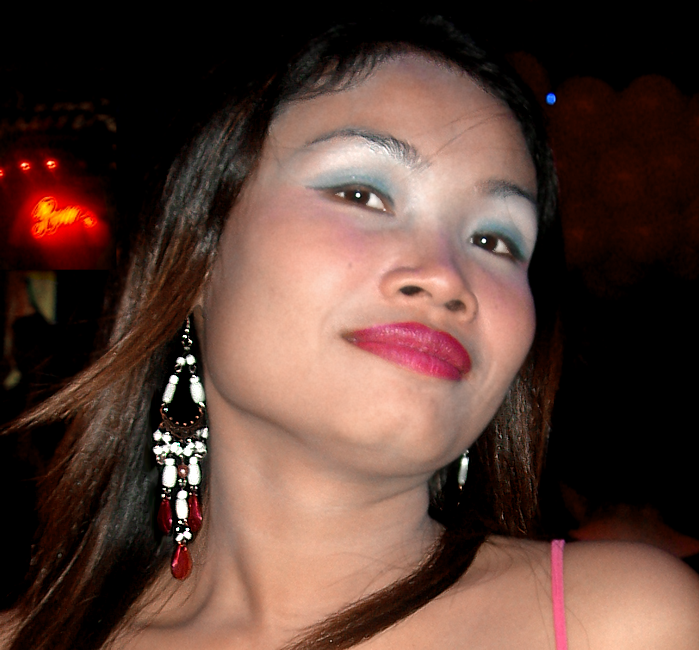 October's

Thai Smile

has new earrings....


Historical Minutiae Dept.


Lady alone in Bangkok
GIRLS JUST WANNA HAVE FUN....

Sir,

?I'm staying in Bangkok for 1month.
I also be in Sutthisan ? alone.
I would like to visit to some of disco for dancing.
I've been working in dancing club, so just I would be dancing with music.
I'm a women. So I would like to ask you think about it would be safe or not ? when I visit to night club or disco someplace alone.

?Thank you.
Amy

Greetings, Amy
,
The
Sutthisan
area is a mostly local
Thai
entertainment area
, and it is not recommended for single women, especially those who are not familiar with the area. A good disco for foreigners, to include single ladies, is the
EQ Late Night Club
located at the
Nana Hotel, Sukhumvit Road
,
Soi 4
. Also the
Insanity
located at the top of
Sukhumvit Road, Soi 12
is worth a visit. Although
Bangkok
is a relatively safe city, single ladies should always be careful of people newly befriended, and of new places.
Best,
Boge


?

ASK US (

ALMOST

) ANYTHING

!

Email

bangkokeyes@gmail.com

and "

ASK US

" - - Click Here We can answer virtually any (reasonable) question on the Expat Night Entertainment Scene in Bangkok - be it Historical or very recent. Send us an e-mail and we will do our best to answer you soonest.

'Boge' Hartman
Historical Research


Let the October 2016 Follies begin...
B

ANGKOK

E

YES'

Expat Night Scene

.


The upstairs
Club 66
started out with a bang back in
October
of
2007
when they took over from the totally lame
Thai Food Restaurant & Pool Bar
. But then, they started making changes - selling tickets downstairs for the first drinks (another name for '
Cover Charge
'), even before the customer has seen the
Venue
.... Soon they had rightfully earned the tainted reputation of a '
typical upstairs bar
'. The premises now stripped and empty, it was only a matter of time before the grim reaper took them down....

PATPONG 1


Any more, if a bar on the
Patpongs
is closed by
extra-judicial police action
, the street-justice meted out is usually a
2
month closure, regardless of the infringement. And, what with the
Patpong
family renewing leases for only a year at a time, a two month closure is, economically, the kiss of death. As it has just happened with
Kiss
, so it happened with
Pussy Connection
before it.... How painful it is for the old-timers to see
Patpong
die this slow death....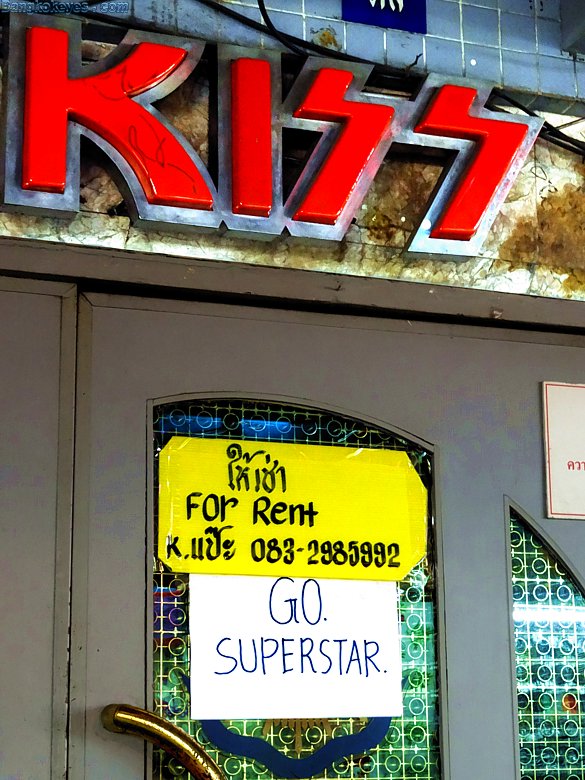 PATPONG 1



Fresh, Hot, Used ...
... THE COMPLEAT PANTIE MACHINE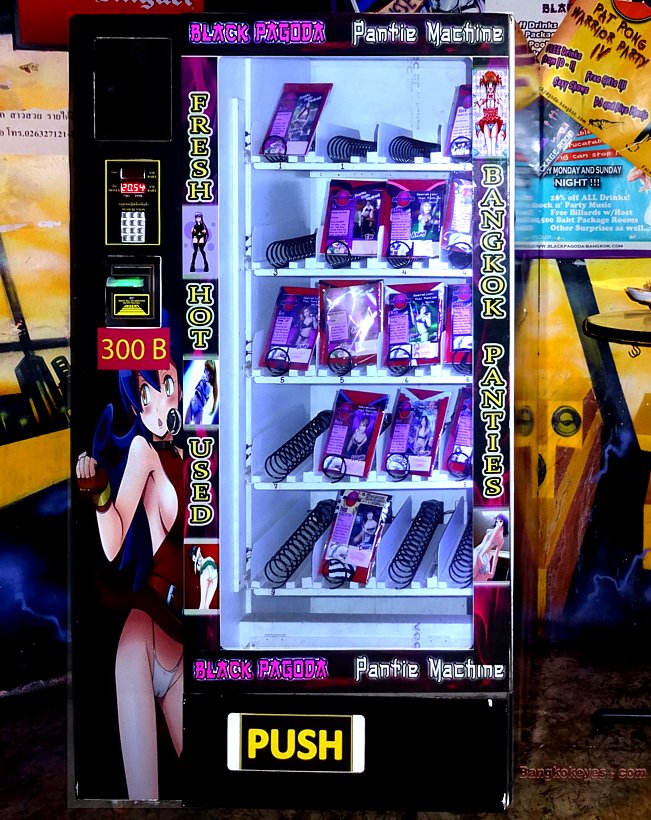 PATPONG 2


The
original
Spanky's
, born many years ago in
Sukhumvit Corner
(Corner of
Asoke & Sukhumvit Road
) made the move to
Patpong 2
when
Sukhumvit Corner
was closed down by the landowners. They at first tried to get the old
Mike's Place
up and running, but when that didn't work, they opened up a small beer bar in the just-closed
Sidewalk Cafe Bar
in
July
of
2005
. All of that is just a single bit of historical
minutiae
now, however, as those digs are currently being renovated for use by others. May they find that proverbial greener grass...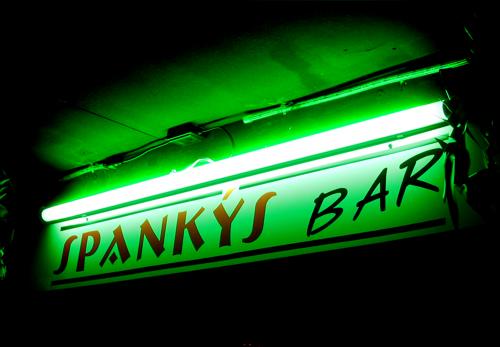 PATPONG 2


The
Triple 888 Massage
is just a month old, and located in a spot that you wouldn't be able to find unless you had one of the streetside masseuses guide you up. Located up on
The Ramp
, but then, up another unmarked, poorly lit flight of stairs. A viable selection of healthy-looking masseuses. Welcome them to the slippery slope.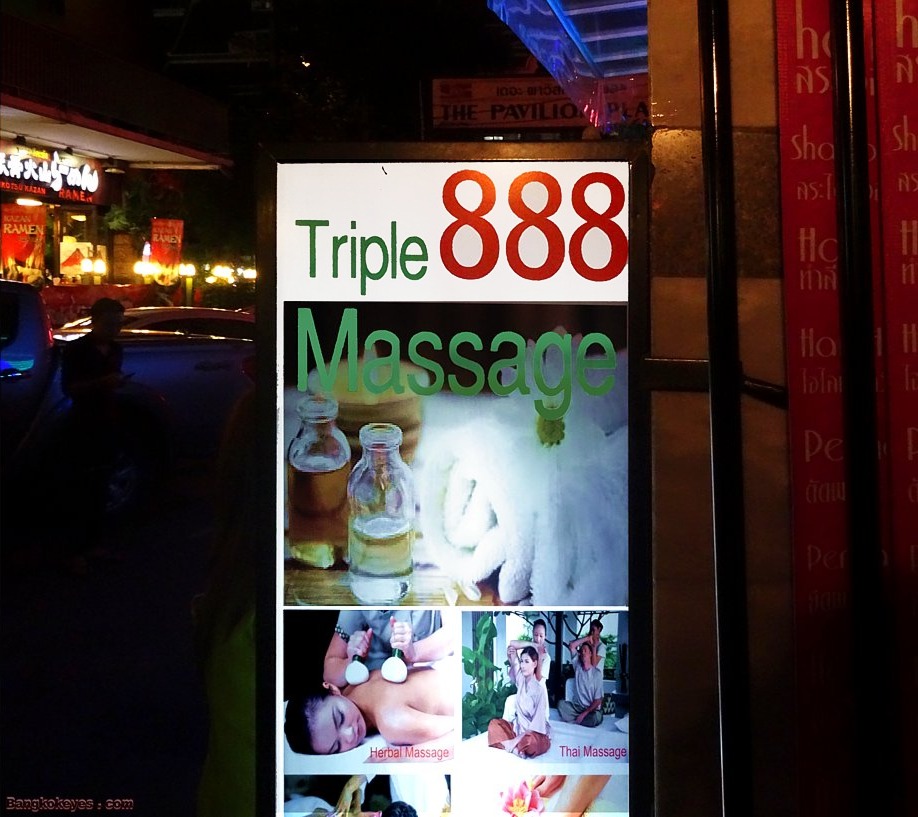 PATPONG 2


A quick pic
For the Archives
of the
Country Road
music bar. One of the
Soi's
older
Venues
.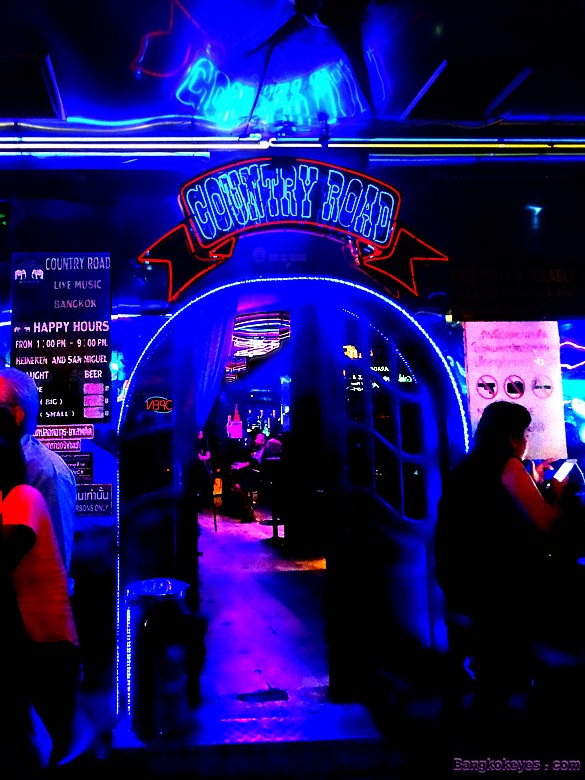 SOI COWBOY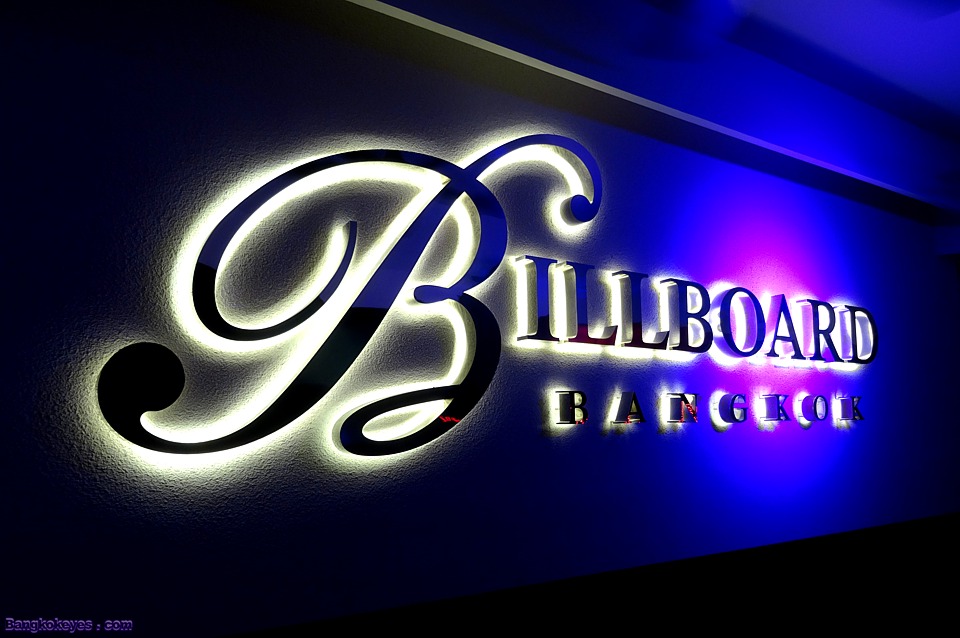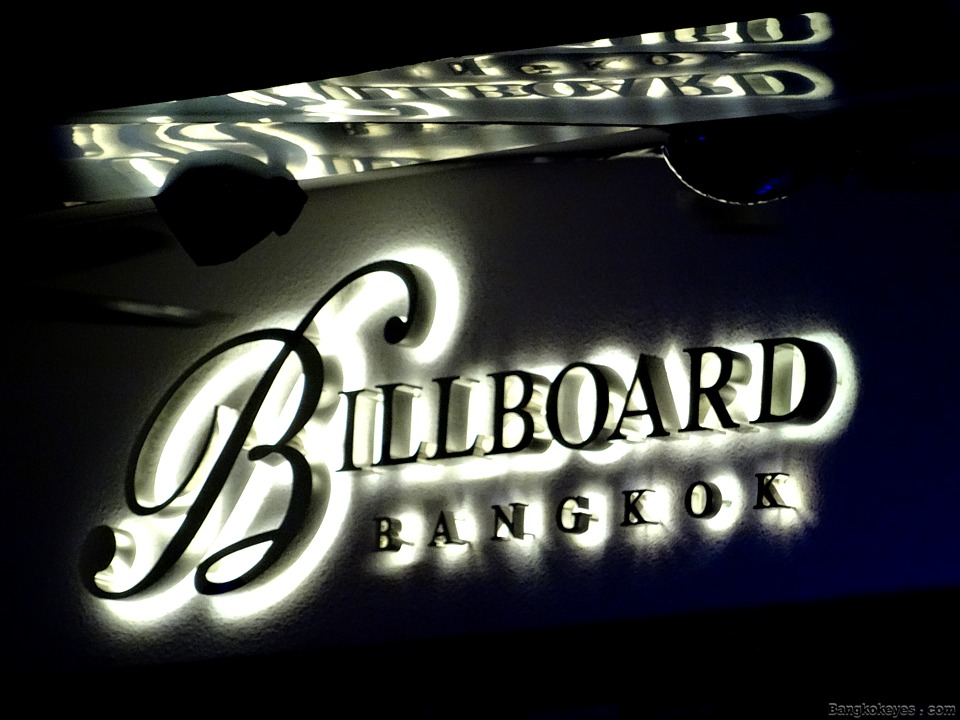 Billboard
have redone their entire facade - professional signage, professional lighting. All to maximum effect. This month's easy winner of the
Door Art of the Month
award.


NANA PLAZA


A sneak preview of
Rainbow Four's
new neon. It's '
Rainbow Four
', unless you want it to be '
Rainbow 5
'; you get to choose. A novel idea, no?

NANA PLAZA


Temptations
also have some new neon up. This time advising quite clearly that they are a '
ladyboy bar
'. On the superfluous side, however, as I don't know anyone who didn't know, or who wouldn't know this, should they walk past.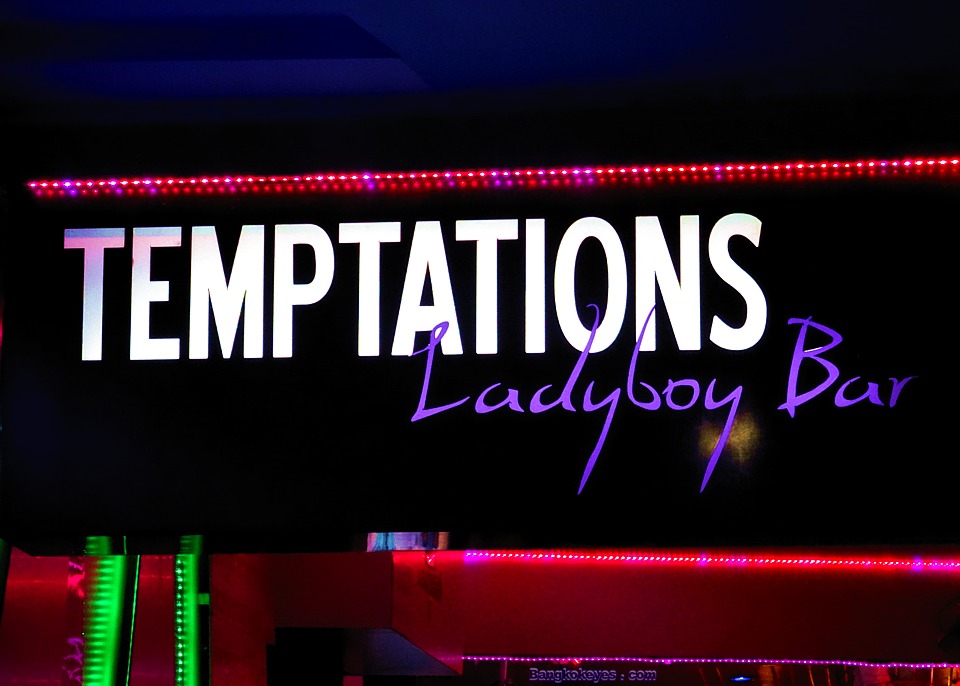 NANA PLAZA


Jools
had been talking about pulling the pin for some months now, however this last month they stuffed the last chit in the last plastic cup. One of the '
Old Timers
' on the
Soi
, they were talking about how rising rents (leases) were killing them. The obverse of that coin is they just weren't doing any business to speak of. May they find things more to their liking a little further on down the road a piece.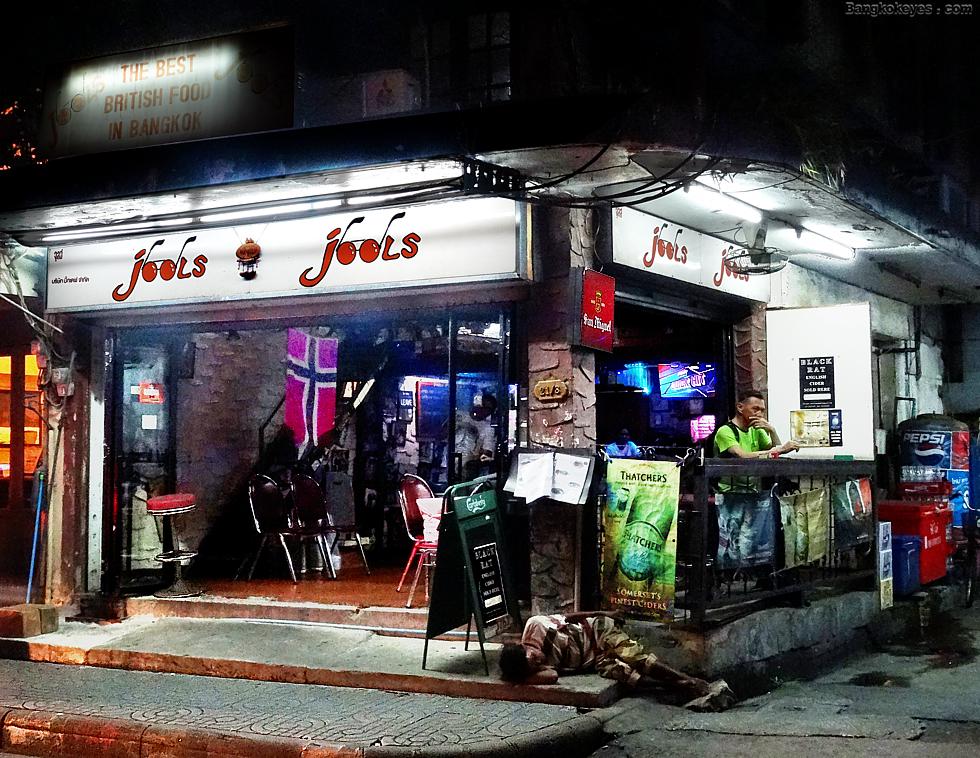 SOI NANA


Last month the
Rajah Hotel
began massive renovations of the
Soi Nana
side of their premises. This caused the closing of
10
Nitespots
(
Strikers
and
G Terminal
having previously moved out). Below are pics of those bars closed this last month, some of which have, or, are relocating (
Strikers
,
Chaos 9
,
Rest Hub
), and others which will go out of business. Three remaining venues on the
Soi 2
side of the hotel are
Annies Massage
,
The Mexican
and the
Sabaidee Massage
.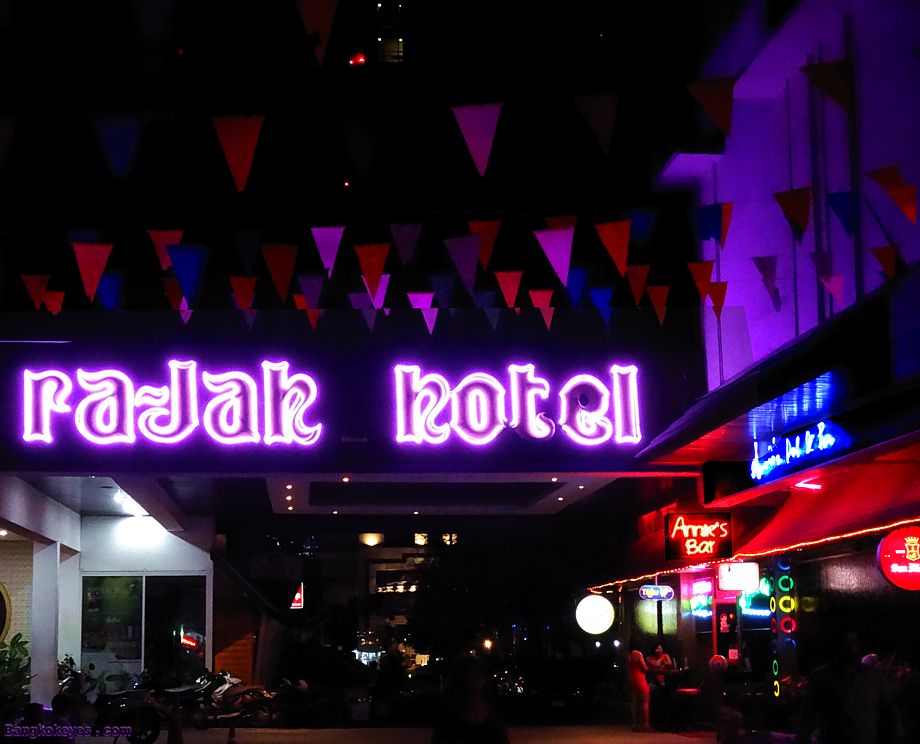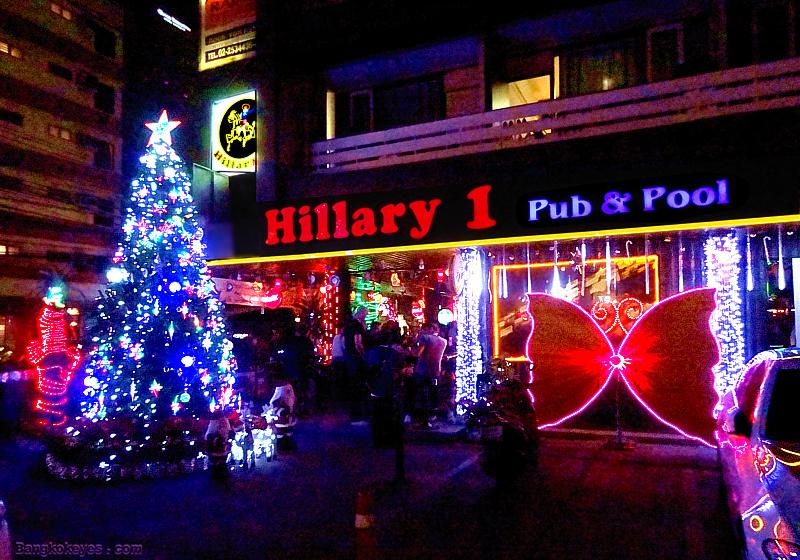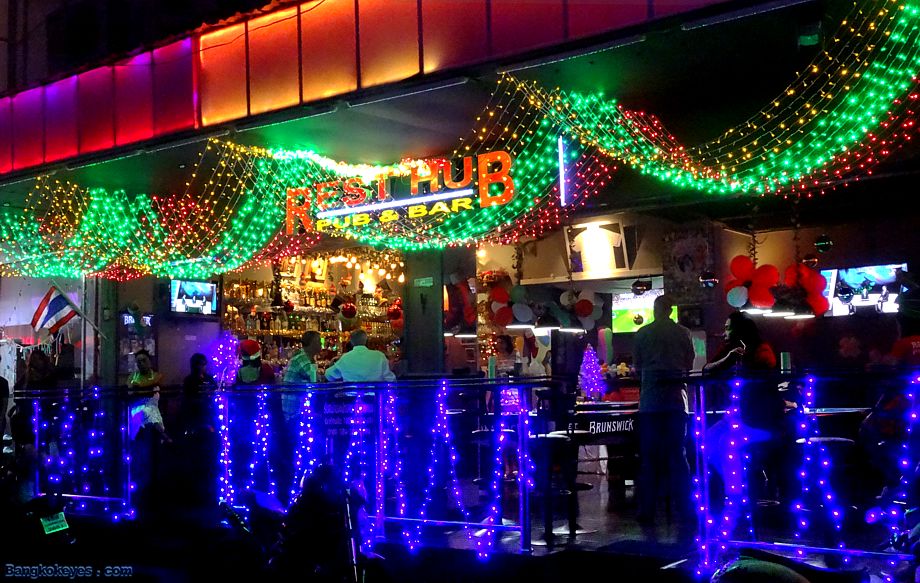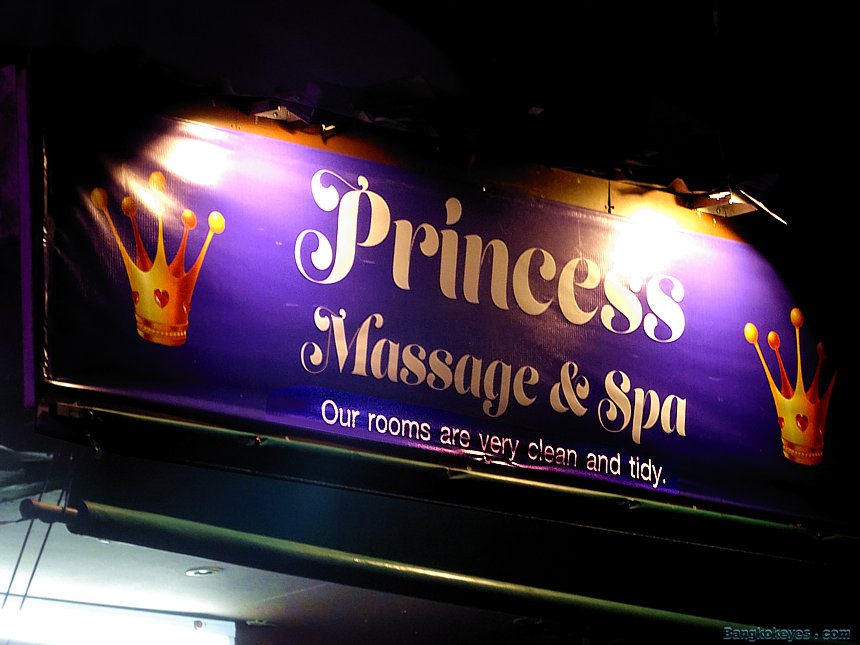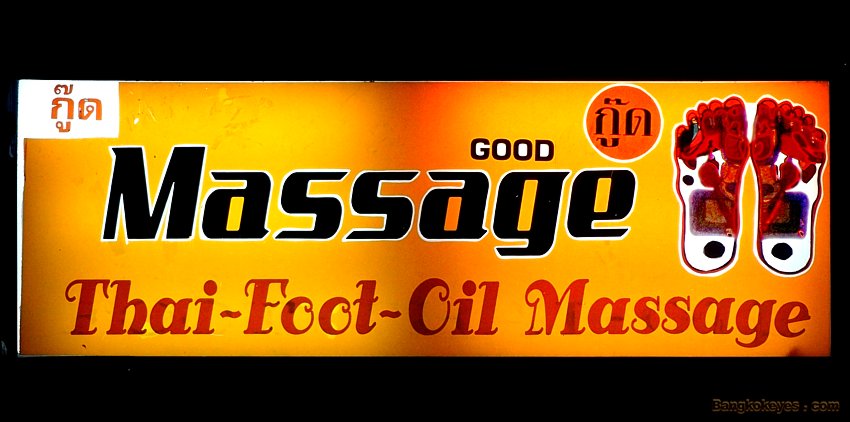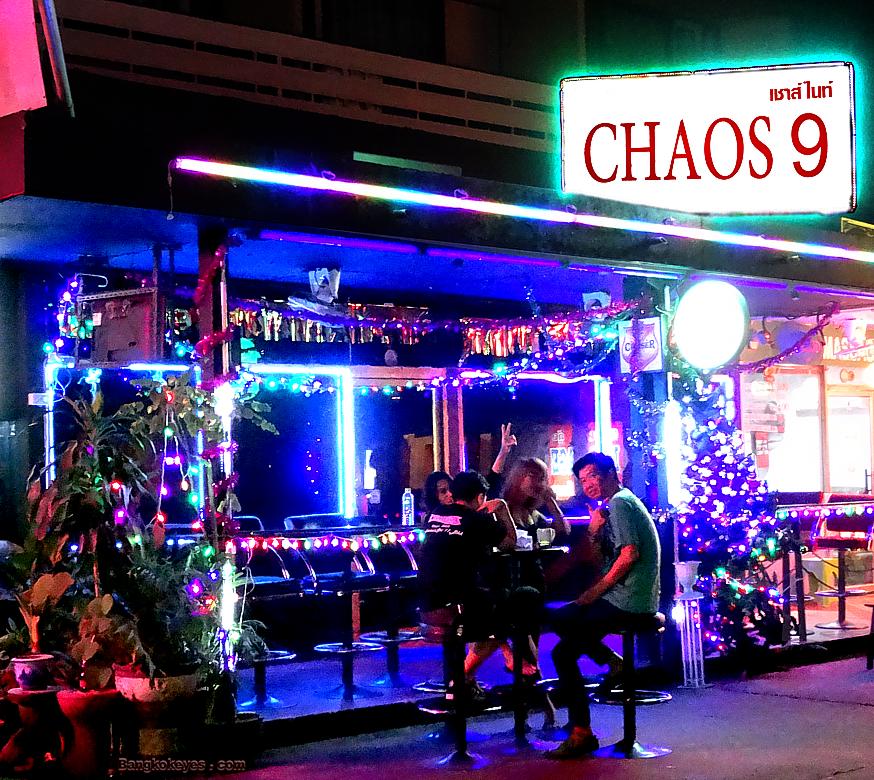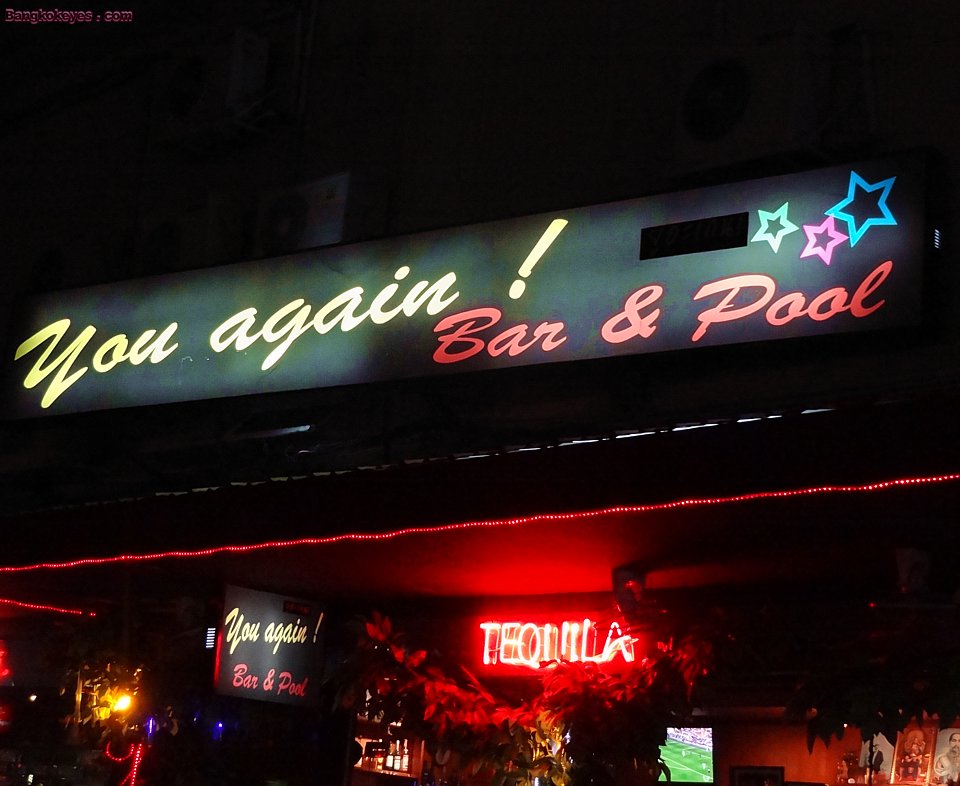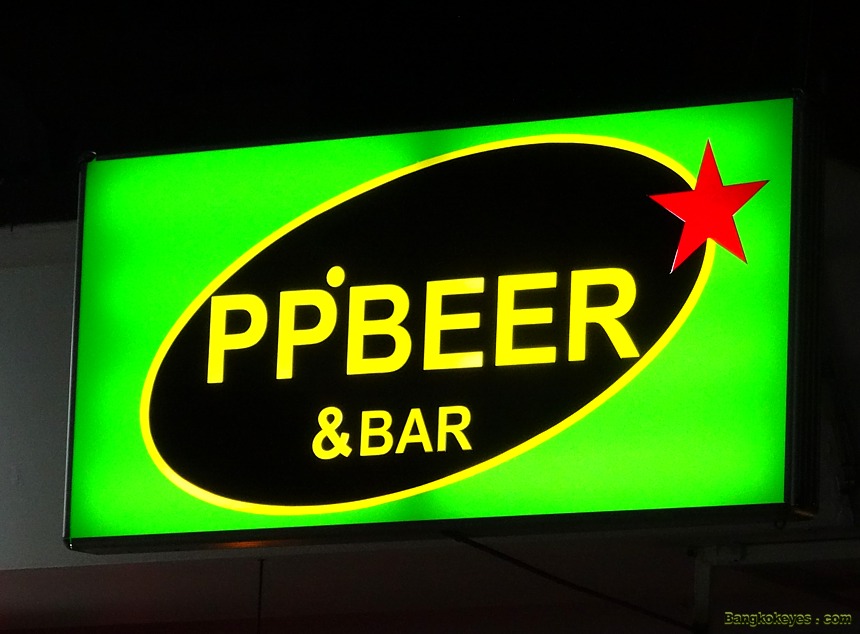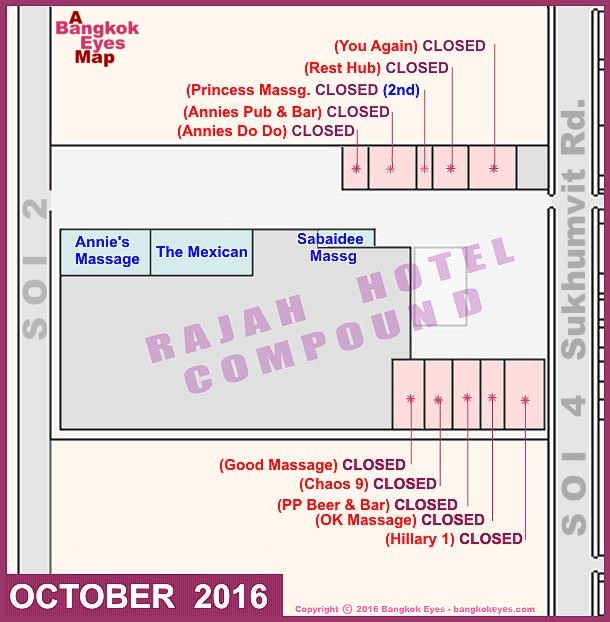 SOI NANA


A
for-the-archives
pic of
G's Bangkok
and their signage on
Soi Katoey
.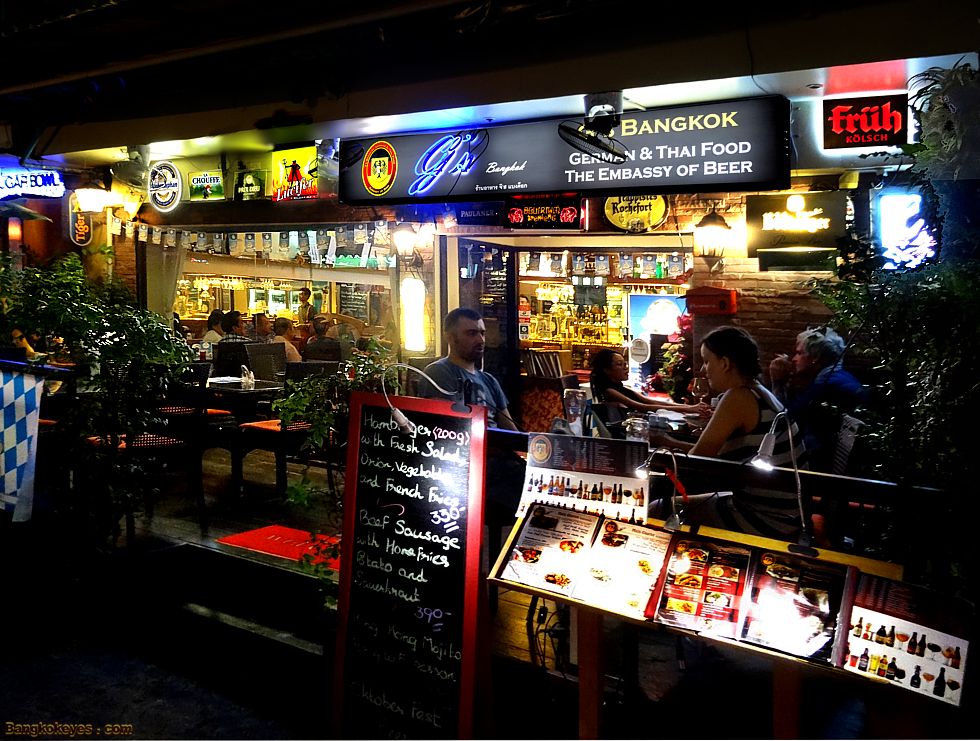 SOI KATOEY (Silom Soi 4)


The small soi running down just to the right of
Titanium Ice Bar
(which we call
Soi Titanium
) has a few
Nitespots
worthy of exploration.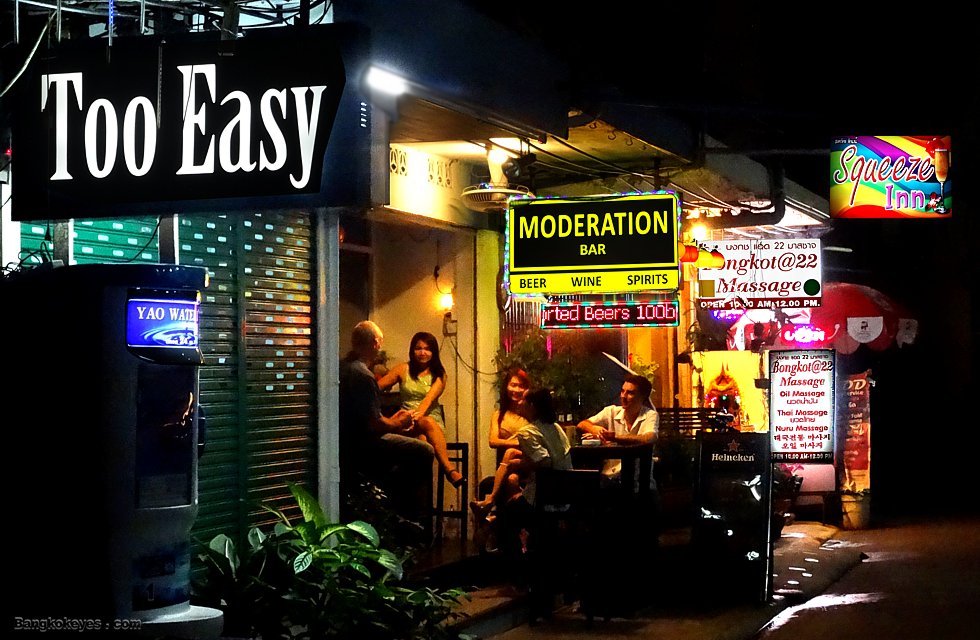 SOI 22 (Sukhumvit)


The
Happy Pub Bar
in
Soi Starlight
has reopened (again). We shall hereby cease to report their frequent closings and reopenings, and get back atcha should it go down for the count....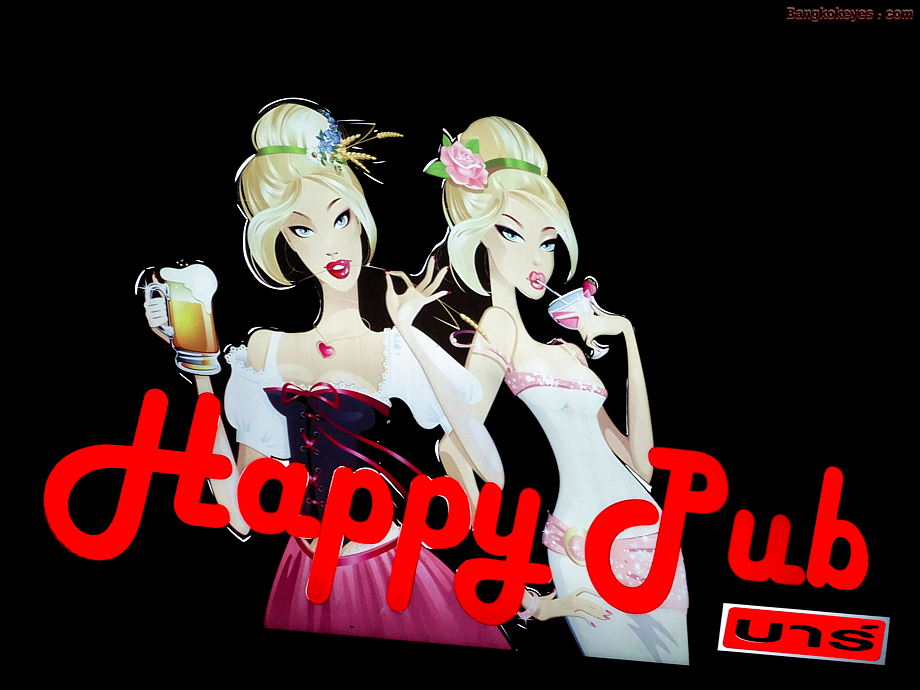 SOI 22 (Sukhumvit)


The
Bear Hug Momiya Massage
is either open, or it is not. However, when we pass by at night on monthly surveys it is often not. If it is open just in the daytime, then it is not a '
Nitespot
', and if this the case, we will be dropping it from the listings. We'll drop back for one final look....

SOI 22 (Sukhumvit)


In the
'We Don't Make Mistrakes Department'
, we previously listed this
Nitespot
as the '
Telephono
' (it was the only sign we saw). However, those
in-the-know
have advised that the correct name is
Havana Social

.
The dearth of signage is silent testament to it's 'word-of-mouth' reputation. And 'word-of-mouth' works just fine - extremely busy on weekends. As mentioned before, this club is unique - if you haven't visited yet, you are the loser. It has an upstairs that is ostensibly for cigar smokers, however we saw no one smoking the other evening. The
Havana Social
is reportedly the stepchild of the
Above Eleven
, just across the street.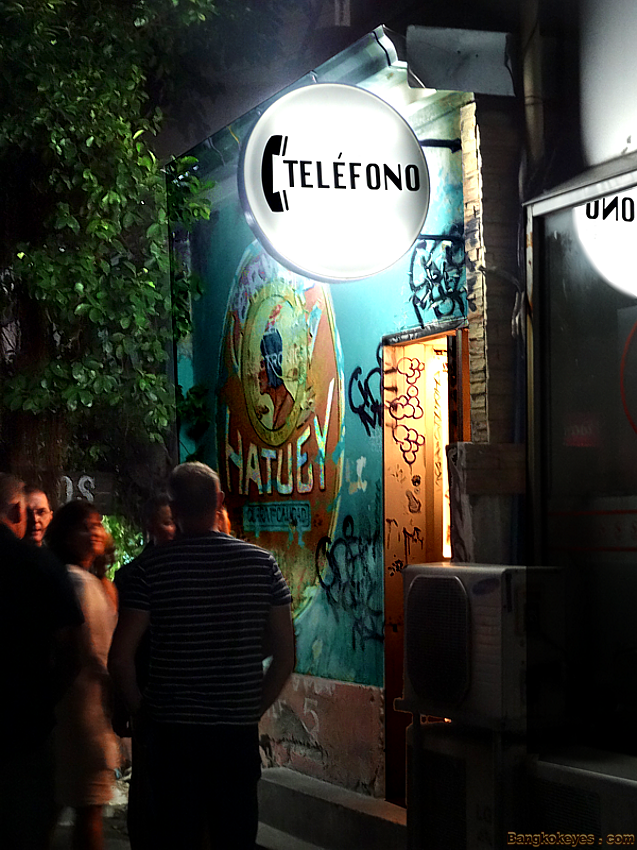 SOI AMBASSADOR (Sukhumvit 11)


Gone, but not gone, the
Check Inn 99
has found it's second new home in less than a year. Their initial effort to relocate to
Soi 24
almost worked, but didn't - the devil being in the details of the share-agreement with the
Admiral's Pub & Restaurant
.
Chris C. Smith
says -after just a little over two weeks in the new digs - "Now we are finally home." 'Home', by the way, is the upstairs of
Zaks
, just across the street from the
Ambassador Hotel
. New signage is coming soon, as is the sprucing up of the extensive balcony areas. Nothing else has changed, the
Philippine
singers are still on board, jazz evenings are still on the slate.... Welcome them back to the nightcircus.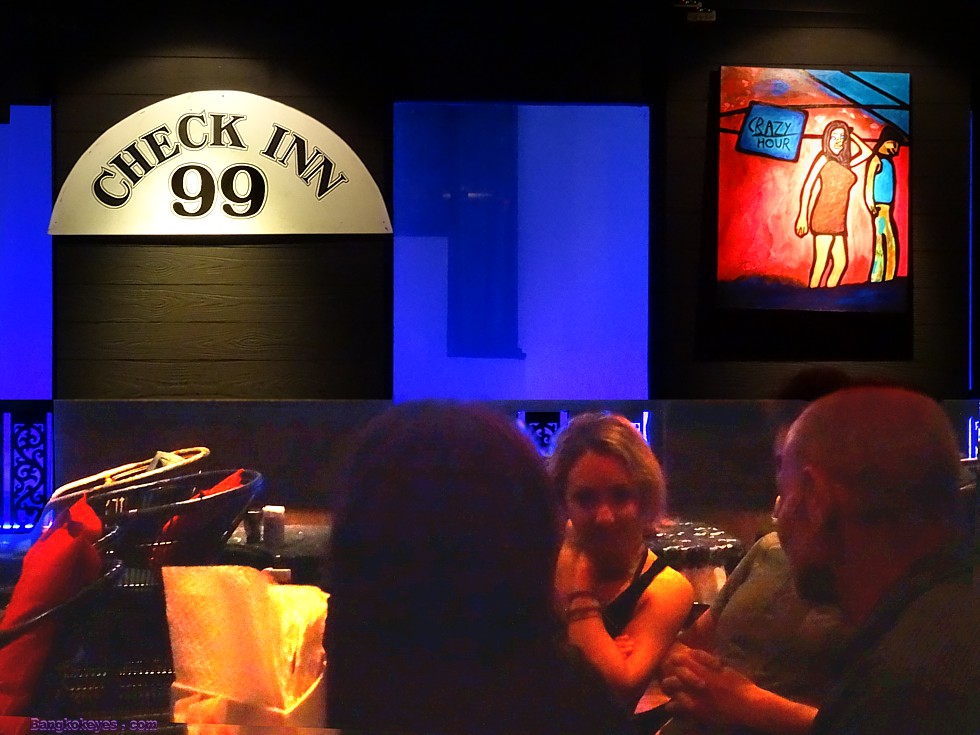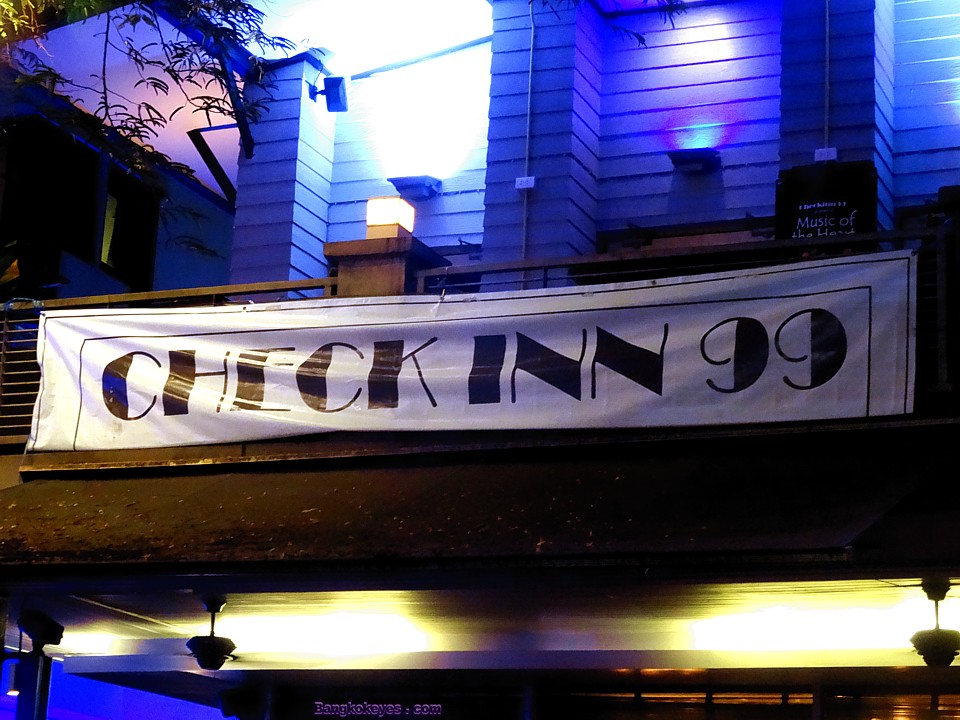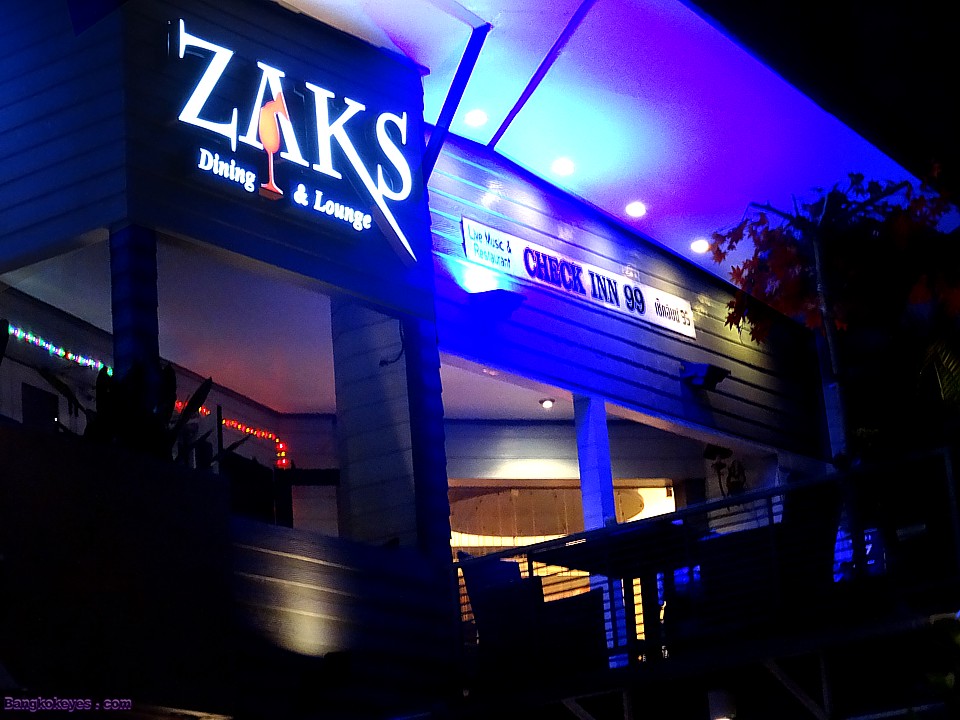 SOI AMBASSADOR (Sukhumvit 11)


Bundy's Bar
has a make-over, signage-wise. They are now including
Chaos 9
on their marquee. You may have noticed that the
Chaos 9
was just closed down in the
Rajah Hotel complex
due to extensive renovations to the hotel - this appears to be a consolidation. May they keep on keeping on.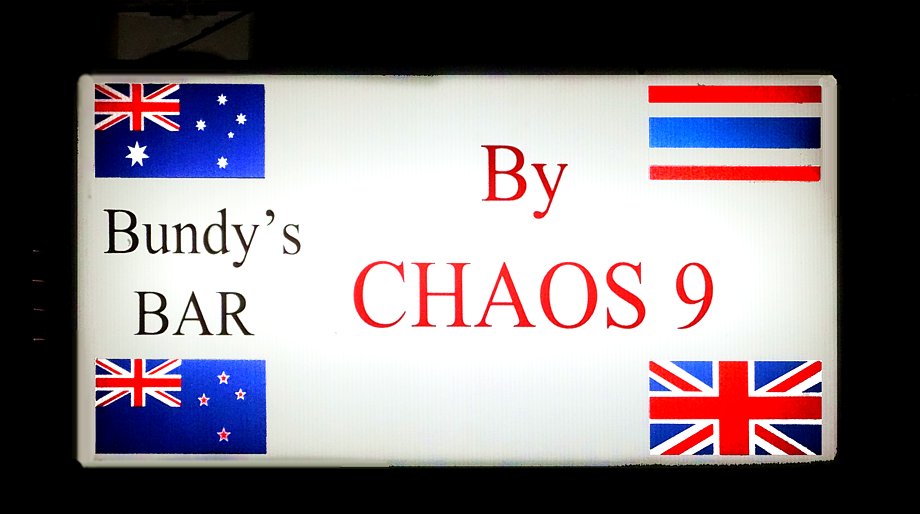 QUEEN's PARK PLAZA (Sukhumvit 22)


Mojos
mojo ain't workin'. Nor will it be ever again - if the signs posted on the outer door are accurate. They state plainly that this is a
PERMANENT
closure. Perhaps they have found a way out from under it all....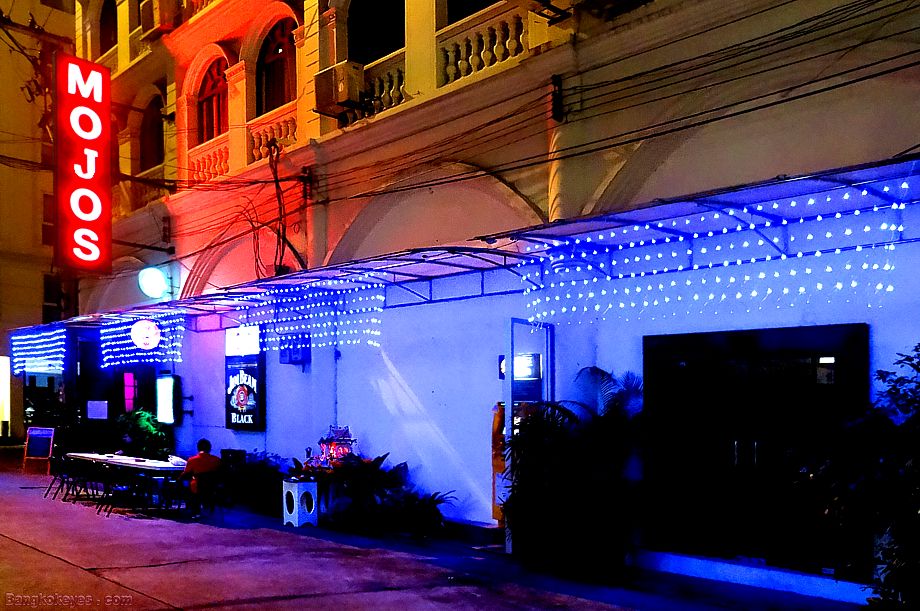 SOI DEAD ARTISTS (Sukhumvit 33)


The
bar beer
Shots Bar
was closed down for some reason last month, but they are back at it, full steam, this time around. Welcome back to the sharkpool.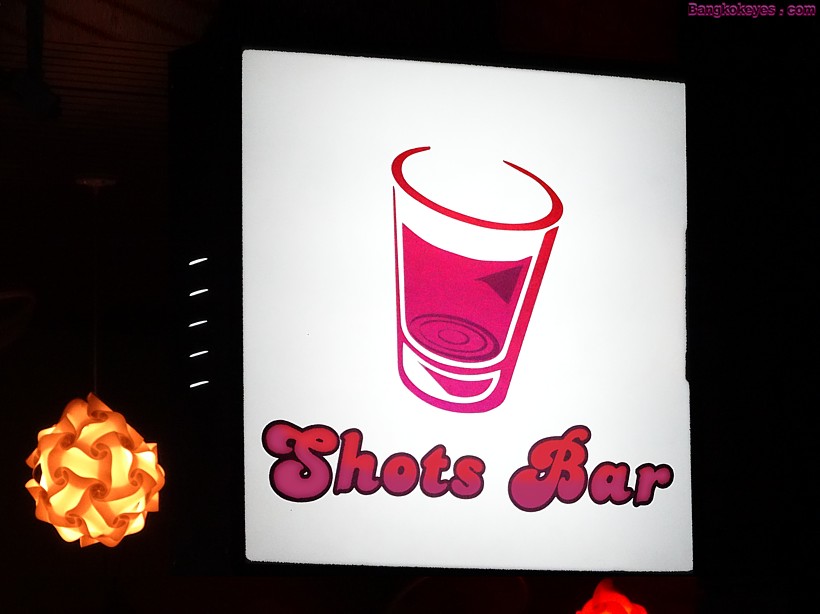 SOI EDEN (Sukhumvit 7/1)


Great shades of
Nana Plaza's
long-defunct
Mermaidium
, only this time around, it will all be happening on
Bangkok's
gay soi.

SOI TWILIGHT



A PAGE FROM Bangkok's NIGHTSCENE HISTORY....
20

YEARS AGO

October

With thanks to Cool Text - cooltext.com
"History is hard to know, because of all the hired bullshit..." - H.S. Thompson
Bangkok Eyes goes back in time to see
Who was new - And who was through
in the Expat Night Entertainment world.
How many of these old 'oases'
do you remember ?

Patpong I

* The upstairs

A Go Go Boys

opened above what is now the

Thigh Bar

. That location is currently occupied by an upstairs rip-off bar.



Patpong 2

* Up on

The Ramp

, the

Matador Club

reopened after a one-month closure. No

Nitespot

currently operates at that location.

* The

Eldorado New Bar

opened in a tiny space just above the

Topless Beer Bar

. Today there is no

Nitespot

at that location.

* Up on

The Ramp

, the

Hearty Club

opened it's doors in the just-closed

Club Abaniko

. Today, that location is home to the

King Corner Net.





Soi Cowboy

* The Country 88

(Surprise #9 A Go-Go)

closed. It was located between the

Cowboy 1

and the

Cowboy 2

at that time. Today the Country 88 real estate is occupied by the

Spice Girls

- while the

Cowboy 1

is still at it's original location.

* The Harmony opened newly in the ex-

Darling Cabaret Show Restaurant

digs. (Note, the

Darling

closed the month before, but was not reported on our earlier edition.) The

Harmony

, long ago closed, is currently home to

Rawhide

Lounge & Bar

.

* Both the upstairs

Klymaxx 2

A Go Go

and the downstairs

New Salambo

closed down that month, only to be replaced by

New Loretta

. That frontage now being occupied by

Lighthouse

.



Nana Plaza

* The Spirit House

Bar Beer

opened up next to the .....

spirit house

. However the bar was not named after the

spirit house

, -rather the

Christopher Moore

novel of that name. The

Short Time

is currently occupying that location.

* The

3

rd floor

Shooters Wild West

A go-Go Bar

closed down. Current occupants :

none

.



Soi Katoey ( also Silom Soi 4 )

*

Mario

opened newly on the

Silom Road

side of

Tapas

. No

Nitespot

currently occupies that space.

*

Airbus

opened in the then-recently closed

The Genesys Pub

. That real estate is currently occupied by

The Balcony

(extension)

just past the

Telephone Pub

as you are walking in.

*

Film Mix

closed down after a long run. It was located at today's

4 Sports Lounge

.

*

Versus Pub

closed down after a brief go at it. It was located at today's

For Fun

.



Buckskin Joe Village (~ October 1988

to

October 2006)


(Also known -originally- as

Tobacco Road

or

Soi Rot Fai

or, '

The Tracks

', and later
as Machim [Thai] and

Soi Zero

)


* The unnamed bar which opened a month previous at the far end of the

Night Entertainment Area

was, this last month, named Jungle Bar.





! ORDER
NOW !