MONTHLY
COLUMN

Bangkok,


01 March 2015


William R. Morledge



March's Nightlife News
Traces of 'The Tiger'
Bangkok's Bars - 20 Years Ago
A Smile in the Land of Smiles.
Ask Us: Bars by Any Other Name
Graffiti -BKK's Midnite Vandals - #108

---
The Thermae around 1980, that is to say, the original Thermae, was much the same as today's, and also much not the same. It had it's share of hangers - a more diverse mix of humanity would have been hard to find.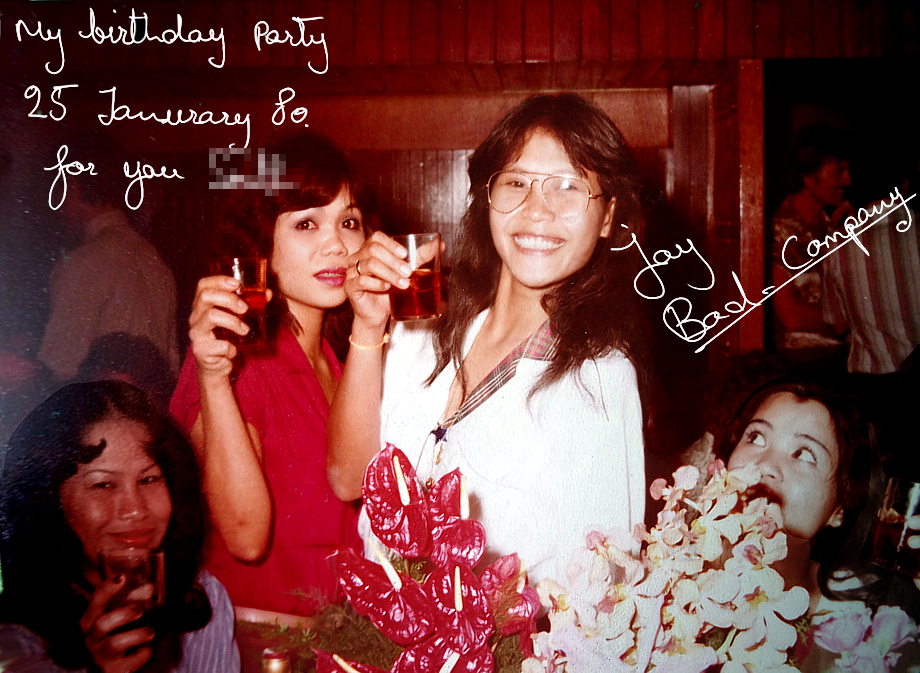 And the Thermae's hangers were from the extreme category of 'diverse'. There was 'Policeman's Corner' at the back on the right where the cops occasionally hung around for a free coffee, offering in exchange some implied 'security'. There was Nok Lek Corner where the 'Prime Minister' herself usually held court just adjacent to Policeman's corner. A well known restaurateur (The Cock 'N Bull) hung right at the rear doorway, at the foot of the steps going up to the kitchen/ toilet. And then there were the jukebox hangers. And there was the old crone with the beehive hair spray hairdo who hung most nights just downstairs (the front entrance stairs). But all these hangers were on the periphery, lurking at the edges of the main Coffee Shop area. That area, or at least a part of it, was reserved every night, subtly, firmly, by the waiters themselves for Bad Company.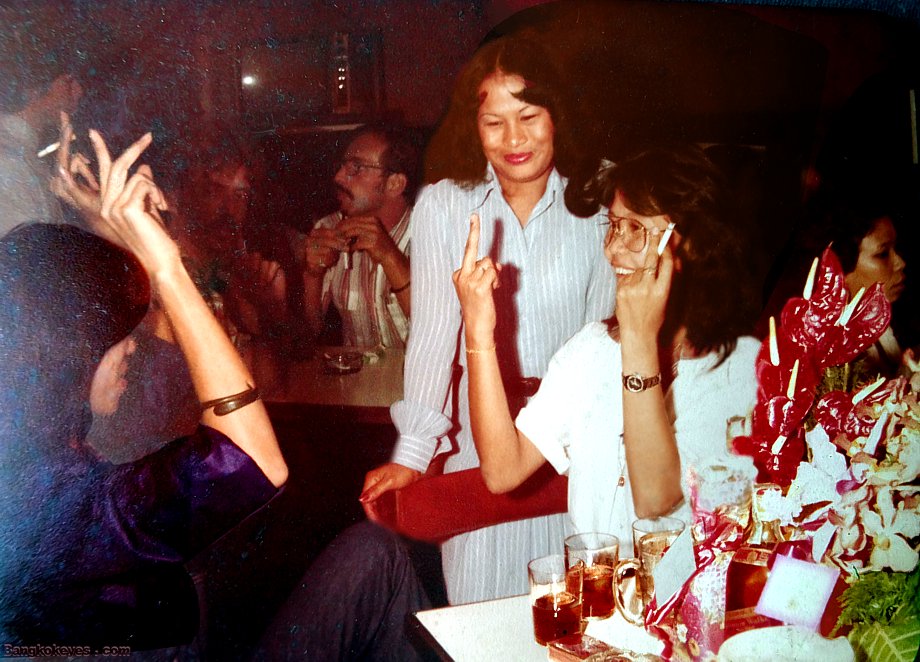 Bad Company was a group of young ladies who garnered one, or sometimes two center tables (depending on how many showed up that night). They would straggle in throughout the evening, one or two at a time, and if no center table were free, they would wait on the sidelines until one became vacant - whereupon the waiters came to clean, and then hold the table for them. But then Bad Company didn't hog the tables, you were welcome to join them, whether you knew them or not. They would usually order Singh or a couple ban of Mehkong, a bucket of ice and Cokes. Their intent was to kick back and relax, and relate the recent gossip going around, and tales of men they had met.
While the Bad Company ladies were freelancers by strictest definition, their object -while holding down their Thermae table- was not searching out customers. They were there to smoke, drink and enjoy whoever's company. Until whatever time. Remembering, of course, that the Thermae closed when all the customers went home, or 06:00 hours, whichever came first. We recall many an early morning having sat at the Bad Company table for hours, chatting with Bad Company and whoever else joined us. (Looking back, I honestly don't know how we stood the cigarette smoke.) Periodically someone would buy a round of iced coffees or beer, or whatever; Bad Company rarely ran out of anything to drink, usually only paying the first round themselves.
At some point in the wee hours the Bad Company girls would stray up the Thermae stairs and out - either with someone or alone. If they were with someone, they would either go with that person for the night, or for that matter, for the week, or invite their new found friend to stay with them at their room. Or if they were with a long-time acquaintance, perhaps take them home on the back of their motorbike to the family home in the suburbs to stay the night - or for what remained of it.....
However, the only constant is change, and as they say, 'times have changed'. For one thing, Bangkok does not any longer have an all-night freelancer Nitespot, where any properly deported girl can come in off the street and either buy a drink, or not, while she 'shops'.
But the greater change, the
sea-change
, is that of the attitude of the ladies of the evening. The above account, the brief thumbnail of the
Bad Company
, is but one illustrative story of the endless accounts we hear regularly from other long term residents and frequent returnee expats. Today's missing element is the friendship, the deciding to head out as a group,
farang
and
Thai
together, to go bowling on
Petchburi Road
, or to go to a temple the following day together. Or maybe just go play cards back at someone's room, etc, etc. Today, the ladies will go to your hotel with you for an hour, provided your hotel is next door or just around the corner. Otherwise, they will take you to the short-time hotel nearest their
Nitespot
. Only those expats who have experienced those earlier decades of
Bangkok's Nightlife
will know with certainty that it was not the same as today's "
Scene
". Whether or not you think yesteryear was "better" is entirely up to you.
- Above photos taken at Thermae Coffee Shop - 1980.


---
Traces of 'The Tiger'
GONE BUT NOT GONE....
The waterfront district of Fell's Point in Baltimore, Maryland in the US of A was established in 1763, prior to America's War of Independence from England. Soon after the turn of the century (the War of 1812), Fell's Point was labeled by the British as "a nest of pirates" (quite correctly). However now, in more peaceful times, it has become a U.S. Historic District. -And coincidentally, home to more than 120 pubs, bars and taverns - having early on become Baltimore's largest Night Entertainment Area. One of those taverns, going back to the 1800's, and still kicking lively, is Bertha's.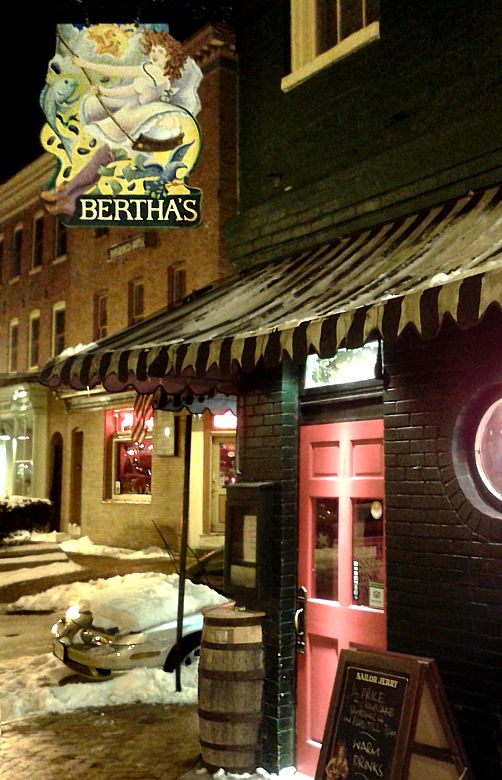 - Copyright G.B. - Used with permission
After nearly freezing his socks off, contributor G.B. happened into Bertha's a couple weeks back, and once his eyes became accustomed to the dark interior, he found himself looking upon "a wall full of stickers" - from almost everywhere. But the one that caught his eye was one from Lucy's Tiger Den. Good to see Lucy's still keeping such esteemed company in such far-flung corners of the globe..... He kindly clicked off a couple of phone-camera photos and forwarded them to us.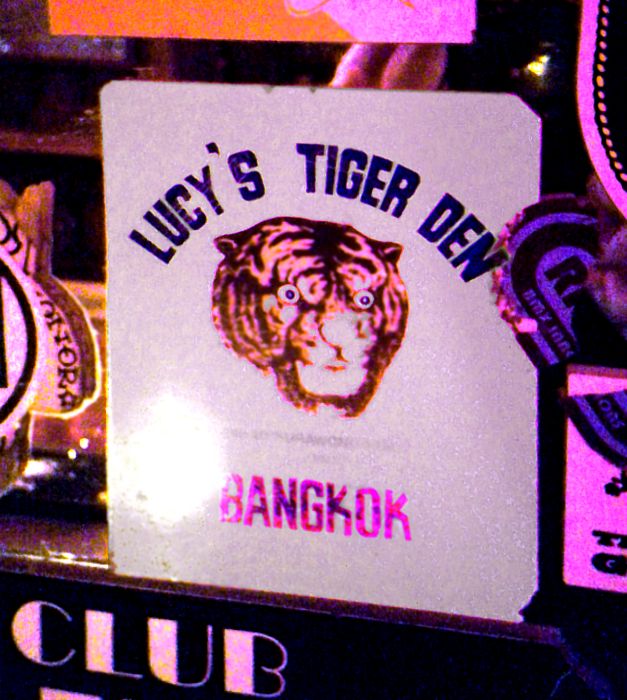 - Copyright G.B. - Used with permission
We couldn't think of a more fitting historical footnote to append to the already voluminous Tiger Rydberg - Lucy's Tiger Den story. Many thanks to G.B. for sharing this serendipitous find with us.


---
---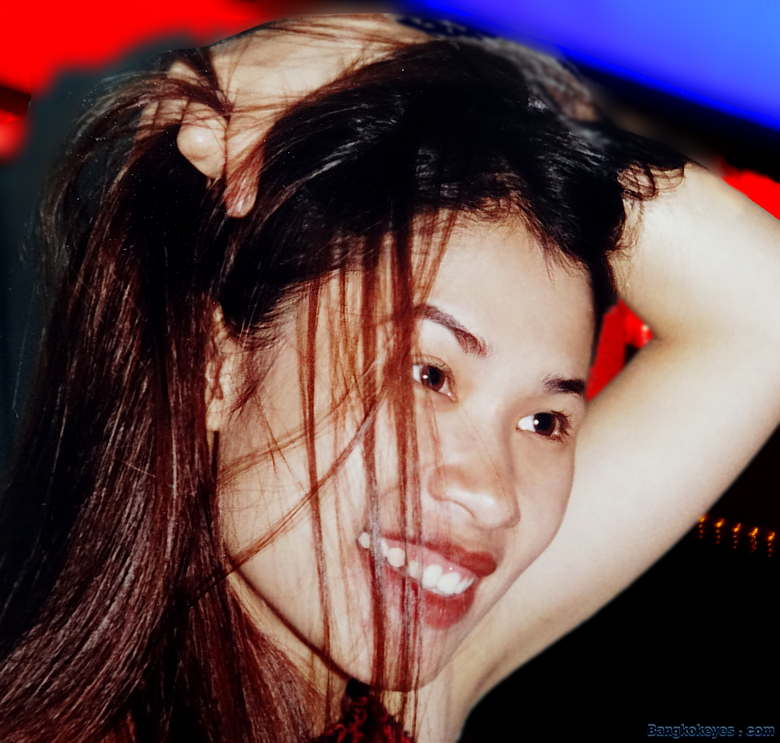 March's smile is having a 'Medusa-hair day'.....
---
---

Historical Minutiae Dept.


Bars By Any Other Name
"Boge",

Last month your blog mentioned the closing of the Velvet on Soi 33, and also mentioned it was the Christy's. But wasn't Christy's closed over a year ago?

Don't you feel this might create more questions than answers for your readers, perhaps?

Thanks,
K.

Greetings, K,

You are correct, Christies Club actually closed on October of 2012, Velvet opening in April of 2013. How time flies. But.... The Midnight Hour has found it prudent to keep tabs on the actual name (found on the required-by-law Thai language sign). The signage reads, "Velvet" & "Christy". The above pic shows both names. Thanks for writing in and giving us a chance to clarify.

Best,
Boge


---
? ASK US (ALMOST) ANYTHING !
We can answer virtually any (reasonable) question on the Expat Night Entertainment Scene in Bangkok - be it Historical or very recent. Send us an e-mail and we will do our best to answer you soonest.
| | |
| --- | --- |
| 'Boge' Hartman Historical Research | |
* Zootramp Publications

---

Let the March 2015 Follies begin...
BANKOK EYES' Expat Night Scene.


P

ATPONG

1



MAP




When
Kiss A Go-Go
opened originally in
May of 1994
(in the old
Lips 2
digs), they put up some new neon (-of course). When they closed early last year, the old neon stayed up, and when they reopened in
August
, the original neon was still intact. The sign (as tattered as it has become over time) is, however, almost entirely hidden from view due to the
contraband & brik-a-brak stalls
clogging the middle of
Patpong I
.

PATPONG I


P

ATPONG

2



MAP




One has to hand it to
The Strip
- they always have something interesting on the menu. This month, a "
Beer Bust Hoedown
". (Keep your puns to yourself, please...)

PATPONG 2


S

OI

C

OWBOY



MAP




What's yer sign, man?
NOT ADVERTISING NOT AN OPTION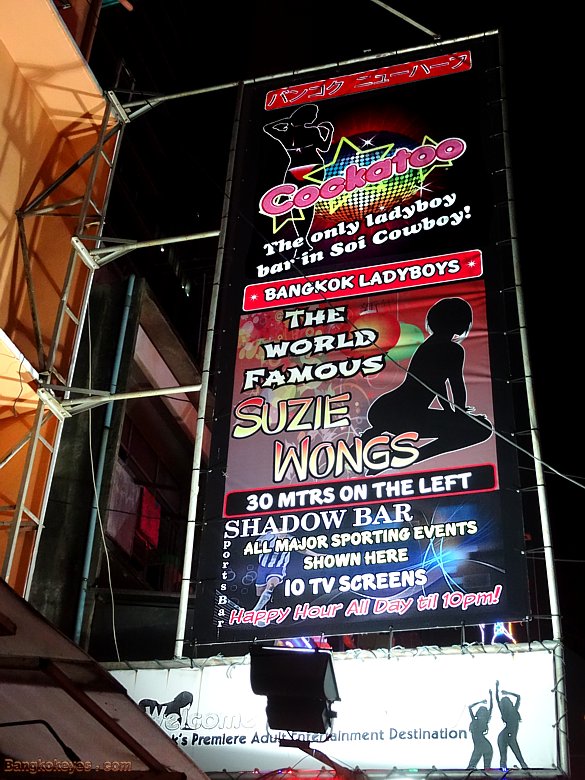 Soi Cowboy's best restaurant, the Old Dutch Corner advertises it's sister Venues.....


SOI COWBOY


N

ANA

P

LAZA



MAP




It looks like the
3
rd floor
Jail Birdz
didn't make bail. Absolutely no discernable change in the renovations from the previous month. This long a delay - the omens are not good....

NANA PLAZA


A '
for the archives
' pic of
Candy Land 2
, which seems to be picking up a bit. Roll with the tide.

NANA PLAZA


S

OI

N

ANA



MAP




Golden Bar Beer
was either a good idea or a bad idea. The
Nana Hotel
used it to remove the freelancers from the
Coffee Shop
, allowing them to populate the bar beer out front facing the street. (Thereby making the
Coffee Shop
a more 'family-friendly' outlet.) This pleased many old
Nana Hotel
returnees, and displeased many others. What is not in question is that
Golden
has been a money-spinner since it opened. Rock on.

SOI NANA


S

OI

K

ATOEY



MAP




The
One Night Only
is closed for renovations - very little of which have been accomplished over the last month. They didn't give an estimated date for reopening - the signs are not good. We'll keep an ear to the ground, and get back atcha.

SOI KATOEY - (SILOM SOI 4)


S

OI

22



MAP




The
Mekkhala Massage
has opened in the old
Sofa Thai Massage
(which closed two months ago). May they be dealt all aces and faces.

SOI 22 - (Sukhumvit)


It's knowing when to hold 'em, when to fold 'em -
Marlene massage
has cashed it in, having passed the mantle to the new
Nice Massage
. Welcome
Nice Massage
to partytown.

SOI 22 - (Sukhumvit)


The soi we tentatively have been calling '
Soi Lemongrass
' has experienced a number of name-changes recently. We thought the inclusion of a small map would be helpful. If you are looking for a massage, you will find every conceivable variation on this small sub-soi. Located just past the now closed
Imperial Queen's Park Hotel
.

SOI 22 - (Sukhumvit)


S

OI

D

EAD

A

RTISTS



MAP




It looks like
Shimai
are going to take another galloping run at the proverbial windmill. Extensive renovations nearly complete, we can expect an opening later this month. Location unchanged.

SOI DEAD ARTISTS - SOI 33


S

OI

A

MBASSADOR



MAP



Door Art Of The Month
Award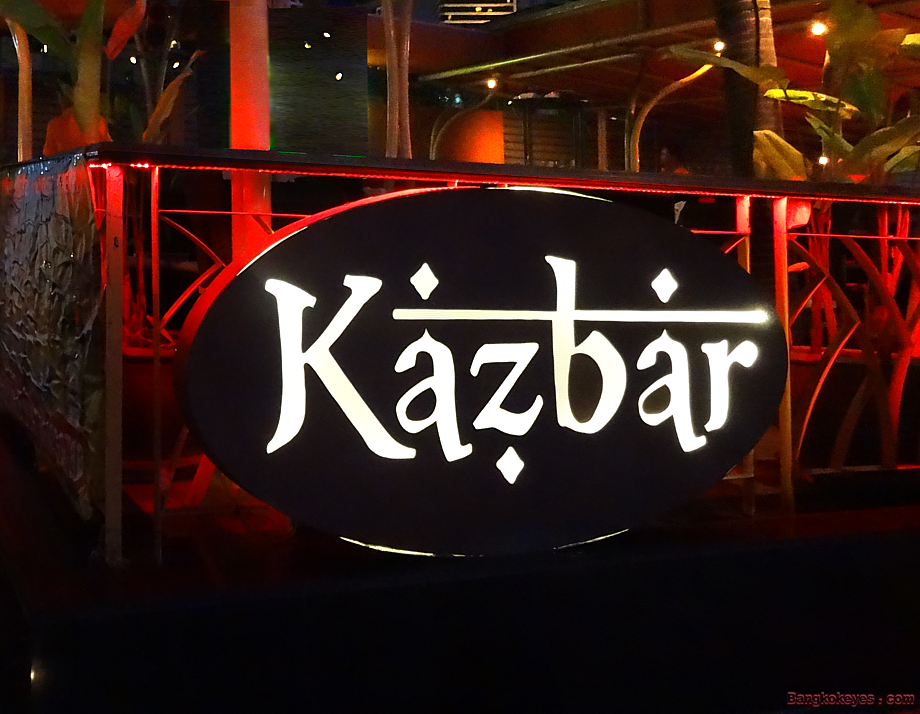 The
Kazbar
is an open faced sandwich of a lounge - for that enjoyable
outdoor-in-the-evening
experience, - most tastefully decorated. Well worth a place in the
Door Art Of The Month
pantheon.


SOI AMBASSADOR - SOI 11


What started out as the
Wax
quickly became the
Wax Late
. Then, after a brief renovation, it became the
Wax Sugar Club
. Then it quickly became just
Sugar Club
. Now it is back to
Wax Sugar Club
again - but be not concerned, all is
status quo ante
.

SOI AMBASSADOR - SOI 11


Last month we featured the
Vault Speakeasy Club
as our
Door Art of the Month
entry, but we failed to call your attention as to why it was called the
Vault.
-A picture is worth a thou....

SOI AMBASSADOR - SOI 11


The sometimes-open, sometimes-closed
Banana Club
was open on the night of our survey.

SOI AMBASSADOR - SOI 11


Q

UEEN'S

P

ARK

P

LAZA



MAP




The half-shophouse-wide
VL Internet Bar Beer-lounge
is back on it's feet after having been closed last month. Welcome them back to the fray.

QUEEN'S PARK PLAZA - SOI 22


S

OI

E

DEN



MAP




The
Bangkok Beat
, at the top of the
Soi
, has live music every night. They also have a "
Ladies Night
" every week - '
Ladies Night
', of course, is new-speak for "
Freelancers Welcome
".... Let the good times roll....

SOI EDEN - Soi 7/1 Sukhumvit


S

OI

T

WILIGHT



MAP




At the far end (
Rama IV
end) of the
Twilight Zone
are two unnamed bar beers. Well-appointed, but don't seem to be doing that much in trade, with only an occasional busy night....

SOI TWILIGHT



---

TOP

A PAGE FROM Bangkok's NIGHTSCENE HISTORY....

20

YEARS AGO :



March

With thanks to Cool Text - cooltext.com
Bangkok Eyes goes back in time to see
Who was new - And who was through
in the Expat Night Entertainment world.
How many of these old 'oases'
do you remember ?
Patpong I
*
The
Butterfly
(the one that opened in part of
Gold Fingers
a month previously) closed, revealing the then-brand-new
Butterfinger
. No
Nitespot
currently occupies those digs.
*
The
Camelot Castle
opened it's doors for the first time. Located in the old
Butterfly Bar Videotheque
digs. It is still there today, however is now a
bar beer
, and no longer an
A Go-Go
bar.
*
The
Sexy Bar
closed after a very short run at it. There is currently no
Nitespot
at that location - it was located upstairs above today's
Muzzik Cafe
.
---
Patpong 2
*
The
Elixir
reopened as
Elixir - The Condom Club
. Located on the
2
nd floor of the stairwell opposite
Foodland
. No
Nitespot
currently occupies those digs.
*
The Mask Go Go Boy
opened newly in the old
Bravo
digs, also located up on the
2
nd floor of the stairwell opposite
Foodland
. No
Nitespot
currently occupies those digs.
*
The
Body Talk Cafe Bar
re-opened on the
4
th floor of the stairwell opposite
Foodland
.
*
The
Kassai
, accessed from the
2
nd floor of the carpark, closed. There currently are no
Nitespot Venues
accessed from the carpark.
*
Both the
Spanish Eyes
and the
Counter Patpong
located up on
The Ramp
closed. The
Spanish Eyes
would reopen, but the
Counter Patpong
would not. The
Counter Patpong
digs are not currently occupied.
---
Soi Cowboy
*
The
Pink Pussycat closed (again) - currently these digs are occupied by Cockatoo.


---
Nana Plaza
*
The
X.T.C. closed. Currently home to Rainbow II.


---
Soi Katoey
(Silom Soi 4)
*
The
Hyper opened in the original Deep digs (the Deep having moved across the soi). That real estate now occupied by The Stranger.

* The The Genesis Pub closed. It would eventually become home to Tapas Room Club, which is still there today.


---
Buckskin Joe Village
(~ March 1988 - 9 June 2006)
(Also known - originally- as Tobacco Road or Soi Rot Fai, and later as Machim [Thai] and Soi Zero)

*
The
Arnold Bar bar beer closed.
---


---
Sin
City
2

A Film
Review
Click Here
! ORDER NOW !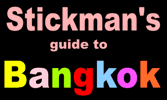 CLICK-

Bangkok Nightlife