.









MONTHLY NEWS
COLUMN


Bangkok,


01 April 2018


William R. Morledge


April's Nightlife News
Bangkok's Bars - 20 Years Ago
A Smile in the Land of Smiles.
Reader's Corner: "A Stickman Return?"
Graffiti #145 : Taiwan's Got Talent ...
Since
Soi Dead Artists Night Entertainment Area
(
Sukhumvit Soi 33
) reached its peak in
2010
, it has been in a continuous linear decline in terms of total numbers of
Nitespots
open to the public.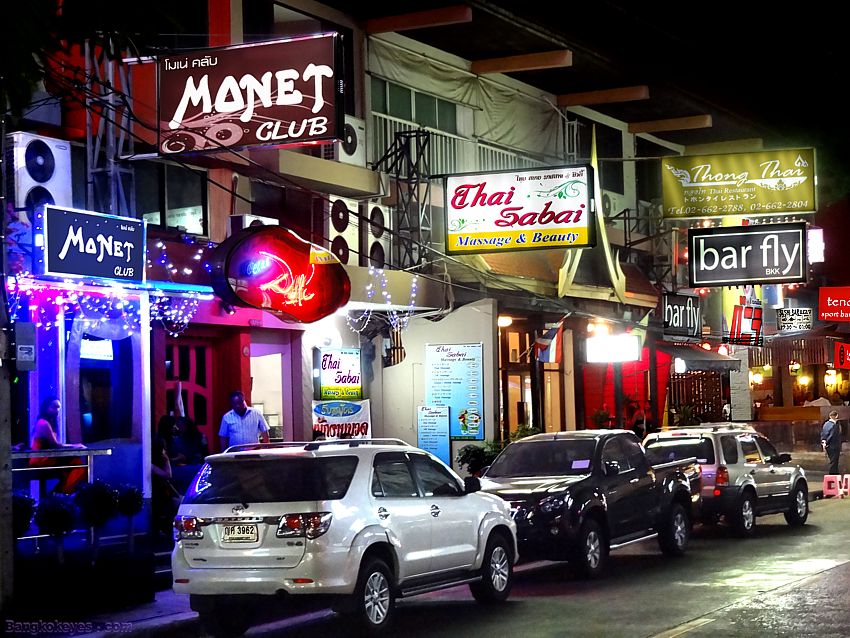 This file photo shows a number of bars that have already disappeared,
or will soon disappear under the wrecking ball.
There are a number of reasons for this relatively rapid decline - and you can bet all reasons lead directly or indirectly back to money - 'when in doubt, follow the money', as they say. The first, and most direct reason is lease prices for the various venues have been continually rising. Property owners naturally are perpetually testing the waters, seeing what the market will bear - they are hoping that
Soi 33
will become the next
Soi Thonglor
- entertainment-wise. This has had the effect of driving the smaller, less busy
Venues
away - the land/ property owners ever hopeful that deeper pocketed lessees (
Nitespots
or other) will come to take their place. In some cases, this has happened, however, often those new lessees have not been opening
Night Entertainment Venus
. The net effect of this alone has caused much of the decline in the
Soi
.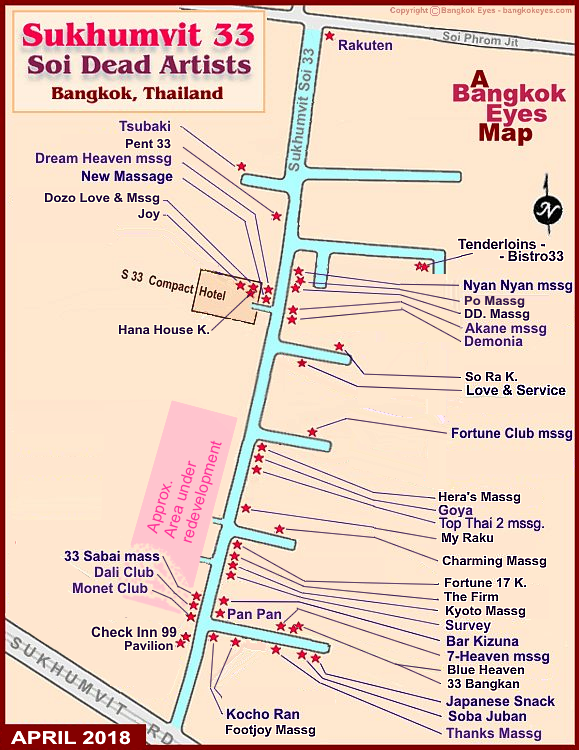 A second, and no less significant reason for the decline of
Soi Dead Artists
is large areas are currently undergoing redevelopment - a number of these development projects are destined to be yet even more condominiums. While a lot of the ongoing development is deep in the soi, and not affecting the current
Night Scene
, one large development has caused the closure of a number of
Venues
(see shaded portion of the map). Some of the bars have relocated within the
Soi
, but others have moved to nearby areas - or just gone out of business.
- Soi 33
Year 2010
Nitespot Names
(Japanese Venues First)

1. Fusicho
2. Chip In
3. Hibari
4. Zoo
5. Srawberry Farm
6.Vanilla
7. Akane
8. Kocho Ran
9. Joy
10. Nyan Nyan
11. Asuka Club
12. Ran Maru Massage
13. Geisha Massage
14. Onna No Ko
15. Ran Hime
16. 33 Bangkang
17. Setsu Getsu
18. Yuki Hana
19. Rakuten
20. Dream Heaven Massg
21. Love Teen Massg
22. Napoleon
23. Tenderloins
24. Sawasdee Massg
25. Kiss
26. Livingstone's Beer Gdn
27. Livingstone's Sports Lng
28. Music Station
29. Blue Heaven (before not Nippon)
30. Bar Fly
31 Dali Club
32. Dali Coyote
33. Christie's
34. Bistro 33
35. Cyclone Club
36. Pheeran Massg
37. Po Massg
38. Teen 3 VIP Masg
39. Best Massg
40. Demonia
41. Santana
42. Tuk Tuk
43. Monet
44. Green Parrot
45. Beavers
46. Sweet Mango
47. Lookie Lookie
48. Wall Street
49. Bliss Massg
50. Gaugin
51. Papa
52. The Dew Msssg
53. Soulmate
54. The Office
55. Mojos
56. Cefle Massg
57. Degas
58. Renoir
59.Vincent Van Gogh
60. Simply Spa
61. MMS Massg
62. Jack & Betty Massg
63. Central Tour Massg
64. Londoner Brew Pub.



- Soi 33
Year 2015
Nitespot Names
(Japanese Venues First)

Tsudoi
Vanilla
Ran-Hime Club
Honey
LB Club Mitu
Tomoe Club
Tsubaki
Blue Heaven
Ikemen 33
Japanese Karaoke
Omotenashi Club Mitu
Joy
Kocho Ran
Sakuranbo Snack
Soba Juban
Japanese Snack Bar
Yumeji Club
Bar Kizuna
Akane Fashion Massage
Asuka Club
Gate Barbecue
Nyan Nyan Massage
Monet Club
Dali Club
33 Thai Sabai
Bar Fly
Tenderloins
Ocean Pool Lounge,
Ocean Gastro Bar, Spa
Fine Massage & Spa
Moulin Rouge
Love Teen Massage
Dream Heaven Massage
Thanks Massage
Survey Entertainment
Araya Massage
i Bar
The Office Bar & Grill
Mojos
Cefle Massage
My Therapy
Lips
Chillax Spa
Goya Club
Wall Street Bar
Fortune Club
Dark Side
Sweet Mango
Napoleon Club
No. 1 Massage
Demonia
Teen VIP Massage
Po Massage
Bistro 33
Rakuten


- Soi 33
Year 2018
Nitespot Names
(Japanese Venues First)

Rakuten
Tsubaki
Pent 33
Dozo Love & Massg
Joy
Hana House Kara
Nyan Nyan Massg
Akane Massg
So Ra Kara
Love & Service Massg
Fortune Club
Hera's Massg
Fortune 17
Kyoto Massg
Bar Kizuna
7-Heaven Massg
Blue Heaven
33 Bangkan
Japanese Snack Bar
Soba Juban
Kocho Ran
Check In 99
Pavilion
Monet Club
Dali Club
33 Thai Sabai
New Massage
Dream Heaven Massg
Footjoy Massg
Thanks Massg
Survey
The Firm
Charming Massage
My Raku (Korean)
Top Thai 2 Massg
Goya
Demonia
DD. Massage
Po Massg
Tenderloins/ Bistro 33



18 of 64 Total Nitespots were Japanese oriented Nitespots.

That is equal to 28 %
22 of 55 Total Nitespots are now Japanese oriented Nitespots.

That is equal to 40 %
21 of 40 Total Nitespots are now Japanese oriented Nitespots.

That is equal to 52 %
A third, and lesser reason behind the contraction of
Soi Dead Artists
, at least as perceived among
Western expats
, is the ever increasing number of
Japanese
bars. More than one bar owner has complained that the
Soi
is "
becoming Japanese
". While that is a bit of an exaggeration (perception can emulate reality), there is some truth to it. For the first time in its history,
Soi Dead Artists
has more
Japanese
Nitespots
than non-
Japanese
(see listing above).
But in spite of those who predict doom for
Soi 33
, there is a light at the end of the tunnel, however dim. With the large amount of property development already ongoing, or about to commence, there is a great likelihood that once it is completed (give it another
18
months), there will be a significant amount of commercial property up for grabs - and a lot of that will likely be
Night Entertainment Venues
.





April's

Thai Smile

smiles all the while...





Let the April 2018 Follies begin-



The renovations continue at the
King's Castle 1
/
Camelot Castle
- which should be completed in another month... It looks like the combined premises will be the new, enlarged
King's Castle 1
, however in the meantime, they have sent their girls - and their sign over to
The Club
(
The Club King's
) on
Soi Bookstore
. We are nominally surprised that the
King's Group
is investing yet again in a
Night Entertainment Area
that looks lately to be a dead man walking....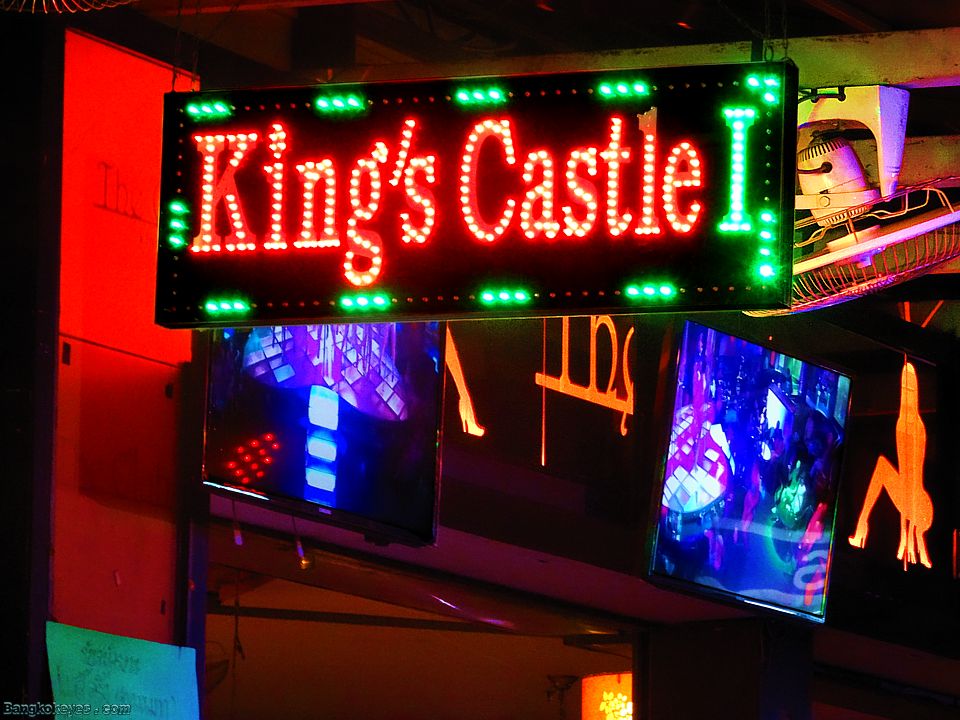 PATPONG 1


The
Super Pussy
, which had lain fallow for the last couple months (and had become infested with soi touts and ad-hoc ping pong shows) has reopened. Their new sign is shown below (their old on-the-wall neon remains unchanged).
Modus operandi status quo ante
. May they persevere....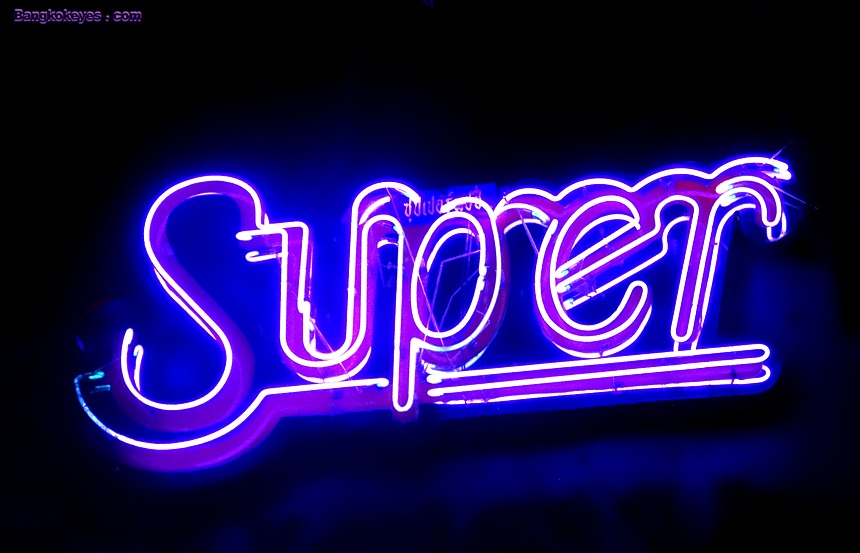 PATPONG 1


Last month we noted the opening of the upstairs
Happy Bar
(above
King's Castle 1
), but had no photo to show for it. They took over the old
Club 66
digs. The snapshot below for the archives. Yet another "
pay-for-show
" bar.... Oh, well....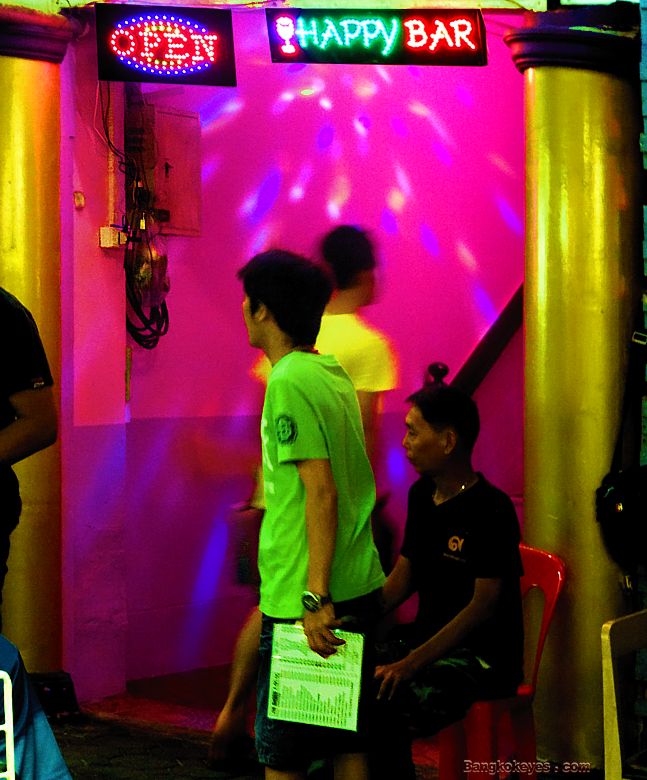 PATPONG 1


One of
Patpong 1
's oldest oral services bar, the
Kangaroo Club
is closed for long-overdue renovations. When (if) they reopen, we'll get back atcha....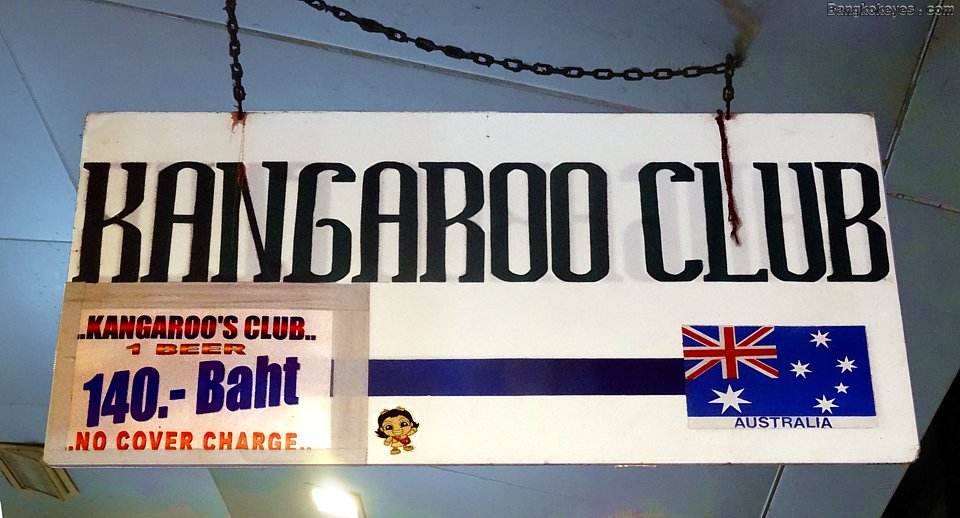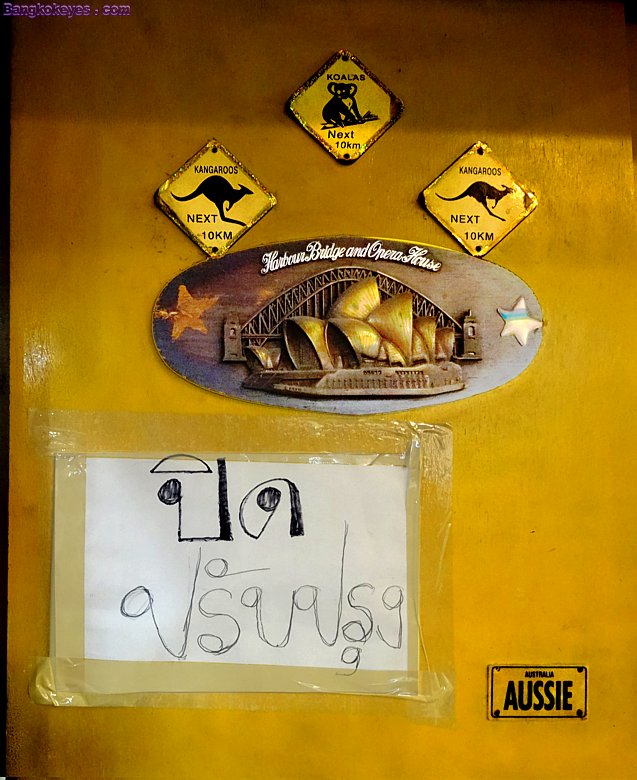 PATPONG 1


The nightery shock-of-the-month is the closure of the
Electric Blue
. For the first time in decades, it will not reopen as a bar - this go-round it will be a
steak house
. It had been a bar since the early days of
Patpong II's
heyday, along with other bars like
Cloud Nine
and the original
Takara
. Then for many years after that it was the
Rififi Bar A Gogo
, then in
April 2004
it became the
Electric Blue
. (So, I guess we can, all-in, say it had a good run...) Another major bar leaves the
Patpongs
....when is the rot going to stop...?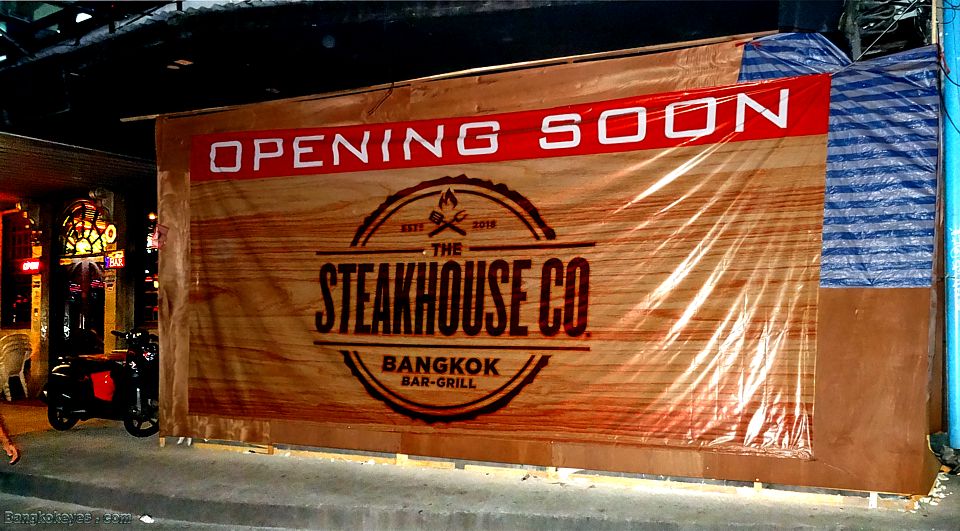 PATPONG 2


We think of
Tavern Three
as an open-fronted pool bar, but we tend to forget it has a cozy bar tucked away in the corner. May they keep on keeping on...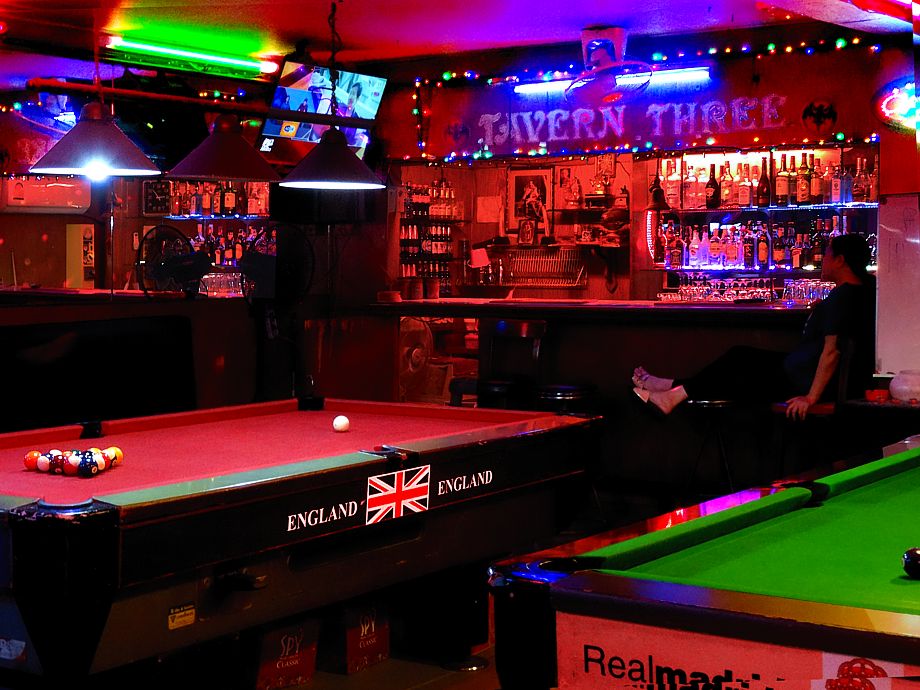 PATPONG 2


The
Thai Smile Bar
spends most of its time opening and closing - a difficult way to keep 'regulars', no? This month they have reopened again...but for how long is anyone's guess....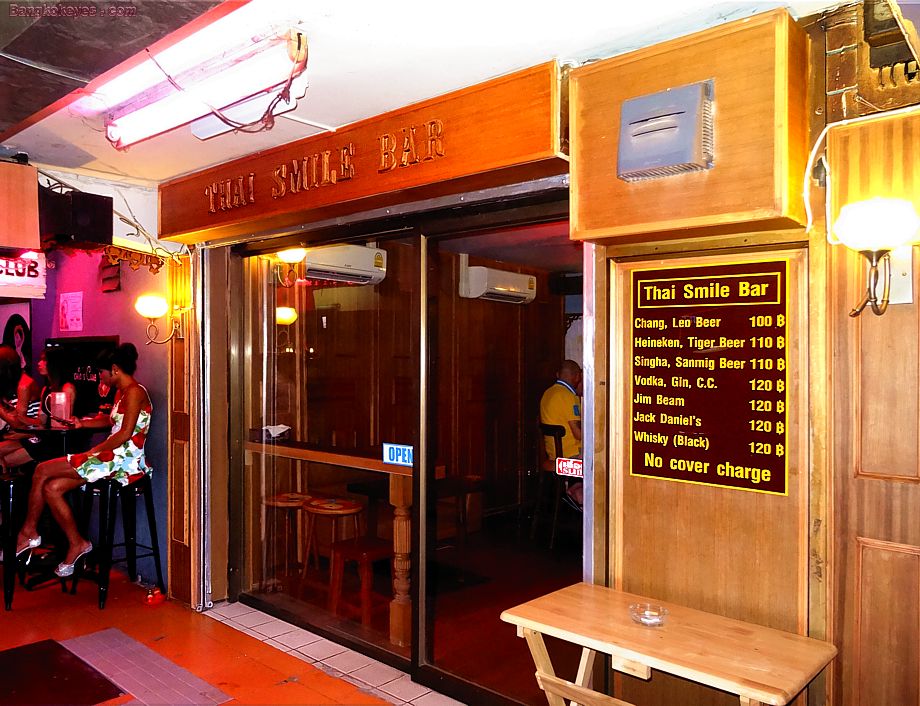 PATPONG 2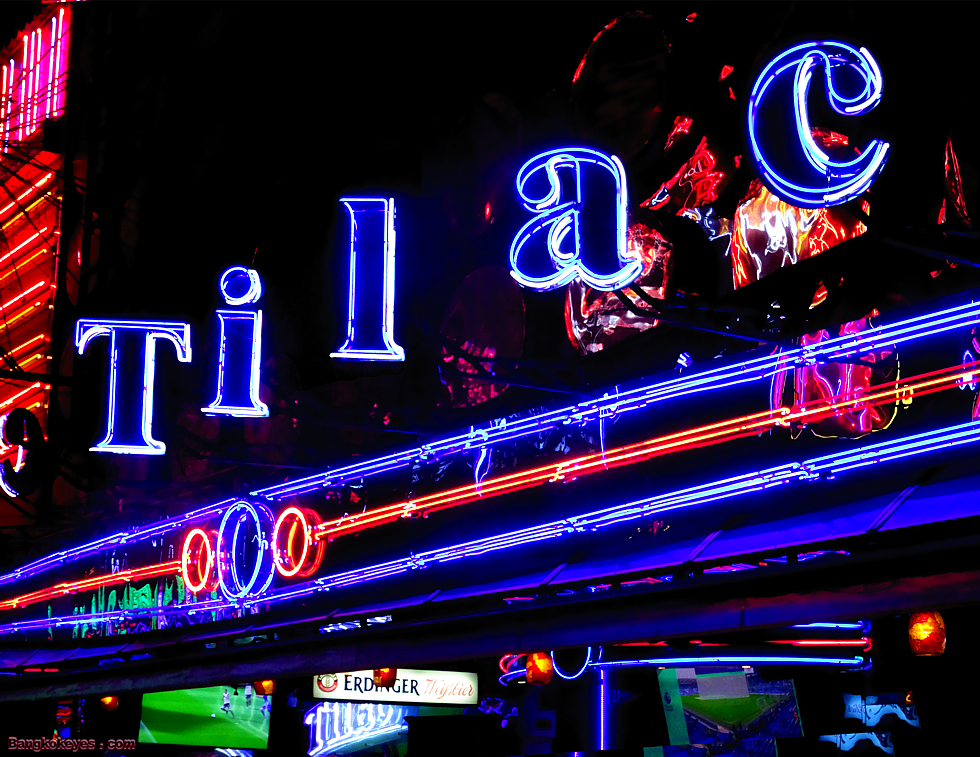 We have been trying to make up our minds for years - as to when we would give the

Tilac

the nod for

Door Art of the Month

, so why wait? A classic bar with classic neon.


SOI COWBOY


Nana Plaza
GETS A ROOF - PART II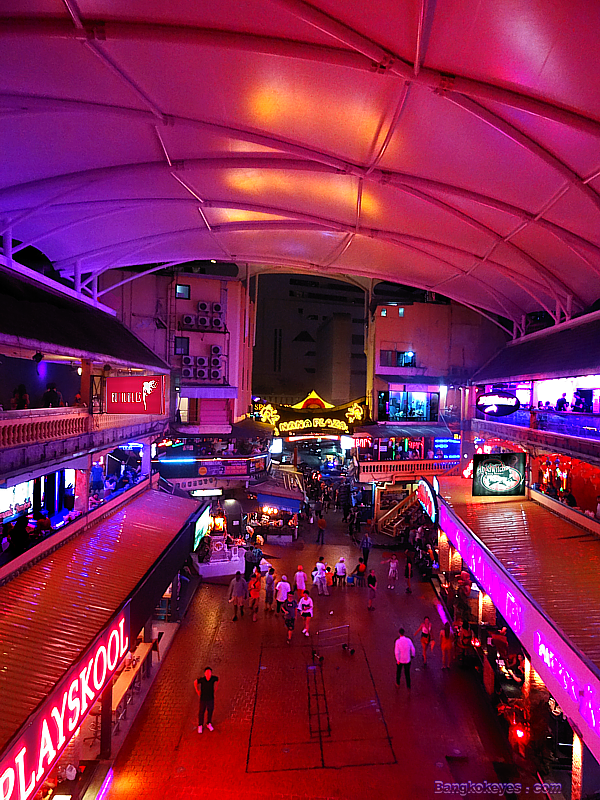 Last month we had a pic of the gigantic framework over
Nana Plaza
, the tarpaulin not yet installed. This time around, the project looks to be complete. Anyone venture a guess as to how many million baht that monstrous tent cost? We can only imagine the number of beers, lady drinks and 'offs' it took to raise that kind of money...
Note the dark rectangular outlines in the middle of the courtyard. It looks like the replacement bar to the original
Nana Beer Garden
threesome will be smaller, with additional 'outdoor' seating spreading outward. A wait-and-see item....

NANA PLAZA


Welcome the new
Golden Beer Bar
, having just taken over the reins from the
Melodies U. K.
(
Melody U. K. Bar
). If the name sounds familiar, the original
Golden Beer Bar
was located -for many years- where
Hooters
now parks itself (in the front of the
Nana Hotel
). May the
Golden
continue to rock 'n roll....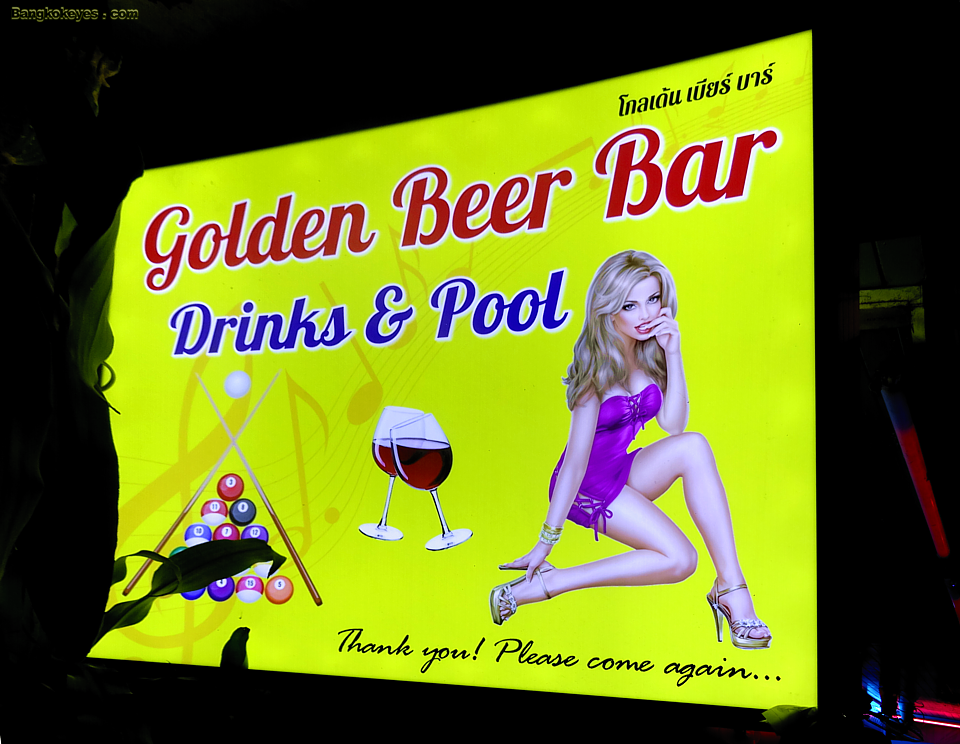 SOI NANA


Last month we noted the reopening of
Heaven's Bar
in its new downstairs location. It looks like we were in error (
We Don't Make Mistrakes Dept
.) It looks like the correct name is
Heaven@4
- and the upstairs
Heaven's Bar
is making sounds like it may reopen... More on that next time 'round.

SOI NANA


The
Naree Massage
has used the pull-out sidewalk sign as their new permanent overhead sign. A good move - now they can be seen from way up the
Soi
... May they continue to slip 'n slide....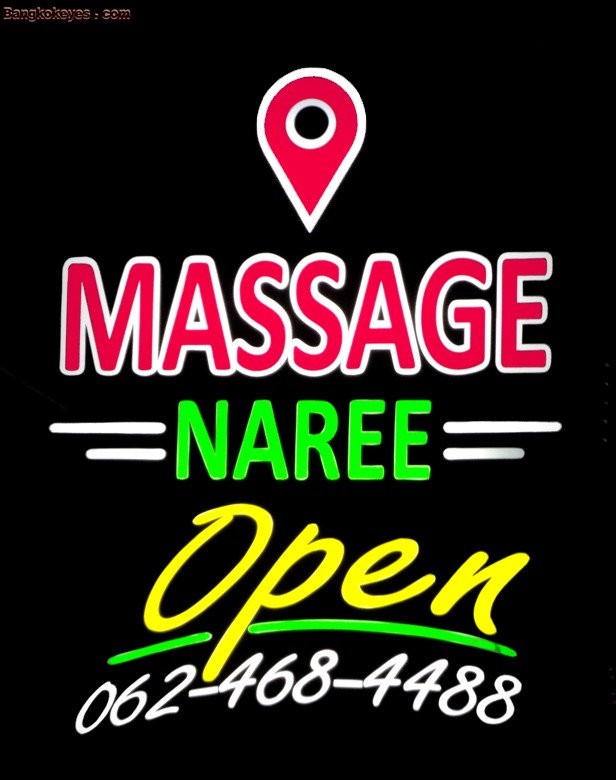 SOI NANA


Hugs Bar-Karaoke
, closed last month, has reopened. It looks like they have added some pool / snooker tables.... Welcome back to the sharkpool.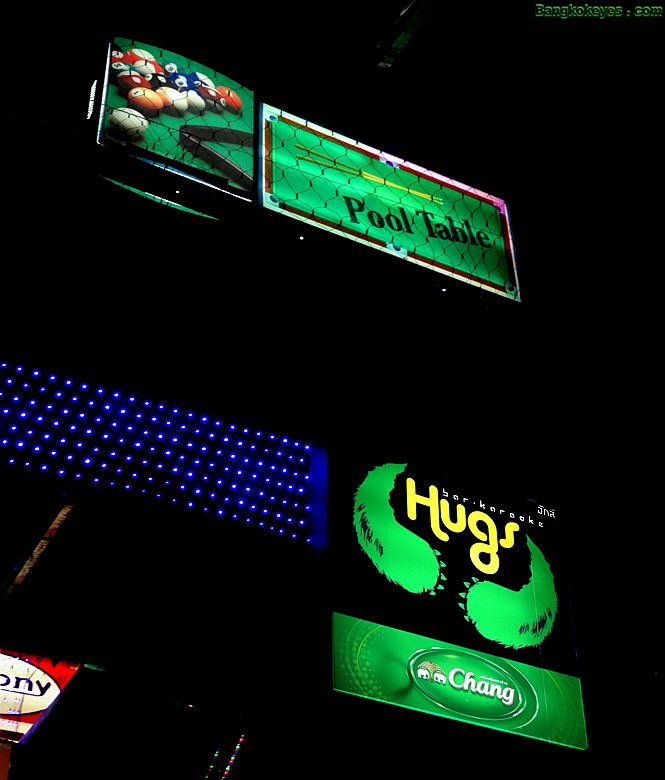 SOI KATOEY


Happy Bar
, after having been closed for a few months, has got a new owner, air conditioning, and karaoke. (Actually no one has been seen using the 'karaoke', but it is a most comfortable place to hide away for a cool one.) Located at the top of
Soi Starlight
across from
Queen's Park Plaza
. May the nightgods smile...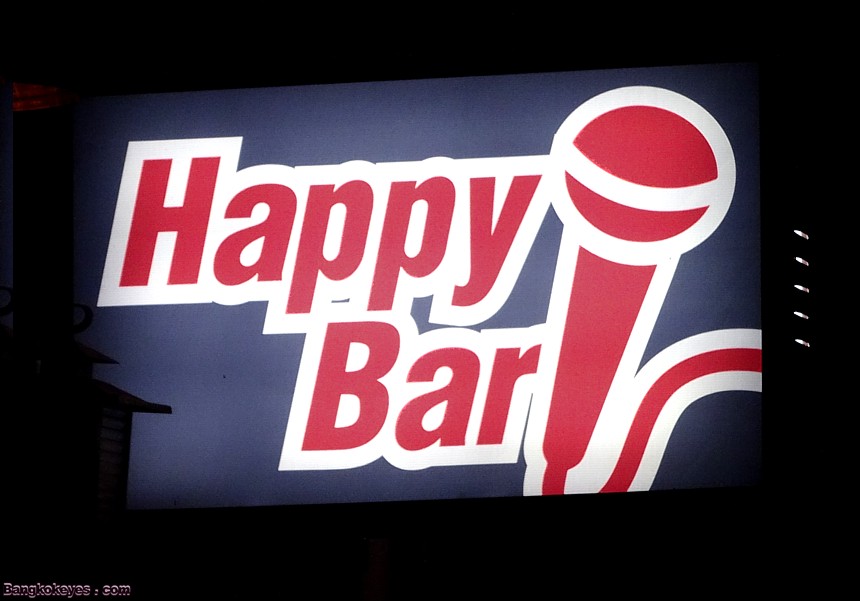 SOI 22 (Sukhumvit)


The
Luna Lounge
, also closed for a couple of months, has got its second wind - and has rolled the red carpet back out..... Welcome them back to the neon jungle.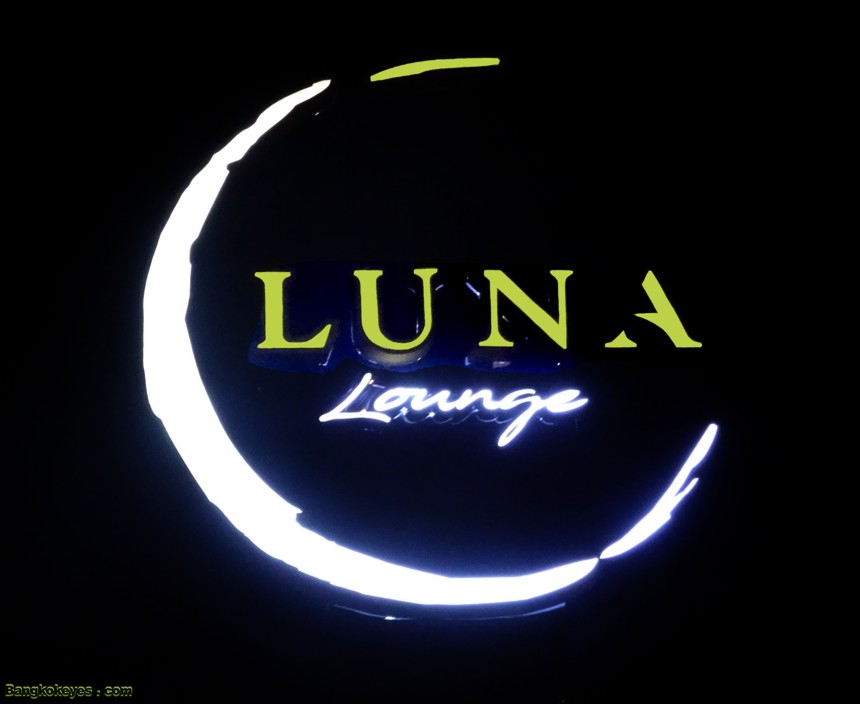 SOI 22 (Sukhumvit)


The
Talli
looked darker than a poisoned well the other night when we passed by. Located in the
Holiday Inn
atop
Soi 22
. We'll check back later to see whether or not the fat lady sung, and get back atcha.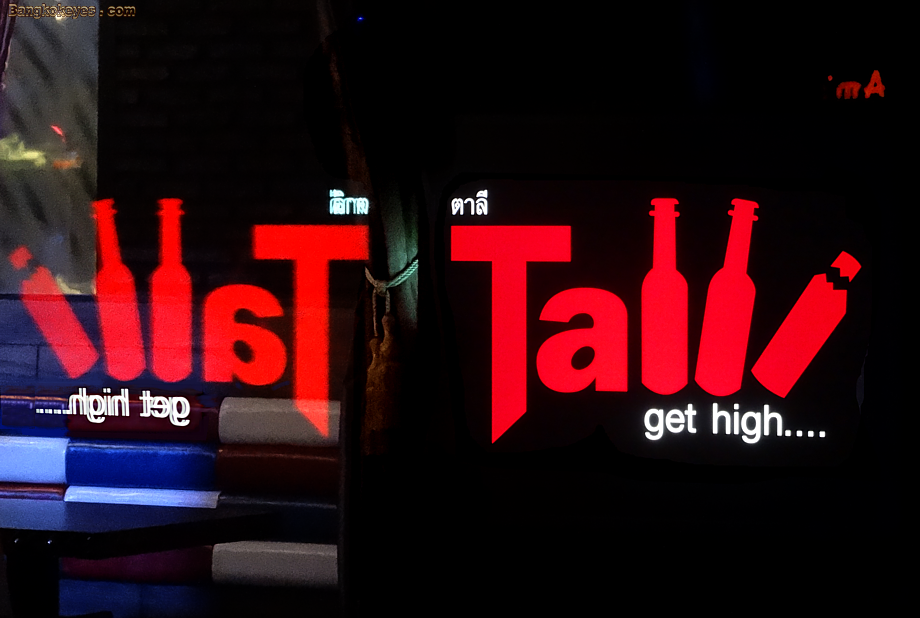 SOI 22 (Sukhumvit)


It looks like a new massage parlor, the
Thai Candy Massage
is about to open in
Soi Hanna
on
Soi 22
. We'll know more the next time 'round.
( No photo available )

SOI 22 (Sukhumvit)


Bangkok Bunny Massage
has taken over the
Honey Bee Massage 2
digs, lock, stock and Tiger Balm. We hope to have a better pic next issue... Wish them well in a soi already overcrowded with massage parlors... (
Soi Hanna
)...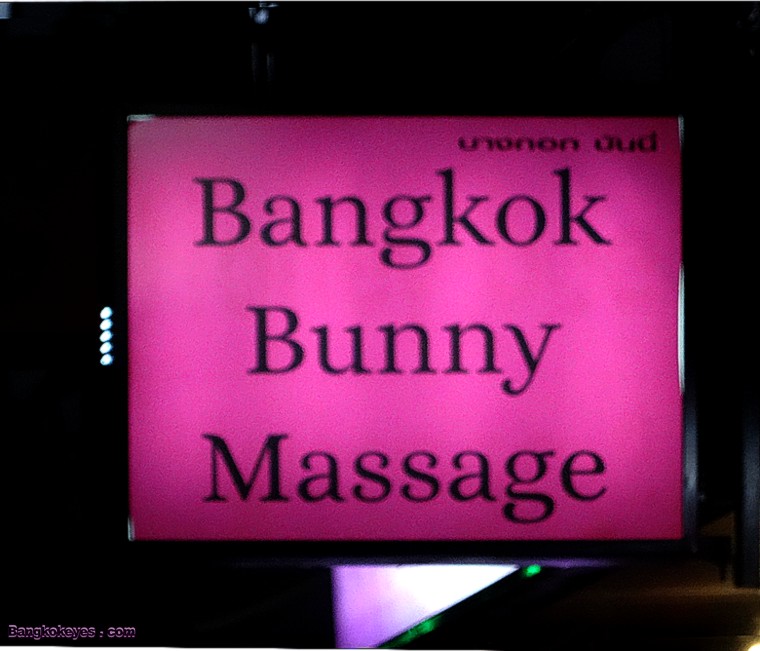 SOI 22 (Sukhumvit)


The
Lily Relax Massage
has taken over operations from the now defunct
Prem Massage
. Welcome them to the sharkpool.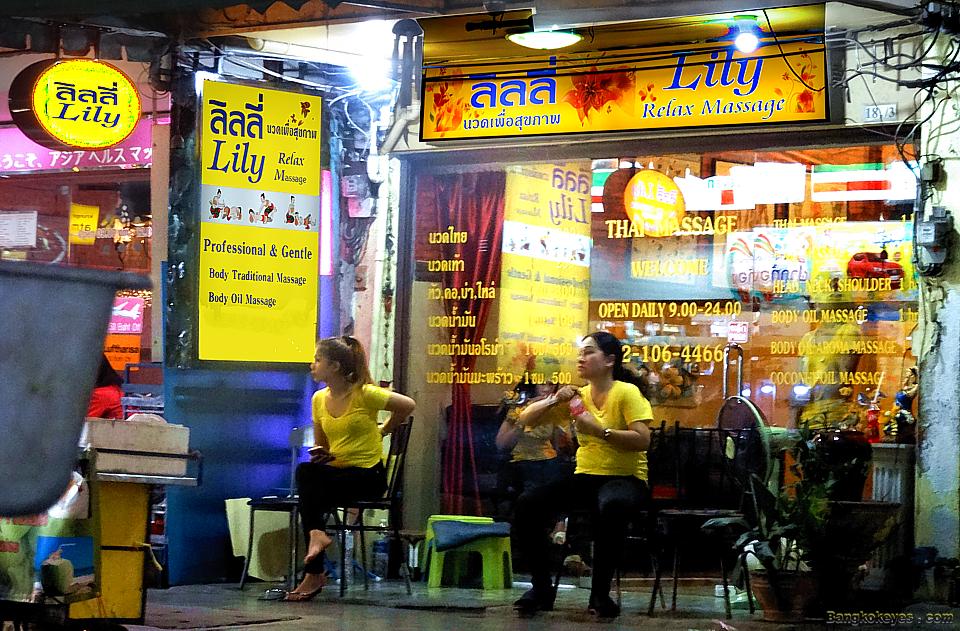 SOI 22 (Sukhumvit)


We'd put off including the

Above Eleven

on our monthly survey, but last month, our curiosity finally got the better of us. Located atop the

Frazer Suites

, deep in

Soi Ambassador

, it does have a view, but perhaps not the best rooftop view in

Bangkok

And I must admit, its multi-level layout wasn't all that convenient. Nor is it really a night entertainment

'

Scene

'

... it seems more a place where people go with a friend or two to be seen. Or, perhaps most of the customers are

Frazer Suite

guests satisfying

their

curiosity. Perhaps its just me - perhaps I had great expectations, and found it just about the same as any other rooftop lounge in any other hotel... We needn't wish them prosperity, they are already overbooking every evening, and many customers are left standing the entire time with their drinks in their hand...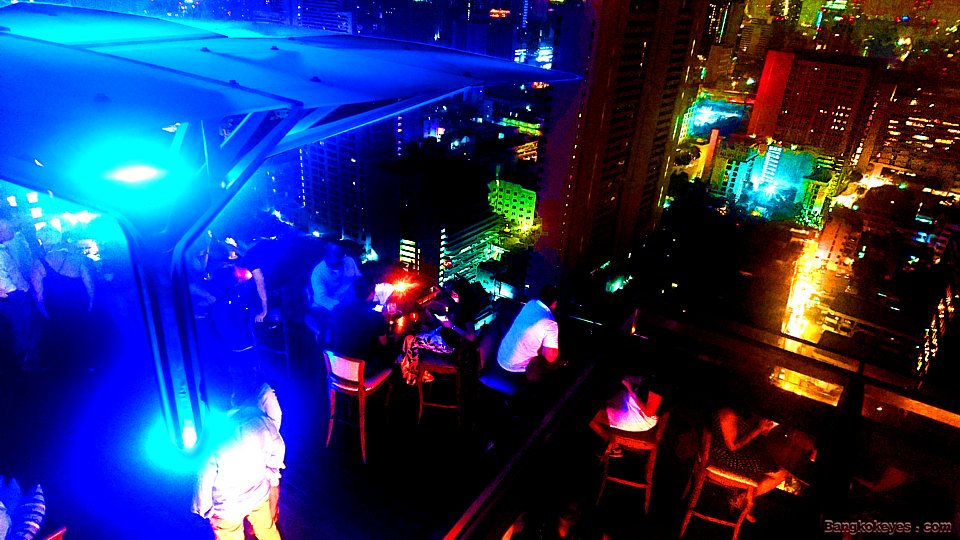 SOI AMBASSADOR (Sukhumvit Soi 11)


Yet another pic for the
Archives
of the
Zanzibar
. Relaxing outdoor motif, live music. They keep on keeping on...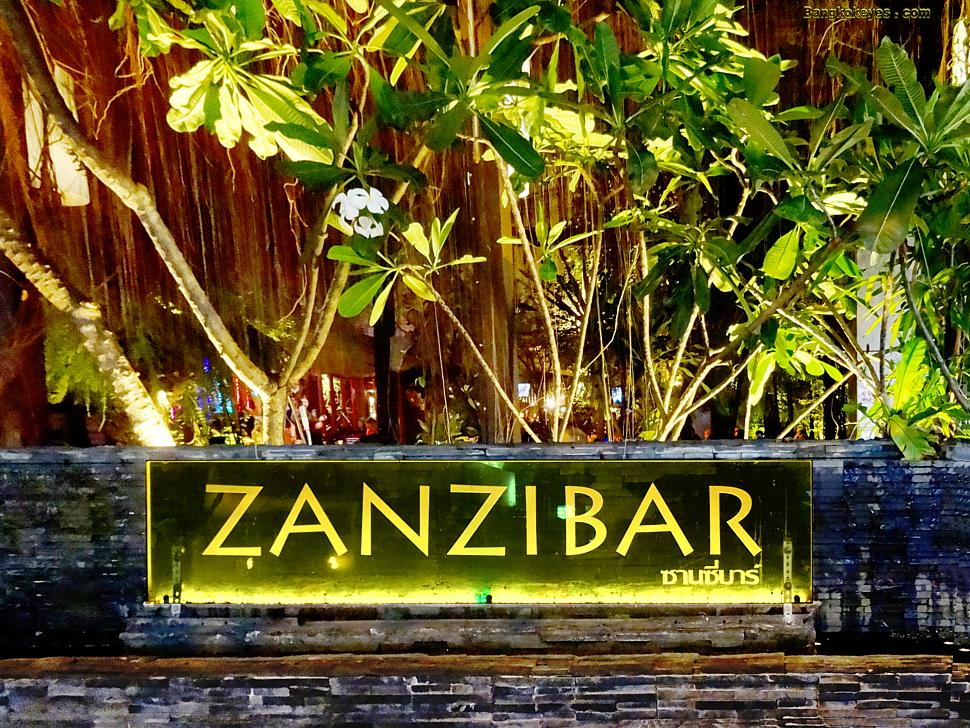 SOI AMBASSADOR (Sukhumvit Soi 11)


The
Time Out 129
has moved into the old, and just closed '
Nan's Bar
'. Welcome them to partytown.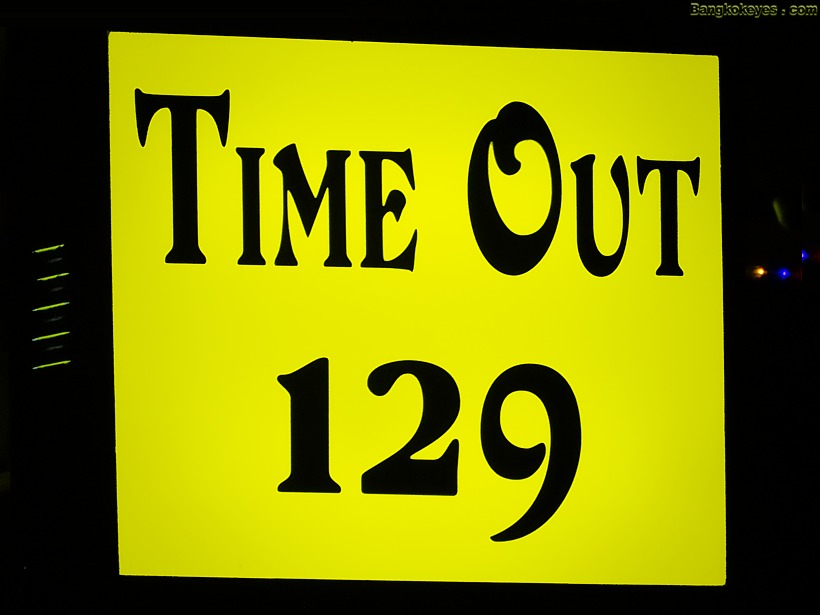 QUEEN's PARK PLAZA (Sukhumvit 22)


The long-standing bar restaurant
Baan Beer
has added a
Muay Thai
boxing ring to their menu of delights found within. If we can take a page from history, I've taken note through the years that a number of other
Nightspots
have attempted to include
Muay Thai
, and they have all failed - quickly. Just sayin'....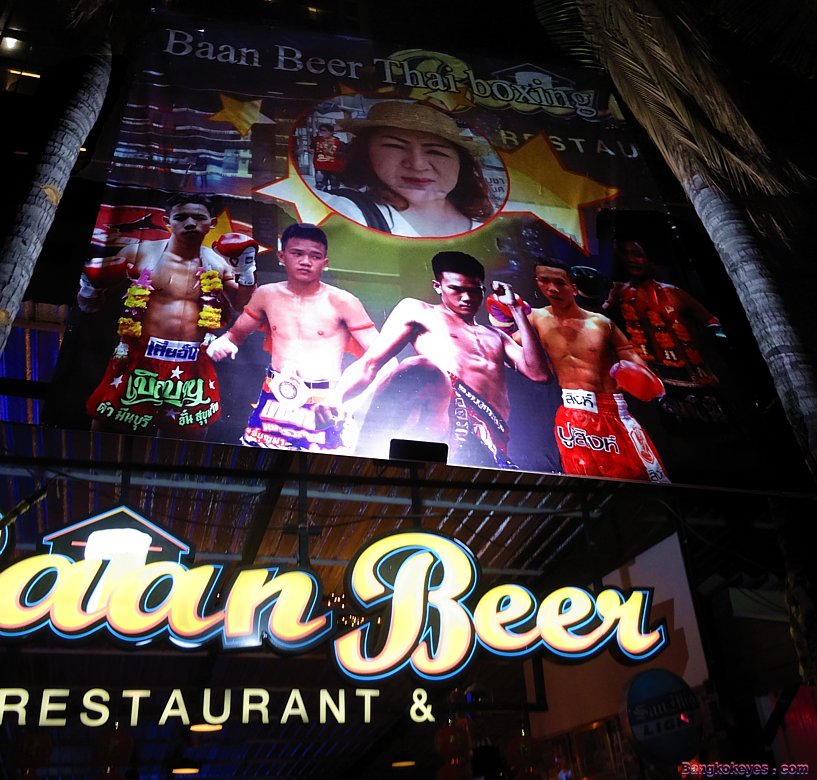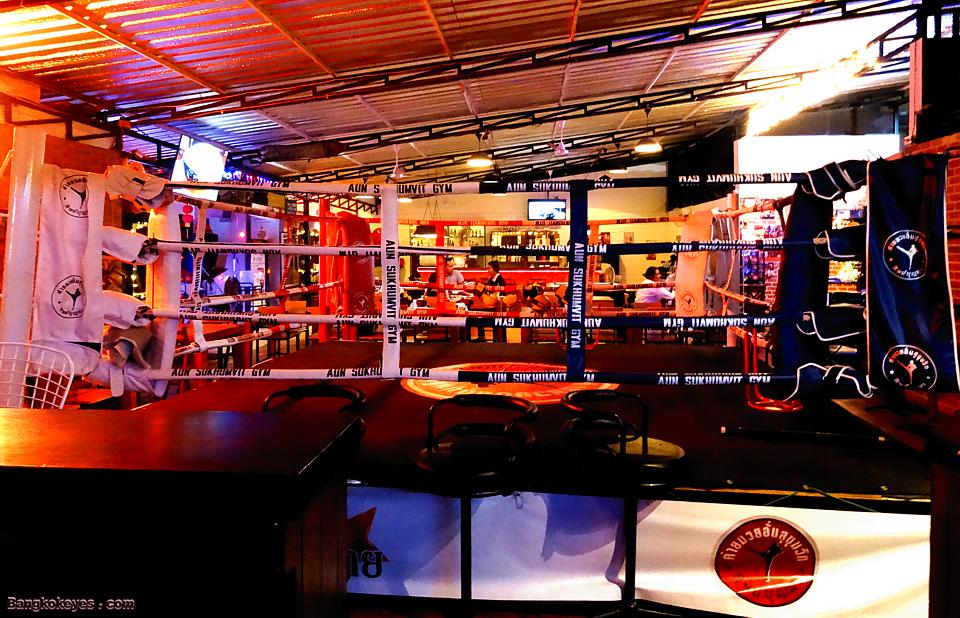 QUEEN's PARK PLAZA (Sukhumvit 22)


The small (
Unnamed Bar Beer)
just across from the
Sin Bin
has pulled its shutters around and called it night - or so it would seem. Lets give it a breather and see if they reopen by this next upcoming survey...
( No photo available )

QUEEN's PARK PLAZA (Sukhumvit 22)


The
Araya 3 Massage
has fallen headlong into the
Abyss
, only to be replaced by the brand-new
Kyoto Massage
-
operant descriptor
unchanged. Welcome to the slippery slope....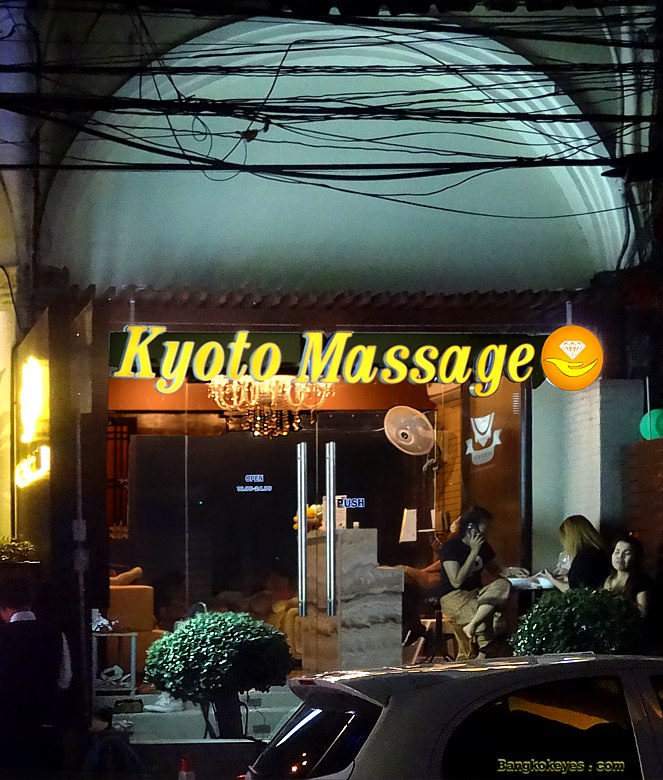 SOI DEAD ARTISTS (Sukhumvit 33)


The newly opened
My Raku Massage
has had a number of names (and a number of owners) over the years, most recently,
My Therapy Massage
(or sometimes -
My Theraphy
). They have, however kept the same staff of well-trained masseuses. Welcome them to the machine.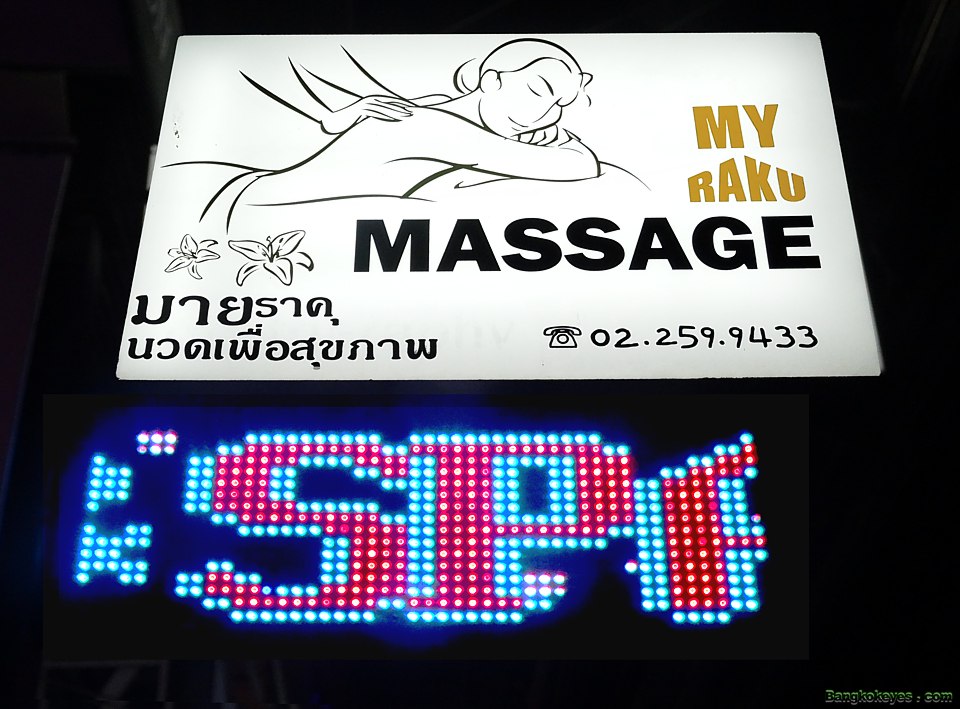 SOI DEAD ARTISTS (Sukhumvit 33)


The
Nannie (Brown) Blue
actually opened last month on the closure of its predecessor, the
B & A Bistro Bar
but they hadn't selected a name yet. This month we wish them a belated welcome to the nightgames...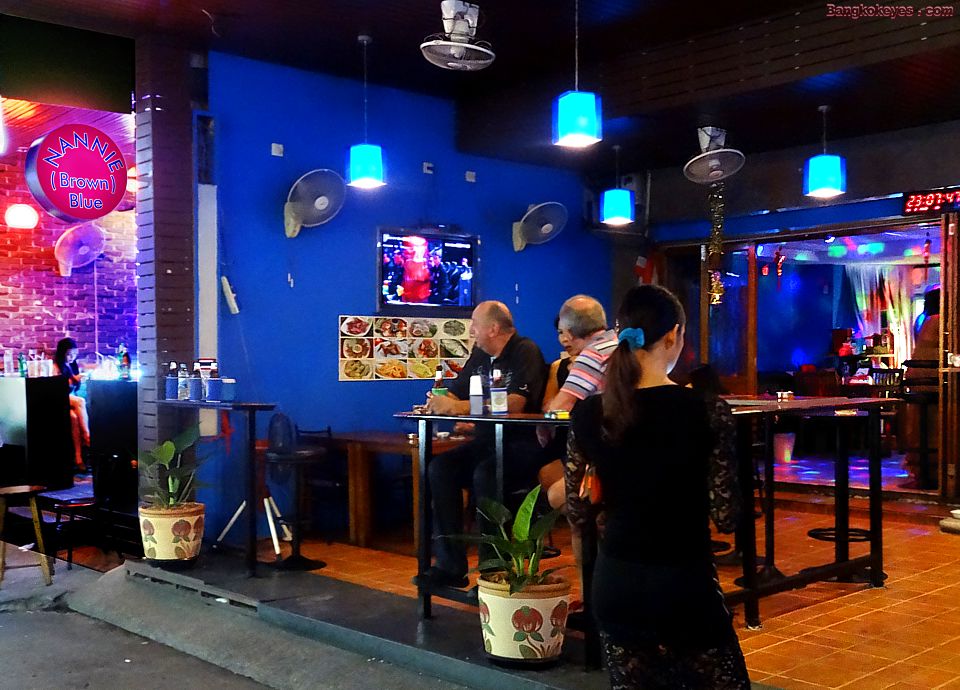 QUEEN's PARK PLAZA (Sukhumvit 22)


This month we capture the dynamic details of what is likely the 'iconic' signage in
Soi Twilight
: the
Dream Boys / The Boys
neon. One of two of
Bangkok's
major gay
Night Entertainment Areas
. We note this periodically, as those interested in the gay life want to know where to go, and those not interested want to know where not to go.... (
Note
:
turn down
the sound before you run the clip...)

SOI COWBOY



A PAGE FROM Bangkok's NIGHTSCENE HISTORY....
20
YEARS AGO

April

With thanks to Cool Text - cooltext.com

Bangkok Eyes goes back in time to see
Who was new - And who was through
in the Expat Night Entertainment world.
How many of these old 'oases'
do you remember ?
Patpong I
* No changes that month / year. -


Patpong 2
*
Eldorado
became
Eldorado Bar - Restaurant
. Currently that niche is occupied by
Spankys
(the original) - which is now calling itself '
Zpankys
'....
Soi Cowboy
* The

New Popeyes

reopened (closed for a month). It would eventually become

Spice Girls

. (

Spice Girls

is still there today).

* The

Cowboy 2

became the

Cowboy 2 Pizzeria

... Really. It wouldn't last as a pizzeria, of course...


Nana Plaza
* No changes that month / year. -


Soi Katoey
( Silom Soi 4 )
*

Hyper The Un-Club

became

Hyper Club

. They were located next to today's

Telephone Pub

.





Buckskin Joe Village (~ November 1988

to

November 2006)

(Also known -originally- as

Tobacco Road

or

Soi Rot Fai

or, '

The Tracks

', and later as Machim [Thai] and

Soi Zero

)




* The

Machim Restaurant

closed.

* The

Tequila Bar

closed.

* The

Australia Bar

closed.