.









MONTHLY NEWS
COLUMN


Bangkok,


01 March 2018


William R. Morledge


March's Nightlife News
Bangkok's Bars - 20 Years Ago
A Smile in the Land of Smiles.
Reader's Corner: "The Malaysia"
Graffiti #142 : On Trump ...
Its been a year and a half since we updated the
Nana Area
(
Soi 4 Sukhumvit
). Way past due... Below are newly refreshed maps of both
Nana Plaza Night Entertainment Area
and
Soi Nana Night Entertainment Area
: the two being joined at the hip...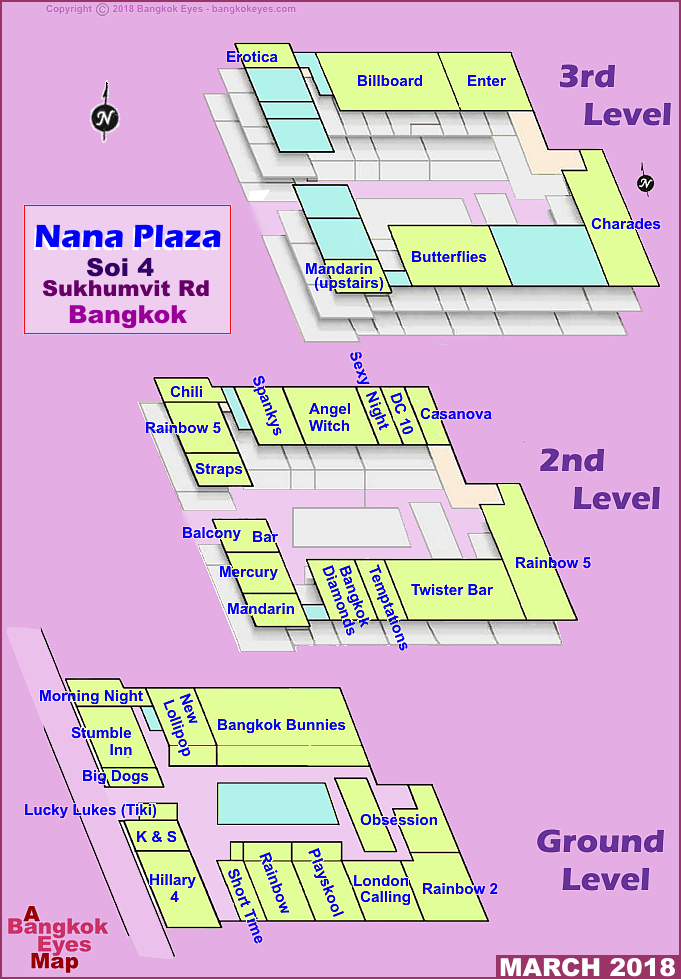 The biggest change was in
Soi Nana
, where the renovations at the
Rajah Hotel
were, and are going on. The right side (looking in) has been completed, and the area is repopulating with
Night Entertainment Venues
- some from the previous incarnation of the
Rajah
, and some new. Judging by the amount of real estate available for lease within the
Rajah
compound, and that soon to come on line, the
Rajah
could become a
Night Entertainment Area
in its own right. (Others have said this is not likely, as the rents are a bit steep.... a "wait and see" item...).
There are big changes going on in
Nana Plaza
also, but not in the
Nitespots
themselves. The
Plaza
is currently getting a new gigantic roof (see our pic below in the
Night Follies
). This presumably makes it more customer friendly in the rainy season. Many are saying why try to fix something that wasn't broken. Another "wait and see" item...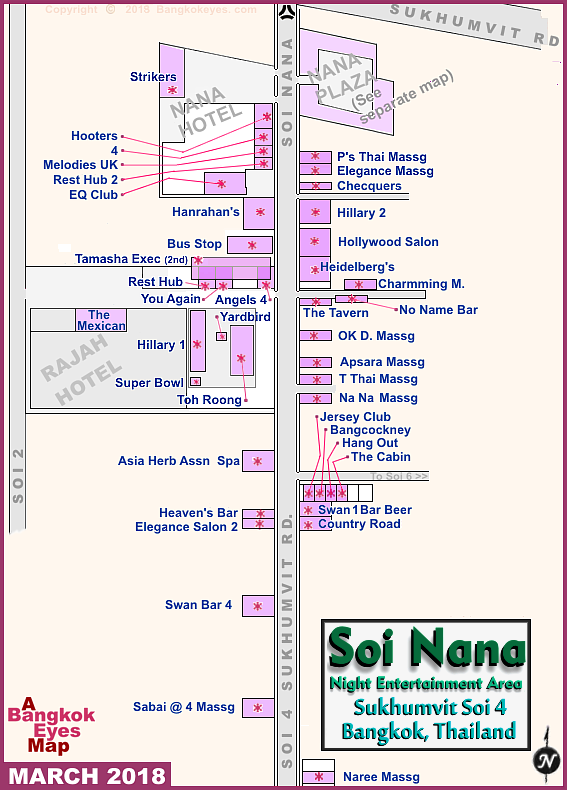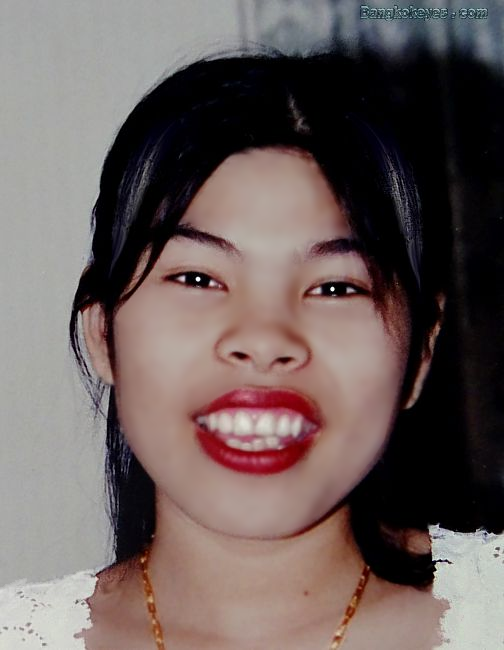 March's

Thai Smile

is out of time. but not out of memory.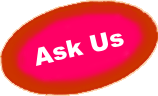 Join the 'Comments' page...

Not The Browser

Reader

: Hi Guys,
Missing a column for March? Hope you are ok, guys. Or maybe my browser didn't get the latest update? Cheers



Midnite Hour:
We are terribly late this month, having experienced some minor damage to our key staff in an auto accident (all is well now). Thanks for writing in.

To Publish or Not To Publish...

Reader

: You guys publishing this month???



Midnite Hour:
Minor accident has set me back. Should be able to get the site up in a few days...

Stickman Recalled...

Reader

: Hi, Just wanted to say thank you for keeping the

Bangkok Eyes

website running. I only discovered it last year after

Stickman

closed down, but I've been slowly digging through all your articles. The old-fashioned website layout adds charm. :)
Hope to see many articles from you in the future. Keep up the good work!



Midnite Hour:
Thanks for reading and writing in. I also miss reading the

Stickman

column,

Stickman

is a friend, and we still correspond on occasion now that he is back home in

New Zealand

. I have encouraged him to resume his website, but it looks like he has 'moved on'. As I am a resident in

Thailand

, I should be able to continue indefinitely with

Bangkok Eyes

.

Bobby's Gone - But Cosmos?

Reader

: Nice piece about

Bobby

. I met him when he still had his coffee shop inside and across from that

KFC

. I used to go there and get his great home made sandwiches. We would chat about

Bkk

life and other things. Little did I know about his past. I wondered what happened to him. I will miss him.

On another

Patpong

note. I was in

Cosmos

recently and I saw a

For Sale

sign on the door. I talked to

Vinai

later that evening. Got the impression that he had enough of the business and was ready to finally retire. Any info and what's your take and intel say?

Thanks and keep up the good work.



Midnite Hour:
I had also spoken to

Vinai

earlier last month - and I was left with the same impression - that he is finally ready to retire. We'll have to wait and see, its been up for sale for more than two months, and no takers. Perhaps he will change his mind, I would hate to see it disappear.

'Reader's Corner' moderator -

'Boge' Hartman


Historical Research



Let the March 2018 Follies begin-



The
King's Castle 1
is, as can be seen from the pic, closed for renovations. But that's not all... The next door
Camelot Castle
(which had deteriorated into an unpopular open-fronted beer bar) has also closed, and is part of the same renovation. So what's it gonna be? A new triple-shophouse super
King's Castle
, or yet another 'big bag' shop? We'll get back atcha next time around.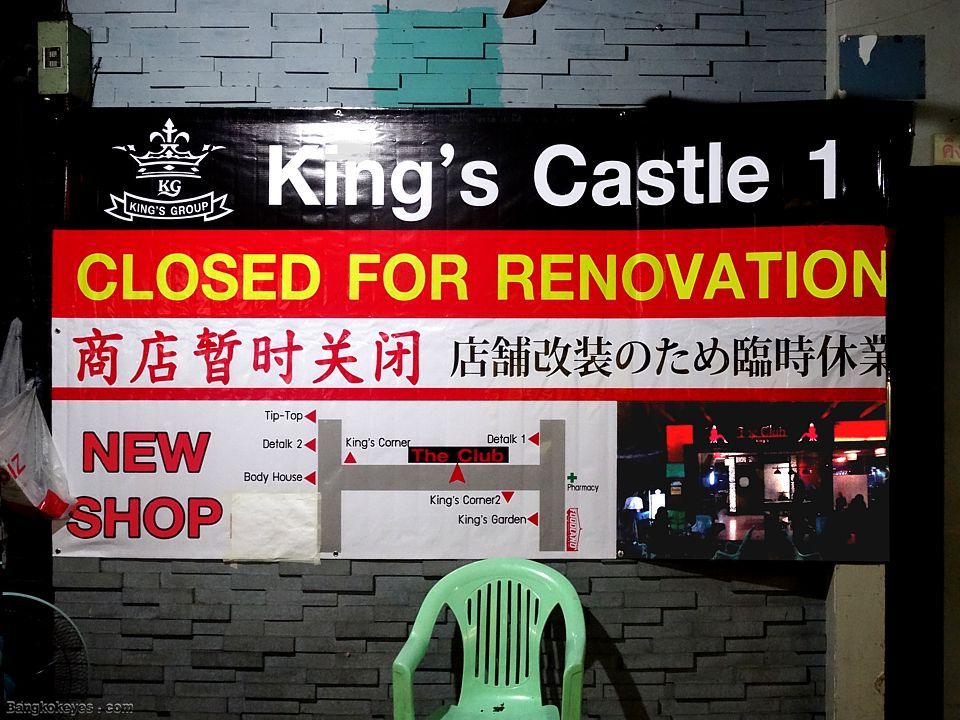 PATPONG 1


Last month we noted that the
Pussy Special
had reverted to it's old name,
Pussy Magic
, leaving
Patpong 1
with two identically named upstairs '
Pay-For-Show
' bars. This month, they have reverted back again to their
Pussy Special
name. Who knows what evil lurks in the hearts of rip-off bar owners....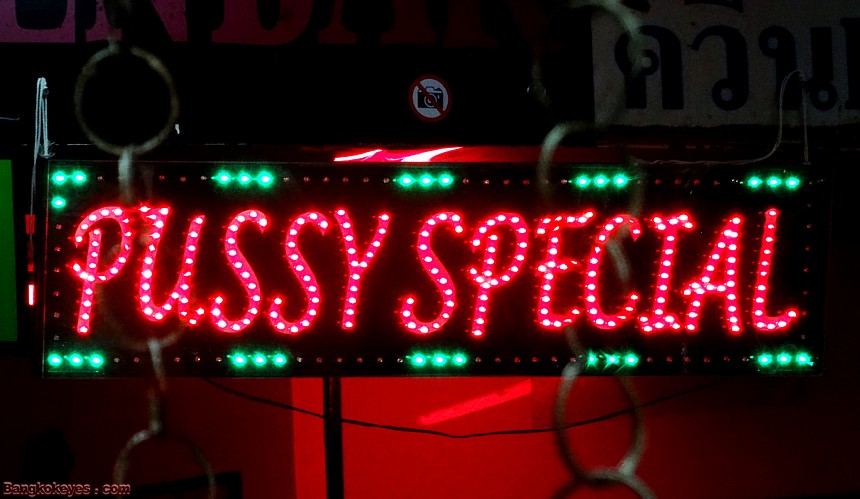 PATPONG 1


La
Happy Bar
Show Bar



< NO PHOTO AVAILABLE >

PATPONG 1


The
Thai Smile Bar
has closed down yet again, and this time it looks like a wrap. Should it, somehow, reopen - we shall get back atcha, however until then we have removed it from 'the register'....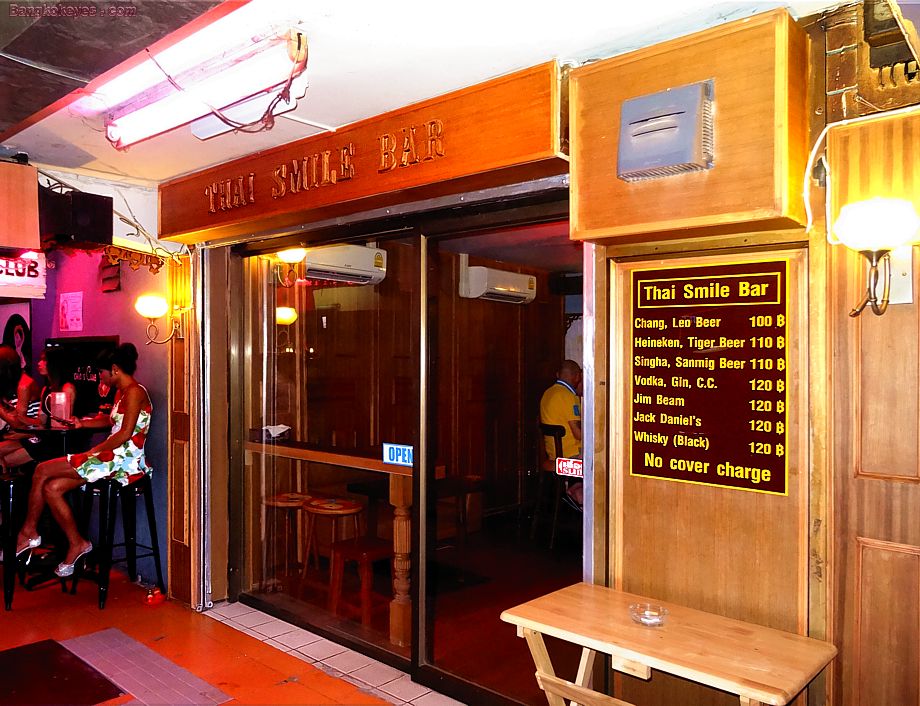 PATPONG 2


Once again, the
Black Pagoda
outdoes the competition, both in graphic design and quality entertainment. Location: Suspended above
Patpong 2
. Do what you do, do well, gents....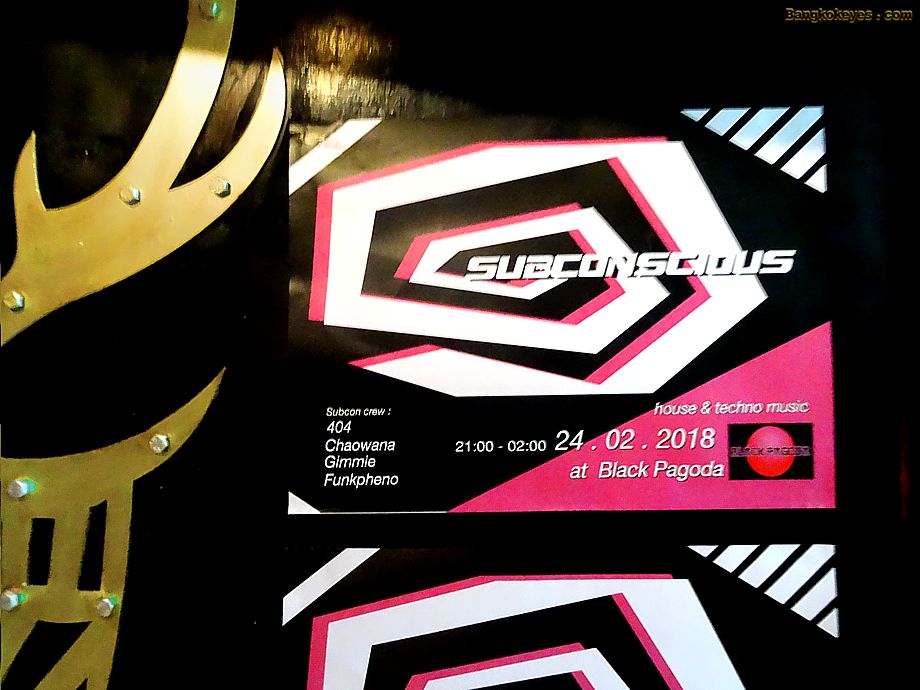 PATPONG 2


Spice Girls
not only boasts of a long and successful run on
Soi Cowboy
, they also have some striking '
dynamic signage
'. (This yet another in our series of short clips showing the dynamic aspect of
Bangkok's 'new neon'
..

SOI COWBOY


...And we hope the engineering is more robust than it looks.... -Just sayin'....

NANA PLAZA


Last month we noted that the three-part
Nana Beer Garden
had a name of its own (never posted), however this month, we note its demise. There is talk that once the construction crane departs, it will be rebuilt (somewhat similar floorplan) - and have the same name. More later.....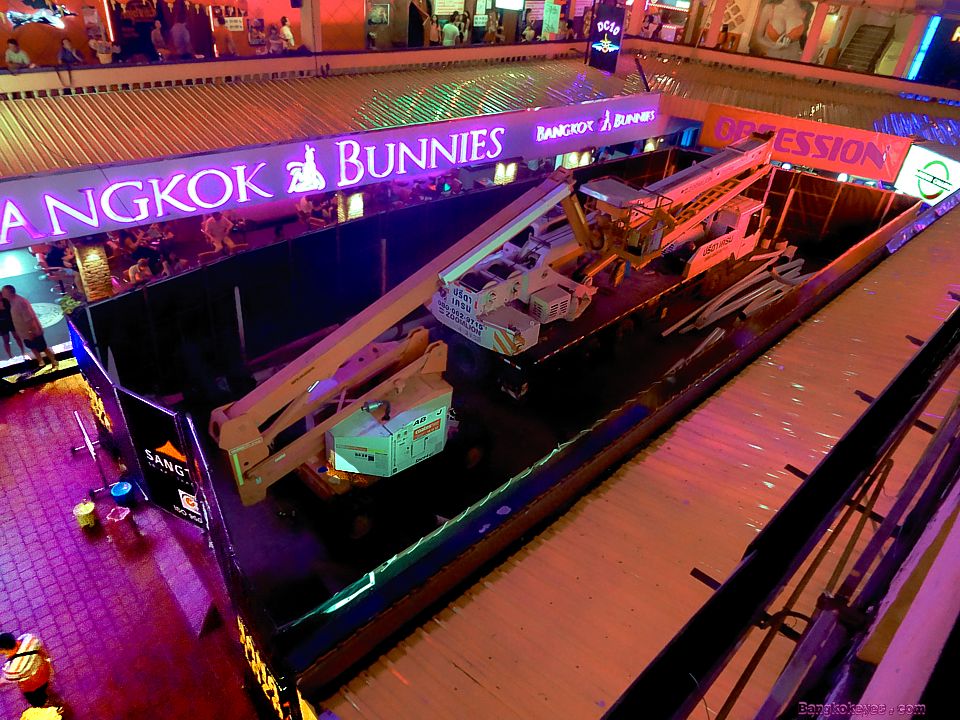 NANA PLAZA


The unthinkable has happened....
Annie's Massage
(one of
Bangkok's
older steam & cream fishbowl massage parlors) has called it a night. Only swirling debris and vulgar massage touts clutter the once infamous premises.
Annie's,
according to the proprietress, goes back to
1972
. Annie's was located on the
Soi 2
side of the
Rajah Hotel
compound. Ashes to ashes, so be it then....

SOI NANA


This bright bit of new neon in front of the
Rajah Hotel
is either the new name of the hotel, or the moniker they are giving to the
Night Entertainment Area
in front of the hotel. I suppose we will eventually find out....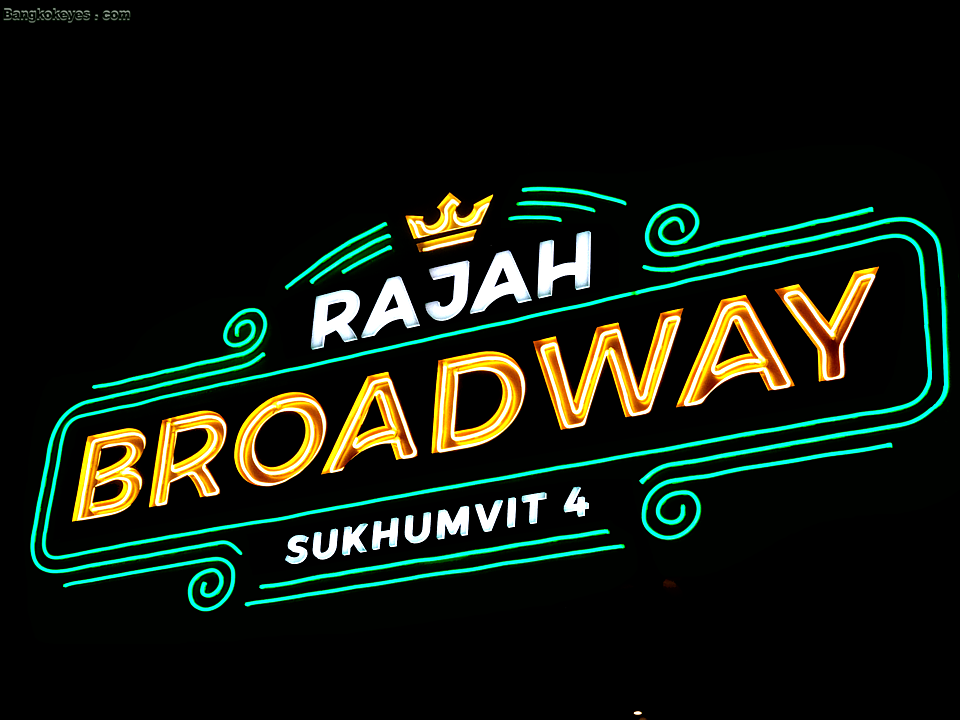 SOI NANA


We have absolutely no idea what the occasion might be on
Soi Katoey
that would warrant the recent festooning of
Chinese lanterns
(they weren't there for
Chinese New
year). Nevertheless, they definitely do make for a colorful display.

SOI KATOEY


Hugs Bar Karaoke
has plummeted headlong into the Abyss. May
The Fates
treat them more kindly the next time 'round...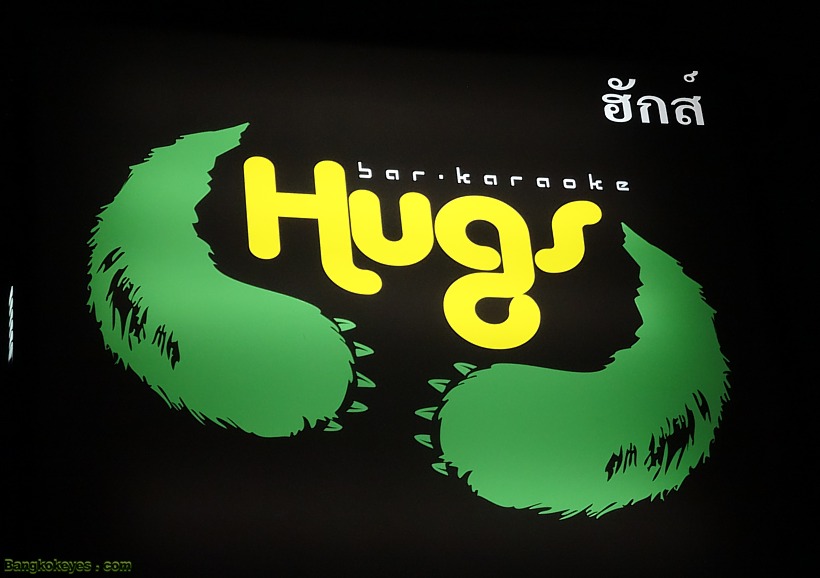 SOI KATOEY


Passion Massage
has become
Bangkok Passion Massage
.... Same menu, different day. Wish them the best in their dark pursuits, in these dark times...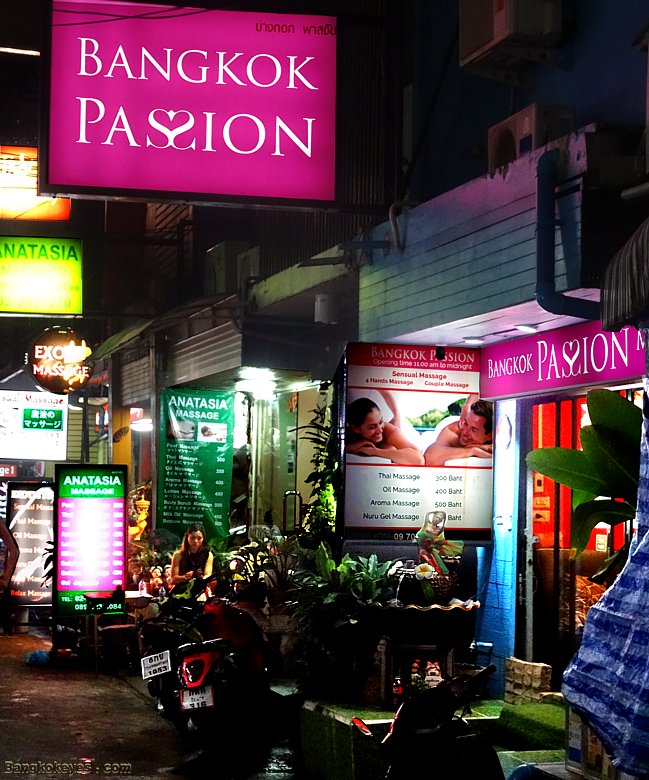 SOI 22 (Sukhumvit)


The
Honey Pub
(originally
Honny Pup
) has gone belly up. Contract expired, and no renewal. They ducked out at the last minute, using their deposit as their last month's rent.... Oh, well...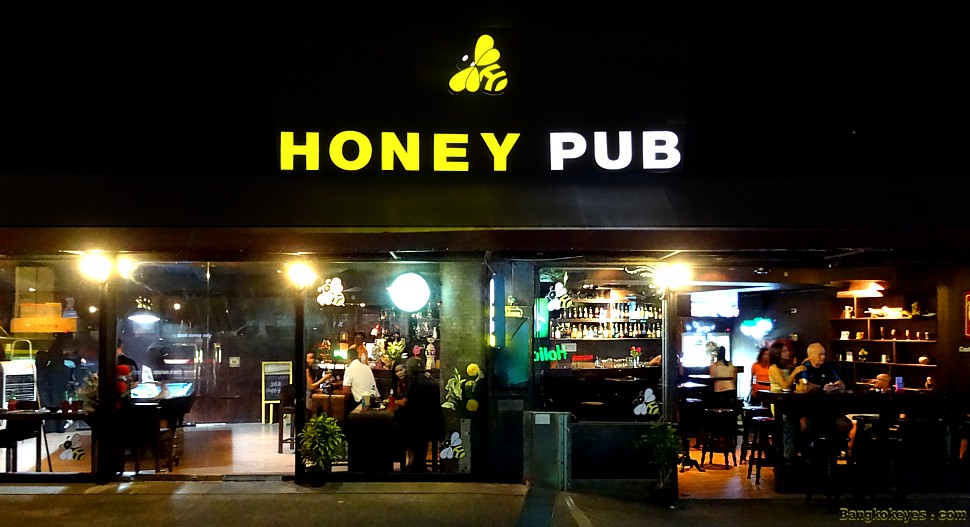 SOI 22 (Sukhumvit)


The once-lively
Happy Station 11
has closed yet again. Should it reopen, we shall so advise - however it looks like it was operating on a shoestring, so we don't have high hopes...

SOI AMBASSADOR (Sukhumvit Soi 11)


The

Meaw Meaw Bar

(annex)

has reopened - now that the main

Meaw Meaw

has got up-and-running full steam. This time without the neon - perhaps to come at a future time... Welcome them back to the wolfpack.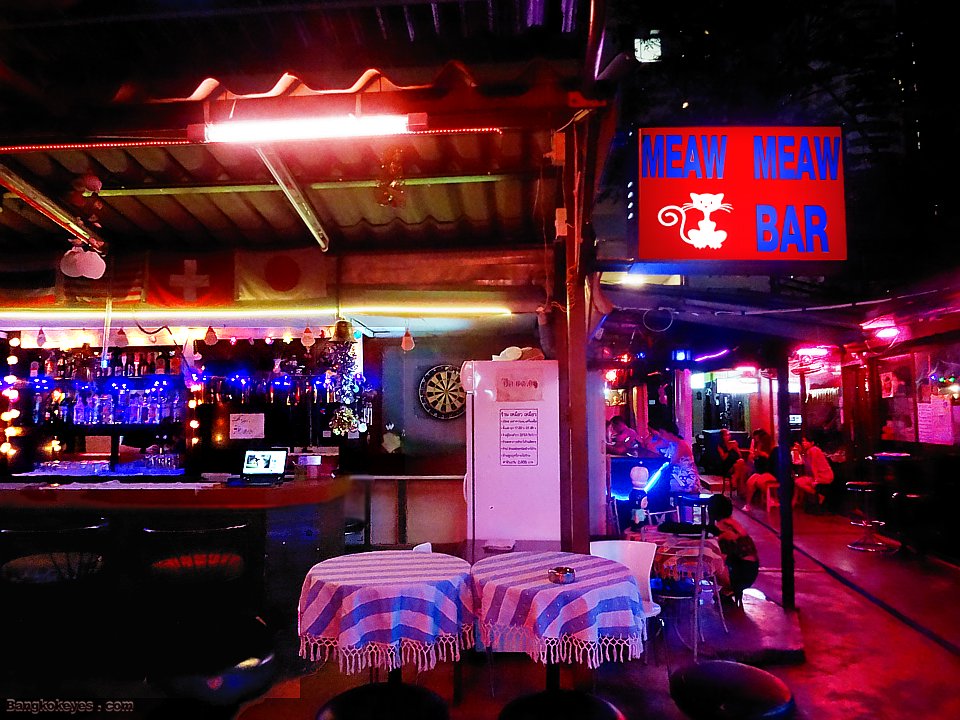 QUEEN's PARK PLAZA (Sukhumvit 22)


The
Anego
, last man standing in '
Soi Tenderloin
', has succumbed to what will be a very large wrecking ball levelling a long stretch of real estate on
Soi 33
. No indication as to their fate....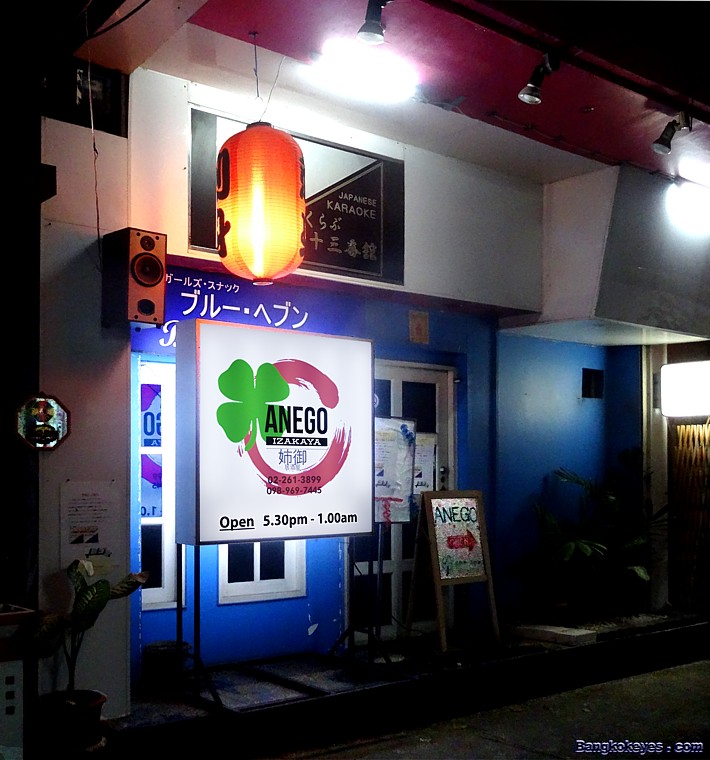 SOI DEAD ARTISTS (Sukhumvit 33)


The
Sakuranbo Snack
has closed for the second time in as many months. Only shadows welcome the passerby. Looks like the fat lady has sung the last
haiku
...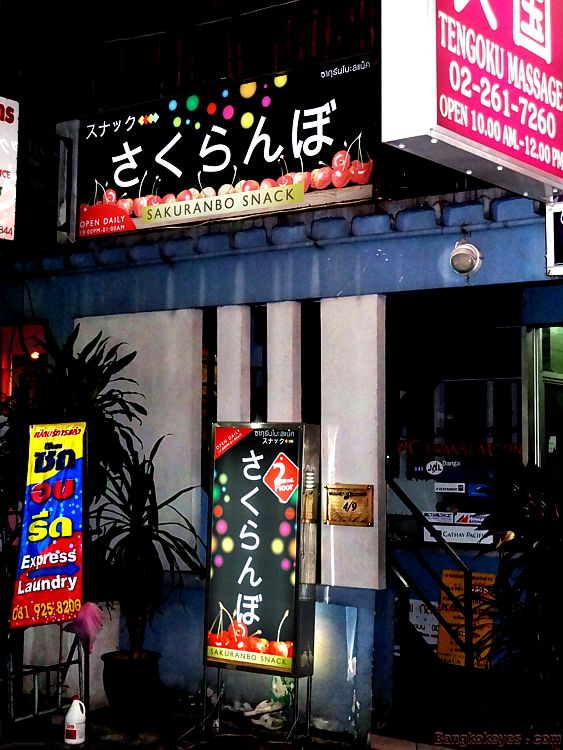 SOI DEAD ARTISTS (Sukhumvit 33)


The
Tenderloins
has some difinitive signage up this month - which by the way - indicates they are more closely linked to the
Bistro 33
than originally thought. Same great chow, same '
sports bar
' theme, better parking, better digs. Located at the back of
Subsoi 5
. Let the good times roll...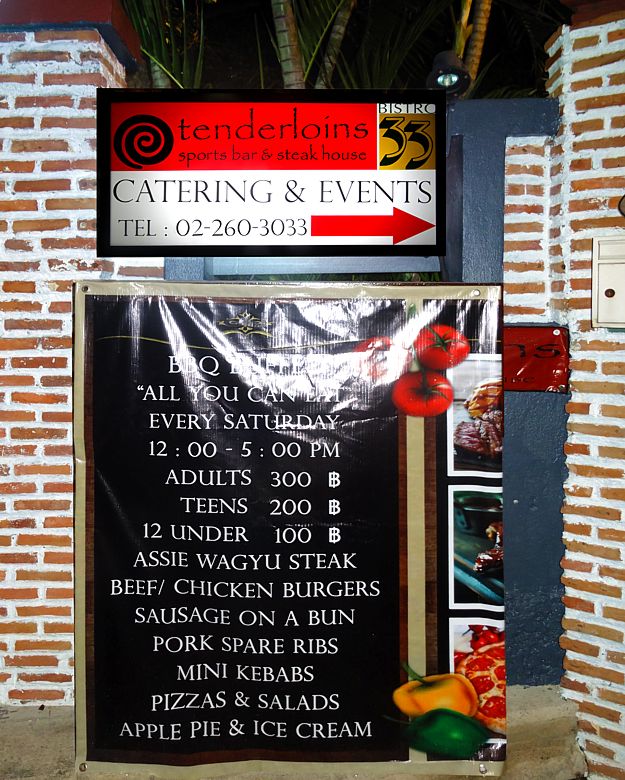 SOI DEAD ARTISTS (Sukhumvit 33)


Two months ago, with extensive renovations just behind them, the
Night Flight Beer & Pub
becane a boutique hotel featuring the
3R Rebalance Spa
. Not to let momentum wane, this month they have also opened the
Bangkok Beer Cafe
. Higher and higher....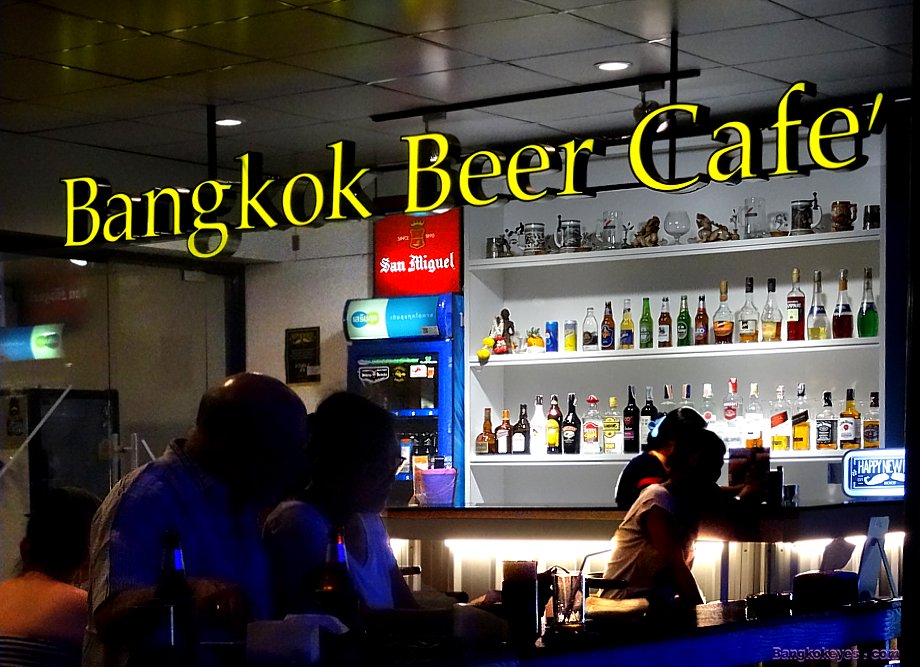 SOI EDEN (Sukhumvit 7/1)


The
B & A Bistro
, in spite of appearances, has closed down. New folk have taken over, and will be providing some new neon in the near future. Get ready to rock 'n roll...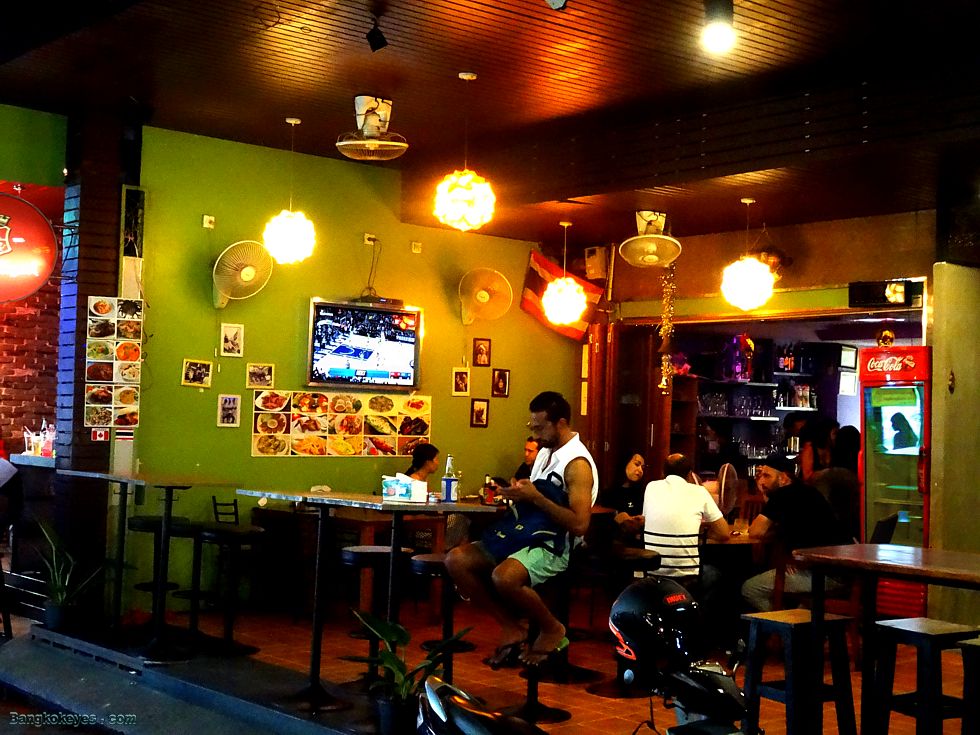 SOI EDEN (Sukhumvit 7/1)


In the
"We Don't Make Mistrakes Department"
, last month we noted the soon-to-be opening
Nitespot
named
Emmy
. Actually, it turned out to be a hairdresser salon....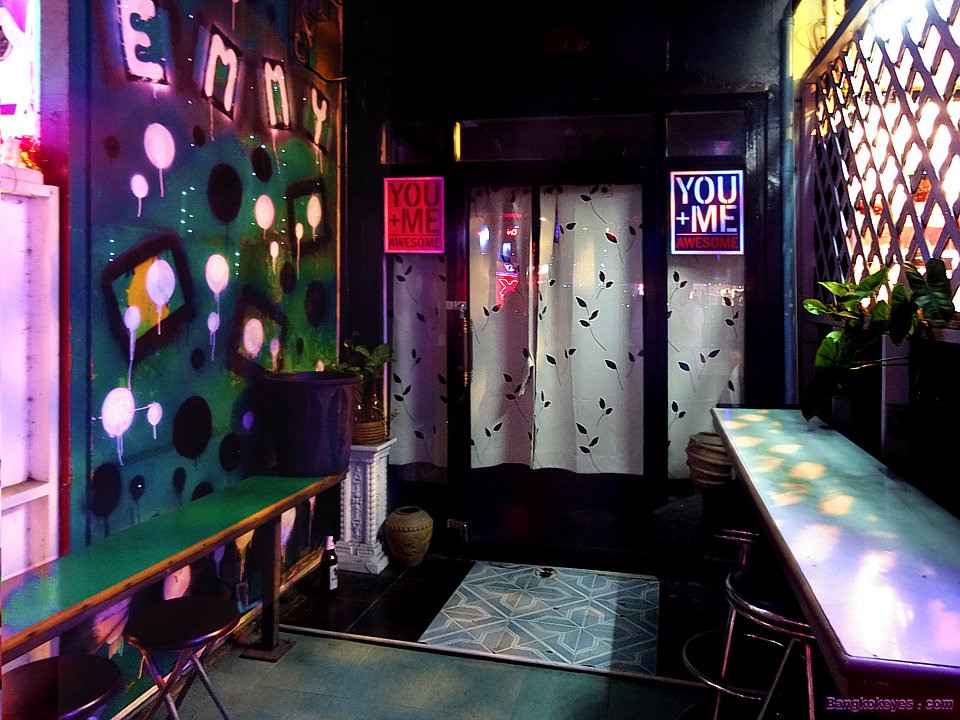 SOI TWILIGHT



A PAGE FROM Bangkok's NIGHTSCENE HISTORY....
20
YEARS AGO

March

With thanks to Cool Text - cooltext.com

Bangkok Eyes goes back in time to see
Who was new - And who was through
in the Expat Night Entertainment world.
How many of these old 'oases'
do you remember ?
Patpong I
*

Radio City

reopened its closed half, fully into the swing again. It is at the same location today.

* The

Takara II Massage and Barber

became

Takara II Barber Shop

- a name-change only.

* The upstairs

Superman A Go Go Boys

opened newly in the then-recently closed

Donna Bar

digs. No

Nitespot

currently occupies that real estate.


Patpong 2
*
The Mask Go Go Boy
closed. It was located on
2nd
floor of the
Cosmos Stairwell
. No
Nitespot
currently occupies that real estate.
*
Bua Luang Karaoke
opened in the
Super O.K. Club
digs. It was located on the
5th
floor of the
Cosmos Stairwell
No
Nitespot
currently occupies that real estate.
*
Noi's Heavenly Steps Girlie Bar
closed. It was located on on the 2nd floor across from
The French Kiss
. No
Nitespot
currently occupies that real estate.
*
The
Pussy Center
closed. It was located on on the 2nd floor in
Soi Bookstore
. No
Nitespot
currently occupies that real estate.
Soi Cowboy
* The

New Popeyes

closed. It would eventually become

Spice Girls

(...as it is today).

* The

The Long Gun II

(upstairs / downstairs) closed. It would eventually become today's

Rawhide

.

* The

Bluebird Lounge

(2nd) and

Bluebird Club Physical Massage

(3rd) closed, leaving only

Bluebird Club

on the ground floor. It would eventually become

Baccara

(...as it remains today).


Nana Plaza
* The

Ground Level

Matterhorn

became the

Matterhorn Bar - Restaurant

. Today,

Bunnies

occupies that real estate.

* The

3rd Level

Tabasco Charlies

opened newly.

I'll bet there isn't a single person in Bangkok today that remembers that bar...




Soi Katoey
( Silom Soi 4 )
* The

Rome Cafe

formerly unnamed, placed some neon outside to reveal who they were. They were located just before today's

4 Sports

.

* The

Kool Spot Pub

reopened. It is no longer in business: it was located next to today's

Bas Living Room

.





Buckskin Joe Village (~ November 1988

to

November 2006)

(Also known -originally- as

Tobacco Road

or

Soi Rot Fai

or, '

The Tracks

', and later as Machim [Thai] and

Soi Zero

)




* The

Fair Play Bar

reopened after a one-month closure.

* The

Kiss Me Bar

closed.