.








NIGHTLIFE
NEWS COLUMN
MONTHLY


Bangkok,


01 April 2019


William R. Morledge


April's Nightlife News
Bangkok's Bars - 20 Years Ago
A Smile in the Land of Smiles.
Reader's Corner: Sukhumvit Sq. Redux
Bangkok's Graffiti Update - #157
Mizu's of Patpong

is the story of two

Japanese

gentlemen - and a lady. This tale is old, very old, and is a

synthesis

of a number of accounts dating back to the

Japanese

occupation of

Thailand

during

WWII

, and to the earliest formative days of

Patpong Road

. This account is, by necessity, a weaving of

3

rd-hand accounts and

the only "one-on-one"

interview with

"Mizu" Mizutani

(thankfully preserved by the

Bangkok Post's Hanuman

). Where contradictions in the third-party accounts have arisen, and there were several, the

Hanuman

account prevails.

(Continued below......)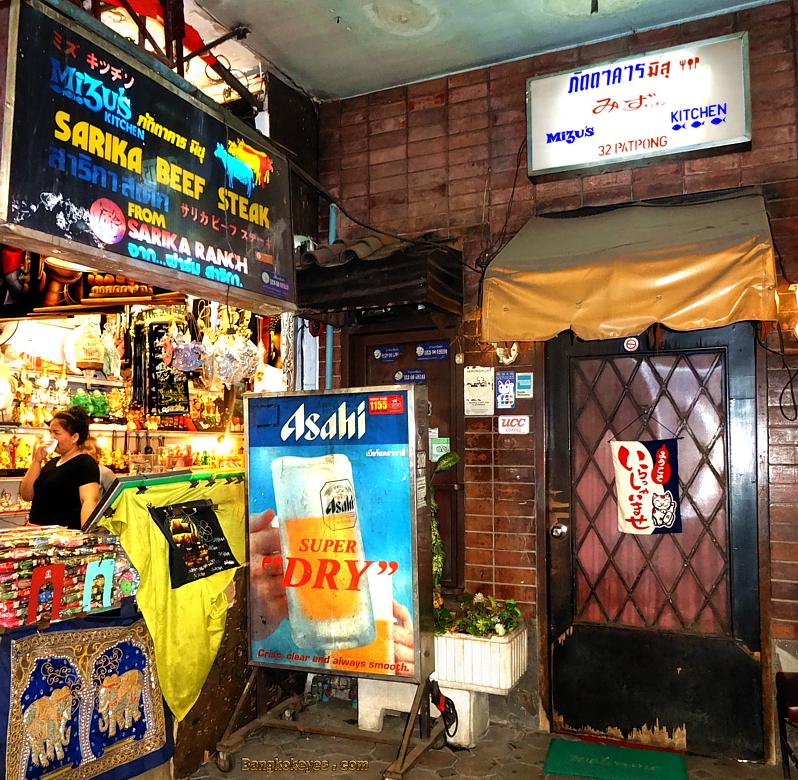 Not much to look at, behind that door,

Mizu's Kitchen

: one of

Bangkok's

great restaurants.
In the early
1940s
the
Army of the Greater Japanese Empire
sent
"Mizu" Mizutani
and
Aiko Masakan
off to the
Asian mainland
to do the business of war. No, they were not sent to
Nanking
. No, they were not
Zero
pilots. They were sent to
Bangkok
, then under
Japanese occupation
, where
Aiko
was to cook in the
Imperial Japanese Army
officers' mess, and
Mizu
was, it seems, taking his meals at that very same officers' mess.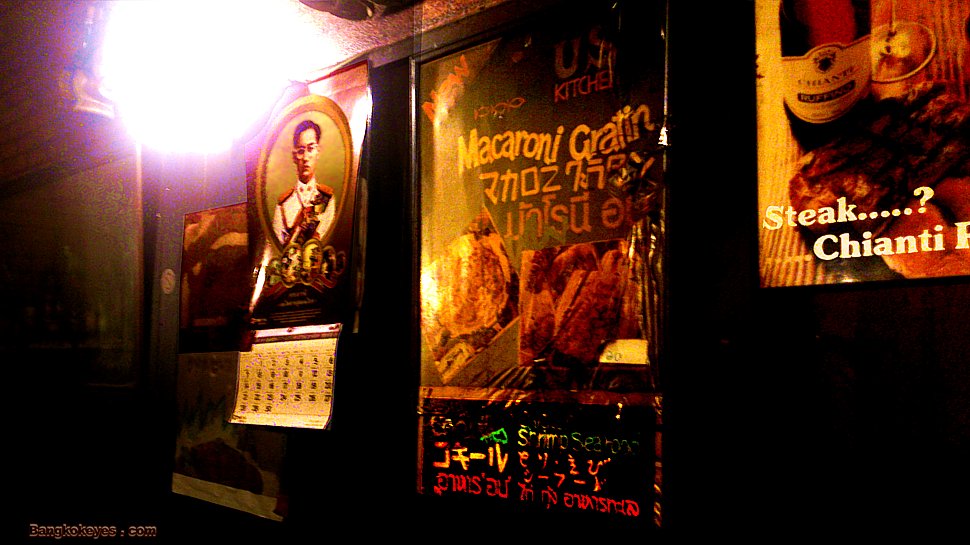 An old photo from the archives. You can almost see
the smoke from the hotplates arriving from the kitchen...
During the
War
, the land that was to be
Patpong Road
was a banana plantation which the
Japanese
had appropriated for a cantonment area. It was only after the war in
1946
that the senior
Patpongpanich
purchased that land, later cutting a roadway through, connecting
Silom
and
Surawong Roads
. It is surmised that this wartime cantonment area is the very place an acquaintance was first struck between
Mizu
and
Aiko
.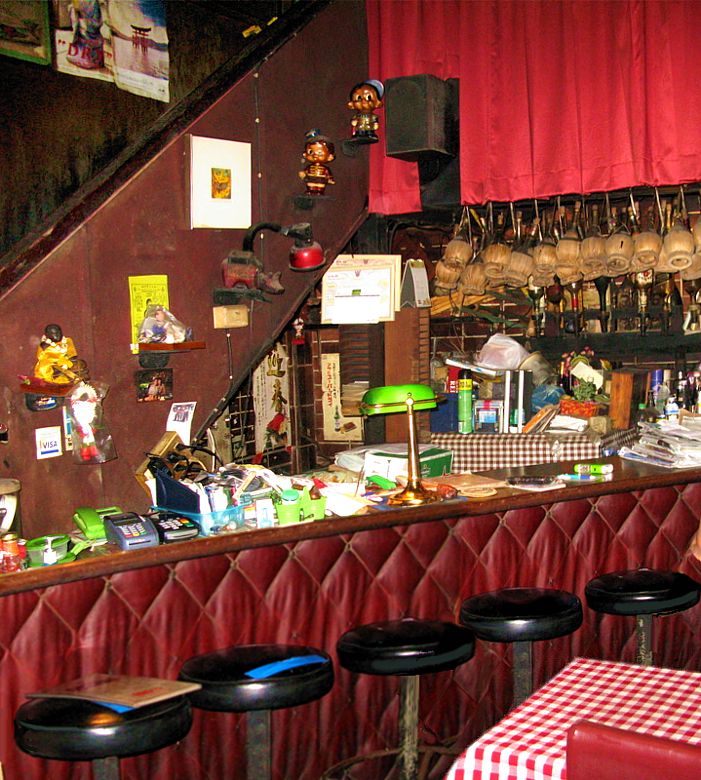 A view of

Mizu's Kitchen

from downstairs. The stairwell
to the main dining room can be seen at the left.
After the
War
ended in
1945
,
Mizu
and
Aiko
were repatriated to
Japan
. And by all measure, they did well for themselves, landing positions at the prestigious and earthquake-proof
Imperial Hotel
, designed, in part, by
Frank Lloyd Wright
. But the only constant on this planet is "change", and their futures were to take a pivotal twist. The government-owned and managed
Erawan Hotel
(prior to it becoming the
Hyatt Erawan
) was still under construction when they contacted the
Japanese
-owned and managed
Imperial Hotel
in
Tokyo
for the purpose of 'lend-leasing' hotel staff for the soon-to-be grand opening of the
Erawan
in
1956
.
Mizu
was selected for this temporary assignment at the
Erawan
on a short-term visa, and he brought
Aiko
back to
Bangkok
with him as his chef. This arrangement worked well for all parties, but at the expiration of the visas, neither
Mizu
nor
Aiko
were of a mind to return to
Tokyo
- they had lost their hearts to
Old Siam
(or, less declamitorily... they had been bitten by the
Bangkok
bug).
VIDEO CLIP
Considering the compressed timeframes, it is likely that
Mizu
had started negotiations for a shophouse of his own even before his tenure expired at the
Erawan
. But 'nothing is easy'; so he returned to his old stomping grounds to explore possibilities at
Patpong Road
. (
"Old Man" Patpong
had already completed his roadway through from
Silom
to
Surawong
and had begun leasing out plots to local and expat businesses.) After setting his sites on what would later be number
32 Patpong Road
,
Mizu
entered into a long and arduous negotiation with a singularly suspicious landlady.
Mizu
was finally able to win her over and sublease the shophouse that would become
Mizu's Kitchen
. The two,
Mizu
and
Aiko
immediately set to work, and before the end of
1957
Mizu's Kitchen
was in business. It would seem at this juncture it would be appropriate to say, "
And the rest is history
," but things were just warming up...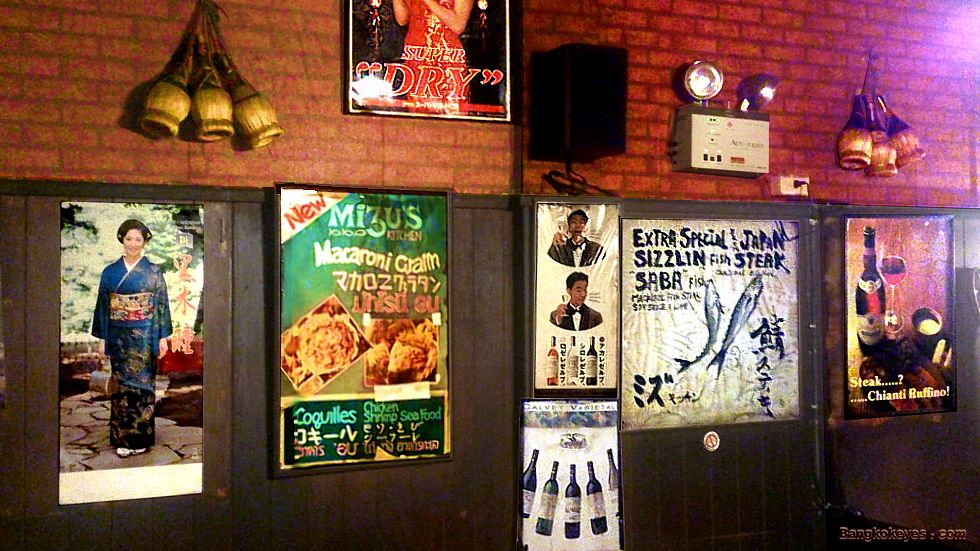 The walls tell the story...
Less than two years after
Mizu's Kitchen
had opened, it had already become popular with the then-active circle of
Bangkok
expats, and by tacit agreement among the resident journalists of the day, it became the
ad-hoc
meeting place for the nascent
Foreign Correspondents Club of Thailand - FCCT
. The
FCCT
made
Mizu
the first
Honorary President
- the honorific not being taken seriously, but worn proudly, nonetheless. In those early, comparatively uncomplicated times, wherever
foreign journalists
congregated, they attracted the so-called '
embassy-types
' and members of a burgeoning
Air America
crowd. This, in turn, sparked the first rumors that the '
intelligence community
' frequented
Mizu's Kitchen
to stay abreast of 'the latest', and to 'rub elbows'. (Nowadays, of course, things have reversed - now the
Media
slinks over to the
3-Letter Agencies
to get the latest 'leak' -
any leak will do - we can beat up anything into a good 'story'
... but I digress...).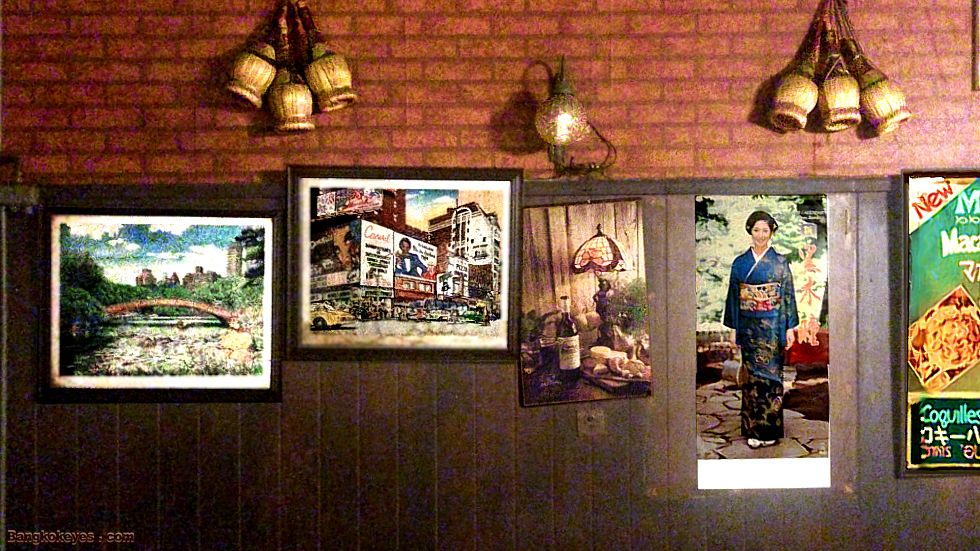 While these '
Air America shadow-types
' and
'embassy-types'
certainly frequented the bars in and around
Patpong
in those early years, the stories told, and then retold, were (to say it nicely) '
glorifications
' by those who would otherwise like to spice up their lives with
dark intrigue
and
The Mysteries of the Orient
... Alas, these colorful stories persist today, having gained even more traction during the then-approaching onslaught of the
Viet Nam War
in the late
60's
and early
70's
. These breathless stories continued to self-embellish, describing a number of
Patpong
area bars as "
CIA hangouts
", (
Lucy's Tiger Den
,
Napoleon
,
Madrid
... etc, etc.). And, all rumors being true, (Ho ho ho...)
Mizu's Kitchen
was the seed, the spawning-place that started it all...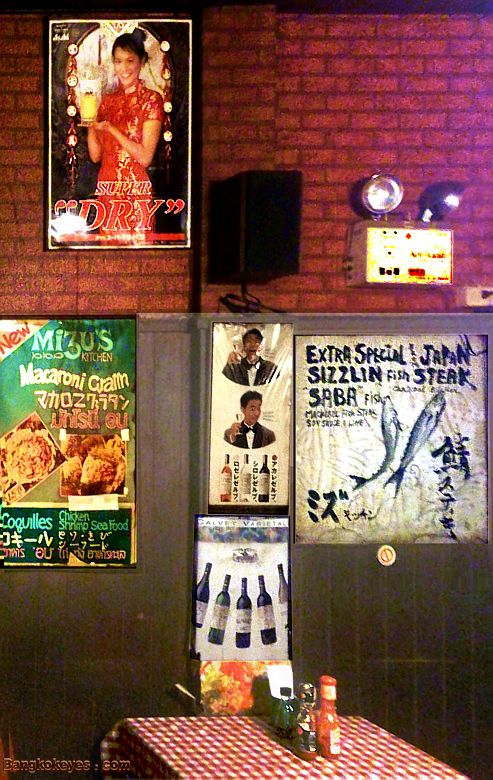 Later,

Bobby De Cozier

of

Bobby's Arms

, would bid to host the FCCT, but would fail. Nevertheless, the FCCT would eventually outgrow (literally) the diminutive

Mizu's Kitchen

, and through successive years, moved to a number of different locations, to include its halcyon years atop the now defunct Dusit Thani Hotel. Most recently, the FCCT has come to rest at the Maniya Building - said building located, as the old dogs will recall, where the

Thai Yonoke

once held all-night vigil... But I'm digressing again...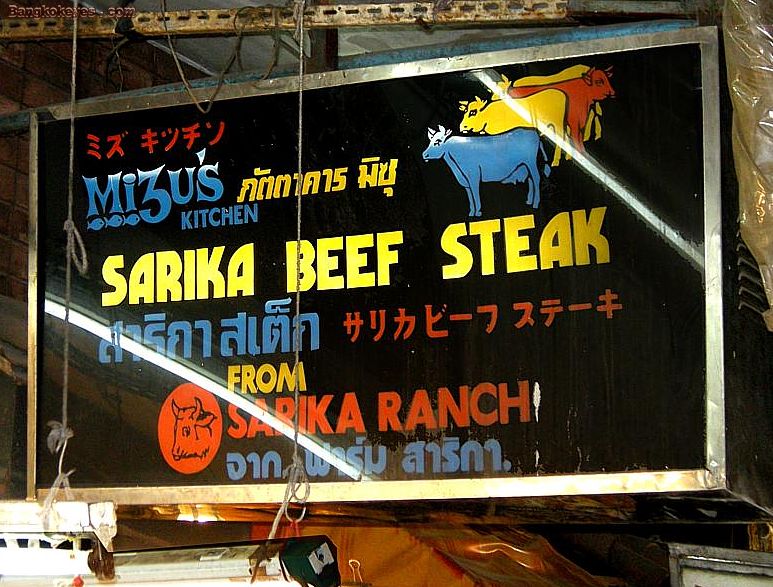 In a seemingly unrelated series of events across town,

Khun Chavalit

, owner of the Ambassador Hotel on Sukhumvit Soi 11, was firing 'incompetent' local hotel managers at the rate of about one a month. Let's just say this in the kindliest of terms; he wasn't an easy person to get along with. He began a search for someone he saw as able to grab his ass with both hands, and someone who could put up with him. A seemingly impossible couple of conditions... He then met

Mizu Mizutani

, who was tall, well dressed, of dignified manner, and spoke almost as directly and bluntly as he,

Chavalit

, did. He made

Mizu

an offer he couldn't refuse - and shortly thereafter, he,

Mizu Mizutani

, went over to the Ambassador as manager, staying there for a number of years. Until

Mizu's

death in the 90's, to include his years at the Ambassador Hotel, he continued to be the 'public face' of

Mizu's Restaurant

- chef

Aiko

remaining for the most part in the background. After

Mizu's

passing,

Aiko

took up the slack, both as manager and chief chef. On

Aiko's

eventual passing a few years ago, his very competent daughter,

Khun Salanya

, took over management of

Mizu's Kitchen

. Due to

Aiko's

advanced age, many speculate

Khun Salanya

was managing

Mizu's Kitchen

years before

Aiko's

untimely passing.
Through the decades,
Mizu's Kitchen
developed a flavor of its own. Literally. Year after year, decade after decade, the endless sizzling
Sarika Farm
steaks served on even hotter hotplates had deposited a thin patina of yellowish-tan grease over the entire restaurant. The smell of the restaurant was unique - a blindfolded person led into
Mizu's Kitchen
would know exactly where, in
Bangkok
, he was. But not to be misunderstood, this was not a bad thing - it was part of the
Mizu's Kitchen
dining experience. It was during these later years that
Mizu's Kitchen
expanded their fare from a simple 'meatballs & spaghetti' type menu to a more diverse, international selection. Many of us, however irreverently, would head upstairs to
Mizu's Kitchen
and order the
Rape of Nanking Combination Plate
. There was, of course, no such menu item - we, the demented few, gave this moniker to any
Chinese
menu item chased by any
Japanese
menu item. A personal favorite was the
Shanghai Pork Noodles
followed by
Shrimp Tempura
. Oh, the memories.
If you haven't guessed by now -
Mizu's Kitchen
closed (on
27 March 2019
). Ramping up in the
mid '50's
, it was the longest running, by far, expat-owned restaurant in
Bangkok
. It was, in a very real sense, the genesis of what
Patpong Road
would become - without consciously trying,
Mizu's Kitchen
very early on became a focal point, a place where expats were comfortable to congregate day or night.
Mizu's Kitchen
could then sit back and watch from it's second floor perch while
Patpong Road
became the most famous, most notorious
nexus
of
expat night entertainment
in
Asia
, if not the world.
Those new to
Bangkok
, be they recently arrived expat or tourist, will hardly take note of
Mizu's Kitchen's
closing, if they even knew of
Mizu's Kitchen
at all. To them, the closing of
Mizu's Kitchen
will be of 'zero' significance. Those who knew it back in an earlier, less sophisticated version of
Bangkok
- a
Bangkok
made up of an intertwined cast of one-off characters - will see
Mizu's Kitchen's
demise as an historic closing of a door, a door not to be reopened. 'Turn the page'.
Copious thanks to

Hanuman

, who, yet again, more than lived up to his mythical namesake, and to

Duke d'Thonglor

for yeoman's work in researching the FCCT - all of which we greedily incorporated into the above confabulation...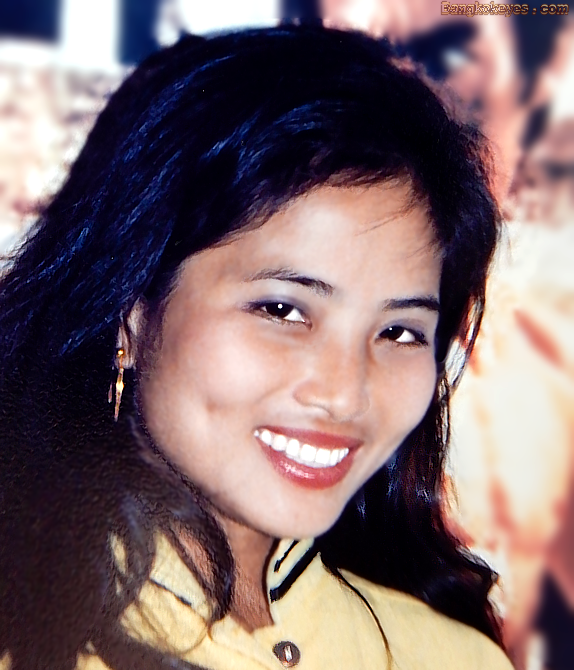 April's

Thai Smile

walks with the stars...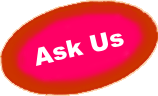 Join the '

Comments

' page...




MOONSHINE GENESIS - CORRECTION

READER

:


Slow response, but history has to be correct! Reference your

January Reader's Corner

:


Moonshine

on

Soi Cowboy

was the first of the bars owned by

Ott

and her husband

Bobby Toombs

. Some of the scenes for

Good Morning Vietnam

were shot there. At that time the

Bangkok Post

ran an article on

Bobby

and his business. By the time

Bobby

finished his days at the

Silver Dollar

bar in

Washington Square

,

Ott

was already with

Ned

. After

Bobby

died,

Ott

and

Ned

took over the running of the

Silver Dollar

.

Cheers.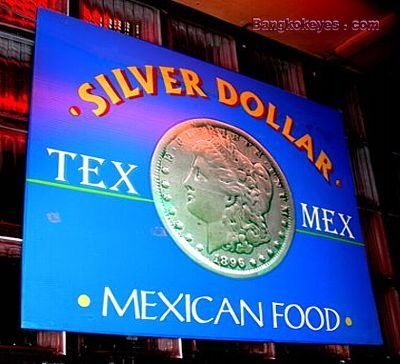 MIDNITE HOUR:


Thanks much for the correction on

Moonshine

and the additional information on the

Silver Dollar

. As you say, "

History must be correct.

" We note that the

Silver Dollar

closed at the end of

2012

as

Washington Square

continued winding down in advance of redevelopment projects.

GENTRIFICATION REVISITED

READER

:
Great coverage in your

graffiti essay

on '

gentrification

'. It should also be mentioned that this is a

global problem

, where wealthier developers and wannabe homeowners buy up residences for occupancy or resale. The poorer classes are the ones hurt due to forced relocation. The reason - the poorer people are for the most part just renting, and

have no say

over the sale of the homes they live in. Thanks,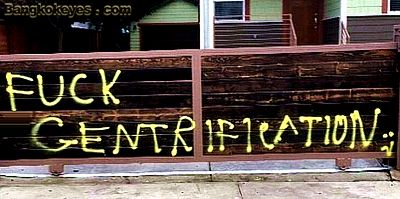 MIDNITE HOUR:


We agree, '

gentrification

' is certainly a global issue. We actually did touch on the plight of home and business renters in our original essay. We also noted that the difference between '

gentrification

' and

normal (and eventually unstoppable) redevelopment

is the rate at which it happens. (We noted that everything, bar perhaps the pyramids, will eventually be redeveloped.) Its really more a matter of semantics;

gentrification

happens at an accelerated rate, affording little time for occupants to make plans and to respond. The emphasis of our article was the protesting of

gentrification

through the 'vehicle' of

graffiti

.

REMEMBERING SUKHUMVIT SQUARE

READER

:
Happy New Year and I hope all is well. Did you guys do anything on (or remember) the beer bars that were haphazardly erected on

Sukhumvit Soi 10 (?)

around the late

90's??

I feel this

series of bars

were never established as a

mainstream entertainment area

but were more or less used by the usual naughty boys and expats. I think the gov't had them torn down in the early

2000's

, saying they were encroached on private property. Any usual "

who, what, where, when, why

" would be appreciated.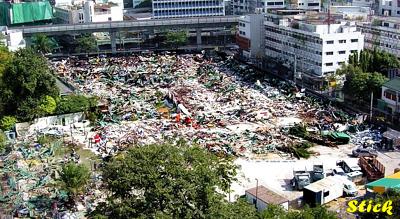 Above,

Stickman's

<

link> historic photo of the carnage.

MIDNITE HOUR:


We began covering the

Soi 10 bars

starting with our June 2002 issue <

link>. We had almost continuous monthly coverage on through to our

February 2003

issue, which covered the destruction of the entire

Night Entertainment Area

by a military ma

.

fia <

link>. This

clandestine military operation

was at the behest of the landowner himself (now-disgraced politician Chu

.

wit Kam

.

olw

isit) - and made international news.
The name of the

Night Entertainment Area

was originally '

Thai Help Thai

', but was changed shortly after to

Sukhumvit Square

. We also had many follow-up stories in successive editions.
See also our history of Sukhumvit Square at : <

link>. We also produced the only

map

of that

Nitespot Area

showing all the

venues

. It can be viewed at: <

link> .


WHAT IS 'ARAB TOWN' ?

READER

: Hello,
Your posts a great source. As a some-time visitor to

Bangkok

I noticed your map in the

March

issue of

Soi 3 and 'Arab Town'

. Is that

Arab

thing a real thing and is it something a tourist

nightlifer

like myself would visit? And do other outsiders hang out there?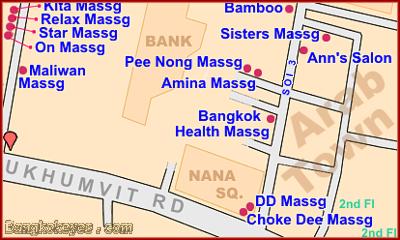 MIDNITE HOUR:


"

Arab Town

" is not the actual name of that area, or any area we know of. It is a '

popular name

' for the area around

Sukhumvit Soi 3/1

. The term is likely only used among a group of resident expats living in

Bangkok

. It is almost entirely composed of

Middle-Eastern restaurants

and

shops

and is a popular destination for

Middle-Eastern

and

African

tourists. If you like

Middle-Eastern

food, as do we, we would suggest you include '

Arab Town

' on your itinerary. For other

'Nightlife' activities

, you will have to search further afield - there is virtually no '

Nightlife

' there (we did note one exception : the massage parlor

Sisters Massage

).
Note: Text may be edited for brevity and/ or clarity.

'Reader's Corner' moderator -

'Boge' Hartman


Historical Research



Let the April 2019 Follies begin-



What was the original
King's Castle
, and once judged to be the world's best bar, is now under renovation. (It was eventually turned into the
King's Castle III
- a
katoey
A Go-Go
- before its final demise.) Works are now almost complete on the new bar's interior. Should the street chatter be accurate, it will open as soon as next month as yet another boy bar - one of the several transplants from the now-closing
Soi Twilight
. What it will be named is anyone's guess - a
wait-and-see
item.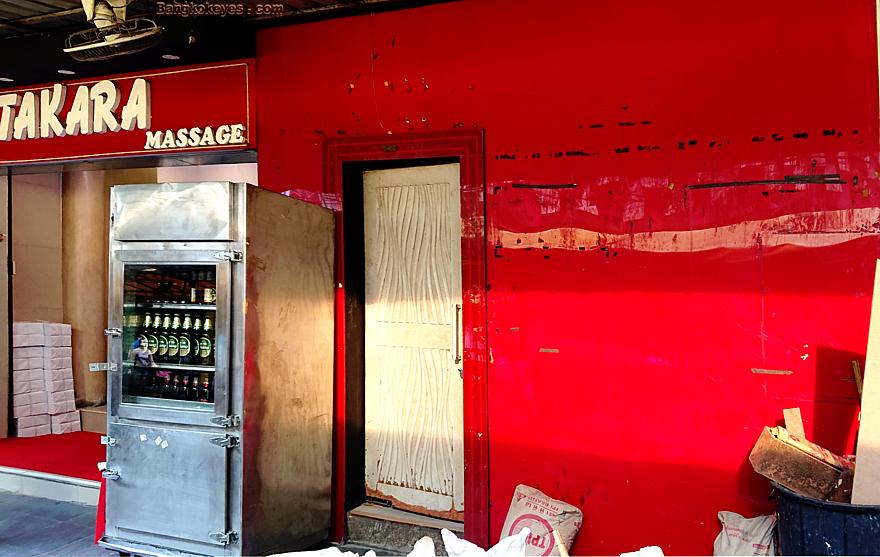 PATPONG 1

We don't normally comment on the closing of a
pharmacy
, but our sources on the street advise (with at least some authority) that it will open in
May
as yet another 'boy bar' transplant from
Soi Twilight
. Again, a
wait-and-see
item....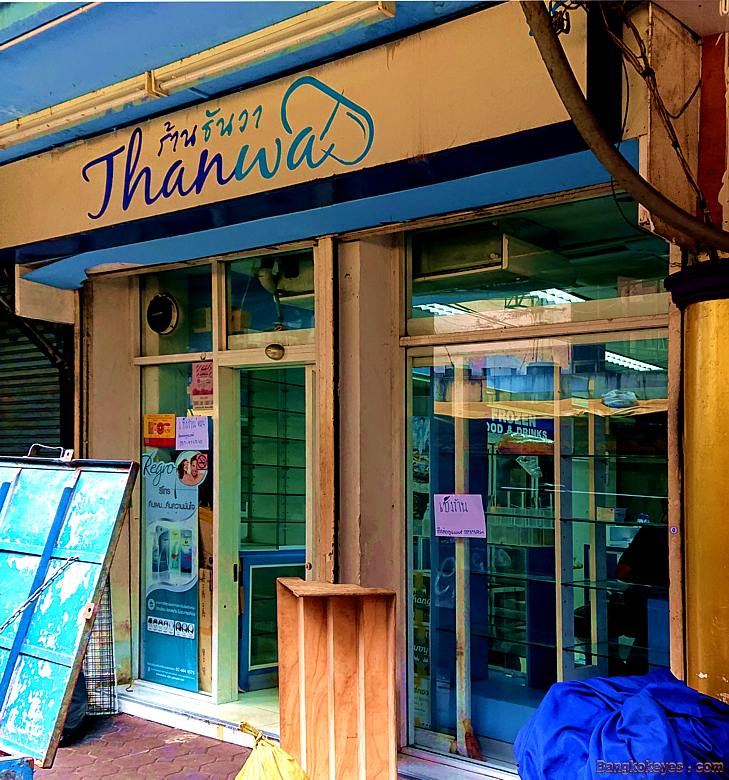 PATPONG 1

Could it possibly be true that has been ten years since the
Black Pagoda
took over the reins from
Patpong 2's
'
bar on the bridge
' - the
Park Bridge
? Oh, yes, renovations completed, it opened in
September
of
2009
. How time does fly... Let the good times roll...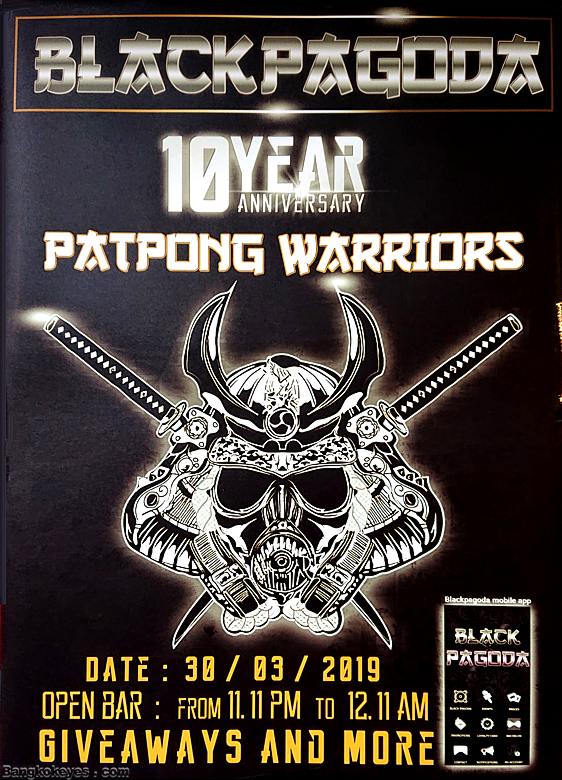 PATPONG 2

The Strip
had been rumored to be closing down at the end of
March
, and that is exactly what happened. They chose to go out with a '
whimper
' instead of a '
bang
' - having a three-day '
festival
' starting
29 March
. Once one of the greater
Bangkok A Go-Go's
, it had faded in recent times. Rumors are afloat that there is already an offer for a new
Nitespot
at that location. -But rumors (as we are wont to say) and
65
baht will get you a cup of ice coffee at the
Thermae
. Below are a couple of pics from our archives of
The Strip
in its heyday...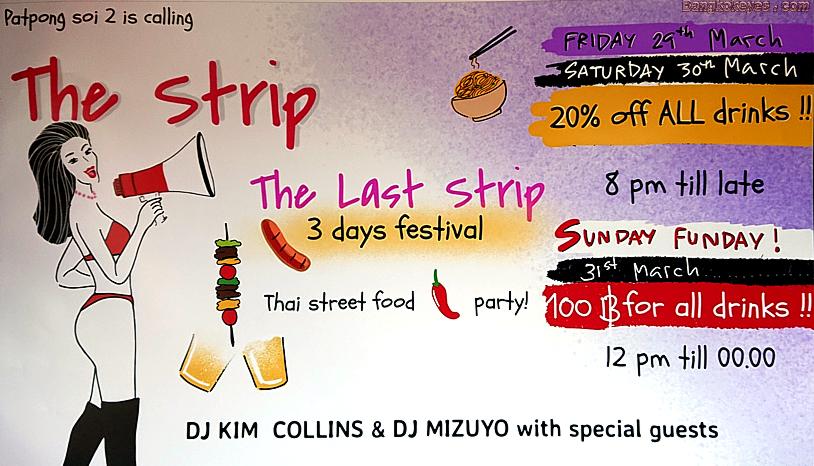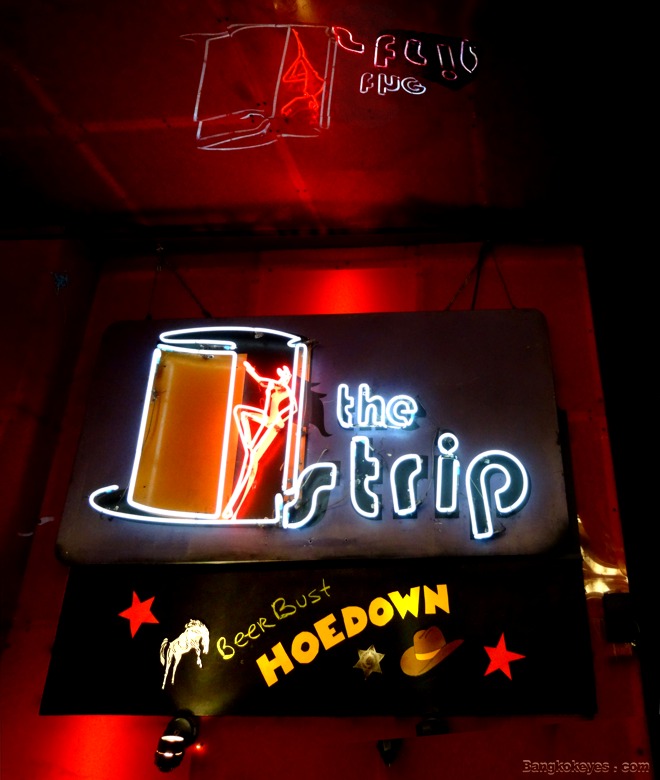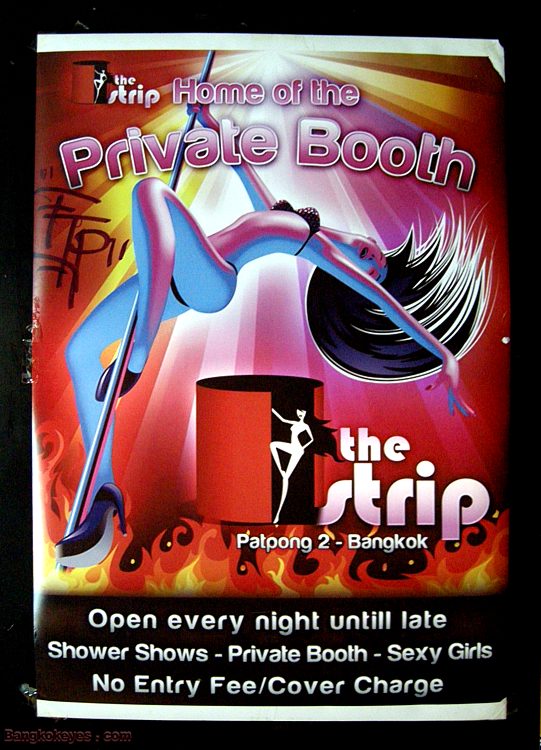 PATPONG 2

Bada Bing

A Go-Go

was to close at the end of

February

, but lingered on to

mid-March

before the final curtain came down. ...Well, not quite the 'final curtain' - it was to reopen soon after that without a name-change, and with what appeared to be new management and a new on-stage line-up. That 'on-stage lineup' has, in recent days, taken on some new and eye-appealing talent - perhaps from the recently closed

The Strip

? May they keep on keeping on...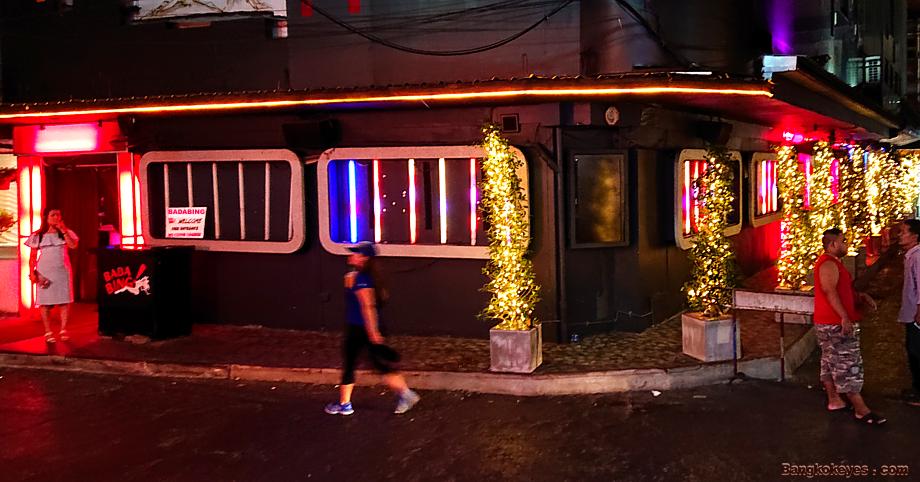 PATPONG 2

Up on the
The Ramp
(
2nd
level), the
Qeen 501 Studio Bar
(- '
Queen
' in
Thai
language) has taken over the reins of what was once the
9501 Studio Bar
. This is the second '
boy bar
' up on
The Ramp
to have relocated from
Soi Twilight
(with more in the pipeline).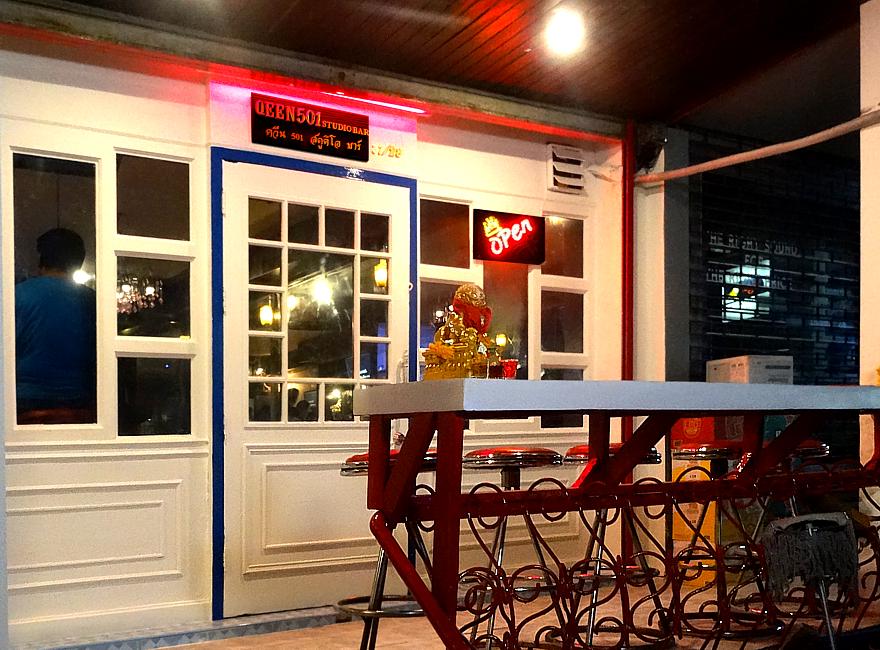 PATPONG 2

A '

For-The-Archives

' pic of the

Lighthouse

A Go-Go

, one of

Soi Cowboy's

more popular bars. Keep on rocking...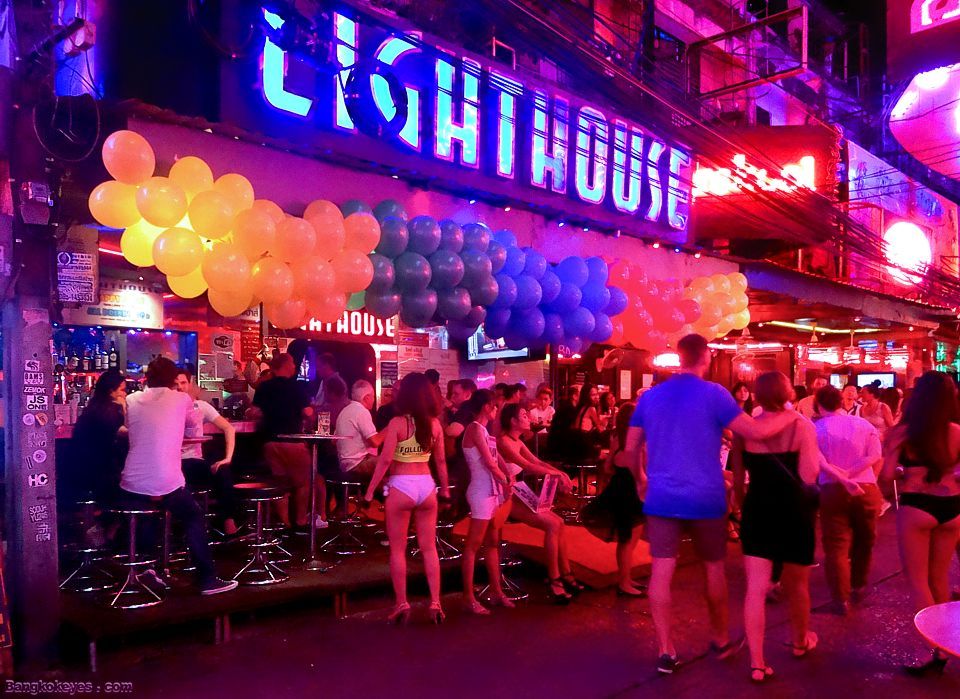 SOI COWBOY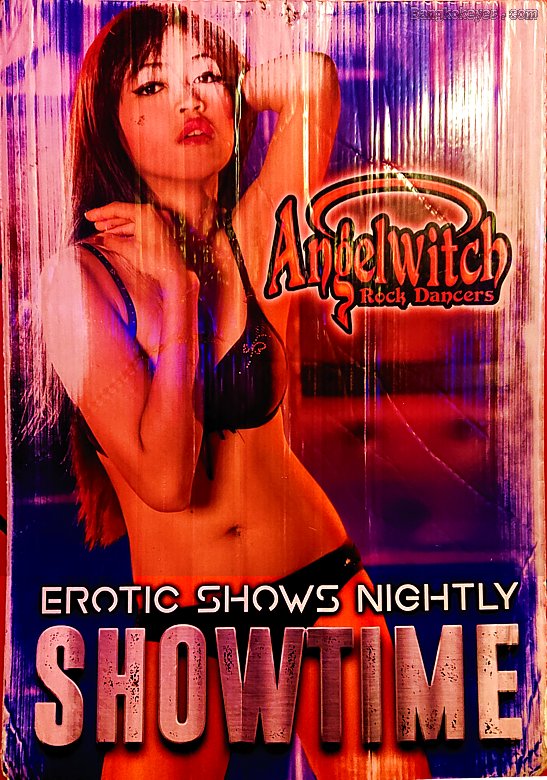 The

Angel Witch

is one of many Venues that supplement their

A Go-Go

lineup with 'shows'.

Bangkok's

bar 'shows' are historically variegated and of varying quality.


NANA PLAZA


King

Night Club

is the latest to open upstairs in the

Rajah Hotel

outbuilding. (Is not that name already spoken for? -Just sayin'...) It follows the short-lived

Tamasha Exclusive Indian Club & Lounge

, and the later

Red Moscow Club & Lounge

. The

King

doesn't appear to be any more popular than either of its predecessors, nevertheless, we wish them well as they venture into the neon jungle...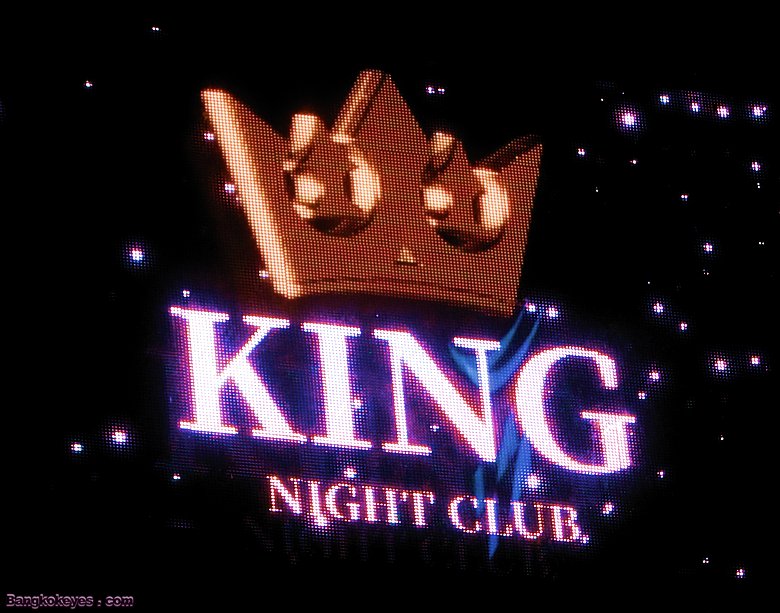 SOI NANA


The
Fork & Cork
doesn't have a new sign (its the same old patchwork one), but they have provided it with better lighting - their sign can now be seen from the top of the
Soi
. Keep on keeping on...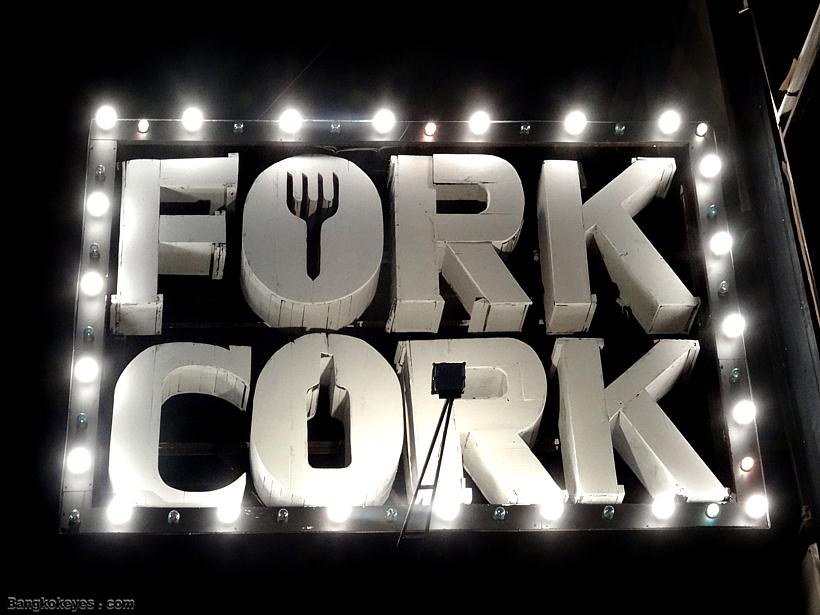 SOI KATOEY


Another case of '
gone-but-not-gone
' - last month, we had written off
Bar I'on
as yet another fallen soldier, but we see they were, in fact, undergoing major renovations - to include an actual sign this time around... Welcome them back to the party...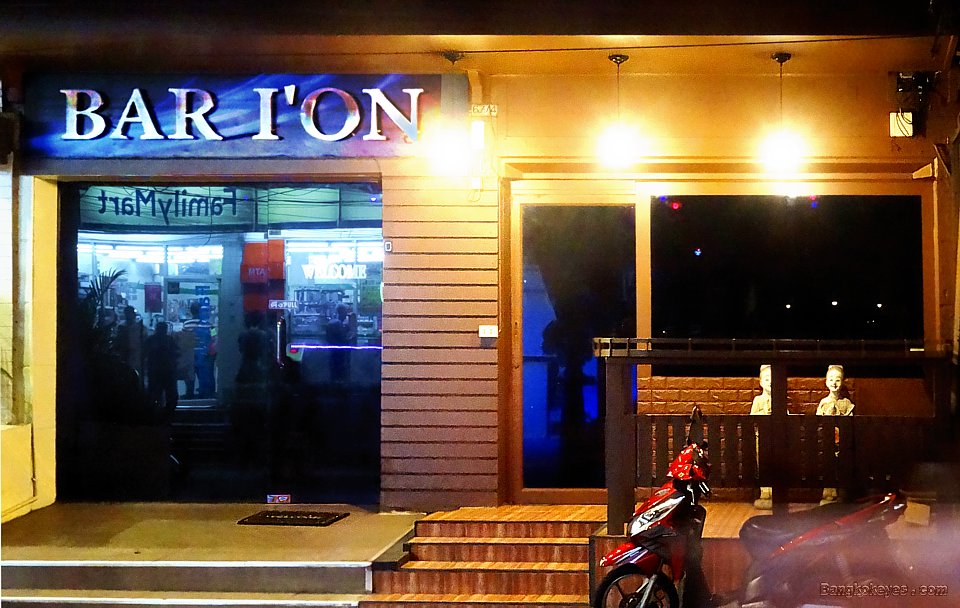 SOI 22


Candy Massage
, located deep in the
Soi
, and down at the end of
Subsoi Lemongrass
has called it a night. With the plethora of massage parlors in that area, we are amazed that any of them can keep their heads above water. May they find the grass greener on down the road apiece...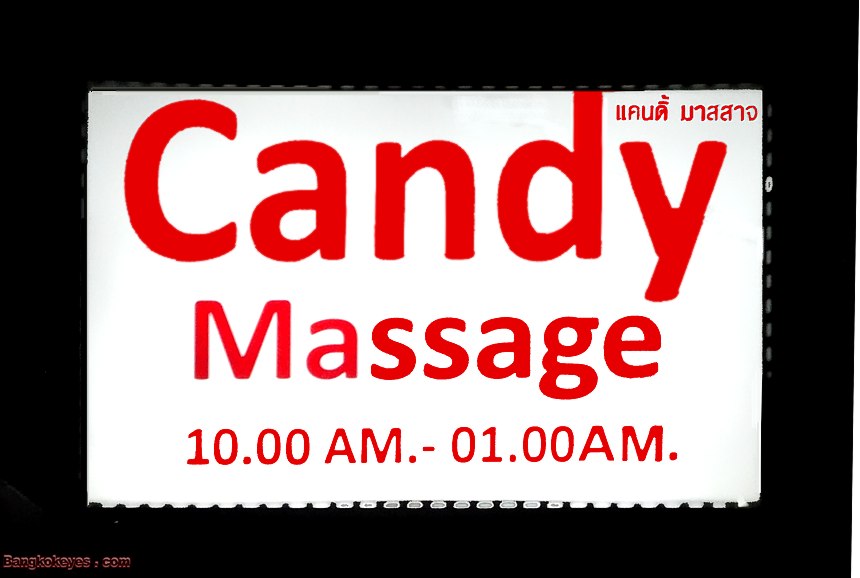 SOI 22


The short-lived
Kick Club
located in the
Holiday Inn
at the top of the
Soi
was under lock-and-key (literally) when we passed by on the weekend. Yet another
Nitespot
adventure in that hotel that just didn't cut the mustard...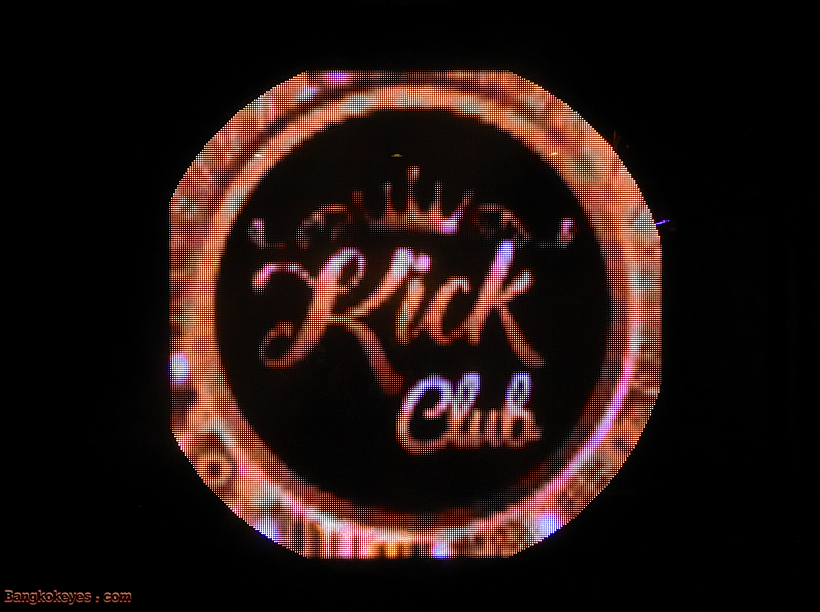 SOI 22


The
Paradise Thai Massage
is closed down for renovations - the signage has been removed, lending credence to a possible name-change. Lets see what the night will bring....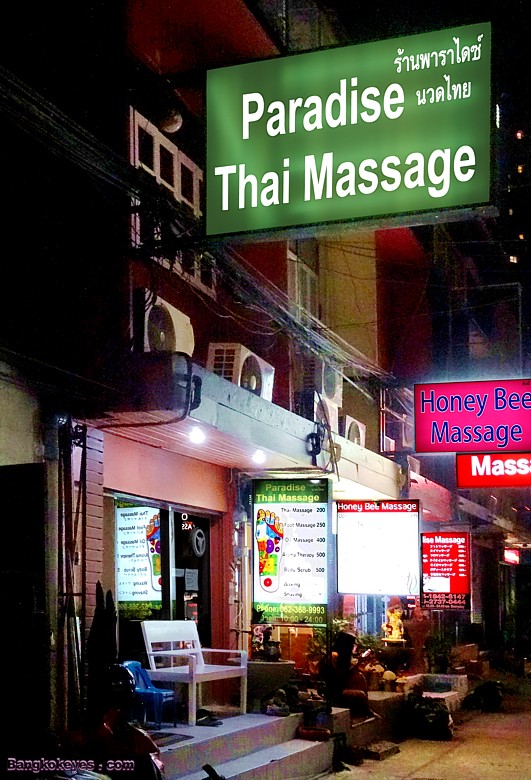 SOI 22


The indoor-outdoor
Hemingway
have completed their renovations at the old
Zaks
digs, and they are looking good. There has, however, been a slight change to their
modus operandi
- they are now a "
restaurant - pub
". The same great menu cooks along until about
10:30 p.m.
, - at which time the kitchen shuts down and they become a
pub
. The
pub
takes '
last orders
' at
01:30 a.m.
., and everyone, at least theoretically, goes home at
02:00 a.m.
. And, yes, some of the old
Hemingway
staff came on over to the new digs... ..."
I get paid by the word - I'm not finished yet
," as a famous journalist once said. Something brand-new is a-working upstairs... Watch this space....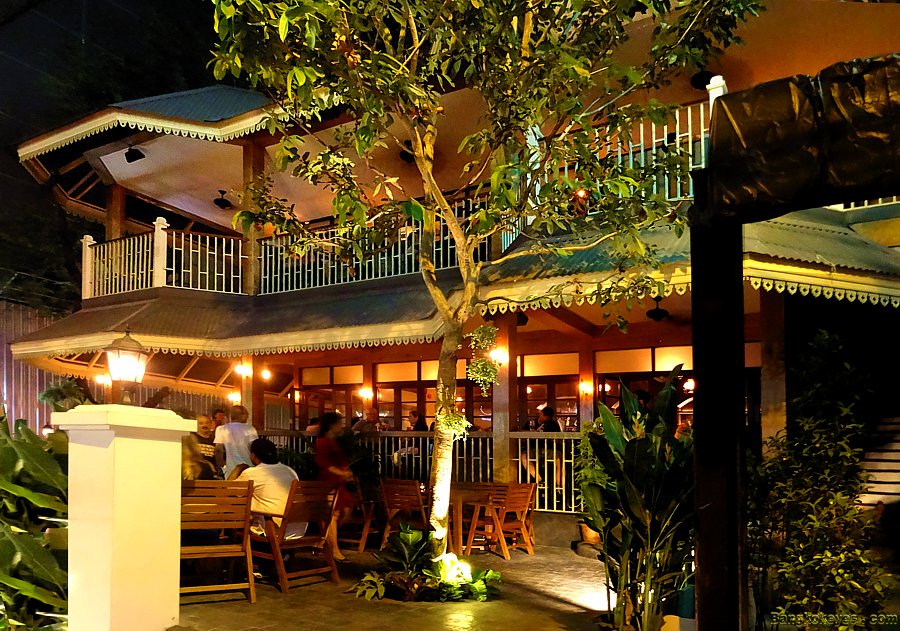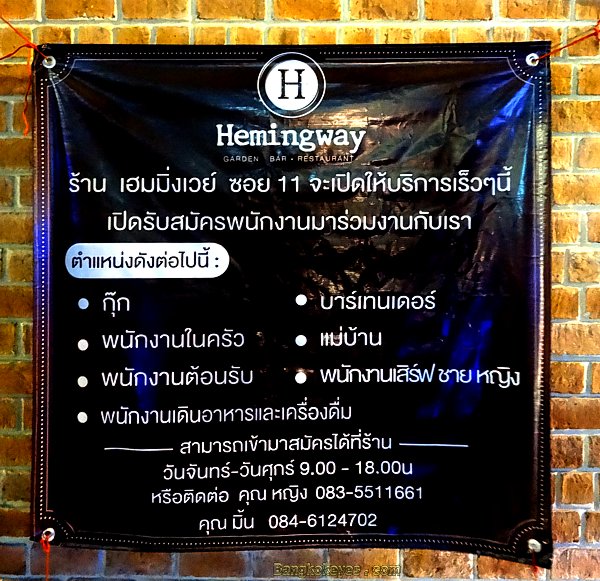 "The

Door Art Of The Month

" for

April

goes to

Hemingway

- they paid attention to detail, making the new digs as comfortable as the old - which many will remember from

Sukhumvit Soi 14

. (Not that we have forgiven the landowners at

Sukhumvit Soi 14

for selling out - and destroying a structure that should have been a

Bangkok Heritage Site

....)




SOI AMBASSADOR (Sukhumvit Soi 11)


Coming on line this month is the
Grace Massage
. It has opened newly in the small soi just past
The Australian
. It appears to be first-cousin to
Grace Foot Massage & Salon
just around the corner on the main
Soi
. Note the fine print:
"No Happy Ending"
..... signage-wise, this may be a
Thailand 'first'
. May
Lady Luck
smile....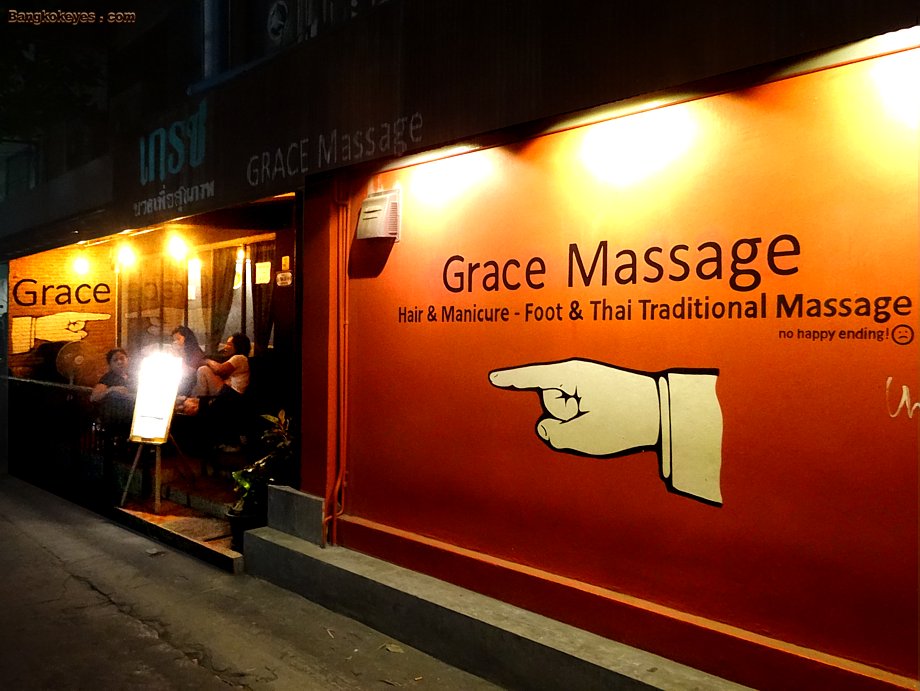 SOI AMBASSADOR (Sukhumvit Soi 11)


The
Rosabieng
(The '
Dining Car
')
Music Bar & Restaurant
, which closed a couple of months ago, appears to be open - but it is not. An enterprising
street bar
has opened part of the fence and set up shop....

SOI AMBASSADOR (Sukhumvit Soi 11)


A
For-The-Archives
pic of the
Nice & Easy
. It is one of the older, more successful bars along the back row. May the Force be with them...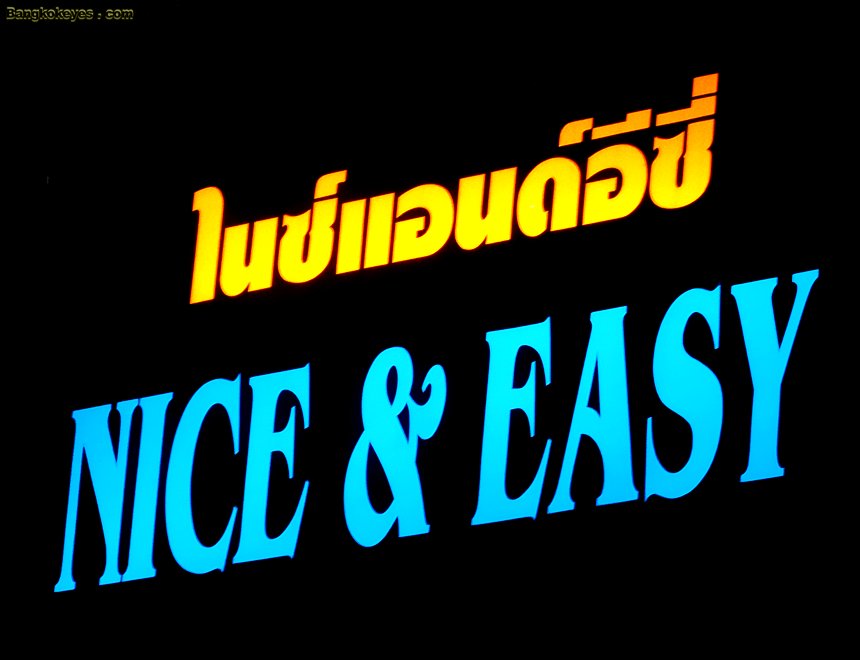 QUEEN's PARK PLAZA (Sukhumvit 22)


The Firm
opened its doors in
December of 2017
in what was
Soi 33's
pioneer bar,
Renoir Club 1841
. It closed in
November of 2018
. Not long after it closed, we noticed a buzz of activity, however it apparently wasn't open to the public. By
January 2019
it had reopened and, while under 'new' management, it retained the same name. This month all the signage has been restored, and they appear to be '
business as usual'
.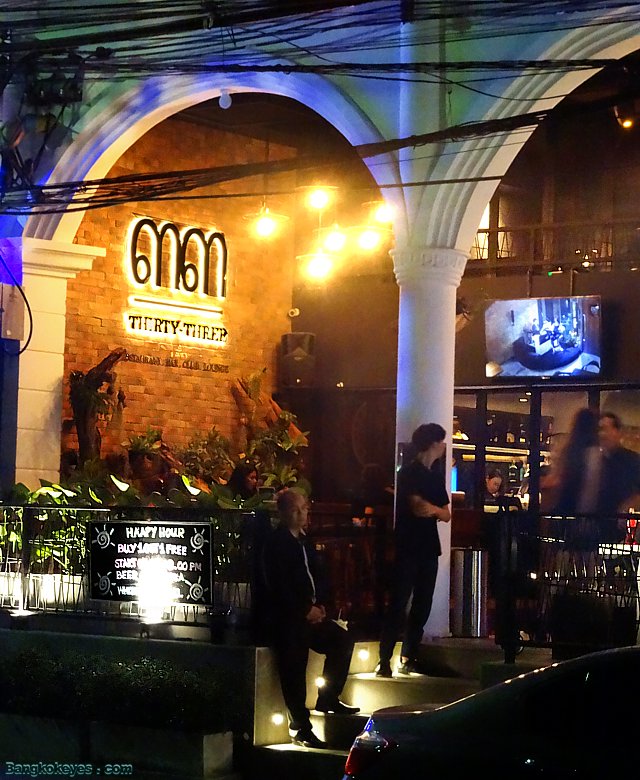 SOI DEAD ARTISTS (Sukhumvit 33)


Love & Service

Massage

located in

Subsoi 4

was closed and dark when we passed by. This has happened before, so before we relegate it to the recycle bin, lets give it a '

wait-and-see

".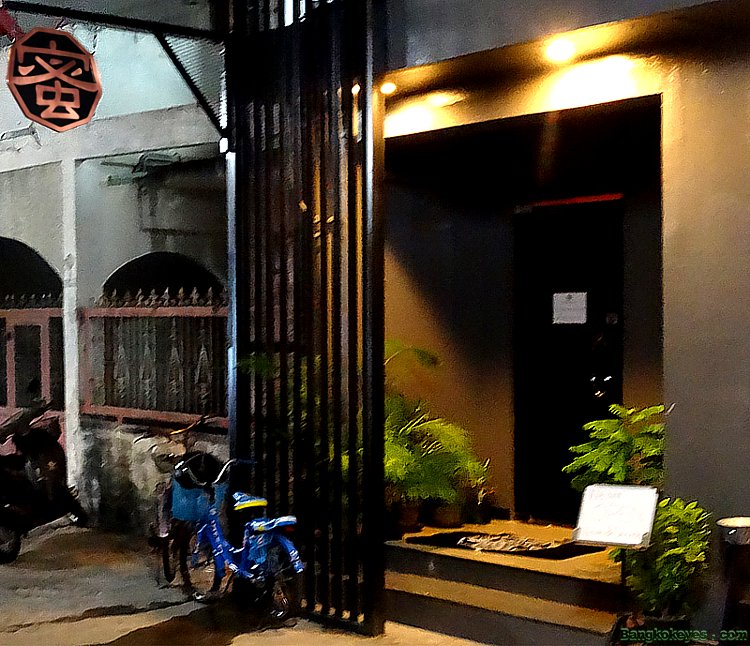 SOI DEAD ARTISTS (Sukhumvit 33)


Pent 33
was closed again when we passed by at the end of the month. This is the second time in the last few months it has been closed on weekend evenings (where it would be expected it would be open). We will have another look next survey, and get back atcha.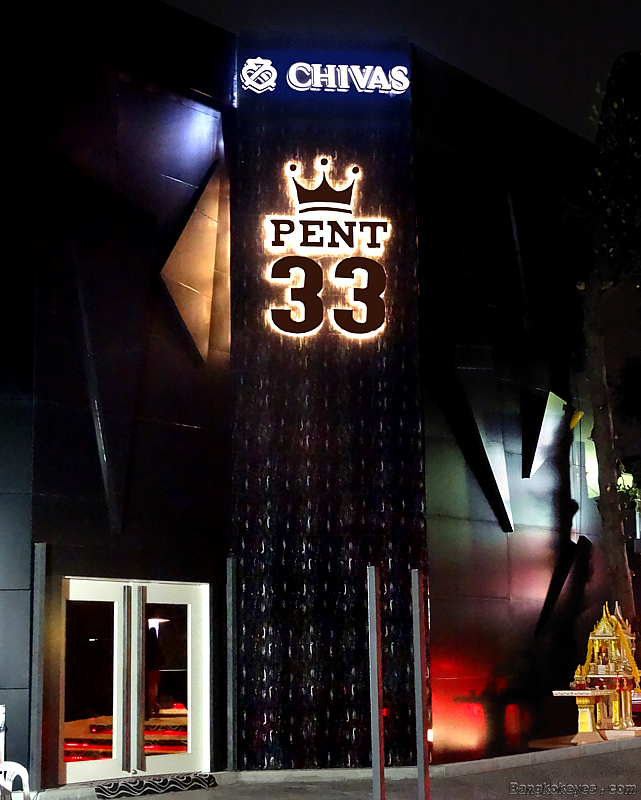 SOI DEAD ARTISTS (Sukhumvit 33)


The upstairs
Kizuna Bar
located next to the
Pan Pan Italian Restaurant
was locked down and in deep shadow when we passed by at the end of the month. We shall remove it from the rolls, with the provision that we will, of course, reinstate it should it come back to life...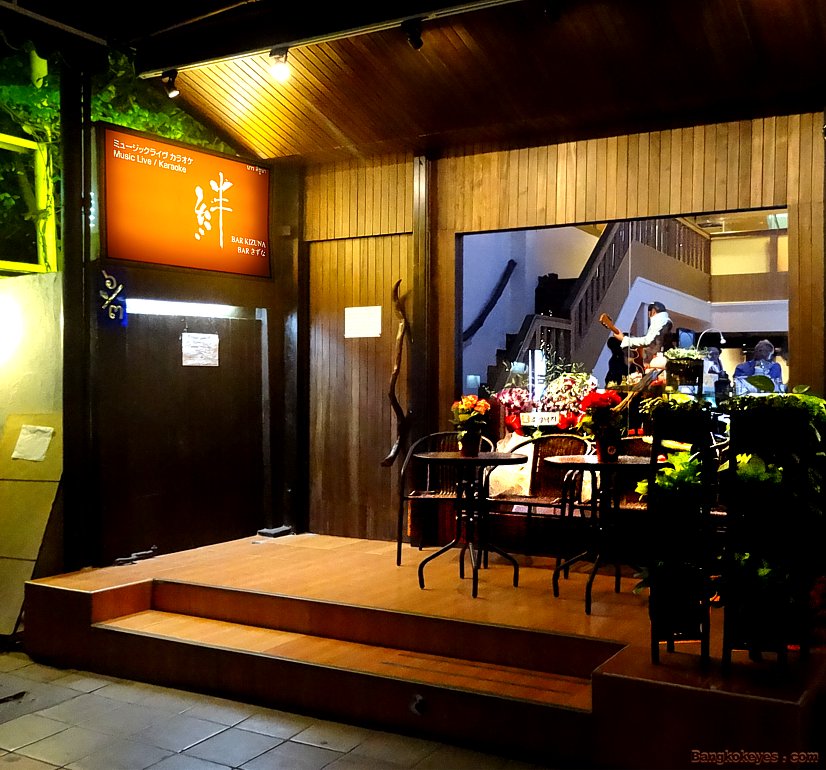 SOI DEAD ARTISTS (Sukhumvit 33)


MAP



Last month, we noted the
Y'Not Bar
had closed. This month, the next-door neighbor
Good Time Massage
has set up shop in those digs with an improvised bar beer. This is in essence, a return to what things were when
Good Time
first opened a number of months ago. Let's see what happens in the ensuing months...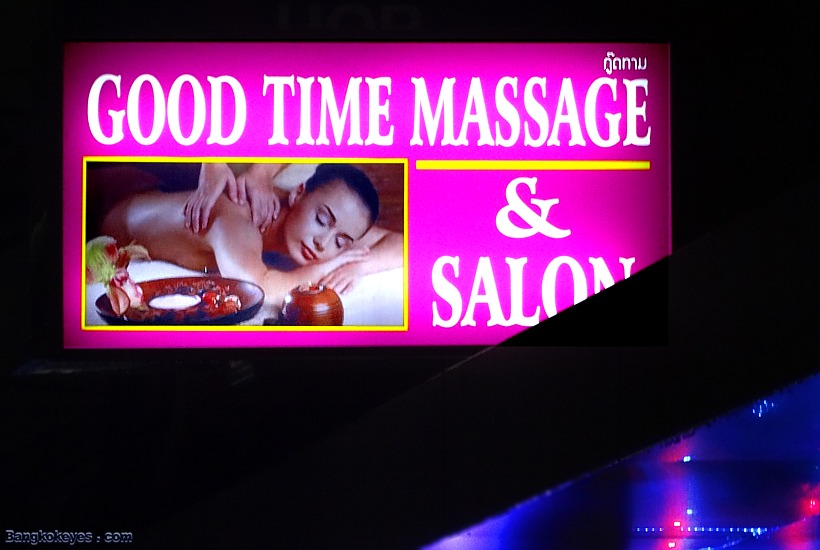 SOI EDEN (Sukhumvit 7 / 1)


Last month, we noted that bars in
Bangkok's
most well-known hard-core gay
Night Entertainment Area
,
Soi Pratuchai
, or,
'Soi Twilight'
have been moving away -slowly but surely- for the last year. At that time we said that in spite of the remaining bars on that
Soi
trying hard to show it's
business-as-usual
,
"The handwriting is more than just on the wall...
" Since then, a lot has changed.
A major migration out of
Soi Twilight
is in progress, and many of those bars (that have not already done so) are moving into
Patpong 1
and
Patpong 2
. Next month, we will have a full report on the ongoing migration of these bars.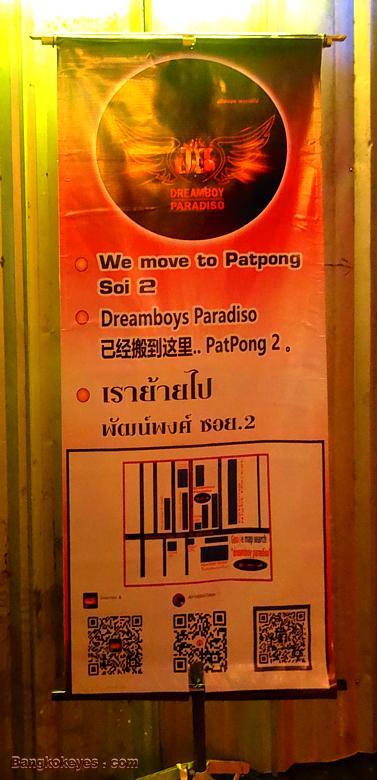 SOI TWILIGHT



A PAGE FROM Bangkok's NIGHTSCENE HISTORY....
20
YEARS AGO

April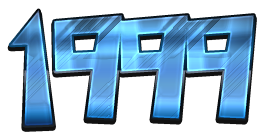 With thanks to Cool Text - cooltext.com

Bangkok Eyes goes back in time to see
Who was new - And who was through
in the Expat Night Entertainment world.
How many of these old 'oases'
do you remember ?
Patpong I



*

Club Habanos & Observatorey

dropped "

& Observatorey

" (yes, that was the spelling...) to become just

Club Habanos

. Located next to, and an adjunct to

Gold Finger's

. There is no nightspot at that location today.




*

SuperStar

was forced by the

Sign Ge

.

stapos

to use its registered name, "

P.P. SuperBar

". It has since reverted to '

SuperStar

'...




*

Thai Lady Bar

(

2

nd level) and

'Traditional Massage'

(

3

rd level) opened above the

Thigh Bar

. Today, an unnamed

Nitespot

occupies the

2

nd level.




*

The second-level

Queen's Castle II

show bar

dropped the "

Susie Wong

" portion of their name. Still there today, it goes by "

Queen's II

".



Patpong 2



* No changes that month / year. -




Soi Cowboy



*

Moonshine Pub

was temporarily closed. It is still open at that location.




Nana Plaza



*

Up on the

3

rd level, the

Mai's Bar

opened newly in the small

Hollywood Bier Bar

digs (which had just closed).




"Entertainment Plaza" (Soon to become

'Clinton Plaza' - Thermae Annex

)
[ February 1999 - May 2003 ]
*
Boat Bar
- (previous month unnamed). Next to main building.
*
Growler's Bar
- Next to main building.
NEW
*
The Last Money
- On the 'Island'.
NEW
*
Nuch Snack Bar
- On the back row.
NEW
*
Maya
- (previous month unnamed). On the back row.
Soi Katoey
( Silom Soi 4 )
*
The upstairs
Deeper
reopened after a
1-month
closure. Currently
Hugs
occupies that space...
Buckskin Joe Village
(~ December 1988

to

December 2006)
(Also known -originally- as

Tobacco Road

or

Soi Rot Fai

or, '

The Tracks

', and later as Machim [Thai] and

Soi Zero

)

*
The
Linda Bar - Find X.O.
bar beer closed for renovations.